Boston High School:

Jamie Arnao
February, 28, 2012
2/28/12
5:06
PM ET
Editor's note: On Wednesday, February 22, the Needham High School athletic department and hockey coach Bill Guisti granted access to reporter Scott Barboza and videographer James Walsh to follow the team for their first-round game of the Springfield Cathedral tournament. This is the result.
SOMEWHERE BETWEEN NEEDHAM AND SPRINGFIELD, Mass. -- Needham High hockey seniors, forward Jeff Rosata and goaltender Connor Murray lean against a parked car. They're about to board a bus bound for the Springfield Olympia Center for their first-round game in the Springfield Cathedral Tournament, where they'll play the host Panthers.
"I think we're faster than they are," Rosata says, estimating the tape he's seen on that night's opponent.
On paper, leading into the matchup, the teams figure to be even. The implications of the game are likely to dictate seedings for the upcoming Super 8 hockey tournament. They know the importance of the game.
"I mean, we've made the Super 8, what? The last three of four straight years?" Murray says, with a San Jose Sharks snapback cap tilted slightly upward on his head. "We know we need to keep that going."
Rockets assistant coach Tom Shaughnessy emerges from the open doorway of the bus.
"Time to get going."
-----
Rockets forward Jeff Parsons has a reputation on the team, something that of a human GPS. He sits sidesaddle on an aisle seat in front of teammate Jamie Arnao.
Watching the exits zoom by, somewhere around the Auburn service exit on the Mass Turnpike, Arnao blurts out, "How far away are we?"
The question, seemingly posed to nobody in particular, was directed at Parsons. He sits back in the seat and gazes upward with his eyes, as if consulting a map of Central Mass. painted on the bus ceiling.
"Should be about 50 minutes or so," Parsons rifles back.
[+] Enlarge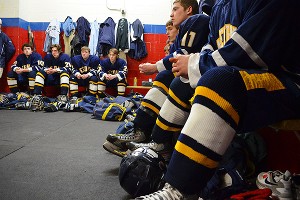 Scott Barboza/ESPN.comThe Rockets listen to the pregame speech of coach Bill Guisti.
Freshman James Fisher brought along a copy of "Dodgeball" for viewing. The P.A. speakers of the bus muzzle the dialogue with a humming. With every bump in the pavement, the T.V. screen flickers with a line of static fuzz rising from bottom to top. Three pairs of seats are occupied in the front of the coach, one with drinks (Gatorade, water), another with an assortment of plastic-wrapped deli sandwiches, the last with trays of potato chips, Fritos, Doritos.
It's like a team sleepover on wheels.
Arnao, a senior forward who also helped the football to a Division 1 Super Bowl appearance in the fall and is a standout on the baseball team, is the team jokester. He's dressed in a pair of aquamarine chino pants, a button-down shirt with a windowpane print and an overcoat.
I ask him whether the not-so-subtly-colored pants are a game-day tradition.
"Yeah, this is usually how I roll," Arnao replied, laughing, as usual.
Seated at the front of the bus, Needham head coach Bill Guisti sifts through papers. Guisti, who owns his own business, used the down time on the trip to go over a couple of pregame adjustments he wants to make with the Rockets' lines. He wants to move blue-liner Timmy Parlato up front. He's hoping Parlato's Brad Marchand-like style of play might unnerve Cathedral's defenders.
He scribbles down notes on a sheet of loose paper, remarks he wants to reinforce before the team takes the ice. The former Mount St. Charles (R.I.) hockey standout spends most of his free time scheming the Rockets to their next win. He takes a couple minutes to check in with his two daughters though.
"I usually don't have this much time to myself," he says.
-----
There's an arcade room in the lobby of the Olympia Center. Arnao saunters past it on his way back from a bathroom break. Headphones on, he's ready to get into his pregame warm-up.
A toddler shouts over to him, "I just put a dollar in, can you play with me?"
Arnao looks around for a moment, then stepping toward the two-person shooter video game installation, he says, "Sure."
"I'm on a 40-man kill streak," the child tells him.
Arnao takes a couple of shots with the plastic gun, he misses his target. The child, less than half Arnao's height, is blowing up everything in sight.
"I gotta' go, I have to get ready," Arnao says.
Walking away, Arnao adds, "That kid is ridiculous."
After a moment of reflection, he wonders aloud, "Where's that kid's mother at?"
-----
In Guisti's pregame message to the team, he cautions the team about the fact that the officiating crew might not give them the benefit of close calls as the visiting team.
By the end of the first period of a 0-0 game, it looks like Guisti is right.
"There's nothing you can do about it, you just have to be smart," he says. "For you seniors, you know what this is all about. This is it."
-----
After two periods, the Rockets struggle to generate many scoring chances in a tight-checked game. It's a playoff atmosphere with both teams vying for the sixth spot on in the upcoming Super 8 tournament.
[+] Enlarge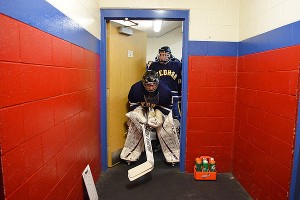 Scott Barboza/ESPN.comNeedham goaltender Connor Murray waits for the cue to take the ice before the Rockets' game against Springfield Cathedral last week.
Murray is playing one of his strongest games of the season; he's bailed out the team time after time. He's slumped back in his seat at the second intermission. Somehow, the Sharks snapback is still on his head in the same position it was all those miles before.
There's no fire-and-brimstone speech from Guisti, just a gentle pleading for the team to take care of the little things. In such a tight game, anything could make the difference.
The team comes together for one final ooh-rah and wait at the door for the signal to move out onto the ice for the third period.
Amidst a chorus "Let's go boys," senior captain D.J. Walsh still hasn't moved from his perch on the bench. Beads of sweat gather on the strands of hair emerging from the brim of his helmet. He's breathing deeply.
It echoes Guisti's message to the team before the game.
"When you guys get back in here between periods, you should be gasping for air that's how hard you've skated out there."
Walsh's plastic facemask is fogged up. He draws a couple deep breaths, stands and follows his team out.
The Rockets lost 1-0.
February, 27, 2012
2/27/12
8:48
PM ET
By
Roger Brown
| ESPNBoston.com


NORTH ANDOVER, Mass. -- As always, the game plan was to make the opponent play from behind – and St. John's (Shrewsbury) couldn't have executed it much better.

The Pioneers grabbed the lead 44 seconds into Monday night's Super 8 play-in game against Needham and never surrendered it. St. John's scored four first-period goals and advanced to the field of eight by posting a 5-4 victory at Merrimack College's Lawler Arena.

Vin D'Amato, Bryan Nelson, Mike Brown, Kevin Emmerling and Jay Duquette scored for the Pioneers, who raised their record to 16-4-3.

'It feels great," Emmerling said. "Now we just have to keep it going. I think a lot of people doubted us coming into this game. I think we had a lot to prove. We're gonna keep the foot on the pedal."

The Pioneers will be the tournament's No. 8 seed and face top-seeded Malden Catholic (15-1-4) Sunday at Merrimack College. St. John's will be making its first Super 8 appearance since 2003.

Although St. John's owned a five-goal lead late in the second period, the Pioneers had to sweat through some tense moments at the end of the third.

Needham trailed 5-2 when Lucas Davis and Jamie Arnao scored goals 32 seconds apart to make it a one-goal contest with 6:16 to play.

"You know these guys are a good team – they wouldn't be here if they weren't," St. John's coach Brian Murphy said. "They showed a lot of heart, a lot of desire. You don't want to panic too much and I thought our goalie (Mario Pizzeri) did a good job of hanging in there the last five minutes."

Duquette's goal made it 5-0 with 4:53 to play in the second period. Needham got on the scoreboard when D.J. Walsh blasted a slap shot past Pizzeri with 4.1 seconds to play in the second. It was Walsh's 16th goal of the season.

"They got one and then the momentum shifted and they started coming after it really hard," Murphy said. "We were just trying to hang on their at the end. The big thing is we wanted the win and a chance to move on."

Junior defenseman Brendan Joyce scored Needham's second goal. It came on a wrist shot from the left point 3:31 into the third.

"We just came out so slow," Needham coach Bill Guisti said. "When you look at the games we've lost this year we've lost them by spotting other teams leads. We don't have a lot of firepower to try to come back."

The loss dropped Needham's record to 16-5-1.

"Connor [senior goaltender Connor Murray] didn't have his best game tonight, but he's been great for us all year," Guisti said. "The bad news is we lost the game. The good news is we live to play again. If we start out like we did tonight we're not gonna be around for much more than one more game, that's for sure."

POINT MEN
Duquette, a senior forward, assisted on three of the Pioneers' four goals in the opening 15 minutes. He entered the contest with nine goals and 12 assists in 22 games.

Emmerling also collected three assists in the victory. He leads the team in goals (25) and assists (23).

Emmerling and Duquette skate on a line with D'Amato, who also collected an assist.

"They're a very skilled line," Murphy said. "The certainly can move the puck. They gave us the four-goal cushion. They're just good players."

RIGHT DIRECTION
The victory extended St. John's unbeaten streak to 10 games (8-0-2). The Pioneers haven't lost since dropping a 4-0 decision to Hingham on Jan. 18.

The team's defense has been consistently good during the streak. St. John's allowed 16 goals during the 10 games.

"We moved a couple pieces of the puzzle and our goaltender started playing well," Murphy said. "We started playing better team defense. I think that was the big thing. We know we can score goals, we just had to make sure we try to prevent some too."
November, 30, 2011
11/30/11
12:50
AM ET
By
Matt Noonan
| ESPNBoston.com



WEYMOUTH, Mass. -– For the first time in school history, the Needham Rockets are headed to the Division I Super Bowl, as they defeated the New Bedford Whalers in the semi-finals on Tuesday evening at Weymouth High School, 42-14.

"It feels great, it feels great," exclaimed Needham head coach Dave Duffy. "We've never won a playoff game, [and] it's always hung over our heads a little bit."

"They're a good football team for sure, there's no question about it, and we certainly respect them," said New Bedford head coach Dennis Golden.

Needham sophomore quarterback Ryan Charter (183 passing yards, 3 total TD) led the way, while senior running back Mike Vespa (12 carries, 34 yards) and sophomores Mike Panepinto and Rashawn Wise each provided the Rockets with a score each.

The Rockets defense complimented their offensive unit by holding the Whalers' offense to just one touchdown in the fourth quarter, and by also recording seven sacks against junior quarterback Mike Rapoza.

"Nothing was going right [for us]," said Rapoza. "I didn't have any time to read my reads, and it was just tough, really tough."

Said Needham senior defensive lineman Jamie Arnao, "[The] D-line and linebackers played unbelievable. They were getting penetration all game long, even the second d-line when they came in there and they were dominating, so all around, defense played fantastic, d-backs got a couple coverage sacks, so it was a [good all around effort]."

Overall, Tuesday's game was by far the best that all three Needham units played this season, and certainly that made Duffy quite pleased.

"Everybody played well," said Duffy. "Everything went well there right up to the end, and I'm so proud of the kids."

Charter carries the day: Needham had never won a playoff game until Tuesday against New Bedford, so while many doubted Charter and his chances to lead the Rockets to their first victory in school history, the young quarterback appeared completely unfazed for the entire 40 minutes, and played his best game of the season.

"He was near perfect," said Burnett, when asked to describe his teammate's performance. "He played a heck of a game, but he's been unbelievable, making all the passes, making the right reads, and doing everything that a quarterback should do."

"He was poised all game long, he didn't get nervous," said Arnao. "Having a kid like that in the huddle is awesome and now we know he's going to make the play. We've got the confidence with him, [and] hopefully we can carry it into [Saturday]."

Charter completed 10 of 12 passes, and registered two scores with his legs. He appeared incredibly comfortable on the run, and even when his pocket collapsed too.

"It's been our goal [to make it to Gillette Stadium, and Ryan] made it happen," said Burnett.

Controlling the clock: The Rockets offense controlled the clock for a majority of the game and kept the Whalers offense sidelined for literally the entire second half. However, one of the biggest time constraining drives for the Rockets occurred during the third quarter, as Needham ate up roughly nine minutes, and tallied one score on 16 plays.

"We needed to get the ball back right away, [and] we didn't do it," said Golden. "They were a better team, [so] good job to them, great job to them."

Golden also explained that the Rockets defense helped their offense keep the ball in their hands by forcing numerous three-and-outs.

"We had to establish a line of scrimmage, [but] they did it, we didn't," said Golden. "It's frustrating, but they earned it, so hopefully we can earn it in the future."

Needham's Super Bowl Goal: Prior to the start of the season, numerous Needham seniors expressed their number one goal for the year was making it to Gillette Stadium. The Rockets clinched a spot in Saturday's MIAA Division I Super Bowl against heavy favorite BC High, but Arnao he believes his team is mentally prepared for their final opponent of the season.

"We've got to play our game," said Arano. "We've got a tough opponent against BC High, they're going to be good, [and] we know that, so we just got to come out, and all the seniors have got to step up, all the under classman have to step up, and we just got to play our game, so hopefully we can get it done."

NEEDHAM 42, NEW BEDFORD 14
NE (9-3) – 14 -14 - 7 - 7 --- 42
NB (5-6) – 0 - 0 - 6 - 8 --- 14

First Quarter
NE – Mike Vespa 33 run (Andrew Murowchick kick)
NE – Rashawn Wise 18 run (Murowchick kick)

Second Quarter
NE – Mark Riley 13 pass from Ryan Charter (Murowchick kick)
NE – Charter 1 run (Murowchick kick)

Third Quarter
NE – Charter 1 run (Murowchick kick)
NB – Mike Rapoza 65 kickoff return (rush failed)

Fourth Quarter
NE – Mike Panepinto 17 run (Murowchick kick)
NB – Rapoza 15 run (Kevin Nunes run)
March, 9, 2011
3/09/11
8:56
PM ET


NORTH ANDOVER, Mass. –- Entering their second Super Eight playoff game, St. John's Prep captain Colin Blackwell and his teammates knew they hadn't yet played their best hockey.

"That first game is always the biggest, but there are no excuses after that," the Harvard commit said.

The Eagles' second effort was bit more convincing than their first, taking a 5-1 win over sixth-seeded Needham Tuesday night at Merrimack College's Lawler Arena.

Still, Prep head coach Kristian Hanson wasn't leading on that his team had just won a crucial tournament test and improved to 2-0 in Super Eight play while sending the Rockets to their second tournament defeat.

"I don't know how to say it, but I don't think we played especially well," Hanson said.

Regardless of the Eagles' level of play, what was without question was the offensive output of Prep's first line. Freshman Shane Eiserman (2G, 1A) and Blackwell (1G, 2A) each had three-point games. Winger John Farrow also continued his strong Super Eight play with a pair of assists.

Prep carried play almost exclusively throughout the first period, outshooting Needham, 10-4. Yet, the Eagles could only sneak one past Rockets goaltender Connor Murray (19 saves).

It looked as though that's the way it would stand when the teams took to the dressing rooms, however, Eagles defenseman put a cannon shot on goal with next to no time remaining on the clock. The puck blazed past Murray and shot back out of the net as time expired, leaving the Rockets and most in attendance dumb-founded. The official pointed to center ice and Prep skated away with a 2-0 lead.

Earlier in the period, Eiserman collected the Eagles' first goal, tapping in a feed from Blackwell, who snaked his way through the Needham defense to set up the goal. Farrow also added a helper on the play.

Later in the period, Blackwell and Farrow each added their second assists of the game on Pandalena's goal.

"We knew they were going to try to throw everything at us because they'd lost their first game," Blackwell said. "So for the first period, we knew we had to get off to a good start."

Blackwell continued weaving circles around Needham defenders in the second, putting Prep out to a 3-0 lead with his goal 57 seconds into the period. He broke through the neutral zone with speed, crisscrossing his way past two Rocket defenders before finishing on the backhand.

Needham cracked the scoreboard with 2:08 remaining in the second with D.J. Walsh batting in a one-timer off of Jamie Arnao's centering pass from the corner after shedding the check of a Prep defenseman.

"When we got that goal, I thought we might come out with a little jump in the third period and try to get back in it," Needham head coach Bill Guisti said.

The Rockets were provided two golden opportunities to chip away at the two-goal deficit with a pair of power plays sandwiched together midway through the third. However, Needham was held without a shot.

"Our penalty kill's been very effective all year long," Hanson said. "We've been right around 90 percent all year long and we haven't given up a goal on the power play in the Super Eight.

"We work a lot on the PK and we watched a lot of film on Needham, trying to know what they were going to try to do and defend it."

Devin Murray provided the Eagles with a three-goal lead with 4:04 remaining in the game, putting back a rebound of a Sam Kurker shot. Matt MacDonald also picked up an assist on the play after providing a pretty outlet pass, setting up a 3-on-2 rush that led to the goal.

Eiserman capped off scoring, collecting another tape-to-tape crossing pass from Blackwell at the top of the crease and putting it into the back of the net for a 5-1 final.