Boston High School:

Jared Beckwith
February, 20, 2012
2/20/12
7:56
PM ET
By
Bruce Lerch
| ESPNBoston.com


BOSTON -- One team's savior proved to be the other team's fatal heartbreaker.

Both No. 5 Central Catholic and No. 8 Catholic Memorial had a lot on the line when the two teams hooked for a Monday matinee at Walter Brown Arena. The Raiders were looking to get back on track after a 3-0 loss to Andover on Saturday, hoping to keep themselves in the hunt for a Super 8 invitation while getting the on-ice product back in shape with things still undecided atop the MVC/DCL Div. 1 standings.

For Catholic Memorial, the math was simple - win your last two games, or miss the postseason for a second consecutive year.

Central goaltender Kyle Williams shined on this day, stopping 30 shots and weathering a third-period penalty shot attempt by CM's Liam Coughlin to help the Raiders hold on for a 1-1 tie.

"They took it to us in spurts, we were able to sustain and Kyle's back," Central head coach Mike Jankowski said. "We had some inconsistencies all year, we fought through things all year. Even the first goal tonight, that's something [Kyle] always gets. For him, the back half of that, he closes the door. If he plays like that and has our back like that, good things are going to happen for us."

The Raiders kept in mind last year's loss to the Knights and made adjustments that helped Williams a great deal, most importantly coming from a defense that worked tirelessly to at least keep the shooting lanes clear so the senior could get good looks on what was coming at him.

Midway through the third period, Williams made the save of the day, getting his blocker up in time to deflect a shot from CM's Kevin Bletzer. Minutes later, he made another stop of a hard wrist shot by Jared Beckwith and got a piece of a tip in front by Thomas Stanton.

The netminder's most important play however, was one that didn't hit the stat sheet as a save. The Knights were awarded a penalty shot with 3:46 remaining in the game, and CM coach Bill Hanson sent out talented forward Liam Coughlin. The junior walked in on Williams, then made a late shift to his backhand. Rather than sit back in shock, Williams simply followed his man and slid over to the far post, forcing Coughlin to take the puck lower then he likely intended and his shot ended up in the side of the Raiders net.

"No pressure, I just went and tried stopping it. I got lucky he missed the net," Williams explained with a touch of modesty.

Then, when asked if he was surprised by Coughlin's move, Williams responded, "Yeah, I guess. He could do anything. I'm just there to stop it."

Clearly the game did not come down to that one play, although it was certainly a highlight moment. Before a question could be asked about the penalty shot, Hanson quickly spoke up for his player:

"I know the question is going to be asked about the penalty shot...is he the guy you want having it? Yeah, he is. There is no one who feels worse about what he's going through right now than I do or his teammates do. It's a tough way to lose."

Mike Kelleher opened the scoring for Central Catholic, banging home a rebound at 13:38 of the opening frame, with assists going to Steven Merrick and Lloyd Hayes. Catholic Memorial tied it in the second as the Knights forced a miscue in their own end and Aaron Marcel went most of the way down the ice for a wrister at 5:38.

TWO STRAIGHT YEARS, NO POSTSEASON FOR CM
Similar to last season, the Knights found themselves entering the final week of the regular season needing points just reach the 20 needed to become eligible for postseason play. This year, they needed to beat Central, and follow that up by knocking off an excellent Fairfield Prep team from Connecticut. The tie left them short of their goal.

Were it not for the stellar outing by Williams, the Knights might have scored four goals, maybe even more given the intensity and hunger they displayed on the ice. Take this game out of the mix and there are several others the Knights will look back on as lost opportunities for points - in particular, ties with Malden Catholic and BC High in games they were leading in the third period, and a loss to St. John's Prep with just six seconds remaining.

Ultimately, however, it was the inability to score enough goals that did them in. According to Hanson, the Knights have scored 39 goals while allowing 40 through 18 games, yet still found themselves with a chance to win two games and become tournament-eligible.

"The last four games we've only scored four goals," Hanson lamented. "That's been the story of our season. We played extremely well tonight against a very good hockey team. The system we had in there worked to a tee. You hold a team like that to one goal, and with the opportunities we had, you should win the hockey game."

LEAGUE FIRST, SUPER 8 LATER
While CM needed the win to keep its postseason hopes alive, the Raiders were in need of points as well as a return to the form that reeled off an 11-game unbeaten stretch (8-0-3) prior to Saturday's loss to Andover.

While improving its resume for Super 8 consideration is certainly in the thought process, Central is still fighting to win a league title, something that is at the forefront of the team's minds right now.

Wednesday, Central hosts an Acton-Boxborough team that hasn't lost in its last six games and has wins over Billerica, Andover and a Super 8 watch-list team in Westford Academy. The Raiders hold a one-point edge in the standings over both Andover and Westford, with the Grey Ghosts taking on Billerica on Wednesday as well.

When asked if his team was thinking about the possibilities of the Super 8 just yet, Jankowski responded, "Not even close. We're so grateful today to be able to contend and now we're really looking to Wednesday. We have to bring everything because A-B's playing so well. We're just going to try and buckle it up and get ready for Wednesday."
January, 24, 2012
1/24/12
12:30
PM ET
BOYS MIDSEASON ALL-STATE
F - Brendan Collier, Malden Catholic
F - Ryan Fitzgerald, Malden Catholic
F - Sam Kurker, St. John's Prep
D - Jared Beckwith, Catholic Memorial
D - Jake Secatore, Woburn
G - David Letarte, St. John's Prep

Others garnering consideration:
Tom Besinger, Soph. F, BC High
Tom Cahill, Sr. F, Pembroke
Liam Centrella, Sr. F, Andover
Frank Crinella, Sr. F, Springfield Cathedral
Peter Cronin, Jr. G, BC High
Kevin Emmerling, Sr. F, St. John's (Shrewsbury)
Connor Fenton, Sr. D, Braintree
Jarrod Fitzpatrick, Soph. F, St. Mary's of Lynn
Brian Furey, Sr. D, BC High
Danny Holland, Sr. F, Woburn
Pat Houghton, Sr. D, Westford Academy
Mike Iovanna, Jr. F, Malden Catholic
Mike Kelleher, Jr. F, Central Catholic
Chris LeBlanc, Sr. F, Winthrop
Conal Lynch, Sr. F, Boston Latin
Colin MacGillivray, Jr. D, Malden Catholic
Nikko Markham, Sr. D, St. Mary's of Lynn
Bobby Mullins, Sr. F, St. Mary's of Lynn
Brian Pinho, Jr. F, St. John's Prep
Casey Shea, Sr. F, Woburn
Shane Starrett, Jr. G, Catholic Memorial
Joe Strangie, Jr. F, Danvers
Kyle Williams, Sr. G, Central Catholic

GIRLS' MIDSEASON ALL-STATE
F - Natalie Flynn, Arlington Catholic
F - Kayla Smith, Woburn
F - Kati Goguen, Acton-Boxborough
D - Martha Findley, Duxbury
D - Emily Loebs, Acton-Boxborough
G - Courtney Davis, Woburn

Others garnering consideration:
Cassandra Connolly, Jr. D, Woburn
Lily Connolly, Jr. F, Duxbury
Jackie Denning, Jr. F/D, Lexington
Rachel Donahoe, Sr. D, St. Mary's of Lynn
Jane Freda, Jr. F/D, Hingham
Haley Gaughan, Sr. F, Canton
Samantha Girard, Fr. F, Dedham
Erika Kelly, Sr. F, Watertown/Melrose
Cali Loblundo, 8th G, Acton-Boxborough
Brooke Matherson, D, Walpole
Caroline McCarthy, Sr. F, Belmont
Tori Messina, So. D, Hingham
Annie Messuri, D, Acton-Boxborough
Megan Messuri, Soph. G, Arlington Catholic
Hannah Murphy, Jr. F, Duxbury
Rachel Myette, So. G, Duxbury
Shannon O'Neil, G, Austin Prep
Danielle Phalon, Sr. F, Stoneham
Casey Schaejbe, Sr. G, Arlington
Sarah Schwenzfeier, Jr. F, Hingham
Caroline Shaughnessy, So. D, Duxbury
Kaitlyn Spillane, Jr. F/D, Franklin
Bethany Welch, Jr. G, Walpole
Rebecca Zappalla, Sr. D, Arlington Catholic
January, 14, 2012
1/14/12
5:23
PM ET


BOSTON – Couldn't have convinced anybody that No. 3 BC High would walk away with a 4-0 win over Catholic Conference rival sixth-ranked Catholic Memorial after the first period in Saturday's matinee at Frozen Fenway.

The Eagles barely touched the offensive zone and were outshot, 12-3.

Then, something during the first intermission must have clicked.

"We were all nervous coming in because it's a huge atmosphere," Eagles senior assistant captain Bartley "Moe" Regan said. "We just bore down in the second period."

With a renewed commitment to the forecheck, BC High (6-1-0, 2-1-0) scored the game's first goal 39 seconds into the second period.

"We had [three] shots in the first period, and that's unacceptable," BC High head coach John Flaherty said. "I made sure [the team] understood that."

Regan, the quarterback of the Eagles' Super Bowl championship football team, now has a penchant for scoring big goals, netting what proved to be the game-winner of Saturday's contest. Regan also potted the game-winner in the Eagles' Catholic Conference-opener against St. John's Prep.

Regan's goal Saturday was his team-leading fifth of the season.

"He was a role player for us last year, but he's been stepping up big for us this season," senior captain Matt Sullivan said.

The Eagles kept coming with the onslaught through the second, when they outshot the Knights (4-4-0, 1-1-0) by a margin of 13-6.

Tom Besinger found Adam Foley on a perfectly executed 3-on-1 chance for a goal at 8:23.

Chris LaLiberte then put BC High to a 3-0 lead before the second intermission with the back-handed putback of a rebound with 1:29 remaining in the second.

Sullivan capped scoring with a top-shelf wrister at 5:35 of the third period, with an assist by Regan.

"That goal doesn't happen but for Moe [Regan] getting on the forecheck," Flaherty said. "And if there's one guy that I want finishing a play, that's 1-9 [Sullivan] because he can finish."

CHANGING IT UP
BC High's dominance of the second stemmed from an adjustment in how they attacked their transition game.

With the Eagles' struggles to move out of their own end, playing on the wings in the first period, BC High started to look up the middle.

"We were trying to throw it up the wall a lot [in the first], then we noticed that the center was open on the breakout," Sullivan said. "We just needed to pick our heads up and find that center."

TREADING WATER
Not to be lost in the fray was BC High goaltender Peter Cronin's third shutout of the season. While things got considerably easier for the junior in the later periods, Cronin (22 saves) was under siege at time in the first period and held the fort long enough for the Eagles to take off.

"It looked like we were a little bit in awe of the park," Cronin said of the team's slow start.

He added, "My teammates did a good job of keeping the shots to the outside, taking good angles to the puck.

NO PUCK LUCK
Goals have come at a premium for CM in the first half of the season.

The Knights have just 14 goals through eight contests, yet they've remained afloat largely thanks to a stingy defense. CM has allowed a league-best 14 goals against, which has helped keep the Knights at .500, despite the offensive outage.

"They're a good team, they work tremendously hard, but we've got to start scoring goals," CM head coach Bill Hanson said. "We can't expect out goaltender to throw shutouts all the time."


December, 22, 2011
12/22/11
1:42
AM ET
ALLSTON, Mass. – Showing great discipline in their defensive system, No. 4 Catholic Memorial beat ISL rival and fellow hockey powerhouse St. Sebastian's, 2-1, Wednesday night at Harvard University's Bright Hockey Center.
The Knights got 29 saves from junior goaltender Shane Starrett, but it was the efforts of the defensemen in front of the lanky goalie and the back check of CM's forwards that helped ground the high-flying Arrows' attack in the teams' annual Kevin Mutch Cup game.
"Those five guys, they played terrific," CM head coach Bill Hanson said of his blue-liners. "They played well because they knew they had support coming back from the forwards. They moved the puck well, they were opportunistic and our goaltender is our goaltender."
Starrett was particularly strong in the second period, when St. Seb's out-shot the Knights, 14-5.
Despite not putting a shot on goal through the first half of the period, the Knights took the advantage on the scoreboard, scoring two second-period goals.
John Malewicz found the back of the net on CM's second shot of the period with 6:13 remaining. A little more than a minute later, senior captain and defenseman Jared Beckwith followed with the Knights' second tally. Winger Beau Starrett took an assist on the play in addition to setting a screen in front of Arrows netminder Gordon Donnelly.
ADJUSTING ON THE FLY
Both teams exhibited supreme speed throughout. So it was the Arrows' transition game that had Hanson worried during the first intermission.
"We had to make an adjustment," Hanson said. "We concentrated on not letting them get chances in transition."
In addition to limiting St. Seb's chance coming through the neutral zone, the Knights sagged their forwards down low on defense, limiting the Arrows' chances in close and keeping shots to the periphery.
"When you collapse all five guys down low, it makes it harder to those second and third chances," St. Seb's coach Sean McCann said. "We were focused more of creating offense off the rush by taking speed wide and then driving to the net hard.
"I think we've got to be able to create two ways, on the rush and in the offensive zone, whether it's looking for a guy on the short side or getting shots on net. We have to get a little more traffic in front of the goaltender."
ARROWS HAVE POINT
St. Seb's has plenty of offensive firepower, and they're young to boot. With eighth-grader Cameron Askew and ninth-grade defenseman Noah Hanifin garnering many headlines (both have already given commitments to Northeastern and BC, respectively), the Arrows will be a tough opponent in the Keller Division for years to come.
"We're not the type of school that's going to bring in juniors and senior to load up the team," McCann said. "We're a school that tries to bring in younger kids in, through the seventh, eighth and ninth grades and really develop them. That's not going to change.
"But, when you have a good number of players returning from last season, and coming off a pretty successful season like last year, you expect those kids to mature and do better."
The Arrows had several last-minute chances to tie the game. After a CM penalty with a little more than a minute to play in the third, the teams skated 4-on-4; St. Seb's had an one-man advantage with Donnelly pulled from the net.
Although the Arrows were unable to finish and scrounge up the equalizer, there were a few things to take away:
Askew is the real deal: An exceptional rush, while splitting two CM defensemen during the second period was a rare lapse in the Knights' otherwise solid night. The 6-foot-2, 180-pounder came flying through the neutral zone, puck on a string, dangled and let off a back-hander that Starrett turned away. Along with his goal later in the period, Askew showed why he's such a hot commodity at such a young age.
So is Danny O'Regan: While the youngsters grab more of the attention, let's not forget about the senior captain, who's scheduled to join a deep local class headed to Comm Ave. and join BU hockey in 2013. There was no better example of the hockey IQ he possesses than during a crucial point of the third period. With time winding down, O'Regan skated to a loose puck along the half wing boards. Then using his body, he shielded the puck from two on-coming CM defenders, creating a mismatch, before shoveling a nice saucer pass along the blue line for a shot from the point. It's all those little things that help make good hockey teams and hockey players.
GOOD CAUSE
The Kevin Mutch Cup was awarded during a postgame ceremony. The annual matchup, which is dedicated in the memory of the former St. Seb's and BU standout who was killed in 1992, is hosted by Mutch's alma mater. The proceeds from the game are donated to Dana Farber.
"We always look forward to playing a team like CM, especially with their long and rich tradition there, like St. Sebastian's does as well, it creates a great event that both teams look forward to," McCann said. "It always means a lot going into this game and you could see it by the intensity of the game tonight."
December, 14, 2011
12/14/11
6:06
PM ET
With a good number of team's kicking off their hockey schedules on Wednesday night, we thought we'd take a closer look at our
Top 5 preseason teams
, handicapping the field of could-be Super 8 contenders this season:
(All records and stats from 2010-11)
1. Malden Catholic (21-1-2)
Players to watch:
Brendan Collier, Sr. F, 24-39--63; Ryan Fitzgerald, Jr. F, 24-42-66; Mike Iovanna, Jr. F, 10-18--28; Tyler Sifferlen, So. F, 4-7--11; Brendan White, Jr. D, 2-7--9; Colin MacGillivray, Jr. D, 1-7--8.
Key losses:
F Mike Vecchione, D Connor Evangelista, F Nick Roberto, G Pat Young.
The skinny:
The returning Super 8 champions now have the bull's-eye on their backs, and they're OK with that. The Lancers finally finished the season on top, in no small part thanks to the leadership of Vecchione. Now the torch has been passed to Collier, who inherits the "C' this season. The Charlestown native and BU commit leads a re-tooled lineup. However, MC isn't without its questions. Top-line center Ryan Fitzgerald is on the shelf until around New Year's with a seperated shoulder. Catholic Conference All-Star Connor Evangelista is among the offseason defections and leaves a hole at the top of the Lancers' blue line corps. MC will also breaking in junior goaltender Connor Maloney after the graduation of Pat Young (1.33 GAA). On top of that, the Lancers have a new head coach in John McLean, who's filling in for Chris Serino, who's taken a medical leave. Still, for all those questions, there's still an awful lot of talent around with Iovanna figuring to make a big leap, playing the wing spot vacated by Vecchione. Freshman Ara Nazarian is a name that will be mentioned around the state for quite some time.
X-factor:
White and MacGillivray. For all the attention paid to MC's front-line offensive talent, when you get down to the nitty-gritty of playoff time, teams need the horses on the blue line to take control of games. Both are more-than-capable defenders. Fitzgerald's younger sib, Casey, a freshman blue-liner is also a name to watch in the coming seasons.
2. St. John's Prep (18-6-1)
Players to watch:
Sam Kurker, Sr. F, 15-10--25; David Letarte, Sr. G, 2.52 GAA; Nick Pandalena, Sr. D, 2-10--12; Dillon Gargano, Jr. D, 1-1--2; Tyler Bird, So. F, 3-3--6.
Key losses:
F Colin Blackwell, F Shane Eiserman, F John Farrow, D Joe Currie.
The skinny:
Perhaps none of last year's Super 8 field lost more front-line talent than the Eagles. ESPN Boston Mr. Hockey Colin Blackwell matriculated to Harvard and is now tearing up the ECAC. Also, talented freshman Shane Eiserman left for the prep schools. What the Prep returns, however, could also be envy of most teams. It all starts up front with BU-commit Kurker, who's a true power forward in the old sense of the word; the Eagles will lean on Kurker to improve upon his 15-goal campaign last season. The Eagles also lost most of the blue line, with Nick Pandalena the only returner from their top 5. But the Prep is still built from the net out with Letarte returning between the pipes.
X-factor:
Letarte. With a young defense in front of him and possible dip in scoring, it will take an even larger effort from the senior netminder to return Prep to a Super 8 title game.
3. BC High (15-6-3)
Players to watch:
Matt Sullivan, Sr. F; Tom Besinger, So. F; Brian Furey, Sr. D; Peter Cronin, Jr. G.
Key losses:
F Mike Cashman, F Terence Durkin, F Andrew White,
The skinny:
Last year was about the Eagles' return to prominence. Now, this year is all about taking that next step. Still, the roster is young, but they're also battle-tested. "The guys we had last year were excellent leaders," BC High head coach John Flaherty said," now we're asking this group to build upon that moving forward, being leaders on and off the ice." That leadership now falls to Sullivan and Furey. Still, for a unit that's relatively young, there's some talent to be had, including Besinger who was among our Top 5 rookies to watch from last season.
X-factor:
Cronin. The then-sophomore netminder turned some heads during the Super 8 tournament last season, as the Eagles went toe-to-toe with MC in the crossover round. If he can repeat that kind of performance, the Eagles are in good hands.
4. Catholic Memorial (8-10-2)
Players to watch:
Liam Coughlin, Jr. F, 10-11--21; Jared Beckwith, Sr. D, 4-10--14; Shane Starrett, Jr. G, 1.77 GAA; Jack O'Hear, Jr. F.
Key losses:
D Marc Hetnick, F Dan O'Hear, F Chris Stathopoulos, G Tommy Knox.
The skinny:
By far the best team in the state not involved in the playoffs last season. With that said, the Knights were fairly green on the blue line last year and took their lumps. The hope is that they'll learn from those experiences. carrying into this season. CM figures to turn a weakness into a strength this year with a deep D corps led by Beckwith, in addition to returners Kevin Bletzer, Dennis Medeiros, Justin Ryder, Ryan Sullivan and John Allaire. The Knights also figure to be strong in net with Starrett after posting a .968 save percentage last year in nine games.
X-factor:
Coughlin. An ESPN Boston All-Stater, bears watching in his second year with the Knights and could be the breakout performer of the year. He has the talent and size to change the complexion of game. If he applies himself physically, there's no defense in the state who can match him.
5. Woburn (18-5-2)
Players to watch:
Casey Shea, Sr. F, 21-28--49; Danny Holland, Sr. F, 10-14--24; Jake Secatore, Sr. D, 1-12--13.
Key losses:
F Alex Holland, D Brian Dulong, G Cam McGlashing, D Brian Smith.
The skinny:
A year later, we still find ourselves wondering what could've been in the Super 8 tournament -- had the Tanners gotten a couple of bounces here and there. But, as Woburn head coach Jim Duran told us at the time, "Teams make their own luck in hockey." This year, the Tanners hope the luck breaks their way because they don't lack on talent. UMass-Lowell commit Casey Shea will be perhaps the most dynamic offensive threat in the state (save for the top-liners at MC), and Holland isn't far behind. This group can skate and make plays in tight spaces. In a word, they're fun to watch. The Tanners also return one of the steadiest D-men in the state in Secatore.
X-factor:
Sophomore goaltender Jeremy Flibotte. He's tabbed to be McGlashing's replacement in net and saw time sparingly during last season. Can the netminder hold up to the rigors of postseason play? We'll find out.
December, 9, 2011
12/09/11
6:04
PM ET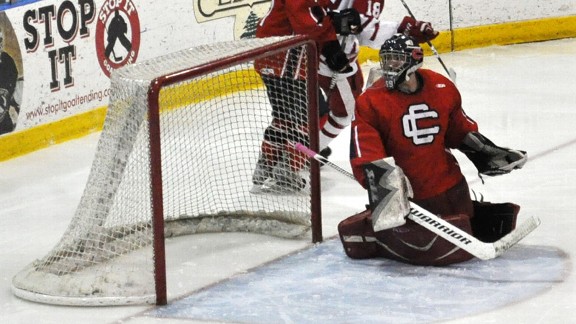 ESPNBoston.comCentral Catholic goaltender Kyle Williams surrendered just 43 goals last season while being named to ESPN Boston's All-State team. This year, the senior netminder kicks off the season in the same place on our First Team preseason All-State team.
Here is ESPN Boston's preseason MIAA All-State boys' ice hockey teams:
FIRST TEAM
F - Brendan Collier, Sr., Malden Catholic
F - Ryan Fitzgerald, Jr., Malden Catholic
F - Sam Kurker, Sr., St. John's Prep
D - Jared Beckwith, Sr., Catholic Memorial
D - Peter Sikalis, Sr., Acton-Boxborough
G - Kyle Williams, Sr., Central Catholic
SECOND TEAM
F - Liam Coughlin, Jr., Catholic Memorial
F - Casey Shea, Sr., Woburn
F - Matt Sullivan, Sr., BC High
D - Brendan White, Jr., Malden Catholic
D - Jake Secatore, Sr., Woburn
G - Peter Cronin, Jr., BC High
THIRD TEAM
F - Kevin Emmerling, Sr., St. John's (Shrewsbury)
F - Mike Kelleher, Jr., Central Catholic
F - Conal Lynch, Sr., Boston Latin
D - Connor Fenton, Sr., Braintree
D - Nick Pandalena, Sr., St. John's Prep
G - David Letarte, Sr., St. John's Prep
February, 16, 2011
2/16/11
11:05
PM ET
By
Kevin Ryder
| ESPNBoston.com
WOONSOCKET, R.I. -- A late goal in the third period from junior forward Chris Stathopoulous helped No. 8 Catholic Memorial come away from Adelard Arena with a 3-3 tie with Rhode Island powerhouse Mount Saint Charles Wednesday afternoon.

With the tie, CM (7-7-2) now needs four points from its final four games to qualify for the Massachusetts Super Eight state tournament.

"I said to my kids that we had to come out and try to steal a point down here," CM head coach Bill Hanson said. "We played awfully well that second period. That was huge for us tonight."

On the tying goal, it was a poke check that started the play in motion. Before the puck could clear the zone, junior defenseman Jared Beckwith stretched with his stick at the blue line in front of the Mount bench to keep it in the offensive end. He dumped the puck into the zone to Kevin McCarthy, who found Liam Coughlin behind the net. Coughlin fed a perfect pass to Stathopoulous, who beat Mount goalie Dan Foster to the blocker side with 4:26 left on the clock.

"In this rink here, we didn't play well along the wall," Hanson said. "It was [get the] puck along the wall, chip, set up battles and get bounces. We got a bounce there."

"Their good forecheck created a turnover and we left a man open," said Mount co-coach Dave Belisle. "It was a bang-bang play and our goalie had no chance. When you turn the puck over in your own end on the break out, with guys skating one way away from the net, it was a quick turnover, they made a nice pass out front and [Stathopoulous] didn't even hesitate, he just buried it."

Mount (19-1-1) got on the board just 51 seconds into the game when senior Alexander Erban took a pass from Shamus Maloney and easily beat CM keeper Shane Starrett to the far side for a 1-0 lead.

CM tied the game at the 2:02 mark when Coughlin beat Foster off a nice feed from McCarthy. But the Mounties were able to take the lead right back just 34 seconds later when Michael Magerman fired a shot on net that Starrett stopped with his pad, but the rebound went right to the stick of Zachary Samborsky, who buried the shot into the back of the net for a 2-1 advantage.

In the second period, play was slow for both teams, although Catholic Memorial did carry the offensive play for the early portion. But the Mount was able to extend its lead at the 11:11 mark when Magerman won the faceoff draw to Trevor Plante, who slipped a pass to Samborsky in the slot. Samborsky buried his shot between Starrett's legs for a 3-1 advantage.

The Knights didn't waste any time getting that goal back, as Stathopoulous took a feed from Coughlin and beat Foster to the near side at the 11:18 mark, making it a one-goal game heading into the final period.

Mount carried the play for the better part of the third period, coming up with a number of quality scoring chances, even hitting the post on a shot from Callan Morisseau midway through the period. But Starrett turned away each opportunity, and CM rewarded that with the tying goal at the 10:34 mark.

This was the final nonleague contest for Mount Saint Charles, who finished 5-0-1 against some of the top teams from around New England and the East Coast. Belisle and his staff, which includes his father, legendary head coach Bill Belisle, hopes his team is able to use the experience of the game with CM to prepare it for another run at a state title.

"It's a great non-league schedule and to accomplish what we did, I am very, very pleased with the effort of the boys," Dave Belisle said. "It was a great year for the non-league, now we've got to finish the regular season and think about the playoffs. But this game is something that will get us working toward the playoffs."

With the tie, CM now must get four points in its final four games to secure a coveted spot in the Super Eight. The Knights are back in action at Walter Brown Arena against another R.I. Catholic power, Bishop Hendricken, on Saturday night before travelling to Connecticut to face that state's top team, Fairfield Prep, on Wednesday.

"We're in desperation mode," Hanson said. "We need to win these games and get points. We'll be at our best, hopefully. To get a point from [Mount], they are just as good as any of those teams [left on CM's schedule], if not better."

CHANGE IN NET
Coming in, many people had been looking forward to the matchup of the two goalies from the respective teams. But CM started sophomore Shane Starrett over senior Tommy Knox, based on recent play. Starrett was in net for the team's only point in the last two weeks, a 1-1 tie with No. 1 Malden Catholic. So Hanson started the sophomore, who is from Bellingham, just down the street from Mount's home rink.

"[Starrett] has played very, very well for us," Hanson said. "[Starrett] is a heck of a goaltender, and he's only a sophomore. He stole a point for us against Malden Catholic and had a great game against St. John's Prep earlier last week. He can play."

After the game, Hanson said Starrett would be in net Saturday night against Bishop Hendricken.

The Starrett name should be familiar to fans of the Knights and of hockey in the region. His older brother, Peter, is playing at Harvard and had a couple of assists in a win over Boston University in the Beanpot consolation game Monday night; Troy is a freshman at Babson; and younger brother Beau is a freshman forward for CM.

MOUNT LIKELY TOP SEED IN R.I.
While it isn't official, the Mounties should be the top seed in the Division I playoffs when they start March 4. Mount is the defending champions and is seeking the 42nd state title banner in school history. This year, with eight teams making the playoffs in the top division, MSC will have to play in the quarterfinals against the No. 8 seed. In the past, the top seed was given a bye into the semifinals.

The state championship, a best-of-three series, is scheduled for Schneider Arena at Providence College on March 16, 18 and 19.

Mount Saint Charles 3, Catholic Memorial 3
First period: MSC Erban [19] (Maloney) :51, CM Coughlin [9] (McCarthy, Beckwith) 2:02, MSC Samborsky [19] (Magerman) 2:36. Penalties: MSC (Magerman, unsportsmanlike conduct, 2:00).

Second period: MSC Samborsky [20] (Plante, Magerman) 11:11, CM Stathopoulous [9] (Coughlin), 11:18. No penalties.

Third period: CM Stathopoulous [10] (Coughlin, McCarthy) 10:34. No penalties.

Power play: CM 0-1, MSC 0-0.

Goaltenders (saves/shots): MSC Foster 27/30, CM Starret (26/29).