Boston High School:

Jared Schneider
December, 3, 2011
12/03/11
2:28
PM ET
By
Ryan Kilian
| ESPNBoston.com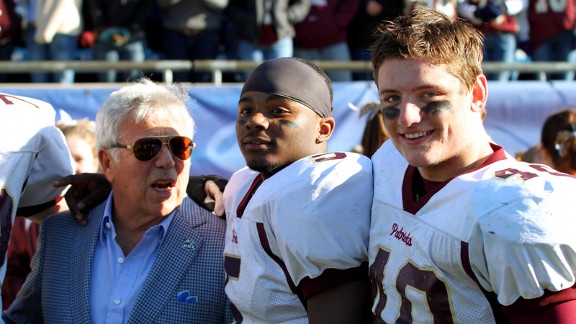 Ryan Kilian/ESPNBoston.com Patriots owner Robert Kraft dropped by the Concord-Carlisle sideline.
FOXBOROUGH, Mass. -- Concord-Carlisle made their second consecutive trip to Gillette Stadium a successful one as they defeated Oliver Ames (7-5) 42-9 to win the Eastern Massachusetts Division 3 Super Bowl.
The game plan for C-C was to run the football, just as they had done in each of their previous 12 victories this season. C-C pounded the ball for 298 total rushing yards behind their veteran offensive line and three-headed backfield of seniors George Craan, Tyquan Culbreath, and junior Tim Badgley.
"For those guys to have a great day, particularly George and Ty as seniors, that makes it special," Concord-Carlisle head coach Mike Robichaud said.
When Concord-Carlisle (13-0) went to the air they also converted as C-C quarterback Ryan Hoey found tight end Henry Bumpus on two separate occasions for touchdown strikes.
"It was a complete team effort," said Robichaud. "I could not have been more proud of our team today."
Oliver Ames could never get any sustainable drives going on the day despite solid games from quarterback Jared Schneider (11-22 passing for 123 yards and 2 INT) and running back Sam Langston (14 rushes for 60 yards and one touchdown).
Bumpus rebounds and stars:
Bumpus had a strong junior season for C-C last year but had a dropped ball in the end zone that would have been a score for Concord-Carlisle in their Super Bowl loss at Gillette Stadium to Duxbury last year.
"Last year was the worst day of my life," Bumpus said. "I dropped a big catch that I should have had so this year I knew I had to make up for it. I think I did that today and it feels so good to get that off my back."
The Dual County League MVP had the biggest game of his career on the biggest stage as the 6-foot-6 defensive end/ tight end had two catches for 34 yards and two touchdowns to go along with an interception where he leaped up and picked off a Schneider pass and returned it deep into Oliver Ames territory.
Bumpus is also the captain of the C-C basketball team as well as a starting defenseman for the Patriots lacrosse squad. He will attend Brown University next season along with teammate and two time DCL lineman of the year Andrew VanderWilden. Together they will team with Henry's older brother John who was a 2009 captain for Concord-Carlisle.
Right time to shine
: Craan has put together one of the all-time great careers for any running back in the history of the Dual County League. This season Craan stepped his game up at the right time for the Patriots as the senior ran for 342 yards (122 in today's Super Bowl win) and seven touchdowns in C-C's two playoff wins.
"I remember when I came in as a little cocky freshman, I told my coach we were going to win the state championship before we left here," Craan said. "We did it and it feels real good to finish big."
History repeats itself for the Robichaud family:
The last time Concord-Carlisle won the Super Bowl was 1978 at Nickerson Field in Boston and the head coach was the legendary Al Robichaud, who manned the Patriots' sidelines from 1972-1990. Al, a member of the Massachusetts Football Coaches Association Hall of Fame, is the father of current head coach Mike Robichaud. He was on hand to witness the championship game and share an emotional moment with his family after the game.
"My dad is my role model," Robichaud said. "I am just proud of the kids to get this done. It is just a great honor to be in the profession he was in. It was not always about the wins and losses as much as it was the impact that he had on so many kids lives."
Seniors go out in style:
"We got together as freshman and collectively said that we wanted to be the best," Bumpus said. "I love all these kids and this is the greatest team I have been on."
The senior class has made it to three straight playoff games, improving each year to win one more game.
"A perfect season feels good," said Craan. "We all put in the hard work, we all worked out together in the offseason, we had good chemistry and we did it. We are a family. We are more than just a team off the field. Brothers look out for each other and that is what we did today."
"They were the first class I connected with as sophomores," Robichaud said. "To execute this way and to end on a perfect season is not just something they deserved or were entitled to. They worked for it. I am just really happy I was able to be a part of it and to spend these lat years with these kids. I am really proud of them."
CONCORD-CARLISLE 42, OLIVER AMES 9
C-C (13-0) - 13 - 8 - 14 - 7 --- 42
OA (7-5) - 3 - 0 - 0 - 6 --- 9
1st Quarter
C – George Craan 4 run (Evan Boynton kick)
O – Ryan McGrath 26 field goal
C – Craan 9 run (kick failed)
2nd Quarter
C – Bumpus 20 pass from Ryan Hoey (Craan run)
3rd Quarter
C – Tyquan Culbreath 35 run (Boynton kick)
C – Bumpus 14 pass from Hoey (Boynton kick)
4th Quarter
C – Craan 12 run (Boynton kick)
O – Sam Langston 3 run (kick failed)
November, 24, 2011
11/24/11
4:22
PM ET
By
Doug Kyed
| ESPNBoston.com


SHARON, Mass. -- Coming into Thanksgiving morning, Oliver Ames football controlled their own destiny.

After a dominating 34-8 victory over rival Sharon, it appears that destiny was on their side.

With the win, the Tigers clinched the Hockomock League Davenport division championship and will make their first playoff appearance since 1964, the year they won their last state championship.

"This game just meant everything for us, we haven't been to the championship, we haven't even been to the playoffs since 1964 so this is really big for this program and for the next couple years to build the program from," senior captain cornerback Brian Crosby said.

The Tigers came out swinging in the opening seconds of the game. Junior cornerback/wide receiver Ryan McMillan intercepted Sharon senior captain Caleb Piltch-Loeb on just the second offensive snap of the game.

On OA's ensuing offensive play, senior quarterback Jared Schneider hit McMillan on a go route for a 43-yard touchdown. The play was literally written out in the mud.

"To be honest, we didn't practice that specific play all week," OA head coach Jim Artz said. "But when we saw them doing what they were doing [in warm-ups], I said we have something right here at the first play and literally kind of drew it in the mud over there with the linemen."

"[Coach Artz] came up to me and said, 'I want you to pump on the bubble and then we're gonna throw the go,'" Schneider said. "I threw it and he made a great catch and ran it in for a touchdown."



The Tigers brought a balanced offensive attack all game rushing for 166 yards while Schneider completed 10 of 18 passes for 189 yards and a touchdown.

"We actually came in trying to run the ball down their throats," said senior captain Jake McDougall. "We came out and Jared was having a great game so we just kept letting him throw the ball."

The Oliver Ames defense forced a three and out on the Eagles' next offensive drive and didn't stop their barrage of offense. Senior running back Sam Langston took his first hand off of the game for 46 yards and scored on an eight yard run just two plays later.

After each team exchanged turnovers, Langston took another handoff in for a 17-yard touchdown. A converted two point conversion to senior captain Alex Tepper made the score 24-0 at the half. Langston finished with 118 yards on 12 carries and one reception for 12 yards.

The Tigers defensive game plan was simple, to stop junior running back Sean Asnes, who has over 1000 yards rushing on the season.

"He's a very talented back and we had to preach very physical play to the whistle defense," said Artz.

OA limited Asnes to 38 yards on 10 carries. The Eagles were limited to 162 total yards on offense and only allowed one passing completion. The Tigers have struggled against the run all year, but were able to limit big plays and stuff the run with gang tackling, only allowed five plays over 10 yards.

"Defensively we just came in, we were going to pressure them and make them make plays and we were able to stop them when we needed to," McDougall said.

The Eagles have come a long way from last season's 1-9 finish. The Eagles finish the season 4-6 and could have clinched a playoff berth with a win over OA and a Stoughton loss.

OA forced their third turnover of the game on an interception from Crosby, returned for 40 yards. Senior running back Carlton Williamson ran in a 17-yard touchdown to go ahead 34-0.

Sharon broke the shutout early in the fourth quarter when Jake Rotman took a pitch six yards in for a touchdown. Perhaps the strangest play of the game came on the Eagles' extra point attempt. The ball was snapped over the holder's head, recovered by junior kicker Eric Lesser at the 30, and thrown for a successful 2-point conversion.

Senior Robert Kaszanek lead the Eagles in rushing with nine carries for 53 yards. Piltch-Loeb finished with eight carries for 40 yards and one completion for 10 yards.

The win for Oliver Ames pushes them into the first round of the state tournament; the Tigers will play Pembroke on short rest Tuesday night.

"We've got to find some quick way to get our legs back and nurse the bumps and bruises," Artz said. "Hopefully we'll keep that fine line of keeping our edge, but also getting our rest."

"I think our coach said we're gonna have practice in the pool to get our legs back, have a little fun with it.," Schneider added. "We gotta watch a lot of film, get back, get our bodies back ready to go."

NOTES:
--This win marks the first conference title for Oliver Ames since 1968.

--Schneider was named the team's Thanksgiving game MVP, while Tepper won best lineman and Langston was named best back. Jordan Owen was named MVP for Sharon, while Piltch-Loeb was named best back and senior David Zhang was named best lineman.


October, 22, 2011
10/22/11
2:34
AM ET


MANSFIELD, Mass. -- For a time in the first half of Friday night's game against Oliver Ames, Mansfield was threatened by a pesky opponent from the Hockomock League's small division.

However, this time around — unlike the No. 11 Hornets' early season loss to Stoughton — Mansfield got it together in the second half to turn a potential nail-biter into a laugher with a 34-14 win. A combination of four turnovers and a thumping Hornets rushing attack fell the Tigers.

"They were a couple of turnovers away from this being a barn-burner down the stretch," Mansfield head coach Mike Redding said.

The teams went into the half tied, 14-14, but the Hornets (6-1) built on the momentum from Dylan Finnerty's 42-yard fumble return for a touchdown off a Zach Schafer strip-sack in the third quarter. It was the start of 20 unanswered second-half points posted by Mansfield with running back Greg Donahue (12 carries, 102 yards) and quarterback George Busharis each tallying rushing touchdowns.

Finnerty put Mansfield on the board five minutes into the first with a 15-yard touchdown run.

It was the beginning of yet another typical rushing performance for the Hornets, who have averaged over 250 yards per game on the ground this season.

"They're the best line in the state," Finnerty said of Mansfield's offensive line. "They're work hard, they practice hard, they lift hard all summer. They work with Coach [Tim] Selmon watching film and studying up on the D-line every week. They come out every week playing well."

OA (4-2) tied the score on Jared Schneider's 11-yard touchdown pass to Duane Johnson and later took a 14-7 lead on Mike McMillan's 32-yard touchdown reception.

After a Tiger fumble, Mansfield knotted the score, 14-14, on Donahue's 58-yard touchdown reception on screen pass.

The second half was an entirely different beast.

"We played so well early," OA head coach Jim Artz said, "and we did all those things right.

"Then," Artz snapped his fingers, "it's gone. It's very disappointing."

TALL PRAISE
Schafer has a knack for big plays and always seems to be around the ball. Following the game, Redding praised Schafer as being part of the "glue" to the Hornets defense along with fellow linebacker Nick Leonard.

"[Schafer] led us in tackles last year and he's leading us in tackles this year," Redding said. "He's smart, very physical. He plays hard and he's always around the ball. We try to get him in the position to make those plays. He's an intense kid and he gets the defense going. We need that in the defensive huddle to rally the troops.

NO MORE MORAL VICTORIES
Artz was asked if his team gained anything from playing the Hornets close for a half and the Tigers' coach flatly commented that he feels there are no moral victories to be had Friday night.

"Where this program is, we don't see it like that," Artz said. "There are only wins and losses."

That statement, by its nature, is indicative of the standard Artz holds his players to and Friday's performance was certainly lacking in many areas.

Still, the biggest challenge OA has yet to face will be an essential winner-take-all matchup for the Hockomock Davenport crown with Stoughton. Redding, for one, can vouch for the strength of the Hockomock's small school powers.

"They're much improved," Redding said of OA. "No matter what, there's going to be a strong second team representing the league. That's going to be a great game."

Oliver Ames (4-2) 7 7 0 0 -- 14
Mansfield (6-1) 7 7 13 7 -- 34

1st quarter
Mansfield - Dylan Finnerty 15-yard run (Mike Hershman kick)
OA - Duane Johnson 11-yard pass from Jared Schneider (Ryan McGrath kick)

2nd quarter
OA - Mike McMillan 32-yard pass from Schneider (McGrath kick)
Mansfield - Greg Donahue 58-yard pass from George Busharis (Hershman kick)

3rd quarter
Mansfield - Finnerty 42-yard fumble return (Hershman kick)
Mansfield - Donahue 1-yard run (kick failed)

4th quarter
Mansfield - Busharis 1-yard run (Hershman kick)
October, 15, 2011
10/15/11
12:59
AM ET


EASTON, Mass. -- Field position can win an awful lot of football games and Oliver Ames exhibited that in its 17-9 victory over Hockomock Davenport rival Foxborough Friday night at Muscato Stadium.

After the Tigers' opening drive stalled on Foxborough's 6-yard line on a fourth-and-goal try, the Warriors promptly returned the ball, fumbling on their first play from scrimmage. OA (4-1) needed just four yards to take an early 7-0 lead.

The Tigers again set up shop inside the red zone on their next possession, after forcing the Warriors (3-3) three-and-out. Dean Soucie's block and recovery of a Foxborough punt had the Tigers at 14-yard line. Although OA couldn't make it a two-touchdown lead, Ryan McGrath's field goal provided an instant 10-0 lead.

"Last week [against King Philip], we didn't represent ourselves properly," Tigers head coach Jim Artz said, "and I think, this week, we came out with a little bit more vinegar and a little more nastiness to play the way we're capable of playing."

After a Foxborough field goal, OA extended its lead on quarterback Jared Schneider's second rushing touchdown of the game just before the half. That drive, too, started with the benefit of excellent field position near midfield.

"We came out first drive and didn't get in, but our defense played great the whole game," Schneider said. "We knew once we got down there, we've got to score every time."

With the luxury of field position, OA was also able to carry the tempo of the contest. The Tigers pounded the Warriors banged-up line (with two starters lost to injury this week) in the running game with senior running back Sam Langston's 22 carries for 168 yards.

"Sam [Langston] is amazing," Schneider said. "I think he's the best running back in the league, I don't care what anybody says. He's run the ball so well all season and he's carried us down the field."

CLAWING BACK
Foxborough had chances to come back in the second half, thanks to a couple of interceptions by senior corner Tony Gutierrez, one of which set up the Warriors' lone touchdown in the fourth.

Warriors quarterback Nick Sestito also exhibited a good touch on the ball, breaking off several big plays while exploiting OA's Cover-2 defense. Sestito found receivers open on the seam several times, with a couple of those balls directed toward physical 6-foot-4 split end Noah Cronin. The Warriors also have a nice complement to Cronin with shifty receiver Greg Stamatov (the Villanova-bound lacrosse goaltender) working underneath.

"He's our Wes Welker," Foxborough head coach Jack Martinelli said of Stamatov. "He's just able to get open."

However, the opportunities the Warriors had to gash the Tigers up the middle eventually ebbed away.

"We were being too aggressive with our pressure up front, too," Artz said. "We changed up our looks and that helped."

BOUNCING BACK
Artz made several mentions to the team's dissatisfaction with their effort in a 28-13 loss to King Philip last week. It should have been a statement game for the Tigers (Stoughton over Mansfield, anybody?), but OA got behind the 8-ball early and wasn't able to get into their game plan.

"We felt we weren't able to utilize our ground game last week because of the way the game developed because we fell behind so quickly," Artz said.

The Tigers were able to assert their will on the patchwork Warriors line behind hulking 6-foot-9, 300-pound right tackle Keith Sullivan.

In addition, OA found different ways to integrate Langston into the offense, throwing in a healthy dose of direct snaps to back and some Wildcat formations.

"[Langston] has been a workhorse all week," Artz said. "He's unbelievable. He doesn't go down on the first hit. You stop him for a second and he's still going to be churning, pop off and be four yards down the field."

EXTRA POINTS
It's neither here nor there, but Tigers place kicker Ryan McGrath can flat out boom the ball. His 34-yard field goal in the first quarter would've been good from 50, a testament to one observer's estimate that McGrath was hitting from 55 yards in the pregame warm-ups in inclement weather. McGrath also showed off his leg powering a touchback through the end zone in the second quarter.

In so many words: Wow.

Foxborough (3-3) 0 3 0 6 -- 9
Oliver Ames (4-1) 10 7 0 0 -- 17

1st quarter
OA – Jared Schneider 2-yard run (Ryan McGrath kick)
OA – McGrath 34-yard field goal

2nd quarter
F – Jake Soccorso 29-yard field goal
OA – Schneider 2-yard run (McGrath kick)

4th quarter
F – Kiivone Howard 1-yard run (Kick failed)
July, 24, 2011
7/24/11
12:14
AM ET
PEABODY, Mass. -- The Northeast 7v7 -- or the Swampscott/Lynnfield Shootout as it was formerly known -- has annually hosted some of the top football programs in Massachusetts.

The event typically garners a deep field of talented teams and the programs represented year after year are usually those familiar with the postseason (think Gloucester, Longmeadow et al).

But this year's competition held at Bishop Fenwick High School saw a newcomer ruffle some feathers.

Oliver Ames made its first appearance Saturday as part of the event's biggest-ever field, featuring 48 teams in total. The Tigers might have flown under the radar some as they're coming off a 4-6 season in the Hockomock League's Davenport (Small) division.

While the Tigers simply didn't have enough to overcome Chelmsford -- which won its second title in the last three years at the event -- in the championship game, they showed they could hang. Albeit, it wasn't the down and dirty, 11 on 11 play that they'll experience a little more than a month from now, but it was a positive building block for a team looking for a little positive momentum.

"We haven't won anything, but it shows that we can compete," senior offensive and defensive lineman Alex Tepper said. "You can definitely take something from it. We were the second best team out of the 48 teams here. We're happy about that."

The Tigers have also performed well in their own passing league, which hosts several other Hockomock teams in addition to a smattering of other schools around the Easton area. Their senior leaders have taken up the task of righting their ship: building on small successes in the offseason so they might be better prepared to meet their regular season goals. And those goals are big ones.

"We want to win the Hockomock Small, win a playoff game and get to Gillette," Tepper added.

They realize that will not be easy, as rising senior Nick Hutchinson put it about playing in the Hock, "You can't take anybody lightly. Anybody can be anybody on any given night."

Still, for a program looking to get back to playing above .500 football, it can't hurt to shoot the moon.

"We didn't know what to expect today," rising senior quarterback Jared Schneider said. "We just wanted to show people what we can do. We played well and we got to the finals, so it was a good experience for us."

And they certainly captured everyone's attention in the process.
July, 23, 2011
7/23/11
9:41
PM ET
By
Roger Brown
| ESPNBoston.com




PEABODY, Mass. -- Linebacker Tim Joy will be a happy guy if his senior season at Chelmsford High School mirrors what happened Saturday at the Northeast 7v7 Tournament at Bishop Fenwick High School, where Joy's Lions went undefeated and earned a trip to Gillette Stadium.

Chelmsford won each of its eight contests, including a 20-13 victory over Oliver Ames in the championship game.

The victory earned Chelmsford some extra Under Armour apparel, and a trip to Gillette to compete in the Under Armour/New England Patriots 7v7 event Saturday.

"It's exciting to be playing where the Patriots play," Joy said. "Hopefully we'll be playing there in December. It doesn't get better than that."

Chelmsford's Colby Emanouil, who will shift from receiver to quarterback for his senior year, tossed three touchdown passes against Oliver Ames. Chelmsford built on its 14-6 halftime lead by scoring on its first second-half possession. It remained 20-6 until Oliver Ames scored on the game's final drive.

"We came into this and we didn't know what to expect because it's our first year, but we kept winning and kept advancing so I think it was a very successful tournament for us overall," Oliver Ames quarterback Jared Schneider said.

This year's tournament featured 48 teams – 47 from Massachusetts and one from Connecticut (St. Paul's). Both Chelmsford and Oliver Ames went 4-0 during pool play to earn a bye in the opening playoff round.

Twenty four of the 48 teams qualified for the playoffs. Methuen, Duxbury, Swampscott, Norwood, Longmeadow and North Andover were the other teams that earned a bye.

In addition to Chelmsford and Oliver Ames, Reading, Duxbury, Winthrop, Cathedral, Dracut and Marshfield made it to the quarterfinals. Chelmsford reached the championship game by beating Duxbury 20-12 in the semifinals. Oliver Ames advanced with a 32-20 victory over Cathedral.

Chelmsford also won the Bentley Shootout by beating BC High in the championship game earlier this summer.

"We play every day Monday through Thursday at our high school," Emanouil said. "We pretty much practice all our plays. In an event like this it's all about the intensity, and our intensity was the best."

Chelmsford will be one of eight teams competing at Gillette Stadium on Saturday. The field will be divided into two four-team pools, and two teams from each pool will advance to the playoffs.

"This is the biggest field we've ever had," Northeast 7v7 director Steve Dembowski said. "Last year we had 32, which was a record.

"My dream is to host three regional events in New England with maybe 42 teams maximum at a location. We would have a regional champion and then have the top teams come back for a 12-team tournament at Gillette.

"The key to this tournament are the refs. It would just be an average tournament if we didn't have high school refs here with the stripes on. I think at this point the credibility of the tournament is growing."

It was the second time Chelmsford has won the Northeast 7v7, which was formerly known as the Swampscott/Lynnfield Shootout. Chelmsford, which has reached the championship game in each of the last four years, also won the 2009 title.

"When you're having fun out there is when you're playing your best," Joy said. "That's what we were doing."