Boston High School:

Jared Spence
June, 14, 2012
6/14/12
3:19
AM ET
By
Mark Goodman
| ESPNBoston.com
ALLSTON, Mass. – It took a period, but once the Dover-Sherborn boys' lacrosse team got going, it wouldn't be denied.
The Raiders scored 11 goals in a row after the opening quarter, turning an early 2-0 deficit into a rout as they defeated North Reading, 16-6, in the MIAA Division 3 state final at Harvard Stadium.
Seniors Jared Spence (4 goals, 3 assists) and Ben Newbert (goal, 5 assists) ended their high school careers in style, with plenty of help in the attacking end from junior Brandon Jaeger (5 goals).
And after so many close calls in years past –- including four losses in the final -– Dover-Sherborn finally has its first state championship.
[+] Enlarge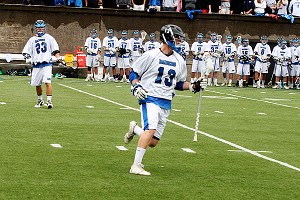 Courtesy of Ryan KilianTwo-time All-American Billy Polk helped Dover-Sherborn win 10 of its first 11 faceoffs and build a lead in Wednesaday's Division 3 state championship game at Harvard Stadium. The Raiders won their first-ever boys' lacrosse title in a 16-6 romp.
"To finally win one was a nice feeling, that's for sure," Raiders head coach Brian McLaughlin said. "Especially with the five seniors we have – this is their third time (in a state final)."
A 2-1 deficit after one turned into a 7-2 lead at halftime, with Newbert scoring one of the goals and assisting three others. Jaeger scored twice, with freshman Matt Davies, senior Billy Polk and Spence also getting in on the act in the second period.
The Raiders (19-4) dominated the faceoffs, with Polk and junior Keaton Stoner combining to win 10 of the 11 faceoffs in the first half.
"If you can keep getting the ball in lacrosse, it's tough for the other team," McLaughlin said. "Since we controlled the ball and ran our offense through, it was a big plus for us."
It was more of the same in the third period, as Davies, Spence and junior Matt Huemme all scored within the first four minutes to make it 10-2. D-S continued to dominate possession in the middle of the quarter, with only a couple saves by Hornet senior goalie Brian Conway on Newbert preventing the Raiders from increasing their lead.
They eventually did, however, with goals from seniors Peter Kostokos and Chris Flight to make it 12-2. North Reading senior Eric Valenti whipped on in from 15 yards out to finally stop the Radiers' run with 1:13 left to go in the frame. Valenti and Jaeger swapped goals in the final minute of the period, and it was 13-4 in favor of D-S going into the fourth.
North Reading (22-2) head coach Chuck Campobasso credited Dover-Sherborn's ability to keep control of the ball and limit his team's opportunities.
"We didn't have possession because they're unbelievable," Campobasso said. "They're not gonna turn the ball over, they're not gonna make mistakes."
Spence scored 1:18 into the fourth to make it 14-4. Junior Michael O'Brien and senior Cody Carbone gave Hornet fans something to cheer about with back-to-back goals, making it 14-6, but Jaeger put the exclamation point on the Raiders' fantastic season with his fourth and fifth goals in the closing minutes of the game.
North Reading started off strong, scoring the game's first two goals. Junior Cameron Knight opened the scoring 2:02 in with a well-placed bounce shot from 14 yards out. Junior Anthony Lytle made it 2-0 with 5:20 to play in the first period, taking a pass from Valenti and going top shelf over D-S junior goalie Ryan Goodall's shoulder.
Spence got the Raiders on the board just 35 seconds later with a goal from close range. Polk started the play with an excellent run from midfield, dodging three North Reading players in the process.
The Hornets outshot D-S in the first 12 minutes, 6-3, but Goodall made some good stops toward the end of the period to keep it a one-goal game.
"He made some great saves," McLaughlin said. "They have a great offense, and they shot well. [Goodall] came up big for us."
Newbert said he and his teammates were rushing their attack in the first quarter, but a more patient approach in the second turned the tide.
"After the first quarter, our coaches told us, 'We're not gonna get them back in the first 10 seconds. Just settle down; we got a whole game to play,'" Newbert said. "That's what we did. We didn't force the passes in the middle, and kids really ran their routes, made the cuts. Once that kinda settled us down, we really started getting going."
Sophomore defenseman Zach Ambrosino played a solid game for Dover-Sherborn, picking up a couple key ground balls in his own zone to prevent the Hornets' talented attackmen from getting shots on goal.
Valenti had two goals and two assists in his final game for North Reading. He's one of eight seniors whom Campobasso said will have a long-lasting effect on the program.
"You see the excitement at some of our games, with some of the youth guys that they want to play for North Reading High School," Campobasso said. "That's their legacy…This is unbelievable, but it's gonna be long-term with the amount of kids that are going to be coming out to play for us."
This was the Raiders' day, however, and one they went through plenty of growing pains to get to. The team lost in overtime to Scituate in the 2009 state championship, and fell by a goal in last year's final to Weston.
Dover-Sherborn has been knocking on the door a long time. Wednesday, they finally burst through.
"It's absolutely amazing," Newbert said. "More than anything, our coach, he's been here so many times, and to finally win it for us and him, it was just a great way for us to go out."
May, 19, 2012
5/19/12
1:43
AM ET


MEDFIELD, Mass. –- Medfield lacrosse's attacking mentality boils down to two letters: I and O. That's short for what the Warriors like to call "Instant Offense."

But in Medfield's first performance this season against Tri-Valley League rival Dover-Sherborn, the Warriors' offense was anything but, sputtering in a 7-5 loss.

With their second crack at the No. 5 Raiders on Friday, with the league title up for grabs, the Warriors lived up to their creed. Medfield translated a nearly instant 6-2 first-quarter lead into a 14-7 romp.

"We pick it up and we try to run to the sideline and get it out of the sticks as quickly as possible," senior attack Calvin Given said, "and [we] try to make the extra pass to find that man on the weak side where he can just get that layup."

Medfield (13-3) amassed their early lead thanks in no small part to their ability to win ground balls in the first quarter. The Warriors hustled and scooped their way to a 9-3 ground ball advantage in the period.

"That's something we focused on in practice all week," senior attack Chris Diana said. "It showed in the first quarter. We got off to a good start and we just kept the momentum from there."

Twice in the first quarter, Diana was a beneficiary to the Warriors hustle play, turning ground balls into transition and two of his team-high four goals on the evening. Given also celebrated Senior Night with a hat trick of his own.

The Raiders (15-3) didn't go quietly, however.

D-S whittled down Medfield's lead to two goals late in the third quarter, after a three-goal run to open the second half. Raiders senior attack Jared Spence led the comeback charge with two of his four goals.

Yet, Medfield was able to close the deal, scoring the final five goals on the night.

"This game, we valued the ball a lot more," Given said. "When we'd dodge, we didn't force anything. We pulled it out if nothing was open. We were just always working it around, looking for that extra pass. "

Perhaps a little restraint can result in something instant.

X MARKS THE SPOT
Aside from the Warriors' crisper offensive showing, Medfield also prospered with the recent return of one of its most skilled players to the lineup.

Although he was held without a goal on Friday, senior attack Connor Roddy's presence was felt, particularly with his three assists. But even without the ball, the ESPN Boston Preseason All-Stater demands the defense's attention.

After missing several weeks due to injury, it should come as no surprise that the Warriors' offensive resurgence has coincided with Roddy's return.

"He sees the field very well and he makes the right passes," Diana said of Roddy.

A BETTER SITUATION
The Warriors backed into the postseason last year, after seeing their record TVL winning streak go up in smoke with back-to-back losses to both D-S and Hopkinton.

Maybe this year Medfield will enter with momentum.

In any event, as seemingly is the case every year in the lacrosse hotbed, the second season remains the most important season for the Warriors, who look for a third straight Division 2 state title.

"I think we're in a good spot, as compared to last year," Given said. "Last year, we lost this game and the previous game against Hopkinton, which are two TVL games and a huge deal to us."
April, 19, 2012
4/19/12
10:03
PM ET
By
Matt Noonan
| ESPNBoston.com
DOVER, Mass. -- Both Andover and Lincoln-Sudbury rebounded after their opening round matches on Tuesday with wins against Dover-Sherborn and North Andover.

Andover and L-S will meet on Saturday in Wellesley at 12:00pm, while D-S and North Andover will kick-off the final day of the Coaches Cup at 10:00AM.

LINCOLN-SUDBURY 12, DOVER-SHERBORN 11: Entering the fourth quarter trailing D-S by three goals, L-S regrouped and tallied five unanswered strikes to defeat the Raiders, 12-11.

"We knew we were going to comeback," L-S head coach Brian Vona said. "We've just been that team all year."

L-S tied the game with 20 seconds remaining when junior Henry Guild, (5 G) rushed to the right side of the D-S zone before he whipped the ball past the Raiders junior netminder Ryan Goodall for the equalizer.

"I'm just looking at the clock thinking we're down by one, and we needed one, and instincts just kind of kicked in. All the coaching that we had just kind of kicked in, and I think I got a little lucky to be honest," Guild said. "I went low to low, and [my shot] just bounced off the grass, the grass had a really nice bounce and it just bounced right up and in."

On the ensuing possession, junior Chris Giorgio scooped up a loose ground ball, which was initiated by the game's final face-off before Vona called a timeout, and crafted a play that instructed his team to feed junior Dan Delaney, (5 G, 1 A) for the go-ahead goal.

And luckily for Vona, his play worked out, as Delaney dodged through the D-S zone, and rifled a shot past Goodall for the game-winner.

"We were aware of the clock, we knew we had 13 seconds [following a timeout], and I had a lot of room on [the right side], and I was going to the goal," Delaney said of his game winning strike. "I was going to the goal."

"Ironically, exactly what we did, which never happens in high school lacrosse, but exactly what we drew up," Vona added. "We knew they'd shut off the two adjacent passes, and we just skipped a pass and went from there, so it was a good pass to make it, and a hell of an athletic play by Danny to make it happen."

D-S jumped out to a quick 5-2 lead thanks to senior Jared Spence, (5 G), and extended it to 8-4 at the break. However, once the second half commenced, L-S appeared rejuvenated, and notched two back-to-back strikes by Guild and Delaney during the final 30 seconds of the third quarter, which provided the Warriors with all the momentum.

The Raiders only fourth quarter goal came at 8:59 when senior Ben Newbert centered a pass to junior Brandon Jaeger, who then deposited the ball past Warriors senior goaltender Dan Shaughnessy.

D-S never scored again, as their defense allowed L-S to net four goals in a span of five minutes, which secured their fifth victory of the season.

"I think all of our guys played a tough game, we did not quit, [and in the] fourth quarter came back and won it," Delaney said. "I think that was an important win for our team."

Andover 10, North Andover 7: Starring at their third consecutive loss, Andover's offense rebounded following a lackluster third quarter, and tallied six unanswered strikes in the fourth, which lifted the Golden Warriors past North Andover, 10-7.

Andover's senior Tom LoMedico, (2G, 1A) sparked the rally by connecting with sophomore Will Reardon, (3G, 2A) at 10:28 before he and senior Matt McIver recorded back-to-back tallies, which tied the game, 7-7.

"I think the whole team started really believing, and I think we knew we could comeback the whole time, so once we started putting a few in, it just really helped us comeback," LoMedico said.

The Golden Warriors regained the lead for good two minutes after their game-tying strike when McIver found LoMedico before Andover increased their lead with two additional goals by junior Andrew Eriksen and senior Jeff Hanson.

"I felt like we were kind of making rash decisions, and throwing the ball a little bit more then we needed to, and kind of pushing it into spots where we were kind of forcing the ball, and what we said at the end of the third quarter was that we know that we can score, we have 12 minutes, and let's make sure we're not forcing [passes or goals]," Andover head coach Wayne Puglisi said. "That was the main message."

Andover began the game with a 2-1 advantage, but North Andover responded with four consecutive strikes, which gave the Knights a 5-3 lead at halftime.

North Andover extended their lead to 7-4 in the third when junior Nathaniel Hitchcock tallied back-to-back strike before Andover rallied to beat their crosstown rival for the first time since 2010.
June, 14, 2011
6/14/11
6:15
PM ET
By
James Walsh
| ESPNBoston.com


ALLSTON, Mass -- The Weston Wildcats captured their first ever boys' lacrosse state championship winning the Division 3 title, 5-4, over Dover-Sherborn.

But they were just happy be there.

"We really had no expectations," Weston junior attack Joe Pasquale said. "Everyone was saying we were going to loose. We've always been the underdogs this season and then we came back, and today we've proved them wrong."

Weston (20 -2) came out of the gates flying and scored just six seconds after the opening faceoff, Pasquale (4G, 1A) assisting Kyle Nickerson for the only score of the first quarter.

"It was kinda like shock," Pasquale said of the first goal. "We were like, OK we just got a goal we can do this, that's how it's going to be for the rest of the game and we're not letting down"

Pasquale then doubled the lead with his first goal of the afternoon, a snipe from 12 yards out after cutting nicely inside to his left at 8:07 of the second quarter.

It looked like P.J. Copponi had scored Dover-Sherborn's (19-3) first goal at 4:10, but a crease violation waived off the score. However, the Raiders got the goal they were looking for just under a minute later when Ben Newbert (1G, 1A) finished low off of a nice feed from Jared Spence (1G, 1A).

Pasquale scored the final goal of the first half, on a wrap around effort from behind the cage, and Weston took a 3-1 lead into halftime.

Spence returned the favor to Newbert for Dover–Sherborn's second goal at 8:38 of the third, but then Weston goalie Jared Fong (14 saves) put on a show. Fong had three crucial saves in the final 5:25 of the quarter including one at the buzzer to deny Robert Simms.

But Fong wasn't taking any credit.

"It was a lucky save," said the humble junior keeper. "It was a whole team effort. "



"We're all pretty proud of Jared, he's a great goalie," Wildcats head coach Jim Wilcon said. "He seems to player bigger in big games."

Pasquale scored his fourth goal of the game 1:59 into the fourth quarter with Matt Knight assisting making it 5-2 Weston but Raiders brought the game to within two goals moments later when sophomore Brandon Jaeger finished off a nice pass that Copponi sent from behind the net. D-S made it a one goal game with just 10 seconds remaining, but there wasn't enough time for an equalizer.

"We didn't finish our shots, and they played great," Dover-Sherborn head coach Brian McLaughlin. "I though we had a some good opportunities in the first half, we just didn't capitalize on them."

"They're well coached, they're the best team we played all year," Wilcon said of Dover-Sherborn. "It took everything we had to beat them."


May, 14, 2011
5/14/11
8:07
PM ET
By
Tom Layman
| ESPNBoston.com


DOVER, Mass. -- The Apri 29 loss to Tri-Valley League powerhouse Medfield could have done one of two things to the Dover-Sherborn boys' lacrosse team. It could have spiraled the Raiders' season out of control or it could have served as a launching pad for bigger and better things.

It's safe to say the Raiders chose the latter.

No. 10 Dover-Sherborn (13-2) claimed it's fourth straight victory since that defeat with a 10-5 triumph over No. 16 Walpole on Saturday afternoon at Nathaniel Frothingham Field.

"I think we had won a few game games before [the loss to Medfield] and getting to a loss you kind of take a look at yourself and say what can we do better," said Raiders head coach Brian McLaughlin. "We've been concentrating on some of those things."

The Raiders began the game with a 2-0 lead in the first quarter because of good spacing and precision passing in the offensive zone, which was just the way the game began a few weeks ago against Medfield.

However, this time the Raiders didn't go into a prolonged scoring funk as P.J. Copponi scored three goals and three other players recorded multi-goal games. Ben Newbert, Jared Spence and Brandon Jaegaer all collected two goals apiece, and Billy Polk added a goal and three assists.

"We've been in that situation before and we didn't want to let what happened against Medfield happen today," said Copponi. "We knew we had to do some things differently and we did. It worked out well."

The offensive output will be appealing to look at in the box score, but the Raiders' defensive unit provided the backbone for the scoring surges in the second half. Walpole was held to one goal in the final 21 plus minutes of the game, and McLaughlin saw some of the little things that his team has been concentrating on in practice come through in a key game.

"We did a great job of getting back in the hole today, not giving up fast breaks," said McLaughlin. "When you lose to a great team like Medfield you look at what you are doing and what you can improve at.

The Raiders don't have to wait long until that next shot at Medfield, barring the typical fluctuation of New England weather expected this upcoming week. Medfield has owned the Tri-Valley League since the start of the league, and the suddenly hot Raiders' will need a complete victory like the one they got on Saturday to knock the "King" from the thrown.

"Medfield is our rival and we like to come out strong against those guys," said Copponi. "We came out strong, but we didn't really finish the way we wanted to. We had a couple of good days of practice after that and knew that we had a lot of work to do. Medfield is a great team and we have another shot at them, luckily."
April, 29, 2011
4/29/11
11:45
PM ET
By
Tom Layman
| ESPNBoston.com



MEDFIELD, Mass. -- Medfield halted all talks about the passing of the torch in the Tri-Valley League, after an 8-5 victory over rival Dover-Sherborn on Friday night at Calvin George Fisher Memorial Field.

Sam Aronson made 15 saves and the Warriors (6-3) stifling defense held the Raiders to one goal in the final 24 minutes of action to keep its 10-year gridlock in the TVL alive and well for at least another game.

"We just stepped up the energy," Medfield head coach Bob Aronson said. "This is the first real full game that we've played. We've had some struggles. We have a younger team with some inexperienced players, but they really stepped up."

The Raiders (9-2) were the aggressors in the early moments of the first quarter and it showed on the scoreboard as they jumped out to a 2-0 lead. Chris Flight struck first, and the ball movement that has been pivotal to the success of the Raiders was on display when Jared Spence (two goals) finished off a pretty series of passes with P.J. Copponi and Ben Newbert at 7:56 of the opening quarter.

Connor Roddy (hat-trick) scored 30 seconds later to get the Warriors on the board, and Peter Gill went right through the teeth of the defense to tie things up at 2 with 1:57 left to go in the quarter.

The Warriors were able to slowly turn their defensive pressure into transition goals on the other end, and a little luck of the bounce never hurt anyone.

Calvin Given scooped up a loose ball and pocketed it for the 3-2 lead at 11:26 of the second, and Roddy got his second off a scrambled play a minute later. Sam Aronson made a save and immediately heaved the ball down the middle of the field. The ball went over the stick of the intended receiver, but luckily it bounced right to David Parsons, who found Roddy all by himself behind the defense.

"Those were great, not only for this game, but for our team and our confidence," Bob Aronson said of the opportunistic goals. "Those are the little things that we haven't been doing. To be able to convert those gives them the trust in their teammates."

The teams traded goals until halftime, but the Raiders would not find the back of the net again for over 16 minutes of play.

"They were pressing out, maybe we weren't swinging it around as much as we usually do," said Raiders head coach Brian McLaughlin. "They did a nice job defensively pressing out on us. We were getting a step on a guy, but I don't think we were moving off ball as well as we should have been."