Boston High School:

Jarell Addo
October, 18, 2013
10/18/13
11:16
PM ET
By
John McGuirk
| ESPNBoston.com
LEOMINSTER, Mass. -- With the upcoming playoff scenario beginning to take shape, one has to wonder if anyone can beat the Leominster Blue Devils.

Last night it was Nashoba Regional's turn, but the Chieftains failed in their attempts, falling hard 40-15 at Doyle Field. No. 6 Leominster improves to 6-0 and look to be virtually unstoppable.

"That team is super-athletic and very well-coached," said Nashoba coach Jamie Tucker. "They come at you with multiple sets and are very fast. We had trouble containing them all night. They are just a very good football team."

Tucker is not alone in trying to conjure up the right strategies to beat the Blue Devils. His Chieftains just happened to be the latest in a long list of teams who have tried and failed to match Leominster on both sides of the ball.

Racking up 432 yards of offense, Leominster pulled away from Nashoba after scoring a pair of touchdowns in the final 1:47 of the first half to grab a 27-7 lead. The Blue Devils had no problems maintaining control of this one throughout the second half as well, after scoring on their opening two possessions to go up by 33 points before the Chieftains were able to punch one in late.

Senior quarterback Neil O'Connor led the Leominster assault by completing 11-of-19 passes for 239 yards and three touchdowns. He also ran for a score, finishing with 50 yards on seven carries.

The Blue Devils wasted no time getting on the board. On their initial possession, Leominster marched 79 yards before O'Connor closed it out with a 26-yard jaunt into the end zone.

Nashoba (3-3), which began the season hot but has since fallen on hard times losing three straight, caught a huge break late in the quarter. After O'Connor found Jarell Addo for a 21-yard completion, the senior receiver was stripped of the ball before falling to the turf. Frankie Chiodo recovered the fumble for the Chieftains. Realizing opportunities such as this don't come often against the Blue Devils, Nashoba wasn't about to let it go to waste. Matt Sabourin's 19-yard touchdown run knotted things at 7-7. However, less than a minute later, Leominster reclaimed the lead on a perfectly-executed, 70-yard strike from O'Connor to Mayson Williams, who slipped past the defensive secondary to make it 13-7.

On its next possession, Nashoba's ground unit was able to move the ball to the Blue Devils 26. Looking to take the lead, quarterback Matt Mudgett's errant pass was intercepted by Jake Allain, who returned it 60 yards, and set the stage for wide receiver Shane Crayton's 19-yard touchdown reception and upping the advantage to 19-7.

Following a Chieftains punt, Leominster found itself back in business on its own 44 with three timeouts remaining and just over a minute remaining before the half. O'Connor began the drive by connecting with Addo for a 23-yard reception. Three players later, he hooked up with Crayton again, this time for a 33-yard catch, in the end zone sending Leominster into the break on top by 20 points.

"It feels marvelous to be able to contribute to this win," said Crayton, a junior, who finished with three catches for 57 yards. "We have some players who have been hurt so I was told I needed to step up tonight and I did.

"The only reason I scored those two touchdowns was because Neil O'Connor was just being Neil and our offensive line gave him time to throw. He put both passes perfectly where I needed to get them and I was able to run under both for touchdowns. Neil is marvelous and he is the leader of this team."

Beginning the second half, Leominster left no doubts. After Nashoba (189 yards offensively) witnessed what began as a positive drive stall on the Blue Devil 28, Leominster went back to its quick-strike offense after regaining possession. This time they looked to their running game to carry the load and James Gurley did just that, busting through the Chieftains for a 63-yard scoring run to make it 33-7 with under five minutes to go in the third quarter.

Gurley, who has been a main catalyst in the Leominster backfield all season, was saw limited action, finishing with 64 yards on just two carries.

With Leominster's first unit now being relegated to the role of spectator at this point, the second group entered and still managed to move the ball with relative ease, offensively. That group set forth on a 66-yard drive before Eddie Rivera plowed into the end zone from two yards out, extending the lead to 40-7.

Despite the lopsidedness of the contest, the Chieftains still showed some heart. Kurt Arsenault's 1-yard dive over the goal line capped a 56-yard march to make this tilt a bit more respectable.

"Our defense hung tough in the first half and we were able to continue that in the second half," Leominster coach Dave Palazzi said. "There was some things we saw we felt we could take advantage of offensively with the pass. They made it a little tough on us but O'Connor made some very-good throws tonight.

"It was another great team victory. There is no me on this team, it's we. That's what we've said all year. We have a lot of different guys stepping up. We expect all of our kids when their number is called to be ready to go and give them credit all have answered the call."
September, 19, 2013
9/19/13
6:07
PM ET
BOSTON LATIN ACADEMY (2-0) at DORCHESTER (1-0), Friday 6 p.m.

Scott Barboza: The other day when we visited Dragons QB Kyle Dance for our Player of the Week interview, he was wearing a Cam Newton t-shirt. He does his best on-field impression again. Latin, 22-14.

Brendan Hall: Everything we're taught in this business cautions against cliché, pun-filled headlines. But when you have a quarterback as elusive and fleet-footed as Kyle Dance, you can't help yourself. Latin Academy, 22-12.

ACTON-BOXBOROUGH (1-0) at No. 7 NATICK (1-0), Friday 7 p.m.

Barboza: Hate to upset loyal reader and former A-B gridder Mark Martin after picking against the Colonials last week in their win over Cambridge, but I just don't think this is the week to change my tune. Natick, 34-24.

Hall: Just wait until Troy Flutie really gets untracked. Natick, 31-20.

BARNSTABLE (0-1) at BC HIGH (1-1), Friday 7 p.m.

Barboza: Red Raiders are going to enter hungry and desperate not to fall to 0-2, but Eagles defense wins out. BC High, 20-17.

Hall: Barnstable is going to need to show a lot more aggression, and discipline, on both sides of the ball if it is going to stay afloat in the competitive D2 South standings. Eagles could use the points for this win, considering the tough road ahead. BC High, 20-10.

No. 15 ST. JOHN'S OF SHREWSBURY (0-1) at CATHOLIC MEMORIAL (1-0), Friday 7 p.m.

Barboza: Kevin Bletzer is the type of player an offensive coordinator will have fits about, but ultimately too much to stop with the Pioneers. St. John's, 32-28.

Hall: After some early struggles, the St. John's passing game came alive in the second half, thanks to a flurry of screens and a couple of deep completions down the sidelines from returning All-Stater Andrew Smiley. There are some excellent individual talents at CM, but how good they are on the whole remains to be see. St. John's, 28-14.

No. 6 SPRINGFIELD CENTRAL (0-1) at EAST LONGMEADOW (2-0), Friday 7 p.m.

Barboza: This will be a one-possession game with Ju'an Williams being the difference for the Eagles. Central, 23-20.

Hall: Spartans proving they are an underrated bunch, after a solid win last weekend, but there is too much perimeter speed to harness here. Central, 25-14.

WEYMOUTH (0-1) at No. 11 BROCKTON (0-1), Friday 7 p.m.

Barboza: A game of turnovers, or at least whichever team is able to hold onto the football best. I'm sure it was a point of emphasis for both squads coming off their performances last week. Brockton, 30-21.

Hall: Wildcats licking their chops after Brockton gassed them for 432 rushing yards and five touchdowns in the Division 1 playoffs last year. Flat out, to be perfectly blunt, I just don't see Brockton losing to a team from the Bay State Conference. I can't recall the last time they did. Brockton, 27-13.

No. 12 WALPOLE (1-0) at NEEDHAM (0-1), Friday 7 p.m.

Barboza: As I wrote in our Roundtable earlier, I really think this classifies as a near must-win for Needham in the stacked Division 2 South sectional. Think the Rebels are too well-rounded though. Walpole, 36-28.

Hall: Wouldn't be surprised to see an upset here, considering the Rebels' relative inexperience. But they've had two weeks to prepare for this one. Walpole, 17-10.

No. 4 ST. JOHN'S PREP (1-1) at No. 13 CENTRAL CATHOLIC (2-0), Friday 7 p.m.

Barboza: A defensive struggle in its truest sense. Prep, 17-14.

Hall: That was some vintage defense by the defensively-sound Raiders in last weekend's shutout of Haverhill. I don't see Central doing the same to Prep, but I'm curious to see what kind of gameplan Chuck Adamopoulos devises for Johnathan Thomas. The last two defensive coordinators failed. Expect the Raiders to muck it up here. Prep, 17-14.

No. 8 LEOMINSTER (1-0) at No. 9 LOWELL(2-0), Friday 7 p.m.

Barboza: Brian Dolan and the Red Raiders offense opposes their greatest competition – and, most likely – the best secondary they'll see all season. They find a way to squeak by the Blue Devils. Lowell, 28-21.

Hall: I've been saying for a few weeks now that Leominster has the best safety tandem in the state, between Neil O'Connor and Jarell Addo. Lowell is about to find out on Friday night what kind of pass defense they're up against. Going the other way, I'm intrigued to see how Jack Galvin squares up with Addo at tight end. Leominster, 35-31.

ST. SEBASTIAN'S at MILTON ACADEMY, Saturday 3 p.m.

Barboza: I like the Mustangs' backfield depth with Luke McDonald and Drew Jacobs; they're the difference. Milton Academy, 24-14.

Hall: Connor Strachan gets the job done. St. Seb's, 19-15.

LAWRENCE ACADEMY at GOVERNOR'S ACADEMY, Saturday 1 p.m.

Barboza: Gov's streak will end this year, just not this week. Governor's, 17-14.

Hall: LA's Chris Garrison might be the most impressive player on the field on either side of the ball, and the Spartans will surely get him involved in a variety of ways. Still, I think the sum of the Govs' lacrosse-bred talent will win out here. Governor's, 24-14.

GAME OF THE WEEK: No. 1 BRIDGEWATER-RAYNHAM (2-0) at No. 10 XAVERIAN (1-0), Saturday 1 p.m.

Barboza: The Trojans make it four in a row over the Hawks and break out of the early season curse of the ESPN Boston No. 1. B-R, 16-14.

Hall: First there was #CropTopOverTheTop, then came #FakeCropTopOverTheTop. Can we get some #CropTopOverThePylon action to complete the cycle here? B-R, 16-10.

Last Week's Picks

Barboza: 10-2 (15-8 overall)

Hall: 7-5 (14-9 overall)
September, 14, 2013
9/14/13
12:15
AM ET
By
John McGuirk
| ESPNBoston.com
LEOMINSTER, Mass. -- Over the past two seasons, the St. John's defense has provided no answers in how to stop, or even slow down, Leominster's vaunted dual-threat offense. The Pioneer coaching staff have been often left scratching their heads in trying to develop new concepts to keep the Blue Devils out of the end zone.

After Friday night's 33-22 season-opening defeat at Doyle Field, it appears as though St. John's still hasn't gotten it right and another trip back to the drawing board seems imminent.

Leominster's offensive unit punched the Pioneers square in the mouth, accumulating 397 yards while managing to sustain several drives after converting key first downs. The victory marks the Blue Devils' fifth straight over St. John's dating back to 2011. Included among those triumphs are a pair of Super Bowl titles. The Pioneers, as was the case in the previous meetings, had trouble tackling and in their coverage schemes. Neither worked.

Senior quarterback Neil O'Connor, having not played the position since his freshman season, looked truly at ease. The former wide receiver completed 18 of 24 passes for 195 yards and a touchdown. He proved just as effective on ground, scoring three times, finishing with 71 yards on 12 attempts.

"This is a great win because it is always a battle with them," said O'Connor, who like many others was battling cramps in the muggy conditions. "This is the funnest team to play other than (Thanksgiving rival) Fitchburg. We always come out for every game and try to play Leominster-type football. Tonight was a great atmosphere under the lights before a packed house at our own field. This win certainly gets us rolling now. I had never played quarterback in an atmosphere like this so I just tried to block it all out and focus on what we needed to do."

Having lost a couple of key personnel to graduation, nonetheless, the Blue Devils still returned a solid nucleus on both sides of the football. Likewise, St. John's had strong weaponry at key positions, primarily on the offensive side.

The Pioneer defense had issues trying to shut down Leominster's pistol formation. At times, they looked dazed and confused on whether or not to key on the run or the pass. In several cases their decision in choosing what to defend wound up costing them on the scoreboard.

"Overall defensively we had a couple of third down situations where we didn't stop them," Pioneers coach John Andreoli said. "(O'Connor) made a couple of tremendous athletic plays and we missed quite a few tackles and Leominster made us pay for it. In a game like this against a team like that you cannot make mistakes and we did."

After coming up short on their first series, the Blue Devils were given a short field on their next one. St. John's punter Shane Combs mis-handled the snap and was dropped for a 16 yard loss giving Leominster the ball on the Pioneer 21. Four runs by O'Connor set up running back James Gurley's four-yard toss into the end zone giving the Blue Devils a 6-0 lead. St. John's senior quarterback Drew Smiley (18 of 35, 194 yards) answered the score with one of his own, darting into the end zone on a seven-yard carry. Following the PAT, the Pioneers led 7-6 early in the second quarter.

The remainder of the half, however, belonged to Leominster. O'Connor danced his away out of an apparent sack, turning it into a 15 yard scoring run. Jarell Addo's follow-up conversion catch had the Blue Devils back in front 14-7. After getting the ball back, the Pioneers quickly gave it away after Combs fumbled it over to the Blue Devils, putting them in great shape on the Pioneer 48. With just 30 seconds left in the quarter, O'Connor threw an 18 yard strike to receiver Jake Allain (six catches, 78 yards) over the middle to increase the Blue Devils lead to 20-7 going into the half.

Realizing the offense they were using over the first 22 minutes wasn't working, St. John's opted to go with much safer pass patterns for its heralded signal-caller. The Pioneers discovered the screen pass could be an effective weapon to get them back in this tilt. Senior receiver Mike McGillicuddy, who did not catch a pass the entire first half, was St. John's primary receiver of choice throughout the second.

McGillicuddy finished with eight receptions totalling 90 yards. He inched St. John's closer after hauling in a seven-yard pass from Smiley on the team's first drive to begin the third quarter, making it 20-14. But Leominster always had an answer. Marching 80 yards on the ensuing possession, O'Connor finished it off with a 1 yard dive with 3 minutes remaining in the quarter to hoist the Blue Devils lead out to 26-14.

St. John's got the ball back and were starting to find holes in the Leominster defense. Moving the ball to the Blue Devil 13 and facing fourth down, Smiley, who was continuously forced outside the pocket by a hard-charging Leominster front line, lofted a ball into the end zone that was picked off by Allain. Moments later, to start the fourth, the Pioneers again drove deep into Leominster territory but this time they capitalized as Smiley found junior Devon Jones on a 26 yard scoring reception. Smiley then added the conversion run to suddenly bring the Pioneers to within four at 26-22 with 7:44 to go.

But once again the Blue Devils found a way to storm back. Methodically moving the ball down field, and showing great poise, the objective to chew time off the clock and tack on more points to put this out of reach appeared destined. Leominster did just that. Aided by a critical pass interference penalty, the Blue Devils took advantage as O'Connor, upon seeing the Pioneer defense taking away the inside gaps, ran an option-keeper outside the right tackle and rumbled 24 yards untouched into the end zone to seal the deal for Leominster.

"We knew St. John's likes to run spread on offense," said Blue Devils coach Dave Palazzi, his club holding the Pioneers to 246 yards, only 42 in the first half. "We just felt we needed to play our game and focus on the whole field. Our 11 guys did a great job out there on defense. It was a great performance on both sides of the ball. We had a great game plan on both sides. I cannot say enough of the effort they put forth tonight."

Johnson honored: Longtime Leominster baseball coach was honored before Friday night's game. Johnson who accumulated 725 victories, recently stepped down from the position. Johnson was three Division 1 state championships with the Blue Devils in 1986, 1988 and 1996. He is a member of the Massachusetts Baseball Coaches Hall of Fame, Fitchburg State University Hall of Fame and will be inducted into Leominster's inaugural Hall of Fame class this weekend.

Light remembered: St. John's players wore stickers on its helmets with the initials "DJL" in honor of Daniel Jonathan Light who passed away this past summer from ALS. Light is the father of former Pioneer standout quarterback Dan Light, who is now playing defensive back at Fordham University.
September, 12, 2013
9/12/13
12:29
PM ET
Our Game of the Week tour makes a stop at Doyle Field in Leominster this Friday (7 p.m.) for the No. 8 Blue Devils' grudge match with No. 12 St. John's (Shrewsbury).

Scott Barboza and Brendan Hall visited Leominster's camp for our weekly preview segment, brought to you by Sports Authority and the Bay State Games:


September, 3, 2013
9/03/13
1:37
PM ET
By
Brendan Hall
| ESPNBoston.com
ESPNU has updated its player rankings for the Class of 2014 in Massachusetts, and there are a few changes of note.
St. John's Prep running back Johnathan Thomas and St. Sebastian's linebacker Connor Strachan maintain the top two spots. Meanwhile, Doherty athlete Isaac Yiadom (3), Everett defensive back Lubern Figaro (4), Millis/Hopedale lineman Jon Baker (5) and Tabor Academy athlete Miles Wright (6) all move up one spot from the previous update in July.
Roxbury Latin linebacker Kevin Cohee and Leominster safety Jarell Addo both move up two spots to Nos. 7 and 8, respectively. Rounding out the Top 10 are two newcomers, Dexter lineman James Hendren (9) and Catholic Memorial defensive athlete Kevin Bletzer (10).
To see the full list of top prospects in Massachusetts,
CLICK HERE
.
Below is the Top 10, with college commitment in italics. You can also see the updated Top 10 list on our homepage:
1. Johnathan Thomas, RB, St. John's Prep - Maryland
2. Connor Strachan, LB, St. Sebastian's - Boston College
3. Isaac Yiadom, WR/DB, Doherty - Boston College
4. Lubern Figaro, DB, Everett
5. Jon Baker, OL, Millis/Hopedale - Boston College
6. Miles Wright, ATH, Tabor Academy
7. Kevin Cohee, LB, Roxbury Latin - Boston College
8. Jarell Addo, S, Leominster - UMass
9. James Hendren, OL, Dexter - Boston College
10. Kevin Bletzer, LB, Catholic Memorial - Boston College

August, 29, 2013
8/29/13
10:59
AM ET
By
Brendan Hall
| ESPNBoston.com
LEOMINSTER, Mass. -- Yesterday afternoon at Doyle Field, No. 7 Leominster hosted No. 17 Auburn in a preseason scrimmage. Both varsity's scored once, with Leominster connecting on a touchdown pass while the visiting Rockets ran back an interception.

Some notes and observations from yesterday's scrimmage:

O'Connor takes the reigns: For now it looks like Leominster's jack-of-all-trades Neil O'Connor -- a Preseason ESPN Boston All-State selection, as an offensive athlete -- will stick at quarterback, moving over from wide receiver a year ago. This move has been rumored for some time; Blue Devils head coach Dave Palazzi had even hinted at it at the end of last season, after they won their second straight MIAA Division 1 Central Super Bowl behind quarterback Garrett DelleChiaie.

"He's been in the huddle for two years and he's been listening to the plays," Palazzi said. "He kinda knew to watch Garrett last year and learn the plays, so it's not like I'm teaching him new plays. He just doing them from a different position. I was confident and comfortable with what I saw."

The early returns have been positive so far. O'Connor aced the Blue Devils' pitching staff last spring, when they reached the D1 Central Final before losing to state runner-up Nashoba, and that throwing ability has translated well. He hooked up with another Preseason ESPN Boston All-State selection, athlete Jarell Addo, for a 40-yard touchdown pass in the first series. He also makes plays on the run, throwing balls into tight pockets and exploiting zone holes down the sidelines.

O'Connor also adds an element of elusiveness out of the backfield, his running ability making him a classic dual-threat quarterback that isn't afraid to take off downfield when given a running lane. On one play in the second series, he had everybody fooled on a play action fake, cradling the ball under his armpit with his back turned as he sold the handoff fake.

Defensively, O'Connor set the tone from the safety position. The secondary operates in a "red light, green light" sort of function that allows O'Connor and Addo to play aggressively and fly upfield, which gives way to hits like the one O'Connor made late in the scrimmage. Reading a high, wobbly pass to the left flat, O'Connor lowered his shoulder textbook-style and crashed into his midsection, flattening the receiver cold before he could get a good grip on the ball.

Multi-pronged mismatch: To put it bluntly, Addo is going to line up everywhere on both sides of the ball this season, what with his gifted athleticism (42-inch vertical leap) and his unrelenting downhill pursuit in run support.

Yesterday, the UMass-bound athlete made two of the Blue Devils' most highlight reel-worthy plays. On the Devils' touchdown in the first series, they came out in a two-by-two formation and Palazzi dialed up a post-wheel route combination on the left side, with Addo running the wheel out of the slot. O'Connor found Addo in a zone hole roughly 20 yards down the left sideline, and the 6-foot-2 specimen effortlessly shook an arm tackle to march the final 15 yards untouched.

In one of the final varsity series, Addo lined up as a tight end in a three-point stance, came off the line and released to the right flat after feigning a reach block; after hauling in the catch near the sideline, Addo slipped out of an arm tackle at his hips and made two more cuts for a 15-yard gain.

"Jarell is just a great blocker, he's got good hands, he jumps, he's tall, so he's gonna help us out in the pass game with some of those things obviously, run after the catch-type things," Palazzi said.

The Rockets primarily operate out of the I-Formation with "22" personnel (two running backs, two tight ends), which for a 3-4 front like Leominster can lead to mismatches at the point of attack. To counter, the Devils toyed with Addo at defensive end for several plays, and Palazzi said he's not against using the strategy in the future.

"They run power stuff, so we're outnumbered up front, so we've got to do some different things on the line for that particular defense," Palazzi said. "If teams run that, we may do that, or O'Connor may be up there. We do so many different things on defense, but it's really just looking at what teams do to us. We have a three-man front, so if they start running Power I, you do the math. We do a lot of support with our safeties on the run in the 3-4, so if we need to bring a safety down before they snap the ball, we might do that."

New blood, same big bodies: After Everett, Auburn could lay claim to the state's best offensive line that year, a unit that averaged 280 pounds across and was led by ESPN Boston All-State selection Aaron Dyke (now playing at Southern Connecticut State). The Rockets lost four starters and a ton of size from that unit, one of its best in school history, but the one holdover -- 6-foot-4, 300-pound Preseason ESPN Boston All-State selection Will Greelish -- was joined by some bodies that are sizeable.

Defensively, the Rockets deployed 3-5-3 and 3-3-5 Stack looks, and newbies like Domenic Pappas and Dylan Russo held their own. One of the more impressive of the bunch might have been Steve Sisko, who made a few explosive rushes up the interior gaps to draw holding penalties from the Devils line.

From the back, safety Matt Morrissey made the play of the day for Auburn's defense, picking off a pass deep downfield and breaking free down the right sideline, for a 70-yard interception return touchdown.

The Wright Stuff: It's unclear who will be Auburn's feature back this season, but Mark Wright had a solid outing yesterday. His first two carries of the day, a sweep then a zone play up the left side, totaled 45 yards. He also excelled running a lead draw play up the middle, for some good yardage.

Two years ago the Rockets featured one of Central Mass.'s most elusive athletes out of the backfield, Fred Taylor, gifted with loose hips and quick acceleration. And while nobody is going to start throwing around such comparisons yet, Wright is of the same type of skill, a finesse back that can squeeze extra yards out of his carries with some nimble cutbacks.

Rockets coach Jeff Cormier, known for his affinity against the hyperbole machine, was typically subdued when asked about Wright's role.

"Whoever's gaining yards is going to get the ball," Cormier said. "If that's going, he [Wright] is going to get it."

Keep it simple: The Devils offense showed a variety of looks -- some I, some two-by-two, and some pistol looks with two running backs -- but overall the gameplan was pretty vanilla yesterday. They only threw one screen, a tunnel off the backside of a zone read play, and have not installed the full passing game for the most part.

"It's early here, those types of things we haven't run yet, I wanted to get our run game set [today] and what we're doing up front," Palazzi said. "We'll start getting crazy, as I call it, as we move on to the next week, to kind of have everything in. It's tough."

There were some positives out of the run game, the biggest highlight a 40-yard counter trey by Eddie Rivera in the third series. With Rivera, Mayson Williams and James Gurley sharing the carries, Palazzi has high hopes for the running game.

"We've got three good backs that we've got confident with different sets of skills," Palazzi said. "We're comfortable with who we have back there at running back."

Young gun: Keep an eye on 5-foot-8 freshman quarterback Steve Saucier, who demonstrates advanced throwing ability for a player his age. The Rockets are typically run-heavy, but when called upon, he could add another threat.

"Our QB threw the ball real well the other day, I thought he had a couple good balls today that got dropped on him, so we'll get some guys that can catch him," Cormier said. "We'll throw the ball. He's a freshman, he gets the ball downfield, he rolls through both sides pretty well. We think we're going to be able to throw the ball.

"We're optimistic with him, [but] we've got a couple good guys behind him, so we need to figure out where we're at hopefully we're better tomorrow."
August, 19, 2013
8/19/13
8:17
AM ET
The MIAA football season officially kicks off today with the first sanctioned team practices. Below is our fourth annual ESPN Boston Preseason MIAA All-State Football Team, as well as our expansive "Watch List".

*Indicates returning All-State

OFFENSE

QB – Drew Belcher, Sr., Reading*
QB – Troy Flutie, Sr., Natick*
QB – Andrew Smiley, Sr., St. John's (Shrewsbury)*
QB – Cody Williams, Sr., Springfield Central
RB – Johnathan Thomas, Sr., St. John's Prep*
RB – Dylan Oxsen, Sr., Plymouth South*
RB – Mike Panepinto, Sr., Needham
RB – Brandon Gallagher, Jr., Bridgewater-Raynham
WR – Brian Dunlap, Jr., Natick*
WR – Isaac Yiadom, Sr., Doherty
WR – Jack Galvin, Sr., Lowell
WR – Ju'uan Williams, Sr., Springfield Central
TE – Rory Donovan, Sr., Cardinal Spellman
TE – Brendan Hill, Jr., Mansfield
OL – Jon Baker, Sr., Millis/Hopedale*
OL – Kent Blaeser, Sr., St. John's Prep
OL – Shawn Whitaker, Sr., Bridgewater-Raynham
OL – Cam Smith, Sr., Medway
OL – Sean Lee, Sr., Springfield Central
ATH – Dave Harrison, Sr., Weymouth
ATH – Neil O'Connor, Sr., Leominster

DEFENSE

DL – Andrew Bourque, Sr., Reading
DL – Will Greelish, Sr., Auburn
DL – Alex Quintero, Sr., Lowell
DL – Chris Tinkham, Sr., Lynn English
LB – C.J. Parvelus, Sr., Everett
LB – Sean Smerczynski, Sr., St. John's Prep*
LB – Brett McEvoy, Sr., King Philip
LB – Liam Kenneally, Sr., Reading
LB – Shayne Kaminski, Sr., Xaverian
LB – Tom Rodrick, Sr., Leicester
DB – Lubern Figaro, Sr., Everett
DB – Davon Jones, Jr., St. John's (Shrewsbury)
DB – D'Andre Drummond-Mayrie, Sr., Central Catholic
DB – Jarell Addo, Sr., Leominster
D-ATH – Kevin Bletzer, Sr., Catholic Memorial

***

WATCH LIST

Olan Abner, Sr. RB, Bedford
Mike Abruzzese, Sr. DB, Natick
Justin Ahanon, Sr. ATH, Brockton
Shaquille Anderson, Sr. RB, Cambridge
Nick Andreas, Jr. QB, Danvers
Charlie Aylward, Sr. LB, Catholic Memorial
Jordan Balarinho, Sr. QB, Billerica
Michael Balsamo, Jr. DB, Central Catholic
Malachi Baugh, Sr. RB, Stoughton
Joe Bellomo, Jr. RB, Holliston
Aidan Beresford, Sr. OL, Marshfield
Will Blumenberg, Jr. QB, Concord-Carlisle
Will Bolster, Sr. QB, Walpole
Ommel Bonilla, Jr. DL, Andover
Ryan Boucher, Sr. OL, North Reading
Andrew Boynton, Sr. WR, Natick
Luke Brennan, Sr. QB, Doherty
Joe Brown, Sr. OL, Central Catholic
Jake Burt, Jr. TE, St. John's Prep
Ryan Charter, Sr. QB, Needham
Max Chipouras, Sr. RB, Longmeadow
Jordan Collier, Sr. RB, St. Mary's (Lynn)
Nick Cordopatri, Sr. OL, Walpole
Nicolau Coury, Jr. LB, Lowell
Shyheim Cullen, Jr. LB, Lowell
Jeff D'Auria, Sr. RB, Chelmsford
Kyle Dance, Sr. QB, Latin Academy
Lukas Denis, Jr. DB, Everett
Joe DeNucci, Sr. ATH, Newton North
Kevin DiBona, Sr. LB, Duxbury
Steve DiCienzo, Sr. LB, BC High
Rob DiLoreto, Sr. WR, Reading
Brian Dolan, Sr. QB, Lowell
John Donnellan, Sr. DL, Reading
Isaiah Douglas, Sr. DB, Bishop Feehan
Angel Duarte, Sr. LB, Everett
Michael Dunn, Jr. ATH, Dennis-Yarmouth
Markus Edmonds, Jr. LB, Central Catholic
Derek Estes, Sr. DB, Barnstable
Michael Fawhemini, Sr. DB, St. John's Prep
Joey Fitton, Sr. OL/DL, Holy Name
Connor Gatto, Sr. OL, Northbridge
Joe Gaziano, Jr. DL, Xaverian
Micah Gregory, Sr. DB, Barnstable
T.J. Hairston, Jr. WR, Watertown
Jack Herlihy, Sr. OL, Duxbury
Michael Hershman, Sr. WR, Mansfield
Kejonte Hickman, Jr. QB, Boston Cathedral
Alex Hilger, Sr. WR, Natick
Sean Hoey, Sr. OL, St. John's Prep
Jon Holdgate, Sr. LB, Nantucket
Jeff Holland, Sr. ATH, Holy Name
Dom Hooven, Sr. OL, St. John's Prep
Jack Hubley, Sr. LB, Lincoln-Sudbury
Phoenix Huerta, Sr. QB, Somerville
Jordan Javier, Jr. ATH, Lynn English
Kervin Jean-Claude, Sr. LB, Brockton
Domingo Jenkins, Sr. RB, Taunton
Austin Jones, Sr. OL, Shepherd Hill
Anderson Jupiter, Sr. RB, Somerville
Brandon Kahari, Soph. DB, St. John's Prep
Devon Kellner, Sr. LB, Taunton
Rory Keohane, Sr. DL, BC High
Chris Kennedy, Sr. LB, Barnstable
Dylan Kierman, Sr. QB, Quabbin
A.J. King, Sr. ATH, Xaverian
Jimmy King, Sr. DL, Reading
Grant Kramer, Sr. OL, Duxbury
Fodee Kromah, Sr. DB, Holy Name
Noah Kung, Sr. OL, Walpole
Michael Kwegyir-Attah, Sr. LB, Haverhill
Jaleel Kyles, Sr. DB, Springfield Putnam
Mitch Laferriere, Sr. LB, BC High
Keagan Latta, Sr. WR, Lowell
Aaron LeClair, Sr. RB, Brockton
Matt Long, Soph. RB, Weymouth
Wayne Lowery, Sr. DB, Springfield Putnam
Steve Manning, Sr. DL, Abington
Kenneth Marshall, Sr. LB, Springfield Central
Ryan Martin, Sr. WR, Bridgewater-Raynham
Ngaiiva Mason, Sr. RB, Lowell
Liam Matheson, Sr. RB, Dennis-Yarmouth
Eddie Matovu, Sr. LB, Tewksbury
Sean McCarthy, Sr. QB, Duxbury
Eric Mercer, Sr. LB, Melrose
Kens Morantus, Sr. LB, Waltham
Connor Moriarty, Sr. ATH, Walpole
Luke Morrison, Sr. TE, Attleboro
Hayden Murphy, Sr. ATH, Barnstable
Kevin Nunes, Sr. WR, New Bedford
Nick Orekoya, Jr. DB, Billerica
Luis Ortiz, Sr. TE/LB, Springfield Central
Derek Pacheco, Sr. DL, Barnstable
Connor Peck, Sr. OL, Catholic Memorial
Khai Perry, Sr. RB, Duxbury
Kylan Philbert-Richardson, Sr. RB, Archbishop Williams
Wes Quinzani, Sr. DB, Duxbury
Aaron Rabb, Sr. DL, Whitman-Hanson
Deion Raper, Sr. DB, Brockton
Kerry Raymond, Soph. RB, Brockton
Eddie Rivera, Jr. RB, Leominster
Justin Robinson, Sr. WR, Natick
Owen Rocket, Jr. WR, St. John's Prep
Sergio Rodriguez, Sr. OL, Somerville
Rufus Rushins, Jr. RB/LB, Bishop Fenwick
D'Vante Sewell, Sr. DB, Springfield Commerce
Ben Sheehan, Jr. RB, Minnechaug
Tim Smith, Sr. RB, Dartmouth
Joel Sodeinde, Sr. OL, Dartmouth
Jimmy Sullivan, Sr. QB, Nauset
Jack Sylvester, Sr. RB, Andover
Thomas Tabur, Sr. OL, Northbridge
Tyrone Thornton, Sr. DB, Newton South
Nick Thyden, Sr. WR, Quabbin
Griffin Tighe, Sr. DL, Franklin
Coby Tippett, Soph. ATH, Xaverian
Taj-Amir Torres, Jr. WR/DB, Amherst
Spencer Tyler, Sr. QB, Dennis-Yarmouth
Luc Valenza, Sr. LB, Foxborough
Jason Valera, Sr. LB, Leominster
Alex Valles, Sr. DB, Danvers
Kahlil Walker, Sr. DL, Springfield Central
Casey Walsh, Sr. QB, North Andover
Isaiah White, Sr. RB, Beverly
Jamal Williams, Sr. RB, Brockton
Mayson Williams, Sr. ATH, Leominster
Raheem Wingard, Sr. QB, Everett
Kyle Wisnieski, Sr. QB, Mansfield
August, 12, 2013
8/12/13
10:29
PM ET
By
Brendan Hall
| ESPNBoston.com
This is the fourth in our "Impact Player" series, taking a closer look at some of the state's top returning players as we draw closer to the MIAA football season. To see all of our Impact Players, CLICK HERE.
[+] Enlarge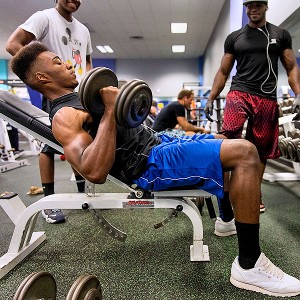 Tim Hart for ESPNBoston.com Leominster safety and UMass commit Jarell Addo is ranked the No. 9 overall player in Massachusetts by ESPN.
Off the field, you'll recognize him by his high, Kid 'N Play-like flat top haircut. On the field, you'll recognize him by the loud pop of his violent collisions.
Leominster High safety Jarell Addo is the latest high-profile export from one of Massachusetts' proudest and most storied football programs, arguably the Plastic City's most promising talent since
Jonathan Hernandez
was setting Blue Devil rushing records a half-decade ago. And it's all come in a relatively short amount of for the lanky 6-foot-2 safety, whose first full varsity season came last fall.
Addo's hype began to build this past spring, when he registered nearly a 42-inch vertical at a combine, then received an offer from UMass. He committed to UMass
late last month
, reinforcing a decades-long pipeline that goes back to current Blue Devils coach Dave Palazzi, himself a legendary gunslinger for both the Minutemen and Leominster back in the 1980's.
The Blue Devils are one of several favorites in the newly-aligned Division 2 of the MIAA State Championship, and Addo figures to be an integral piece of the equation. Now that he's gotten his feet wet, Addo will need a big senior season if Leominster is to make it a three-peat.
Player:
Jarell Addo
School:
Leominster
Hometown:
Leominster, Mass.
Position:
Safety/tight end/wide receiver
Listed Height/Weight:
6-foot-2, 190 pounds
Scouts Inc. Rank:
9 - Mass.; 213 - Region; 119 - Position
College:
UMass
Key 2012 Stat:
As a flex tight end, averaged 16.4 yards per catch with five touchdowns.
Workout Stat:
At Nike SPARQ combine last April, in New York, recorded a 41.8-inch vertical leap.
Highlight Film:
HUDL
Opposing Coaches:
"He really flies around, and it didn't seem like he ended up in the wrong spot too often. He's definitely a hitter, pretty fast, makes good reads. I want to say the second time we played him, he was in the box a lot, and that caused a lot of problems for us. He's one of those players that can play the back end and defend passes, yet still come up in the box and really have a presence. ... It seemed like he had a nose for where to be. I think he has a good understanding of angles, coming up in pursuit. Definitely one of the harder hitters that we see, and I think part of that is they have a scheme that really fits what he can do. He's not asked to just sit back there and play pass all game, he's really flying around. ... I would say he's definitely above average [in run support]. A lot of guys we see in the secondary don't want to stick their nose in there, and he wants to. He's not one to shy away from contact from blockers, he wants to get in there and get after it. If there's a big pile, he wants to push it instead of sitting back there and watching it."
Scouts Inc.:
"Has very good height but will need to fill out his frame. Does play with good strength, which is evident in his ability to be a productive tackler. Speed is just adequate. He's is more effective in the short area with initial burst but lacks top-end speed. ... Smart and disciplined. Displays good awareness and does not get caught out of position much on misdirection plays. Maintains strong positioning in zone coverage. Angles are generally consistent to get to the football. ... At his best in zone coverage with the ability to break forward on the ball to undercut route or arrive with the ball. Shows the ability to get off the hash and read the quarterback's eyes to get an early break on the ball. Does show some stiffness to open. Has to gather some in transition which hinders his ability to be explosive out of his pedal. ... Very physical and will fill the alley with good aggressiveness. Shows good body control to break down in space and drive through ball carrier. Will generate short area power to deliver a solid hit when given the angle. Takes good angles in pursuit. Closing burst is just adequate but instincts allow him to get a good read and react."
Bottom Line:
Watching Addo play, one thing is made immediately clear: Once he has picked a running lane, there is no change of direction, and there is no last-second wincing. He wants to run straight into you. That seems to fit right in with the attitude of the Blue Devils, who have quickly ascended back to the top of the Central Mass. food chain under Palazzi. The presence of the versatile Neil O'Connor gave Addo plenty of flexibility to fly aggressively downhill, and with both back in the fold they should make one of the state's most feared secondaries. The Blue Devil coaches have also toyed with him at outside linebacker in the past, so don't be surprised if that's the case again this fall. Overall, Addo is a very raw talent with plenty of polishing to be done, but he demonstrates a high IQ for the game, and clearly shows significant upside. It will be interesting to see how he's progressed by season's end.
July, 31, 2013
7/31/13
10:32
AM ET
By
Brendan Hall
| ESPNBoston.com
Leominster High Class of 2014 safety
Jarell Addo
has verbally committed to UMass, he confirmed to ESPNBoston.com this morning.
The 6-foot-2, 190-pound Addo, a three-star prospect, is ranked the No. 9 overall recruit in Massachusetts by ESPNU. He is the third in-state pledge for UMass' 2014 recruiting class, joining Dexter lineman Dan DiNicola and Dean College linebacker Jason Sylva, who originally signed with UConn in 2012 out of Tabor Academy.
Addo also had an offer from Colgate, and was picking up interest among the Division 1 FCS ranks. He says he was at Villanova for a one-day camp last Sunday, when UMass hosted more than two dozen recruits on its campus for a "clam bake" meet-and-greet. The Minutemen netted six commitments on Sunday. Addo last visited the UMass campus in late May, when he was offered a scholarship.
"It's a free education and it's close to home," Addo said. "Also, their sport management program is one of the best in the country. There's not much better places than that."
In his first full season of varsity action last fall, Addo developed a reputation as a violent downhill player who was among the region's hardest hitters, as the Blue Devils won a second straight MIAA Division 1 Central Mass. Super Bowl. In the newly-aligned MIAA landscape, which will award six true state champions, the Blue Devils are one of several favorites in Division 2.
At combines and camps this spring and summer, Addo has generally measured in the 4.7-4.8 range on 40-yard dashes. But there are also several measurables that have some college coaches believing he could be a hidden gem. At the Nike SPARQ combine last April in New York, Addo measured a 41.8-inch vertical leap and a 4.28-second 20-yard shuttle time.
With the Blue Devils, Addo plays multiple positions, including free safety, outside linebacker, tight end and slot receiver. At UMass, Addo projects to play safety.
"I'll play whatever as long as I get to play," Addo said. "That's a program I want to be a part of, as they're rebuilding."
It's worth noting UMass historically has had a solid recruiting pipeline with the Blue Devils program, going back decades. Palazzi graduated in 1989 as the school's all-time leader in passing yards, a record since broken twice. Leominster's defensive line coach, Kevin Murphy, played fullback and defensive line for the Minutemen -- and roomed with Palazzi -- before injuries cut his career short. The Blue Devils' best export in recent years, running back Jonathan Hernandez, walked-on at UMass and ran for nearly 1,100 yards in 2011.
"He already knows the place like the back of his hand," Addo said of Palazzi's familiarity with the program. "They've had coaching changes there, but it's still such a close community. It's so diverse, just like Leominster here, so it wouldn't be much of a change."
Much has been made of UMass' "Made in Mass" strategy, which seeks to build 50 percent of its roster with Bay State prospects, including the top in-state recruits. Addo said remaining in-state gives him a greater sense of pride.
"It does, that means that much more pride that I take into the sport I'm playing," Addo said. "And it's only an hour away from where I live, so my family can come out to support me."
May, 29, 2013
5/29/13
12:15
AM ET
By
Brendan Hall
| ESPNBoston.com
Leominster High head football coach Dave Palazzi told ESPNBoston.com tonight that Class of 2014 free safety
Jarell Addo
received his first Division 1 scholarship offer today, from UMass.
The 6-foot-2, 180-pound Addo, a two-way athlete for the two-time Division 1 Central Super Bowl champion Blue Devils, was offered a scholarship by the Minutemen on an unofficial visit to the Amherst campus today. In his first full season of varsity action last fall, he developed a reputation as a violent downhill player who was among the region's hardest hitters.
He has received minimal Division 1 interest so far, and perhaps that is due in part to his 40-yard dash time, which has generally measured in the 4.7-4.8 range this spring. But there are also several measurables that have some college coaches believing he could be a hidden gem. At the Nike SPARQ combine last month in New York, Addo measured a 41.8-inch vertical leap and a 4.28-second 20-yard shuttle time.
Addo also lines up as a flex tight end on offense, but generally projects as a safety at the next level.
"He's a great tackler, he drives through players," Palazzi said. "That's on his film. You want to see the difference between a Division 1 prospect and a kid that's not a Division 1 prospect, just watch the way he arrives at tackling. He's only been playing the position for one year...his 41-inch vertical jump definitely helps, that's unbelievable.
"He's smart. The biggest thing Jarell is, he is coachable, asks questions, takes it in, goes out and does it 110 percent. Whether he's making the right decision or the wrong decision, he's gonna finish strong. He's not one of those in-between players that's decisive...the biggest thing is his intelligence."
Over the weekend, Addo told ESPNBoston.com he also plans on attending camps this summer at Yale and Boston College.
It's worth noting UMass historically has had a solid recruiting pipeline with the Blue Devils program, going back decades. Palazzi graduated in 1989 as the school's all-time leader in passing yards, a record since broken twice. Leominster's defensive line coach, Kevin Murphy, played fullback and defensive line for the Minutemen -- and roomed with Palazzi -- before injuries cut his career short. The Blue Devils' best export in recent years, running back Jonathan Hernandez, walked-on at UMass and ran for nearly 1,100 yards in 2011.
August, 30, 2012
8/30/12
1:31
PM ET
By
Brendan Hall
| ESPNBoston.com
LEOMINSTER, Mass. -– Dave Palazzi has been a quarterback all his life, so by now he's used to this kind of pressure.

In Leominster, the football coach doubles as a de facto ambassador of the city, to a level matched by only a few other communities in the Bay State. Palazzi knows this all too well from his days quarterbacking the Blue Devils, where he was part of their 1982 Super Bowl winning squad, and now he's under the microscope again as head coach of the Blue Devils, two years removed now from replacing the legendary John Dubzinski.

Pressure is something he's used to overcoming. He recalls his days quarterbacking UMass in the late 80's, getting booed after throwing pairs of interceptions, but ended his career as the program's all-time leader in total offense (since surpassed). He went 2-20 in his first two years as head coach at Millbury, only to endure Super Bowl-winning success throughout the 2000's decade.

Last season, the Blue Devils started off 0-3 –- losing in succession to Everett, Hudson and then Milford –- before rolling off 10 straight wins en route to the program's first Super Bowl title in a decade, beating rival St. John's of Shrewsbury in the Division 1 Central title at Gillette Stadium.

The Leominster fan base was massive that afternoon in Foxborough, with some fans having to find seats in the 200 level, and is considered one of the largest crowds ever for a high school game at Gillette since the stadium began hosting Super Bowls in 2007. The 2011 season has re-ignited football fever in Leominster, and Palazzi is hoping the momentum carries over.

"Any time Leominster wins at anything, people get excited," Palazzi said. "Last year was the first year, everyone wanted to wait and see what happened. The way we crescendo'd towards the end of the season got people fired up, got them talking about Leominster football. People that didn't come to games could come this year, hopefully that excitement builds over to this year."

Junior co-captain Neil O'Connor, a lifelong Leominster resident, says he's noticed a change around town.

"I think a lot of people are excited, coming off of last year," he said. "We've done a lot of things to get the community involved, and give them something to cheer for."

Now comes the follow-up act. On offense, the Blue Devils must replace 80 receptions in Josh Caouette, Kyle Sanders and Kevin O'Connor, and 192 carries (with no fumbles) from Geraldo Rivera. A host of fresh faces will be looking to take over at tailback, among them Mayson Williams, James Gurley, and sophomore Ed Rivera. Shane O'Donnell and Kinzaqui Winters should be serviceable as fullbacks.

Making it all click is senior Garrett DelleChiaie, an undersized but scrappy quarterback who has thrived in Palazzi's offensive system. Once he got his reads down last season, the Blue Devils never lost again, and he enters his senior season a preseason ESPN Boston All-State selection.

The difference between year one and year two has been maturity, Palazzi said, but also a more intuitive approach. The position has becoming more intrinsic for the 5-foot-11, 170-pounder, and he has looked more comfortable in the preseason. He'll be counted on even more in a leadership spot this season, with the new talent at the skill spots and an offensive line that has gotten lighter.

"Last year, it was every play, 'Garrett you've got this, Garrett the safety's going to be there, Garrett remember your steps'," Palazzi said. "I still say that to him, but it's a quicker process. He doesn't have to remember how to say the play, he doesn't have to remember where the guys are going to be, so it's all more natural now.

"Now he has more of an opportunity to read the defense. I've played the position, so now we're at that level more where I can tell him where the defenders are coming, where the blitzes are coming, and how to take advantage of some of that stuff. We haven't played a game yet, but that's what I've seen out of him in practice so far, being able to recognize those things whereas last year he was just learning all of that."

At the wide receiver spot, Neil O'Connor will be one to watch. In the Blue Devils' scrimmage yesterday afternoon with Natick, DelleChiaie connected with the speedy junior for two scores, one a 58-yard middle screen and the other a 45-yard post down the deep left seam.

Look for O'Connor to lead a green defense too, roaming at free safety and making some heady plays. It's a raw defense, replacing nine starters and led by linebackers Jason Valera and Matt Banchs at the linebacker spots.

"We have some talent, yeah, but they haven't played on Friday nights," Palazzi said. "We've got to replace nine guys on defense, and they showed some good signs out there, but we had some breakdowns in the secondary when we shuffled guys in. Everett's got that speed, we've got to lock that down. They've got to step it up."

LEOMINSTER AT A GLANCE
2011: 10-3, won Division 1 Central Super Bowl
Coach: Dave Palazzi (2nd year at Leominster, 79-46 overall)
Key Returnees: Garrett DelleChiaie, Sr. QB, 5-11, 170 lbs.; Neil O'Connor, Jr. WR/S, 5-11, 170 lbs.; Jason Valera, Jr. LB, 6-0, 190 lbs.; Mayson Williams, Jr. RB/DB, 5-10, 165 lbs.; Jarell Addo, Jr. WR/DB, 6-1, 170 lbs.; Shane O'Donnell, Sr. RB/LB, 5-9, 185 lbs.; Lucas de Horsey, Sr. OT/DL, 5-10, 225 lbs.; Shane Fallon, Jr. OG/DL, 5-10, 185 lbs.; David Knight, Sr. C/DL, 5-10, 185 lbs.; Matt Banchs, Jr. LB, 5-10, 175 lbs.
Strengths: Quarterback, team speed, strong junior class.
Weaknesses: Inexperience on defense, offensive line.
Outlook: After winning its first Super Bowl in a decade, before one of the largest crowds ever assembled for a high school Super Bowl at Gillette Stadium, football culture is back to a fevered pitch in the Pioneer Plastic City. Now comes the tall task of spinning that momentum forward, and the Blue Devils will turn to a green but talented returning core to get it done. Once DelleChiaie figured out Palazzi's demanding system, the Blue Devils rolled off 10 straight victories, and this preseason he has a more intuitive grip of the offense. That should help them break in a new core of receivers and running backs, led by the versatile O'Connor and Williams. Valera, O'Connor and Banchs highlight a 2014 class that has been getting hype the last two seasons, and all three will be expected to lead a defense that is replacing nine starters. Overall, this is a group that may have to overachieve this season to replicate 2011's success, but all the pieces are in place to remain a dangerous bunch for the next two years.