Boston High School:

Jason Chavoor
January, 7, 2012
1/07/12
12:00
AM ET
By
Brendan Hall
| ESPNBoston.com
(Video courtesy of Christian Bradley)

WORCESTER, Mass. -- Jason Chavoor took one look at it, and deferred to whoever was upstairs.

"That's a prayer," the Holy Name coach chuckled. "You just pray, you hope it goes in."

But like some of the city's coolest in the crunch, the kid delivering the prayer had a different frame of mind as he assertively stepped behind the three-point line on the right wing, took a kickout pass from point guard Jacek Louisville and let the ball fly.

Senior Tyler Delorey summed up what would be his last-second game-winning shot in this thriller over cross-city rival St. Peter-Marian as "just what people expect from me", saying it was "all about how bad I wanted to win this game."

"That was the most intense shot I ever took," he smiled. "But it felt so good leaving my fingers, and I'm just proud to win it."

The shot, coming off an inbounds play that was designed for Louisville as the top option, made it 70-67 for the Naps (9-0) with 2.6 seconds left. Down the other end, SPM's Matt Mobley (15 points, six rebounds, two blocks) hucked up an errant three that was tipped back in at the buzzer. But by then, the floor was already being overrun with celebration from the over-capacity crowd at the Naps' home gym.

Early on, the Naps looked poised to break take this one going away, as they closed out the first half on a 15-2 run to take a 34-28 lead over SPM (5-2) headed into the break. A Delorey three from the top of the key capped a 9-2 Holy Name run to start the third quarter, and the Naps went up by as much as 13 before the Guardians mounted their comeback.

Mobley, after going cold for two quarters, erupted in the last few minutes to string together some key baskets. After Anthony Hodges (22 points, five steals) knocked down a pull-up in the paint, Mobley turned right back around with the same shot with 1:07 left, cutting the lead to 62-58. Mobley then hit two free throws to tie it up at 65-65 with 43.6 seconds left. On the next Guardians possession, Mobley set up another tying score, dishing it to Tim Berry, who promptly was fouled and sank both shots for a 67-67 knot with 12.6 seconds left.

Chavoor called a timeout, and on the inbounds play Delorey slipped off a switching Guardian defender, and took a quick feed from Louisville as the point guard was trapped.

"He hit the big shot when they needed him," SPM head coach Marcus Watson said of Delorey's shot. "We were trying to stop the ball and force him to make a difficult shot, and our rotation to the back side was slow. He hit a good shot.

"I thought we showed a lot of character, a lot of perseverance when we were down 13, to keep battling back the way we did."

Delorey finished with 14 points, with nine of them coming on the three ball.

"The ball rolled our way," Chavoor said. "Tyler's a four-year player, he's close to scoring 1,000 points, and he made some unbelievable three-pointers. We obviously needed every single point...[but] even after missing free throws earlier he came back strong, the three was a great shot by a four-year varsity player."

Hodges dogs Mobley: One of the key moments in SPM's late rally might have been at the two-minute mark of the fourth quarter, when Hodges took a high lob over the top of the Guardians' press only to be denied at the last instance by Mobley's outstretched hands. Mobley pinned Hodges' layup against the backboard, and let out a roar as he flexed for a moment along the baseline.

Up to that point, Hodges had done a great job bottling up the late-blooming swingman, whom he considers a good friend. Mobley got off two quick three-pointers to start the game, but was held without another field goal until the fourth quarter. Hodges -- also a star wide receiver -- harrassed Mobley the way a star striker in soccer is often marked, keeping his hands active and his hips loose as he chased the sometimes-elusive Mobley around the offensive zone.

Hodges is considered one of the premier on-ball defenders in Central Mass., and tonight's effort was certainly a justification. In all, Mobley was held to 5-of-13 from the field.

"I know how he plays, and I knew I had to lock him down pretty much the whole game," Hodges said of defending Mobley. "I know he's a three-point shooter, pretty much [does] it all for SPM, and I knew if I held him to less than 20 points we could get the win."

"Matt's a good player, Anthony just tries to limit him," Chavoor said. "Anthony played so many minutes full speed. When Matt was in the game, we kept Anthony in the game. When Matt was out, we tried to rest Anthony. I don't know what his points were...but you know, Matt's a tough player."

Was it the shoes? Hodges already garners some attention on the court for his choice of purple shoes (oddly enough, the primary color of SPM), but drew more turned heads when he re-emerged from the locker room after halftime wearing bright, almost flourescent orange sneakers.

We'll resist the easy "must have been the shoes" zinger here, as it pertains to Hodges' inspired second-half performance. But allow the senior guard to explain.

"[The purple shoes] were pretty tight for me, and I put the orange shoes on because they're a little bigger [in] size," he said with a smile. "They felt comfortable...I was trying to go out with the purple to pretty much take them off."

Postal Service: One area the Guardians were efficient in tonight was their post play. The Naps don't roll out a kid over 6-foot-3, while SPM wields three able bodies in the low post in Berry (6-foot-6), Brian Foley (6-foot-5) and Steve Flynn (6-foot-5).

Flynn, who is also a star quarterback and pitcher at SPM, started a perfect 6-for-6 from the field. He was tough early with his back to the basket, either banking it from the elbow or taking his man baseline with a quick spin and finishing with a soft touch. He sizzled a bit, going 4-for-10 the rest of the way, but still finished with team high's of 18 points, 12 rebounds and four blocks.

There were other factors that led to SPM's demise, including costly turnovers and two second-half technical fouls on team captains, but Watson liked the size advantage on the interior.

"That was our thing going in," Watson said. "I didn't think they could match up inside, and when we executed our gameplan they didn't have much of an answer. What happened was we fell into a running game with them.

"You look at the transition points. Take those transition points away -- I think we gave up 16 in transition -- you take those away and it's a different game."
December, 18, 2011
12/18/11
4:43
PM ET
By
Brendan Hall
| ESPNBoston.com
WORCESTER, Mass. -- Holy Name point guard Jacek Louisville characterized East Boston's pressing defense Friday night as "like playing 7 on 5 at times". This afternoon, in one of the matinees of the BasketBull Catholic School Showcase, he may well have found more of the same.
[+] Enlarge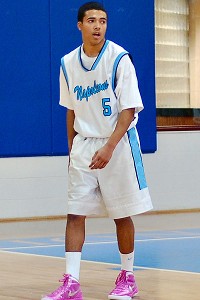 Brendan Hall/ESPNBoston.comHoly Name point guard Jacek Louisville (23 points, 10 rebounds, 7 assists) asserted himself in the most crucial moments.
But just like on Friday night, the Napoleons were able to claw their way to an ugly, hard-fought win. Holy Name fought off a late rally from St. Joseph's of Pittsfield to down the Crusaders, 63-59, and improve to 3-0.
"We faced East Boston on Friday night and they pressed the hell out of us," said Holy Name head coach Jason Chavoor. "I thought we would improve, because East Boston presses 12 deep, so they can bring lines in. But credit St. Joe's, they did a good job. We made some poor decisions, poor turnovers, we've got seniors out there that need to make better decisions. But it is our third game of the year, we're still working out the kinks."
The Naps went into the break trailing 33-31, but opened the third quarter on an 8-2 run, dominating the glass in those first three minutes with seven defensive rebounds. But the Crusaders quickly came back at the other end for its own 9-2 run, before Louisville snuck the Naps ahead in the final minute, drawing contact on his left-handed drive and converting the three-point play.
"Jacek made some plays that were huge, and when we needed them," Chavoor said of Louisville, who led all scorers with 23 points, 10 rebounds and seven assists. "He came to play, one of the few kids that came to play today."
Holy Name extended jutted out to its largest lead of the game, 55-49, with 4:45 to go, on a three-pointer from the left wing by Tyler Delorey (12 points, 11 rebounds), courtesy a dish from the top of the key by Anthony Hodges.
Louisville was called for a five-second violation with 30 ticks to and holding a 63-59 lead, but the Crusaders came up empty on the ensuing possession, missing an open layup. Mike Woll came down with the rebound with eight seconds left and was immediately fouled, but he missed the front end of a one-and-one. Still, the Naps were able to hold on.
Dan Kegbeh also had 10 points for the Naps. Senior center Mike McMahon and junior guard Taverick Roberson led St. Joe's with 16 points each.
Press gives Naps problems:
The Crusaders frustrated Holy Name all afternoon with full-court zone presses. Most efficient was a tight diamond-and-one package, sticking four defenders up inside the arc. Even as the Naps adjusted, St. Joe's was efficient in trapping the sidelines, able to force ballhandlers into repeated unforced errors and turnovers.
"Once we got the ball inbounds, we had to make quick passes," Louisville said. "Because if we waited too long, they were trapping us and we couldn't get rid of it."
Hodges playing hurt:
Hodges sprained his ankle in Friday's win over Eastie, and Chavoor said the senior was "maybe 50 percent" today, "if we were lucky".
Still, Chavoor praised the defensive effort of Hodges, also a star wide receiver this fall on the Naps' Super Bowl finalist football squad. Injury and all, he was able to keep St. Joe's dynamic scorer Roberson in check, holding him to six points in the second half.
"Anthony is our sole guy that presses, and he did a real good job maintaining [Robinson]," Chavoor said. "Kid's a pretty good ballplayer. Anthony's pressure, and his denial, kept the ball out of his hands."
Louisville Slugger:
One of the strengths of Louisville's game is his ability to initiate contact on his drives to the basket. This afternoon, he attempted 10 free throws, making seven of them, including several three-point plays.
In a game like today, Louisville asserted himself as a scorer as much as he was a distributor. Asked if he'd like to see Louisville as more of a distributor, Chavoor said "absolutely", but also added it's up to the senior to do what's best.
"Jacek, I kinda leave it up to him," Chavoor said. "So if he wants to pass, he can pass. If he wants to shoot, he's gonna shoot. When he passes it, you've got to make the layup. But Jacek's tough, he's shifty, had a great game. He's one of the few guys that came to play today, and the sole reason we won."