Boston High School:

Jason Freih
October, 27, 2012
10/27/12
7:42
PM ET
By
Brendan Hall
| ESPNBoston.com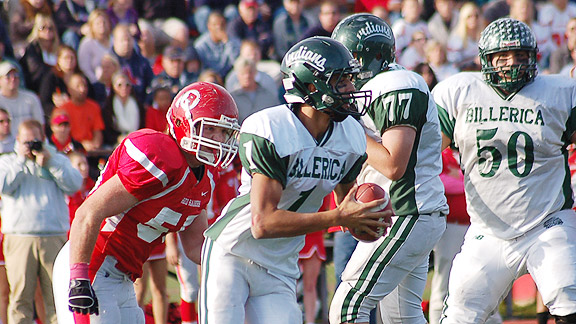 Brendan Hall/ESPNBoston.comBillerica quarterback Jordan Balarinho gave No. 1 Barnstable all it could handle in a near-upset, accumulating 394 yards of offense and 5 passing touchdowns.
HYANNIS, Mass. -– Between the bye-week rust, looming Homecoming festitivies and a monster matchup with league rival Bridgewater-Raynham for the Old Colony League's lone playoff berth on Nov. 2, this was an ideal formula for a trap game.
And until the final few minutes, it looked like the No. 1 team in all of Massachusetts was about to take one on the chin from upstart Billerica. The Indians (2-6) took a brief lead over Barnstable (7-0) in the fourth quarter, but the Raiders answered with two rushing scores and a stingy defensive stop to put down the clamps and escape with a 46-33 win.
"We survived. We showed some toughness at the end, no quit," head coach Chris Whidden said. "But hopefully, this proves that we can't just turn it on and off. Hopefully that 'on' switch stays on going forward."
Billerica took its first and only lead of the afternoon with 8:38 to play in the game, on a 61-yard strike from quarterback Jordan Balarinho (23 of 35, 322 yards, 5 TD; 9 carries, 72 yards) to receiver Matt Clifford (10 catches, 156 yards, 3 TD). Clifford ran a seven-yard hitch down the left sideline and easily slipped off a high arm-tackle, then outran safety Hayden Murphy's pursuit from the opposite side of the field en route to paydirt.
After sputtering in spurts all afternoon, the Red Raiders came to life in the final eight minutes of play. Quarterback Nick Peabody completed a nine-play, 75-yard drive by calling his own number on zone read, then weaving through traffic up the middle of the field and stretching over the goal line. He called his own number again on the two-point rush to make it 40-33.
On the ensuing Indians drive, the Raiders front seven made two crucial stuffs for a turnover on downs, after giving up nine yards on the first play of the drive. On third down, Ellis met Balarinho right at the line of scrimmage as the quarterback was looking for a dive up the middle. The next play, running back Brad Dewek was stopped cold in his tracks by Ellis immediately in the backfield.
With new field position at the Indians' 40-yard line with 3:36 to go, the Raiders put the game out of reach with a two-play scoring drive, first a 27-yard speed sweep by receiver Tedaro France (5 catches, 127 yards, 2 TD) then a 16-yard zone play by Murphy (145 all-purpose yards, 2 TD) for the score and, following a missed point-after kick, a 46-33 advantage with 3:17 to go.
Coverage concerns:
While Peabody finished with another solid day at the office (13-of-23, 270 yards, 3 TD; 9 carries, 88 yards, TD), the same cannot be said about the play on the other side of the ball. Whidden characterized the performance as "as poor as we've played all year", and within that, the most glaring deficiency was the pass coverage.
The Raiders' secondary seemed to align against the deep ball for most of the game, and the Indians took advantage, moving the ball swiftly up and down the field behind a short passing gameplan that utilized hitches and shallow crosses. Only four of Balarinho's 23 completions went for more than 15 yards.
"People didn't play their assignments," Whidden said. "Our flat defenders weren't necessarily getting to the spots they were supposed to be getting to early, and those seven-yard hitches were open. They found that, and they did a good job coaching-wise to exploit it."
Ending on a positive:
The pass rush was a bright spot for the Raiders' defense, tallying three of their five sacks in the fourth quarter. Alternating between three and four-man fronts, the Raiders were led by Jason Freih, Bryan Hardy, Ryan Litchman, D.J. Goncalves and Ellis (two interceptions).
However, it wasn't a flawless performance. While the Indians got minimal production from their tailbacks, Balarinho was consistently able to run free for first downs after getting flushed out of the pocket.
"We were getting pressure, but a lot of times we'd get beyond the quarterback, and then all of a sudden the rush lanes would get created," Whidden said. "So we need to...you get to the quarterback, you stop and redirect, and then you get rid of those running lanes for them.
"They adjusted a little bit. We were there. It wasn't like they were doing anything we haven't seen all year, it was just when it got tough, it got a little Helter Skelter and took a little while for us to adjust, for whatever reason."
Ellis doubles up:
Ellis switched his jersey number from 7 to 77 this week to accommodate an offensive line group thinned by injury. Ellis will now periodically see time at guard in addition to his duties quarterbacking the defense at middle linebacker.
Ellis has also seen time at fullback in the Raiders' offense, which could create an interesting predicament going forward.
"The rule used to be you could check in, but now you can't," Whidden said. "Now if he's wearing 77 he can't play fullback, so we might have to just put a couple of jerseys on the sideline."
BARNSTABLE 46, BILLERICA 33

BILL (2-6) 6 12 8 7 --- 33
BARN (7-0) 13 7 6 19 --- 46
First Quarter
Barn – Hayden Murphy 1 run (Jason Freih kick) 8:50
Barn – Dylan Morris 19 pass from Nick Peabody (kick failed) 6:41
Bill – Michael Casey 8 pass from Jordan Balarinho (rush failed) 0:00
Second Quarter
Barn – Tedaro France 70 pass from Peabody (Freih kick) 10:36
Bill – Matt Clifford 4 pass from Balarinho (kick blocked) 6:47
Bill – Clifford 7 pass from Balarinho (pass failed) 4:08
Third Quarter
Barn – Murphy 16 run (kick failed) 6:07
Bill – Mark Duncan 46 pass from Balarinho (Alec Mattar pass from Balarinho) 5:08
Fourth Quarter
Barn – France 8 pass from Peabody (kick failed) 9:52
Bill – Clifford 61 pass from Balarinho (Justin Beck kick) 8:48
Barn – Peabody 16 run (Peabody run) 5:20
Barn – Murphy 13 run (kick failed) 3:17
October, 2, 2012
10/02/12
1:57
AM ET
RAIDER NATION HAS OFFICIALLY ARRIVED
Barnstable head coach Chris Whidden had barely left the turf of Everett Memorial Stadium on Friday night before his phone began buzzing like crazy. To call the city of Hyannis' reaction to the Red Raiders' double-overtime upset of the No. 1 team in the land an outpour would be on diplomat's terms.

"Let's put it this way, I think I had eight or nine texts on my phone by the time I got on the bus," he said.

It's been a wild few days south of the Sagamore Bridge since the the Red Raiders pulled off the virtually unthinkable. Many pundits predicted the hard-hitting, fundamentally disciplined Raiders to keep it close with Everett, holders of a 28-game win streak and the top spot in ESPNBoston.com's statewide poll since October 2010 -- but on the mainland, nobody actually believed they'd actually pull it off. And with it, Barnstable moves up two spots in our poll to No. 1, becoming the first Old Colony League team to be anointed the top team in the land in the history of our poll.

What statement does this make about Cape Cod football? Not much, really. That was made last year, when an unprecedented five teams from the Cape & Islands region (including Barnstable) qualified for postseason, with four of them winning a Super Bowl (Dennis-Yarmouth, Bourne, Mashpee, Nantucket). And the Cape is strong once again, with Nauset, Bourne, Wareham, Sandwich, Martha's Vineyard and the aforementioned Raiders all off to at least 3-1 starts or better.

No, this is more about the Barnstable program itself. After some tumult the last few years, the Raiders have taken off after settling with Whidden as their head coach, and Nick Peabody as their quarterback. Friday night, after going 0-for-10 with an interception in the first half, Peabody showed why he is on the short list for ESPN Boston's Mr. Football Award by throwing two second-half touchdown passes to his favorite target Dylan Morris, including the crucial one in the second overtime that clinched it.

The Red Raiders can score -- this much we know, after putting up 110 points in the first eight quarters of the season -- and have some gifted athletic versatility between Morris, Theo France and junior Hayden Murphy. But Friday's stunning upset was more a statement of Whidden's defensive prowess.

Barnstable threw a variety of man and zone coverages at Everett, primarily out of a three-deep shell, aimed at containing Everett's two superstar receivers, Jakarrie Washington and Jalen Felix. Up front, the Raiders began in a three-man front, but quickly found more success with four down linemen, and stuck with it. Where there was a weight disadvantage -- the Tide average over 300 pounds across, led by Notre Dame-bound left tackle John Montelus -- the Raiders made up for with quickness, athleticism, and length, behind Jason Freih, D.J. Goncalves and John Eldridge.

Whidden is known for his knack as a defensive play-caller. But it also doesn't hurt having two NFL vets and Cape football legends coaching up the defense, either. Falmouth grad and former Oakland Raider Willie Ford has the secondary's ear, while Barnstable grad and former Dallas Cowboys lineman Mike Dwyer has the defensive line.

"They're able to get so specific with the technique," Whidden said. "For a defensive lineman working different skills, different technique, whether it's pass rush or run defense, they're not the same moves or same techniques, so that's crucial. Same with the secondary, playing man coverage and zone coverage are completely different techniques. They got that repetition during the week."

This year's team-issue shirts at Barnstbale feature a bulls-eye on the back, a statement more to do with the target that comes with being the regining OCL champ. That target has just gotten a little bigger.

A lot, actually.

"They know now that teams are really gunning for us," Whidden said. "We pay attention to the way we celebrated on their field after the game. Now we've got teams coming at our place as the top dog, and we've got to make sure we avoid having anyone celebrate like that against us."

KEN LACHAPELLE -- VISIONARY, INNOVATOR, GRANDFATHER
For as long as Ken LaChapelle has been at the helm of Northbridge High football, there has always been a good quarterback calling the shots. But there is but one name to trump all names: Danny Brown.

Brown, widely considered the greatest in a long line of great Rams signal-callers, reminisced about his recruiting during the 2001 and 2002 seasons, when reached last week by ESPNBoston.com to reflect on LaChapelle. The one moment of the process that's always stuck with him, he says, is a meeting with the Dartmouth coaching staff during a visit, in which the staff raved about LaChapelle's offensive innovation, telling him the coach is "always one step ahead".

LaChapelle became the third coach in MIAA history to achieve 300 career wins on Sunday, with a 42-12 victory over Southbridge, to go along with 10 Super Bowl titles. Unique from the other two to achieve the milestone is that LaChapelle has done it all in one place, holding the Northbridge job continuously since 1976.

Unique, too, was his foresight to install the Run-and-Shoot offense upon taking the head coaching job, at a time when power-running formations like the Wishbone were all the rage. LaChapelle has light-heartedly mentioned in the past his desire to one day coach a game in which he didn't attempt a run (that was short-lived on Sunday, as quarterback Matt Phelan racked up 154 yards on 5 carries). Many of the spread principles you see in the state's top teams? Northbridge has been running it for decades, going back to the days of the San Diego Chargers' revolutionary "Air Coryell" offense.

Brown, like many Northbridge alums, was a lifer, first getting a taste of Rams football as a waterboy. He endured a great career at Harvard and had a brief stint in Europe before returning to Northbridge, where he is happily engaged and makes the hour commute each way every day to the Xenith helmets sales office in Lowell. It bears asking: What keeps a guy like LaChapelle, a 1965 grad, in Northbridge for 50 years?

The short answer is family. He has a half-dozen children and nearly two-dozen grandchildren littered around the southern plateau of Worcester County. He currently coaches two grandchildren, Daiton LaChapelle and Koby Schofer, and by the looks of it could coach many more.

How many more years? Brown says, with an honest tone, "he could go another decade".

That leaves plenty more opportunities for that elusive run-less game.

FAMILIAR TERRITORY
Bob Bancroft left a lasting legacy at Whitman-Hanson in his tenure as head football coach. On Friday, Bancroft's Pembroke squad left a loss behind.

The Titans rolled over their current head coach's old team in a 19-3 win. The Panthers entered the game with the momentum gained off a tight win over Foxborough.

But after taking an early 3-0 lead on a 28-yard field goal on Friday, it was all Pembroke. The Titans quickly reclaimed the lead with Brian Tinkham's first touchdown of the game before Ken Blasser's pick-six extended the Titans' lead in the fourth. Tinkham added his second score of the game as added insurance late in the fourth.

What's more is that it marked the second straight year Bancroft claimed victory over his former side, proof that the master still reigns.

WILD NIGHT IS CALLIN'
More than a change in No. 1 teams, Friday night was ripe with upsets as the rain poured down in bowls across the state. No place was that more prevalent than in the Hockomock League, where a couple of teams in Davenport (small school division) claimed wins over their Kelley-Rex counterparts.

Foxborough's defense stymied North Attleborough's offense, holding the Red Rocketeers to just 91 offensive yards, in a 21-0 blanking. Dynamic Warriors running back Kiivone Howard outgained North by himself, running for 130 yards.

North wasn't the only Kelley-Rex team with a struggling offense. For the second straight year, Stoughton knocked off Mansfield with a 25-6 win. Meaning that the Hornets came away with a grand total of six points during their meetings with the Black Knights in the last two seasons. Stoughton again showed its defensive mettle, with Adam Leonard notching a key strip-sack early in the game and Aaron Mack's strong play in the secondary.

With both teams coming off notable upsets of Top 25 squads, the Davenport picture will come into clearer view when the Black Knights and Warriors tangle this Friday.

IN MEMORIAM
With the one of the biggest football games of the season coming, football seemingly is the last thing on the minds of the Stoughton High community this week.

Less than 24 hours after celebrating another win over Mansfield, Black Knights player David Wade, 17, was killed on Saturday by a gunshot wound to the chest. Wade played football this year after being a member of the Black Knights cheerleading squad. He also competed with Stoughton's winter track team and played tennis.

Our thoughts are with David's friends and family at this time.
September, 15, 2012
9/15/12
12:54
AM ET
By
Brendan Hall
| ESPNBoston.com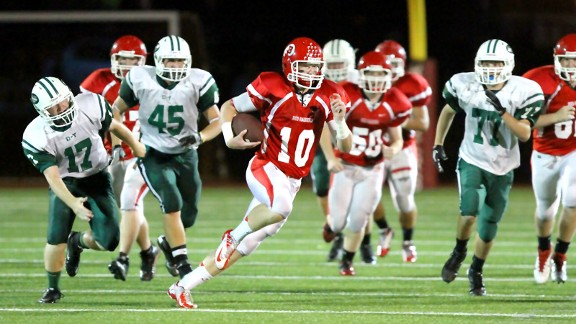 Eric Adler for ESPNBoston.comNick Peabody accounted for 415 yards of offense and four touchdowns as Barnstable hung 55 points on its opponent for the second straight week.
HYANNIS, Mass. -- Heading into tonight's installment, the previous three contests between border rivals Dennis-Yarmouth and Barnstable had been decided by a total of five points, with D-Y taking the last two in some memorable finishes.
Tonight's installment of what has become Cape Cod's fiercest non-Thanksgiving football rivalry, before a capacity crowd of several thousand at Barnstable High, was memorable for completely different reasons.
The 2012 version of this rivalry will be remembered for the clinic that Barnstable quarterback Nick Peabody put on, throwing for 350 yards and four touchdowns, with 65 more yards on the ground, in a 55-14 thrashing of the Dolphins that improves the No. 4 Red Raiders to 2-0. Middle linebacker Andrew Ellis, the leader of the Raiders' aggressive defensive front, offered up beams of relief as he looked up at the scoreboard.
"We finally did what we were supposed to do, man," he beamed. "We come out here every year like we should beat the snot out of these guys, but something happens, they get rolling, we can't stop them. But this year we finally did what we needed to do."
Said senior center Tom Grimmer, "It feels pretty good. The past two years, I've walked off the field with tears in my face. It just feels good tonight to finally get this before I get out of high school, out from under my skin. The monkey's off our backs now, finally."
Peabody has watched this game from the bench the previous three seasons as backup to record-setter D.J. Crook, but tonight he looked like he's been a four-year starter, hucking balls over the deep middle seemingly on a line and hitting his receivers intuitively in stride. The 6-foot-4, 225-pound senior finished the night 15-of-18 passing to go with the 350 yards.
[+] Enlarge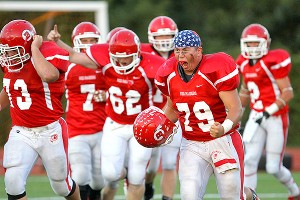 Eric Adler for ESPNBoston.comBarnstable's offensive line, led by Tom Grimmer (79), paved the way to 500-plus yards of offense.
"We punted once, [but] want to put it in every time we get the ball," said Peabody, who has totaled 10 touchdowns (eight passing) in the first eight quarters of the Raiders' 2012 season. "There was a lot of good, we still have some stuff to work on for sure, and we'll be working this week."
A number of factors have led the Red Raiders' dominant start to 2012 -- they've outscored the opposition 110-20 through the first eight quarters of the season -- but the most visible one, at least tonight, was the connection with senior wideout Dylan Morris. The 6-foot-2 speedster hauled in five passes for 207 yards and the first two of Peabody's four scoring strikes.
As D-Y (0-1) attempted to stack the box, Peabody went to Morris in space for some favorable results. Their first scoring strike happened after Derek Estes came up with a goal-line pick to give the Raiders the ball at their own two. On the first play of the ensuing drive, Peabody found Morris on a skinny post well behind the safety, for a 98-yard touchdown that made it 14-0 with 1:04 to go in the first quarter.
The Dolphins went three-and-out on the ensuing drive, and Peabody went back to his familiar target again on the first play of the Raiders' next drive. This time, it was a fly route down the left sideline, where Morris easily hauled in the pass against single-coverage then hip-shook a high arm tackle to march 51 yards to paydirt and a 21-0 advantage.
"He's a field general," Barnstable head coach Chris Whidden said. "He makes sure we're in the right position and right place, and he'll let the offensive coordinator know 'Hey, I'm seeing this', and we trust him enough to put him in a position...and he's got so much trust in all his other weapons.
"With Hayden [Murphy] at running back, and Dylan and Tedaro [France] and James [Burke], there's a bunch of guys you've got to worry about and defend, and if you defend one, somebody else is open. And Nick's got that confidence in all his teammates."
Peabody threw two more TDs, one to James Burke on another skinnny post before the end of the first half, then a 20-yard fade to Manny Perry at the back pylon to begin the fourth quarter.
"They came out and they were kind of stacking the box, bringing some pressure, and they didn't have a high safety over the top," Peabody said. "So we kind of thought if we could isolate Dylan on the outside he could beat the corner. And he did that a couple times for the big play."
In the zone:
Coming into this matchup, some mused that the key matchup might have come in the trenches, where Barnstable center Tom Grimmer was likely to square up with D-Y defensive tackle Joe Tyo. But considering the offensive numbers they put up tonight (513 yards from scrimmage), and the way they consistently moved the ball downfield, this was more the function of a unit rather than one singular act.
Though the centerpiece is nice. At 6-foot and 255 pounds, Grimmer displays a unique combination of leg power and low center of gravity to maintain leverage against bigger opponents, such as Tyo tonight. A three-year starter under center, Grimmer has had a reputation as a ferocious competitor in the weight room.
As for the line itself, the way the Raiders set up the run in Whidden's run-and-shoot scheme requires surgical zone blocking. It's a philosophy that has been ingrained in their heads since freshman year, after becoming accustomed to man-to-man concepts in the town's youth program.
"It's tough to get used to right away," Grimmer said. "But we've been doing it a while, and all we do is that zone blocking scheme. We've gotten used to it. It adds to our unity a little bit, becuase there isn't any chance to shine individually. A zone blocking scheme is designed to work together. When it works right, and everybody's getting off their blocks, it feels good."
Peabody had high praises for his line after the game.
"It's a great group, you really couldn't ask for any better of a group," he said. "They work hard. Those guys lift a ton of weight, they work really hard in the offseason, so it's not the [biggest] line but they're low to the ground and very strong. They have great technique. I have all the time in the world back there, they open up big holes. They're great."
Defense drops the boom:
The secondary was exemplary tonight, led by Estes, and Whidden deferred to the expertise of one of his secondary coaches -- none other than former Oakland Raider and Falmouth High great Willie Ford -- for that aspect (can't hurt, right?).
When you ask the No. 1 team in the state, Everett, what they think of Barnstable, they will tell you the Raiders were one of the hardest-hitting teams they faced all season, if not the toughest. More than Kevin Hardy's ball-hawking skills at free safety, this hard-hitting mentality is explicated in the front seven behind guys like Ellis and Bryan Hardy.
The Raiders switched off between three- and four-lineman fronts, with Ryan Litchman strafing in and out of the box as a "Rover". When Ellis read a run, he sniffed it out quick, and he hit the hole with authority. If you watched his play in last year's overtime epic against Bridgewater-Raynham, you know this is a familiar routine with the 5-foot-10, 230-pounder.
But give credit to the interior, where seniors D.J. Goncalves, Jason Freih and John Eldridge used their long reaches to get leverage on their opponents and free up gaps for the linebackers to shoot.
"We expect that out of Jason Freih," Whidden said. "He's a returning all-league kid, and we know what we're going to get out of them."
Said Ellis, "The D-line was just taking out the holes. They just get in there and do what needs to be done, and they make our job easy."
NO. 4 BARNSTABLE 55, DENNIS-YARMOUTH 14

BA 14 20 7 14 --- 55
DY 0 6 8 0 --- 14
First Quarter
B - Hayden Murphy 5 run (Terrence Mudie kick) 7:41
B - Dylan Morris 98 pass from Nick Peabody (Mudie kick) 1:07
Second Quarter
B - Morris 51 pass from Peabody (Mudie kick) 9:56
D - Spencer McCaffrey 80 pass from Jacob Pawlina (rush failed) 5:10
B - James Burke 45 pass from Peabody (kick failed) 3:47
B - Murphy 17 run (Mudie kick) 1:43
Third Quarter
D - Cory DeSimone 3 run (Pawlina run) 5:39
B - Tedaro France 7 run (Mudie kick) 4:27
Fourth Quarter
B - Manny Perry 20 pass from Peabody (Mudie kick) 10:12
B - Kristian Lucashensky 2 run (Mudie kick) 2:35
August, 30, 2012
8/30/12
11:44
PM ET
By
Bruce Lerch
| ESPNBoston.com
Barnstable isn't going to sneak up teams this fall like they did a year ago. With 12 returning starters and a wealth of additional experienced players from last year's playoff team, the bullseye now found on the backs of their jerseys won't cause the Red Raiders any extra discomfort.

Barnstable stunned Bridgewater-Raynham in overtime late last season to claim the Old Colony League title, and advance to the state semifinals for the first time since 2002.

Experience and team chemistry will go a long way toward helping the Red Raiders take it a step further and accomplish something they haven't done since youth football -- win a Super Bowl trophy.

"Our core group of kids has been playing together since they were in the youth program," Whidden recalled. "I think it's the 2008 Super Bowl championship trophy that the kids have from the youth program. There's fourteen names on that trophy that are still playing for our varsity program. They're striving to get themselves back to that level and get a trophy where the little plastic guy on top doesn't twist and fall off."

It all starts with the offense, led by senior quarterback Nick Peabody. Peabody earned Old Colony All-Star honors as a wide receiver last season but started every league game under center while record-setting D.J. Crook was injured.

The 6-foot-3, 225-pounder has a fleet of talented wide receivers to throw to, led by big-play threats Tedaro France and Dylan Morris. Look for senior James Burke to emerge as a big part of the passing game and fellow senior Manny Perry to provide depth.

Much of Peabody's offseason work focused on speed and agility, morphing an already dangerous passer into a terrific dual-threat weapon. He'll team up with Barnstable's version of 'Thunder & Lightning' in the backfield with speedy Hayden Murphy and downhill runner Terrence Mudie. Tommy Grimmer, one of five team captains, anchors the offensive line from the center position along with brother and guard Billy Grimmer.

On defense, Whidden hopes that a younger front line will eat up enough blocks to allow an experienced group of linebackers to wreak havoc. Andrew Ellis and Bryan Hardy return as inside backers while Robby Stewart steps into a starting role on the outside.

Returning OCL All-Star Jason Frieh is a menacing presence from his defensive end spot. Tommy Grimmer played primarily on the offensive line last season but is expected to add an additional presence to the middle of the 'D' line this year.

By the end of last season, Barnstable experienced the greatest amount of growth in the secondary, a spot that should be another strength in 2012 as Kevin Hardy and Derek Estes both return to lock down the corner spots. Versatile Ryan Litchman will split time between outside linebacker and free safety, depending on matchups.

"The one thing that I expect from this group, knowing what they've done since last season ended, is that whatever the potential they have, they are going to reach that potential," proclaimed Whidden. "They're going to get themselves to that point. I don't doubt that and I'm curious to see how far that potential can take them."

BARNSTABLE AT A GLANCE
2011: 7-5 (3-0 Old Colony), lost in Division 1A Playoffs
Coach: Chris Whidden (Second year, 7-5)
Key Returnees: Nick Peabody, Sr. QB, 6-3, 225; Tedaro France, Sr. WR/DB, 5-10, 175 lbs.; Tommy Grimmer, Sr. C/DL, 5-11, 235 lbs.; Andrew Ellis, Sr. LB, 5-11, 215 lbs.; Ryan Litchman, Sr. OLB/FS, 5-9, 170 lbs.; Bryan Hardy, Sr. LB, 6-1, 215 lbs.; Dylan Morris, Sr. WR, 6-0, 170 lbs.; Jason Frieh, Sr. DE, 5-8, 180 lbs.; Terrence Mudie, Sr. RB/LB, 5-10, 185 lbs.; Kevin Hardy, Jr. DB, 5-9, 160 lbs.; Billy Grimmer, Jr. OG, 6-0, 225 lbs.; Hayden Murphy, Jr. RB, 6-1, 185 lbs.
Strengths: Passing game, linebackers, secondary, experience, leadership.
Weakness: Youth on defensive line.
Outlook: Reaching the playoffs for the first time since 2002 gave the Red Raiders a taste of success that they want more of. Although the OCL is down to three teams, all three are postseason contenders with Barnstable-Raynham annually among the state's best and Dartmouth expecting a major resurgence. Peabody should finish as one of the state's best quarterbacks and his group of receivers should receive similar accolades. On defense, Litchman may be the key to whole operation, a player of whom Whidden says, "We dictate what we do defensively based on getting him around the ball."
October, 29, 2011
10/29/11
2:14
AM ET


MANSFIELD, Mass. – For a time, Mansfield's second-stringers lined up against Barnstable's first-teamers in the fourth quarter of Friday night's game.

Then, what Hornets head coach Mike Redding aptly called "a playoff game with no implications" turned into exactly that after the Red Raiders put up 17 unanswered fourth-quarter points to tie the game 27-27.

In the end, No. 11 Mansfield survived with a 34-33 victory in overtime, running their record to 7-1. It was more of the usual from perhaps the state's most entertaining team.

"Well, we hadn't done overtime yet this season," Redding commented on the Hornets' rash of close shaves this year. "It's always something."

The Hornets held a three-score lead as late as the three minute mark of the fourth quarter.

But Barnstable junior quarterback Nick Peabody engineered two quick touchdown drives, both culminating in passing scores to Tedaro France. After Terrence Mudie's recovery of an on-side kick, the Red Raiders (4-4) moved the ball down the field once more, setting up Tom Mullen's 26-yard field goal, tying the game with 31 seconds remaining.

Peabody kept the momentum rolling into overtime, punching in a 10-yard touchdown on the first play of the extra session. Playing for the win, Peabody rolled right on a bootleg on the ensuing 2-point try, but Mansfield defensive back Matt Barsomian batted down the pass.

"In our minds, they had missed the two PATs early, so we thought they were going for two anyway," Barnstable head coach Chris Whidden said of the decision to go for two. "We thought our best chance to win was to go for two, but they made a play."

Greg Donahue scored on a 5-yard run to tie the score once again and Matt Bukuras chipped in the point-after try for the win.

"The good thing is that we found a way to hang in there and win in the end," Redding said. "The bad is all those little things that let them hang around and come back and haunt you."

TWO TEAMS LOOKING AHEAD
No doubt both sides played their hardest, but both sides realized there's more to the season than the non-league matchup. So Friday's battle could serve well for both teams chances as they face critical league challenges in the coming weeks.

Barnstable, for one, has a penultimate Old Colony League contest with No. 3 Bridgewater-Raynham next week. And Mansfield hopes to close out a Hockomock large division title with two more victories.

"We wanted to get our kids out and gear up for Franklin and North [Attleborough]," Redding said, "but that backfired."

Nonetheless, Barnstable can take with it the confidence of hanging with one of the state's premiere programs year after year while building confidence in Peabody, who's filled in admirably in D.J. Crook's absence. After a slow start in the first half, when Barnstable had just 18 offensive snaps, Peabody was able to move the chains when it counted most.

"He's proved that he's a high quality quarterback," Whidden said of Peabody. "That's one position that we knew, coming into the year, that we had a lot of depth. But we just weren't aware how good he could be and we didn't realize we were going to have to use him."

VIVE LA FRANCE
Whether its Theo France in the running game or Tedaro France streaking down field to snatch a pass, the Red Raider brothers pose matchup problems for opposing defenses.

On Friday night, it was the younger France stealing the show.

"Tedaro's a playmaker and he wants the ball in his hands," Whidden said. "He's proven that he's a kid that we have to find a way to get the ball into his hands. Nick [Peabody] was a receiver before he became our quarterback, so he developed the rapport before he played that position and know it's paid off."

GUTTING IT OUT
Although they had problems containing the Hornets rushing duo of Donahue and Blayne Taylor at times, the Red Raider defense made some significant plays down the stretch that shouldn't be ignored.

Defensive lineman Jason Freih (2 sacks) was a disruptive force throughout and recovered a fumble that set up Barnstable's second touchdown of the fourth quarter.

Barnstable (4-4) 0 3 7 17 6 -- 33
Mansfield (7-1) 6 6 8 7 7 -- 34

1st quarter
M - Greg Donahue 2-yard run (kick failed)

2nd quarter
B - Tom Mullen 25-yard field goal
M - Mike Blackman 11-yard pass from George Busharis (kick failed)

3rd quarter
M - Zach Schafer 22-yard pass from Busharis (Dan Gilmore pass from George Busharis)
B - Hayden Murphy 23-yard run (Mullen kick)

4th quarter
M - Mike Farrell 6-yard run (Matt Bukuras kick)
B - Tedaro France 49-yard pass from Nick Peabody (Mullen kick)
B - Tedaro France 28-yard pass from Peabody (Mullen kick)
B - Mullen 26-yard field goal

OT
B - Peabody 10-yard run (pass failed)
M - Donahue 5-yard run (Matt Bukuras kick)