Boston High School:

Jason Houston
September, 8, 2012
9/08/12
12:49
AM ET
By
Ryan Kilian
| ESPNBoston.com
DRACUT, Mass. -- The two-back attack of senior Alex Moore and junior Jonathan Thomas proved to be too much for Dracut on Friday night as St. John's Prep avenged last season's 13-7 home-opening loss as they defeated the Middies, 49-6.
Moore and Thomas did their damage early and often as the pair both scored two touchdowns with Moore's pair coming in the first half on a first quarter 12-yard run and one more in the second quarter from 15 yards out to give the Eagles a 21-0 lead deep into the second quarter.
"We have the two backs who can break it at any time," St. John's Prep coach Jim O'Leary said. "Our offensive line played well, and Jack [Sharrio] made some good choices out there."
[+] Enlarge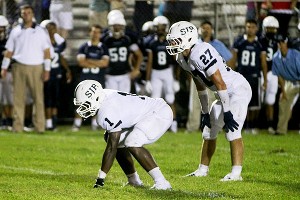 Ryan Kilian for ESPNBoston.comSt. John's Prep running backs Jonathan Thomas (1) and Alex Moore (27) combined for 200-plus yards rushing in a 49-6 win over Dracut.
Sharrio managed the game well and also connected on a pair of first half scoring strikes to Gerry Kahari (16-yards) in the opening quarter and a nice 7-yard touch pass to Anthony Bongiorno with time running out in the second quarter.
St. John' Prep led 28-0 at the half as a result of executing in the red zone, dictating offensive possessions, converting defense to offense and capitalizing on Dracut's (0-1) special teams mistakes.
In the second half Prep came out and continued to dominate on both sides of the ball as Thomas scored twice in the third quarter before the teams exchanged scores late in the fourth to give St. John's Prep (1-0) the 49-6 opening night victory.
Moore and Thomas:
Moore finished the game with 138 yards rushing on 10 carries, all coming in the first half. Thomas finished with 92 yards on the ground on just seven carries. Both players also made game-changing plays on the defensive side the ball as Moore had an interception and a jaw dropping hit from his safety position to open the second half.
"We have a lot of players returning on defense," Moore said. "We really want to use our defense to get ahead in games, get interceptions and get turnovers. We just like to hit. We are fast and we use all our abilities to our advantage."
Thomas was also impressive defensively as the heralded junior back had two interceptions from his cornerback spot, with the second beginning the second half when he picked off Dracut quarterback Tyler Duff and took it 45 yards to the house for a score.
"I can play anywhere on the field," Thomas said. "If it means stepping up on defense then it means stepping it up on defense."
Both players lauded their underrated offensive line for the holes that they used throughout the game on the offensive side of the ball.
"They open up holes and we just run through them," Thomas said. "They do not get enough credit but we let them know we appreciate them. They are the hardest workers on the team."
Bassett leads youth
: Dracut graduated a large senior class from last year's squad and only returned three players on each side of the ball. The growing pains and transition will be there for head coach Jason Houston and the Middies but there is reason to be hopeful.
"We are only going to get better by paying the likes of St. John's Prep, Mansfield in Week 3. Our kids want to play the best teams and with the always tough MVC schedule it will only make us better in the long run.
Senior running back and co-captain Zach Basset is a workhorse and two-way rock for Houston and the Middies. The veteran carried the ball 18 times for 87 yards.
"Zach is the kind of football player that any coach would want," Houston said. "He has played anywhere from freshman year at quarterback to running back to slot receiver. He plays anywhere that you need him to play and it is 100 percent all the time. He is our team leader and he has been our team captain for two years now."
A program first
: The win by St. John's Prep was the first win over Dracut in the five game history of the rivalry.
"As a program St. John's Prep has never beaten Dracut," Thomas said. "The coaches reminded us of that and we had to focus on this being the year and we came out and let them know."
Dracut took the opener last season 13-7 in Danvers as both teams struggled to get anything going offensively in that match-up.
"It is a nice start for us," O'Leary said. "It is going to get harder for us, much harder, but I got to play everyone tonight and we played well. This is the first time we have ever beat them and the fifth time we have played."
ST. JOHN"S PREP 49, DRACUT 6
SJP (1-0) 7 21 14 7 --- 49
DRA (0-1) 0 0 0 6 --- 6
First Quarter
S – Alex Moore 12 run (Stephen Camarro kick)
Second Quarter
S - Gerald Kahari 16 pass from Jack Sharrio (Camarro kick)
S - Moore 15 run (Camarro kick)
S - Anthony Bongiorno 7 pass from Sharrio (Camarro kick
Third Quarter
S – Jonathan Thomas 45 Interception return (Camarro kick)
S – Thomas 38 run (Camarro kick)
Fourth Quarter
S – Ian Kessel 30 run (Camarro kick)
D – Gabe Morales 2 run
September, 10, 2011
9/10/11
5:42
PM ET
By
Adam Kurkjian
| ESPNBoston.com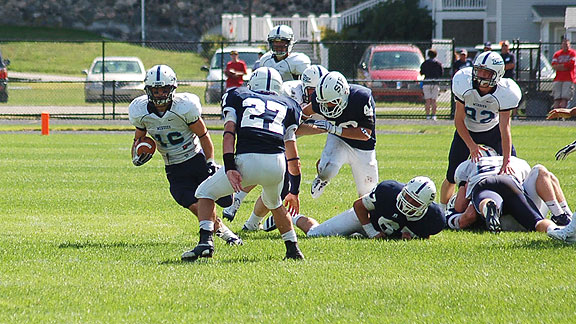 Brendan Hall/ESPNBoston.comDracut junior Zach Bassett came up with the game's first score and was in on a slew of tackles on Saturday.
DANVERS, Mass. -- St. John's Prep is usually the team with the big, experienced offensive line and overpowering ground attack.
Saturday at Cronin Memorial Stadium, however, it was visiting Dracut which fit that bill, and the result was a 13-7 win.
"We've got a lot of things to work on," Dracut coach Jason Houston said. "It wasn't pretty."
Indeed, it was a sloppy game on both ends. But if you think a senior group of linemen pushing its way forward on both sides of the ball is attractive, yesterday's performance by the Middies (1-0) was a thing of beauty. Dracut, looking to reach its fourth consecutive postseason appearance and third straight out of the Merrimack Valley Conference's Small Division, received the requisite might from seniors Anthony Metzler (5-10, 280), Mike Schiavi (6-4, 285), Conor McAnespie (5-10, 185), Jack Whelton (6-3, 200), Shawn Butt (5-11, 260) and Jacob MacShane (5-11, 200) to make up for the loss of reigning MVC Lineman of the Year Peter Salem, who was out nursing a minor injury.
Quarterback Jimmy Ryan, a junior making his first start, rushed for 103 yards and a touchdown on 19 carries and completed 10-of-15 passes for 113 yards. The Middies scored on a 2-yard Zach Bassett rush and a 16-yard zone-read keeper by Ryan in the second quarter to take a 13-0 lead into halftime.
Alex Moore (26 yards rushing, 74 receiving) dove over from a yard out for the Prep's only score with 2:58 to go, but the Middies picked up three first downs and forced the Eagles to burn their remaining four timeouts.
Game over.
"I look at it as a win is a win," said Bassett, who rushed for 47 yards and also made a key fourth-down stop on Prep quarterback Tommy Gaudet to start the third quarter. "Every win is huge, especially one like St. John's Prep. But we're going to look back, enjoy it tonight and go after it on Monday."
Some other observations...
Middies swarming:
Dracut's defense was billed as a strength coming into the season and it lived up to that reputation Saturday. In addition to the play from the linemen, the linebackers out of Dracut's 3-5-3 alignment were all over the field. Tony Ngeth, Bassett, Matt Ferrazzani, junior Pat Noonan and Ryan Schwartz were suffocating. St. John's Prep inexperienced offensive line opened very few holes and those that did appear closed fast.
"I wouldn't want to play this defense," Ryan said with a smile. "They're phenomenal. They're fast. They're strong. They just know where to be at all times."
Filling big shoes:
Ryan stepped in for his first varsity start and wasn't fazed one bit by an excellent group of defenders on the other side of the ball. He executed the zone read properly and made accurate throws in the short-range passing game. He did exactly what the offense asked him to do and more, and it looks like Dracut is going to be set at the quarterback position for another two years. He has a good group of skill players to work with in junior Bryant Tuff, Dante Torres, Ferrazzani, Bassett and Leo Lakmany. All four showed good hands and nice toughness after the catch.
Green in the trenches:
The Prep replaced every offensive lineman and it showed. The youth up front resulted in a lot of false starts and missed assignments. That will work itself out in time, though, as the Eagles were cleaner in that regard in the second half. The Prep was also missing senior Brennan Giles (6-2, 286), maybe the team's most experienced player in the trenches. Either way, Dracut had the advantage up front.
Promising Prep D:
The Eagles are going to be excellent on defense. Even with the offense sputtering like it did for most of the game, the Prep defense managed to shut out a good Dracut offense in the second half. Junior nose guard Corey Jean-Jacques (5-11, 291), a wrestling standout who just came out for football this year, is a nice anchor with ends Owen Lynch and junior Anthony Bongiorno providing speed off the edge. Junior Lucas Bavaro, sophomore Sean Smerczynski, junior R.J. Pizzano and sophomore Jonathan Thomas are a nice corps of young linebackers, while juniors Moore, Gerald Kahari and Jack Sharrio are hard hitters in the secondary. Once this offense starts clicking, look out, because the Prep's defense is good and will be even better in 2012.
DRACUT 13, ST. JOHN'S PREP 7
DHS (1-0) --- 0 13 0 0 - 13
SJP (0-1) --- 0 0 0 7 - 7
Second Quarter
D - Zach Bassett 2 run (Jacob MacShane kick)
D - Jimmy Ryan 16 run (kick failed)
Fourth Quarter
SJP - Alex Moore 1 run (Connor Shaw kick)
August, 25, 2011
8/25/11
5:27
PM ET
By
Andy Smith
| ESPNBoston.com
DRACUT, Mass. -- It is a humid, overcast afternoon as coach Jason Houston and his Dracut High School football team put the finishing touches on their first of two Thursday practices in a field hundreds of feet behind the football complex. The practice has already ran beyond its original noon ending time, but it's this extra time that could prove valuable in the future for the No. 19 Middies.

During one drill, Houston is taking a hands-on approach, acting as a quarterback while trying to teach his linebackers their proper gap-filling assignments on running plays. After each snap, they ask him questions about pre-snap adjustments, what to do when a player goes in motion, and so forth. The second-year coach answers them all, expecting that uncertainty one week into preseason camp. The questions have to be answered now, because once the season starts, the competition will not wait for them to work things out.

On the first Saturday of the season, the Middies play No. 12 St. John's Prep. Four of the six weeks after that, they face off against Merrimack Valley Conference Large competitors Billerica, Central Catholic, Lowell, and Chelmsford. That is stiff competition, to say the least.

"Playing St. John's Prep is going to be quite the task for us, where we're only returning four offensive starters," said Houston. "But it's a good way to gauge ourselves in the season and you can't get better by playing teams that are worse than you. You have to play teams that are better than you. That's why we play SJP, we scheduled Brockton a few years ago, and had Marshfield and Westford the last few years."

"We know going in that we might lose one, maybe two of those games, but we'd like to split our non-league games," he continued. "That way, when we get to the MVC Large teams, we're a little more ready to play those teams. We should have all the kinks worked out by league play."

One of the important new offensive starters is quarterback Jimmy Ryan. He spent two years as a backup to Matt Silva, who graduated, but this year he will be thrown into the metaphorical fire that is the MVC. He seems up for the challenge. Also graduated is Chris Malonis, who paired with Silva to be one of the most prolific pitch-and-catch combinations in the MVC.

"I'm excited (to take over at QB)," said Ryan. "I know there's a history of great quarterbacks here, from Coach (Bobby) Russo, (Matt) Grimard, Tim Dillon, to Matt Silva of course. I don't want to be the guy to let everyone down, but I think I can do it. I've been in this system for two years now and I know we have a great coaching staff here so I think I'll be ready."

"I know the schedule isn't easy, but the coaching staff does a great job preparing each week and coming up with schemes and all that, so I think we'll be ready no matter who we're playing," said Ryan.

Malonis was back at practice Thursday, helping lead the scout team offense and acting as quarterback during wide receiver vs. defensive back drills. He and Russo still being around the program can only help Ryan as he grows into his role.

As practice ends and Houston addresses his team, he acknowledges there is more work to be done. He knows how much he's going to rely on his new starters on both sides of the ball if he wants to get back to and make some noise in the playoffs.

Can his team do it? That's a question that can only be answered once the season starts.

DRACUT AT A GLANCE

Head Coach: Jason Houston (2nd season, 8-4)
Last Year: 8-4 (Lost to Reading in Division 2 playoffs)
Key Returnees: Zach Bassett, Jr., WR/OLB 5-8, 170 lbs., Dante Torres QB/DB 5-11, 160 lbs., Jimmy Ryan QB 5-10, 160 lbs., Peter Salem, Sr., OL/DL, 6-0, 225 lbs., Tony Ngeth, Sr. RB/LB, 5-9, 170 lbs., Mike Sarault, Sr., RB/LB, 5-7, 165 lbs., Ryan Ignacio, Sr., RB/LB, 5-10, 170 lbs., Nick Dubuque, Sr., OL/DL, 5-6, 185 lbs., Anthony Metzler, Sr. , OL/DL, 5-10, 280 lbs., Mike Schiavi, Sr., OL/DL, 6-4, 275 lbs., Nick Staub, Sr., OL/DL, 6-2, 230 lbs., Tom Babaletos, Sr. OL/DL, 5-11, 250 lbs., Matt Ferrazzani, Sr., TE/LB, 6-0, 190 lbs., Ryan Schwartz, Sr. WR/DB, 5-9, 160 lbs., Shawn Butt, Sr. OL/DL, 5-11, 245 lbs.
Strengths: Experience on both the offensive and defensive line
Weaknesses: Youth in the secondary, only returning four offensive starters, untested players at the skill positions
Outlook: With so many new players on offense, Dracut will try to rely on its defense through the first few weeks of the season. It will also try to take the pressure off its new quarterback. "Early on we'll probably lean on the run game a lot more than what we've done in the past," said Houston. "I don't know if we'll be throwing the ball and gun-slinging it in the first couple of weeks, but we should be alright. We'll probably look to control the clock with the run game and rely on our defense to get some big stops early, get the offense in some third-and-longs. We're more experienced upfront on defense so we might be able to do more stuff, play more man-to-man and put some pressure on guys. That will play into our gameplan of controlling the clock and controlling the tempo. Keep the other offense off the field so we can grind it out with our offense." They will look for balance on offense, not just in run versus pass, but also spreading the ball around through the air. If Dracut can achieve that, they will surely make noise in the MVC and stand a good chance at coming away with their fourth league title in as many years.
November, 27, 2010
11/27/10
7:00
PM ET
WHALERS' ACES IN THE HOLE
No. 21 New Bedford's worst fears were realized in the first quarter against Durfee. Although mired in a scoreless tie, the Hilltoppers carried play early behind their Wing-T attack and running back Keith Omosefunmi. Things only got worse when Whalers offensive and defensive lineman Lance Burlingame when down with a meniscus injury on a defensive play in the first quarter. Durfee later scored the first touchdown of the game, but New Bedford got it right back on the ensuing kickoff with Nate Lewis' 72-yard kickoff return for a touchdown.

Although the Whalers had to mix and match their line, New Bedford was more efficient on offense in the second half. The line provided ample time for junior quarterback Myles Medeiros to throw and created the lanes in which running back Phito Gondre could run. Darian Sousa-Bizarro moved over from guard to left tackle in Burlingame's absence and Tyler Ollivierre filled in at left guard, showcasing New Bedford's depth on the line. Ollivierre was also instrumental in clogging up the middle at defensive tackle.

"The way Coach [Dennis Golden] runs practices, all the linemen get time to practice," Medeiros told Scott Barboza on Thursday, "so when somebody goes down we have the confidence that the next guy can get the job done."

However, the Whalers might miss Burlingame more on the defensive side of the ball when it comes to Tuesday's Division I semifinal playoff game against St. John's Prep. Burlingame was dominant in New Bedford's Big Three win over Brockton in neutralizing Boxers running back Trevon Offley. The same could be said for the Eagles' physicla offensive line and speedy running back Tyler Coppola.

"We're just taking it one game at a time and one day at a time," Medeiros said. "We got to where we wanted to be. We're Big Three champions. Now, we'll focus on what comes next."


IT IS NOT A THIN LINE
The St. John's Prep offensive line is becoming somewhat legendary. Besides from opening up holes, they also escort their running backs down the field for touchdowns.

"Those are the plays that you get pumped for," said Dan Culkeen, a 5'11'', 252-pound senior. "As a lineman, you don't get much glory, but those are the plays that people will see. I'm out there leading my best friend Tyler, and he does his thing. I get one block and he's gone."

The quarterback draws worked well for St. John's, running them through almost every hole on the line, to the point that it seemed that Tommy Gaudet was just looking to run through an open space, but that wasn't the case.

"We're not a read team," Gaudet said. "On the option we are, but mostly we're running where we're blocking. We try to move it up and down the line...get them to where they're not comfortable in their defense. We were just trying to make it hard for them."

"Every lineman on our team is All-Conference," lauded Gaudet. "No matter what hole we run to, it's the same. They're all unbelievable at what they do."

MIDDIES UP TO TASK
Dracut turned in one of its best defensive performances of the season during Thursday's 19-12 triumph over No. 6 Methuen, which entered the contest averaging 31.6 points per game.

The Middies held the Rangers to 268 yards of total offense, but 105 of those 268 yards came on two plays – a 58-yard pass from quarterback Cal Carroll to Eric Lacroix, and Ryan Savastano's 47-yard run.

"They got a couple of big plays, but they didn't really drive the ball against us," Dracut head coach Jason Houston said. "We wanted to stop the run. We felt that was the key, and we did a pretty good job of doing that."

Dracut came up with three turnovers, including two interceptions in the second half.

Savastano, who entered the game with 1,225 yards rushing, was held to 75 yards on eight carries. The Middies (8-3) had surrendered at least 21 points in six of their other 10 games.

"It was one of the better defensive efforts I've seen in a while," Houston said.

The victory gave Dracut a 26-19-3 edge in its series with Methuen, which dates back to 1963.

BIG PLUNGE FOR 'BIG A'

Malden senior Aaron Samano, the team's captain and a humanitarian (literally) off the field, was rewarded for his dedication on Thanksgiving morning in a unique way only befitting for a 6-foot-1, 300-pound nose tackle -- with the rock.

On the Golden Tornadoes' opening drive of their 29-0 win over storied archrival Medford, with the ball at the Mustangs' one yard line, head coach Joe Pappagallo called for a "tackle right", one of their standard plays, only with Samano as the ballcarrier. Samano admitted he was nervous at first when quarterback Kevin Valley came into the huddle with the call.

"It was almost like, I can't believe he's actually calling this right now," said the humble lineman, affectionately called "Big A" by his teammates. "I never thought it would come so early in the game, that we'd open up with it. I didn't want to let anyone down, so I held the ball as tight as I could."

Samano followed his blockers left, then took a reverse pivot and plunged right for the one-yard score, and then celebrated his score with a LaDainian Tomlinson-style flip of the ball and jumping around with his teammates.

"I was excited, I was fired up," Samano said. "It felt great to actually score a touchdown, after four years of blocking, then to actually run one in, it just feels great."

After a slew of preseason hype, the 2010 season was a disappointing one for the Tornadoes, who finished 5-5 and 3-1 in the Greater Boston League. But things are just heating up for Samano, who is being recruited by several Division 1 schools, including Harvard and Duke.

TWO JARRING COINCIDENCES

Flashback #1: It was two years ago, when Longmeadow traveled to East Longmeadow riding a state-best 47-game win streak into Thanksgiving Day weekend 2008. Longmeadow was trailing 16-13 but rallied behind junior quarterback Conor Hobert on a drive in the final minutes.

The game came down to a Longmeadow fourth down with 19 seconds left, when Hobert lobbed up a pass from around 20-yards out to Niko Sierra. Sierra dove for the ball but was covered well by East Longmeadow's Dave Fraboni. Fraboni swatted the ball down in the end zone, and EL upset Longmeadow in thrilling fashion.

2010 implications: Sophomore Austin Sierra, younger brother of Niko, recovered a fumble in the end zone to upend the Spartans 13-7 in overtime on Thanksgiving. The fumble was recovered in about the same spot in the end zone (in front of the right side goal post) where Fraboni knocked down Hobert's pass in 2008.

The fumble recovery won the AA conference title for the Lancers.

"I just saw it drop and all I was thinking was, 'jump on it!'" Austin laughed about after the game. "I think it was great, kind of a hard game and we just came out with the win.

"Defensively we did great, offensively, well -- we had a couple of fumbles."

The Lancers did have several fumbles but only one was recovered by East Longmeadow. It's safe to say that the Lancers will be alright if Austin keeps picking up the mistakes like he did on Thanksgiving.

Flashback #2: Longmeadow had not lost a home game since 2004, and to lose to East Longmeadow would compound the pain. The Lancers had gone up 21-19 over the Spartans on Thanksgiving but were crossing their fingers on a 45-yard field goal that could win the game for EL.

EL's Ray Holloway was well short on the field goal (which was pushed back after an intentional grounding call on the previous play) and took the brunt of the blame for the loss after time expired.

2010 implications: Holloway had a chance at redemption. After his team cut up the Longmeadow defense in the fourth quarter. EL was looking to take the lead 10-7 with 18 seconds left. Instead of going for the end zone though, coach Scott Raymond wanted to play it safer with a field goal attempt. He called a timeout, and the team ran a belly to the left to center the ball between the hashes.

Raymond then called another timeout and after a Longmeadow timeout, Holloway stepped up to the plate again. It is hard to imagine that in a rivalry so close and intense, a circumstance would present itself in such similar circumstances two years in a row.

The crowd hushed as Holloway's kick was pushed well right and short of the goal posts, and Longmeadow survived an epic defensive collapse. The Lancers then seized momentum stopping EL first in overtime and then scoring afterwards.

After the game, it was a tough scene as Holloway and his co-captains let their emotions show on the field. When the fans cleared from East Longmeadow High School, almost 10 minutes had gone by and Holloway was still going over the kick in his mind standing in the same spot.

"You hate to lose the way we lost at the end here, but what are you going to do?" Raymond said after the game.

"I hate to see them hurt. I hate to see them hurt as bad as they are right now," "Especially a kid like Ray…its an awful lot to put that pressure on a kid two years in a row."

No one can blame Raymond for the call. No one can blame Holloway for the kick.

Holloway played his heart out on Thanksgiving even if the numbers didn't show it. He was an integral part of a defense that shut down the number one offense in Western Mass, and a top-15 offense in the state.

Holloway is a stud running back, emotional leader, and certainly in contention for the Daegenais, Bertelli and ESPNBoston.com WMass Player of the Year Award.

COACHING DUEL

Longmeadow coach Alex Rotsko and East Longmeadow coach Scott Raymond both run the Wing-T offense. Both coaches are sticklers for leverage, positioning, timing and execution, and around Western Mass, anyone can tell you that neither call "sexy" plays.

However their bland running styles took a turn on Thanksgiving and both debuted some new additions. In fact, both even showed off an inside shovel pass -- which is uncharacteristic of the Wing-T disciples. East Longmeadow actually brought out a Wildcat set, early in the second half, and used an empty backfield to spread the field on their fourth quarter drive.

"We were trying some different things, but its just that they played so tough," Raymond said. "…it was pretty good football."

"I don't think you could ask for two more evenly matched teams at this point," Raymond said. "Both teams are the best in Western Mass and they're so competitive -- you can't deny that it's been exciting."

"Our defense played really well -- except for the last series of the game," Longmeadow senior Jeff Anderson said. "Our teams run identical offense so we know the insides and outs of them. So we knew basically it was going to come down to who was going to make plays."

"We couldn't establish anything with the inside run game or the outside run game," Rotsko said. "They were just pressing the line of scrimmage."

Both coaches will have to rally their teams back into shape quickly. The first playoff game is set for Tuesday and both teams are hoping for super bowls this year. After the game Rotsko's team was very somber during the post game speech listening to the coach intently.

However when asked about the speech Rotsko paused, and then answered: "I actually don't remember what I said," Rotsko said with a laugh.

Coaches, players and families were caught up in the emotion across the state on Thanksgiving Day 2010, and it was surely one for the ages.

November, 25, 2010
11/25/10
4:38
PM ET
By
Roger Brown
| ESPNBoston.com
METHUEN, Mass. -- No one contributed more to Dracut's 19-12 triumph over Methuen on Thanksgiving Day than senior quarterback Matt Silva.

Silva threw two touchdown passes, ran for another, made an extra-point attempt and delivered a 71-yard punt late in the fourth quarter, when the Middies were protecting a seven-point lead.

The victory improved Dracut's record to 8-3 and earned the Middies a Division 2 playoff berth. Dracut will face Reading, champion of the Middlesex League, on Tuesday night. Reading earned a Super Bowl berth by beating Dracut 20-6 in the playoffs last season.

"This feels great," Silva said "Everyone was doubting us, saying we didn't have a lot coming back and that Methuen was at the top of the league this year. We showed we have the players and the coaches. We're going back to the playoffs."

It was a 12-12 game until Silva scored on a 2-yard run with 8:22 to play. The TD was set up by a 47-yard pass from Silva to Keith Hamel down the left sideline and came two plays after Dracut's Greg Brody intercepted a Cal Carroll pass that was tipped at the line of scrimmage.

Dracut trailed 12-6 at halftime, but tied the game on a broken play on its first second-half possession. Silva picked up a bad snap and was nearly sacked before he tossed the ball to Chris Malonis near the right sideline. Malonis outran the Methuen defense for a 57-yard TD.

"We didn't really expect it to go like that," Malonis said. "I was supposed to get the ball a lot earlier. It worked out, so it's all good."

Malonis, who also caught a 60-yard TD pass in the first quarter, has 20 touchdown receptions this season.

Methuen, which was seeking its first Merrimack Valley Conference championship since 1992, completed its season with a 9-2 record.

"Obviously the kid Silva made some plays," Methuen coach Pat Graham said. "We didn't move the ball great offensively today and we ended up with three turnovers – that hurt us. Give them some credit too. They do some pretty good things on defense.

"I thought we should have made a lot of plays earlier that we didn't. We didn't play well on special teams today and we had a couple breakdowns (defensively) that shouldn't have happened."

"It's a special group of kids and I feel bad for them that they didn't get this win today. They had extremely good character, they played hard and they had a great season. It's just a shame that we couldn't get it done today and go to the playoffs."

Methuen made it a 6-6 game when Ryan Savastano scored on a 47-yard run with 6:01 left in the second quarter.

The Rangers took a 12-6 lead when Carroll completed a 58-yard TD pass to Eric Lacroix with 1:12 left in the half. It was his 19th touchdown pass of the season.

"I felt OK at halftime," Dracut coach Jason Houston said. "We just had to start playing Dracut football."

Silva completed nine of 16 passes for 216 yards in the victory, which earned Dracut its third straight Merrimack Valley Conference title. He has thrown 24 touchdown passes and run for 12 more scores this season.

"He's a playmaker, and he made some plays today," Houston said. "Haven't had a chance to see a lot of Reading this year, but we're looking forward to it."

DRACUT 19, NO. 6 METHUEN 12

DRA 6 0 6 7 --- 19
MET 0 12 0 0 --- 12

1st quarter
D – Chris Malonis 60 pass from Matt Silva (kick blocked)

2nd quarter
M – Ryan Savastano 47 run (kick failed)
M – Eric Lacroix 58 pass from Cal Carroll (kick failed)

3rd quarter
D – Malonis 57 pass from Silva (kick blocked)

4th quarter
D – Silva 2 run (Silva kick)
October, 4, 2010
10/04/10
3:15
PM ET
Better hold on to your hats.
That was the theme of Week 4 of the local high school football schedule from the perspective of weather and its results. Driving rains and howling winds across Southern New England had many of Friday's games washed out and moved to Saturday. For those who remained steadfast in their Friday schedules or kicked off on Saturday, there were plenty of upsets to be had and much on the line.
Here's what we learned from this weekend's action:
The good ship Falmouth
Down 15-0 at halftime? No problem. Thirty-six players on your sideline? That's enough. Falmouth has now made "upset" wins over BC High old hat.
It was the first time that a Catholic Conference team had traveled to the Cape in more than a decade. And coming off of last year's 22-20 loss to the Clippers, the Eagles had plenty of motivation to return the favor to what Falmouth had done on their turf last year.
Yet, somehow, the Clippers found a way to win. They weren't just playing for themselves and for their teammates, they were playing for the entirety of football on the Cape. That perceived no man's land of football has now definitively proven it is a force.
"Everybody thinks that because we're from Cape Cod that we don't know how to play football," senior Nelson Baptiste told ESPN Boston's Brendan Hall on Thursday.
Things didn't look good for Falmouth's chances early, as BC High running back Preston Cooper (two rushing touchdowns, 2-point conversion) accounted for all but one of the Eagles' 15 first-half points. BC High's front also bottled up the Clippers' option attack, holding Falmouth to just seven offensive plays in the half.
In the second half, Clippers head coach Steve Femino relied on a couple his less-heralded players to lead the charge in the second half.
Bobby Whelan led the rushing attack with 14 carries for 110 yards and touchdown — all coming in the second half. His 21-yard carry on his first touch of the game in the third quarter set the tone for what was to come.
After a Dillon Mansfield score made it 15-14, Falmouth looked for its defense to make a stand.
The Clippers forced the Eagles three-and-out with two plays for negative yardage, as Tyrone Reine and Jonah Olsen make tackles for a loss. Then, it was junior corner Devon Soares who left his imprint with two interceptions on successive BC High drives to close out the win.
"Devon Soares has been our biggest surprise of the year," Femino said. "He's not the biggest kid and some teams look to pick on him because [Nelson] Baptiste is on the other side. But he's done everything we've asked him to do and he's been a great surprise for us."
Though we shouldn't be surprised about anything the Clippers accomplish from here on out.
Armani Reeves is a big-time player with prime-time speed
Asked about the performance his star junior had just put on in a big win over New Hampshire power Bishop Guertin, Catholic Memorial head coach Alex Campea could only exhale deeply as he beamed, draping a hand on Armani Reeves' shoulder.
"This guy can make it happen, this guy can make it happen," he repeated to ESPNBoston's Brendan Hall. "Listen, we have some good players, and tonight in a big game they shone through -- making big catches, big plays, offensively and defensively. But I'm glad we have him. He competes every snap of every game."
We've previously held Reeves -- who lines up at both wide receiver and running back, and also returns kicks and punts -- in
high regard
. But last weekend's performance (193 all-purpose yards, three touchdowns) affirms everything.
Reeves currently holds scholarship offers from Penn State, UConn, Wake Forest and UMass, but we expect more to roll in as more and more coaches discover what a special athlete this kid is.
TVL up for grabs
Holliston entered Friday night's tilt with Tri-Valley League rival Medway looking as though they might run away and hide with the league title. The Panthers were averaging 48 points per game before they met the Mustangs' defense and met their first loss of the season in a 28-16 win over Holliston.
"I think it showed a lot of character that we were down 10 to nothing," Medway coach Dave McSweeney told ESPN Boston correspondent Neil Carroll on Friday. "We didn't panic and we made plays when we had to. Michael [Ozella] broke a nice run off that set up the last second pass so we kind of lucked out there, but I'll take it anyway we can get it."
With the win, Medway threw the TVL standings for a loop, drawing even with Holliston at 3-1 in league play. Both teams stand a game behind Westwood and Norton, who both improved to 4-0 on the weekend. Norton dispatched Medway in Week One, 23-14, but Westwood looms on the schedules of both the Panthers and Mustangs.
So things are about to get really interesting.
Is the Bay State Carey wrapped up?...
So we're not about to go Gore v. Bush in this space, but it's hard to not look at Weymouth's convincing 26-0 whitewashing of Needham as a huge leap forward to deciding the Bay State Carey.
Once again, the Super Colarusso Bros. (Can we get a video game in development for these guys yet?) led the way, combining for 225 yards and four touchdowns.
"This is not a league title tonight," Weymouth head coach Kevin Mackin told our Phil Perry on Friday, tempering the hype. "It certainly puts us in a good spot, but we've got to continue to work because there are other good teams here."

...One things's for certain: the Merrimack Valley Conference isn't
In Jason Houston's first year as an assistant at Dracut back in 2004, he watched as the Middies lost a 63-46 shootout to Division 1A Super Bowl runner-up Chelmsford. Now six years later, Houston won his second career game as head coach -- and his second in as many weeks over a previously-ranked opponent -- by flipping the switch, his team rolling to a 60-42 win over Billerica behind big nights from quarterback Matt Silva (8 of 12 passing, 262 yards, four touchdowns; 17 carries, 110 yards, touchdown), wide receiver Chris Malonis (seven catches, 252 yards, four touchdowns; 95-yard kickoff return touchdown) and running back Keith Hamel (20 carries, 121 yards, three touchdowns).
Dracut, by the way, wasn't even the favorite in the MVC Small headed into the season. Heck, they could very well end up 7-4 or 6-5 in this kind of daunting league schedule.
"In my opinion, top to bottom, this is the toughest league in the state," said Houston, who himself won an MVC title quarterbacking Lowell in the late 90s.
Central showdown
Looking ahead to next weekend, among the things we'll be watching is the matchup of Central unbeatens No. 17 Auburn and Northbridge. Both teams enter at 4-0 and hope to keep their marks unblemished. But the Rockets have an extra motivation in keeping their state-best 28-game win streak in tact.
However, Auburn's already had a couple of brushes this season. The Rockets slipped by Shrewsbury, 6-2, in Week One and escaped 19-15 this weekend's test against Hudson. No doubt Northbridge, which enters the game averaging nearly 29 points per game, will be looking to be the team to finish the deed.
HEAD OF THE CLASS

VALVOLINE CO-PEAK PERFORMERS OF THE WEEK: MATT SILVA, SR. QB, AND CHRIS MALONIS, SR. WR, DRACUT
Talk about an offensive explosion. Silva accounted for 372 yards of offense (262 passing, 110 rushing) and five total touchdowns, linking up with Malonis (seven catches, 252 yards) for all four of his touchdown passes, as the Middies survived a Wild West 60-42 shootout with Billerica. Since losing to Westford 27-13 in Week 2, the Middies have exploded, averaging 43.5 points per game and knocking off previously-ranked opponents in back-to-back weeks. Think things are clicking up on Route 38?
THE CLASSMATES
Sean Amaru, Sr. RB, Westwood
- The speedy Amaru led the Wolverines with 340 yards rushing on 18 carries and six touchdowns, in an easy 48-24 dispatching of Millis/Hopedale.
Andrew Coke, Jr. RB, Andover
- For the second straight week, Coke eclipsed the 200-yard mark on the ground, this time rushing for 214 yards and three touchdowns on 26 carries in the Warriors' 31-0 win over Haverhill -- in pouring rain, no less. The 6-foot-1, 195-pound Coke has accumulated 450 yards and nine touchdowns in the last two weeks.
Matt Costello, Sr. WR, Everett
- Costello had a dominant afternoon for the Crimson Tide in their 43-14 win over Barnstable, catching eight balls for 203 yards and four scores.
Nate Costello, Sr. RB, Assabet Valley Tech
- The senior ran for 232 yards and three scores for the Aztecs, who cruised to a 48-8 win over Nashoba Tech.
Tyllor MacDonald, Sr. QB, Lynn English
- The 6-foot-1 MacDonald threw for 263 yards and four scores, ran for 74 yards and three more scores, and added an interception on defense to lead the Bulldogs in a 47-16 win over Danvers.
John Page, Sr. RB, Bourne
- Page ran for 243 yards and four scores in the Canalmen's 42-14 win over Coyle-Cassidy.
Nick Schlatz, Jr. RB, Bridgewater-Raynham
- Schlatz carries 18 times for 211 yards and four scores as the Trojans rolled to a 42-14 win over New Bedford.

Mike Walsh, Jr. QB, Swampscott
- Down 34-14 at the half, Walsh rallied the Big Blue to a stunning comeback over Revere, tossing for three touchdowns and finishing the day 25 of 43 for 322 yards passing. He threw the game-winning score with 16 seconds left, and the Big Blue converted the two-point try for the 43-42 win.
September, 24, 2010
9/24/10
11:42
PM ET
By
Neil Carroll
| ESPNBoston.com
DRACUT, Mass. -- It was a special victory for head coach Jason Houston of the Dracut Middies on Friday night.

Dracut not only beat league-rival No. 21 Central Catholic, 27-14, but the team also garnered its first win of the season, and in doing so -- earned Houston the first win of his career.

The Middies cruised in the victory, going up 27-0 until the Raiders tacked on 14 points to end the game.

"I wouldn't have it any other way," said Houston about his inaugural victory at the helm for the Middies. "It's Central Catholic -- a league opponent -- and this is the second time we've beat them in 22 years. It's nice to know we can come in and beat a team that has really had our number over the years."

Houston did a solid job coaching a young defense that is missing three linebackers due to injury. The defense set the tone on the first drive when junior A.J. Proia intercepted Central Catholic's Matt McDermott, and the Dracut offense capitalized and never looked back.

"It feels a lot better than I thought it would," Houston said. "This is a lot better than I really thought it would be. The guys gave me the game ball for my first career victory, and it doesn't get any better than to win your first game against a league opponent."

Dracut's Matt Silva was impressive managing the game. The quarterback completed 12 of 17 passes for 126 yards with one touchdown and an interception.

"The seniors couldn't start off 0-3," Silva said about the group's determination. "We're too good of a program…we had to get it done tonight and we were determined that we were going to win."

Silva's 27-yard touchdown strike was to his favorite target, Chris Malonis. Malonis finished the game with six catches for 59 yards and one touchdown.

"Silva always gives it his all," Malonis said . "He's the one who carries us every single game and this one goes to him and the line."

Keith Hamel and Kevin Bishop were especially efficient with the ball for Dracut. Hamel had two touchdowns of fewer than three yards and Bishop had a 1-yard score to begin the game.

As the team has done all-season, Central Catholic substituted quarterbacks each series. McDermott started the game for the Raiders, but Ben Onett rotated in.

McDermott hit Xavier Peralta over the middle in the fourth quarter to give Central Catholic its second touchdown. Running back Trae Musumarra scored the first touchdown for the Raiders on a 6-yard run.

DRACUT 27, CENTRAL CATHOLIC 14
D - 7 7 7 6 -- 27
CC - 0 0 0 14 -- 14

1st quarter:
D - Kevin Bishop 1 run (Matt Silva kick)

2nd quarter:
D - Keith Hamel 3 run (Silva kick)

3rd quater:
D - Keith Hamel 3 run (Silva kick)

4th quarter:
D - Chris Malonis 27 catch from Silva (kick failed)
C - Trae Musumarra 6 run (Cam Walsh kick)
C - Xavier Peralta 27 catch from Matt McDermott (Walsh kick)
September, 12, 2010
9/12/10
1:39
AM ET


MARSHFIELD, Mass. – Jonathan Fraser was Mr. Opportunity on Saturday. When the opportunities came knocking in Marshfield's season-opener versus Dracut, Fraser seized upon them.

After falling behind 7-0 to the Middies, it came on a play call that was a variation of the old halfback option pass. Later, it came on a loose ball Fraser scooped up and took 68 yards to put the Rams on top.

In a microcosm, Fraser's contributions were telling of how Marshfield claimed its 33-20 win. The Rams made plays and Dracut was the team shooting itself in the foot.

"We didn't know what to expect tonight," Rams head coach Lou Silva said. "Based on last year and what we had coming back, we really weren't sure. I was really proud of our kids tonight. There were a couple of times they could've folded, but they hung in there."

Marshfield (1-0), the defending Eastern Mass Division IIA champions, lost 24 players from last year's squad and will rely on players like Fraser to make plays this season.

The first chance to do so came on a pass from Charles LaPaglia — the Rams' starting tight end. LaPaglia split out wide and took a swing pass from quarterback Mark Pomella. He then faked the run, pulled back and hit Fraser in stride for a 35-yard touchdown.

"We practiced that play all week," Fraser said. "We knew it was coming. There's a little pressure to think about having the ball in the air all that time, but we nailed it.

"We've run variations of it [in the past], but I didn't think they were expecting for our starting tight end to be able to throw the ball that far."

Fraser made his next big play on the ensuing drive, a 68-yard fumble recovery for a touchdown.

"Our middle linebacker Joe Hastry made a nice strip on the ball and it came right up to me," Fraser said. "It was a like a routine ground ball, then I just had to beat that guy to the end zone."

Marshfield held a 20-7 halftime lead despite accruing just 64 yards of total offense in the first half.

But Dracut (0-1) looked poised for a comeback at the start of the second half. Senior quarterback Matt Silva hooked up with running back Keith Hamel on an 81-yard touchdown on the first play from scrimmage of the third quarter.

Silva accounted for each of the Middies' three touchdowns (two passing, one rushing) while completing 16 of 25 passing attempts for 267 yards. He also registered 16 carries for 72 yards.

But the Rams' bend-but-don't-break defense held just enough to secure the win, creating turnovers at opportune times — such as Fraser's fumble recovery and a fourth-quarter interception by LaPaglia to stall a promising Dracut drive.

"We just wanted to make them work for it," Silva said. "We knew that they were going to move the ball, we just didn't want to give them home runs. But they did have two of them."

Running back Brian Mey, who also had an interception, added two second-half touchdown runs to put the game out of reach.

For Dracut, there were just too many miscues to win.

The Middies muffed a punt return (with a Marshfield recovery by Zackary Pappas), which led to the first Rams' touchdown, and also had a punt blocked (by LaPaglia — what didn't he do?) that set up a drive which yielded a 5-yard Tom Pomella touchdown run.

"We had a punt blocked, we had a muffed punt, there were too many mistakes," said Jason Houston, who was coaching his first game as the Middies' helmsman. "They came back and scored off of those mistakes and if you looked at the scoreboard, it made a difference in a big way."
August, 26, 2010
8/26/10
10:27
PM ET
By
Brendan Hall
| ESPNBoston.com
DRACUT, Mass. -- Matt Silva was diving forward for a first down in his Dracut Middies' Thanksgiving day game with archrival Methuen when he felt something pop.

With the game and Division 2 playoff berth in hand, he shut it down for the rest of the game. His shoulder diagnosed as being sublexed (routinely popping in and out) and thus in a sling, he was touch and go for the Middies' playoff game the ensuing Tuesday against eventual Division 2 champ Reading -- and it showed. Then head coach Jeff Moore altered the game plan, taking the ball out of Silva's hands to ease the pressure; but with it the Middies' high-powered offense, which had averaged 34 points a game to that point, was held to a mere six.

Since the 2005 season, Dracut has gone 43-15 and won the 2008 Division 2 Super Bowl, with plenty of speedy receivers and backs making dazzling runs after the catch in a spread option scheme. But it's always been catalyzed by hard-nosed, gutsy decisions from the quarterback.

And in the will power department, Silva's got alot of fans.

"He's tough as nails," said first year head coach Jason Houston, himself a former quarterback at Lowell High and the University of Richmond. "I was very surprised last year to see how gritty and tough he was (last season). He's not afraid to get in there and run between the tackles and mix it up. Where he's not as big, he can't take the wear and tear as much, but he's a tough kid."

And with so many new faces -- gone are skill guys like Jared Gauthier, Rakeem Shepherd and Tom Szymanski, as well as nearly the whole offensive line -- expect nothing new from the leadership role. "I've got to boss the kids around, though I don't want to be the bad guy," Silva said. "But it's time to be a leader."

Just as he did last year -- when he totaled 36 touchdowns, nearly 2,500 yards of offense and just six interceptions -- Silva will provide the ebb and flow. But while he completed passes at a 67 percent clip in 2009, he often tried to force a throw in; so far this preseason, he's shown an improved acumen for reading the defense and checking down.

"Matt's definitely our team leader on this team," Houston said. "His work ethic is hard to come by. You don't find kids with his type of work ethic when you're out on the football field."

But this is nothing new in Dracut. Since Pat Murphy took the program over in 2004 and resurrected the Middies from years of dormancy, Dracut teams this this last half-decade have always rallied around a tough guy quarterback. from Bobby Russo to Matt Grimard to this year's gritty leader. But in Silva's mind, it's not just the toughness that counts at this specially-tailored position.

"It's footwork, basically. You've got to know your rules -- inside zone you've got to give it less, outside zone keep it less. You just follow what they teach you, and take everything in. Study, study, study. It makes it that much easier for us. It's a tough offense to learn."

As for Houston, the transition from defensive coordinator to head coach has been easier than he though, since he took the reigns last June from new Lowell coach Jeff Moore. Houston has been here at Dracut ever since his playing days at Richmond ended in 2004, and the staff turnover from Murphy to Moore to Houston has been minimal. Players seem to be at ease with him, but at the same time Houston isn't afraid to drop the hammer to keep his kids in line.

"It seems like one of our guys just got promoted to a better job," Silva said. "It's been very smooth."

DRACUT AT A GLANCE
2009: 9-3 (7-2 MVC), lost to Reading in Division 2 Playoffs
Coach: Jason Houston (first year, 0-0)
Players to watch: Matt Silva, Sr., QB, 5-10, 170 lbs (1,589 passing yards, 67.6 completion percentage, 23 passing touchdowns; 113 carries, 878 yards, 13 touchdowns); Chris Malonis, Sr., WR/FS, 5-11, 160; Seth Monbleau, Sr., TE/LB, 6-1, 200 lbs; Brian Lamontagne, Sr., LB, 5-11, 180 lbs; Paul Dufour, Sr., OL, 5-11, 240 lbs; Kevin Bishop, Sr., RB, 5-10, 170 lbs.
Strengths: Speed at skill positions, quarterback.
Weaknesses: Inexperience at offensive line, defensive line and secondary; overall depth.
Outlook: With the graduation of Jared Gauthier (95 catches, 1,118 yards, 15 touchdowns) and Rakeem Shepherd (1,016 all-purpose yards, 10 touchdowns), and plenty of new faces abound, the Middies will be going back to a power-running spread game reminiscent of their 2008 Super Bowl championship run. Silva will once again serve as the offensive catalyst, with Malonis as his likely primary target, while Keith Hamel and shifty Bishop will split duties at tailback -- sometimes staying on the field at once in two-back packages. "It's kinda hard to keep one on the field and not the other," Houston said. "They're both workhorses, so we're going to do what we can to keep both satisfied." With just two defensive players over 200 pounds, the Middies will rely on their deception and speed in Houston's 3-5-3 stack scheme. That means this year's nose guards will be shooting, not plugging, the gaps.