Boston High School:

Jason Smith
March, 2, 2014
Mar 2
11:46
PM ET
By
Andy Smith
| ESPNBoston.com
BEVERLY, Mass. -- There is starting a game slowly, then there is what Brewster Academy did on Sunday.

In the NEPSAC Class AAA Championship game against New Hampton, Brewster was down by as many as 16 points less than nine minutes into the game. It would not be a championship game without a little drama however.

With six minutes to go in the game, Isaac Copeland (8 points), a Georgetown commit, hit a transition layup to give Brewster its first lead of the game. It held on to win the championship with a 68-63 victory.

"I've been doing this long enough to know there was something missing in practice recently and in the last few games," said Brewster coach Jason Smith. "We did kind of have a wakeup call last Saturday at Northfield Mount Hermon. We were down 18 in the second half and managed to come out and guard in the second half. That's exactly what we did tonight. We played great defense in the second half. We just kind of went through the motions in the beginning of the game."

Smith was forced to call two timeouts less than 10 minutes into the game just to try and slow New Hampton's momentum. The second timeout came after a Tyler Lydon (10 points, 8 rebounds) three-pointer made it 23-7. Lydon, a junior, is verbally committed to play his college basketball at Syracuse University after next season.

As the first half continued, Brewster seemed to gather itself and picked away at the New Hampton lead. With 2:30 to go in the half, sophomore Donovan Mitchell hit a three to make it a six-point game.

"We've been starting off slow the whole year and that's been our killer," said Jared Terrell, an Oklahoma State commit and the No. 79 ranked player in the ESPN 100. "Coach called a couple timeouts at certain points in the game and that calmed us down and helped us realize this is a big game and we had to step up."

Terrell came alive in the second half. During one sequence, he stole the ball on the wing and took it to the basket himself and threw down a dunk that livened up the Brewster faithful. On New Hampton's next offensive possession, he did the exact same thing to bring his team within three points.

He finished the game with 14 points, 4 rebounds, and 3 steals. He was able to use his ball handling skills to get to the basket and draw fouls, shooting 10 free throws in the game.

"Jared's just a competitor," said Smith. "He's tough, he's hard-nosed, he competes and wants to win every time, no matter if it's in practice. He just wants to win. He's a competitive guy."

Before Terrell's back-to-back steals, New Hampton's Tory Miller made arguably the most jaw-dropping play of the day. The Colorado commit had the ball near the baseline to the right of the basket. With one dribble he elevated and threw down a forceful one-handed dunk through not one, but two Brewster defenders and still drew a foul. The crowd was still on its feet as he went to the free throw line.

He finished the game with 14 points and 7 rebounds.

With 4:02 to go, 6-foot-9 UCLA commit Jonah Bolden caught a rebound and put it back for an easy two to give Brewster a three-point lead.

Two minutes later, New Hampton's Mike LeBlanc (10 points, 2 steals), a Princeton commit, hit a three to put his team up 63-61. On the ensuing possession, Devonte Graham (15 points) hit a three of his own to swipe the lead back.

Clinging to a one-point lead with 23.9 to go, Mitchell (15 points) went to the free throw line looking to extend the Brewster lead. He made four free throws in the final seconds to make his team back-to-back NEPSAC AAA champions.

"There's been a totally different Donovan since preseason and open gyms at Brewster," said Terrell. "He was this out of control kid taking wild shots because he was coming from a school where he could do that. He had to change his game a little bit, had to be more under control and understand the game and how to play at Brewster. He's done that."

National Prep Bound: Brewster now turns the page to potentially make a run at a national championship to go along with its league championship. Even with his team seen by many as the gold standard of the NEPSAC, Smith was effusive in his praise of the overall strength and competition found within the league.

"It's the best high school league in the country, I just with the rest of the population would realize how great of a league this is," he said. "Everyone talks about the Oak Hill's, the Findlay Prep's, I would love to play them because we would kick the absolute crap out of them. Anyone in this league, any one of the three or four teams in this league could compete against those teams on a nightly basis.

"I would put New Hampton, St. Thomas More, Northfield Mount Hermon, and ourselves against Findlay and Oak Hill. People always talk about the traditional high schools and they kind of leave out the prep schools, but we're the best league in the country and it's not even close."
January, 5, 2014
Jan 5
5:13
AM ET
STONEHAM, Mass. – Any tie leaves the game's competitors wanting more. And in the case of Saturday's contest between Catholic Central Large rivals Arlington Catholic and Austin Prep, both squads could have found things that were lacking.

Arlington Catholic squandered a two-goal lead and had just one power-play goal on seven opportunities with the man-up. On the flip side, Austin Prep took too many penalties, spending too much time holding off AC's rush.

"When you've got to come back after giving up a lead, you have to battle," AC head coach Dan Shine said. "We did that and I'm really pleased with that."

Conversely, AP head coach Louis Finocchiaro's group is looking to find an identity, having compiled an 0-2-2 record in its last four games.

"We're fighting it right now," Finocchiaro said. "We're not playing well, we're not playing with confidence. We can say we have some guys out of the lineup, you try to maintain, keeping things simple and playing as a team, but we're fighting it."

AC (5-0-1, 3-0-1) claimed an early lead with John Rogers' point-shot bomb on the power play at 4:17 of the first. Andy Somerville then padded AC's advantage on a one-timer off of Ryan Smith's feed at 3:33 of the second.

However, AP (3-2-2, 1-0-2) rifled back just 21 seconds later with Cam Russo's first of two points on the evening – a goal at 3:54.

Not soon thereafter, AP stole a bit of momentum as goaltender Elijah Harris (20 saves) shut down Jason Smith's breakaway bid.

AP finished the period on a groundswell, with a Ryan McDonough tally from an extreme angle at the right-wing circle.

AC reclaimed the lead at the seven-minute mark of the second as Ryan Spagnoli beat Harris on a partial breakaway.

But again, AP found a way. Bobo Carpenter tied the score, 3-3, on a short-handed bid with 2:19 to play.

It was the seventh AC power-play opportunity AP was tasked with defending, but after a nice cross-ice feed from Russo (1 G, 1A), the point was preserved.

"We have to build on the positives," Finocchiaro said. "We were down 2-0 and we came back when we very easily could have quit to tie it, 2-2. Then, when we went down 3-2, we didn't quit either. We have to build on that."
December, 31, 2013
12/31/13
1:58
AM ET
BILLERICA, Mass. – The Catholic Central Large race should again prove among the most competitive boys' hockey contests in the state this season, and No. 10 Arlington Catholic will be a big reason why.
The Cougars captured the championship at the inaugural Winter Classic Showcase, hosted at Billerica's Hallenborg Memorial Pavillion, with a 4-0 shutout victory over Andover. In it, AC improved its record to 4-0-0 (following a 4-1 win over Reading in the tournament's first round last week), heading into a key league showdown with Austin Prep on Saturday.
"It was a great win for us, both games," said junior forward said Cougars junior forward Ryan Smith, who was named the Showcase's MVP. "We came in here with a lot of confidence after beating St. Mary's of Lynn in the first game and I knew we had some intensity going. We came out strong with Reading, and we took that into this game."
[+] Enlarge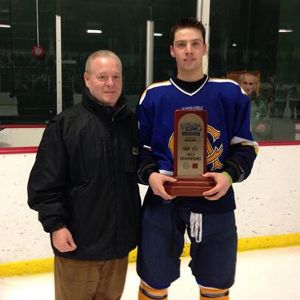 Scott Barboza/ESPNBostonArlington Catholic junior forward Ryan Smith was named the MVP of the Winter Classic Showcase, while scoring the Cougars' first goal in a 4-0 win over Andover on Monday.
Smith provided the first goal for AC on Monday night, tipping home a point shot from linemate Bernie McGovern at 12:41 of the first period.
While Smith took home the hardware after setting up a couple of AC's goals in the previous win over Reading, he emphasized his linemates' commitment to sharing in the goal-scoring responsibilities as a source of strength.
"Bernie [McGovern] and Andy [Somerville] are great," Smith added. "They know where to be when we cycle the puck. Once one person has it, we know the other one is going to be at the net and we just work really well together.
Providing a foil to AC's top line of Ryan Tierney, Ryan Spagnoli and Jason Smith, the Cougars' second unit provided the spark on Monday, combining for six points, with McGovern leading the way with three assists. Somerville chipped in a pretty third-period goal on a 2-on-1 down low, in addition to an assist.
The Cougars controlled time of possession throughout, while outshooting the Golden Warriors (2-3-0) 25-11.
While it largely was a quiet night in AC's defensive zone, Cougars senior goaltender John Richard was called upon to make a few timely and important saves. None was more vital than in the final minute of the second, when Richard stopped Andover captain Mark Campbell on a breakaway, flashing the left toe to take away the bottom portion of the net.
AC went to the room at the second intermission with a 3-0 lead and never looked back.
"Sometimes that's more difficult for a goaltender, when you're not getting as many shots," Cougars head coach Dan Shine said. "He played really strong for us down the stretch last year. We have three, four pretty good goaltenders in the program, but we felt like he was going to be the one going in."
No. 14 Reading 4, Billerica 0
In the tournament consolation game, played before Monday's championship, the Rockets blanked the host Indians behind the second shutout of the season from senior netminder Ian Lapham and a two-goal game from senior forward Mike Thomson.
Reading (4-2-0) halted a two-game losing skid (Arlington Catholic, No. 7 Xaverian) behind a three-point game from junior Sean Verrier (1 G, 2A), who set up both of Thomson's tallies.
Freshman Danny Sorabella kicked off scoring for the Rockets at 2:06 of the first, before back-to-back goals from Thomson, bridging the first and second periods.
March, 4, 2013
3/04/13
1:14
AM ET
By
Chris Bradley
| ESPNBoston.com
BEVERLY, Mass. -— It was a day firsts, of clutch performances by star players, and of tears induced by heartbreaking losses and emotional victories. NEPSAC championship Sunday at Endicott College was everything to be expected—and much, much more.

Champions were crowned in the AAA, AA and A classes Sunday afternoon at Endicott, with no shortage of action:

Cushing wins on a buzzer-beater: St. Andrew's seemed to have completed the upset, but Jalen Adams simply couldn't let that happen.

Heaving up a jumpshot from just over halfcourt with no time left on the regulation clock, Adams banked the shot in from off the glass, giving Cushing the 61-60 victory. It was just another on the list of feats that the sophomore guard has accomplished already over the course of his young career.

"But I've never hit a buzzer-beater before," he said with an ear-to-ear grin. "When I shot it, I honestly didn't think it was going to go in."

It wouldn't be the first time Adams, who was awarded Most Valuable Player, hit a halfcourt shot, though. In practice Cushing practices a drill where they take shots from different spots on the floor—one of those spots, of course, is from the halfcourt line.

"Jalen Adams has hit more halfcourt shots just goofing around in a team game, than anyone I've ever seen," Cushing coach Barry Connors said. "Was it a wing and a prayer? No question. But hey, I'll tell you what, he made the shot."

St. Andrew's trailed 33-28 at halftime, but came out on an absolute tear in the second half—beginning the half on an 8-0 run that gave them their first lead of the game with fourteen minutes to go. Cushing's forward Andrew Chrabascz, a Butler signee, picked up his fourth foul with still ten minutes to go in the game. Connors put Chrabascz back in a few minutes later, and with his help, Cushing managed to diminish their deficit.

"I can save Andrew, or you go with what you've got, you go with who got you there," Connors said. "The interesting thing about Andrew is: yeah he had four fouls. On the fourth one, he made a bonehead play, but Andrew's very, very smart. If anybody can play with four fouls, it's Andrew Chrabascz."

Down eleven points with three minutes left in the game, the Penguins rode Adams and Chrabascz to the win. Adams hit a tough jumper to bring the game within six with under two minutes to go. Adams fed Chrabascz with six seconds left in the game, and Chrabascz finished a tough lay-up inside to bring Cushing to within 60-58. Cushing fouled immediately, and following a missed free throw by Bonzie Colson (16 points, 8 rebounds), Adams took the ball to halfcourt and won the game.

"If I was going to lose this game, I was going to lose with my five best guys on the floor," Connors said.

Historic first for Exeter: For the first time in school history, Phillips Exeter captured the Class A crown, knocking off Choate Rosemary Hall 58-47 in the opening game of the day. Exeter's remarkable 25-1 season has been a long journey, one that started last June when the players on the predominantly-postgrad squad met for the first time on the front steps of Exeter's gym. A group of players who, for the most part had never met before, quickly realized that they all had a lot in common.

"We had guys who had just met for the first time -- we talked about our individual goals, and we realized we were all at Exeter for our own personal agendas," Exeter coach Jay Tilton said. "Because why else would you come here as a postgrad if you didn't have them?"

Thanks in part to strong leadership by captains Harry Rafferty (Wesleyan College) and Chris Braley (Stony Brook), a culture of change was started at Exeter—a culture that quickly became contagious to the rest of the team. Good friends off the court, Rafferty and Braley, who along with Duncan Robinson played AAU together for Middlesex Magic, brought Exeter a mixed blend of leadership by toughness, and leadership by example.

Braley, a soft-spoken workhorse known for his incredible work ethic, set an example for the rest of the team of how to compose themselves, while Rafferty, a scrappy 'in your face' type of point guard, was the quarterback.

"Chris demands so much respect because of his work ethic and his integrity, he's not a real emotional guy or anything like that...He just does it," Tilton said. "With Harry, he's the guy who's going to run the show from day one. He's the most caring kid, and the best communicator I've ever coached.

Tilton added, with a laugh, "He's about the only one out there who's not afraid of Braley."

Six-foot-7 forward Robinson, the tournament MVP, put on what may have been the most impressive individual performance of the tournament, finishing with 24 points and 11 rebounds and playing as close to a perfect game as one possibly can -— knocking down five 3-pointers and shooting 9-for-9 from the field. Robinson's show was the cherry on top of an unprecedented season by Exeter, who earlier in the day met on the front steps of their gym to discuss their goals one last time before departing for the championship game.

"We just kind of knew we had already reached that. That's why I'm so proud of this group of kids. This group will hold a special place in Exeter history," Tilton said.

Tilton admitted it is also a team that will hold a special place in his own memory, too. The teary-eyed veteran coach embraced each one of his players after the game, including his star forward.

"He said he loved me, and I said it right back, he's done so much for all of us, myself included," Robinson said, "To do that for him -- I know he wanted it very, very badly. He's the hardest-working coach I've ever played for. He loves his players and cares about each and every one of us. It was only right that we did it for him."

Exeter's tremendous defensive effort held a very good shooting Choate team to just 4-15 from behind the three-point line. Future Wisconsin guard Jordan Hill was the catalyst; with long arms, a hard-nosed defensive mentality, and quick feet, Hill constantly harassed Choate guards Colin Richey (10 points) and Pete Weston (15 points).

"It starts with Jordan," Tilton pointed out, "every second of the game he has a high motor, he doesn't take unnecessary chances. To play that hard on the ball—he starts it, and we have great commitment off the ball helping him. It's something we've been committed to from day one."

Brewster takes AAA title in a thriller: Martez Harrison was one of the top scorers in the nation last year, averaging 35 points per game at University Academy Charter in Missouri. On Sunday in the Class AAA championship game though, he showed his complete ability to play the point guard position—leading Brewster to a thrilling 77-75 victory.

"Martez is the kid on our team who definitely has the biggest heart, he's a true leader," Brewster coach Jason Smith said. "The growth and improvement from a point guard's perspective from September until now has been phenomenal. He's not really in the limelight, but we don't win without him controlling the tempo, making good decisions, and making the right plays."

Harrison, who finished with 14 points, shared the spotlight with future West Virginia forward Elijah Macon -- who was fresh off a heroic performance against Northfield Mount Hermon on Friday night. Finishing with 15 points and 12 rebounds in the finals, Macon, Brewster's sixth-man, took home tournament MVP.

"[At the] beginning of the year...Elijah knew we were having a difficult time with whether we should play all three of the bigs together," Smith said.n "Or who was going to come off the bench. Elijah was the one who volunteered, he's very mature for an 18 year old kid."

Macon and N.C. State-bound forward Kyle Washington each picked up their fourth foul about midway through the second half, but Smith said the foul trouble did little to hinder his team in terms of gameplanning and substitutions.

"We were going to play Elijah his normal rotation of four and a half minutes," Smith said. "It just worked out well, Kyle picked up his fourth foul initially, and the substitution pattern worked out perfectly. Four fouls never really even came into play, it was just subbing in four minute intervals when needed."

Gabe Levin and Marquise Moore each had 20 points for St. Thomas More, who was the top seed in the tournament thanks to very strong guard play and great preparation from long-time coach Jere Quinn.

"Anytime that you can beat a Jere Quinn coached-teams in the finals, it's something that you have to work very hard for," Smith said. "His teams are always very well-prepared, they don't beat themselves, they don't make mistakes. We could have caved in when we were down, but we persevered, we got stops when we needed to and we found a way."
January, 21, 2013
1/21/13
2:41
AM ET
By
Chris Bradley
| ESPNBoston.com
SPRINGFIELD, Mass. -– Brewster Academy flexed its muscles on Sunday afternoon at the Hoophall Classic, dominating NEPSAC foe South Kent from start to finish and coming out with an 88-57 victory.

Syracuse commit Chris McCullough was virtually unstoppable on the offensive end for the Bobcats, scoring the vast majority of his points in transition –- including a few high-rising dunks, to the delight of the packed crowd at Springfield College's Blake Arena.

"When I dunked it, I hoped to get my team hyped and have that hype on the bench," McCullough said.

McCullough transferred to Brewster this season after leading Salisbury (Conn.) to last year's NEPSAC Class A title. A long 6-foot-10 forward who can handle the ball and get up and down the floor with impressive speed, McCullough committed to the Orange back in November. He then hinted around a month later that he may try to reclassify to the class of 2013 to be able to go to Syracuse this coming fall, but that plan has since fallen through.

In addition to McCullough's 21 points, Brewster also got 16 points from point guard Kevin Zabo and 12 from West Virginia commit Elijah Macon.

Macon, a strong 6-foot-8 forward who is doing a postgraduate year before joining the Mountaineers next fall, made his presence felt on the offensive end in the halfcourt. Known for his ability to outmuscle opponents and finish loud dunks inside, he gave Brewster exactly the spark they needed off the bench.

Terrell makes a statement: Brewster junior Jared Terrell has had as much of an up-and-down season as any player in the region, and he felt as if he needed to make a statement with his play on the defensive end on Sunday.

Terrell, who suffered an ankle injury late last summer, says he is still recovering from the injury that kept him away from anything but light activity for the entire fall.

Because of the ankle, the top 100 guard struggled with his mobility the last time he played on a big stage at the National Prep Showcase back in mid-November, and because he had been recovering he was in far from top physical shape. He didn't exactly draw rave reviews following the event, and because of that he said he had been looking forward to the Hoophall for a while, so that he could help ease doubters.

"[The Hoophall] is just a time to show off your talents to a lot of coaches and a lot of people that might have had doubts about you," he said. "It's a good chance to prove what you can do."

On his recovering ankle? Terrell said he still isn't that close to being 100% recovered, but he can see the gradual progress that the healing process is making.

"I feel good, it bothers me at times but I can play through it," he said. "It doesn't hurt as much as it did in September and October."

Outside of an explosive one-handed dunk on a breakaway in the second half, his offensive presence wasn't as needed given the big scoring performances from McCullough, Macon, and Zabo. Instead, he put a lot of his effort into the defensive end of the floor, where he consistently beat his man to the spot and cut off passing lanes.

All in all, his on-ball defense and liveliness on the defensive end helped the Bobcats hold South Kent to just 31% shooting from the field. His help defense was also a big reason why South Kent's star forward Kamall Richards, a Xavier commit, shot just 6-for-17 from the floor.

"I think I played well defensively actually, I guarded my position and I rebounded well, better than I have earlier in the season. I thought it was good."

"Playing against these guys every day," he said, pointing into the locker room to his teammates, "I'm going to improve a lot."
April, 6, 2011
4/06/11
1:44
PM ET
By
Roger Brown
| ESPNBoston.com
Rice Memorial guard Reagan Jewell and Essex guard Ben Ferris have been selected as Vermont's Miss Basketball and Mr. Basketball, respectively, for the 2010-11 season.

The awards, which are given to the top boys and girls player in the state, are determined by the
Burlington Free Press
.
Jewell helped Rice win last season's Division I championship by beating Champlain Valley Union 45-36 in the title game. The Green Knights completed the season with a 19-5 record and won the program's first state championship since 2001.
Jewell led Rice in scoring (14 points per game), rebounds (10.0), assists (4.2), steals (3.0) and blocked shots (3.0).
She will continue her basketball career at Holy Family University, a Division II school in Philadelphia.
Ferris helped Essex win the 2009-10 Division I title. He was the only returning starter from that team and averaged 23.4 points, 10.2 rebounds and 6.5 assists per contest last season.
Essex finished the season with an 11-10 record after it won eight of its last 11 games. The Hornets were one of two teams to defeat Division I champion Rice during the regular season.
Ferris became the fifth player in the program's history to score more than 1,000 career points in high school. He will play college basketball for Division III Tufts University.
Ferris was also selected as Vermont's Gatorade Player of the Year following the 2010-11 season.
March, 4, 2011
3/04/11
10:52
PM ET
By
Tom Layman
| ESPNBoston.com



BEVERLY, Mass. -- On paper, No. 5 seed Maine Central Institute shouldn't have been able to stay with No. 1 Brewster Academy in this NEPSAC Class AAA semifinal.

The Huskies had the misfortune of dealing with a handful of Bobcats all set to attend high Div. 1 college basketball programs next season -- including Kansas, Pittsburgh, St. John's and Villanova.

Plus, recent history wasn't on MCI's side, as the Bobcats claimed all three meetings between the two teams this season.

But from all those losses, the Huskies learned a few things and turned the outcome in their favor with a big 87-68 victory over Brewster in the first of two Class AAA semifinals on Friday night at the Post Center, on the campus of Endicott College.

MCI advances to the finals against New Hampton on Sunday at 4 p.m. at the Post Center.

"Both teams knew each other real well," Huskies head coach Dave Campbell said. "It was just a matter of one team playing better than the other (tonight)."

Adrian Rogers had 20 points and eight rebounds off the bench to lead four Huskies in double figures. Campbell's team also shot a near perfect 19-of-20 from the free throw line -- a place where the Huskies shoot greater than 70 percent from for the season.

The two teams exchanged the lead 10 times in the first moments of the first half, but the Huskies were able to take control of the pace of the game and hold the Bobcats (30-2) to seven points over the final eight minutes of the opening stanza.

Khristian Smith's loud baseline dunk gave the Huskies a 25-20 lead, and MCI would stretch that advantage to 39-27 by the break.

Jakarr Sampson scored 13 of his 19 points in the second half for the Bobcats, and his put-back got the Bobcats to an eight-point deficit.

But that's as close as Brewster would come in the second half.

Every time the Bobcats could get a head of steam going in the transition game in the second half the Huskies would hold their opponents to long stretches without a basket and strike back to tack on to the lead.

"We executed our game plan to a T," said Campbell. "We didn't turn the ball over, we rebounded the ball well and we didn't give them a lot of transition baskets."

The Bobcats cut the lead to nine on an Elijah Carter bucket off an offensive rebound, but they would be held to four points over the next four-plus minutes of play. The Huskies went on an 11-4 run over that period, highlighted by six points from Smith and a thunderous dunk in transition by Rogers.

"We have kids going off to the highest levels and a lot of times they might think that they just have to show up and they are going to win the game," said Bobcats' head coach Jason Smith. "There's that old saying that it's hard to beat a team three times in a year. I think it's even harder to beat a time four times in a year."

SHORTER, FASTER, STRONGER

--MCI faced a serious height disadvantage across the frontline, but were able to win the rebounding battle 31-27 with a smaller, swifter lineup.

Several times in the first half, a Husky guard would knife through the defense and come away with a loose ball in traffic to extend possessions and keep the run-and-gun ways of the Bobcats in check.

"We had to have all five people rebound the ball at times," said Campbell. "When they didn't box out we got rebounds and we were able to make them run the clock and make them play defense."

"The last few times we didn't do a good job of that," said the 6-foot-6-inch Khristian Smith (15 points), who gave away three inches to Mitch McGary and Markus Kennedy on the inside. "Rebounding it was five against three, so I feel like we did a good against them."

The smaller lineup also worked harder to make sure the Bobcats' big men couldn't get the ball in good positions in the post, which in turn led to the Bobcats' inability to get enough space to let the shooters get off open looks.

"The ball movement kind of turns into a NBA game where we are trying to isolate people," said Jason Smith, whose team will move on to the National Prep Championship tournament next week at Albertus Magnus College. "The ball movement needs to improve."
February, 20, 2011
2/20/11
1:20
AM ET
By
Ryan Kilian
| ESPNBoston.com
NEW HAMPTON, N.H. -- Brewster Academy defeated New Hampton School, 80-72, to win the 2011 New Hampton Invitational Tournament.

The Bobcats (26-1) entered the tournament yesterday after suffering their first loss of the season on Wednesday to St. Thomas More, 78-64. They defeated South Kent in the opening round Friday night, 86-67, to advance to the title game against the hosts and archrivals. St. John's bound senior Jakarr Sampson had 14 points in the victory to take home tournament MVP honors, while junior big man Mitch McGary added 11 points and 12 rebounds.

Brewster would get going out of the gate taking a 12-0 lead in the first two minutes of the game. Durand Johnson led the charge as the Pittsburgh commit began the contest with a three, and a couple of quick buckets off nice feeds from Eli Carter (11 points) and Kansas-bound point guard Naadir Tharpe.

New Hampton (18-10) would weather the early storm and make it a contest, taking a 31-30 lead with five minutes left in the first half. Brewster would maintain their poise and get some key defensive stops to take a 36-31 lead into the half.

The Bobcats came out firing in the second half, extending the lead to as many as 14 points but the resilient Huskies would not cave in. Up by six with two minutes remaining, 67-61, Villanova-bound center Makus Kennedy stole an inbounds pass, and tossed a highlight-reel alley-oop to Johnson, who slammed it down and cement the win for Brewster.

Johnson led all scorers in the contest with 22 points. New Hampton was led by point guard Olivier Hanlan, who slashed to the basket all night on his way to scoring a team high 18 points.

"New Hampton is an outstanding basketball team," Brewster Academy head coach Jason Smith said. "They play disciplined, very hard and we were fortunate to come out with the victory."

Brewster has now won back-to-back New Hampton Invitational tournaments, and four of the last five.

"It is a great time of year to come over here," said Smith. "This tournament is special as I grew up watching it as a kid. It is an important tournament to get us ready for the postseason."

St. John's commitment Jakarr Sampson was named the tournament's Most Valuable Player, adding 20 points in the semifinal to carry his team into the finals.

"It is tough to beat a team three times in a year," said Sampson. "Hopefully we build off these two wins and keep the momentum going into the playoffs.

Brewster gets back to action Monday, when they host the Tilton School led by Everett's Nerlens Noel and Boston's Wayne Selden

Consolation game: Winchendon 86, South Kent (Conn.) 84

In the consolation game, Winchendon defeated South Kent 86-84 in an overtime battle. Winchendon led throughout the contest, but South Kent would storm back in the final minutes to make it a game.

South Kent guard Andrew Crawley hit a three-pointer with 4.2 seconds remaining in regulation to send the game in to overtime. In the extra frame, Winchendon's Xavier Pollard scored seven of his team high-21 points to lead Winchendon to the victory.

Winchendon guard Corbyn Moe also scored 21 points in the win. South Kent was led by St. John's-bound forward Maurice Harkless, who had 25 points on the night.

January, 29, 2011
1/29/11
9:59
PM ET
By
Brendan Hall
| ESPNBoston.com
As soon as
Naadir Tharpe
got word that Kansas sophomore
Thomas Robinson
had lost his mother, the senior sent off a quick text. Brewster head coach Jason Smith interrupted Tharpe during class, and the senior ducked into the hallway and immediately dialed him up.
"My father passed away in 2006, so the first thing I told him is this is God just giving you, just showing how strong you want to be, to get over the hump," said Tharpe, a Worcester native who played together with Robinson at Brewster during the 08-09 season, and is set to join him next fall at KU. "That's basically what he's gonna have to do is get over the hump. I know his grandmother passed away, then his mom, that's gonna be real tough. But he's a strong dude, so I know he's gonna be able to get through it."
Robinson's mother, Lisa, died at age 43 on Jan. 21 from an apparent heart attack, just five days after Robinson lost his grandfather and nearly a month after losing his grandmother. This past Wednesday, the NCAA
granted a number of waivers
from its bylaws to allow the University of Kansas to aid Robinson and his nine-year-old sister, Jayla. Lisa was a single mother raising Jayla in Washington, D.C. at the time of her death.
Brewster head coach Jason Smith said the school is the midst of arranging a fundraiser for Jayla.
"Kansas called me last Saturday (Jan. 22) early, to let me know, and then I immediately called Thomas and told him that we loved him, and we're here for him," Smith said.
Robinson had found out of the death the night before at around 11 p.m., and when Smith talked to him the next morning he was "devastated".
"To lose that many people in his family, in such a small circle...his grandmother and mother raised him," Smith said. "His mother actually visited us at Madison Square Garden when we were hosting an event at the Jimmy V (Classic) last month. She was nice enough to come to the event to support our Brewster alumni. It's just a horrible situation. Tragic."
January, 9, 2011
1/09/11
12:11
AM ET
By
Brendan Hall
| ESPNBoston.com
NEW HAMPTON, N.H. -- "Let's go son!" Mitch McGary yelled to his frontcourt-mate on the bench, beating his chest and extending his free hand for a high-five at the sideline.
The big man, Markus Kennedy, was happy to greet him with a slap as their teammate Elijah Carter went to the line for two free throws that would further cement Brewster Academy's forthcoming win over their hotly-contested rivals on the other side of Lake Winnipesaukee. They were just as happy to get out of this cramped, over-capacity gym with a win over New Hampton as much as the next kid in maroon and blue.
McGary had plenty more reason to be jubilant, though. The 6-foot-10 junior from Chesterton, Ind., provided pivotal spark off the bench -- especially when the 6-foot-9, Villanova-bound Kennedy got into foul trouble -- to total 16 points, and helped the Bobcats stay ahead of the Huskies and then hold off a furious comeback, to win going away 86-77.
"Mitch gave us great energy, great energy," said Brewster head coach Jason Smith, whose team improved to 13-0 and now 1-0 in the Evergreen League. "He's a consensus Top 50 player in the Class of 2012, he's got tremendous motor for somebody who's 6-10, plays physical, very athletic. He's gonna have his pick of schools. He's gonna be able to go wherever he would like."
Said senior point guard Naadir Tharpe of McGary, "He played great. You know, the first half Markus had a couple fouls and he wasn't playing so well, but Mitch came off the bench and helped us out alot."
Not to mention, the momentum coming away from the Smith gymnasium -- filled with nearly 1,000 fans in a gym that at first glance probably seats alot less -- goes without saying, too.
"The atmosphere was crazy," Kennedy said. "I love playing away. I've got to give New Hampton fans their props. They really brought their A-game."
Kennedy, facing up New Hampton's Zach Auguste (14 points, five rebounds), racked up his second foul with 9:54 left in the first of two 20-minute halves, and surprisingly without the girthy big man and with the wealth of long-range shooters for the Huskies (9-4), the game slowed down.
Smith admitted he "should have speeded it up a little bit, made them play faster", and for good reason -- the Bobcats, as shown in the possessions following Kennedy's benching, can put on a show in transition.
First, McGary came up with a steal on the perimeter and lobbed an outlet pass down court to Pitt-bound Durand Johnson, who was fouled hard and made one of two at the line. Then, Carter came up with a steal the next possession down and threw it deep to Tharpe, who flipped it behind his shoulders to McGary. The forward charged through the lane and laid a thunderous two-hand slam.
The game's YouTube-worthy gem, though, came at the 7:50 mark, when Carter fed St. John's-bound forward Jakarr Sampson with an alley-oop from halfcourt, making it 30-20.
"I just looked at my man Eli, I see his eyes, and I gave him the finger up," Sampson said of the play, grin growing wide. "He just tossed it, so I just went up and got it."
New Hampton battled back to trail 43-37 headed into the break, only to watch as Brewster scored the first eight points of the second half, and held the Huskies to just three field goals the first eight minutes. The Bobcats took their largest lead of the game, 63-46, off of a McGary block of Olivier Hanlon, with Tharpe pushing downcourt all the way to the blocks before kicking out to Max Hooper for a three-pointer from the left baseline.
In a recruiting climate where point guards are sometimes judged primarily on their scoring ability, Tharpe signed with Kansas for next fall after head coach Bill Self fell in love with his fluid method of distribution -- especially when it comes to pick-and-roll's. So while he once again didn't blow up the stat sheet (10 points, five assists), he controlled the tempo in the second half to big gains.
"Naadir is just a winner," Smith said. "The most important thing to him is for the team to get the win. He doesn't care if he scores two points, he knows that his job as a point guard is to distribute the ball, keep people happy, don't turn it over, keep his man in front of him. So, I think that's why he's going to a place like Kansas, because his basketball IQ is tremendous."
The Huskies mounted a comeback late behind hot shooting from UMass-bound Jordan Laguerre (20 points) and Joey Ptasinski (4 of 7 three-pointers), and point guard Carter Trent cut it to 77-72 with 1:48 to go with an NBA-range three from the left wing. But after a few turnover-filled possessions, Sampson (13 points) forced the Huskies into a fouling strategy after taking a reverse pivot from the baseline and sinking a floater, for a 79-72 advantage with 59 seconds left.
"I think we tried to spread the floor, and we have guys that can really shoot it," said New Hampton head coach Peter Hutchins, whose Huskies were 13 of 31 on three's (just three days after hitting 16 in a win over Vanier Prep). "Ideally, we're trying to get the ball in certain guys' hands, and hopefully we can get some open shots and make them."
JUST ANOTHER NIGHT
Teammates of the 6-foot-8 Sampson, currently
No. 33 in ESPN's Class of 2011 rankings
, say they're accustomed to these kinds of nights from him. Sampson's other big dunk came with eight minutes left in the game, when he got nearly his whole right arm above the rim and tomahawked home an errant shot in the lane from Tharpe, to make it 71-59.
Ho-hum?
"I mean, we go crazy for it, but we see it every game," Kennedy said. "He gives us something special every game, every day in practice he does something. We just go crazy for it, get our fans hyped too, but we expect that out of him."
According to Tharpe, getting dunks -- and dunked on -- is often routine at Brewster practices. Best dunk? Tharpe jokingly volunteered one of his own, a dunk on McGary, before explaining the one that 16-year-old sophomore Deonte Burton laid on Kennedy in a practice.
Burton, a 6-foot-5 Milwaukee native who played on the sub-varsity tonight but is considered one of the team's strongest players, put a move on Kennedy "pretty bad", Tharpe said. Allow him to explain: "He was coming from the left side, and he made a move on the dude, cocked (his left arm) back, and Markus shot back to jump at him, but it was already too late. Left hand. It was nasty, it was real bad."
November, 22, 2010
11/22/10
10:31
AM ET
The ninth annual National Prep Showcase took place this weekend in New Haven, Connecticut. The event featured 23 of the top prep school teams in the country and well over 100 division I prospects, including some of the nation's highest-ranked players. By the time the weekend had come to an end, close to 200 college coaches had come through the doors to evaluate talent along with 30-plus members of the national and local media.

The three full days and 21 games of action provided insight on what to expect from the upcoming season as well as some intel on the world of college basketball recruiting.

Here are five lessons we came away having learned:

1. Khem Birch is a Panther…in 2011
The gym was abuzz on Saturday with news that Khem Birch had signed a National Letter of Intent with Pittsburgh, meaning that he was forgoing his intended post-graduate year at Notre Dame Prep and reclassifying from 2012 to 2011. The implications of the decision were widespread as Birch went from the second ranked player in 2012 to the ninth overall prospect in ESPNU's Super 60, Pittsburgh's recruiting class went from unranked to the 12th best in the country, and Panthers head coach Jamie Dixon solidified the highest ranked recruit he has ever landed. Birch was dominant with his performance on Friday and there is little doubt that he will be an instant impact type freshman next season in the Big East.

2. Brewster Academy has a chance to repeat
Brewster Academy was the consensus top prep school team in the country last year after scoring both the NEPSAC Class A title, as well as the National Prep Championship. And based on what we saw this weekend they have a very good chance of repeating. Head coach Jason Smith's squad is loaded at every position and returns Naadir Tharpe, the Kansas-bound floor general who was at the helm of last year's squad. That is really only the beginning as Brewster has two legitimate high-major big men inside with Markus Kennedy and Mitch McGeary, a pair of high athletic swingmen in Jakarr Sampson and Durand Johnson -- who are pledged to St. John's and Pittsburgh, respectively -- a knockdown shooter in Max Hooper, and a scoring combo-guard in Elijah Carter. The squad was dominant both times they took the court this weekend, scoring blowout wins over Fishburne Military Academy as well as Princeton Day Academy.

3. New England is loaded in 2012
The local boys defended their home turf this weekend as all of the top players in New England's class of 2012 played to rave reviews. St. Thomas More's Andre Drummond, the top-ranked player in the country, was dominant on Saturday turning in a 22-point, 16-rebound, and six-block performance with his incredible physical talents inside. The St. Mark's duo of Alex Murphy and Kaleb Tarczewski was no less impressive as Tarczewski established position inside and finished with power for 26 points and 12 rebounds. But it was Murphy who owned the glass as he pulled down a career high 17 boards while also handling most of the ball-handling responsibilities, creating for his teammates, and scoring 18 points of his own. Rhode Island native Ricardo Ledo was no less impressive on Friday night going for 30 points by showing his ability to create his own shot at virtually anytime. With all four players proving themselves against the highest levels of competition, it only reinforces that this junior class is among the best ever in New England.

4. High-Majors are desperate for big men and point guards
All six of the BCS conferences were represented by various coaches this week and almost all of them were looking for the same things -- big men and point guards. With 96 of the top 100 prospects in the ESPNU 100 having signed during the early signing period, high-major programs all around the country are starting to look for Plan B. The simple matter of fact is that there are more spots than there are suitable high-major prospects at those two crucial positions. The consequence will undoubtedly be a trickle down effect as high-major schools will settle for mid-major prospects, mid-majors will be forced to settle for low-major types, and so on.

5. Every game will be a battle in NEPSAC AAA
All eight members of the newly formed class AAA of the NEPSAC were in action this weekend. While Brewster was dominant, it was hard to establish much of a hierarchy after that. St. Thomas More, Northfield Mount Hermon, Bridgton Academy, Maine Central Institute, and South Kent all went 1-1 while New Hampton and Winchendon both suffered hard-fought losses to go 0-2. But even Winchendon and New Hampton proved plenty as the Green were arguably the grittiest team in the field and New Hampton will undoubtedly be dangerous once they get more experience with the team's offensive strategies. Outside of Brewster's supremacy, the only thing we can come away from this weekend having learned about the new league is that it will be as competitive as ever with virtually any team capable of knocking off anyone else on any night.