Boston High School:

Javier Flores
June, 1, 2013
6/01/13
12:53
AM ET
By
Ryan Kilian
| ESPNBoston.com


WELLSELEY, Mass. -- If a defensive lacrosse battle was what you were looking for then there was no better place to be on Friday night than Wellesley's Sprague Field.

No. 6 seed Wellesley and No. 11 Concord-Carlisle locked horns in another pivotal post-season matchup as the Raiders outlasted C-C to win, 4-3, and advance to the quarterfinals of the Eastern Mass. Division 2 tournament.

"In a 4-3 game, if one team blinks, that game goes the other way," Wellesley head coach Rocky Batty said after the game. "All the credit in the world to Concord-Carlisle. You can't score on them."

Two of the top programs in Massachusetts Division 2 lacrosse, both programs pride themselves in their ability to control the pace of the game and to use their defensive strengths to wear teams down.

"They did a better job of taking the air out of the ball and they valued the ball better than we did today," Concord-Carlisle head coach Tom Dalicandro said.

Wellesley (16-4) would score first as attack John Caraviello beat his man and finished at the cage to give the home team an early 1-0 lead.

Wellesley middie Andrew Volkmann would then score the next two goals as the senior captain stayed aggressive and beat C-C sophomore goalie Andrew Kielar to give Wellesley a 3-0 lead after one quarter.

C-C (13-6) changed goalies early as they went to freshman Aidan Long to try to stem some of the early momentum. Long would do just that as the young C-C netminder came in and made an immediate impact.

"Aidan [Long] stepped in and was unbelievable," Dalicandro said after the game. "It is great for him and we have great competition for the next two years."

Concord-Carlisle got on the board with their first goal, midway through the second quarter, as middie Will Blumenberg let one rip from the top of the box to beat Wellesley goalie Mike Riskind with a man-up score.

C-C seized temporary momentum as senior defender Evan Boynton made a nice play on the ball deep in the C-C field of play and carried the ball the length of the field in transition. He found attack Charlie Painter (2 assists), who hit fellow attack Steven Armanetti to cut the lead Wellesley lead to 3-2.

Wellesley would get a big goal before the half as Kerry Lyne would score to make it 4-2 and give the Raiders a two-goal advantage heading to the half.

Defensive Finish: Both teams struggled out of the half, as each team's defense buckled down and denied each other's offense numerous potential scoring opportunities.

"The goalies were great, the defenses were great and I do not know how the middies could run any harder for both teams," Batty stressed.

The Wellesley defensive unit of Matt Bomes, Will Hartnett and T.J. Noonan all did a magnificent job controlling the tempo of the game and shutting the C-C offense out through most of the second half.

"Every minute counts and you cannot take any turns off," Bomes said after the game. "We were ready to go today. Four-to-three is a close one, not a lot of scoring, and we just had to hold it down."

The Wellesley defensive midfield also did a great job of limiting C-C's transition opportunities and negating the effectiveness of the early offense. Trailing by two goals with time winding down, C-C middie Jack Barrett scored on the run to bring C-C to within one goal at 4-3 with 2:53 remaining in the game.

Despite the goal and the newfound momentum, Wellesley's defense and Riskind denied C-C the comeback attempt. Riskind came up with a critical save with under one minute remaining in the game to seal the win.

"We had all the momentum in the fourth quarter," Dalicandro said. "We just needed to bury some shots and we just didn't. They are a very good defensive team and their goalie made some saves."

The Concord-Carlisle senior defensive unit of Boynton (Amherst-football), Sam Barrett (Washington and Lee) and Javier Flores (St. Mary's College) also played equally well in the loss. The all-Dual County League veteran unit will be missed as they transition to college athletics.

"They did a great job," Dalicandro said. "They are three all-league guys and we are going to miss them. We are going to be a really different team next year. We graduate a lot of seniors. It was great to see them step up and play championship lacrosse.

Wellesley advances to the quarterfinals and will take on the winner of No. 3 Reading and No. 19 Melrose. Both Middlesex league rivals will play their first round game on Saturday at 2:30 p.m. at Reading High School.


May, 23, 2013
5/23/13
12:52
AM ET
By
Ryan Kilian
| ESPNBoston.com
READING, Mass. – No. 8 Concord-Carlisle lacrosse stormed out to a 5-0 lead after one quarter and never looked back as they defeated No. 16 Reading, 9-7, behind an intelligent and disciplined defensive effort.
Despite a furious second-half comeback, Reading (16-2) cou;d not overcome a six-goal second half deficit on Wednesday in both team's final tune-up before post-season play begins next week.
[+] Enlarge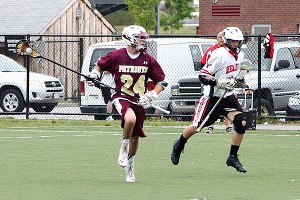 Ryan Kilian for ESPNConcord-Carlisle long-stick midfielder Nick Brozowski collected eight ground balls in the Patriots' 9-7 win over Reading.
The Patriots would maintain their 5-0 lead through the second quarter and in to the half as their senior defensive unit of Evan Boynton, Sam Barrett and Javier Flores did an excellent job of containing the explosive Reading attack unit.
"This is the best we have played defensively," Concord-Carlisle head coach Tom Dalicandro said after the game. "I was really worried about the match-up because the have three really good attackmen. Sam Barrett had his best game of the year for us today and Evan [Boynton] and Javy [Flores] also played well. They are three all-league kids on defense and I think they rose to the occasion today."
Don't look now but the defending Division 2 state champion Patriots (12-5) have won four games in a row and seven of their last eight, including wins over Lincoln-Sudbury and now Reading, as they head into tournament play with plenty of momentum.
"We feel really good about ourselves," Dalicandro said. "I think we can compete with anyone but we need to do the three key things we talk about. We need to value and share the ball, play great team defense and get saves from our goalie."
Concord-Carlisle completely dominated the start of the game and led 6-0 until 2:58 on the clock in the third quarter when Greg Connery would score the Rockets' first goal of the game.
Reading goalie Matt Comerford (10 saves) would then come up with a big save as the clock ticked down in the third quarter and Conor Frazier would take a deep outlet and find Charlie Colvin (2 Goals) for a goal with point-one seconds remaining on the clock.
Trailing 6-2 heading into the final quarter of play, Reading would come to life and begin to get out in the open field as they would cut the Concord-Carlisle lead to 8-4 with 6:36 to play.
"We want to play our style of lacrosse," Reading head coach Charlie Hardy said. "We are a little more run and gun and we want to get out in transition."
After Reading (16-2) started to seize momentum, Concord-Carlisle attack Tim Badgley (2G, 1A) would score and important ninth goal with 5:40 on the clock to give Concord-Carlisle a 9-4 lead.
Reading would not let down, however, as Charlie Colvin, Mark Dente and Eric O'Brien all netted goals to cut the C-C lead to 9-7 with one minute remaining in the game.
"I think the kids put a lot of spirit into the comeback," Hardy said. "The team you saw at the end is the team that we have."
C-C middie Will Blumenberg would help the Patriots secure a key late possession in the final minute of play to seal the win.
Blumenberg led C-C with three goals on the day while middie Peter Anastos (1G, 1A) also played well offensively for C-C.
"You can't spot a team like that goals," Hardy said. "They are too sophisticated and they are too well coached."
Concord-Carlisle and Reading will now both await the seeding selection for Division 2 on Friday to see whom they will face next week.
"We love playing them as it is a character game," Hardy said of the annual end-of-year game with C-C. "We want to play them at the end of the regular season so now we get to see what we need to work on."
Concord-Carlisle also received a strong game from long stick middie Nick Brozowski, who had his usual strong game on groundballs, scooping up eight, and using his quick stick to force multiple turnovers.
Andrew Kielar also played well in net for C-C as the sophomore came up with five of his nine saves in the first half.
June, 16, 2012
6/16/12
2:17
AM ET
By
Ryan Kilian
| ESPNBoston.com


WORCESTER, Mass. -- The Concord-Carlisle boys' lacrosse team wrote a new page in their long and storied history book on Friday night as they defeated Algonquin 13-3 to win the school's fourth state championship and first since 1998.

The undefeated Patriots saved one of their strongest efforts for last as they struck early and often and played some of their best team defense of the season in the Division 2 state championship game.

"We have never had a season where we have played up to or beyond our potential every single game," Concord-Carlisle head coach Tom Dalicandro said. "It is amazing."

Concord Carlisle (22-0) got all the offense they would need in the first quarter as senior midfielder Jackson Finigan set the tone early by netting the games first two goals on strong individual efforts. Finigan and freshman midfielder Will Blumenberg would each net hat tricks in the opening quarter to give C-C a 6-0 lead after one.

Finigan would add his fourth goal of the game with 4:36 remaining in the second quarter to give C-C a 7-0 lead heading into the half.

Concord-Carlisle All-American goalie Doug Gouchoe made five of his nine saves in the first half and the C-C defense held the talented and high-scoring Algonquin attack of Conor Healey, Mike Wood and Keegan Gillis scoreless in the half.

Algonquin (22-2) got on the board with 6:46 remaining in the third quarter as Wood scored the first of his two goals on the night. Blumenberg would answer for C-C with his fourth of the game a minute later.

C-C closed out the quarter with three more tallies to Algonquin's one score to take a 12-2 lead into the final quarter of play.

Wood and Finigan would exchange goals in the final quarter as C-C controlled possession to seal the win.

Finigan finished the game with six goals and Blumenberg added five goals and two assists to lead the C-C offensive attack.

"It was a team effort," Finigan said. "Everything that I did would not have happened without the guys on the field out there."

Senior Leadership: "The seniors on the team this year are the hardest workers we have," Dalicandro said.

Finigan, Gouchoe, All-American long pole Henry Bumpus and midfielder Mike O'Brien (1 Goal) were the C-C captains this year.

Finigan will do a postgraduate year at Deerfield before heading to the University of Delaware to play lacrosse in 2013.

Gouchoe will head to the Air Force Academy where he will continue playing lacrosse.

"Doug has been unbelievable," Dalicandro said with a smile on his face. "We are going to miss him next season along with all of the seniors."

Bumpus, who missed the Shriners All-Star football game at Gillette Stadium on Friday to play in the state championship, will play football at Brown University next fall with his brother John and C-C football teammate Andrew VanderWilden.

O'Brien, an All-American soccer player, will head to the University of Pennsylvania next fall as a member of prestigious the Wharton School.

Refuse to Lose: Concord-Carlisle senior lacrosse players Bumpus, Finigan, Tyler Koning and Anthony West were also members of the Concord-Carlisle football team that went 13-0 and won the Division 3 Super Bowl under head coach Mike Robichaud.

"Going undefeated in two sports and winning two state championships are some really great memories that we will leave behind," Finigan said.

The Futures: Blumenberg, who also starts at defensive back on the football team and guard on the basketball team, is a unique talent at Concord-Carlisle. The freshman was a top scorer this season while playing attack and midfield for the Patriots.

With top long pole Evan Boynton returning for his senior year along with Sam Barrett, Javier Flores and Blaine Taylor, the C-C defense should again be one of the top in the state.

Algonquin also returns many key components next year at attack with Gillis and Wood, in addition to midfielder Davis Kraft and goalie Giles Ober.
October, 15, 2011
10/15/11
12:04
AM ET
By
Andy Smith
| ESPNBoston.com
CONCORD, Mass. -- Not even thunder and lightning could stop the No. 8 Concord-Carlisle ground attack Friday. It ran all over Westford Academy, propelling the Patriots to a 61-14 victory in front of its home crowd.
[+] Enlarge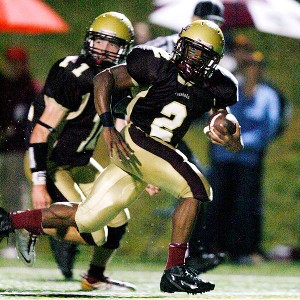 Jon Mahoney for ESPNBoston.comRunning back Tyquan Culbreath had two touchdowns on his first three carries for Concord-Carlisle during Friday night's 61-14 rout of Westford Academy.
Tyquan Culbreath got things going for CC (6-0) early and often. After his team forced Westford (3-3) to punt on its opening drive, Culbreath scored a 10-yard rushing touchdown when he took the option handoff straight through the heart of the Westford defense.
Minutes later, on his teams next offensive possession, he broke two tackles in a 50-yard touchdown run to put his team up by two scores.
In the second quarter, he added a 26-yard touchdown and a 4-yard touchdown on a reverse 5.5 seconds before the end of the half. It was his ability to break multiple tackles that made his performance so memorable in the game.
"We see those kinds of things in practice that only we see," C-C head coach Mike Robichaud said. "He's a special kid who really works hard. He's very quiet and has really improved this year as a blocker. I think he's really bought in to being a complete back, so it's really nice to see him get the ball and just make some unbelievable plays.
"I wish I could say it was a great scheme and all the right blocks, but he just made a lot of great things happen. It's great to see for him."
Culbreath ended the game with six carries for 130 yards and four touchdowns.
His fellow running backs would not let him have all the fun, however.
In the third quarter, Tim Badgley scored on an 85-yard run, giving him four carries for 104 yards and a touchdown. George Craan had a 28-yard touchdown run of his own. He ended the game with 10 carries for 102 yards and the touchdown.
"We're really proud of all the backs because of the way that they practice and the way they push each other," Robichaud said. "They really challenge each other during the week."
They, as well as the rest of the team, will have to keep challenging themselves if they want to keep up their undefeated record.
-- The game was forced into a half-hour delay when thunder and lightning rolled into the area. With 1:02 left in the first half, the teams were told to head into the locker rooms and wait out the storm. The teams made the decision that when they came back from the break halftime would be treated like a quarter, with a shorter break rather than another long one. With time in the locker room so close to the half, Robichaud treated it like the real thing. "We had other things that we were talking about, so it was less about game-planning, it was a little more about leadership during that break," he said. "The guys did a great job of putting things behind them and playing the way we know that we can play. It was a little bit different, but it was no big deal. It's a pretty mature group of guys and they rolled with it.
-- The leadership issues Robichaud was addressing was his team's willingness to take what some coaches would call retaliation penalties in the first half. On more than one occasion, his players were flagged after engaging a Westford player. The penalties came at costly times, keeping Westford drives alive when C-C needed to make stops. "We had what, I think, were maturity issues in the first half," he said. "We had a number of penalties we discussed during the lightning break and we really challenged the seniors to snap out of it and be the leaders we know they are."
-- While its offense will get the most attention attention in the scorebook, the C-C defense also came to play Friday. Collectively, it intercepted the Westford quarterbacks four times, including Tyler Koning's interception return for a touchdown in the first quarter. It also came up with a crucial 3-and-out in the second quarter when Westford was driving to potentially make it a one-score game. "This year, the offense has been a little ahead of the defense developmentally, personel-wise, things like that," Robichaud said. "We made some adjustments during the week and the kids really responded to that. I think we really showed the way we can play on defense. It wasn't a perfect game, but I was really pleased with our pass coverage. This was a great team we played. The kids were really looking forward to the game and I think they did a good job of just executing what the defensive coaches set them up to do. We have to get ready for [Acton-Boxborough] now."
NO. 8 CONCORD-CARLISLE 61, WESTFORD ACADEMY14
C-C (6-0) 20 15 19 7 -- 61
WA (3-3) 0 14 0 0 -- 14

1st quarter
C-C - Tyquan Culbreath 10-yard run (Evan Boynton kick good)
C-C - Culbreath 50-yard run (Boynton kick good)
C-C - Ben Aley interception return (Boynton kick failed)
2nd quarter
W - Alex Eaton 11-yard run (Alex Locker kick good)
W - Justin Mount 1-yard run (Locker kick good)
C-C - Culbreath 26-yard run (2-pt conversion good- Ryan Hoey pass to Evan Boynton)
C-C - Culbreath 4-yard run (Boynton kick good)
3rd quarter
C-C - George Craan 28-yard run (Boynton kick blocked)
C-C - Tim Badgley 85-yard run (Boynton kick wide right)
C-C - Javier Flores 6-yard run (Boynton kick good)
4th quarter
C-C - Flores 73-yard run (kick good)