Boston High School:

Jay Walsh
July, 1, 2013
Jul 1
5:53
PM ET
FIRST TEAM
G – Nick Marrocco, Jr., Duxbury
In his first season starting between the pipes for the Dragons, Marrocco was named an Eastern Mass. All-American while averaging 13 saves per game. Also a standout hockey player during the winter season, Marrocco is committed to Georgetown and was named Most Valuable Player of the bostonlax.net All-American game.

D – Rob Breed, Sr., Xaverian
One of the galvanizing forces behind the Hawks' run to the program's first state lacrosse title, the Eastern Mass. All-American was tasked with shutting down the opponent's top attacks.

D – Ben Cox, Sr., Medfield
Named the Tri-Valley League's Defensive Most Valuable player, Cox was a four-year member of the lacrosse team and part of back-to-back MIAA Division 2 state championship lacrosse teams. During the winter, Cox finished second on the Warriors hockey team in scoring, posting 12 goals for 38 points in 21 games. He will continue his lacrosse career at the University of Vermont.

D – John Sexton, Jr., Lincoln-Sudbury
The Notre Dame commit was a jack of all trades for the Warriors this season, taking faceoffs, playing on man-up situations and providing lockdown defense. Sexton was named an Eastern Mass. All-American and is a three-time Dual County League All-Star.

LSM – Nick Brozowski, Soph., Concord-Carlisle
A ground ball machine, the Maryland commit was named an Eastern Mass. All-American in addition to Dual County League All-Star honors.

M – Dan Delaney, Sr., Lincoln-Sudbury
The Eastern Mass. All-American tallied 38 goals and 20 assists while leading the Warriors to a Division 1 final appearance. Delaney will continue his lacrosse career at Fairfield University next year.

M – Keegan Dudeck, Sr., Longmeadow
The Lancers captain closed out his career on a high with a five-goal outburst in their Division 2 state championship win over Medfield. Dudeck tallied 38 goals and 17 assists for his senior season.

M – Jack Wheeler, Jr., Xaverian
Turning in a dazzling offensive display at Harvard Stadium, Wheeler was a key component to the Hawks' first-ever lacrosse championship. The Boston University commit and Eastern Mass. All-American tallied 42 goals with 15 assists this year.

A – Jay Drapeau, Jr., Westford Academy
Among the state scoring leaders in each of the last two seasons, Drapeau ripped off 71 goals in 2013. The Loyola commit was an ESPN Boston MIAA Lacrosse All-State second-teamer last year and also was a Hockey All-State Honorable Mention during the winter season.

A – Andrew Melvin, Sr., Medfield
The Eastern Mass. All-American helped lead the Warriors back to the Division 2 state championship game. Melvin will continue his lacrosse career at Bates College.

A – Nico Panepinto, Sr., Needham
Named ESPN Boston's third annual "Mr. Lacrosse" winner last week, the Fairfield University signee finished his high school career with 179 goals and 159 assists. Panepinto, also a standout on the football field for the Rockets, was a two-time Eastern Mass. All-American and ESPN Boston All-State selection.

Specialist – Derek Osbahr, Sr., St. John's Prep
Osbahr was an offensive weapon for the Eagles at the faceoff X as the best draw-winner in Eastern Mass. Also a member of Prep's Super 8 hockey squad, the Eastern Mass. All-American will continue his lacrosse career at Bentley University.

SECOND TEAM
G – Ryan Goodall, Sr., Dover-Sherborn
D – Jack Ullrich, Jr., Hingham
D – Jay Walsh, Sr., Duxbury
D – Ian Yanulis, Sr, BC High
M – Caleb Brodie, Jr., Hingham
M – Brendan Flaherty, Sr., Beverly
M – Mike Panepinto, Jr., Needham
M – Roby Williams, Jr., Wayland
A – Hunter Burdick, Sr., St. John's (Shrewsbury)
A – Nick Pino, Sr., North Andover
A – Tyler Reilly, Sr., Grafton
Specialist – Drew Kelleher, Jr., Longmeadow

Honorable Mention
Dom Abate, Sr. M, Beverly
Tommy Bannan, Sr. G, Hingham
Kevin Bletzer, Jr. M, Catholic Memorial
Rogers Boylan, Sr. D, Dover-Sherborn
Evan Boynton, Sr. D, Concord-Carlisle
Mike Carbone, Sr. A, Marshfield
Tucker Ciessau, Sr. A, Scituate
Matt Comerford, Sr. G, Reading
Pat Cronin, Jr. A, BC High
Matt Crowell, Jr. M, Medfield
Mark Dente, Sr. A, Reading
Kevin Farrell, Sr. FOGO, Billerica
Chris Frye, Sr. A, Walpole
Andrew Gallahue, Jr. A, St. John's Prep
Henry Guild, Sr. M, Lincoln-Sudbury
Carson Hart, Sr. M, Wayland
Keifer Heckman, Sr. A, Peabody
Eamon Hunter, Soph. LSM, Lincoln-Sudbury
Joe Igoe, Sr. M, Framingham
Reid Leveillee, Jr. D, Longmeadow
Giles Ober, Sr. G, Algonquin
Kieran Presley, Sr. M, Amherst
Brian Rotatori, Sr. M, Grafton
Drew Smiley, Jr. A, St. John's (Shrewsbury)
D.J. Smith, Sr. G, Billerica
Robert Treiber, Jr. G, Medfield
Luc Valenza, Sr. D, Foxborough
Tyler Weeks, Sr. D, Andover
Sam Wheaton, Sr. G, Minnechaug

Coach of the Year -- Ryan Liebel, Longmeadow
June, 14, 2013
Jun 14
2:49
PM ET
The Eastern Mass Lacrosse Coaches Association announced its boys' lacrosse 2013 All-Americans.

Here is the list:

FIRST TEAM
ATTACK
Jay Drapeau, Jr., Westford Academy
Nico Panepinto, Sr., Needham
Andrew Melvin, Sr., Medfield
Nick Pino, Sr., North Andover

MIDFIELD
Mike Panepinto, Jr., Needham
Dan Delaney, Sr., Lincoln-Sudbury
Jack Wheeler, Jr., Xaverian
Caleb Brodie, Jr., Hingham
Brendan Flaherty, Sr., Beverly

DEFENSE
John Sexton, Jr., Lincoln-Sudbury
Ben Cox, Sr., Medfield
Rob Breed, Sr., Xaverian
Jack Ullrich, Jr., Hingham
Jay Walsh, Sr., Duxbury

SPECIALIST
Nick Brozowski, Jr., Concord-Carlisle

GOALIE
Nick Marrocco, Jr., Duxbury
D.J. Smith, Sr., Billerica

SECOND TEAM
ATTACK
Tucker Ciessau, Sr., Scituate
Andrew Gallahue, Jr., St. John's Prep
Mark Dente, Sr., Reading
Henry Guild, Sr., Lincoln-Sudbury

MIDFIELD
Dom Abate, Sr., Beverly
Roby Williams, Jr., Wayland
Matt Crowell, Jr., Medfield
Eric O'Brien, Sr., Reading
Joe Igoe, Sr., Framingham

DEFENSE
Luc Valenza, Jr., Foxborough
Tyler Weeks, Sr., Andover
Rogers Boylan, Sr., Dover-Sherborn
Evan Boynton, Sr., Concord-Carlisle

SPECIALIST
Kevin Farrell, Sr., Billerica
Derek Osbahr, Sr., St. John's Prep

GOALIE
Ryan Goodall, Sr., Dover-Sherborn
Tommy Bannan, Sr., Hingham
May, 14, 2013
May 14
5:40
AM ET


DUXBURY, Mass. – Nico Panepinto had the date committed to memory. He quickly recalled the date of last year's MIAA Division 1 lacrosse final after Monday's rematch against the No. 1-ranked Duxbury squad that had beaten Panepinto's Needham Rockets at Harvard Stadium.

Taking a page from his own book, the Rockets' senior attack replicated his personal performance that left revelers spellbound in last year's championship game. Panepinto again scored four goals — each one increasing in stature and degree-of-difficulty — on Monday. But unlike last year's meeting at season's end, this time it was No. 6 Needham emerging with a two-goal win.

Joined by younger brother, Mike, the Panepintos combined to score all of the Rockets' goals in a 6-4 win over the Dragons, dealing Duxbury its first in-state loss since the 2010 season. The Dragons (13-5) had won 48 straight MIAA games following their overtime loss to St. John's Prep in that year's Division 1 championship game.

"Sometimes he just gets in a zone and there's no way to stop him," Mike Panepinto said of his older brother.

Reminiscent of a valiant come-back effort in the aforementioned title game, Nico Panepinto again brought his best to the second of half of Monday's bout.

Needham (14-2) trailed 3-1 at the half, but took the lead in the third quarter on a string of three straight goals from Nico Panepinto.

The Dragons fought back to tie the game, 4-4, with four minutes, 59 seconds to play in the game on a transition goal from Tyler Powers — the hero of Duxbury's quadruple overtime win over Lincoln-Sudbury last week.

However, Mike Panepinto provided the heroics, answering just nine seconds later. The UMass commit won the ensuing faceoff cleanly, gained possession and, after drawing on two defenders and dodging straight on the cage, score the game-winner.

Nico Panepinto added his fourth of the game in the final minutes.

Needham goaltender Jack Curran made 11 saves to earn the win.

THE DYNAMIC DUO
The Rockets' comeback in the third quarter very much started at the faceoff X.

Mike Panepinto was dominant on draws and in the third quarter won a string of three straight draws to start the second half. Each one of those face-off wins resulted in a Needham possession and, ultimately, goals his brother.

"He was consistently dominant today, and I think that paid off in the haul in terms of possessions," Needham head coach Dave Wainwright said.

Not only did the Rockets set the tone in the second half, it also set the pace. After watching Duxbury score three goals off transition in the first half, including two from long-stick midfielder Jay Walsh, Wainwright was content to grind it out.

"One of our bigger worries that we had was the transition game," Wainwright said. "We gave up some goals in the transition game today that were just quite scary. You put the ball on the ground, these guys can get up the field in a heartbeat."

A FANTASTIC FINISH
For all of Nico Panepinto's exploits against Duxbury, both in last year's season-ending edition and Monday's momentous win, perhaps none would be as memorable as his third goal scored in the Rockets' win.

"That one-handed goal, I was going nuts," Mike Panepinto said. "I didn't even know what to say."

That goal came at the 6:51 mark of the third quarter and provided Needham with its first lead of the game. After a faceoff win by Mike Panepinto set up the Rockets on another prolonged possession, Nico Panepinto drove the net, all the while drawing two Duxbury defenders to him. With one pole in pursuit and another in his pocket, the Fairfield signee drew a flag while being held just in front of the crease. Still, he was able to work his right arm free and, with his available hand, flick a bouncing shot into the net.

His reward for the gutsy move? A face full of turf as the Dragons' defender collapsed on his back.

It drew rave reviews from the Needham sideline and that of his younger brother.

"I was glad to see him pull that off because he tried that last year against Duxbury," Mike Panepinto said. "I've seen him try it a couple of times, but I've never actually seen him land it. That was pretty ridiculous that he pulled that off.

And, with it, he scored one of the prettiest and most important goals of year.
May, 10, 2013
May 10
2:21
AM ET


SUDBURY, Mass. – Tyler Powers had just scored the game-winning goal in an epic quadruple overtime game between the Nos. 1 and 2 ranked lacrosse teams in Massachusetts.

So how did he plan to celebrate?

"I've got a lot of homework to do," Powers said. "Other than that, I don't know."

After a rain-delayed start, the struggle between No. 1 Duxbury and No. 2 Lincoln-Sudbury spanned about three-hours' time and nearly the full span of four, complete overtime periods. And yet, after all the expended time and energy, it remained apparent that the difference between Thursday's competitors was a futile exercise akin to splitting hairs. The highly anticipated matchup between the long-standing MIAA Division 1 powers was worth every minute, and every raindrop, which — at times — fell in torrents.

But it was Powers, a junior attackman, who finally broke the defensive stalemate as a fifth extra session loomed. Just 17 seconds remained in the fourth overtime, when fellow junior Brendan Burke found the cutting Powers for the game-winner. After more than 63 minutes of elapsed play, Duxbury emerged with an 8-7 victory.

"C.J. [LoConte] set a pick for Brendan [Burke], Brendan then found me, hit me in stride," Powers said. "I got by my defenseman and put it by the goalie like our coaches told us."

Not much did pass between the goaltenders – Duxbury's Nick Marrocco and the Warriors' Dario Morando – who were brilliant. The standout saves were too numerous to tally, with both parties seemingly one-upping the other on each stop.

L-S head coach Brian Vona, a goaltender in his own day, called Marrocco "the player of the game" — a tall compliment paid in a game rife with superb defense.

"Nick's about as tough as they get mentally, physically," Duxbury head coach Chris Sweet said. "He's fearless and it showed tonight. He was spectacular along with our three defenders Marshall [McCarthy], [Jon] Hurvitz and George Ward."

For the scant offense that was available to either side, both teams received contributions beyond their usual cast of starters. Sweet called Burke's three-goal effort the junior's "game of his career."

Meanwhile for the Warriors, who suffered their first defeat of the season and were playing without top offensive threats Dan Delaney and Henry Guild due to injury, junior Greg Roder helped fill the void with a two-goal game. Chris Giorgio was also a factor, scoring a goal and adding two assists.

Giorgio's greatest thrill was for not, however. L-S started the third overtime period with a man-up advantage. After cycling the ball around, Giorgio had Marrocco beat with a quick rip to the left-hand post. Giorgio's shot kicked up the slack on the side of net – for a moment, drawing the Warriors' faithful into a frenzy. The shot landed wide of the post, however, and Marrocco coolly collected the ball and cleared to end the threat.

IN AND OUT
Both teams have dealt with recent injury woes. And while L-S (11-1) was without a couple of its top offensive options Thursday, Duxbury (12-4) is on the mend.

The Dragons rotation was bolstered by Trevor O'Brien and Jack and Shayne Sullivan returning to the mix. And although Sweet has had to mix and match his attack during the last couple weeks, it's also been a trial by fire for his group.

"We've had our share of injuries, but what it's done is that it's built a lot of depth for us," Sweet said. "That can be a good thing. We saw a lot of kids step up today who you probably haven't heard much from."

Now, the task is building chemistry among the replenished ranks.

"Our team has a lot of depth," Powers said. "We have a bunch of middies. They've been working hard. The kids that took their place have been playing great, doing what they can to help the team."

DEFENSE RULES THE DAY
Aside from the goaltending, the true stars of the duel were the poles. And, at times, they weren't limited to the defensive half.

Hardly a play went into the L-S half field without Notre Dame-bound long-stick John Sexton throwing his height around. In addition, the rangy junior also chipped in on the Warriors' man-up situations. Also, in close defense, Matt Barker was a revelation for the Warriors, with his crafty stick-check during a key Duxbury possession in the third overtime as a highlight.

Likewise, the Dragons' vaunted defense came to play.

Highly-touted, Fairfield-bound pole Jay Walsh was a ground ball hound, including a couple pick-ups on faceoffs during the overtime periods.

Marshall McCarthy was a force, scooping up key ground balls in the defensive half, while also stepping into the breakout with an assist. It was a pivotal performance from a player who (can you believe this?) didn't play in his sophomore season and is in his first year as a defender.

"I think he could play Division 1 lacrosse right now," Marrocco laughed about McCarthy, who was also ESPN Boston's MIAA football Defensive Player of the Year.
May, 3, 2013
May 3
11:53
AM ET
By
Bruce Lerch
| ESPNBoston.com
MEDFIELD, Mass. -- While his teammates searched for the necessary adjustments on defense and any sort of continuity on offense, Duxbury goalie Nick Marrocco produced a second consecutive game-winning performance in the cage.

The junior Georgetown commit sparkled in the first half, making seven of his 11 saves to help lead top-ranked Duxbury to a 5-4 victory over No. 7 Medfield Thursday night at Medfield High School.

Marrocco made several saves that fell into the ridiculous category while giving the Dragons (9-4) every possible opportunity climb out of a 3-2, first-half deficit.

"Nick stood on his head," praised Duxbury coach Chris Sweet. "If not for Nick, that would have been a loss for us. He kept us in it in the first half until our guys kind of woke up."

Medfield (10-2) jumped out first as Matt Crowell snapped in an unassisted tally on the game's first possession. Brendan Burke pulled the Dragons even at the 7:01 mark, but the Warriors won the ensuing faceoff and retook the lead on a goal from Matt Ruzzo.

Wes Quinzani tied it up again with an athletic play that saw him split through a pair of defenders, then crash through two more as he got off his shot. Medfield would another in the second quarter as Jack Isaf converted a feed from Matt Cahill for a 3-2 lead they would carry into the half.

The third quarter belonged to Duxbury, who used smart, lengthy possessions to keep the ball away from the Warriors while generating quality scoring opportunities for itself. Bobby O'Brien made it a 3-3 game with a shot through traffic that may have gone off a defenseman, then C.J. LoConte gave the Dragons their first lead on a sidewinder, and Matt Sharpe capped the 3-0 run off a feed from LoConte with nine seconds left in the frame.

"In the first half we were trying to get as many possessions and we could but ended up playing a lot of defense so it was kind of just knocking it down," Marrocco said. "We communicated a lot, that was huge, my defense helps me out with that. Trying to figure out the slides in the first half it was a little tough but we got it going in the second half and let the offense do the job."

And on the slide package, Marrocco said, "They were dodging from the top and basically feeding the middle as we slid, before the two was coming so we just adjusted to that and got the two really early so we had that backup guy."

Medfield was kept scoreless until Andrew Melvin got one through with just one second left to play in the game.

"Unfortunately it was a tale of two different halves," lamented Medfield coach John Isaf. "Part of it is, we've got to make smart decisions. We've got to get the ball out quicker. When we have a ground ball or a save, we've got get the ball out quicker. We're not breaking out fast enough, we're not getting in our lanes and we've got to get the ball out faster. Part of that is when we let somebody set up a ride, its tougher to clear."

WALSH RETURN PROVIDES A BOOST

Over past couple of weeks, as many as seven Dragons have been sidelined with various injuries but the team finally had some good news with the return of Fairfield-bound defender Jay Walsh to the lineup. Walsh has missed the last two weeks with a hyperextended elbow.

"We needed Jay back," Sweet said. "The poor kid was exhausted by the end there but he's a trooper. He's still got a bad wing but he played great. We really needed him because they've got two or three guys in the midfield that can bring it and Jay was a big help there."

The senior captain stepped right back into his spot alongside Marshall McCarthy and John Hurvitz and the unit was able to make the necessary adjustments to help the defense react to what Medfield was doing.

"We knew their big guys, they have a lot of great shooters so we were trying to stay with them and then we realized once went, we had to recover," Walsh said of the adjustments on defense. "That's where they were beating us, on that backside guy. Once we got that figured out and had a middie slough in, we've been having that problem all year, just the middies sloughing back, and I think we're starting to figure that out now and it showed in the second quarter and second half."

Still on the Dragons injured list are: Trevor and Shayne O'Brien, Jack and Shane Sullivan, Tanner Williams and Brendan Fitzgerald. The majority of those players are offensive guys, and getting them healthy will go a long way toward curing a three-game stretch over which the team has managed just three, eight and five goals respectively.

"We scored just enough. We've been a little stale on offense. We have a couple of middies out that are going to help us when they get healthy and I think were going to get them back soon. The good news is that the guys who have stepped in for them have played pretty well. We'll work on it."

COMPLETE GAME SEARCH CONTINUES

Medfield had ample opportunity to put an end to the buzz already generating for next Thursday's showdown between Duxbury and Lincoln-Sudbury, and if not for Marrocco's effort, we could have been discussing a Warrior victory.

Instead, it was a tale of two halves for Medfield, who seemed to have things in hand over the first 24 minutes but could not maintain it through the end.

"We still haven't put a complete game together," Isaf said. "We played a lousy first half against Foothill and played a great second half. We played a pretty decent first half against Dover-Sherborn, didn't get it done in the second half. We played a good first half tonight, didn't get it done in the second half. We have to figure out how to get a complete game. Once we do, we'll be a tough out."

When asked what his team needed to do to get that elusive complete-game performance, Isaf said, "Keeping your intensity up, keeping your focus, not letting a momentum play change your confidence. Focus, intensity and when another team goes on a run and throws a punch, you've got to get up and punch back. We've done that most of the season. The only teams we haven't have been against two defending state champions."
April, 8, 2013
Apr 8
2:24
AM ET
Attackmen:
Tyler Bogart, Soph., Catholic Memorial
Jordan Dow, Sr., Lincoln-Sudbury
Jay Drapeau, Jr., Westford Academy
Brandon Jaeger, Sr., Dover-Sherborn
C.J. LoConte, Sr., Duxbury
Andrew Melvin, Sr., Medfield
Nick Menzel, Jr., Archbishop Williams
Nico Panepinto, Sr., Needham
Robbie Pisano, Sr., Needham
Tyler Reilly, Sr., Grafton
Andrew Smiley, Jr., St. John's (Shrewsbury)
[+] Enlarge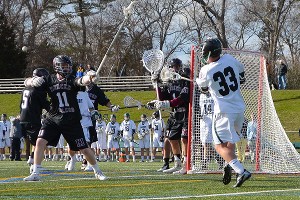 Scott Barboza/ESPN Army commit C.J. LoConte will look to shoulder a bigger part of the offense for defending Division 1 state champion Duxbury.
Midfielders:
Kevin Bletzer, Jr., Catholic Memorial
Will Blumenberg, Soph., Concord-Carlisle
Caleb Brodie, Jr., Hingham
Alec Brown, Sr., Wakefield
Tucker Ciessau, Sr., Scituate
Dan Delaney, Sr., Lincoln-Sudbury
Henry Guild, Sr., Lincoln-Sudbury
Carson Hart, Sr., Wayland
Davis Kraft, Sr., Algonquin
Matt LaCroix, Sr., Westfield
Drew O'Connell, Jr., St. John's Prep
Mikey Panepinto, Jr., Needham
Kieran Presley, Sr., Amherst
Bryan Rotartori, Sr., Grafton
Jack Wheeler, Jr., Xaverian
Long-stick Midfielders:
Nick Brozowski, Jr., Concord-Carlisle
Mike Elcock, Jr., Needham
D.J. George, Sr., Arlington Catholic
John Sexton, Jr., Lincoln-Sudbury
Defensemen:
Evan Boynton, Sr., Concord-Carlisle
Tim Gillis, Soph., Cohasset
Brian Uva, Sr., St. John's Prep
Luc Valenza, Sr., Foxborough
Jay Walsh, Sr., Duxbury
Tyler Weeks, Sr., Andover
Ian Yanulis, Sr., BC High
Goaltender:
Andrew Blood, Jr., Walpole
Matt Comerford, Sr., Reading
Ryan Goodall, Sr., Dover-Sherborn
Nick Marrocco, Jr., Duxbury
Giles Ober, Sr., Algonquin
Jake Reynolds, Jr., Scituate
D.J. Smith, Sr., Billerica
Robert Treiber, Jr., Medfield
Tighe Van Lenten, Sr., Masconomet
April, 3, 2013
Apr 3
11:40
AM ET
DUXBURY, Mass. – It didn't count for the purpose of the MIAA standings, but Duxbury lacrosse's Tuesday tilt with Mercer Island (Washington) felt like more than just a dress rehearsal.

A new-look Dragons squad turned in a solid all-around performance, using a balanced attack of seven different scorers in an 8-4 win. The game did not count toward the MIAA standings because Mercer Island plays as an independent, as Washington's state athletic body does not sanction lacrosse.

Here are some parting thoughts and observations from the defending Division 1 state champions' victory:

SOLID ON THE BACK END
The Dragons have had an embarrassment of riches in their defensive core during the last several seasons. A bumper crop of Division 1 recruits that graduated with the Class of 2012 gives way to a new cast of faces who – while perhaps short on game experience – are talented in their own right.

There should be little drop-off for the Dragons among their poles this season, led by senior captain Jay Walsh, who had a strong game against the Washington state power. Walsh made the start Tuesday at defense flanked by a pair of Duxbury football standouts in Jon Hurvitz and Marshall McCarthy.

Overall, the group's contributions prompted Dragons head coach Chris Sweet to proclaim his defense was "fantastic" on the day.

"I think the talent's there, the thing we're maybe lacking is game experience," Sweet added. "But it sure looked like this group was paying attention as they were standing on the sideline last year."

Duxbury is also breaking in a new goaltender this season with Henry Buonagurio matriculating to Drexel. Georgetown commit Nick Marrocco (10 save) played strong in the cage, particularly in the final quarter, making five saves.

"I think he's solidified the job for now," Sweet said of Marrocco, "but certainly [goaltender] Jack Corbett waiting right there in the wings."

SPREADING THE BALL AROUND
After a slow start in the first quarter, Duxbury brought its possession game to the third quarter, when the Dragons almost exclusively set up shop in the Mercer Island half of the field.

"Once we kind of settled down, we started handling the ball nicely and moving well without the ball," Sweet said.

Duxbury's ability to the work the ball around was evident on the score sheet, as seven players scored. Only Shayne O'Brien tallied a multi-goal game with two. Junior attack Brendan Burke – brother of former Dragons standout James Burke – led the Dragons with a 3-point game (1 G, 2 A).

Still, Sweet maintained that there's an adjustment period at this early stage of the season

"We're still feeling things out. We're trying to figure out who's ready for primetime, but certainly we're happy with the way we started out. That's a good first game of the season against a really good team."
June, 27, 2012
6/27/12
12:25
PM ET
ESPNHS released its final
Powerade FAB 50 boys' lacrosse poll
today and MIAA Division 1 state champion Duxbury closed out the year in the top 20.
After starting the season just outside the top 10, the Dragons wound up at No. 14 in the poll, the lone Massachusetts entrant, after claiming their ninth state title in the last decade.
Here's what the lacrosse rankings crew, headed up by the impeccable Mike Loveday and Tom Peace, had to say on Duxbury's season:
"The Dragons finished 2012 as the Division I state champions after defeating Needham 10-8. Duxbury played a tough schedule this season and posted two wins over Top 25 teams. Eight players from the senior class are heading to play D-I lacrosse, including the Boston Herald's Co-Players of the Year Max Randall and James Burke. Two juniors, C.J. Loconte and Jay Walsh, have already committed to play D-I and will return in 2013."
Even though they were unable to crack the final poll, the Massachusetts Div. 1 runner-up Needham Rockets were the only other Bay State side receiving votes.
Also representing New England in the poll was Darien, Conn., which finished at No. 21. The Green Wave defeated New Canaan, 11-5, to claim the Class M championship. New Canaan also recieved votes in the final poll.
October, 25, 2011
10/25/11
11:50
AM ET
Duxbury lacrosse defenseman Jay Walsh verbally committed to play men's lacrosse for Fairfield on Monday night, ESPN HIgh School lacrosse editor Mike Loveday reports.

The junior plays club lacrosse for Laxachusetts.