Boston High School:

Jaycob Morales
March, 9, 2011
3/09/11
12:06
AM ET
By
Brendan Hall
| ESPNBoston.com
LAWRENCE, Mass. -- Nobody seemed to know too much about this gangly, shaggy-haired kid named Freddy Shove when the junior arrived on the St. John's Prep campus this past fall, fresh from Lynnfield High, to try out for the school's basketball team.
"I knew him from playing summer league, but other than that I had no idea," admitted Notre Dame-bound senior captain Pat Connaughton.
All the 6-foot-2 Shove offers on a given night is hustle -- granted, in bunches. And last night, in the most crucial moments of this massive Division 1 North semifinal tilt before a capacity crowd at Lawrence High, all those little things -- all those kamikaze crashes to the boards after every shot release -- added up to give the Eagles just enough to hold off and knock off defending D1 state champ Central Catholic, 63-60, to return to the TD Garden for a second straight appearance in the D1 North final.
Prep (22-1) now awaits the winner of tonight's Lawrence-Lynn English semifinal at Reading High, while Central ended its season 21-3.
"He's been like this for us all year," Prep head coach Sean Connolly said of Shove. "He works non-stop, he works as hard as anyone you'd expect. He goes full-out all the time."
Shove put in a season-best 15 points to go along with nine rebounds, helped catapult the Eagles along with Steve Haladyna (23 points) in a 12-0 second quarter run, and toiled in rotations against Central's big man, 6-foot-7 Assumption commit Jimmy Zenevitch (33 points, 13 rebounds). But he'll most be remembered for his efforts in the final 2:30 of game, in which he sandwiched a foul-drawing put-back in between two crucial offensive boards.
"Just crash the boards, make Zenevitch work," Shove said of his mentality tonight. "Zenevitch doesn't box out as well, but he grabs the rebounds because he's 6-foot-7. So, you have to look for the spots where he's not, and just hope the ball bounces that way, and just get behind the players and go for the ball."
Said Connaughton, "He's brought toughness. We had George Sessoms bring a lot of the toughness last year, and Freddy's brought it this year. He goes hard every single practice, every game, every single second of every single time he's on the floor. So that's huge to get us over the hump."
The Eagles turned in arguably their best defensive rotation of the night, with Shove on the floor, as the Raiders had 16 seconds out of a timeout to create a shot from behind the arc. With Luis Puello stalled off a high screen, and Jaycob Morales under heavy pressure out of a double, they ended up settling for their third option -- Zenevitch -- hucking up a contested 30-foot three-pointer that clanked as the buzzer sounded.
Meanwhile, Connaughton finished with 17 rebounds but a miserable 12 points on 5 of 23 from the field, including an unheard-of 0 for 9 in the fourth (a stanza for which he usually reserves his best performances) -- "I had a bad game, that's the bottom line," he said.
In his place, Haladyna -- who watched game film of his sub-par performance against the Raiders two weeks ago to get pumped up for tonight -- stepped up in a multitude of dimensions. First, he shook a defender in transition with a euro-step to spark a 12-0 run at the start of the second quarter. Then late in the third, he gave the Eagles their biggest lead of the night at 50-35, when he took a Mike Carbone inbounds pass, drew a foul on the way up to a successful floater, and hit the ensuing free throw.
"[Connolly] was on me real bad about that [last game]," Haladyna said. "So that definitely motivated me."
The and-one seemed to re-energize the Raiders, as they outscored Prep 25-13 the rest of the way. Freshman Tyler Nelson took a Zenevitch outlet and nailed a three in transition to cut the lead to eight, then cut it to as close as 57-56 with two made free throws. But in the waning minutes, and with a four-point lead, the Eagles used stall tactics and were able to reset the shot clock with crucial long rebounds by Shove and Isaiah Robinson.
"I said this at the end of last season -- they were going to be the No. 1 team headed into this year," Central head coach Rick Nault said of the Eagles, who entered both the preseason and postseason as the top overall squad in ESPNBoston's state-wide MIAA poll. "I said it again two weeks ago, and I'm saying it again now. They're the best team in the state.
"They're so well-coached. And it's not just all about Pat. I mean, Haladyna's a sensational player, he took it to us tonight. They had other kids step in, Shove had a tremendous night, he attacked Jimmy at will. They just have a lot of the right pieces, and they do all the little things so well."
Brendan Hall is a high school sports editor for ESPNBoston.com. Follow him on Twitter.
February, 24, 2011
2/24/11
12:22
AM ET
By
Brendan Hall
| ESPNBoston.com
DANVERS, Mass. -- Freddy Shove clutched the basketball he had just wrestled away seconds ago and punched the air as he went to the line with 0.7 seconds left, his St. John's Prep squad ahead by two over No. 1 Central Catholic, and the navy-clad student section to the left of him screaming in euphoria.
For the first time in his career, and his head coach Sean Connolly's tenure at the Prep, the Eagles came away with a win over the Merrimack Valley powerhouse, gutting out a 72-70 win after the Raiders crawled back from a seven-point deficit with under three minutes left to take a brief lead with 50 ticks left. With the win, the Eagles (19-1) now await the result of tomorrow night's clash between Madison Park and No. 3 Cambridge (17-1), to find out whether they'll get the No. 1 overall seed in Division 1 North when the MIAA Tournament seedings are unveiled Friday morning.
Make no mistake, had 6-foot-5 sophomore Isaiah Robinson not deflected Jaycob Morales' inbounds pass with 3.8 seconds to go, unleashing a scrum that led to Shove scooping up the ball and drawing a foul, this could be an entirely different narrative.
"We were trying not to let an easy shot get off," said Robinson (eight rebounds). "I took to the pass when it came in, and it's history from there."
But don't get it twisted, either -- simply put, in the final 30 seconds of the game,
Pat Connaughton
happened
.
The Prep's Notre Dame-bound, ESPNU 100 superstar quietly put together his umpteenth double-double of the season (23 points, 16 rebounds), but he'll most be remembered from this game for two plays he made in the final three possessions to carry the Eagles to victory.
First, with 23 seconds to go, Connaughton went to the hole on a play that was initially designed for him to hit running mate Steve Haladyna coming off a back screen. Instead, Connaughton ended up leaping to snatch a lob pass away from Luis Puello, dribbled to the middle of the paint, gathered and floated it at the rim.
"It was more like a hop step to get in between Puello and [center] Jimmy [Zenevitch], and then I kinda of rose up and just tried to concentrate on hitting the glass, and that was it," Connaughton said.
Ten seconds later, at the other end of the floor, Connaughton swatted the 6-foot-8 Zenevitch (32 points, nine rebounds) as he went to the hole, sending the home crowd into an uproar. Puello (12 points) fumbled his dribble on the ensuing inbounds pass, and he tugged the the ball with Prep's Mike Carbone (21 points) for a jump ball that gave Central possession again, and Morales (10 points) with the inbound with 3.8 seconds left. Both Connolly and Central head coach Rick Nault used a timeout before Robinson came up with the deflection to seal the game.
"It don't want to say it was like a last wind, but it was more like 'Alright, last two minutes, this is where the game's decided'," said Connaughton, who took the duties of matching up with Zenevitch all night. "And it just kinda came down to that [block]."
Said Connolly, "Pat made some big plays at the end, I mean he really stepped up. He took the game over for us at the end. You expect that out of someone like him."
The teams were tied at 55 apiece headed into the final frame, but the Eagles jumped out to a seven-point lead with a series of free throws, Connaughton hitting the first of two free throws to give them their second-largest lead of the game at 69-62 with 2:43 left.
But things quickly went south for Prep, as the Raiders (19-2) deployed a full-court man-to-man press to cause some turnovers and create some baskets around the rim with swift entry passes. The turning point, though, came when Zenevitch made a swat on Haladyna that very nearly looked like a goaltending call; Connolly, infuriated, turned to the refs to protest but was immediately hit with a technical foul.
Freshman Tyler Nelson (10 points) hit the two free throws, and the Raiders took a 70-69 lead with 1:17 left on a nice feed from Puello to Zenevitch.
"I was kinda going like this," Connolly said, feigning a brushing motion. "And I touched him, and he said because I touched him he called the T. So...I don't know, but it looked like a goal tend to me."
Connaughton tied it up at 70 by hitting the first of two free throws with 56 seconds left, and then came through with the heroics a handful of seconds later.
PLUGGING PUELLO
Last week, following the Raiders' buzzer-beating win over archrival Andover, Luis Puello was asked by an ESPNBoston reporter whether he expected to be assigned to Connaughton tonight,
to which he responded
, "Of course. I don't care if he's 6-7, you know what I mean, I'll play him all night. We'll see what happens."
On the soccer pitch, they might call Puello's defense of Connaughton "marking". The junior, considered one of the state's best on-ball defenders, followed Connaughton all over the floor wherever he wandered when the Raiders went to man-to-man sets. And while Connaughton ended up with a double-double, it wasn't without its share of troubles.
"He's got very quick feet, probably one of the best on-ball defenders I've ever seen in high school," Connolly said. "He makes it tough. I mean, you've got to work to score on Puello. He does a good job denying you, he's physical, moves his feet better than anyone I've ever seen. So I mean, he makes you work."
Said Connaughton, "Puello plays tough 'D'. He's always moving, and it's really kinda hard to get used to. I mean, he did a great job the entire game. I got the best of him at the last one, but really he played the best of anyone who's defended me all year."
CARDIAC CARBONE
With the Eagles holding a 36-31 lead at the half, but some of their key players like Haladyna in foul trouble, they turned to junior Michael Carbone for some big buckets in the third quarter. And boy did he deliver, scoring 11 points (two 3-pointers), knocking down all his free throws and going 3 of 4 from the field.
"Mike had a very good game. He's a tough kid," Connolly said. "He stepped up and made some big shots for us. I mean, he's been playing well. He did a very good job defending Morales, made him work the whole time, so he did a great job for us."
February, 18, 2011
2/18/11
1:40
AM ET
By
Brendan Hall
| ESPNBoston.com
ANDOVER, Mass. -- Among all the sub-plots and side stories headed into the latest installment of this intense cross-river rivalry at Andover High, the most intriguing one might have been the one-on-one matchup between Andover's Joe Bramanti and Central Catholic's Luis Puello, widely considered two of the state's premier perimeter defenders.
No disrespect to the talented Bramanti, but Puello never looked at it that way. Never has, never will. Never puts these things on a pedestal.
[+] Enlarge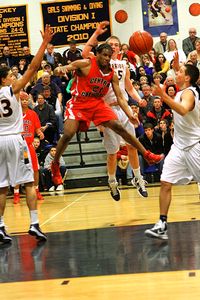 Kristen Hunt for ESPNBoston.comLuis Puello's man-to-man defense against Andover star Joe Bramanti paid off in the fourth quarter, as Central Catholic completed its comeback.
"I don't really prepare for it, man. I just play defense," Puello smiled in his trademark bluntness. "I just play hard, I just play him straight up. I didn't really think about it too hard, except to just challenge every shot and contest him. That's about it."
So did he take this as a personal challenge?
"Of course, I take every challenge as a personal challenge," Puello said, quick to interrupt the reporter's follow-up question. "That's how I am. I'm competitive, whoever challenges right in front of me I'm going to try and beat him. That's about it.
"I don't care, I legit...I don't even take it as a role. I just do it. If you're the best player on the court, I'm guarding you. If you want to guard me, that's fine. But I won't let you score on me. If you're better than me, I'm going to work harder than you."
Suffice it to say the 6-foot junior made his mark in the Raiders' 59-56 win over Andover. He might be remembered most from this game for his beautiful dish to Jaycob Morales to set up the buzzer-beating three-pointer that silenced the raucous Golden Warrior crowd, but where he did most of his damage was in the six inches in front of Bramanti's face.
With his blank, focused stare, Puello picked up the ballcarrier Bramanti as soon as he took the inbounds pass, digging his chest into his opponent's upper torso; keeping his shoulders square; keeping his arms active; driving his hips; and keeping his hips open, shuffling with his man step for step wherever the 6-foot-3 swingman tried to go on the court.
Bramanti got his, finishing with a game-high 22 points. But Puello had clearly done his damage, dogging Bramanti into a 6 for 20 night from the field. Andover head coach Dave Fazio admitted Bramanti might have been a little worn out by the fourth quarter, after the Warriors stormed back with a 22-4 run.
"Yeah totally, and he's a freaking warrior," Fazio said. "He's got to cover, rebound, yeah totally, fatigue's definitely a problem. I've got to do a better job of resting him. But the problem is, when the hell do you rest him? It's hard. So we try to use timeouts to get him some water, but this is the horse we've got. And we've got to ride him, you know."
On the other side, Puello's own teammates found themselves praising Puello's defense -- yet again.
"He is the best on-ball defender in the state," Central head coach Rick Nault said. "I've said that for two years now. It's just remarkable, his athleticism, his quickness, and Joe's a tremendous player – he might have gotten 30 tonight, I don't know. But he worked for every single point he got. Luis wants that assignment. He takes that as a personal challenge."
Said Morales, "I mean, I'll be the first one to tell you, he's the best defensive guard in the state. I may be in the minority, but I haven't seen a guard who can defend like him. He gets into people, he makes people become a whole different person when he's defending them."
He might know better than anybody else at the school, having first befriended Puello years ago during pickup games at the Boys & Girls Club of Lawrence. That rivalry continues every day in practice -- one getting the better of the other one day, vice-versa the next -- and the chemistry is evident on the court.
But when it comes to that lateral quickness Puello uses to stay on his defenders, Nault says that's all on him.
"To be honest, there hasn't been any development on our part –- it's God-given," Nault said. "You know, we've spent a lot of time in practice, on him playing the ball. But in terms of teaching him how to defend, he's learned that all on his own. He really has."
Puello says he "just want(s) another ring -- that what it's all about", alluding to a potential repeat as Division 1 state champions. While he's waiting, there will be ample opportunity the next seven days for a tune-up -- if not in his own battles with Morales, then in the ones looming from two teams ranked in the top 10 by ESPNBoston's state-wide MIAA poll.
The Raiders first look forward to this weekend's IAABO Board 130 Tournament on their home court, where a potential Monday final with No. 7 Lynn English looms. Should that pan out, one should expect Puello to badger the Bulldogs' Travonne Berry-Rogers, one of the North Shore's most physical playmakers. Then Wednesday night, in Danvers, it's a showdown with St. John's Prep and its Notre Dame-bound leader, ESPNU 100 shooting guard Pat Connaughton.
Asked if he expects to cover the 6-foot-4 Connaughton, Puello exclaimed, "Of course. I don't care if he's 6-7, you know what I mean, I'll play him all night. We'll see what happens."
Surely, he'll keep his feet active, and engage him in one of those trademark stare-downs, the ones with that Zen-like focus.
The trick to Zen, of course, is not thinking.
February, 18, 2011
2/18/11
12:28
AM ET
By
Roger Brown
| ESPNBoston.com
ANDOVER, Mass. -- Jaycob Morales wasn't the first option, but he turned out to be the best option.
Thursday night's boys basketball game between Andover High and Central Catholic was tied when Central coach Rick Nault called a timeout with 12.5 seconds remaining in regulation. Nault called a play designed for junior guard Luis Puello or 6-foot-7 senior Jimmy Zenevitch to take the final shot.
Andover had the play well-defended, however, and with time running out Morales launched a shot from behind the 3-point line that fell through the hoop as time expired to hand the Raiders a 59-56 victory.
"It wasn't a shot that I was just praying to go in," Morales said. "It felt good. I was happy with a shot like that, make or miss.
[+] Enlarge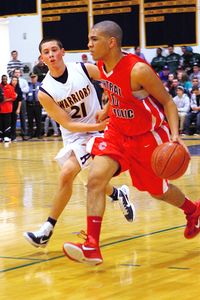 Kristen Hunt for ESPNBoston.com Jaycob Morales couldn't have picked a better time to score his first career buzzer-beater.
"You could say I'm not incredible (from three-point territory), but it's more that I don't shoot the ball as much. My team does have a lot of confidence in me, and that really helps me out with my shooting."
Morales finished with 10 points, including three 3-pointers.
"We didn't want to run anything until there were eight seconds to go," Nault explained. "I told Jaycob the first option was a handoff to Luis. Our first look was to create something one-on-one. Our second look was Jimmy on a dive.
"We knew the defense was going to collapse. I said, 'Jaycob, your guy's gonna sag. You've got that kick-out three at the buzzer.' He made it."
It was the second time Central Catholic has defeated Andover in three tries this season. The Raiders, the No. 1 team in ESPNBoston's MIAA Top 25 poll, raised their record to 17-1 overall, and 13-0 in the Merrimack Valley Conference.
Andover, which received 22 points from senior guard Joe Bramanti, dropped to 13-4 overall and 9-4 in the MVC.
"We did everything we're supposed to do [on the final possession], and then we lose Morales in the corner," Andover head coach Dave Fazio said. "They make a huge shot. They always make big plays. I feel bad for the kids. It's their Senior Night, but it's a learning experience for us. It doesn't cost us anything because we couldn't win the league anyway. It's a pride game. It's a Duke-North Carolina game."
He added, "I just put on the board: Victories tell you a little, defeats tell you a lot."
Central Catholic received a game-high 26 points from Zenevitch. Puello finished with 12. Craig Luschenat tossed in 13 and was the only other Andover player to reach double figures.
"This rivalry is truly the best rivalry in the state in my opinion –- in terms of high school basketball," Nault said. "It's something special to the kids."
Central Catholic held a 27-20 lead at halftime, but no one in the gym could have predicted what unfolded in the third quarter. Andover scored the first 18 points in the third. Central Catholic didn't score until Morales made a 3-pointer with 1:22 left in the quarter.
Andover led 42-31 entering the fourth.
"I thought we played a very energetic first half," Nault said. "In the third quarter we were very flat with emotion, and offensively there were a lot of guys standing around. We weren't getting any ball movement. We weren't getting guys in the post. We weren't getting ball reversals, and we struggle when we do that."
"When you're down going into any quarter – especially the fourth – if you stay calm and trust in your team then you can pretty much do anything you want," Zenevitch said.
Central Catholic went on a 17-2 run at the start of the fourth and led 48-44 with 5:12 to play. Zenevitch made two old-fashioned three-point plays during the spurt. He scored 14 of his 26 points in the fourth.
The Raiders led 56-53 after Zenevitch made his final field goal with just over a minute to play, but Andover tied the contest on a Luschenat 3-pointer with 56.8 seconds left. It remained that way until Morales connected on the 3-pointer that made him the game's unlikely hero.
"The game is all tempo and momentum," Fazio said. "It's no excuse, but fatigue obviously plays a factor with our guys and our depth.
"The difference in the game is Zenevitch. We just can't match up. We have to cheat, and when you cheat and you help other guys make you pay."
February, 5, 2011
2/05/11
12:35
AM ET
By
Corey J. Allen
| ESPNBoston.com
LAWRENCE, Mass. -- The Central Catholic boys' basketball team comes out of the locker room to Fat Joe's 2006 platinum single, "Make it Rain", and rightfully so. The Raiders, when on top of their game, shower teams with knuckle-up defense that greatly alters game plans; and coupled with a barrage of offensive weapons, going hard in the paint and draining rainbow threes, sends the opposition running for the nearest exit.

Although they jumped out to an 8-2 lead in the first quarter, No. 14 Lawrence was bombarded in the second quarter, 29-7, and never regained the lead or came close, as pole position No. 1 Central Catholic defeated their cross-town rival 81-54.

"They gave us a punch in the mouth at the start of the game," Central Catholic head coach Rick Nault said. "We got back up and responded; we gave them a punch in the mouth. I think our intensity dominates games on the defensive end."

"I took it upon myself to play more defense," said Central junior captain Luis Puello, who had four steals. "Especially since Jaylen Alicea (nine points) is such a great player, but I love the competition, that's why I love playing him."

Although Puello loves being competitive, he is humble, and defers to his teammates who are also adept at scoring -- even when he is hot. In the second quarter, when Central was opening up the game, Puello pitched the pill to freshman Tyler Nelson, who flushed two three-pointers that sent the Raiders' stands going crazy for the baby-faced gunner.

"Me and Tyler had been playing all summer long," Puello said. "As soon as he joined the team, I said 'We have a good opportunity to win.'… Especially when I drive, I know they back off, or they try to help, but I know I've got my boy Tyler's who's going to hit the three automatically, and I always have confidence in him."

"I know in the game, with players like Luis and Jaycob [Morales] being so aggressive," said Nelson, "and being able to take it to the basket, that I was going to get open if they hedged a little bit, and I had my shot."

Morales (six points, four assists) was being forceful, jawing back and forth with a Lawrence player, the two of them being cautioned by the referee to keep the play civil, but he relishes the gritty play and allows it to enhance his game.

"I'm an aggressive kid," said Morales, who had four charges called against him. "So I like when someone comes at me, especially since I know almost every player on that basketball team personally, because I am from this town."

Although he plays with vigor, as a senior point guard Morales has to maintain equanimity, and keep the flow of the game in favor of his team.

"Once we set up, no one is stopping us," added Morales.

One of the team's best set up men is 6-foot-7 senior Jimmy Zenevitch, who tallied 22 points and seven rebounds on the day. Some of his points came from looks his teammates gave him, but he also made the best use of offensive rebounds, banking some in off the glass.

"We are averaging 17 offensive rebounds a game," said Zenevitch. "I think that's one of the biggest reasons we are winning right now."
August, 31, 2010
8/31/10
11:50
PM ET
LAWRENCE, Mass. -- In years prior, No. 22 Central Catholic found itself the victim of the critical turnover -- the fumble with a goal-to-go, a costly interception to swing momentum. That translated to a 5-6 record in both 2007 and '08.
In 2009, things just seemed to come around.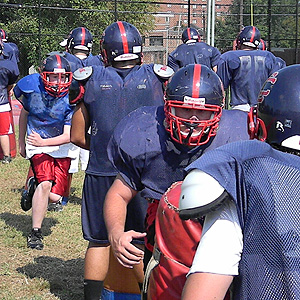 Scott Barboza/ESPNBoston.comCentral Catholic hopes to build on its turnaround season of 2009.
"I've found there's a very fine line between 5-6 and 8-3," Raiders head coach Chuck Adamopoulos said. "Last year, it was a group that just made plays. We had more than a couple times we made a play and came up with a big turnover at a big time in the game.
"In those years before, when we went 5-6, quite frankly, we weren't the team that was doing that."
A collection of tiny moments, small actions stitched together form the fabric of a season. And the Raiders were finally able to take hold of those last year. Such as when Cam Walsh's clutch field goal lifted the then 0-1 Raiders to a dramatic 15-14 win over St. John's Prep in Week 2. From there, Central Catholic ran off a string of six straight victories, putting them in contention for the Merrimack Valley Conference title.
Even after two straight losses (in a squeaker to Methuen and a drubbing administered by Billerica) to dash their MVC hopes, the Raiders rallied to snap a three-year skid against rival Andover on Thanksgiving morning.
It's brought a sense of optimism.
"I'd like for us to finish with a winning record, obviously, first of all," said senior running back and linebacker Trae Musumarra. "But I'd like to think that we can win it all. I'm feeling good about this season, real good. We're young, but I think we're going to make our mark."
If the Raiders are to do so, Musumarra will have to be a big contributor to the cause.
"He's explosive," Adamopoulos said, "he's a good player and we need him to have a big season for us to do well as a team."
It's a heavy weight to bear for the 6-foot, 190-pounder.
Musumarra, who has been clocked running a 4.5 in the 40, tallied six touchdowns on offense while collecting seven sacks playing as an outside linebacker last year. But there have been plenty of changes. While the Raiders will continue with their spread attack, Adamopoulos is going to a 4-3 instead of their customary 3-4 because of their losses at linebacker.
"I think we've had more learning to do this year because we're moving to a 4-3," Musumarra said. "Now, it's our job to pick up the leadership and make sure the younger players are getting it. With a lot of younger kids in there, there's a lot of learning to do."
Yet, for all the formations to remember and coverage schemes to study, Central Catholic's success will once again hinge on performance — making the big play in the biggest moments.
Just like Walsh's kick against Prep last year.
"Confidence is really what you need to kick the ball well," said the senior captain.
"It's more of a mind game."
The Raiders will have that covered.
CENTRAL CATHOLIC AT A GLANCE
2009 record:
8-3 ( Merrimack Valley)
Coach:
Chuck Adamopoulos (14th year, 90-50)
Players to watch:
Trae Musumarra, Sr., RB/LB, 6-0, 190 lbs.; Jaycob Morales, Sr., TE/LB, 6-0, 180 lbs.; Ryan Sullivan, Sr., WR/DB, 5-10, 150 lbs.; Cam Walsh, Sr., RB/DB/K, 5-10, 175 lbs.; Brendan Hopkinson, Sr., OL/DL, 6-1, 240 lbs.; Henry Rodriguez, Jr., WR/DB, 5-11, 175 lbs.
Strengths:
Depth at wide receiver and secondary, team speed.
Weaknesses:
Depth and experience at linebacker, experience on offensive and defensive lines.
Outlook:
The biggest transition the Raiders will face will be on defense with Adamopoulos' move from a 3-4 to a 4-3. The linebacker corps is also in flux, but will be anchored by strong-side linebacker Jaycob Morales. The secondary is the strength of the group with Zach Bardwell and Walsh holding down the corner spots. On offense, Adamopoulos' outlook is almost giddy with excitement. "This is probably about as talented a group of receivers we've had in a very long time." There are plenty of weapons between Xavier Peralta, Henry Rodriguez and Ryan Sullivan. The question is: Who will throw them the ball? Right now, it's a two-man race between Bardwell and junior Matt McDermott. The line is a little lacking in the experience department, but senior center Brendan Hopkinson provides stability. At the tackles, juniors Ryan Barry and Christian Nunez will give the Raiders capable bookends for the next couple years.