Boston High School:

Jaylen McRae
December, 3, 2011
12/03/11
11:32
PM ET
By
Bruce Lerch
| ESPNBoston.com



WALTHAM, Mass. -- You hear all the time about how important the high school football team is to the city of Everett, but you can't truly appreciate it until you see what the Crimson Tide players look like following a Super victory.

The rivers of tears streaking down their faces. The emotional hugs and hearty backslaps shared between teammates, friends and brothers. The coaches seeking out players to share in those moments amidst the throng of supporters from the city that have come to take part in celebrating with their players.

Football is Everett. Everett is football.

"It's a culmination of 17 years for me and Jonathan and four years for these seniors and, it might sound corny, but a lot of our kids don't have much," said Crimson Tide coach John DiBiaso, choking back tears and shivering from the cold after being soaked with the postgame Gatorade dump. "What they have here means something special to them. No disrespect to the other team but a lot of our kids don't have much, and the school and this team are their lives. I'm very happy for them."

They may not have much, but they do have a second straight Super Bowl championship. One that they earned against a Lincoln-Sudbury team who were expected to be mere cannon fodder but turned out to be one of the toughest opponents Everett faced all season long. L-S punched at Everett like few teams have this season. But the Tide stood tall, exactly like champions are supposed to do.

When the Warriors threw a punch, Everett took it and threw counter punches. Tom Lopez's L-S squad trailed at the half, 21-6, but kept the highest scoring team in Massachusetts off the scoreboard for the entire third quarter. In the process, they closed out the frame with a nine-play, 64-yard drive that ended with a 14-yard touchdown pass from Matt Cahill to Jack Harris to get to within a single score.

Then, Everett came right back three plays later and watched as Jakarrie Washington took a jet sweep around the right end and slipped down the sideline on great blocks by receivers Jaylen McRae and Jalen Felix. Then, Washington pulled the move of the night, hesitating for a split second for a stutter step in mid-sprint to throw his pursuer off stride, then easily ran the rest of the way for a game-changing 63-yard score.

"I always wanted to play for Everett High and ever since I got here," Washington said. "I did whatever I had to do to start and play. I love this man Jonathan, he's the best quarterback in the state right now and he should be doing better things in college. I have one of the best coaches in Massachusetts. We live in Everett, its mostly a football city, so we just stay lifting and getting ready for every season. We just try to perfect whatever we do."

From the moment Washington crossed the goal line, everything changed in what was a highly competitive battle. Everett forced L-S to punt, a favor which the Warriors returned. However, the Tide forced a fumble which Vondell Langston recovered at the 20. Three plays later, DiBiaso had his second scoring run of the game.

L-S got one more chance with 3:30 to go, but Washington intercepted Cahill on their third play to lock up Everett's ninth Super Bowl title under Coach DiBiaso.

"Its indescribable, its an amazing feeling," Langston said. "It means a lot to me because there's millions and millions of other people out there and how many of them can say they've been to two Super Bowls in a row and won both of them. We've been to three and won two. Not many people can say that."

The most emotional person in sight was Jonathan DiBiaso. The state's single season (44) and career (103) leader for touchdown passes in Massachusetts. His 108 passing yards last night gives him 7,052 for his prolific career. Not to mention his second Super Bowl championship, earned once again with his father guiding him along the way.

"This is great. I've been here my whole life," DiBiaso said while losing the battle with streaming tears and a choked up throat. "I love Everett, I love my teammates, I love my coaches, I love everything about Everett and to go out a champion means everything to me."
October, 28, 2011
10/28/11
10:54
PM ET
By
Bruce Lerch
| ESPNBoston.com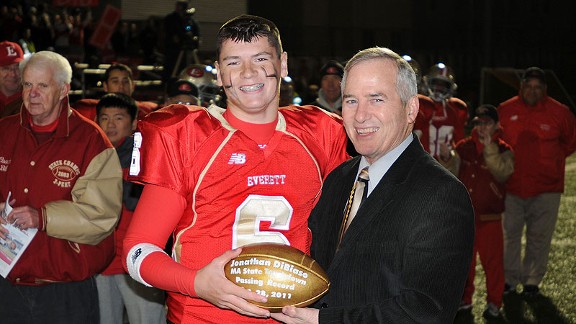 Jim Valente Everett quarterback Jonathan DiBiaso was presented a ceremonial game ball by school superintendent Frederick F. Foresteire commemorating breaking Massachusetts' all-time touchdown pass record (85) during Friday night's game in Everett.
EVERETT, Mass. -- In front of his family, friends, and a special group of kids holding placards in the stands to commemorate the moment, Everett High quarterback Jonathan DiBiaso did something he never dreamed of when he was a mere toddler hanging around the Crimson Tide football program.
DiBiaso entered last night's Greater Boston League affair with Medford needing four touchdown passes to break the Massachusetts record of 85, held by former Brockton star Tommy Colombo. He collected all four in the first quarter, with the record-setting score coming on a 55-yard touchdown pass to a streaking Jaylen McRae down the right sideline.
DiBiaso completed 9-of-12 passes for 209 yards and threw six touchdown passes in all to five different receivers as top-ranked Everett (8-0) bested the Mustangs, 41-14, Friday night at Everett Stadium.
"Definitely it was an emotional moment," DiBiaso said following the game. "Definitely playing for Everett, playing here in front of all my friends and family and the community, it was a special moment. We played well, we got the win, and its been a great night."
Both his father and Everett head coach John DiBiaso and quarterbacks coach Joe Lento noted that they sensed some nervousness in the senior in the lead-up to the game.
The 6-1, 195 southpaw appeared to have shaken off any apprehension he was feeling when the game started, however, as he fired his first scoring strike, 36-yarder to Vondell Langston, on Everett's first play on offense.
He added a 9-yard touchdown pass to Kenny Calaj on the Tide's third play from scrimmage, then tied Colombo's record with an 8-yarder to Jakarrie Washington.
On the record breaker, McRae simply flew past his man and DiBiaso lobbed a perfect pass down the right sideline and celebrated with his teammates after McRase crossed the goal line.
"That play we just try to have the inside guy run a post and Jaylen McRae ran a fade," DiBiaso described. "They were playing man-two, two safeties over the top, and the safety went with Jalen Felix. (McRae) beat his guy, made a great catch and scored a touchdown."
The game was halted for several minutes as Everett Superintendent of Schools Frederick Foresteire presented DiBiaso with a gold-painted football to commemorate hi accomplishment. The two posed for pictures with members of the DiBiaso family, including his parents, John and Maureen.
When play resumed, DiBiaso hit both Calaj and Felix for 29-yrd TD passes and the Tide starters headed for the bench after building a 41-0 lead with 5:45 remaining in the first half.
"It was one of those moments where you make eye contact and a tear comes to your eye," said Everett coach John DiBiaso when asked for his reaction to his son's moment. "I knew before the game he was really nervous in the warmups and all day he was on edge. But then when he came down and the national anthem, I looked over at him. We both pray during the national anthem and he was really watery eyed. You could tell it was a special night."
"It went about 55 yards in the air and hit him in stride," the elder DiBiaso continued. "I said to him that's a nice one we can put on video for your record breaker. Again, its a special record. The Colombos', they are synonymous with high school football in Massachusetts, the dad and the son, and to break that is very special."
Added Lento, "He put in all the work. Its all a credit to him. Its all a credit to him studying the game film and getting himself better every day as a football player. He deserves this. In the middle of the game its not my thing to go up and celebrate but after the game we shared a little moment where we talked about all the hard work that he's had and about how going forward we've got our eyes on bigger, better things than this."
EVERETT 41, MEDFORD 14
MED (1-6) 0 0 0 14 --- 14
EVR (8-0) 27 14 0 0 --- 41
First Quarter
E - Vondell Langston 36 pass from Jonathan DiBiaso (Gilly DeSouza kick)
E - Kenny Calaj 9 pass from DiBiaso (DeSouza kick)
E - Jakarrie Washington 8 pass from DiBiaso (DeSouza kick)
E - Jaylen McRae 55 pass from DiBiaso (kick failed)
Second Quarter
E - Calaj 29 pass from DiBiaso (DeSouza kick)
E - Jalen Felix 29 pass from DiBiaso (DeSouza kick)
Fourth Quarter
M - Jeff Fargo 2 run (rush failed)
M - #40 23 run, (#36 rush)
October, 25, 2011
10/25/11
1:45
AM ET
UNEQUAL AT 11 ON 11
It might be even in man power, but Everett's receivers feel they're always at an advantage.
"There's 11 men on both sides, but they can't cover all of us," junior wideout Jalen Felix said after the Crimson Tide's 35-21 win over BC High on Saturday.
Felix had a coming out party as a legitimate big play receiver an Everett touchdown drive in the second quarter. On that drive, Felix made an other-wordly one-handed grab laying on his back with a BC High defender in his back pocket.
Still, the Everett offense isn't a one-man show. Kenny Calaj, Jakarrie Washington and Jaylen McRae all bring different elements to the Crimson Tide passing attack. Not to mention, Vondell Langston is running out of his mind of late (two straight 100-plus yard games).
"If I make a good play, it's because of my teammates," Felix said. "It's not because of me., it's because they did their jobs that I had the opportunity to do mine and vice versa."
ALL EYES OUT WEST
Springfield's Blunt Park bustled with activity on Monday afternoon. Two junior varsity football game were ongoing, the were a soccer game being played at Springfield Central HIgh in the distance, cheerleading practice, along with that of both Central and Springfield Putnam's varsity football practice.
There you could find two of the elite rushers in Massachusetts this year, practicing within about a football field's distance from each other.
Melquawn Pinkney has garnered plenty of headlines with his multiple 300-plus yard games as a legitimate Mr. Football Award contender.
But, last weekend, it was Central's Sacoy Malone who stole the show in another record-setting performance.
Malone fell one touchdown shy of a Western Mass. record with a school-record seven-touchdown performance against Northampton to go along with 301 yards on the ground.
It's just another in the long line of weighty accomplishments compiled by the best the Springfield area has to offer.
"I think the me, Melquawn [Pinkney] and T.J. [Norris of Longmeadow] and what we've done this year, we're out to show that there is talent actually out here," Malone said during an interview for ESPN Boston's Player of the Week segment.
"Hopefully, we show that there's a possibility that you can make it to play in college coming from here."
So far, Malone has college offers from Fordham along with Central Connecticut State. Something tells us there might be more to come.
NEEDHAM SETTING NEW CHARTER
With star quarterback Drew Burnett (broken ankle) done for the year, Needham head coach David Duffy told the media early last week that he would likely use a rotation of three kids under center to fill the role in last Friday's pivotal matchup with Walpole.
Few could have expected a sophomore by the name of Ryan Charter to make such an impact on such a crucial Bay State Conference tilt, albeit on less than a half-hour's notice.
"Honestly, I found out (that I would start about) 20 minutes before the game," Charter told ESPNBoston correspondent following the Rockets' 31-22 win. "A couple kids were telling me, 'You're going to get in the game.' I was, like, 'Alright, that's all I need.' But I didn't know until today."
The numbers Charter put up in his debut (5 of 10 passing, 222 yards, 2 TD) suggests that the X-factor with this Rockets squad falls upon two Rileys.
Mark Riley had touchdown catches of 67 and 74 yards to pace the Rockets early, and showed once again why he is one of the state's premier pass-catching tight ends. Armed with a lacrosse skill set and an athletic frame, the senior takes on an Aaron Hernandez-like role with the team – that is, a tight end by nature, but one that lines up all over the field to create mismatches. Ian Riley, meanwhile, went over the century mark again as the team's primary weapon out of the backfield.
Coupled with guys like Nico Panepinto, Mike Vespa and Dan Pierce, that's a vicious group to deal with.
CONCORD-CARLISLE IS OFFICIALLY A WAGON
Like probably a lot of you, we raised our eyebrows at the final of Concord-Carlisle's vicious romp of Westford two weeks ago: 61-14, and with relative ease. Tyquan Culbreath kicked things off with two long touchdowns on his first three carries, part of a combined 336-yard effort between himself, Tim Badgley and midseason All-State selection George Craan.
But as the old saying goes, you never look as good in your best win, and as bad in your worst loss (or something like that). But we couldn't help but rush to judgment this week, given the Patriots' historic win over long-time Dual County League powerhouse Acton-Boxborough. C-C knocked off A-B in convincing fashion, 35-12, for its first win over the Colonials since 1987.
Patriots head coach Mike Robichaud admits the offense has been ahead of the defense in many games this year -- and the score sheet (39.1 points per game) undoubtedly reflects that. But not to forgotten is the precision of the offensive line and the swarming style of play the defense has demonstrated.
Robichaud and his staff gush about the skills of center Andrew Vander Wilden, an ESPN Boston midseason All-State selection and a horse at 6-foot, 245 pounds. Combined with Tom Gregory, Thomas Kleyn, Trevor Castrichini, and Owen Guattaduaro, the Patriots boast an offensive line on par with some of the state's other top units like Everett, Duxbury, BC High or Auburn. Add 6-foot-6 tight end Henry Bumpus into the mix, and that's quite a chore.
"Henry Bumpus is one of the best blocking tight ends I have ever seen at the high school level," Robichaud told correspondent Ryan Kilian following the A-B win. "He has been doing this for us for three years now. On defense teams cannot run at him at this point. He just does a great job and plays the entire game for us."
Defensively, Bumpus makes his impact felt at the defensive end position, and has been a load to handle.
"I was really proud of our defense," Bumpus told Kilian. "That is a very good offensive football team and we did a good job stepping up tonight. On offense we have five of six returners back on the line and we are really focused on getting back to where we were last year. We are blocking well right now and the backs are hitting the holes well so it is all coming together for us."
IS THE CATHOLIC CONFERENCE WIDE OPEN NOW?
That's the question on everyone's mind in the wake of a devastating season-ending ankle injury to BC High's Preston Cooper -- a Darren Sproles-like fixture for the No. 5 Eagles, the reigning Catholic Conference MVP, an ESPNBoston Mr. Football candidate, and arguably the state's top prospect at tailback.
Nobody will argue the Eagles have one of the state's most competitive schedules in arguably the state's toughest conference. There isn't a bad loss on the schedule, including the New Jersey teams, and there isn't a poor win. And personally, we feel Deontae Ramey-Doe is a more than suitable backup, should the Eagles go that route -- his upright running style, while a change of pace from the low-moving Cooper, has an air of deception to it.
But there's four teams with a shot here. Xaverian, with competitive losses to each of our Top 3 teams, has too good of a coaching staff and defensive line not to throw some haymakers in conference place. Catholic Memorial is showing signs of life, and has to be encouraged by A.J. Doyle's four touchdown passes and 200-plus yards last week.
The wild card in all of this is St. John's Prep. With a green line, quarterback change and an offense that sputtered out of the gates, many had written off the Prep as a team in rebuilding mode. But the emergence of sophomore Jonathan Thomas the last two weeks has some giving second thoughts, especially after putting up 41 points on St. John's of Shrewsbury two weeks ago.
This could be one of more exciting races for conference supremacy, and it all starts Friday when the Prep takes a visit to Catholic Memorial. Get your popcorn ready.
THE BEST QUARTERBACK NOBODY'S TALKING ABOUT
Write this name down: Greg Heineman.
Quietly, the Minnechaug senior is putting together one of the state's finer seasons for a signal-caller. While he didn't register a touchdown pass in last week's 21-14 win over Westfield, he finished up with 347 yards on 26 of 37 passing.
Through seven games for the 7-0 Falcons, who come in at No. 22 this week in our statewide MIAA poll, Heineman is completing nearly 62 percent of his passes for 1,742 yards and 15 touchdowns to just four interceptions (our friends at MassLive have his
stats tracked here
). Seven different Falcons players have caught a touchdown pass, which suggests Heineman demonstrates good reads and hits the open man.
October, 23, 2011
10/23/11
1:12
AM ET


EVERETT, Mass. –- It's always a numbers game against No. 1 Everett's offense.

Stack the box and Jonathan DiBiaso will pick apart a secondary. Slip too many people into coverage and Vondell Langston is equally adept at gashing a defense.

Either way, there's no simple solution and, as the Crimson Tide showed in their 35-21 win over No. 3 BC High on Saturday afternoon, maybe there's simply too much to stop.

"We know that if they play one side, they're bound to leave the other side open," Crimson Tide wide receiver Jalen Felix said. "So I feel as though they can't cover all of us.

"There's 11 men on both sides, but they can't cover all of us."

Everett (7-0) played the role of aggressor from the game's onset recovering an onside kick to start the game. Five plays later, the Crimson Tide had an instant 7-0 lead with Vondell Langston's first of two rushing scores. Along with two rushing touchdowns by quarterback Jonathan DiBiaso, Everett took a 28-14 lead to the half.

It didn't matter much how they drew it up, the Crimson Tide kept the Eagles (4-3) guessing. Langston turned in his second straight game going over 100 yards (20 carries, 102 yards) while DiBiaso settled into a groove with the passing game (14 of 28, 252 yards, TD) and creating additional offense with his 52 rushing yards.

"If there's five guys in the box, we run," Everett head coach John DiBiaso said. "If there's seven, we pass. The whole first half, I think there was five in the box. So that means that we've got five blockers on five defenders, so we're going to run the ball and we did. Second half, they came out with six."

After moving the BC High defenders up into the box, that gave DiBiaso the space to continue his assault on the state's career touchdown record. The left-handed signal-caller is now three off of Tommy Colombo's record after a 64-yard connection with Jaylen McRae in the third quarter.

Still, the Eagles were not without their own offensive highlights. Eagles quarterback Bartley Regan also dialed up two touchdown connections of greater than 60 yards with a 72-yard hitch-and-go to Lincoln Collins and a 60-yard bomb caught in stride by Yosa Nosamiefan.

In addition, running back Preston Cooper, the reigning Catholic Conference MVP, was elusive again with 15 carries for 161 yards including a dazzling 58-yard touchdown run in the third.

However, Cooper likely played in his last high school game after suffering a dislocated ankle with less than a minute to play in the third quarter. On the drive following his touchdown run, Cooper was cut down on a tackle in between the hash marks. An audible cry for help underlined the severity of the injury.

"It's a big loss losing Preston," Eagles head coach Jon Bartlett said. "He's one of the top players in the state, if not the top running back in the state."

A STAR IS BORN?
The talent Everett enjoyed with receiving duo of Manny Asprilla and Matt Costello last season is about as common a find as Haley's comet, but the Crimson Tide have plenty of horses in the stable this year with juniors Kenny Calaj, Jakarrie Washington and Jalen Felix.

Felix's play was downright electric on the second quarter drive that resulted in DiBiaso's second rushing touchdown. The 6-foot, 180-pounder added 57 receiving yards on two of the most amazing catches you'll ever encounter.

The highlight was Felix's 18-yard reception to set Everett up with a first goal at the BC High 4-yard line. On the play, Felix lost his balance and was hurdling toward the turf with tight coverage provided by the Eagles' corner. No problem. Felix simply made a one-handed grab with his back to the ground with the defender in his back pocket.

"I just slipped," Felix said. "I was just thinking, I have to catch this ball."

Felix acknowledged that no one player, even in the talented cache of weapons DiBiaso has at his fingertips, is greater than the sum of the whole.

"If I make a good play, it's because of my teammates," Felix said. "It's not because of me., it's because they did their jobs that I had the opportunity to do mine and vice versa."

Even their coach was in awe.

"I think you saw some of the finest plays you'll ever see in a high school football game today," DiBiaso added.

… WITH THAT SAID
The Eagles actually did a fair job of slowing down the Tide in pass coverage. Gordon McLeod came away with an interception while Nosamiefan and Deontae Ramey-Doe each had two passes defensed.

BC High also had spurts of pressure put on DiBiaso with a Jameson McShea tallying a sack and Luke Catarius single-handedly blowing up a couple of running plays in the backfield.

It just wasn't quite enough to hold in the end.

"Our DBs played well," Bartlett said. "We challenged them and they rose to the occasion."

MOMENTUM SHIFTS
You could practically hard a pin drop when Cooper went to the turf following his grizzly injury (save for some nimrods who celebrated the injury in an utterly tasteless and classless display from the sideline). But more than Cooper's absence, the play provided yet another negative shift of momentum for the Eagles.

"There were a few plays that we hurt ourselves," Bartlett said. "I give a lot of credit to Everett and they're a good team, but there were a number of times where we shot ourselves in the foot."

There were interceptions by Felix and corner Gilly DeSouza, in addition to a fumble recovery by DeSouza. There were also a pair of roughing the kicker penalties, which extended Everett drives in the second half.

It all left the Eagles asking what if?

HIGH PRAISE
DiBiaso said he was sickened by the injury to Cooper and the reaction of a few in attendance. He also laid heavy praise on the wounded Eagle, comparing Cooper to some of the Crimson Tide's best.

"We've had guys like Isaac Johnson and Diamond Ferri in the past, he's right up there with those guys.

"They were just trying to let him pick his way. He's a talented running back. If you overplay, he cuts it back. Then you think he's going to cut back and he takes it out wide."

BC High (4-3) 7 7 7 0 -- 21
Everett (7-0) 14 14 7 0 -- 35

1st quarter
E - Vondell Langston 12-yard run (Gilly DeSouza kick)
BC - Lincoln Collins 72-yard pass from Bartley Regan (Jackson Bockhurst kick)
E - Langston 3-yard run (DeSouza kick)

2nd quarter
E - Jonathan DiBiaso 2-yard run (DeSouza kick)
E - DiBiaso 4-yard run (Gilly DeSouza kick)
BC - Yosa Nosamiefan 60-yard pass from Regan (Bockhurst kick)

3rd quarter
BC - Preston Cooper 58-yard run (Bockhurst kick)
E - Jaylen McRae 64-yard pass from DiBiaso (Gilly DeSouza kick)
October, 15, 2011
10/15/11
11:04
PM ET
By
Brendan Hall
| ESPNBoston.com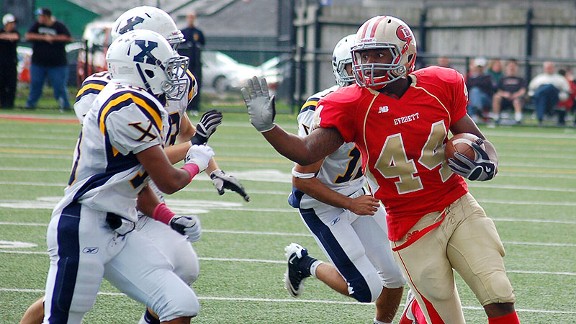 Brendan Hall for ESPNBoston.comDonning the jersey of his close friend and injured captain, Everett's Vondell Langston went off for a career-high 203 rushing yards and two scores on 15 carries.
EVERETT, Mass. -- Buck McCarthy sat on the Everett High sideline slouched in a chair, crutches laying in front of him, his left leg heavily casted, and could only gaze out at the game unfolding that he'll never be playing again.
"It's horrible," he said, his eyes glued to the game. "I worked so hard for the team, and we all worked so hard together. But hey, that's football."
But the senior captain, who both dislocated his left ankle and broke his left fibia in a win over Barnstable, was far from forgotten in the No. 1 Crimson Tide's 42-21 homecoming win over No. 5 Xaverian. Senior Vondell Langston -- his close friend, and running mate in the linebacking corps -- switched from his No. 4 jersey to McCarthy's No. 44, and left the injured linebacker's nameplate on the back of the jersey. Before kickoff, he promised McCarthy a touchdown.
So naturally, the 6-foot-1 senior went off for a career-high 203 rushing yards and scored twice -- both in the fourth quarter. His first, a 13-yard draw that he cut to the right hash marks after shaking a Hawks linebacker, gave the Tide (6-0) a 28-13 lead; after Gilly De Souza kicked the extra point, Langston ran over to McCarthy and told him, "I told you I was gonna come through for you."
"That meant a lot to me," McCarthy smiled. "We're best friends. I love that kid, man."
Langston's second score essentially put this one out of reach, putting the Tided up 35-21 on the Hawks (4-2) with seven minutes to go. Stretching to the ride side of the field, Langston strafed along the line of scrimmage before slipping inside of a vicious crackback block by wide receiver Jalen Felix (10 catches, 145 yards, TD) and plowing to paydirt.
For Langston, it's the least he could do for his good pal.
"It's unfortunate that he's not out there with me, side by side, but I definitely wanted to do something special for him," Langston said. "I put on his jersey, and told him I was going to go hard for him."
Like many of the Tide's performances this season, this one started off slow. Xaverian's D.J. Pagliuca opend up the scoring with a 22-yard reception from Austin DeCarr with 6:02 left in the first half, marking the first time the Tide had trailed since giving up a quick score early to Leominster in Week 1.
But Everett quickly fired back, and from there the momentum rolled. Kenny Calaj (133 yards offense) capped an 11-play, 83-yard drive with a 10-yard plunge to knot it at seven. Five plays into the next Everett drive, Calaj took a dumpoff pass in the left flat, cut to the left sideline and raced his way into the end zone for a 40-yard score and a 14-7 lead. It was the last time the Tide trailed in the game.
Passing marks:
Up to this point, the Tide absorbed their fair share of criticism in the passing game despite the high point totals they'd accumulated (39.8 points per game). From head coach John DiBiaso down to his son and quarterback Jonathan, and everyone in between, nobody seemed overly enthused even as the 30-point decisions continued to pile up.
Today, however, was a day of concession. Jonathan spread the ball around evenly to Jakarrie Washington, Jaylen McRae and Felix, as he finished within four passing touchdowns of the state's all-time record of 85.
"It was very good -- and under adverse conditions," smiled John DiBiaso, noting the strong winds to start the game. "We had a couple of bumps in the road, but I thought we did a good job. They're a good team. The way I said it, we were maybe two holding penalties and an interception away from scoring 60 points.
"That -- how can you complain? How can you, like, say 'Jeez, you know, we're not playing'...We're like three plays away from 60 points against a real good team. We're hitting all cylinders, getting better and better at it. The one thing we were able to do was balance out the plays now."
Jonathan finished with 308 yards passing with two touchdowns and a pick, and added a 39-yard scamper with 5:34 to round out the scoring. Meanwhile, the offense overall put up 565 yards.
When the game started, Jonathan was putting a little too much air under the ball and letting the wind get under it. As the game progressed, he shortened up his release and started firing darts across the middle of the field and to the flats, with Felix the biggest benefactor.
"We made adjustments, and when we started getting going in the second quarter, it's hard to stop us," Jonathan said. "We're a high-tempo team, we have five great athletes with the running backs and wide receivers, it's so tough to stop us that we can hit you at any point, and it showed. People stepped up today."
Respect the run:
Langston was truly a benefactor today, rushing for a career-high 203 yards on just 15 carries as the Hawks found themselves conflicted on whether to stack the box or not. The Hawks maintained consistent pressure in the trenches thanks to junior defensive tackle Maurice Hurst Jr. (sack); but at the same time, Langston reeled off runs of 26, 32 and 50 off of simple draw plays.
Chris Calvanese (one interception) manned the secondary well as the free safety, but underneath it was the sturdy Langston's hard-nosed running style that kept the defense honest.
"They were overplaying the cutbacks a little, so I just used my eyes," Langston said, while noting Brandon Conde's admirable job filling in at guard for the injured Mike Ottersburg. "My offensive line did a great job. They were just opening the holes, and I run through them."
Quarterback controversy?
Calvanese was back in the lineup today, and was under center for the game's first series. But Calvanese, the team's incumbent, found himself mostly lined up at wideout today.
Head coach Charlie Stevenson likes Calvanese's athleticism, and used him all over the field, taking end-around handoffs and option pitches out of the slot, and sometimes going deep on fly routes. Calvanese finished with four catches for 84 yards and a touchdown (a 61-yard gain), and added 15 yards on the ground on four carries.
Meanwhile, junior Austin DeCarr has been topped out at 91 miles per hour on his fastball in the spring and summer, and it showed on the field this afternoon. He finished with a very respectable 13 of 27 for 204 yards and three touchdowns, with one pick.
The gut feeling is that Stevenson will continue to platoon these two, but without compromising Calvanese's exemplary speed. Look for the traditionally-conservative Hawks to get a little more creative as they head into the Catholic Conference season.
Felix the Cat:
To say the least, this was a breakout game for Felix. At times the junior showed flashes of Manny Asprilla by doing what the former ESPNBoston All-Stater and Boston College freshman did best for the Tide: taking short passes in the flats or in space downfield, and making defenders miss.
Several times, Felix took a quick screen by the sideline and juked several defensive backs en route to a first down. His touchdown catch, meanwhile, came on a 10-yard skinny post from the right slot that Jonathan hit perfectly in stride.
"I love to challenge one-on-one," Felix said of those short screen passes. "I like the challenge. I like when my team pushes me, I like when they depend on me, and I depend on them [too]. When that play comes up, we look forward to it."
EVERETT 42, XAVERIAN 21
XAV (4-2) 0 7 7 7 --- 21
EVE (6-0) 0 14 7 21 --- 42
Second Quarter
X - D.J. Pagliuca 22 pass from Austin DeCarr (Jules Murphy kick) 6:02
E - Kenny Calaj 10 run (Gilly De Souza kick) 3:28
E - Calaj 40 pass from Jonathan DiBiaso (De Souza kick) 22.3
Third Quarter
E - Jalen Felix 20 pass from DiBiaso (De Souza kick) 8:04
X - Chris Calvanese 61 pass from DeCarr (Murphy kick) 7:03
Fourth Quarter
E - Vondell Langston 13 run (De Souza kick) 9:43
X - Mike Warren 19 pass from DeCarr (Murphy kick) 8:02
E - Langston 18 run (De Souza kick) 7:23
E - DiBiaso 39 run (De Souza kick) 5:34
September, 25, 2011
9/25/11
9:31
PM ET
By
Corey J. Allen
| ESPNBoston.com
DANVERS, Mass. -- No. 1 Everett posted their first shutout of the season Sunday in a 35-0 win over St. John's Prep. Quarterback Jonathan DiBiaso threw for three touchdowns to three different receivers while kicker/defensive back Gilly DeSouza had two interceptions, both in the first half, the second for a pick six.

"St. John's in a pretty good team," Everett head coach John DiBiaso said. "I can't be mad about 35 points against a good team like this."

For the first score, DiBiaso (14-22, 186 yards) marched his team 72 yards down the field in 2:20. On first and goal from the 10, DiBiaso had trouble getting a grip on the ball as he dropped back, but got a hold of it and dumped it to Kenny Calaj who caught the ball and stepped left into the end zone.

Prep put on a five minute drive thereafter but was able to convert only one first down before punting the ball. After a failed long ball to Jakarrie Washington on the first play of the following Everett (3-0) series, DiBiaso hit Washington with a quick hitch to the left on the next play, which he in turn took to the house after receiving a sustained block from Calaj to make the score 13-0.

On the following St. John's play, DeSouza got an interception after a Prep player tipped the ball and ran into the end zone only to be called out of bounds at the 21. Unable to punch it in, the score remained 14-0 until the 3-minute mark in the second quarter when DeSouza got his second interception for the day, again tipped from a Prep receiver, and took it past the plane for a score.

ONE TIME, TWO TIMES
DeSouza's first interception was called back, so the touchdown that manifested out of second one played out in his head as the ball was tipped towards him.

"After first one when I got called out of bounds, when I got the second one, I had to go back to the house," DeSouza said. "It feels good to get the six because I get to play some more defensive back and wideout."

BOWLING FOR LANGSTON
When a defender waited for Vondell Langston in the open field today, they got pancaked.

"When I got to them, I put my head down and tried to run them over. I'm not big with the fancy moves and all the jooking like Jonathan," Langston said as he and the senior DiBiaso bumped shoulders outside of the team's yellow bus.

Bowling over defender has become a regular for Langston.

"Vondell's been working on that his whole career," John DiBiaso said.

"That's all I've been doing my whole life," added Langston. "I don't see any use in running away from people."

GLIMMER OF HOPE
Alex Moore (19 carries, 45 yards) pounded the ball for the Eagles and kept them moving down the field. Off to a rough start (0-3), St. John's Prep coach Jim O'Leary saw something promising today in the consistent positive gains from Moore.

"I think that comes from our offensive line getting better as we go along," O'Leary said. "The score doesn't show it, but we played better on the offensive line than we have the last two games."

I'VE GOT YOUR BACK, WIDEOUT
Just after he scored a touchdown, Calaj made an important, textbook block on a defender to give Washington the room to get his score on. DiBiaso expects that his guys block for each other with no reservation.

"They absolutely have to help each other out and work for each other," Coach DiBiaso said. "Kenny made a key block for Jakarrie and I'm sure Jakarrie would have done the same thing for Kenny. In fact, he did last week."

E (3-0) 14 7 0 14 – 35
SJP (0-3) 0 0 0 0 – 0

First Quarter
E – Kenny Calaj 6 pass from Jonathan DiBiaso (Gilly DeSouza kick)
E – Jakarrie Washington 72 pass from DiBiaso (DeSouza kick)

Second Quarter
E – DeSouza 20 int. return (DeSouza kick)

Fourth Quarter
E – Calaj 64 run (DeSouza kick)
E – Jaylen McRae 35 pass from DiBiaso (DeSouza kick)
September, 17, 2011
9/17/11
12:41
AM ET
By
Corey J. Allen
| ESPNBoston.com
EVERETT, Mass. -- Even when they are not all the way tuned up, No. 1 Everett is an efficient piece of machinery. Despite overthrown passes, dropped passes, onside kicks bouncing off of players and giving up over 100 yards, the Crimson Tide still pulled out a 42-13 win over the visiting Springfield Central Golden Eagles.

Midway through the third quarter, the Golden Eagles (0-2) put together a three-minute, 56-yard drive, including five straight running plays to senior fullback Sacoy Malone (29 rushes, 100 yards, TD). After Springfield Central scored though, Kenny Calaj took Darryl Williams' kickoff from his own 82 across the big white "E" in the middle of Memorial Stadium and straight to the house.

Although Central came out in the second half with an onside kick, and got the ball back, it was not intentional and did not lead to any points.

"That was not planned, that just happened," said Springfield Central coach Valdamar Brower. "I don't know what happened, but we are trying to find a kicker."

Brower's team did not give in, although they went three and out on what could have been a game changing series. Everett scored two more times in the third quarter, took out their starting quarterback Jonathan DiBiaso (12-26, 211 yards, 4 TD passes) before the Golden Eagles were able to score again in the fourth.

"If something bad happens, we'll just play the next play," said Brower of the philosophy that he is working to instill in his young team. "We want them to keep fighting no matter what. As coaches, we are looking for maximum effort every play of every game."

Run Defense Solid: "Defensively we came looking to stop the run," said Everett fullback Vondell Langston (four carries, 31 yards). The run that Everett was looking to stop was that of Malone, who still ended up with 100 yards on 29 carries.

"He is a good back," said Everett coach John DiBiaso.

Despite keeping Springfield Central's leading scorer out of the end zone until the fourth quarter, DiBiaso still thinks that the defense has a way to go before he is satisfied.

"Maybe I'm a perfectionist, there is still room for improvement," he said. "I want us to be our best at the end of the year. I don't think that we have reached our full potential and I think that we've got a lot further to go."

As for his own running, Langston made initial contact with some of his tacklers and other defenders that he let taste the turf at Everett Memorial Stadium. While he gets pumped up for the game, he attributes the ability to gain more than seven yards a carry to his offseason workout.

"Offseason is where you put that work in and during the game you just get into that zone," Langston said. "I want to make every touchdown, I want to make every play, so I use that hope to fuel me."

Passing game in synch? Although Jonathan DiBiaso threw for over 200 yards, he is pitching to a new corps of receivers and there were a number of dropped and/or overthrown passes. Although coach DiBiaso is not celebrating the yards lost, he is being patient with his "new" team and expects for the efficiency to improve as Jonathan and his receivers become more in sync.

"We're breaking in a few new guys and everything that we do on offense is timing," the elder DiBiaso said. "Until we get that timing down pact, we will continue to get better and better every week. The guys from last year had two years of experience with Jonathan. I think that once we hit full stride people are going to say, 'Wow!'".

Part-time to full-time: Springfield Central has a starting sophomore quarterback in Cody Williams, and according to Coach Brower, he is in that spot to stay full time.

"For the preseason, 50 percent of the reps go to Williams, 50 percent go to [Tyler Dowd], so we're trying to get the chemistry going in terms of rolling out, receivers running routes and getting used to one voice in the huddle," Brower said. "The consistent voice in the huddle is very important."

EVERETT 42, SPRINGFIELD CENTRAL 13
SPR (0-2) --- 0 7 0 6 --- 13
EVR (2-0) --- 7 21 14 0 --- 42

First Quarter
E - Vondell Langston 14 run (Gilly DeSouza kick)

Second Quarter
E – Jakarrie Washington 23 run (DeSouza kick)
E - Jalen Felix 14 pass from Jonathan DiBiaso (DeSouza kick)
S – Richard Williams 4 pass from Cody Williams (Juwan Williams kick)
E - Kenny Calaj 82 kickoff return (DeSouza kick)

Third Quarter
E - Calaj 7 pass from DiBiaso (DeSouza kick)
E - Jaylen McRae 36 pass from DiBiaso (DeSouza kick)

Fourth Quarter
S - Sacoy Malone 1 run (kick failed)