Boston High School:

Jeff Covitz
May, 5, 2011
5/05/11
10:32
AM ET
The North-South game of the 33rd Annual Shriners Football Classic kicks off this June 17 at 7 p.m., and for the second year in a row the contest will be held at Gillette Stadium. Below are the rosters for both squads participating in the game:
NORTH
Ryan Adams, Northeast, DE
James Aloisio, Masconoment, OT
Eric Apgar, Acton-Boxborough, RB
Anthony Arcari, Tewksbury, RB
Manny Asprilla, Everett, WR
Derek Bent, Shawsheen, TE
Brian Bourque, Reading, DB
James Brao, Hamilton-Wenham, LB
Cal Carroll, Methuen, QB
Brendan Casey, Boston Latin, DT
Thomas Chub, Masconomet, OL
Mitchell Colley, Arlington, LB
Sean Connolly, Tewksbury, FS
Tyler Coppola, St. John's Prep, RB
Matt Costello, Everett, WR
Anthony Courtouis, Lowell, WR
Jeff Covitz, Reading, OL
Nate Cyr, St. John's Prep, OL
Ned Deane, Andover, LB
Ryan Delisle, St. John's Prep, TE
Jake Giovanucci, Dexter, DE
Mike Grassa, BB&N, DB
Will Guinee, Malden Catholic, OL
Mike Harper, Methuen, LB
Zach Hayes, Chelmsford, S
Justin Hood, Billerica, DE
Brian Hurley, Wilmington
Zach Ingalls, Westford, DB
George Kallas, Beverly, OT
Ben Koopman, Marblehead, C
Chris Malonis, Dracut, WR
Tyllor MacDonald, Lynn English, DB
Tom Meade, Malden Catholic, LB
Trae Musumarra, Central Catholic, LB
Zach Nardone, Bishop Fenwick, DT
Paul Nwokeji, Thayer Academy, OL
John O'Connell, Northeast, DL
Daniel Omorgie, Lynn Classical, DE
Xavier Peralta, Central Catholic, DB
Ony Ramos, Lawrence, DB
Peter Savarese, BB&N, RB
Jordan Shairs, Gloucester, RB
Matt Silva, Dracut, QB
Bradley Skeffington, Salem, DB
Zach Smerlas, Lincoln-Sudbury, DL
Brian Strachan, St. Sebastian's, WR
Dave Summiel, Shawsheen, DT
Chris Unis, Gloucester, DE
Trae Weathers, Revere, RB
Sean Whittaker, Methuen, OL
Peter Yasi, Swampscott, DE

SOUTH
Matt Allen, Pembroke, SE
Ryan Barrett, Holliston, TE
Rob Barrus, Weymouth, LB
Adam Boari, King Philip, OL
Blaise Branch, Cardinal Spellman, RB
Lance Burlingame, New Bedford, OL
Jack Carrier, Cohasset, SE
Dylan Colarusso, Weymouth, RB
Joe Colton, Xaverian, DB
Tom Condon, Whitman-Hanson, OL
David Conroy, Walpole, SE
Nate Crary, Dennis-Yarmouth, DL
Seth DeMello, Somerset, RB
Mike Devin, Bridgewater-Raynham, OL
Mike Driscoll, Rockland, FB
Connor Fraser, Abington, DL
Jake Golden, Hingham, OL
Mitchell Graziano, Silver Lake, DB
William Greene, Oliver Ames, DE
Ernest Guy, Foxborough, OL
Joseph Hak, East Bridgewater, OL
Matt Hallisey, Duxbury, SE
Brian Harrington, Rockland, DE
Jordan Henderson, Barnstable, WR
D.J. Jamieson, West Bridgewater, RB
Randall Jette, Martha's Vineyard, DB
Dan Johnson, North Attleboro, SE
Andrew Kestenbaum, Dartmouth, OL
Matt Lockwood, Seekonk, RB
Albert Louis-Jean, Brockton, SE
Denis Maguire, Duxbury, LB
Jamel Marshall, Mansfield, RB
Zach Martin, Mashpee, RB
Alec May, King Philip, TE
Sean Mayo, Holliston, QB
Paul McCarthy, North Attleboro, DB
Kyle McGuire, Mansfield, OL
Dave McSweeney, Medway, OL
Obum Obukwelu, BC High, OL
Trevon Offley, Brockton, RB
Jon Page, Bourne, RB
Tyler Park, Scituate, QB
Liam Porter, Natick, OL
Ethan Rayner, Holliston, OL
Nate Robitaille, Attleboro, DB
Andrew Siden, Natick, TE
Kevin Stanton, Cardinal Spellman, LB
Jeff Synan, Plymouth North, OL
Chris Tamasi, Xaverian, LB
Ryan Vaughn, Norwell, OL
December, 21, 2010
12/21/10
3:08
PM ET
The Massachusetts High School Football Coaches Association announced its All-State team on Tuesday.
Eastern Mass Division 1 Super Bowl champion
Everett
led the way with three selections, with quarterback Jonathan DiBiaso, wide receiver Matt Costello and defensive back Manny Asprilla taking honors.
Here's the list of honorees:
OFFENSE
Quarterback
Jonathan DiBiaso
, Jr., Everett
Nick LaSpada
, Jr., Billerica
Tom Murphy, Sr., Northbridge
Running back
Isaiah Jones
, Sr., Mahar
Jamel Marshall
, Sr., Mansfield
Jordan Shairs
, Sr., Gloucester
Receiver
Matt Costello
, Sr., Everett
Richard Rodgers
, Sr., St. John's (Shrewsbury)
Offensive line
Lance Burlingame
, Sr., New Bedford
Jeff Covitz
, Sr., Reading
George Kallas
, Sr., Beverly
Obum Obukwelu
, Sr., BC High
Liam Porter
, Sr., Natick
DEFENSE
Defensive line
Brian Miller
, Sr., Andover
Zach Smerlas
, Sr., Lincoln-Sudbury
Chris Unis
, Sr., Gloucester
Linebacker
Seth DeMello
, Sr., Somerset
Dan Giovacchini
, Sr., Lawrence Academy
Matthew LeBlanc
, Sr., Wachusett
Mike Mercadante
, Sr., Minnechaug
Conor Wyand, Sr., Nashoba
Defensive back
Manny Asprilla
, Sr., Everett
Dan Johnson
, Sr., North Attleborough
Joe Colton
, Sr., Xaverian
Albert Louis-Jean
, Sr., Brockton
Brian Strachan
, Sr., St. Sebastian's
December, 7, 2010
12/07/10
6:47
PM ET
OFFENSE

QB -- Dan Light, Sr., St. John's (Shrewsbury)
In his first year under center after playing tight end last year for the Pioneers, the 6-foot-4, 235-pounder spearheaded one of the state's most prolific offenses with precision, as the Pioneers rolled to their second straight Division 1 Central Mass Super Bowl title. He threw for 2,171 yards and 32 touchdowns to just seven interceptions, and on the ground he added 1,131 yards and 16 more scores. Light is considering several Division 1 schools.

QB -- Jonathan DiBiaso, Jr., Everett
In his record-setting junior campaign, DiBiaso helped deliver the Crimson Tide their eighth Division 1 Super Bowl title in 12 years. He threw for 2,885 yards and a state single-season record 43 touchdowns, to just four interceptions, and capped with a 31-7 win over St. John's Prep at Gillette Stadium for the Super Bowl title. He has 59 touchdown passes for his career.

QB -- Nick LaSpada, Jr., Billerica
The junior, who won the state's Gatorade Player of the Year as a sophomore in 2009, lived up to the hype in spite of a marginal season for the 5-6 Indians. He threw for 2,738 yards and 25 touchdowns, and added 1,064 yards and 15 touchdowns on the ground, averaging over eight yards per carry. For his career, he has thrown for over 5,800 yards and ran for over 3,500 in his three years as starting quarterback. LaSpada is being recruited by a number of Division 1 FBS schools, including Boston College, Notre Dame, Oregon, Alabama, Penn State, Missouri, Arkansas, Michigan, USC, Florida State and Stanford.

RB -- Trevon Offley, Sr., Brockton
In taking over full-time rushing duties from his cousin, Khalil James-Offley, the 5-foot-6, 190-pound Trevon proved to be one of the state's toughest runners in between the tackles. Offley carried 155 times for 1,364 yards and 15 touchdowns, averaging 8.8 yards per carry for the 8-3 Boxers.

RB -- Jamel Marshall, Sr., Mansfield
After backing up Shawn Doherty in 2009 and watching him set a school record, the 5-foot-11, 185-pound Marshall went ahead and smashed it. His 1,339 yards on the ground (including 7.1 yards per carry) broke Doherty's mark of 1,239, and his 21 touchdowns came within striking distance of breaking a two-decade record held by Omari Walker. Marshall is considering several Division 1-AA and Division 2 schools.

RB -- Tyler Coppola, Sr., St. John's Prep
As the focal point of the 8-5 Eagles' offense, the 5-foot-7, 185-pound Coppola did not disappoint. He carried the ball a yeoman 243 times for 2,172 yards and 20 touchdowns, including an unheard-of 348 yards and six scores against St. Joseph's (Md.) in October, as the Eagles captured a share of the Catholic Conference title and reached the Division 1 Eastern Mass Super Bowl for the first time since 2002.

RB -- Andrew Coke, Jr., Andover
After an outstanding sophomore season at Brooks School alongside current BYU freshman Jordan Johnson, Coke transferred back to his hometown high school and helped lead the Golden Warriors to their first Merrimack Valley Conference title in 35 years. The 6-foot-1, 218-pound junior carried 304 times for 1,841 yards and 29 touchdowns (most in Division 1), and as a wildcat quarterback completed 24 of 34 passes for 267 yards and two more scores.

WR -- Matt Costello, Sr., Everett
After a tremendous senior season, the 6-foot-1, 170-pound Costello racked up numerous awards, including this year's state Gatorade Player of the Year and ESPNBoston's inaugural Mr. Football award. Costello played an instrumental role in DiBiaso's state-record junior campaign, as he caught 76 balls for 1,301 yards and 23 touchdowns – including 11 catches for 145 yards and three scores in the Tide's 31-7 victory over St. John's Prep in the Division 1 Super Bowl. Costello is considering Princeton, Penn and Harvard.

WR -- Richard Rodgers, Sr., St. John's (Shrewsbury)
The talented Rodgers tore up the competition once again in his senior campaign with the Division 1 Super Bowl champion Pioneers. The 6-foot-5, 230-pounder caught 65 balls for 1,064 yards and 17 touchdowns, for an average of 16.4 yards per catch. He was also a force at defensive end, recording eight sacks, four forced fumbles and an interception. Rodgers is following in his father's footsteps, as he will play tight end next fall at Cal.

WR -- Jordan Henderson, Sr., Barnstable
The speedy Henderson made a name for himself as one of the state's most dangerous threats in the short passing game, leading the 7-4 Red Raiders in every receiving category. The 6-foot, 180-pounder caught 61 balls for 1,069 yards and 12 touchdowns, averaging 17.5 yards per catch.

TE -- Anthony Fabiano, Sr., Wakefield
One of several outstanding tight ends to be used in more of a blocking role, the 6-foot-5, 258-pound Fabiano excelled on both sides of the ball for the 6-4 Warriors, who captured their second straight Middlesex League Small title. Fabiano caught 23 passes for 267 yards, and as a defensive end recorded 57 tackles, a team-high nine sacks and three forced fumbles.

TE -- Ryan Barrett, Sr., Holliston
Like Fabiano, Barrett was used primarily in a blocking role for the 12-1 Panthers, who captured their first Super Bowl title since 1985 with a 21-7 win over Cardinal Spellman. With Barrett's guidance, the Panthers ran for more than 2,500 yards on the ground and scored more than 500 points through the ground and air. Barrett is committed to Bryant University, where his brother Andrew is currently a sophomore offensive lineman.

OL -- Nathan Cyr, Sr., St. John's Prep
The 6-foot-1, 246-pound Cyr was one of the state's best run-blockers this season, paving the way to a monster season from Coppola and over 3,000 yards on the ground total as the Eagles captured a share of the Catholic Conference title and went to the Super Bowl for the first time since 2002. Cyr is committed to Trinity College.

OL -- John Wallace, Sr., Somerville
The 6-foot-4, 265-pound Wallace was a three-year starter for the Highlanders, and is a two-time Greater Boston League All-Star. This season for 4-6 Somerville, he recorded 68 tackles and five sacks while also providing plenty of run support as both a guard and tackle. He is considering several Division 1 FCS schools, including UMass and New Hampshire.

OL -- Jeff Covitz, Sr., Reading
The 6-foot-2, 250-pound Covitz, a three-year starter for the 12-1 Rockets, was a force at right tackle for the Rockets, paving the way for one of the state's most potent rushing attacks (45 rushing touchdowns). At defensive end, he was a dominant run-plugger for a defense that allowed a Division 2-best 8.7 points per game.

OL -- Ian Levesque, Sr., Somerset
The 6-foot-4, 290-pound tackle paved the way for two 1,000-yard rushers in Seth DeMello and Jaron Spear for the 12-1 Blue Raiders, who advanced to their first Super Bowl since 1981. In addition to helping the Raiders rack up nearly 300 rushing yards per game and over 50 rushing touchdowns, he also was an anchor along the line of a defense that allowed just 11 points per game. He is considering several Division 1 FCS schools, including Colgate and Wagner.
OL -- Lance Burlingame, Sr., New Bedford
The 6-foot-4, 255-pounder is a two-time Big 3 Conference All-Star at offensive tackle and defensive end. In 10 games, he demonstrated outstanding feet as both run and pass blocker, and proved just as dominant defensively with 84 tackles, seven sacks, four forced fumbles and five fumble recoveries. He is considering several Division 1 FCS schools, including UMass, New Hampshire and Maine.

ATH -- Armani Reeves, Jr., Catholic Memorial
The 5-foot-10, 178-pound Reeves emerged as one of the state's most electric playmakers this season for the 5-5 Knights, lining up all over the field to great results. He amassed 1,279 all-purpose yards and scored 16 touchdowns in four different ways – receiving, rushing, punt and kick returns. He currently holds 10 scholarship offers from Division 1 schools, including Boston College, North Carolina, Wake Forest, Virginia, UConn and Penn State.

ATH -- Isaiah Jones, Sr., Mahar
The 5-foot-10, 165-pound Jones emerged as one of the state's most elusive weapons in the open field, with 40 speed in the 4.5's. In a season hampered by injury, he carried 151 times for 1,726 yards and 23 touchdowns, added 150 receiving yards, and also had three returns for touchdowns (two punt, one kickoff). For his career, he amassed over 4,400 yards rushing. Jones is considering several Division 1 schools, including Boston College, UMass and New Hampshire.

K -- Connor McDavitt, Sr., Wachusett
While his powerful right leg wasn't called into action as much, the 5-foot-7 McDavitt demonstrated great range when called upon, hitting from a long of 42 yards this year for the Division 1A Central Mass Super Bowl Champion Mountaineers. He recorded 14 touchbacks, and also had a net punting average of 42.5 yards.
DEFENSE

DL - Chris Unis, Sr., Gloucester
After recovering from an elbow injury, Unis returned to lead the Fishermen to their second straight Super Bowl title and third in the last four years. The 6-foot-2, 225-pound speed rusher proved a handful for offensive linemen and was also vital to Gloucester's running game, playing tight end. Unis also collected his third straight Northeastern Conference All-Star nod.

DL - Obum Obukwelu, Sr., BC High
The 6-foot-1, 255-pounder was an imposing figure on the Eagles' defensive line and tallied 8.5 sacks on 68 tackles with 18 tackles for a loss. Obukwelu is committed to play football at Harvard next year.

DL - Zach Smerlas, Sr., Lincoln-Sudbury
The three-year defensive starter often faced double and triple teams against him this season, but the senior captain still managed to make 40 tackles (18 solo) while clogging up the interior for the Dual County League Large champion Warriors.

DL - Shaquille Taylor, Sr., Everett
Taylor was the affable heart of the defense for the Eastern Mass Division I Super Bowl champions. The 5-foot-11, 275-pounder was an immovable object on the line, stuffing the run and showing speed to pressure the quarterback.

LB - Chris Tamasi, Sr., Xaverian
The senior captain was the fulcrum of the Hawks' defense and a steady contributor out of the backfield on offense. The 5-foot-11, 200-pounder has verbally committed to play football at Amherst College next year.
LB - Matt Walsh, Sr., Plymouth North
Walsh provided bite to the Eagles' offense and defense as both a hard-nosed fullback and middle linebacker. While leading Plymouth North's defense, which surrendered just 10 points per game, Walsh also tallied 12 touchdowns. A talented catcher, he has committed to Franklin Pierce where he will play baseball.

LB - Jordan Shairs, Sr., Gloucester
For everything that Chris Unis or Andrew Mizzoni weren't able to get to up front, Shairs was there to clean up. The 6-foot, 210-pounder helped the Gloucester defense average just 10 points per game against and saw a bulk of Gloucester's carries following Gilbert Brown's injury, tallying 31 total touchdowns (30 rushing) on the season. Shairs was named Northeastern Conference Offensive Player of the Year and league All-Star for his 1,400-yard rushing performance.

LB - Tim Joy, Jr., Chelmsford
Already a two-time all-conference teamer, Joy had 131 tackles, including 13 for a loss, two sacks and three interceptions for his junior season. He has been recruited by several FBS schools, including Boston College.

LB - Ned Deane, Sr., Andover
Deane provided the bite to the defense that helped the Golden Warriors to a Merrimack Valley Conference Large title. The 6-foot-2, 205-pounder led Andover with 112 tackles in addition to three sacks and an interception. He is considering Amherst, Dartmouth, Harvard and Princeton among his college choices.

LB -- Kevin Curry, Sr., Holliston
The Tri-Valley League Defensive Player of the Year was a force on both sides of the ball for the 12-1 Panthers, who captured the Division 3A Super Bowl crown. In addition to manning the middle on a defense that allowed just 11.5 points per game, Curry carried the ball 139 times for 1,144 yards and 14 touchdowns, for an average of 8.2 yards per carry.

DB - Albert Louis-Jean, Sr., Brockton
The shutdown corner was also a double-threat for the Boxers, hauling in 28 catches for 572 yards and five touchdowns on offense. The 6-foot-1, 175-pound speedster came away with four interceptions. Louis-Jean recently de-committed from Miami, so there's likely to be a lot on interest surrounding him in the coming months.

DB - Joe Colton, Sr., Xaverian
Colton consistently drew the matchup of the opposing team's top receiver and went toe-to-toe with some of the state's best. The 5-foot-11, 190-pounder was also a steady contributor to the Hawks offense with 15 touchdowns on the season.

DB - Manny Asprilla, Sr., Everett
Asprilla was as much of a lockdown defender as he was a threat on the offensive side of the ball. And that's saying something about someone who had 2,787 career all-purpose yards for the Division I Eastern Mass Super Bowl champions. Asprilla is committed to play football at Boston College next year.

DB - Randall Jette, Sr., Martha's Vineyard
Jette only pocketed one pick in 2010, but that's simply because teams didn't bother throwing his way. The senior captain also made 50 tackles (24 solo) in coverage. Also, as the Vineyarders quarterback, Jette tallied 953 rushing yards on 121 carries with 19 touchdowns to go along with four passing scores and two special teams return touchdowns. He's being recruited by BC, Bryant, Rutgers, Stonehill, UMass and UNH.
HONORABLE MENTIONS

Luke Bakanowsky, Sr. QB, Oakmont
Blaise Branch, Sr. RB, Cardinal Spellman
Gilbert Brown, Sr. RB/LB, Gloucester
Cal Carroll, Sr. QB, Methuen
Trevor Choruzek, Sr. RB, Leicester
Dylan Colarusso, Sr. RB/LB, Weymouth
George Craan, Jr. RB, Concord-Carlisle
Brendan Flaherty, Soph. RB/LB, Beverly
Jeff Hill, Sr. WR, Mansfield
Ray Holloway, Sr. RB, East Longmeadow
Ryan Lipka, Sr. WR, Bishop Fenwick
Sean Mayo, Sr. QB, Holliston
Kyle McSweeney, Sr. OL/DL, Medway
Mike Mercadante, Sr. RB, Minnechaug
Brian Miller, Sr. TE, Andover
Andrew Mizzoni, Sr. OT/DE, Gloucester
Matt Montalto, Jr. QB, Dennis-Yarmouth
Paul Mroz, Sr. QB, Brockton
Thomas Murphy, Sr. QB, Northbridge
Reilly Naton, Jr. SS, Duxbury
Liam Porter, Sr. OL/DL, Natick
Quinton Porter, Jr. ATH, Fitchburg
Cody Savoy, Sr. RB, Narragansett
Matt Silva, Sr. QB, Dracut
Jesse Wilkins, Sr. RB, North Shore
December, 2, 2010
12/02/10
6:57
PM ET
By
Neil Carroll
| ESPNBoston.com
FOXBOROUGH, Mass. -- It is every teenager's dream to one day put on the shoulder pads and helmet and play in a Super Bowl at Gillette Stadium with everyone watching. On Saturday, that dream will be realized for players on twelve high school football teams, as the Division 1-3A MIAA Eastern Mass Super Bowls return to Foxborough.
"It is amazing,"
Concord-Carlisle
running back Jibrail Coy said, standing in the shadows of the stadium of the New England Patriots. "It feels good that we get to be on this field and we have an opportunity to play at Gillette."
The MIAA invited the Super Bowl teams' coaches and captains to Gillette Stadium for a breakfast on Thursday, and for some players it broke the ice of being on an NFL stadium's turf for the first time.
"It's breath-taking," Beverly quarterback Joe Wioncek remarked. "Being here today helps take away the feeling a little bit, but it's amazing."
The Eastern Mass Super Bowls have been played at Gillette Stadium since 2007, and every year has provided a notable experience. In 2009, a snow storm clobbered Foxborough –- creating obstacles for the players, particularly in the night cap between Gloucester and Bridgewater-Raynham –- but the weather also gave the athletes a chance to get as close as they would ever come to feeling what it is like to be Tom Brady and company in December.
"It's obviously the way you want to go out,"
Duxbury
quarterback Kane Haffey said about the opportunity. "I mean, I'm standing on the 50-yard line, where Tom Brady plays every Sunday."
While some players gawked and took pictures or videos of the surroundings, others tried to remain stone-faced and stoic in front of their peers.
"The venue doesn't matter,"
St. John's Prep
senior Ryan Delisle said about Saturday. "It's the game that counts."
That somber attitude in the face of the excitement of the Super Bowl may come from the path that each team took to get to the Super Bowl.
Some teams have taken the hard road to get to this point, while others have skated in, coasting past playoff opponents. For instance, St. John's Prep overcame an up-and-down year and snuck into the playoffs by virtue of a Thanksgiving Day win against defending Division 1 Eastern Mass Champion Xaverian. St. John's then advanced after a 35-7 win over
New Bedford
, and will face Division 1 powerhouse
Everett
on Saturday.
"We have to give the credit to our young defense," Delisle said about St. John's season. "They started off the year as rookies with no experience. As the year has progressed they've gotten so much better, it is just incredible."
On a similar note,
Beverly
lost its first five games of the season and was considered done by most teams in Division 3. Yet the Panthers rallied together, won all of their Northeastern Small Conference opponents, and dominated
Scituate
in the Division 3 semifinals to advance. Beverly's opponent on Saturday is
Somerset
, who is coming off an equally impressive win, after
shutting out Dighton-Rehoboth 28-0
.
But it seems that there is no defined path to Gillette Stadium.
It is true that each team had to earn every victory, but teams like Everett and
Gloucester
(playing in the Division 1 and 1A Super Bowls, respectively) have a long tradition of playing on Super Bowl Saturday.
Longtime Everett head coach John Dibiaso has gathered seven Super Bowl rings in his tenure at the helm of the Crimson Tide, and this year has a talented group of seniors led by wide receivers Matt Costello and Manny Asprilla. Although the Crimson Tide lost to Xaverian in the Super Bowl last year, this year's class is trying to redeem themselves against St. John's on Saturday.
In the Division 1A semifinals, undefeated Gloucester traveled to Lincoln-Sudbury and
shut out the Warriors 21-0
. On Saturday, the Fishermen will face
Bridgewater-Raynham
for the second year in a row – last year winning the matchup 33-13. Bridgewater-Raynham serves as the underdog in that game, but could play spoiler after a
34-22 win over Weymouth
on Tuesday.
And the theme of teams returning to Gillette doesn't stop in Division 1. In Division 3A,
Holliston
, led by senior quarterback Sean Mayo – advanced out of the Tri-Valley League after a
35-20 victory over Rockland
and is hoping to win its second-straight 3A Super Bowl. However standing in their way is undefeated
Cardinal-Spellman
powered by running back Blaise Branch.
In Division 2, Mansfield's offensive weapons Jamel Marshall and George Busharis look to take down Reading. Mansfield is coming off of a
28-0 win over Walpole
(http://espn.go.com/blog/boston/high-school/post/_/id/3288/mansfield-exacts-08-revenge-heads-to-gillette), while Reading boasts linemen Jeff Covitz and a stout defense. In the
Division 2 semis
, Covitz had two sacks on elusive Dracut quarterback Matt Silva to secure a Super Bowl berth.
Although these games are the climax of most of these players' athletic careers, it also makes for a bittersweet end. Yes, they will be playing in Gillette Stadium on the state's biggest high school stage, but it marks the end of their playing career.
For the seniors there will be no more Friday night lights. Instead, in their place will be the fond memories of the glory days, that pinnacled at Gillette Stadium.
"We're going to be a little bit nervous," Concord-Carlisle's Ryan Ruiz said. "But we're going to take everything under control and do what we've been doing all year."
"There will be a lot of emotions out there on the field," Beverly's Wioncek said about playing his last game. "We're going to just go out there and try to make them the most positive as possible."
December, 1, 2010
12/01/10
11:16
PM ET
A RAIDERS' PLUNDER
From the time Alex Estrella took a punt return 56 yards for a touchdown off the first series of the game, things didn't look good for Dave Driscoll's Dighton-Rehoboth team. What put the Falcons at such a disadvantage in trying to come back in their Division III semifinal was Somerset's clock-draining double wing ground game.

Both of the Blue Raiders' featured backs, Seth DeMello and Jaron Spear, were over 100 yards rushing on the night in Somerset's 28-0 win.

The Falcons could manage just 51 yards in the first half and, in the second half, the Blue Raiders engaged in a ball-control game, possessing the ball for nearly 14 minutes of the second half.

Although teams may know what's coming, the double wing is hard to defend. And it only helps that Somerset has the right players to get the job done.

"It's all about the personnel," Driscoll said of Somerset's offense. "You've got to be quick and you've got to be athletic. [Seth] DeMello is very physical and [Jaron] Spear is very fast. So they have everything, plus the quarterback [Adam Ledoux] can throw and he's athletic.

"They have all the pieces of the puzzle. You can see it on defense, too, how athletic they are and how quick to the ball they are."

SOMETHING MOORE
St. John's Prep sophomore running back Alex Moore doesn't see the ball too often, but he does have one play in the Eagles' playbook that he calls his own. It's called 800 Rocket Right, Counter Left, and it worked to perfection in the Prep's 35-7 win over New Bedford.

Moore had already made his presence felt against the Whalers, taking an interception back 61 yards for a touchdown on the fourth play from scrimmage. After the Eagles went out to a 13-0 lead on Dillon Gonzalez's punt return for a touchdown, they were on the move again and cashed in on Moore's 20-yard run in the second quarter.

"It's really designed to score a touchdown every time," Moore said Tuesday.

READING'S COVITZ IS A LOAD TO HANDLE
In the moments following Reading's thrilling 15-14 victory over Dracut last night, Jeff Covitz gushed about his former coach, late assistant Mike Boyd, and how his battle with lung cancer still emboldens the Rockets some 18 months after his death.

"He never quit," Covitz told reporters. "Up until the day he died, he never quit. I always think about Coach Boyd. Even when I'm exhausted, and just want to pass out right on the field, you never quit on this team. You never want to quit on your family. You never quit on coaches."

So with that said, if Covitz was exhausted in the four minutes following Brian Bourque's go-ahead two-point conversion run, he did a great job showing it. He sacked Dracut's Matt Silva twice in the final minutes to seal it for the Rockets, and send them back to Gillette to defend their Division 2 Super Bowl title.

LORDY, LORDI
Looking at the stat sheet, maybe you think you have Cardinal Spellman figured out -- Blaise Branch right, Blaise Branch left, rinse, repeat -- and with 36 rushing touchdowns on the season, we don't blame you. But flying under the radar, and providing some crucial punch in the fourth quarter when the Cardinals were trying to hold off Hamilton-Wenham momentum, was fullback Jared Lordi. Typically, Lordi will create holes out of the backfield for Branch, and so far the Cardinals have run head coach Ron St. George's Wing-T scheme exceptionally.

But on this particular night, he provided some spark when the Cardinals got stagnant. His 20-yard catch on fourth and 13 set up a Zac Cooney eight-yard keeper that made it 21-9 in the fourth quarter. Then, with a minute left, he closed the scoring -- and sealed the win -- with a 20-yard fade to the near left pylon, making it a 28-16 final.

"That was great to see," Branch smiled when asked about Lordi's touchdown. "Good to see that. I wish we could get our linemen to do that too."

Said H-W head coach Andrew Morency, "Tough kid. It's funny, you know, they crossed us up a little bit with that play, and in the end we felt like they had shown in films that they could have done that. You know, we got kinda caught up in the moments stopping Branch a little bit, and boom, they come back with that. He ran hard, and he got them a couple of first downs that they really needed at that time. Hats off to that fullback."
December, 1, 2010
12/01/10
2:04
AM ET
By
Brendan Hall
| ESPNBoston.com



READING, Mass. -- Almost as soon as the Dracut defense was called for an offsides on the would-be game-tying point after, it seemed, did Reading head coach John Fiore want a timeout. Four minutes left, down by one but now with the ball at the one, Rockets offensive coordinator Duane Sigsbury drew up a Tebow-like play that had everyone on the sideline feeling fired up.

"Let's go for it, can't second-guess it," said their 6-foot-4 senior quarterback Brian Bourque (he is a converted wideout, after all).

"Let's get these six inches and take it to Gillette," said senior right tackle Jeff Covitz.

Sigsbury called for a quarterback dive out of a goal-line shotgun formation with jumbo personnel, but rather than crouch low and try to fall forward, Bourque leaped high into the air and flopped into the end zone, sending the home-field crowd into a frenzy.

That still left Dracut with two more scoring chances, but in those final four minutes Covitz was relentless coming off the edge of the right-handed Matt Silva's front side. He recorded two sacks, including one on fourth down, to seal the 15-14 win, make it 25 straight victories for the Rockets, and send them back to Gillette Stadium to defend their Division 2 Super Bowl title against Hockomock League juggernaut Mansfield.

Fiore spoke only briefly to the media following the game, but with good intents. Draping his outstretched arms on the shoulders of his three captains -- Bourque, Covitz and Anthony Fodera -- he deferred all the credit to them and gave them the utmost praise.

"All summer long, these three guys leading everybody in the weight room, you know, doing their plyos, flipping the tires, working the 7-on-7's, playing sports together...this is just an awesome effort," Fiore beamed. "I'm so proud of them, so I'm going to let them talk, because this is their night."

And with the spotlight, Covitz deferred to late assistant coach Mike Boyd, who passed away at 29 in July of 2009 to lung cancer, and nearly a year and half later is still fresh on the team's mind. A plaque of Boyd, who won two Super Bowls during his time at Reading, still hangs in the team's locker room.

"He never quit," Covitz said, still catching his breath. "Up until the day he died, he never quit. I always think about Coach Boyd. Even when I'm exhausted, and just want to pass out right on the field, you never quit on this team. You never want to quit on your family. You never quit on coaches."

And to say the least, Covitz's shoulder was to the wheel those last four minutes, as the Middies (8-4) had two more chances to score and were stopped on both. Keith Hamel took a zone read handoff 55 yards down the right sideline on the first play of the drive following Bourque's leap, giving the Middies first and 10 at the Reading 25 with over three and a half minutes to play. But Silva was stuffed up the middle by Covitz, and watched as a perfect pass over the middle was bobbled incomplete to set up fourth and 15. Coming off the edge of Silva's front side, Covitz ripped the outside arm of his blocker and planted Silva in the turf with a textbook form tackle.

A three-and-out by Reading (12-0) gave Dracut the ball again with a minute to go and a starting drive at its own 41. After two incompletions, Silva was planted squarely in the turf again from Covitz in the same fashion. Silva then threw an incompletion on fourth.

"I've got to tip my hat to Silva," Covitz said. "Silva's an amazing player, quick in the pocket, we tried to contain him all night. I just made my way outside, and just found my way to the quarterback."

Silva, who came into the game as one of the leading scorers in Eastern Mass with 12 rushing touchdowns and 26 touchdown passes (22 to his favorite target Chris Malonis), showed throughout the game why he is one of region's the toughest quarterbacks to bring down. While on other nights it was throwing his 170-pound frame around like it was 250, on this night it was his scrambling ability when flushed out of the pocker that made him such a threat. He ended up with 82 yards passing and 92 rushing, with two touchdown passes -- both to Malonis.

The master stroke came with 4:03 left in the ballgame, when he slipped to his left and threw an off-balanced floater off his back foot as he was backpedaling away from the blitzing Troy Jones. Malonis came back to the near left pylon and, with his arms calmly oustretched by his waist, hauled in the underthrown ball and just managed to get both feet inbounds.

Bourque (129 yards passing, 67 rushing) came roaring back with a gutsy game-winning drive that was, quite frankly, all in his hands. His first four plays were all short strikes to Sean Gildea and Connor Sheehan, before calling his number three straight times. On third and one from the Dracut 29, Bourque tossed another short sideline strike to Gildea. Three plays later, Bourque capped the 11-play drive with an eight-yard scamper up the middle, setting up the heroics on the point-after.


READING 15, DRACUT 14

DRA 0 7 0 7 --- 14
REA 7 0 0 8 --- 15

First Quarter
R - Larry Gilligan 37 run (Nick Scali kick) 7:19

Second Quarter
D - Chris Malonis 8 pass from Matt Silva (Silva kick) 5:50

Fourth Quarter
D - Malonis 17 pass from Silva (Silva kick) 8:40
R - Brian Bourque 7 run (Bourque kick) 4:03
October, 16, 2010
10/16/10
1:06
AM ET
By
Neil Carroll
| ESPNBoston.com
SUDBURY, Mass. -- On a wet and windy night at Lincoln-Sudbury Regional High School, the Reading Rockets improved to 6-0 on the season using the same methods they have all year: solid defense and a three-headed running attack.

Reading shut out Lincoln-Sudbury (3-3), 21-0, notching the team its third consecutive shut out.

"I thought that this was a trap game if there ever was one," said Reading head coach John Fiore after the win. "We played a pretty tough game coming into this game and we certainly got to them first but we were on the road with bad weather and stuff -- we're happy to get out of here tonight."

The Rockets spread the ball around on offense in the first half. Running back Larry Gilligan (11 carries, 66 yards, one touchdown) was the first to hammer away on the opening offensive possession but the drive finished off with a 21-yard touchdown run by Zack Bates (10 carries, 64 yards, one touchdown).

The next time the Rockets had the ball, they went right back at it.

This time, Bates and quarterback Brian Bourque carried the load, and the eight-play drive was capped off with a touchdown run by Gilligan from 14 yards out. On the night, only one other player besides Gilligan, Bates or Bourque touched the ball on offense for the Rockets.

After going up 14-0 in the first quarter, Reading's offense sputtered through the middle periods of the game, but Bourque eventually got things going again in the second half. He put the finishing touches on the game by running in a 60-yard quarterback draw in the fourth quarter.

"I think the kids had some tough floods in there and offensively we had some rough moments but we got it going late," said Fiore. "We got some people blocked in the fourth quarter and finished it off."

Bourque rushed the ball 18 times for 158 yards and one touchdown.

The L-S defense was plagued by injuries coming into the game, and moved around defensive lineman Zach Smerlas in an attempt to counter the right side of the Reading offensive line. Smerlas lined up on right tackle Jeff Covitz, but Reading ran wherever it pleased on the Warriors' defense.

L-S, however, did do a good job defending Reading's passing attack. Bourque was troubled by the defensive line and managed to complete two of 11 passes for six yards on the night.

The Warriors tried to mount a fourth-quarter comeback, as the rains calmed temporarily, but quarterback Matthew Cahill had some strange miscommunication with his wide receivers.

On a drive that he completed four of seven passes for 42 yards and seemed to be in rhythm, things suddenly went wrong for Cahill. With the ball on the 16-yard line, the quarterback was intercepted by Reading sophomore Greg Connery -- putting the comeback chances on hold.

However, L-S got another shot to score after its defense forced Reading to go three and out -- only to have Cahill intercepted again on the first play by safety Connor Sheehan. That turnover led to another Reading touchdown and ultimately sealed the Warriors' fate.

"The defensive line stops the runs and gets the pass rushed," said Bourque of Reading's defense. "They make the decisions that we have to react to so it starts up there for us on defense.

Reading now has put together an impressive 19-game win streak, dating back to its loss to Walpole in the Division 2 playoffs back in 2008.

"Is it that many?" questioned Reading head coach John Fiore when posed with the statistic. "I like to believe that they are only thinking about Belmont tomorrow morning but I am sure that there are times when the players think about being part of a pretty good three-year run. But it really doesn't matter, it's about next week now."

Bourque echoed coach Fiore's statement.

"We just take this season one game at a time," said the quarterback.

READING 21, LINCOLN-SUDBURY 0

Rea 14 0 0 7 --- 21
L-S 0 0 0 0 --- 0

First Quarter
R - Zack Bates 21 run (Nick Scali kick)
R - Larry Gilligan 14 run (Scali kick)

Fourth Quarter
R - Brian Bourque 60 run (Scali kick)
September, 2, 2010
9/02/10
7:12
PM ET
By
Brendan Hall
| ESPNBoston.com
READING, Mass. -- Suffice it to say it might take a few years for Reading High to replicate its magnificent run through 2009. The Rockets put on quite the display on both sides of the ball, outscoring the opposition 441-101 in their 13-0 Super Bowl championship run, with talent like Stan Andre, Tino Perrina and James Collins leading the charges.
So how do you follow that up? Don't think about it -- "We only have to worry about Cambridge (in week one) right now," head coach John Fiore said -- but follow their lead.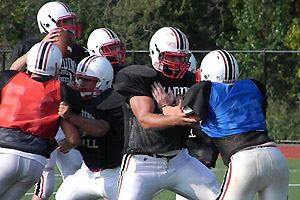 Courtesy of Brendan Hall Senior tackle Jeff Covitz, a returning league all-star, will shore up an offensive line with some new faces.
And this year's bunch was certainly taking notes in the summer of 2009, when players routinely worked out twice a day and always stayed on the field as long as they can, getting their route running and timing down as much as they could before the sun set. Senior quarterback Brian Bourque, for one, isn't resting on his laurels.
"You could always find someone to throw with on the field (last season)," Bourque said. "So this past season, we tried to do the same thing. We had a great turnout in the weight room, but we just need to keep it going, see where the season lies."
Says senior right tackle Jeff Covitz, a returning Middlesex All-Star, "Nothing's handed to us around here. We've got to earn it. You've got to work hard to get there."
If the Rockets sound a little bit cliche these days, don't take it personally. That's just the M.O. around Reading these days -- one day at a time, one game at a time, with every day another chance to improve -- and they're determined to prove to the rest of the Middlesex League that there won't be any dramatic drop-off from the glory of '09.
"I think there's a tremendous amount of pride," Fiore said. "I guess here's the distinction...the kids have alot of pride, and they want to retain the championship level. But, we also have to do that by having a realistic set of goals we've got to meet along the way, and then if we take care of that business early and at each stage, and build each stage, we should end up successful in some measurement."
In Bourque, the Rockets stand a good chance of replicating some of that success. The senior is in his first season under center, running the spread, after all these years backing up the bulldozing Andre (now a freshman linebacker at UMass). The rangy, 6-foot-4 Bourque played a key role in last year's offense as a wide receiver and defensive back, and he's still got the zip around the corner to complement a surprisingly fluid and tight throwing ability. Not only can he find his spots, he can turn a loss into a first down with his speed around the edges.
"He'll run between the tackles, but we'll put him out on the edge, too," Fiore said.
READING AT A GLANCE
2009:
13-0 (9-0 Middlesex), won Division 2 Super Bowl
Coach:
John Fiore (seventh year, 43-24 overall)
Players to watch:
Jeff Covitz, Sr., OL/DL, 6-2, 253 lbs; Brian Bourque, Sr., QB/CB, 6-4, 177 lbs; Sean Gildea, Sr., WR/SS, 6-1, 195 lbs; Nick Scali, Sr., WR/S, 5-9, 164 lbs; Anthony Fodera, Sr., OL/DL, 5-10, 224 lbs; Zack Bates, Jr., RB/LB, 5-6, 183 lbs; Brian Kelly, Sr., TE/DL, 5-11, 192 lbs.
Strengths:
Skill position players, team speed.
Weaknesses:
Inexperience at offensive and defensive lines.
Outlook:
The Rockets figure to slow down a bit after graduating one its most prolific offenses in years, but the philosophy remains the same. Whereas the bullish Stan Andre could get you five or six yards up the middle, newly-converted quarterback Brian Bourque is more of a classic dual-threat, able to put a soft touch on throws underneath and scramble around the corner when pressured. There's new faces in the trenches, but Fodera and Middlesex all-star Covitz are still anchoring the right side of the line and should be efficient once again. Defensively, the Rockets will remain an even front, but once again with all the new faces they will look to dictate with speed.