Boston High School:

Jeff DeMango
December, 5, 2013
12/05/13
2:09
AM ET
Ahead of Saturday's six MIAA Football State Championships at Gillette Stadium, today we are bringing back our "Tale of the Tape" series to break down each participating team's matchups headed into the game.

In the Division 2 Final, ESPN Boston High Schools editors Brendan Hall and Scott Barboza take a closer look at Central champ St. John's and South champ Mansfield, respectively.

MIAA Division 2 State Championship
ST. JOHN'S (9-3) vs. MANSFIELD (12-0)
at Gillette Stadium, 1:30 p.m.

When St. John's has the ball: Be prepared for a blitzkrieg. In these playoffs, the Pioneers are averaging 49.7 points per game -– including 51 or more points in all three of their Division 2 Central contests –- and an unheard-of 482.5 yards of offense, both bests among teams playing on Saturday. Much has been made over the past two years of the Oregon-like offense they've installed, looking to push a hyperactive tempo that is nearly unmatched across Massachusetts, and at the forefront of this offensive renaissance has been quarterback and Navy lacrosse commit Andrew Smiley (170-for-245, 2,368 yards, 28 TD, 4 INT; 97 carries, 866 yards, 12 TD). A true dual-threat quarterback, he has perfected the zone read, and demonstrated the ability to make difficult throws in tight windows throughout the state tournament. Smiley left the Thanksgiving matchup with St. Peter-Marian with a shoulder injury, but he is expected to play on Saturday.

A critical part of the Pioneers' passing game is predicated on finding weak spots in the defense and sitting in the holes, creating a short but fluid rhythm that allows them to keep the chains moving and therefore play fast. In accomplishing this, they may package any number of screens and route combinations on the backside of zone read plays. It's hard to ascertain who is truly the key receiver in the passing game: Mike McGillicuddy (46 catches, 817 yards, 10 TD), master of the underneath routes; senior T.J. Kelly (30 catches, 502 yards, 6 TD), a prominent basketball forward who can take the safeties deep off the ball; or junior Davon Jones (46 catches, 634 yards, 7 TD), a freakish athlete with a 40-inch vertical, who high-points balls like few others in the state.

Arguably the most crucial element, however, has been their ability to run the ball effectively in these playoffs – and not just with Smiley, who can pull the ball and slip through the first line of defense with his lacrosse-bred running skills. Junior tailback Shane Combs (149 carries, 1,143 yards, 15 TD), a Notre Dame baseball commit, has been incremental in these playoffs, going over the century mark in all four playoff games for a total of 524 yards and 10 touchdowns. As the season has progressed, Combs has transformed from fleet-footed to bullish, a tough downhill runner who can keep his legs churning after first contact.

When Mansfield has the ball: Wednesday's state championship breakfast at Gillette Stadium was dominated by the news that Hornets tight end Brendan Hill, their leading receiver on the season, will miss the game after an ACL injury suffered on Thanksgiving Day against Foxborough. While the loss of an All-State caliber receiver is never a positive, Mansfield still has dangerous targets on the outside to choose from. However, instead of spreading out the ball distribution, an increased number of targets (and the Pioneers' defensive scheming) will shift to Mike Hershman (37 catches, 645 yards, 6 TD) and Kyle Hurley (21 catches, 311 yards, 4 TD).

Leading us to the real X-factor of Saturday's game, which is what does Miguel Villar-Perez have left in the tank? The Hornets' leading rusher (890 yards, 11 TD) has been hobbled in recent weeks and was again banged up during their Thanksgiving game. Also, a dependable pass-catcher out of the backfield and in the slot, Villar-Perez has given Mansfield its dynamism on offense and, with Hill already out of the picture, its imperative that Mansfield maximize his snaps despite perhaps playing at less than 100 percent. If not ready to go, expect a greater dose of senior running back Chris Buchanan out of Mansfield's heavy sets.

Yet, for all the seeming uncertainty now surrounding the Hornets leading in, the constant has been senior quarterback Kyle Wisnieski. Throughout the season, Wisnieski has completed passes at clip of greater than 65 percent, including a very strong postseason run. The supremely efficient passer has also held on to the ball, with a touchdowns-to-interceptions ratio of greater than 5:1 (27 TD, 5 INT).

When St. John's is on defense: Judging from the scores this fall, one may get the impression this is a suspect defense. All but one opponent has put up double-digits on the Pioneers; nine have reached the 20's, and three have eclipsed 30. But some of that may be due in part to the type of offense the Pioneers run. With such quick offensive drives, that leads to more possessions for the opposition, which has often led to shootouts this season.

But that isn't to take away from what has been an athletic unit. At the forefront is the junior Jones, a three-year starter who has gone over 100 tackles for the second straight season (108 tackles, 7 INT, 5 TFL, 3 forced fumbles). Often playing as a high free safety, Jones covers a lot of ground in the deep field, and has developed a reputation as a violent hitter. Occasionally, the Pioneers will split the deep field with Jones and Smiley (3 INT), who made one of the playoffs' most acrobatic feats with a one-handed interception to ice the Central/West semifinal win over favored Springfield Central.

In the front seven, the Pioneers aren't overbearing, but they are definitely quick, led by linebackers Patch Ryan (105 tackles, 2 INT, 2 forced fumbles) and Alex Pappas (108 tackles, 8 TFL, 2 sacks). Keep a special eye on defensive end Jeff DeMango (68 tackles, 12 TFL, 8 sacks, 6 passes deflected), who demonstrates exceptional hand skills that are usually good for a batted pass or two.

When Mansfield is on defense: The Hornets' success on defense stems from its interior line, with a couple of underrated pluggers in Andrew Horstmann and Dhruv Patel. Their inside gap responsibilities will be put to the test with Combs and Smiley working the option game. But recent history sides with the Hornets, who held Barnstable's Hayden Murphy to just 21 rushing yards in the teams' Div. 2 South playoff game. Also, on the line, Steve Zieselman has enjoyed a strong senior season, earning Hockomock League All-Star honorers as a dependable two-way contributor, as well as John Keefe (56 tackles).

Junior linebacker Q'Ra Guichard has quietly led the Hornets in tackles (58 solo) to date, but last year's returning top tackler Alex Ruddy has caught up with 56 tackles, despite missing several games to start the season.

Not only will the loss of Hill set back Mansfield's passing game, the Hornets also lost their top pass rusher. Hill leads the team with 7.5 sacks.

Hornets senior Mike Barresi could draw the coverage assignment on Davon Jones, as Barresi leads the team with six passes defended.
November, 9, 2013
11/09/13
6:12
PM ET
By
Joe Parello
| ESPNBoston.com
SHREWSBURY, Mass. -- St. John's senior quarterback Drew Smiley threw for three touchdowns and added a pair on the ground as the Pioneers (7-2) routed visiting Marlborough (7-2) 56-20 in Saturday's Division 2 Central semifinal.

The Pioneers started things quickly, forcing the Panthers into a three-and-out on their opening drive, before explosive athlete Davon Jones (4 catches, 92 yards; 5 kick returns, 155 yards, TD) returned a punt 45 yards for the game's first score. The Pioneer defense forced another Panther punt moments later, but this time it would be Smiley (12-of-14 passing, 205 yards, 3 TD; 4 carries, 70 yards 2 TD) scoring for St. John's, keeping it himself for a 58-yard touchdown run on the Pioneers' first play from scrimmage.

Less than two minutes in, St. John's led 14-0. It was a stark contrast to the first time these teams met.

"We've been talking all week about winning the moment," Pioneers coach John Andreoli said. "We came out last time (against Marlboro) and did not have a good first half, and I think we were relaxed today. We were well prepared, and we had confidence in our reads and in our mechanics. Our kids played to their ability, and it was a complete game for us."

The Panthers answered with a Will Cowdrey one-yard touchdown run, but Smiley responded with an 11-play, 90-yard drive that took up just over two minutes of game time before he found junior running back Shane Combs (15 carries, 100 yards, 2 TD; 2 catches, 3 yards, TD) for a 15-yard passing score.

Smiley would punch in a one-yard score on the next St. John's drive before Pioneer linebacker Patrick Ryan intercepted Panther quarterback John Rumney, setting up another Smiley touchdown pass, this one a 44-yard strike to leading receiver Michael McGillicuddy (2 catches, 50 yards). Three plays later, linebacker Anthony Moroski picked off another Rumney pass, running it back inside the Marlborough 20, and setting up Smiley's final touchdown of the day to senior T.J. Kelly.

St. John's led 42-7 at that point.

"Last time we played Marlborough it was pretty windy, so we couldn't really throw it," Smiley said. "So this time we tried to open it up and throw it around a little bit. Then, (on the zone read) it opened up room for Shane, and when they committed to him I just kept it and had space."

Marlborough scored on the following drive, after senior receiver Matt Thall drew back-to-back pass interference calls, and the Panthers threatened to pull within 21. But, with a first and goal at the Pioneer one-yard line, Rumney was stopped for a four-yard loss by senior defensive end Jeff DeMango, then forced into two incompletions by the stingy Pioneer secondary. The half ended with St. John's leading 42-14.

The second half started with a bang for St. John's, as Combs took the first play from scrimmage for a 55-yard rushing touchdown. Rumney answered with a 23-yard passing touchdown to Jose Caquias, but Combs' 15-yard touchdown to start the fourth quarter pushed the score to 56-20 in favor of St. John's, and brought the Pioneer backups into the game.

"I think our offensive line really set the tone," Combs, a recent Notre Dame baseball commit, said. "From the get-go they were coming off the line and pounding (Marlborough) back, and by the end of the game they didn't want to line up against us. All the credit to the O-line for pushing them back all day."

Next up for St. John's is a highly anticipated rematch of their season opener against rival Leominster. The Blue Devils defeated the Pioneers 33-22 at home the first time around, and the Division 2 Central final will also be played at Leominster's Doyle Field.

Coach Andreoli and his team know it won't be easy. After all, the Pioneers have yet to defeat Leominster with head coach Dave Palazzi at the helm, but St. John's is still relishing the second chance it's getting.

"They're the defending champions, they're undefeated," Andreoli said. "We know it's going to be a challenge, but we're just going to try to line up and win every snap. I think it's a great opportunity for us to have a great week and go up there and play our best game.

"This season was my first indoctrination into the Leominster-St. John's rivalry," Combs, a transfer from St. Louis, said. "The first game I was amazed by the energy of this rivalry. Right now it comes down to preparation, and I know we have a chip on our shoulder, and we're going to out-prepare them."

St. John's will face Leominster in the D2 Central final Friday at 7 p.m., at Doyle Field.
October, 26, 2013
10/26/13
11:22
PM ET
By
John McGuirk
| ESPNBoston.com
SHREWSBURY, Mass. -- Marlborough did everything right in the first half. The Panthers dominated time of possession, and outside of a 73-yard Drew Smiley to Mike McGillicuddy touchdown pass, they were in total control against St. John's (Shrewsbury), holding a 13-point edge.

But, as we know, it takes two halves to win and Marlborough learned that lesson the hard way. The No. 21 Pioneers reversed roles over the final 22 minutes, scoring 28 unanswered points to post a 35-20 victory this afternoon at windy Pioneer Field.

"The first half we were like 'Dawn of the Dead' out there," St. John's coach John Andreoli said. "But in the second half we played our butts off. The kids never quit and we ran the ball with some authority in the second half. Defensively we dug in and gave our offense a chance to go back to work. Marlborough is a good football team but at times we shot ourselves in the foot in that first half by turning the ball over or having penalties on first down. We had to flush the first half and needed to come out and play hard in the second which we did."

What went so well for the previously undefeated Panthers (6-1) in the opening half turned into a house of horrors following intermission. After managing a paltry 106 yards of offense in the first half, St. John's (5-2) started to find its groove offensively and finished the game with 343 yards.

Unable to successfully move the ball early on, the Pioneers began to gain traction midway through the third quarter. Holes in Marlborough's defense began to widen and Smiley, a senior, was starting to find receivers getting open in the secondary.

The start of St. John's turnaround came midway through the third. On their second possession, the Pioneers drove 81 yards behind hard-charging junior running back Shane Combs (8 carries for 79 yards). That would lead to a 1-yard Smiley dive over the goal line, narrowing the deficit to 20-14 with 1:52 remaining in the quarter.

Marlborough's offense, which conjured up 205 first half yards but only 64 the rest of the way, failed in its attempts to move the ball against a rejuvenated St. John's defense. The Panthers' continuing efforts of keeping the Pioneers offense off the field eventually would backfire.

Early in the fourth quarter, Marlborough managed to reach the Pioneers 37. Facing a fourth-and-5 Marlborough opted to go for it. Quarterback John Rumney was stopped in his tracks for no gain, thus turning the ball back over to St. John's. Rumney, a senior, threw for 106 yards on 12-of-28 passing. He also led his team in rushing, gaining 72 yards on 14 carries.

"We thought we had a play there," Panthers coach Sean Mahoney said. "We didn't want to give their offense the ball back. Offensively, their offense was starting to click at that point.

"Defensively, I felt our kids got worn down a little bit. We threw the ball fairly well in tough, windy conditions but so did they. We weren't able to run the ball and that was a big difference. When we needed to run it we weren't able to. We battled them but we needed to convert on a couple of third and fourth downs in the second half and we didn't."

With the ball back in the hands of the St. John's offense, a 23-yard completion by Smiley to T.J. Kelley set up Smiley's 37-yard scamper down the left side line into the end zone. Jack Coveney's PAT put St. John's ahead to stay 21-20 with 3:38 to go.

"Our coaches told us we needed to come out with more intensity in the second half," said Smiley, who completed 9-of-16 passes for 147 yards, a touchdown, and rushed for 106 yards on 21 attempts, finding the end zone three times. "That first half was the worst half of football this team has played. We came out of halftime and played with a lot more intensity. We knew we could pound the ball and finally got it going in the second half. The way we played in the second half is the way we need to play throughout the entire upcoming playoffs."

While the Panthers, suddenly anemic, offense continuing to struggle, the Pioneers got the ball back on Marlborough's 28. Needing just one play, Smiley darted around left end for the score to put his team up 28-20 with 2:32 left. On the Panthers' next possession, Rumney was blindsided by defensive end Jeff DeMango, which resulted in a fumble that was recovered by Mike Duquette on the Marlborough 1-yard line. Running back Brad Sylvester closed this contest out with an easy plunge over the middle to make it a 15-point contest.

"When our offensive line started to get off the ball we and started to gain some confidence," Andreoli said. "Shane [Combs] was getting some tremendous yards after contact and that really got us going. Then we were able to use the wind in the fourth quarter and started to throw the ball and move the ball down field. I think the field position game really came into play for us in that fourth quarter."

McGillicuddy's early touchdown catch staked St. John's out to a 7-0 lead.

The Panthers answered two series later after Rumney hit receiver Matt Thall for a 9-yard scoring reception. Marlborough had to settle for just the six points after the following PAT sailed wide. With Thall, who also plays linebacker, given the assignment to shadow Smiley, the senior did an outstanding job containing a serious running threat. After its first score, St. John's offense did little the remainder of the half.

Marlborough took advantage of that by grabbing a 13-7 lead at 6:44 of the second quarter on Jose Caquias' 6-yard sprint around left end. Following another Pioneer four-and-out, the Panthers set up shot at their 48. A Caquias option pass to Alec Deveau netting 50 yards set the stage for Rumney's 2-yard run at 4:57, pushing the margin to 20-7. St. John's would have the ball three more times before the half was completed but could do nothing with it.
August, 29, 2013
8/29/13
1:00
AM ET
By
Joe Parello
| ESPNBoston.com


St. John's of Shrewsbury will look to reclaim its spot atop Central Mass., and will lean on one of the state's best quarterbacks to do so.

Andrew Smiley took the region by storm in 2012, setting the Central Mass single-season passing record in his first year as the Pioneers' starter. Now a senior, Smiley will again lead the St. John's "Blur" attack, an offense similar to the no huddle scheme Chip Kelly made famous at the University of Oregon.

With a combination of numerous receiver sets, a zone read style option attack and break neck pacing, the Pioneers should again boast one of the best attacks in state.

But, there is the issue of defense…

Last season, the Pioneers gave up over 29 points per game, and allowed opponents to score 33 points or more each week during a mid-season four game losing streak. The defense did show flashes, and finished the year strong, allowing only a touchdown to rival St. Peter-Marian and 19 points in the first round of the CMass playoffs against Wachusett.

Coach John Andreoli knows his group has a ways to go on that side of the ball, but he's been encouraged by what he's seen so far in camp, and during the Pioneers' scrimmage with state power Brockton.

"Our one's against (Brockton's) one's, I think it was pretty much a stalemate (Monday)," Andreoli said. "We've had a great week of practice… Particularly, working against our offense every day, it gives us something to work against that's a pretty good test."

One player that should help the Pioneers thrive on both sides is receiver/defensive back Davon Jones. The talented junior is expected to be Smiley's go-to receiver on offense, and close passing lanes in a hurry as a ball-hawking safety on defense.

A two-sport star that excels on the hardwood for the Pioneer basketball team, Jones' physicality and intelligence have caught the eye of his coach.

"First of all, (Jones) is a football player," Andreoli said. "He's always around the ball, and he's a physical kid on both sides of the ball. His yards after catch are yards that he earned by grinding it out and being physical… I think he's just continuing to develop as a player, and there's no doubt he has a real high ceiling, just on his football IQ and ability to play the game physically."

While St. John's always has numerous high profile games, they don't get much bigger than the season opener at rival Leominster. The Blue Devils have bested the Pioneers in the last two Division 1 Central Mass Super Bowls, and won their last four overall against St. John's.

Leominster scored 79 points in two games against St. John's last season, so that improving defense will be tested immediately.

ST. JOHN'S AT A GLANCE
Coach: John Andreoli (8th year, 66-18 overall)
Last Season: 8-5, Lost in Div. 1 Central Super Bowl.
Key Returnees: Andrew Smiley, Sr. QB, Davon Jones, Jr. WR/DB, Pat Ryan, Jr. LB, Jeff DeMango, Jr. DE.
Strengths: Experience at quarterback and speed at the skill positions.
Weaknesses: Inexperience and inconsistency on defense.
Overview: St. John's has, potentially, one of the best QB-WR duos in the state in Smiley and Jones, but will need to replace running back Shadrach Abrokwah and receivers Micah Cummins and John Giacoppe. Having a senior quarterback and a scheme that gives defenses no time to rest should help, but Smiley was hit early and often in a scrimmage against Brockton Monday, and he forced a few throws into coverage. But we'll chalk that up to early season growing pains, and assume an offense that averaged over 38 points per game last season will figure things out. Surprisingly, the defense was the star of the scrimmage, forcing three different "three-and-outs" and a turnover against the Boxers. The Pioneer defensive front isn't huge, but it holds the point of attack and has the speed to string out runs to the outside. If the Pioneer defense continues to improve, it could be a banner year for St. John's in brutal Division 2.
September, 15, 2012
9/15/12
8:11
PM ET
By
Brendan Hall
| ESPNBoston.com
SHREWSBURY, Mass. -– St. John's quarterback Andrew Smiley noticed receiver Micah Cummins putting on a red basketball-like compression sleeve on his left arm before this afternoon's visit from Longmeadow, and kept things real –- "You drop a pass, I'm gonna be all over you about it," Smiley cracked to him.
Done and done.
[+] Enlarge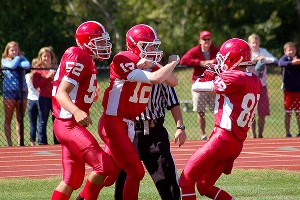 Brendan Hall/ESPNBoston.comQuarterback Andrew Smiley (12) and receiver Micah Cummins (88) connected for two touchdowns to lead St. John's to a 35-14 win over Longmeadow.
Not only did Cummins refrain from a drop, but the 5-foot-11 wideout came up with two pivotal touchdown catches in the first half that put the No. 18 Pioneers ahead for good. The defense did the rest in the second half, forcing the No. 6 Lancers into three straight turnovers on downs en route to a 35-14 win at Pioneer Field.
After a dazzling debut in his first varsity start last week against Holy Name (353 yards, 4 TD), Smiley once again went over the 300-yard mark in total offense. He was 16-of-18 passing for 246 yards, and carried the ball 15 times for 96 yards, with four touchdowns total.
Meanwhile Cummins finished with four catches for 74 yards for St. John's (2-0), but earned most of his yardage after the catch with some slippery moves. At 160 pounds, Cummins is not the biggest or most intimidating target for the Pioneers – but he may have the best body control.
That was perhaps best explicated on Cummins' second touchdown catch, a 30-yard snag at the two-minute warning of the first half that put the Pioneers ahead 21-14. The play called for Cummins to run a "jerk" route to the left sideline, in which the receiver fakes like he will sit in a zone hole before continuing his shallow crossing route. He hauled in Smiley's short dart with a few feet of real estate left, then planted upfield, spun through one defender, juked to the right of another, and marched the final 25 yards untouched.
That was preceded by a 47-yard strike to Cummins towards the end of the first quarter that put the Pioneers up 14-7. Cummins ran a post route up the left sideline, facing man coverage with a safety shaded to his side, and was sprung free by a pick from John Giacoppe (5 catches, 62 yards) to make the grab behind the safety and glide into the end zone.
"He's so shifty, hard to tackle," Smiley said. "He's not the strongest kid out there, but he's quick. He's just hard to tackle."
Smiley came up with two more scores in the third quarter to put this one away, first calling his number for a seven-yard scamper, then finding Davon Jones on a seam deep downfield for a 30-yard pass.
Improved defense:
The Pioneers came away with the win last week against Holy Name, but were not satisfied with the run defense, giving up 463 yards and five scores on the ground to the Naps' vaunted Double Wing scheme (282 coming from Quron Wright). This week, they split that number in half, allowing 233 yards and two scores against the Lancers' modified Wing-T scheme (which today also showed elements of the "Flexbone" formation, with heavy personnel groupings).
Give credit to the front four for that marked improvement. Against a Longmeadow's senior-laden offensive line that is considered one of the state's best -- averaging over 260 pounds across, and led by road graders Rob McClure and Lou Calabrese -- the Pioneers held their own. Led by juniors Jeff DeMango and Connor Gatto, and sophomore Sam Norton, they were able to stuff the interior gaps ably.
The hallmark of today's defensive effort was the aforementioned second-half effort, in which the Lancers ended three straight drives with a turnover on downs in Pioneer territory.
"They've gotten some confidence every week, and they're getting better," St. John's head coach John Andreoli said. "We've played some tough teams all along – Brockton, New Bedford, Shepherd Hill [all three were scrimmages], Holy Name, I mean those are great teams. And our kids stepped up and played disciplined.
"We stayed in a lot of base fronts today, they trusted their reads, and ran to the football. That's what they did, and that's what they've been doing all year."
Longmeadow quarterback Frankie Elder led the Lancers with 86 yards and a score on 16 carries, but a had a forgettable day through the air with 74 yards on 5-of-17 passing, with two picks. Fullback Austin Sierra also had 14 carries for 68 yards.
Dejection, but praise:
Some Lancers felt their hearts sink to their knees in the moments following the game. Elder, for one, sat on the grass, helmet still buckled and lay motionless with a thousand-yard stare.
With legendary former head coach Alex Rotsko leaving behind arguably one of the Lancers' most talented senior classes in a while, there have been high hopes for this year's squad, with a No. 6 preseason ranking in ESPNBoston.com's statewide MIAA poll. A win today would have satisfied Longmeadow's wishes to be taken seriously as one of the state's elite programs.
But in the eyes of many, they already are, and have been for some time.
"It's a respectable win [today], because Longmeadow is a very good program," Cummins said. "I think in a couple articles, they said they wanted to get themselves into the elite of Massachusetts football, and I think they already are elite. I look back at the stats, and they're one of the top programs in the state year in and year out.
"They're well-coached, and I have all the respect in the world for them."
One aspect of the Lancers' gameplan that worked particularly well today was their defense of St. John's running back Shadrach Abrokwah. Coming off a 205-yard, three-touchdown performance last week over Holy Name, the Worcester resident was held to 36 yards on seven carries, but did have a nice 40-yard reception off a swing pass.
But as the stats indicate from today's game. Keying Abrokwah on the zone read opened the field once again for Smiley and the air attack.
"They're just athletic," Longmeadow head coach Nick St. George said. "They're good athletes, they have good receivers, they get the ball out to their guys in space and they force you to make tackles. We missed a lot of tackles today."
Flash cards?
One of the most interesting nuggets from today's post-game interviews was the suggestion from Smiley that the Pioneers may begin to utilize flash cards from the sideline to speed up what has already been a turbo-charged playcalling system.
But not just any ol' flash cards. One of the main storylines with the Pioneers' early season is how they have adopted the "Blur offense" tempo popularized by the University of Oregon under coach Chip Kelly. In recent years, Kelly's assistants have used posterboard-sized placards consisting of four panels with seemingly any sort of picture on it –- a number, a color, a school logo, a mascot, characters from
Caddyshack
, hosts from
ESPN College Gameday
, and so forth.
Even among the increasingly-innovative college coaching ranks, Oregon's method of calling in plays is considered radical. The only thing that's come close so far in the MIAA in recent years might be Duxbury, which dresses five JV players in bright orange hats (
nicknamed "The Amigos"
) and gives them color-coded cards to hold up.
"Oh, we might be bringing those out," Smiley said when a reporter asked about replicating the "Blur" tempo and referenced the Ducks' flash cards.
Have they been working on it?
"Yeah, a little bit," Smiley said.
It could be an innocent comment, and ultimately nothing could come of this. But given the progression of this offense, it could also be the next natural step.
ST. JOHN'S 35, LONGMEADOW 14
LHS 7 7 0 0 --- 14
SJS 14 7 14 0 --- 35
First Quarter
L – Frankie Elder 3 run (Eric Barsalou kick) 6:36
S – Andrew Smiley 8 run (Pat Lehane kick) 6:16
S – Micah Cummins 47 pass from Smiley (Lehane kick) 1:50
Second Quarter
L - Joe Lee 1 run (Barsalou kick) 6:51
S – Cummins 30 pass from Smiley (Lehane kick) 2:00
Third Quarter
S – Smiley 7 run (Lehane kick) 8:02
S – Davon Jones 30 pass from Smiley (Lehane kick) 1:52