Boston High School:

Jeff Soulouque
December, 4, 2012
12/04/12
7:07
PM ET
By
Brendan Hall
| ESPNBoston.com
OFFENSE
QB -- Nick Peabody, Sr., Barnstable
The 6-foot-4, 225-pound signal-caller led the Red Raiders to their most successful season in over a decade, claiming the Old Colony League title outright, holding the No. 1 spot in ESPNBoston.com's statewide poll for seven weeks, and falling to Everett, 20-19, in a thrilling Division 1A Super Bowl at Gillette Stadium. For the season, he threw for 2,627 yards and 34 touchdowns while also carrying the ball 73 times for 366 yards and seven more scores. He is considering several Division 1 FCS schools for college.
QB -- Drew Belcher, Jr., Reading
In two years as the Rockets' starter under center, the 6-foot-4, 210-pound dual-threat quarterback has gone 21-4, including two Middlesex League titles and a Division 2 Super Bowl championship this season. Through the air, he was very efficient, completing 107 of 169 passes for 1,710 yards, 21 touchdowns and just two interceptions. On the ground he was just as dangerous, carrying 138 times for 804 yards and 15 scores.
QB -- Troy Flutie, Jr., Natick
The son of Boston College legend Darren Flutie, the younger Flutie endured a record-setting 2012 campaign in leading the Redhawks to the Division 2A Super Bowl title game. He completed 68 percent of his passes for 3,153 yards and 35 touchdowns to just eight interceptions, and on the ground he carried 167 times for 1,075 yards and 14 more scores.
QB -- Andrew Smiley, Jr., St. John's (Shrewsbury)
Smiley took the starting job during the preseason following injuries, and in his first year running the Pioneers' "Blur" offense, he set the Central Mass. single-season record for passing yardage. The 6-foot-3, 200-pounder completed nearly 62 percent of his passes for 3,123 yards and 25 touchdowns; on the ground, he carried 141 times for 1,023 yards and 10 touchdowns. The Pioneers also led the state in yards from scrimmage, averaging 442.2 yards per game.
RB -- Jonathan Thomas, Jr., St. John's Prep
The Catholic Conference's Offensive MVP established himself as one of the state's most dangerous in leading the Eagles to their first Division 1 Super Bowl title in 15 seasons. The 6-foot, 195-pound Salem resident carried 220 times for 1,794 yards and 15 touchdowns. He also added nine catches for 153 yards and three touchdowns, and defensively added 20.5 tackles and two interceptions. Thomas currently holds a scholarship offer from UMass, but more are sure to follow.
RB -- Quron Wright, Sr., Holy Name
The 5-foot-6, 165-pounder finished his career as the all-time leading rusher at both his school and in Central Mass. This fall, he totaled 3,199 yards from scrimmage and 38 touchdowns for the Naps, who made the postseason for an eighth straight year. That includes 35 rushing touchdowns and a state-best 2,254 rushing yards, as well as 806 return yards and two return touchdowns. For his career, Wright has 5,891 rushing yards and 2,659 return yards, to go along with 95 touchdowns (84 rushing, seven kickoff return, two receiving, two interception return).
RB -- Brendan Flaherty, Sr., Beverly
Considered the most dynamic back of the Panthers' vaunted three-pronged rushing attack, the 6-foot-1, 185-pound Flaherty led the Panthers to the Division 2A Super Bowl title and their first undefeated season in 100 years. On the season, he carried 160 times for 1,496 yards and 18 touchdowns, and added 10 catches for 236 yards and four more scores.
RB -- Dylan Oxsen, Jr., Plymouth South
By far the state's most surprising breakthrough this fall, Oxsen took Eastern Mass. by storm as the Panthers qualified for postseason for the first time in the school's 30-year history. After recording just three touchdowns last fall, the 5-foot-8, 205-pounder exploded for a state-best 40 rushing touchdowns in 2012, to go along with over 2,100 yards on the ground.
WR -- Brian Dunlap, Soph., Natick
Already off to a remarkable start to his young varsity career, the 6-foot Dunlap led the state in receiving, with 86 catches for 1,570 yards and 21 touchdowns. He also had 34 carries for 301 yards and another score. In just two years of varsity, Dunlap already has record-pace receiving totals: 155 catches, 2,742 yards, 35 touchdowns.
WR -- Jakarrie Washington, Sr., Everett
The 5-foot-10, 170-pounder was as dangerous on the ground as he was through the air, as the Crimson Tide captured their third straight Super Bowl championship. He caught 33 passes for 439 yards and nine touchdowns, and on the ground had 75 carries for 697 yards and 15 more scores. Defensively, he also recorded two picks and two fumble recoveries, one of which was returned for a touchdown.
WR -- Elijah Scott, Sr., Cambridge
Scott exploded into the spotlight following the Falcons' shootout loss to Everett, and stayed there for good. On the season, he recorded 73 catches for 1,047 yards and 11 touchdowns, the latter tying a school record, as the Falcons went 7-4 for their first winning season since 2007.
WR -- Dylan Morris, Sr., Barnstable
The 6-foot, 180-pounder established himself as one of the region's best deep-ball threats, as the Red Raiders reached their first Super Bowl since 1999. On the season, he recorded 33 catches for 716 yards and 13 touchdowns. Morris signed a National Letter of Intent with UMass last month, for baseball.
WR -- Will Heikkinen, Sr., Andover
Part of one of the most dynamic receiving corps in Eastern Mass., the 6-foot-1, 190-pounder led the Golden Warriors in receptions (67) and receiving yards (1,126), to go along with nine touchdowns as the Warriors reached the Division 1 playoffs for the second time in three seasons.
TE -- Terrel Correia, Sr., Nantucket
Another one of the state's surprise breakthroughs, the 6-foot-7, 270-pounder was a matchup nightmare for the Mayflower League. On the season, he led the 4-7 Whalers with 26 catches and 372 yards for five touchdowns. Correia is verbally committed to UMass, where he plans on converting to the offensive line.
OL -- John Montelus, Sr., Everett
The Notre Dame-bound left tackle concluded his Crimson Tide career as a three-time Super Bowl champion. The 6-foot-5, 320-pounder started on each of those Everett championship teams and was a finalist, the first-ever lineman, for our Mr. Football Award. Montelus, who didn't allow a sack in his high school career, will play in the U.S. Army All-American Bowl in January.
OL -- Rob Kosharek, Sr., Duxbury
The 6-foot-6, 270-pound road-grading tackle was a key part of a Dragons' offensive line that fueled the team to a then state-best 37-game winning streak, that only ended in a Division 2 playoff game against Mansfield. Kosharek led the team in pancake blocks with 28, nearly doubling the amount of Duxbury's second leading blocker.
OL -- Aaron Dyke, Sr., Auburn
The 6-foot-4, 295-pounder was among the state's most punishing road graders, as the Rockets won their fifth straight Central Mass. Super Bowl title. With Dyke leading the way, Auburn once again went over 3,000 mark in rushing (3,155 yards, 10.1 yards per carry, 53 TD) and accumulated 66 total scores and nearly 4,000 yards of offense. They also outscored the opposition 468-84, with four shutouts, to go 13-0 and captured the Division 3 Super Bowl title.
OL -- Matt Comerford, Sr., Reading
Reading was one of the state's most dominant offenses in capturing its second Division 2 Super Bowl title in four years, and the 6-foot-4, 270-pounder made sure the Rockets won the line of scrimmage. The Rockets were one of the best rushing attacks (2,544 yards, six yards per carry, 34 TD) and totaled 4,272 yards from scrimmge with 56 touchdowns. Comerford is also a standout goaltender on the Rockets' lacrosse team.
OL -- Joe Previte, Sr., Brockton
The 6-foot-2, 260-pounder played the interior and was a force for the Boxers, allowing them to total over 3,000 yards rushing in their newly-installed flexbone attack. Behind Previte, the Boxers averaged 255.5 rushing yards per game, among the state's best, and returned to the Division 1 Super Bowl for the first time since 2009. Previte also recorded 35 tackles and a sack as a defensive tackle.
ATH -- Tedaro France, Sr., Barnstable
A true three-phase contributor, the Red Raiders receiver and defensive back was considered by his peers the MVP of Barnstable's run at a Div. 1A Super Bowl. France tallied 41 receptions for 884 yards and 13 receiving touchdowns. He also had 682 combined return yards for 1,600 yards all-purpose yards and 19 total touchdowns.
ATH -- David Harrison, Jr., Weymouth
Quarterback, running back, wide receiver, it didn't matter which role Kevin Mackin asked the versatile Harrison to play this season. Harrison finished second in Division 1 with 21 touchdowns scored while hauling in 12 touchdown passes and throwing for eight more scores.
K -- Jackson Bockhorst, Sr., BC High
A feared weapon, not only in the kicking game but with his kickoffs, Bockhurst has earned the reputation as one of the most consistent kickers in the state during the last several seasons. In 2012, Bockhurst connected on three field goals and 17 point-after tries for 26 points.
***
DEFENSE
DL -- Maurice Hurst, Sr., Xaverian
As the Catholic Conference's Lineman of the Year, Hurst was a dominant force in the middle, recording 51 tackles (23 for loss), 11 sacks, four forced fumbles and an interception. Offensively, he also ran for 63 yards and five touchdowns as the Hawks' goal line running back. The 6-foot-3, 295-pound Hurst is the state's No. 2 overall prospect, and will be heading to Michigan next year.
DL -- Jon Baker, Jr., Millis/Hopedale
Considered one of New England's top Class of 2014 prospects, Baker dominated the Tri-Valley League once again as the Mohawks made a second straight Division 4 playoff appearance. As a defensive tackle, he registered 78 tackles with four sacks, and was named the league's Lineman of the Year for the second straight season. The 6-foot-3, 305-pound Baker currently holds offers from UMass, UConn and Boston College.
DL -- Peter Ngobidi, Sr., Catholic Memorial
The 6-foot-2, 215-pound Hyde Park resident established himself as one of the state's premier edge-setting defensive athletes, despite the Knights' struggles to a 2-8 campaign. Off the edge, he led the Knights in sacks (12), ranked second in tackles (68) and recorded three forced fumbles. Ngobidi will continue his career next fall at UMass.
DL -- Jeff Soulouque, Sr., Everett
Soulouque was a feared pass-rusher coming of the edge of the Crimson Tide defense which allowed just 12.6 points per game for the three-time defending Super Bowl champions.
LB -- Marshall McCarthy, Sr., Duxbury
Perhaps the most surefire tacklers in the state, McCarthy was the fulcrum of the Dragons' defense at his inside linebacker position. The 6-foot, 195-pounder led the team in tackles with 116 (79 solo), averaging nearly 10 tackles per game, and sacks with 12.5. He also had two forced fumbles and an interception.
LB -- Sha'ki Holines, Sr., Springfield Commerce
The 6-foot-3, 215-pounder is bound for UConn next season and was capable in the pass rush and he is adept at stuffing the run. Holines also finished the season with two touchdowns on offense.
LB -- Zack Hume, Sr., Nashoba
The 6-foot-2, 230-pounder was one of the most feared linebackers across the state, as the Chieftains captured their second straight Central Mass. Division 2 Super Bowl title to extend their win streak to a state-best 26 games. Hume totaled 113.5 tackles on the season, giving him over 100 for the third straight year, with 10.5 tackles for loss, three forced fumbles, a sack and an interception. Hume is also the two-time Defensive MVP of Mid-Wach B.
LB -- Andrew Ellis, Sr., Barnstable
Leading one of the state's most aggressive, athletic front sevens, the 5-foot-11, 230-pounder recorded over 100 tackles as the Red Raiders spent seven weeks at No. 1 in our statewide poll and reached their first Super Bowl since 1999. He had 105 tackles on the season, to go along with four interceptions and two forced fumbles.
LB -- Brad Schiff, Sr., Sharon
At just 5-foot-7 and 155 pounds, Schiff came away with the Defensive MVP award in the competitive Hockomock League. He recorded 174 tackles (17 for loss), four forced fumbles, a sack and an interception as the Eagles unexpectedly captured the Eastern Mass. Division 3 Super Bowl title in their first-ever postseason appearance. For his career, Schiff had 320 tackles (36 for loss), seven forced fumbles, three sacks and an interception.
LB -- Sean Smerczynski, Jr., St. John's Prep
The 5-foot-10, 216-pounder was an integral force for the Eagles as they captured their first Division 1 Super Bowl title in 15 seasons. On the year, he recorded 76 tackles, six tackles for loss, a sack and two fumble recoveries and was named a Catholic Conference All-Star.
DB -- Alex Moore, Sr., St. John's Prep
Earlier this week, Moore was named ESPN Boston's Mr. Football for the 2012 for his impact in all three phases of the game. On offense, he carried the ball 112 times for 857 yards and 14 touchdowns, and added a team-high 20 receptions for 455 yards and five more scores. Defensively, he recorded 67 tackles from the strong safety position, to go along with four forced fumbles, four interceptions (including a return for a TD) and five tackles for loss.
DB -- Micah Morel, Sr., Brockton
One of the top safeties in the state, Morel was also asked to play quarterback for several weeks when Austin Roberts was lost to injury for the Division 1 EMass Super Bowl finalists.
DB -- Jalen Felix, Sr., Everett
Playing lock-down corner, Felix tallied two interceptions for the three-time reigning Super Bowl champions. Felix also made his presence felt on the offensive side of the ball, leading the Crimson Tide in rushing with 684 yards for nine touchdowns. He also tallied three receiving touchdowns in addition to a kick return for a score.
DB -- Lucas Bavaro, Sr., St. John's Prep
The Dartmouth commit was one of the most hard-hitting forces in the state, playing a hybrid role of linebacker and free safety for the EMass Division 1 champion Eagles. Bavaro finished third on the Eagles with 46.5 tackles (41 solo), including five tackles for loss. He also tallied two interceptions, two forces fumbles, a fumble recovery and two punt blocks.
RET -- Cam Farnham, Sr., Andover
Always a big-play threat in the return game, Farnham was also a integral part of Andover's vaunted passing attack. The shifty speedster hauled in 11 touchdown receptions with two returns for a score.
December, 1, 2012
12/01/12
7:54
PM ET
By
Marc Thaler
| ESPNBoston.com


FOXBOROUGH, Mass. -- For a brief moment late in regulation, Everett's quest to win a third straight Super Bowl was in serious jeopardy.

"Honestly, this one's been more stressful than any of the previous 10," Everett head coach John DiBiaso said Saturday after his No. 2 Crimson Tide clinched the Eastern Mass. Division 1A title at frigid Gillette Stadium, 20-19, against No. 1 Barnstable. "I am emotionally, physically, mentally drained."

Factors that caused DiBiaso to admit exhaustion included five turnovers committed by Everett (11-1), a fortuitous missed fourth-quarter extra point that kept Barnstable from forcing a 20-all, and Kenny Calaj's near fumble while the three-peat champs were killing the clock.

"I knew I was down because I felt my elbow hit the ground," said Calaj, who intercepted standout quarterback Nick Peabody on Barnstable's previous, and final, offensive possession. "That's when it popped out."

In real time, it appeared Calaj fumbled with 79 seconds to play. Kevin Hardy pounced on the football. Barnstable (11-1) prepared to take over roughly 30 yards from paydirt – and perfection.

But the officials – without the benefit of replay – quickly convened and ruled Calaj down by contact. The stadium scoreboard showed the replay, and it confirmed Calaj's interpretation of the play.

"It was tough to be on the end of it that we were," Barnstable head coach Chris Whidden said of the call that saved the Tide from a sixth turnover.

Barnstable – which vaulted to No. 1 with its 13-7 double overtime upset of Everett on Sept. 28 – wasn't without its chances, however. The Red Raiders capitalized on just one of the turnovers they forced. Peabody fired a 9-yard first-quarter touchdown to Tedaro France (3 receptions, 93 yards, 3 TD) that pulled the Red Raiders within 7-6.

After France caught Peabody's perfect back-shoulder throw, the Tide caught their first break. A bad point-after snap led to a failed run.

Jakarrie Washington (9 carries, 121 yards, 2 TD) reclaimed momentum for Everett early in the second. Showing excellent vision, he saw a gap along the right edge, cut back before the hole closed, and raced 53 yards down the sideline.

Washington's 6-yard run inside the right pylon pushed Everett's lead to two touchdowns late in the third.

Barnstable's feverish comeback started with 15 seconds left in the frame – and just 44 seconds after Gilly De Souza split the uprights for a 20-6 lead.

Peabody hit France on a sideline route, and the receiver did the rest. He stayed upright after tangling feet with his press-coverage defender, made the catch, then beat De Souza to the goal line on the strength of a sensational maneuver at the 35.

Everett's fourth-quarter false start on fourth-and-1 led to a punt. Peabody (8-for-28, 205 yards, 3 TD, 2 INT) orchestrated a three-play drive that led to points. The QB eluded multiple defenders, buying time for France to slip past the secondary and make a wide-open 30-yard TD grab with 7:26 to go.

Dereck Pacheco's PAT attempt had the height. But it was off-target.

"It's never one kid's fault. It's never the offense, defense or special teams. You win games like this as a team, you lose games like this as a team. Our kids are as strong as they've ever been."

The Tide? They're just a little bit stronger.

"We earned it. We worked hard all season long, worked hard for the past three years," Washington said. "We just proved that we're the best."

EVERETT'S 'D' EARNS AN 'A'
Josh Palmer and Calaj each intercepted Barnstable's gunslinger signal-caller, and both picks were critical in the outcome.

Palmer's INT turned into a 30-yard TD return on the game's seventh play from scrimmage. Calaj ended Barnstable's last-ditch effort.

Those plays were set up by teammates who pressured Peabody without being touched once the ball was snapped.

C.J. Parvelus set up the pick-six with a well-timed blitz. Everett's linebacker rushed untouched over center and forced a quick release by Peabody. The soft, 5-yard toss was intended for France, but Palmer jumped the rout.

Defensive end Jeff Soulouque exploded off the right edge in the final minutes. Peabody felt the pressure and rolled out of the pocket.

"I saw him (off the snap) and said, 'I have to get him. I have to at least make him feel uncomfortable because he is a great quarterback,'" Soulouque said. "I ran him down, he felt uncomfortable and threw it for an interception."

MOVING THE CHAINS
Overshadowed by the five turnovers was Everett's ability to extend drives. Fueled by Washington's 121-yard performance, the Tide converted third downs at a 40-percent clip (4 of 10).

By contrast, Barnstable was 1-for-12 on third down (8 percent).

"I thought we moved the ball on offense well. We ran the ball real well," said DiBiaso, who called the numbers of Jalen Felix (12 carries, 40 yards), quarterback Raheem Wingard (11-10), Joey White (7-25) and Calaj (10-31). "We just made some stupid, stupid mistakes."



No. 2 Everett 20, No. 1 Barnstable 19
Everett (11-1) 7-6-7-0 – 20
Barnstable (11-1) 6-0-7-6 – 19

First quarter
E – Josh Palmer 30 INT return (Gilly DeSouza kick), 7:32
B – Tedaro France 9 pass from Nick Peabody (run failed), 2:42

Second quarter
E – Jakarrie Washington 53 run (kick failed), 9:31

Third quarter
E – Washington 6 run (DeSouza kick), 1:09
B – France 76 pass from Peabody (Dereck Pacheco), :15

Fourth quarter
B – France 30 pass from Peabody (kick failed), 7:26
October, 20, 2012
10/20/12
6:52
PM ET
By
Brendan Hall
| ESPNBoston.com
DORCHESTER, Mass. -- This week's ESPN Boston Game of the Week, sponsored by the Massachusetts Army National Guard, took us to Viola Stadium where No. 2 Everett came away with a 28-7 win over host BC High. Everett swarmed defensively and caused havoc in the backfield for the most of the day, registering six sacks.

Leading the way defensively for Everett was senior defensive end Jeff Soulouque, who came up with two of those six sacks. For that, he was presented by the National Guard with our Player of the Game award.

(Video by Greg Story)


October, 13, 2012
10/13/12
8:50
PM ET
WESTWOOD, Mass. –- It hasn't always been pretty, but they've gotten the job done.
After taking a rather mundane 24-7 win over Xaverian on Saturday, John DiBiaso characterized the play of his No. 2 Everett Crimson Tide as 'up and down.'
In recent weeks, Everett has struggled through injuries, playing without five defensive starters last week against Cambridge. The Crimson Tide also went with their fourth string quarterback Raheem Wingard to start Saturday's game.
[+] Enlarge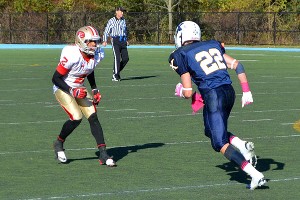 Scott Barboza/ESPNBoston.comEverett's Jakarrie Washington had three rushing touchdowns and an interception in the Crimson Tide's 24-7 win over Xaverian.
Still, Everett has endured. Jakarrie Washington made his presence felt on both sides of the ball against the Hawks, running for three touchdowns and picking off a pass. The Crimson Tide have also relied on their strengths, as they did against Xaverian, winning the battle at the line of scrimmage. On offense, Everett was able to move the pile. On the flip side, the Crimson Tide defensive line was dominant, led by outside linebacker C.J. Parvelus' three sacks.
Yet, DiBiaso felt compelled to point out some of his teams' deficiencies, even after the victory.
"Our offense struggled, but our defense played well," the Everett head coach said.
He added, "We still haven't developed an identity on offense, and we have to do that in the next couple weeks."
The consensus is, however, that the Crimson Tide (5-1) can almost move the ball at will when settled into their double wing sets. Washington (12 carries, 87 yards) found success running off the right side of the line.
Everett was also advantaged by great field position against the Hawks (1-5).
For the second straight week, Xaverian was unable to get down the long snapper to punter connection, with two botched snaps setting up Everett drives at the plus-30 and 31, respectively.
Washington capped both of those drives with touchdown runs.
DUAL THREAT
While Washington had a nose for the end zone, his biggest play of the day perhaps came on defense.
Everett's second offensive fumble lost of the first half set up Xaverian on the plus-side of the 50 with 1:27 remaining in the half. A few plays later, the Hawks had moved the ball to the 26 and eyed the end zone. On first and 10, Xaverian quarterback Austin DeCarr was looking for seven. That's when Washington, who provided blanket coverage on Hawks wideout D.J. Pagliuca, made one of the more athletic interceptions you'll see this season.
"They ran a little cross pattern, and we switched guys and I ran with it," Washington said. "I had [Pagliuca] beat and I became the wide receiver and just caught the ball."
STIFLE YOURSELF THERE
The Crimson Tide were able to force the Hawks' offense out of sync with solid pressure throughout. Parvelus (3 sacks) along with Jeff Soulouque (2 TFL, 1 sack, 2 QB hits) set up shop in the Hawks' backfield.
It was all part of the plan to keep DeCarr (11 of 28, 135 yards, TD) from conducting an air raid.
"We came into this game, we just wanted to put pressure on the quarterback, make him uncomfortable, get them off their game and then give the offense the chance to put as much points on the board," Parvelus said. "We wanted to bounce back from last week [against Cambridge] and have a good defensive week."
Everett –- 7 10 7 0 -- 24
Xaverian – 0 0 7 0 -- 7
First quarter
E - Jakarrie Washington 2-yard run (Gilly De Souza kick)
Second quarter
E - Washington 10-yard run (De Souza kick)
E – De Souza 38-yard field goal
Third quarter
X - D.J. Pagliuca 62-yard pass from Austin DeCarr (Kyle Darrow kick)
E - Washington 8-yard run (De Souza kick)
September, 26, 2012
9/26/12
4:31
PM ET
1. THROUGH THREE WEEKS, WHICH TEAM HAS BEEN THE BIGGEST SURPRISE?
Scott Barboza, ESPN Boston High Schools Editor:
I don't know if it's so much of a surprise, but I think we can say that Nauset football is for real and might be the front-runner for the Atlantic Coast League crown this season. While Mashpee has fallen below some preseason expectations, the Warriors 20-point win over the defending Division 4 Super Bowl champions last week was impressive. I'd absolutely put head coach Keith Kenyon on my shortlist for Coach of the Year in the early season, having completely turned that program around in his third year on the job. They'll have another challenge this week with a trip to Cardinal Spellman, but I wouldn't be surprised to see the Warriors undefeated after Week 4.
Brendan Hall, ESPN Boston High Schools Editor:
I know in the preseason I predicted Nauset would win out in an Atlantic Coast League that was expected to be a toss-up this year, and through the first three weeks of the season the Warriors have looked strongest. But if you told me in the preseason the Warriors would not only break through a stout veteran Wayland defense, but also roll over Mashpee with ease, I'd have chuckled.
But that's exactly what we've got here. The Warriors have been off to a dominant start to the 2012 season, outscoring the opposition 95-32, including a 34-15 thump of Mashpee last weekend. But more than the impressive statistics on defense, and more than the shroud of scouting mystery provided by its remote location (ever been to Eastham after Labor Day?), it's the offensive gameplan that makes the Warriors such a tough –- and unpredictable –- squad.
Keith Kenyon has turned around a once-dormant program (4-46 from 2005-09) into a formidable foe, in part due to the fact Nauset is one of the few teams in New England running exclusively out of a true Single-Wing offense. We're talking one-inch splits, unbalanced formations and even fullbacks calling the cadence.
Last year, captain and fullback Brendan Battles-Santos (also an ESPN Boston All-Stater and UConn freshman)
said of Kenyon's offense
, "when he brought in the Single Wing, I thought it was the best thing in high school football. I was like, 'This is sick', I'm not even getting the ball and this is fun, you know?"
Heck, even Wikipedia
applauds Kenyon's application of the Single Wing at Nauset
.
Last year, you had to pick your poison between the aforementioned blocking back Battles-Santos and brothers Nathan and Dylan Holmes, who shared quarterback duties. This season, Jimmy Sullivan has taken the reigns at QB, and he had his breakout last weekend against Mashpee, carrying 22 times for 205 yards. Look for him to be a continued threat as the Warriors look for their first playoff berth ever in school history.
Adam Kurkjian, ESPN Boston correspondent:
Have to go with Chelmsford. It speaks to the depth of the Lions' program that they can lose as much talent and experience from a year ago and beat teams like Westford Academy and Acton-Boxboro that decisively. It remains to be seen whether or not Chelmsford will keep up this pace with the iron of the Merrimack Valley Conference Large Division, but it's a good start.
Bruce Lerch, ESPN Boston correspondent:
How about Bishop Fenwick? The program hasn't had a winning season since 2007 and is off to a 3-0 start with three different types of wins. First came a solid 22-14 victory over an always tough Northeast team, then the Crusaders showed they could do the shootout thing by putting up 39 points against Pope John, and last week they showed they can do it with defense in a 14-7 triumph of Lynnfield. Rufus Rushins is finding the end zone on the ground while quarterback Nick Bona and wideout Charlie Maistrellis have a strong connection through the air. The Catholic Central Large has been the domain of Cardinal Spellman, St. Mary's and Austin Prep over the years but Fenwick looks like it may be ready to get back to challenging those teams this season.
John Botelho, Editor-in-Chief, South Shore Sports Journal:
Whitman-Hanson is off to a 3-0 start with wins over Plymouth North, Marshfield and should keep getting better. The Patriot League Keenan Division is still a race for who finishes second to Duxbury until someone knocks them off. Still though, the Panthers have closed the gap, at least a little bit, and this league has to be among the best on the South Shore now with undefeated Hingham in it as well. Tom Sapienza has transitioned seamlessly from wide out to quarterback this year, and has already found a top target in Dondre James, who has caught four of his eight TD passes.
Noth Attleborough has also been a pleasant surprise so far this year. Yes, they were a team many people thought could win the Hockomock Kelley-Rex crown, but they already hold wins over Rhode Island's top team in LaSalle and they beat the defending EMass. Div. 1 Super Bowl champ in BC High. If you had North at 2-0 after those two games before the season started, you were in the minority. And they didn't just squeak by, they beat both teams by at least 20 points. Sure, they won a close call against Bishop Feehan, but that was a trap game for them coming off those two huge wins. This team has already raised the ceiling for the expectations significantly in 2012.
Talking surprises, we might as well bring up both Middleboro and Norwell here too. Both programs have struggled to be competitive in recent years, but both are currently 2-1 this year (and both are following 2-9 campaigns in 2011). Neither team has gotten to the meat of their schedule yet, but it's always nice to see teams trending upward.
The Sachems have cruised past Coyle & Cassidy and Falmouth the last two weeks. Unfortunately for them, Duxbury comes to town this Friday. Still though, a clear message would be sent if they can put on a competitive show. As of right now, they'd probably be the favorites against Silver Lake, North Quincy and Carver, and winning those three would mean finishing at at least .500 for the season.
Norwell beat Randolph and South Shore Vo-Tech the last two weeks, surrendering 12 total points along the way. They host winless Rockland on Saturday, and the Bulldogs are having trouble finding the end zone. The Clippers could find themselves 3-1 before they run into Abington and Mashpee in the next few weeks.
2. WHICH PLAYERS HAVE SEPARATED THEMSELVES SO FAR FOR ESPNBOSTON.COM'S "MR. FOOTBALL" AWARD?
Barboza:
Averaging nearly 17-yards-per-carry heading into Week 4 action, it's hard to argue that any other single player in the state has contributed more to his team than Holy Name senior running back Quron Wright.
Beyond Wright, I don't know if there's another singular talent that has entirely joined that conversation, but there's a couple others worth watching. Darien Fernandez is tearing up the record books for the Vikings, setting a school-record with six touchdowns in a 51-14 win over Falmouth and leading Wareham to a 3-0 record. This might be a little more outside of the box, but I defy you to find a lineman who's been more valuable to his team in the early going than Reading tackle Matt Comerford, who's absolutely eaten up all comers in the early season, including Brockton's defensive line, which is no slouch in its own right. If you want to look at the defensive side of the ball, linebacker Zach Hume is poised to lead Nashoba to great heights.
Hall:
At running back, Burlington's Marcus Odiah and Quron Wright have separated themselves for contention with some impressive yardage in the early-going. Wright has amassed over 650 yards rushing on just 39 carries, while Odiah is averaging over 230 yards rushing per game. Both demonstrate exceptional top-end speed, albeit in different manners –- Odiah the long and slender build at 6-foot-1, Wright the short and compact frame that makes him difficult to spot behind the huge Holy Name linemen in the double wing.
And I mean, honestly, how can you not dig #QuronMania?
At quarterback, the competition is furious right now, with a number of players putting up impressive stats so far. St. John's of Shrewsbury's Andrew Smiley, Natick's Troy Flutie, Reading's Drew Belcher and Springfield Central's Cody Williams, all juniors, have put up good numbers and showed resilient poise in the crunch. However, Barnstable's Nick Peabody seems to be a cut above the quarterbacking competition right now. In just three games, he has already racked up 13 touchdown passes and over 1,000 yards of offense.
Defensively, it's hard to ignore the impact Jon Baker has had in the middle of the field for Millis/Hopedale, and while Xaverian has struggled to a 1-2 record Maurice Hurst Jr. has had a big impact on the interior as a defensive tackle. Also look out for Nashoba linebacker Zach Hume and Reading lineman Matt Comerford, two leaders on two of the state's stingiest defenses.
Kurkjian:
It's still very early, but it's hard to go against Holy Name's Quron Wright. Through three games, according to the Worcester Telegram & Gazette, he is averaging almost 17 yards per carry and has scored 10 touchdowns. Those are incredible numbers, regardless of the opponent, and expect them to continue.
Bruce Lerch:
Burlington's Marcus Odiah has a staggering 705 rushing yards and 10 touchdowns in just three games for an average of 235 per. Already the program's career rushing leader with 3,551 yards, Odiah could surpass the 4,000-yard milestone within the next couple of games.
Josh Perry, ESPN Boston correspondent:
There are a host of quarterbacks that are putting up incredible numbers early in the season, including Troy Flutie of Natick, Drew Belcher of Reading, and my favorite -- Nick Peabody of Barnstable. Peabody fits in perfectly with the Red Raiders attack and has that offense rolling. He leads the state with 13 touchdown passes and has been incredibly accurate, while throwing more than just about anyone else in Massachusetts. Of course, I always have a special place in my heart for teams that love to throw and score points so Barnstable is intriguing.
Alex Jette of North Attleboro is another player that I think could get more attention at a state level, if he can stay on the field for four quarters. He has all the skills - breakaway speed, quick cuts, and great hands in the passing game, but a combination of cramping and some cheap shots at the bottom of piles has taken him out of games in the second half. A good example was Week 1 against LaSalle (R.I.) where he put on a show in the first half with nearly 300 yards of offense, but then was on the field for only a couple of snaps in the second half. Hockomock League play tends to slow down offensive attacks anyway so Jette is missing chances to rack up statistics before having to face Mansfield and KP's defenses.
Botelho:
Quron Wright has put up some ridiculous stats the first three, rushing for over 600 yards already. But don't sleep on Duxbury's Jon Hurvitz either. The Dragons have pushed their state-best win streak to 29 games despite running a changed offense. With Matt O'Keefe under center and a seemingly endless repertoire of weapons at his disposal, Duxbury blew past teams with a pass-happy offense. O'Keefe is gone, but the high scoring offense remains because of what Hurvitz has done out of the backfield. The senior tailback has already rushed for 10 touchdowns and shows no signs of slowing down.
Barnstable's Nick Peabody has torched opposing defenses, leading the Red Raiders to just north of 40 points per game, and his 13 touchdown passes lead the state. We find out just how good Barnstable is this weekend when they play No. 1 Everett. If Peabody can deliver there like he has the first few weeks, Mr. Football is probably his award to lose.
3. WHICH BROCKTON TEAM ARE WE LIKELY TO SEE THE REST OF THE WAY -- THE ONE THAT STRUGGLED AGAINST READING, OR THE ONE WITH TWO WINS OVER TOP-5 CATHOLIC CONFERENCE POWERS?
Barboza:
Once again, I'll happily eat my slice of humble pie for picking the Boxers to open up the season 1-3. They've certainly acquitted themselves as a better team than that in their two early wins. Whether Brockton can run their Catholic Conference win streak to three games against the Prep on Friday is another question. I'm sticking by my preseason pick that the Eagles will escape Marciano with a victory in tow. However, I think the destiny of this Boxers team is more in line with the pluses than the minuses, provided they can move the ball. The Rockets utterly shut down the triple option in Week 2, creating concern of Brockton's ability to consistently move the ball. As long as there's no repeat performance, and Prep's stout defense provides an ample challenge this week, Brockton will be just fine in the long run.
Hall:
Either there is just something about Catholic Conference schools that bring out the best in Brockton, or the Boxers are just better than any of us have given them credit for. Based on the early returns, my inclination is the latter, and you have to like the Boxers' chances going forward. This St. John's Prep squad is good, but not invincible, and even perhaps a little too conservative at times if the Everett loss is any indicator.
If the Boxers win out here, their next three opponents are Fitchburg, Pinkerton (N.H.) and Durfee. Of those three, I only expect the Pinkerton game to be a toss-up -– but then again, a year ago supposedly the worst Brockton team in a decade knocked off the unstoppable juggernaut that was supposed to be the 2011 Astros.
It's very possible we could see Brockton at 6-1 headed into Week 8's showdown with Leominster, and let the record show I predicted a 1-3 record for the Boxers coming into September.
Kurkjian:
Your guess is as good as mine. There is one thing that is for sure, however. This Brockton team is light years better than last year's version. Maybe that's not saying much because last year's team struggled so mightily, but this team is just so much better up front and there's an overall uptick in focus and leadership that recent Brockton teams have lacked.
Lerch:
You have to like the strength the Boxers have shown against the Catholic Conference with both of its wins coming against BC High and Xaverian. I think this is the week where we'll be able to better answer this question, as they'll take on a St. John's Prep squad that battled Everett tooth and nail. If Brockton can continue the momentum they picked up last week, I like their chances for a strong finish.
Botelho:
Well, the one thing we know about the Boxers for sure is their defense is premier. They shut out BC High, then held Reading's powerhouse offense to just 12 points before allowing 14 in the win against Xaverian last week. The bad news for Brockton is that if they can't get their offense rolling early, they have a hard time finding the end zone at all. Since the beginning of the 2011 season, Brockton has been shutout in five of their seven losses. The only time they've reached double digits and lost since last year was their game 22-15 defeat against St. John's Prep last season.
That said, even with the shutout against Reading already on their tab this season, this year's version of the offense looks more complete than last season's. I'd be shocked if this team is shutout again this year, and wouldn't be at all surprised if they don't lose another game, because they don't need many points to with the defense they've got. My guess is as the season continues to carry on, and they hammer down their Georgia Tech-style offense more, they'll become a tough team to slow down.
4. WHICH RUNNING BACK HAS BEEN THE BIGGEST SURPRISE THUS FAR?
Barboza:
This name might not be among the better known in the state in year in which, for all intents and purposes, is fairly deep at running back, but Somerset-Berkley's Garrett Carlos has been a revelation. The senior is averaging a shade over 10 yards per carry while running for 411 yards and eight touchdowns in three weeks. After a bit of a rebuilding year last year, the Blue Raiders' cupboard is full this year with 20 returning seniors, meaning that Nick Freitas' team should again be in the poll position for an Eastern Athletic Conference title. And Carlos is no small part of that.
Hall:
The one that sticks out in my mind is Wareham's Darien Fernandez running roughshod over Falmouth in Week 1, running for 246 yards and six touchdowns (five in the first half). He has cooled down since then, but the kid is flat out an athlete. At 5-foot-6 and blessed with great leg strength, he is as durable as he is tough to get a good angle on. He's already well-known on the basketball court, making our All-State Team last winter in leading the Vikings to the Division 3 Eastern Mass Final at TD Garden. But some have mused he may be a better football player, with some feelers from a few Division 1 FCS programs.
Kurkjian:
Going to go with Needham's Mike Panepinto here. So far, he's been outstanding for an undefeated Needham team already owns a win over Mansfield. A tough runner, he simply doesn't go down on first contact and he's a perfect complement to a passing game that continues to get better with junior quarterback Ryan Charter.
Lerch:
Needham's Mikey Panepinto is a heck of an athlete who is putting up tremendous numbers in what his probably his second-best sport, given that he's already committed to platy lacrosse at UMass. It's not so much the numbers that have surprised me with Panepinto though as much as it is the manner in which he's gotten them. He was able to get off for some big gains in two of the Rockets games but against Mansfield, he really impressed me by proving that he could also grind out the tough yardage and punch in a series of short TD runs.
Perry:
Attleboro running back Malique Clark is not an unknown quantity after several explosive cameo appearances last season. He has breakout speed and the strength to carry the ball 20 times per game. The surprise is that the Attleboro offensive line has been able to create openings for him against tough defenses like Bishop Feehan and Dartmouth. Teams will be packing the box and daring junior QB Tim Walsh to beat them with his arm, but to this point it hasn't slowed Clark down at all. The Hockomock is loaded with running backs this season, but Clark's ability to turn a nothing play into a big gain has kept the Attleboro offense rolling and has the Bombardiers at a surprising 3-0. Hopefully, Clark's rib injury that made him miss this weekend's game won't be a long-term problem.
Botelho:
Darien Fernandez at Wareham, Kiivone Howard at Foxboro and Hurvitz have all exceeded expectations, but Jalen Felix has kept Everett rolling. He did it again last week against St. John's Prep, scoring a TD and rushing for 96 yards on 12 carries.
5. WHICH LINEMAN IS MAKING THE BIGGEST PUSH FOR ALL-STATE INCLUSION CURRENTLY?
Barboza:
Aside from a lot of the familiar names you've seen in our preseason lists, here's a couple who have stood out to me in the first quarter season. Both Brendan and I were taken back by the performance of Barnstable center Tom Grimmer during the Red Raiders' man-handling of Dennis-Yarmouth. He spent most of that evening riding the Dolphins' nose guard five yards back. I'm also looking at North Attleborough's big bookend tackles –- Sean Peters and Eric Beckwith. We talked a little bit earlier in the season about how the Red Rocketeers have historically had good speed/zone blockers, but have often lacked size. Both Peters (6-4, 240) and Beckwith (6-2, 270) bring exactly that. Although North sees plenty of pressure from the outside against traditionally strong defensive sides in King Philip and Mansfield in its Hockomock League schedule, they might be better prepared this year to deal with the outside rush than at any time in recent memory behind their pillars on the end.
Hall:
I'm making a case for Holy Name's Basit Dennis to be included in this discussion. Off the field he's a great story, with his Liberian roots, and a great kid. On the field, at 6-foot-1 and 290 pounds, the senior has been a dominant two-way force in the interior. As talented as Quron Wright is on his own merit, a big reason for his ridiculous rushing average is the Naps' punishing offensive line, led by Dennis at right tackle.
Brockton's Joe Previte has been a leader at center for a revitalized Boxer offense. And don't forget about Everett's bookend defensive ends, Jeff Soulouque and Omar Graciano, who have taken turns applying pressure on quarterbacks and causing confusion.
Kurkjian:
Reading's Matt Comerford was pretty impressive in the game against Brockton Week 2. He's strong, mobile, tough and plays with good technique. And it doesn't hurt that he's about 6-4 or 6-5 and 285 pounds.
Lerch:
Regardless of who is taking the snaps in Everett or what trickery John DiBiaso uses to get the ball into the hands of those tremendous athletes, the one constant is John Montelus. The Michigan-bound senior has really solidified his standing as the state's top prospect, regardless of position, and has done it againts one of the state's toughest, early-season schedules.
Two guys to keep an eye on are Millis/Hopedale's Jon Baker and Burlington's Mike Woods. Baker is a 290-pound beast who dominated both sides of the line of scrimmage in the Mohawks rout of Norton last week and has drawn plenty of notice from big-time college programs. Woods is the left tackle and leader of the Red Devils line that has paved the way for Marcus Odiah to run for 705 yards and 10 scores and is another player catching looks from several Division 1 FBS and FCS level schools in the Northeast.
6. IT'S A MEGA-WEEKEND OF MUST-SEE FOOTBALL ACTION. WHICH GAME ARE YOU MOST LOOKING FORWARD TO?
Barboza:
Well, since it's part of our Massachusetts Army National Guard Game of the Week program, I'm going to go with St. John's Prep at Brockton. As we went over in Question 3, the onus is on Brockton to show that they are in fact the team that's notched two, tough Catholic Conference wins in the early going. But this one will also be a litmus test for the Eagles, who played a very competitive game against No. 1 Everett. It'll be interesting to see how Prep responds – whether they use last week as a rallying point into their later schedule or if this one presents a letdown after taking on No. 1. This certainly isn't a game to be taken lightly and I'd expect neither team will. This will be an ole fashioned slobber-knocker on the ground.
Hall:
You ask anyone in Everett, and they'll tell you Barnstable was the hardest-hitting team they faced all season. The Red Raiders come at you with a certain level of abandon replicated by few programs, and nobody embodies this more than middle linebacker Andrew Ellis. But it's a much different level of football in Everett than the Raiders have seen so far (Durfee, Dennis-Yarmouth, Sandwich), so this should be a great litmus test under the lights at Everett Memorial Stadium.
Kurkjian:
Barnstable at Everett. Any time you have the clear-cut No. 1 team in the state going up against a quality opponent it's pretty compelling. You have to wonder just how healthy the Crimson Tide are coming off such a physical battle with St. John's Prep last week. Barnstable has been throwing the ball all over teams so far but they haven't faced a defense anywhere near the level of Everett's. Everett definitely comes in more battle-tested. Not sure how much Durfee, a rebuilding Dennis-Yarmouth and Sandwich prepare you for the best team in the state, but we will find out Friday night.
Lerch:
You really can't go wrong with a loaded schedule this weekend, particularly on Friday, but it's hard to look past another Game of the Week taking place in Everett. Last week the Crimson Tide hosted No. 2 St. John's Prep, and this week, it's No. 3 Barnstable coming to town. Everett hasn't yet seen an offense capable of putting up the kind of numbers that the Raiders have been achieving (145 points through three games) but the reverse of that is true as well in that Barnstable has yet to match up against a team that has as much athleticism as the Tide.
Perry:
The easy choice would be Everett versus Barnstable, but I am a sucker for history.
In Hockomock country, old rivals North Attleborough and Foxborough will meet at Ahern Middle School. For decades, the Hockomock League title came down to North, Foxboro, and Mansfield, but recently the Warriors have been hit by changing demographics within the town. Each year the Foxboro program has shrunk a little bit and now KP has replaced it at the top of the league while Oliver Ames, Stoughton, and Canton have threatened to pass them by in the small school division.
This is a Warriors team that has promise and a desire to put North in its place (this is a trend among most teams in the Hockomock). Running back Kiivone Howard has been a star with 9 touchdowns in the opening three weeks and Foxboro wants nothing more than to reestablish itself in the Hockomock pecking order. Although the game lacks playoff implications, the rivalry between the teams makes this a must win for both.
The Rocketeers certainly saw last week what an angry rival is capable of, when they struggled to put away Feehan, and I expect a reaction from them, but still can't count out Foxboro.
Botelho:
This is the easily the most exciting weekend of the season so far, and you can look all over the state and find exciting games. Out west you've Minnechaug-Longmeadow, which is always one of the game's of the year. In the central region, Holy Name and Nashboa are colliding in a Super Bowl rematch. And in Eastern Mass, it's nearly impossible to pick just one. No. 1 Everett vs No. 3 Barnstable should be a blast. No. 18 Needham plays at No. 20 Weymouth in what is essentially a league title game in September. Brockton hosts St. John's. Bob Bancroft's Pembroke team host Whitman-Hanson, the team he became a legend with (and Panthers coach Mike Driscoll captained one of Bancroft's unbeaten Super Bowl champions). East Bridgewater and Mashpee has evolved into a huge tilt in the SSL the last couple years, and the Falcons have ended the Vikings' postseason chances each of the last two years. Mansfield might have the best passing attack in either Hockomock League, and Stoughton seems to have the best pass defense, and this week we'll find out which strength is greater.
A great weekend indeed if you're a high school football fan.
September, 4, 2012
9/04/12
1:03
PM ET
Football in Everett is the constant pursuit of perfection. While Super Bowl seasons are celebrated, they're also stacked up against each other. Each in the line of champions who roll through the Crimson Tide's ranks are exalted. But they're also put to the test of time, with one group's achievement forever debated against the greats.

With that said, Everett is coming a season for the ages. While running to a perfect record and a Division 1A Super Bowl, the Crimson Tide put forward one of the most dominating performances the city has ever witnessed. Everett's margin of victory averaged nearly 30 points per game last season, while quarterback Jonathan DiBiaso broke the state single-season touchdown pass record with 44.

Everett loses a few key components from the 2011 squad, including their signal-caller as well as the tough-running Vondell Langston, but its core remains largely intact.

As the Crimson Tide break camp in 2012, questions swirl around the intrigue of who will take over the quarterback duties with a hotly contested battle between Pat Long and Lukas Denis running through the preseason. There was also the speculation Everett might go back its old ways, John DiBiaso's earlier edition, more 10 yards and a cloud of dust – an intriguing option with the Crimson Tide returning a line that averages more than 300 pounds across.

Yet, for all the questions, the Crimson Tide is the runaway favorite to repeat as Div. 1A Super Bowl champions.

And while Everett may have some things to sort out in the early season, John DiBiaso is banking on one of the Crimson Tide's key returnees to shoulder a load.

The similarities between the aforementioned Langston and senior Kenny Calaj are many, from stature to their styles of play. Langston, now at UMass, was in his Everett career a kind of Kevin Faulk, the player on a successful team who does a lot of little things very well that often goes unnoticed. Whether it was in blitz pick-up, providing DiBiaso time to throw, or his responsibilities at linebacker, Langston was a dependable, heady player.

Of course, Langston and Calaj worked in tandem during the last couple of seasons at Everett.

Calaj has lined up all over the field on offense – from the backfield to the slot – and held down the weak side linebacker role on defense.

But now DiBiaso is counting on the 5-10, 195-pounder to take on a feature role.

"We're counting on him to replace Vondell [Langston]," DiBiaso said. "We want him to be able to replace the carries Vondell had and with his ability to catch the ball out of the backfield, we're able to do some different things."

Calaj is the only member of Everett's class of 2013 to have started since freshman year (although jack-of-all-trades Gilly De Souza also place kicked in 2009). His blend of speed, power and good hands make Calaj a tough matchup. When spread out wide, he has the ability to bowl over defensive backs. While running out of the backfield, he's tough enough to run in between the tackles.

Defenses also have to keep honest with Everett's talented pass-catchers Jalen Felix and Jakarrie Washington working on the perimeter.

"Sometime [defenses] will overload one side and try to guess our plays," Calaj said. "But it's hard to guess who's going to get the ball with us because we have so many weapons."

And, of course, there's the offensive line, led by Notre Dame commit John Montelus.

"They're the hardest workers," Calaj said of the line. "They're big, but they work hard, too. They're the ones who sweat the most in practice, they're tough."

On defense, Calaj comprises a veteran linebacker core alongside returning starters Jeff Soulouque and Omar Graciano and rising junior Angel Duarte.

Calaj has heard from a smattering of both FBC and FCS schools. Boston College has inquired about his defensive talents while Bryant has told Calaj they'd integrate him into the offense.

But that's all out of sight and out of mind for now. In a place like Everett, all that matters is here and now and the opportunity to claim a third straight Super Bowl title.

"I want to win another championship, that's it," Calaj said. "Then I'd have three rings."

EVERETT AT A GLANCE
Coach: John DiBiaso (21st season at Everett, 252-63-1 overall)
Last Year: 13-0, won Division 1A Super Bowl
Key Returnees: Kenny Calaj, Sr. WR/S, 5-10, 195 lbs; Jakarrie Washington, Sr. WR/DB, 5-10, 175 lbs; John Montelus, Sr. OT, 6-5, 315 lbs; Mark Fils-Aime, Sr. OG, 6-1, 280 lbs; Mike Ottersburg, Sr. OG, 6-1, 310 lbs; Pat Sullivan, Sr. OT, 6-1, 270 lbs; Gilly De Souza, Jr. WR/DB/K, 5-11, 165 lbs; Jeff Soulouque, Sr. OLB/TE, 6-2, 225 lbs; Omar Graciano, Sr. DE, 6-4, 215 lbs.
Strengths: Offensive line, wide receivers, secondary, kicking game.
Weaknesses: Inexperience at quarterback.

Outlook: The $25,000 question with the Crimson Tide is whether they'll be more run- or pass-oriented this season. When confronted with the question, John DiBiaso said it comes down a matter of numbers. "I think it will be dependent on the game and depend on how many guys they bring into the box. We'll adapt with whatever they bring to us." While Everett might not be able to post a 500-point season as it did last year, they'll be equally adept playing at a hurry-up tempo as they will be able to play ball control. Perhaps the hidden strength of this squad lies in the secondary with De Souza, Felix and Washington. DiBiaso had high praise for De Souza, who contributes in all three phases of the game, likening his football I.Q. to that of former ESPN Boston Mr. Football award winner Matt Costello (Princeton). Once again, the Crimson Tide will play perhaps the state's toughest schedule; each of Everett's first six games are against Top 10-ranked opponents. The slate opens with a vengeance in a matchup of defending Super Bowl champions against Leominster on Friday at Doyle. "That's a big game for us, it's a big game for them," DiBiaso said. "You can bet all of Central Mass. will probably be there. We'll be ready though. It's going to be exciting."
September, 10, 2011
9/10/11
1:54
AM ET
By
Brendan Hall
| ESPNBoston.com



EVERETT, Mass. -- Only in Everett can you beat a regional rival 47-12 and come away from the post-game handshake moping towards the edge of the field.

Yet that is the attitude for the Crimson Tide tonight, after avoiding a Leominster scare early to put this one away by the end of the third quarter. Jonathan DiBiaso finished the night 16 of 30 passing for 256 yards, four touchdowns and one ill-advised interception into double-coverage at the goal line; but like several other key cogs on the Crimson Tide, he fell victim to cramps at some point in this game, just one of several focal points for improvement.

"That's on us. Kenny Calaj's legs were cramping up. Jakarrie [Washington], his thighs were cramping up," he said. "And me, my lower body was cramping up every single drive. So to say winning 47-12 tonight, breaking in all these new wide receivers, we take good out of it, but we have a lot of work to do."

Just 27 seconds after Vondell Langston (68 total yards, 2 TD) took a shovel pass from a yard out for the game's initial score with 7:25 left in the opening quarter, the Blue Devils (0-1) punched right back, with junior quarterback Garrett DelleChiaie setting up a play fake and finding Kyle Sanders wide open in single-coverage down the right sideline, connecting with the speedy senior for a 77-yard fade. DelleChiaie found Kevin O'Connor in the back right corner one play later on a rollout, cutting the lead to 7-6.

It took all of two plays for the Tide (1-0) to respond, with DiBiaso finding Jaylen McRae deep over the middle for a 64-yard touchdown pass, and 13-6 lead with 6:26 still to go in the first.

But the Tide are far from satisfied, and still looked rusty in some areas of their game -- yes, rusty. For one, they committed three turnovers tonight (one pick, two fumbles); for another, the no-huddle tempo negated the conditioning of not just the Devils, but Everett's own players as well.

"There's a lot of things we have to improve upon," the elder John DiBiaso, Everett's head coach said. "The fact that we got outta here with a win, scored 47 points and we didn't play good, I'm still...I gotta look on the bright side, the glass is half-full rather than half-empty.

"I think we'll improve on a lot of things. We'll get the cramp situation worked on. But a lot of that was caused by our tempo, so that's a good sign. We were pushing that tempo, fast breaking the whole night, and we kinda wore them down to a point where...you know, you saw the second half."

Some other observations from tonight:

Breaking Them In: Following up the electric tandem of Matt Costello and Manny Asprilla is going to be a tall task for just about any program in the state, and by my count the new wide receivers being broken in tonight had about half a dozen drops. (Again, only in Everett do you leave points off the board in a game like tonight). Certainly the speed is there, which is why Jonathan had no problems tossing up deep balls to Washington and McRae -- two guys expected to fill Costello's deep-route role -- even though a few sure-fire touchdown passes slipped out of the fingertips.

Aside from the touchdown strike to McRae, Jonathan did his most damage on short routes over the middle and to the flats, with Langston and Kenny Calaj (82 total yards, TD) the primary beneficiaries. Both are well-built and tough players to take down in the open field, and they proved as much tonight, plowing through a handful of arm tackles.

"Before you go short, you've gotta go deep," John DiBiaso said. "They're coming up on you, you've gotta prove you can go by them. I thought we got by them, we finished a few of them, we had some near-misses. That's just timing. I'm not disappointed with the receivers, I'm not disappointed with the offense. I think the potential's still there. We just gotta get a little more experience for the kids that haven't played before."

Packing Punch: The Tide's offensive line is a bit on the green side, and suffered some breakdowns up the middle, but that might come to be expected when you have just one senior in the trenches in Nick Stanfield. But one of the positives I took away tonight was the footwork of left tackle John Montelus. At 6-foot-4 and a somewhat lean 290 pounds, the junior has yet to turn 16 and already holds four scholarship offers from BCS schools. He showed why tonight, demonstrating the balanced posture requisite of a left tackle to get that maximum punch on the first step.

"They did a good job protecting him," John DiBiaso said. "And like I said, last year when Jonathan would spin around, Matty or Manny would make these catches...these guys aren't there yet. They're gonna be good though."

Said Leominster head coach Dave Palazzi, "He's a great left tackle, and we did what we could."

Silver (and Blue) Lining: So here's the good news for Leominster. Next week they've got to deal with Hudson and Bryant-bound super back Karl Sery, an ESPNBoston Preseason All-State athlete. But tonight's run, chasing down Langston and Calaj, should have them more acclimated for stopping one of the most versatile threats outside the I-495 loop. While Hudson isn't going to air it out 40 times a game, the Hawks are tough in between the tackles and can give you fits with their read option out of a variety of formations.

"Yeah, I mean, hey, we were chasing them [Everett]," Palazzi said. "We're chasing receivers all night, quarterbacks, rushing the quarterback, so this is the era we're in -- throwing the ball, running and chasing the guys. We were ready for it, they didn't do anything we didn't think they were going to do, but when it comes to matchups and DiBiaso being a senior -- he made some nice plays, with some speedy wideouts -- I mean, you can't shut down a team like that totally.

"But we did shut them down a couple times, and force some turnovers which I was happy with. But unless you're driving on offense the whole game, it's hard to stop those guys on offense."

EVERETT 47, LEOMINSTER 12

LHS --- 6 6 0 0 - 12
EHS --- 13 15 13 6 - 47

First Quarter
E - Vondell Langston 1 pass from Jonathan DiBiaso (Gilly De Souza kick) 7:25
L - Kevin O'Connor 6 pass from Garrett DelleChiaie (rush failed) 6:58
E - Jaylen McRae 64 pass from DiBiaso (kick failed) 6:26

Second Quarter
E - Ralph Jonathas 17 pass from DiBiaso (Kenny Calaj run) 7:11
L - Josh Caouette 10 pass from DelleChiaie (rush failed) 3:08
E - McRae 7 pass from DiBiaso (De Souza kick) :43.9

Third Quarter
E - Langston 6 run (De Souza kick) 6:47
E - Calaj 1 run (kick failed) :52.6

Fourth Quarter
E - Joey White 6 run (rush failed) 5:58