Boston High School:

Jenn Robillard
November, 23, 2011
11/23/11
8:12
PM ET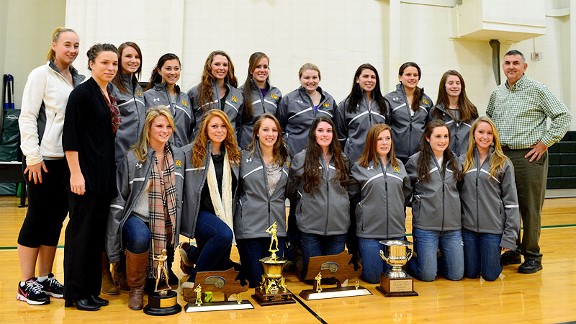 Scott Barboza for ESPNBoston.comMembers of the King Philip softball team raised a second straight Division 1 state championship banner to the rafters Wednesday afternoon in Wrentham.
WRENTHAM, Mass. -- While the state's attention is fixed on the high school football feast to come on Thanksgiving Day, the Division 1 state champion King Philip softball team took time to celebrate their second straight title with a ceremony on Wednesday.
Head coach Jim Leonard presented team members with postseason awards and team captains Kelsey Gray, Anna Kelley, Jenn Robillard returned from college to raise their championship banner to the rafters.
In addition, along with a truck-load of other hardward, we presented our inaugural
ESPN Boston Miss Softball
trophy to pitcher Meghan Rico.
July, 1, 2011
7/01/11
10:31
AM ET
STARTING ROTATION – FIRST TEAM

Ali Maloof, Sr. P, Norwood
The senior captain led the Mustangs to the D1 South finals with a 12-1 record and 0.59 ERA with 162 strikeouts in 82 innings. The Southern New Hampshire commit also hit .493 out of the leadoff spot for Norwood.
Emma Mendoker, Sr. P, Amherst
The Gatorade Massachusetts Player of the Year finished her high school career with 1,002 strikeouts, including 300 this season. The East Carolina commit went 23-2 leading the Hurricanes the D1 state final while posting a 0.17 ERA. She also batted .461 with three home runs and 23 RBI as Amherst's clean-up hitter.
Meghan Rico, Jr. P, King Philip
Rico went 21-0 with a miniscule ERA of 0.15 and allowed just 29 hits over 144 innings thrown with 313 strikeouts and 24 walks. The George Washington University commit allowed only seven runs all season, three of which were earned, and threw two perfect games. Rico also threw four shutouts in the postseason on the Warriors' drive to their repeat D1 title performance.
Sarah Ropiak, Jr. P, Acton-Boxborough
The two-time Dual County League All-Star team went 13-2, including 10 shutouts, with a 0.60 ERA. Ropiak is a member of the National Honor Society, Spanish Honor Society and American Leadership Council.
Shannon Smith, Soph. P, Milford
The 2010 Gatorade Player of the Year returned with a fine second season, going 21-2 for the D1 Central champion Scarlet Hawks. Smith posted a 0.94 ERA while striking out 296 in 164 innings. Smith also contributed to her own cause, hitting at a .357 clip with three home runs and 25 RBI.
STARTING NINE – FIRST TEAM
Katie Bumila, Sr. C, Coyle-Cassidy
The senior captain led a vaunted Warriors offense, hitting .536 with a home run and 22 RBI. The four-year starter was also entrusted by Coach Russell Hunt to call all the pitches behind the plate and was a three-year EAC All-Star. A star in the classroom as well, Bumila will attend Worcester Polytechnic Institute next year.
Megan Congro, Sr. Sr. 1B, Sandwich
The URI commit led the Atlantic Coast League with a robust .661 batting average with two home runs and 30 RBI.
Lauren Duggan, Sr. 3B/P, Norwood
At third base, the UConn commit delivered the ball from third to first just about as quickly as you'll ever see. Duggan's cannon arm also helped her boast 1.13 ERA in the circle, splitting time with Ali Maloof. She also led the Bay State League in home runs with eight, while batting .415 with 33 RBI.
Quianna Diaz-Patterson, Sr.
The UMass-Amherst commit was perhaps the most feared lead-off hitter in the state with a tremendous first step out of the box. The captain and three-year starter hit .559 with eight home runs and 40 runs scored. Diaz-Patterson also stole 31 bases this year and held the distinction of never having been thrown out once on an attempted steal during her high school career.
Olivia Godin, Jr. C, King Philip
As much as Meghan Rico garnered the attention of the softball world this year, it was the Warriors' junior backstop who helped call the games for the hurler. The defensive stalwart also managed to put up a .400 on base percentage along with three home runs and 18 RBI. The Plainville resident has a verbal commitment to UMass-Amherst.
Meg Kelly, Sr. 2B, Reading
Kelly was a triple crown winner in the Middlesex League this season, batting .628 with five home runs and 35 RBI. She also struck out just three times all season. The URI commit was also a standout out on the Rockets' soccer and indoor track teams.
Anna Kelley, Sr. 3B, King Philip
Kelley's defense at the hot corner and her bat were main contributions to the Warriors' second straight D1 title. The UMass-Amherst commit batted .375 with a slugging percentage of .697. She also led KP in RBI with 33.
Brianna Martin, Sr. CF, Central Catholic
The three-year Merrimack Valley League All-Star was as strong in the field as she was at the plate. Martin didn't commit an error in her senior year while adding three outfield assists. Martin hit at a .549 clip while setting a Raiders program record for slugging percentage at .985.
Jenn Robillard, Sr. SS, King Philip
The Sacred Heart commit set the table for the Warriors from the lead-off spot with a .467 average and .533 on base percentage. The senior captain also stole 15 bases while contributing strong defensive play in the field.
BULLPEN – SECOND TEAM
Kiara Amos, Sr., Malden
Emily Berardi, Sr., Boston Latin
Noelle Christmas, Sr., Plymouth South
Audrey Dolloff, Sr., Bridgewater-Raynham
Meg Donegan, Sr., Central Catholic
Trish Hansen, Jr., Mansfield
Courtney Lanfranchi, Sr., Burlington
Bridget Lemire, Sr., St. Peter-Marian
Emily Mailloux, Sr., Turners Falls
Kelly Norton, Sr., Abington
Shannon Orton, Jr., Case
Megan Rich, Sr., Chelmsford
OFF THE BENCH – SECOND TEAM
Hannah Byrne, Sr. SS, Lynn Classical
Michelle Cooprider, Sr. P/OF, Hopkinton
Ellen Czuba, Sr. CF, Franklin
Alexis DeBrosse, So. 2B, New Bedford
Zoe Dillon-Davidson, Sr. C, Amherst
Amy Entel, Sr. P/OF, Somerset
Simone Frank, Sr. 3B, Amherst
Laura Kaminski, Sr. C, Amesbury
Nicole Lundstrom, So. C, Dighton-Rehoboth
Breanna Monroe, Jr. CF, Shrewsbury
Christina Raso, Jr. SS, Burlington
Reilly Weiners, So. C, Agawam
HEAD COACH OF THE YEAR
Dustin Belcher, Wahconah
June, 19, 2011
6/19/11
2:49
AM ET


WORCESTER, Mass. -- When Meghan Rico is in the circle, she remains in control. It's not so much as King Philip head coach Jim Leonard says that perfection is "almost expected," but nothing seems to faze her.

During Saturday's Division 1 state championship softball game at Worcester State's Rockwood Field, Rico found herself in a serious pickle in the sixth inning against Western Mass. champion Amherst. There were runners on first and third with one out.

No fear.

Rico reared back a little bit harder and came back with two of her 19 strikeouts to end the inning and preserve the scoreless tie. In an uncharacteristic moment, the George Washington commit gave a fist pump while sprinting off the field.

It was a big out.

And, as it would turn out, it was the difference after the Warriors took a 1-0 lead in the bottom of the sixth on Meg Carnase's double.

Rico returned to strike out the side in the seventh to provide KP with its second straight state title and finish the season undefeated at 26-0.

"We needed that right there," Rico said of getting out of the sixth-inning jam. "If they score right there, it was going to be really hard to come back to score against them. I knew we had to score first, we had to be the ones to score and we did that."

Runs came at a premium as the state's top pitchers squared off in the circle with Rico opposing the Hurricanes' Emma Mendoker.

Mendoker, the East Carolina commit, kept the Warriors hitless through 5 2/3 innings, only to take the hard-luck loss in the end. The Gatorade Massachusetts Softball Player of the Year finished with 10 strikeouts while surrendering only two hits.

"I think the main thing for Emma is that she has such an arsenal of both movement and speed that if keeps them off balance," Hurricanes head coach Kacey Schmitt said.

Rico snapped Mendoker's no-hit bid with a single to right-center to start the two-out rally. Courtesy runner Hailey Mullen came around to score the game's only run on Carnase's bases-loaded double after Amherst centerfielder Athena Donta slipped while trying to make a play on the fly ball.

It looked as though Carnase's hit had cleared the bases, but the inning ended as an appeal made to the umpires was upheld finding that Jenn Robillard hadn't touched third base while scoring what would've been KP's third run. Instead, it was the third out.

"There were two strikes against me, so I was just trying to protect the plate," Carnase said. "It was close, so I just swung at it and fell in."



Amherst (23-2) jumped on Rico immediately with lead-off hitter Quianna Diaz-Patterson (2-for-3, 3 SBs) and third baseman Simone Frank banging out hits to start the game. The Hurricanes stranded both runners on base as Rico reeled off three strikeouts.

It was the beginning of a chain of 10 straight strikeouts by Rico, which helped her equal her single-game career high of 19.

"When there's runners on base, it's almost like she takes it personally," Leonard said of Rico. "It was huge for us to strand those base runners in the first and again in the sixth innings, to keep those runners standing at third."

Diaz-Patterson, the UMass commit, was again the fulcrum to the Hurricanes' sixth-inning rally. Frank reached on a fielder's choice via the bunt, but again the Amherst runners advanced no further.

Rico got Zoe Dillon-Davidson swinging and Mendoker looking to end the inning.

"We knew how their hitters hit," Warriors catcher Olivia Godin said. "We went to the Amherst-Milford [state semifinal] game, so we knew that some batter we couldn't pitch inside and we just had to go all away, off the plate. Mendoker's great, so we had to go off plate to her."



All they needed was just one run.

"It was a lot of pressure to get that perfect season," Rico said. "We wanted it so bad that I had no doubt in my mind that we weren't going to have a perfect season, but just to finish it like this is amazing."


June, 11, 2011
6/11/11
12:44
AM ET


TAUNTON, Mass. – The game plan for King Philip softball is usually simple: Hand the ball to ace Meghan Rico, scratch across a run or two and take the win.

While the Warriors are used to seeing their pitcher near perfection, Norwood put up a rare two runs against Rico in the Division 1 South final Friday night at Taunton High's Jack Tripp Field.

However, the defending D1 state champions showed that they're more than just pitching, exhibiting a fine offense while playing a little small ball with some shows of power mixed in. With a 4-2 win over the Mustangs, the Warriors continued their quest toward a second-straight state title.

"To many, they expect perfection time and time again," KP head coach Jim Leonard said of Rico's performance. "When you face another unbeaten team, they have quality hitters, good defense, they have good pitching. I thought Rico showed that she was equal to the task if not better."

The Warriors (24-0) started fast, opening scoring with a run in the home half of the first. Leadoff hitter Jenn Robillard sent one to the left-center field fence off of Mustangs starter Ali Maloof. Alyssa Siegmann followed with a perfectly placed bunt single to score Robillard.

Anna Kelley plated KP's second run in the third on an RBI single and Meg Carnase gave the Warriors a 3-1 lead in the fifth with run-scoring double.

KP first baseman Cayleigh McCarthy provided the exclamation point to the victory, belting Maloof's 2-2 offering 225 feet over the left-center field fence for a home run.

Rico, while not perfect as usual, was still strong. Only one of the runs allowed were earned with Sarah Eckhardt driving a run on a fielder's choice in the sixth. She surrendered two hits—one a bunt single by Eckhardt and the other a double to lead off the sixth from Norwood's No. 9 hitter Kayla Garczynski.

"It's bound to happen sometime," Rico said. "They're a good hitting team. All of the teams we're going to play from here on out are going to be good hitting teams, so I expected them to score some runs."

Still, it wasn't as effortless as Rico typically makes it look. She went 13 pitches deep with Mustangs feared third baseman and UConn signee Lauren Duggan in a battle in the fourth inning. Rico finally got Duggan to succumb on a pop-up to catcher Olivia Godin with an inside screwball.

She was great when she needed to be.

"I think she showed what she's made out of," Leonard said of Rico. "She's a composed young lady, but she battled.

"The combination of her and [Olivia] Godin behind the plate, I don't call any pitches. I have the ultimate trust in Olivia to call and handle the pitching staff. It's comforting to have that kind of competence behind the plate."

After ending the Mustang's perfect season (21-0 previously), the Warriors will play the North sectional champion in the Eastern Mass. final at Taunton on Tuesday at 7 p.m.
April, 18, 2011
4/18/11
7:36
PM ET
PLAINVILLE, Mass. –- Meghan Rico was cruising right along during Monday's matchup against Central Mass power Shrewsbury.

The King Philip softball pitcher had retired the first 12 Colonial hitters in order to start the game. Then, Rico struck out during her plate appearance in the bottom of the fourth inning and really got mad.

"I know that if I'm not hitting well, I need to pitch well," the junior hurler said.

Not that wasn't dominant through the first four innings, but something else kicked in. Painting the corners of the plate and mixing in a healthy dose of curveballs and screwballs, the top-ranked Warriors' ace bore down and finished the gem she'd started with authority.

Only a hit batsmen to start the seventh inning kept Rico from finishing a perfect game, while spinning a no-hit complete game in a 1-0 win over the 20th-ranked Colonials.

"When you're in these tight games and you need a little something extra, that's when you hope that your pitcher comes through," said King Philip head coach Jim Leonard, who celebrated his 50th birthday with the victory. "[Rico] knows when she needs to bear down a little bit and she's able to that. She's very consistent and she's very composed."

In a stretch from the second through fifth innings, Rico sat down 11 consecutive Shrewsbury (4-1) hitters via the strikeout while finishing with 15 for the outing.

Meanwhile, Colonials pitcher Erica Armenti was nearly as effective, striking out seven and surrendering four hits in a tough-luck decision.

King Philip (5-0) scratched across the lone run of the game in the third inning. Warriors shortstop Jenn Robillard crossed the plate on a double-steal attempt with what would prove to be the game-winning run.

"They did a good job of knocking down a run at the plate," Leonard said. "Then we had a first and third in the third, and that's just a chance that you have to take. That was some heads-up running on Jenn Robillard's part. We work on that a lot and we were able to score the run there. That was the difference.

"You wish it weren't always that way, but you have to take the runs when you can get them."

It looked as though King Philip had broken the scoreless stalemate during the previous inning, when Tori Constantin rounded third toward home on Alyssa Siegmann's single to right. However, Shrewsbury right fielder Jenna Pickett's throw was right on the money and catcher Kaci Panarelli anchored her outstretched left heel in front of the plate, blocking Constantin short of the plate

Still, the single run provided by Robillard's guile on the basepaths was all Rico needed on a special afternoon.

"She likes to paint the black," Warriors catcher Olivia Godin said. "She likes to paint her pitches and work all of her pitches in there. Once we get ahead, we want them to chase. We don't want to play around with any batter, we want to go right after them."

Shrewsbury head coach Phil Chevalier knew what his team was getting into while making the trip to the Plainville Athletic League fields, however, and the path doesn't get any easier this week with defending Division 2 state champion Hudson next on the slate.

"We asked for this game and we wanted to come down here," Chevalier said. "You like to always win, but I'd rather play a tough game like this than fattening up against other teams."