Boston High School:

Jenna Costa
June, 16, 2012
6/16/12
5:58
PM ET
By
John McGuirk
| ESPNBoston.com


WORCESTER, Mass. -- If this was indeed Gary Mullins' final game as head coach, then the long-time mentor of the Turners Falls softball program leaves on his terms as champion.

Today, in the Division 3 state final held at Worcester State University's Rockwood Field, the Indians captured their sixth state title with a 4-0 triumph over Case.

The sixth crown ties Apponoquet Regional with second most all-time in the state. Only Bishop Fenwick has attained more with eight.

Following the victory, Mullins did not want to dicuss his uncertain future, but instead focus the attention on his team.

"I thought the kids played some real-nice softball today," said Mullins, who wrapped up his 33rd season with an incredible overall record of 553-131. "The kids really stepped up today. It was pretty impressive."

Case (18-8) entered this tilt looking for some redemption following last year's 1-0 loss to Indians in the finals. Senior pitcher Shannon Orton (4 H, 11 K) came out poised and strong striking out seven of the first eight batters she faced. Likewise, Turners Falls hurler Dakota Smith-Porter (1 hit allowed) was equally stout in the pitcher's circle. Although not registering as many strikeouts (3) as Orton, nonetheless, the junior was pitching to contact and allowing her defense to make the plays behind her.

"The way [Turners Falls] was playing defense, they weren't outstanding but they were solid," said Cardinals coach Norm Beauchemin, whose club began the year 0-4. "You put the ball in the air they're going to catch it. For us, Shannon has been great for us all year and started out very strong today. But after a while good hitters are going to catch up to her. Last year I wasn't too happy walking off this field but this year I have nothing to be sad about. Our girls gave me what they had and today the better team won."

In the second inning, Case looked as thought it would get on the board first. Orton led off the frame with a double to right-center. With Samantha Gouveia inserted as a pinch-runner, she would advance to third on Mary Vanlingen's sacrifice bunt. Kadie Sullivan was then hit by a pitch and proceeded to steal second, putting two in scoring position with only one out.

Jenna Reposa next hit a medium-deep fly ball to left. With Couveia tagging on the play, Indians' left fielder Amber Caouette threw a strike to catcher Morgan Ozdarski, who applied the tag on Couveia and the threat had vanished.

"That was a big play," Mullins said. "We made the plays today and did the right things the entire game so I was extremely pleased."

Turners Falls would finally get to Orton in the its half of the fourth. The right hander lost a bit of control by walking Jenna Putala and Jenna Costa to open the inning. Smith-Porter then stepped to the plate and promptly drove a double off of the centerfield fence giving the Indians a 2-0 lead.

While Smith-Porter appeared to get stronger inside the circle as the game progressed, the Cardinals had no answers in how to attack her. While at the time a two-run lead appeared safe the way Smith-Porter was dealing, the Indians had no intentions of letting up.

"Dakota played like an absolute champion today," added Mullins. "She came through big time for us. She had that big hit in the fourth and gave us seven full innings in the pitcher's circle. She should be extremely proud in what she has done. She's a terrific athlete and a great kid."

Turners Falls added to its total in the sixth. Costa walked and swiped second. Orton then retired the next two batters leaving it up to Tanisha Sanders. The junior (11-for-17 in the postseason) didn't disappoint as she belted an 0-2 fastball over the left field fence for some added insurance.

"I was thinking anything close you have to swing," Sanders said. "I don't always do well in an 0-2 hole but I came through today and am proud of myself."

Smith-Porter proceeded to set down Case in order in the top of the seventh, sparking a jovial celebration on the diamond.

"I was thinking anything close you have to swing," said Sanders. "I don't always do well in an 0-2 hole but I came through today and am proud of myself."

LAST HURRAH?
Concerning Mullins' immediate future. All of this came about recently when he announced that he would retire as a physical education teacher at Turners Falls. Mullins still wanted to remain on as part-time AD, however, but because the teaching and AD positions are considered part-time and are linked together and viewed as full-time, he was told that he could no longer serve as AD. With that notion decided, Mullins was later told he most-likely would not be retained as boys' basketball coach where he has already claimed 300 victories, and could also lose out on softball too, should someone in the school system apply for the position. Mullins was informed that he could re-apply for both coaching positions but with no guarantee he will be retained.

According to local residents, blame has been cast towards school administrators and committee members. For whatever reason, whether it be jealousy or dislike, they are trying to push Mullins out. Forgetting the fact that it is Mullins who is responsible for putting this small high school and the town of Montague on the map with his coaching success, particularly in softball. Over the last couple of weeks, Mullins has received a tremendous amount of support from local townspeople and former and present players alike in an effort to keep him on as coach. School administrators and committee members have gone silent regarding the situation despite the outcries which have come their way.

Hope is that something will be done relatively soon. Without a doubt, the right thing to do is allow Mullins to continue to coach both sports for as long as he wants to.

How can you argue with his success?


May, 17, 2012
5/17/12
12:45
PM ET
By
John McGuirk
| ESPNBoston.com
MONTAGUE, Mass. -- With an enrollment of less than 400, Turners Falls High School is one of the smallest public schools in Massachusetts.
Yet, for its size, Turners Falls, based just a few short miles from the start of the Mohawk Trail in the Berkshires, has forged an incredible legacy. This school continues to add to its already extensive softball resume. The Indians have made 10 state championship appearances, winning five, including last year's triumph over Joseph Case High School in the Division 3 final.
[+] Enlarge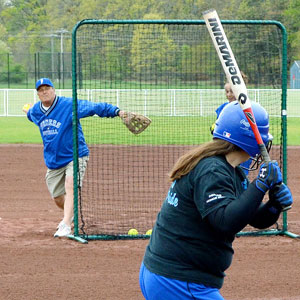 Scott Barboza for ESPNBoston.comTurners Falls softball head coach Gary Mullins has guided the Indians to more than 500 victories and five state titles in his 33 seasons.
Only Bishop Fenwick (eight) and Apponequet Regional (six) have laid claim to more titles. Incidentally, both of those schools house larger student enrollments. At Turners Falls, the numbers don't change all that much from year to year in a community of about 8,000.
Despite the low number of students, Turners Falls remains a driving force statewide, year after year. This season, things are no different. The Indians currently sit at 10-1, having clinched another postseason berth and now look to build upon their lasting reputation by trying to add another state crown to their growing trophy case.
"It's the best feeling in the world to win a state championship", said senior outfielder Jenna Costa, who will attend AIC next year. "After you do it once you want to do it every year."
The architect behind this juggernaut is Gary Mullins. A quiet, humble man, Mullins is in the midst of his 33rd season with the Indians. He is regarded by his peers and players, both past and present, as one of the best at his trade. Since taking the reins here, Mullins has never had a losing season. Along with the five state titles, Mullins' clubs have also collected 14 district titles. His overall record here is an unprecedented 541-130.
"Gary has brought this program to another level," said assistant coach Mark Sullivan, who has worked alongside Mullins for the last 19 years. "Winning Western Mass. championships is great, but more importantly, the talk now is what do we need to do to get back to Worcester and win another state championship."
When you have put up the kind of results Turners Falls has, winning district championships is no longer the standard. This program has earned the right to raise the bar higher.
"At the start of the season the girls are asked to write down their personal goals and their team goals," said Mullins, who is 60. "I also write them a letter at the start of the season and tell them of the program's success and their chance to continue it. I do think that some of the girls aspire to be a state champion but honestly lady luck often determines the last team standing. We do believe we have a chance every year, that it is not just a dream. Right now we are doing OK but we know that in no way are we ready to compete with the top teams in the state. However, that being said, we are working towards that goal."