Boston High School:

Jere Quinn
March, 4, 2013
3/04/13
1:14
AM ET
By
Chris Bradley
| ESPNBoston.com
BEVERLY, Mass. -— It was a day firsts, of clutch performances by star players, and of tears induced by heartbreaking losses and emotional victories. NEPSAC championship Sunday at Endicott College was everything to be expected—and much, much more.

Champions were crowned in the AAA, AA and A classes Sunday afternoon at Endicott, with no shortage of action:

Cushing wins on a buzzer-beater: St. Andrew's seemed to have completed the upset, but Jalen Adams simply couldn't let that happen.

Heaving up a jumpshot from just over halfcourt with no time left on the regulation clock, Adams banked the shot in from off the glass, giving Cushing the 61-60 victory. It was just another on the list of feats that the sophomore guard has accomplished already over the course of his young career.

"But I've never hit a buzzer-beater before," he said with an ear-to-ear grin. "When I shot it, I honestly didn't think it was going to go in."

It wouldn't be the first time Adams, who was awarded Most Valuable Player, hit a halfcourt shot, though. In practice Cushing practices a drill where they take shots from different spots on the floor—one of those spots, of course, is from the halfcourt line.

"Jalen Adams has hit more halfcourt shots just goofing around in a team game, than anyone I've ever seen," Cushing coach Barry Connors said. "Was it a wing and a prayer? No question. But hey, I'll tell you what, he made the shot."

St. Andrew's trailed 33-28 at halftime, but came out on an absolute tear in the second half—beginning the half on an 8-0 run that gave them their first lead of the game with fourteen minutes to go. Cushing's forward Andrew Chrabascz, a Butler signee, picked up his fourth foul with still ten minutes to go in the game. Connors put Chrabascz back in a few minutes later, and with his help, Cushing managed to diminish their deficit.

"I can save Andrew, or you go with what you've got, you go with who got you there," Connors said. "The interesting thing about Andrew is: yeah he had four fouls. On the fourth one, he made a bonehead play, but Andrew's very, very smart. If anybody can play with four fouls, it's Andrew Chrabascz."

Down eleven points with three minutes left in the game, the Penguins rode Adams and Chrabascz to the win. Adams hit a tough jumper to bring the game within six with under two minutes to go. Adams fed Chrabascz with six seconds left in the game, and Chrabascz finished a tough lay-up inside to bring Cushing to within 60-58. Cushing fouled immediately, and following a missed free throw by Bonzie Colson (16 points, 8 rebounds), Adams took the ball to halfcourt and won the game.

"If I was going to lose this game, I was going to lose with my five best guys on the floor," Connors said.

Historic first for Exeter: For the first time in school history, Phillips Exeter captured the Class A crown, knocking off Choate Rosemary Hall 58-47 in the opening game of the day. Exeter's remarkable 25-1 season has been a long journey, one that started last June when the players on the predominantly-postgrad squad met for the first time on the front steps of Exeter's gym. A group of players who, for the most part had never met before, quickly realized that they all had a lot in common.

"We had guys who had just met for the first time -- we talked about our individual goals, and we realized we were all at Exeter for our own personal agendas," Exeter coach Jay Tilton said. "Because why else would you come here as a postgrad if you didn't have them?"

Thanks in part to strong leadership by captains Harry Rafferty (Wesleyan College) and Chris Braley (Stony Brook), a culture of change was started at Exeter—a culture that quickly became contagious to the rest of the team. Good friends off the court, Rafferty and Braley, who along with Duncan Robinson played AAU together for Middlesex Magic, brought Exeter a mixed blend of leadership by toughness, and leadership by example.

Braley, a soft-spoken workhorse known for his incredible work ethic, set an example for the rest of the team of how to compose themselves, while Rafferty, a scrappy 'in your face' type of point guard, was the quarterback.

"Chris demands so much respect because of his work ethic and his integrity, he's not a real emotional guy or anything like that...He just does it," Tilton said. "With Harry, he's the guy who's going to run the show from day one. He's the most caring kid, and the best communicator I've ever coached.

Tilton added, with a laugh, "He's about the only one out there who's not afraid of Braley."

Six-foot-7 forward Robinson, the tournament MVP, put on what may have been the most impressive individual performance of the tournament, finishing with 24 points and 11 rebounds and playing as close to a perfect game as one possibly can -— knocking down five 3-pointers and shooting 9-for-9 from the field. Robinson's show was the cherry on top of an unprecedented season by Exeter, who earlier in the day met on the front steps of their gym to discuss their goals one last time before departing for the championship game.

"We just kind of knew we had already reached that. That's why I'm so proud of this group of kids. This group will hold a special place in Exeter history," Tilton said.

Tilton admitted it is also a team that will hold a special place in his own memory, too. The teary-eyed veteran coach embraced each one of his players after the game, including his star forward.

"He said he loved me, and I said it right back, he's done so much for all of us, myself included," Robinson said, "To do that for him -- I know he wanted it very, very badly. He's the hardest-working coach I've ever played for. He loves his players and cares about each and every one of us. It was only right that we did it for him."

Exeter's tremendous defensive effort held a very good shooting Choate team to just 4-15 from behind the three-point line. Future Wisconsin guard Jordan Hill was the catalyst; with long arms, a hard-nosed defensive mentality, and quick feet, Hill constantly harassed Choate guards Colin Richey (10 points) and Pete Weston (15 points).

"It starts with Jordan," Tilton pointed out, "every second of the game he has a high motor, he doesn't take unnecessary chances. To play that hard on the ball—he starts it, and we have great commitment off the ball helping him. It's something we've been committed to from day one."

Brewster takes AAA title in a thriller: Martez Harrison was one of the top scorers in the nation last year, averaging 35 points per game at University Academy Charter in Missouri. On Sunday in the Class AAA championship game though, he showed his complete ability to play the point guard position—leading Brewster to a thrilling 77-75 victory.

"Martez is the kid on our team who definitely has the biggest heart, he's a true leader," Brewster coach Jason Smith said. "The growth and improvement from a point guard's perspective from September until now has been phenomenal. He's not really in the limelight, but we don't win without him controlling the tempo, making good decisions, and making the right plays."

Harrison, who finished with 14 points, shared the spotlight with future West Virginia forward Elijah Macon -- who was fresh off a heroic performance against Northfield Mount Hermon on Friday night. Finishing with 15 points and 12 rebounds in the finals, Macon, Brewster's sixth-man, took home tournament MVP.

"[At the] beginning of the year...Elijah knew we were having a difficult time with whether we should play all three of the bigs together," Smith said.n "Or who was going to come off the bench. Elijah was the one who volunteered, he's very mature for an 18 year old kid."

Macon and N.C. State-bound forward Kyle Washington each picked up their fourth foul about midway through the second half, but Smith said the foul trouble did little to hinder his team in terms of gameplanning and substitutions.

"We were going to play Elijah his normal rotation of four and a half minutes," Smith said. "It just worked out well, Kyle picked up his fourth foul initially, and the substitution pattern worked out perfectly. Four fouls never really even came into play, it was just subbing in four minute intervals when needed."

Gabe Levin and Marquise Moore each had 20 points for St. Thomas More, who was the top seed in the tournament thanks to very strong guard play and great preparation from long-time coach Jere Quinn.

"Anytime that you can beat a Jere Quinn coached-teams in the finals, it's something that you have to work very hard for," Smith said. "His teams are always very well-prepared, they don't beat themselves, they don't make mistakes. We could have caved in when we were down, but we persevered, we got stops when we needed to and we found a way."
March, 5, 2011
3/05/11
12:15
AM ET
By
Brendan Hall
| ESPNBoston.com



BEVERLY, Mass. -- Nick Paulos came off a back screen, dribbled once and let it fly from a few steps inside the three-point line, at the top of the key. Then he pumped his fist, and let out a shout.

And then a few seconds later, after St. Thomas More's Adam Jones missed a potential game-tying three at the buzzer, Paulos exhaled. Amidst all the hype behind Brewster Academy's loaded starting five, and STM's prized 2012 center Andre Drummond, it's Paulos and his hot-handed New Hampton teammates that are punching their tickets to the NEPSAC Class AAA finals against an unheralded Maine Central Institute squad. New Hampton downed STM, 59-56, in the nightcap of tonight's Class AAA finals at Endicott College's Post Center.

The Huskies (21-11) will face MCI for the championship Sunday at 5 p.m., at the Post Center. The two teams split their regular-season series.

"I'm glad I could make it, and help us go to the the championship, you know," smiled Paulos, a UNC Greensboro-bound post-graduate who finished with 16 points (including four 3-pointers) and seven rebounds. "I'm pretty excited."

Paulos' winning shot came off an inbounds pass with 22.5 ticks left in regulation, the his team holding a 57-56 lead over the Chancellors (27-7), and just seven seconds left on the shot clock. St. Thomas More had two more chances at the other end, the first one an errant Damion Lee three-point attempt out of a timeout called with 13.9 seconds to go. Fairfield-bound senior Adam Jones pounced on the loose board, calling another timeout with 4.3 seconds to set up another try.

Out of that, Jones got a great look at the top of the key, pumped once and fired up a flat shot that clanked off the rim as time expired.

In this uncharacteristically low-scoring affair, the Huskies didn't allow a field goal in the last 2:11 to seal this.

"We just talked about guarding their stuff, which we've seen," head coach Peter Hutchins said of those final minutes. "We've played them twice now, [STM head coach] Jere [Quinn] does a great job...the last couple possessions, we were switching alot. When you have the lead like that, you're just trying not to give it away."

Meanwhile, the Huskies had to account for STM's 6-foot-10, 275-pound, Amare-like figure in the middle, No. 1 Class of 2012 recruit Drummond. The junior dominated the glass in the first half, with 12 of his game-high 15 rebounds, but struggled from the field by going 3 for 12. In the second half, he didn't register a point.

Credit Hutchins' game plan, which called for double-teams, sometimes triple-teams, in the post; and for the Huskies to deny a second touch for Drummond in a possession, forcing the hand of shooters like Lee, Jones, Roy Mabrey and Indiana Faithfull. Suffice it to say the Chancellors struggled from the perimeter, negating a relatively mistake-free evening.

"When you look at us statistically, we have two turnovers the first 30 minutes of the game," Quinn said. "And our third came within the last two minutes. Our team has always played everyone difficult and tough. Of our seven losses, five have been by three points or less. So on a day like today when we're not making shots, the kids competed. And that's all you can ask for."

Jordan Laguerre led the way with 19 points and seven rebounds for New Hampton, while Lee (16 points) and Jones (11) reached double-figures for the Chancellors.
January, 16, 2011
1/16/11
4:33
PM ET
By
Matt Stout
| ESPNBoston.com
SPRINGFIELD, Mass. -- With its assembly of speed, power and Division-I commits, Hargrave Military Academy ran onto the Blake Arena floor and rarely stopped Sunday against St. Thomas More.
"They gave us a punch in the mouth," center Andre Drummond said.
Then Drummond got one of his own.
Shaking off a knock to his recently repaired teeth, the 6-foot-11 dynamo shined in spurts at the 10th annual Hoophall Classic, but neither he nor the rest of the Chancellors had enough answers against a loaded Hargrave roster in a 78-58 loss on the Springfield College campus.
Drummond -- ranked first atop the Class of 2012 by ESPN and several other scouting outlets -- finished with 13 points, 10 rebounds and four blocks. He dazzled with a series of athletic plays and swats, and as easily the tallest player on the floor, controlled the boards when he wanted to.
But St. Thomas More never led, and it never crept to within closer than seven points in the second half as the Tigers -- behind Xavier-bound Dez Wells (20 points) and Virginia Tech commit C.J. Barksdale (16) -- pressured and dunked the Chancellors into submission.
"They certainly played tougher than us, they certainly played stronger than us, they were more physical than us," said St. Thomas More coach Jere Quinn, whose team returned from holiday break on Monday. "I thought we would be ready to play. But we didn't do our offense. We're a team that usually likes to shoot 20, 25 3s. We didn't get them off (settling for 13 attempts, hitting two).
"I'm stunned," he later added. "I thought we'd play better."
St. Thomas More appeared to find its footing after trailing, 25-14, at one point. But it took a scare for Drummond to do so.
The center, who lost a teeth in a game in mid-December, left briefly midway through the first half Sunday after he was hit in the mouth. He was doubled over for a few moments after taking a shot to the teeth in the offensive end, and returned to the bench holding his jersey over his mouth, though he didn't require medical examination.
"It kind of shook me a little bit," he said. "Just a sharp pain."
It didn't last long. Reinserting the mouth guard he's worn since the Dec. 11 game in which he was elbowed -- sending an eye tooth flying across the gym floor -- Drummond was back in Sunday after only 1:17. He quickly took command, throwing home an alley-oop dunk to spark a 13-6 stretch that got the Chancellors within two, 33-31, with 2:20 to play in the half.
In that stretch, he also displayed his athleticism, dodging an attempted steal at mid-court with a behind-the-back dribble. Moments later, he took a pass near the 3-point line, and after his defender fell, dribbled in for a one-handed slam.
But as he has throughout Drummond's year-and-a-half at the Oakdale-based prep school, Quinn has tried to coax Drummond into being more assertive and more specifically, demanding of the ball.
Even as Hargrave (Chatham, Va.) closed the first half on a 6-0 run and opened the second on a 15-6 spurt, Quinn was still calling for it, at one point late in the game yelling to Drummond, "Act like you want the ball."
"When I demand the ball … I think I can be very good," Drummond said. "But my weaknesses are I can get a little lazy on defense and offense. I need to get better at [not] doing that.
"I'm more a team player," he continued. "I'd like to see my teammates score more than I do. That's just the mentality that I have."
Quinn applauds Drummond's demeanor, calling him an "absolutely fantastic person," but games like Sunday could have been a showcase for him with no one within three inches of him on Hargrave. The audience was littered with college coaches, most notably Kentucky's John Calipari. One of Drummond's most avid suitors, UConn, was represented by assistant coach and former NBA player, Kevin Ollie.
"I think Andre has the potential to be more dominant as a player. [But] I think Andre has to want to be more dominant as a player," Quinn said. "And he fails to recognize his size and strength. He was by far the biggest kid on the court. I thought he could have been a more dominant presence on the baseline. … I don't know how many times he just tries to let things happen. I would like him to ask for it."
Still, Hargrave naturally made Drummond a focus, trying to "smother" him when he was backed in on the baseline, Wells said. The Tigers were certainly aware of him on the other end, too. After Drummond blocked a Wells jump shot into the Tigers' bench on what could have been a goaltending call, Hargrave's next few lay-up attempts in Drummond's area flew high off the glass, the shooters clearly aware of the center's big hand.
"He's got a target on his back," Quinn said of Drummond.
Hargrave gradually added to its lead in the second before Wells completely sunk St. Thomas More with back-to-back dunks.
Dribbling through the right side of the lane with 9:43 to play, the 6-foot-5 guard elevated before slamming in a violent one-handed dunk that made the arena come alive. But even before the murmurs in the stands could quiet, Wells again drew 'oohs,' this time grabbing a pass on the right wing and taking one dribble before throwing home another one-hander. Just four points, yes, but in the span of roughly a minute, Wells emphatically pushed the Tigers' near 20 points, where it rarely teetered from in the final eight and a half minutes.
P.J. Hairston, a North Carolina commit, added 14 points, and Marquis Rankin, another future Virginia Tech player, added nine for Hargrave. Damion Lee was the only other Chancellor in double figures with 15 points.
ODDS AND ENDS
St. Thomas More plays again Monday against nationally ranked Quality Education Academy (Winston-Salem, N.C.) in the Big Apple Classic. The Chancellors will stay in Springfield on Sunday night before heading south starting at 8 a.m., Monday.
"The good thing about basketball is you don't have to wait a week [to play again]," Quinn said.
There's another side to the short turnaround. St. Thomas More couldn't even get a full practice in Saturday because the school was re-finishing the gym floor.
Despite being the only non-post graduate student on Quinn's post-grad team, Drummond said that isn't a reason he sometimes steers from asking for the ball. But the disparity can create some funny moments for the 17-year-old. "Sometimes when I give guys advice, I feel kind of weird because they're 19, 20 and I'm only 17 years old," he said. "So it is kind of weird."
Adam Jones, a Fairfield commit, finished with two points and two rebounds in 22 minutes for St. Thomas More.
Amid a sea of other prep schools' Nike or Reebok-sponsored gear in Springfield this weekend, Quinn found humor in the Chancellors' simple blue knit hats with 'St. Thomas More' book-ended by two basketballs on the front. "You notice we've got the best ski caps out there," he said.
COLEMAN LEADS JAMESVILLE-DEWITT
DaJuan Coleman put forth one of the most impressive performances of the Hoophall weekend in Jamesville-Dewitt (N.Y.) High School's 76-64 victory over Webster Groves (St. Louis, Mo.), compiling 23 points and 20 rebounds.
The bruising 6-foot-10 center shot 8-of-11 from the field while adding a team-high five assists, juxtaposing hard moves in the post with end-to-end rushes in the open court with relative ease. Paired with Tyler Cavanaugh (26 points) in the block, he helped offset the play of Rayshawn Simmons (21 points) in a intense game from start to finish.
And no, Coleman is
not the son of a former NBA star of similar name and stature
.
December, 23, 2010
12/23/10
7:09
PM ET
By
Matt Stout
| ESPNBoston.com
OAKDALE, Conn. -- When Adam Jones first arrived here at the St. Thomas More School, he bent over backwards to call home.
No, seriously.
Twisting, turning, one ear toward the wall, on one leg -- the boys' basketball forward would do just about anything to get a signal on his cell phone. There was one spot — near the window, in his dorm -- where a single bar could poke its way through the forests encasing the rural Eastern Connecticut campus.
(Thanks, T-Mobile.)
So on the rare occasion his call made it to Orlando, Fla., and Mom's voice broke through, Jones did something out of his nature: He asked for help. He pleaded for something new. He did what most teenagers do.
That new iPhone is nice, isn't it?
His new toy, replete with service, doesn't leave his side too often now -- aside from when he's studying or playing basketball, which are essentially his only two hobbies these days.
But while those apps are nice and having all that music is convenient, it's not why he asked. Calling home is important to Jones. Being able to phone Kris Rivers (that's "Mom"), tell her about his day, and hear her say, "Come home," that may mean more to Jones than anything else.
[+] Enlarge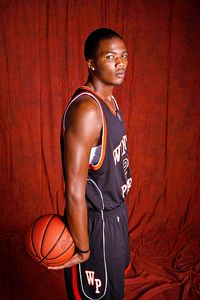 Joshua C. Cruey, Orlando SentinelThe 6-foot-8, 195-pound Adam Jones has verbally committed to play at Fairfield University.
It changed his life more than two years ago. It most likely saved his life, too.
"Sitting here now, the fact that I can call home and say, 'Hey, I get out of school this time,' and she'll say, 'I'll get you a plane ticket to come home,' that's the biggest thing. To come home. It feels good to hear, 'When are you coming home? When can you come home and be with the family?'
"I thank God every day for it."
How could he not call?
* * *
Jones doesn't plan on leaving New England anytime soon, either. A star on multiple state championship teams in Florida, his wiry 6-foot-8, 195-pound frame, paint presence, and deft passing for his size earned him a scholarship offer from rising MAAC contender Fairfield University.
"He brings a lot of intangibles," Fairfield coach Ed Cooley said. "He's developing offensively, but we liked his overall basketball IQ and his willingness to get better."
Jones is at St. Thomas More to do just that. He's working to add muscle, improve his shot from 15 feet and in, and even more importantly, prepare himself academically. St. Thomas More coach Jere Quinn describes him as the ultimate teammate. His teammate, top prospect Andre Drummond, calls him a super hero.
"It's like Batman and Robin, man," said Drummond, a hulking 6-foot-11 prospect with the quickness reserved for guards. "I'm just his little sidekick."
And Jones is happy. He's studious, and a Dean's List addition. He has a proud family, headed by his legal guardians Glenn "Doc" Rivers -- the coach of the Boston Celtics -- and his wife, Kris. She's the woman who opened the door to a life he couldn't imagine, or at the very least, one Jones only dreamt of when sleeping on a porch or wishing for a hot meal.
By the spring of 2008, the only things going right in Jones' life were passes and shots. As a sophomore, he was a starting forward on Orlando Christian Prep's Class 1A state championship team, and by that time, a regular face on the AAU circuit.
It helped distract him from a deteriorating home life. Jones had been living with his uncle, Anthony Hamilton, in Ocoee, Fla., since the fifth grade because his mother -- while someone Jones said was loving -- didn't have the financial means to support him. But by the time Jones enrolled in high school, Hamilton's health was failing, keeping him from work and food from the table.
So Jones adapted. He stayed home on the weekends, and avoided nights at the movies with friends because he couldn't afford it. Often times alone, he fixed his regular meal of "toast sandwiches and water." If he stay disciplined, he'd save up lunch money for days at a time so he could grab a burger at a fast food joint. At 14 and 15 years old, he did whatever he could to get around.
"For instance, one morning in middle school, we had practice at 8 a.m.," Jones said. "And my uncle was already at work and I had no other way. So I had to ride a bike six or seven miles. I had to leave at like 6 in the morning just to get there on time. Things like that."
But at one point it became too hard. Hamilton needed a kidney transplant, and the costs of raising a teenage boy and maintaining a home and his health became too much. Jones' mother had moved to Georgia, and several times, Hamilton tried to have the conversation with him, Jones remembers, but it was easier to avoid the elephant in the room. Then the room became too small.
"One night," Jones said, "he called me into his room, and he was just like, 'I'm sick. I'm going to be out of work for a couple months, and I'm going to have to move. I'm going to have to get this kidney transplant. I love you, and you know I'd do anything for you and right now, I really don't have anywhere else for you to go. I barely have anywhere for me to go, let alone you. Is there anywhere you can go?'
"And me, of course, trying to be a brave kid," Jones said. "I'm like, 'Don't worry about it. I'll be fine. I can go to my friend's house. I already talked to them,' knowing I hadn't talked to anybody, just so I can keep his spirits up.
"Then I'd go to my room and cry. I had nowhere else to go."
* * *
He had somewhere. Since the fifth grade, Jones has been close friends with Austin Rivers, the son of the then-Orlando Magic coach, Doc, and now the top rated high school senior in the country. Rivers played for the Orlando Dream Team, Jones for the Future, two competing AAU teams whose rivalry resembled a hammer and a nail.
"They would always just happen to win," Jones said.
Eventually, Jones joined the winning side, and to a certain extent, the Rivers family. He'd spent every Thanksgiving and Christmas with them since sixth grade, and by middle school, made their house his summer home. "As soon as school got out, I'd go every there," Jones said, "and the day before school starts, I'd go back home."
Back then, Jones didn't even have a clue who Doc Rivers was.
"He was always Mr. Rivers," Jones said. "But when we were about 14 years old, we were at a tournament and he came into the gym, and everybody was just crowding around him. I was like, 'Austin, why is everybody crowding around your dad? Is he celebrity or something?' Austin was like, 'I don't know.' Later, I heard kids on the team talking, that he is the coach of the Magic. I was like, 'Oh, he is? That's nice.'"
Through that time, as things became harder at home and the Rivers family became more aware of it, Kris told Jones that if he ever needed anything, to call. Still, as he sat in his room crying that night, he poured through his other options. Even as he was rendered nearly homeless in the time after -- forced to sleep on a porch in a certain span -- he felt he didn't want to impose on a family that had already given him so much.
"I debated for hours," Jones said. "But at the end of the day, I was a 15-year-old kid. I couldn't do anything. I don't have a job, I don't have a car, I don't have a license, so I couldn't get around. I couldn't buy a house myself" -- Jones laughed -- "because I didn't have any money. So I was like, 'I have to do this.'
"And I made a phone call."
The Rivers family wondered what took him so long.
"He was already there," Doc Rivers said with a laugh following a recent Celtics practice. "Half his stuff was in his bedroom [at our home] anyway. It was easy."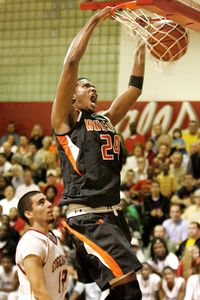 Stephen M. Dowell, Orlando SentinelBasketball has been an outlet for Jones from the hardships he has endured.
After a family conference — Austin, and his brother, Spencer, two of the four Rivers children still living at home, didn't think twice about it — they welcomed Jones in. That summer, he was living full-time in Orlando, and after receiving consent from Jones' family, Doc and Kristen officially became his legal guardians that August.
It was an incredible act by the Rivers family, but not altogether surprising. Even now, Doc said, they have another kid they've met through AAU that "basically lives with us."
"We wanted to be a family for [Jones]," Doc said, "but we wanted to try to do whatever we could to maintain his other family as well. … That's what we believe in. The way I look at it, the more kids at our house, at least we know where they're at."
Jones, more than anything, finally felt comfortable. When school started, he could finally focus. Far too often before his mind would drift, worrying about his uncle, his mother, how he'd get home that day, how'd he get to school the next. Most often, how'd he eat.
Jones had joined Austin at Winter Park High School, a way of reducing travel for the family with Spencer already attending Lake Highland Prep. And that winter, Jones planned to try out for Winter Park's basketball team, already a state power behind Austin.
"I just had to worry about going to school, getting an education and playing basketball," Jones said.
It was perfect. Some coaches thought too perfect.
* * *
Without a hardship waiver, the Florida High School Athletic Association does not allow transfer students to play sports if they move to a household associated with a team they want to join.
Jones' situation was the definition of hardship. But while playing basketball one day after school that fall, the Winter Park basketball coach called Jones into his office and explained to the junior he was ineligible to participate. Several coaches had contacted to FHSAA asking it to investigate Jones' transfer, and until meeting with an appeals board, he couldn't play.
"That just broke me down," Jones said.
"Obviously they didn't know me, and they didn't know our family," Doc Rivers said. "But it was coaches who were competitive and thought it gave Winter Park a competitive edge. And it probably did. It helped Winter Park, there's no doubt about that. They went out and won state (in Jones' senior year). But in the end, it helped Adam far more than it helped Winter Park."
That didn't stop the debate. Cypress Creek coach Terry Howard told the Orlando Sentinel in an Oct. 1, 2008 story that he understood the move gave Jones "a sound family environment, which is great.
"But playing for Winter Park, that doesn't smell real good to me," he said, according to the report. "Wouldn't we all like to go out and get a 6-foot-7 kid who can play? From a competition point of view, I don't know if it's fair."
(For the record, Howard said he wasn't among the coaches to request the investigation, according to the newspaper.)
So on Oct. 8, 2008, Doc skipped a Celtics exhibition game to join Jones and his wife for the hearing in Ocala, Fla., where six board members were to decide Jones' fate. In a 20-minute meeting, Jones explained the path he took to the Rivers home. All six voted to restore his eligibility in.
Jones couldn't stop smiling. Kris couldn't stop crying.
"I shed a few tears, a few," Jones said, laughing. "It was a great moment."
* * *
It opened the door to the life Jones is living now. In the following two years at Winter Park, Jones reached the state semifinals and won a state championship. His grades improved, his GPA nearing a 3.0, and schools came calling.
Fairfield was one of a slew of mid-majors to seek his services. He loved the Stags' coaching staff, and connected immediately with Cooley, who, too, was a product of a single-parent home who eventually was taken in by another family.
The situation was different: Cooley was 11 years old at times. Those who "changed his life" were a janitor and a crossing guard. But they, too, were like the Rivers.
"What they had was a lot of love," Cooley said.
"But as someone who's gone through a similar situation, I feel when he [Jones] plays basketball, it gives him an opportunity to let loose and be part of the norm," Cooley continued. "I don't think he grew up part of the norm. The norm for him was trying to eat, trying to sleep, trying to find a way to cope with the tough ways of growing up. That may have attracted me to him, having a lot of things in common."
The whole experience has naturally molded Jones. He's mature for a 19-year-old kid — "beyond his years," Cooley said. He's grateful and introspective. It's given him perspective most future Division-I basketball players can't grasp. "I felt I wasn't ready for college last year," Jones said of his decision to attend prep school, one made largely based on academics. "If I was in college right now, I feel I'd struggle."
Honesty, too, is a strength. St. Thomas More has mandatory two-hour study halls every day. Jones flashes a genuine smile when he talks about them.
"He's not a kid who's looking for sympathy. He's not a kid looking for handouts," said St. Thomas More's Quinn, a veteran prep coach who has helped an array of players from former North Carolina star Ed Cota to West Virginia standout and NBA rookie Devin Ebanks.
"To us, he [Jones] has been a kid trying to find his own way through this maze of education and athletics that he's going to be involved in for the next five years."
He'll have his family around every corner. Jones said his uncle is doing "great," since his transplant and is now living in Orlando. His mother lives in Florida now, too, and they talk almost daily, as she remains a constant in his life despite the physical separation they've endured during his childhood.
And of course, there are the Rivers. Austin has committed to Duke, and Doc is only a short drive away for most of the year in Boston. He and Jones talk basketball often, and Doc always encourages him stay aggressive, stay hungry.
Not a problem, Jones says.
"I think about it all the time," Jones said of his past. "It motivates me to a better person every day. And in the future when I have kids and I'm busy in my profession, I want what I went through to make me stronger and to never have my family have to go through that their entire lives. It drives me every day. If I had let it get to me and put me down, I don't know where I'd be right now."
Kris would remind him he's only a phone call away.
Matt Stout can be reached at mattpstout@gmail.com
December, 12, 2010
12/12/10
11:48
PM ET
By
Brendan Hall
| ESPNBoston.com
Out on the leafy St. Thomas More campus in rural eastern Connecticut lies one of the nation's premier basketball players -- literally. 6-foot-10
Andre Drummond
, the No. 1 Class of 2012 prospect in ESPN's latest rankings, has drawn heavy interest from every major Division 1 college in the country, thanks to a remarkable level of athleticism and lower-body strength for someone his size. Not only does Drummond excel around the rim, but is versatile enough to play anywhere on the court and provide highlight-reel play on the break.
Drummond sat down with ESPNBoston an hour before Saturday's 77-64 win over Winchendon -- and before he took off to the hospital with two teeth knocked out -- to talk about his game, staying focused, and why he smiles so darn much.
Q: Since we're about an hour from tip-off here, let's start with your pregame routine.
A:
"Usually when I go into the locker room, if I don't have my headphones, to get mentally focused and ready for the game, I'll bring the stereo downstairs to the locker room to get everybody ready for the game. We get focused that way, and then coach Quinn comes down. Then we get ready for layup lines, and I say a quick prayer right before we play."
Q: Are you more inclined to just get loose or amped up?
A:
"Get loose. I'm not really the [kind of] person to get amped up. I mean, I get amped up right before the game, I get excited, getting everybody ready to play. But other than that, I just get mentally focused and think about what I've got to do for the game."
Q: What's your favorite move to do on the court, first in the post?
A:
"I like to back them down, back down and turn to my left or right, finish with my left or right hand."
Q: And what about on the wing?
A:
"Quick jab-step, or a quick crossover, drive through the lane, try to finish."
Q: You're obviously a familiar face on the circuit, with your ranking and whatnot. How do you stay focused amidst all the attention?
A:
"To tell you the truth, I don't care about the whole ranking thing. I really don't look at that stuff. I mean, people tell me, 'yeah, you're No. 1 in the country', and that's great that people feel that way that I'm the best player in America for my class. But honestly, I haven't done anything yet. That's just what I could be, or what I could do, and the thing is if I don't work on my game, it's like the worst thing you could have at the end of the day is potential."
Q: So are you comfortable with the way people describe you?
A:
"Honestly, I don't read the evaluations that are online. I'm really a humble person about this stuff, I don't really get into things like that. I mean it's cool, alot of the kids that are on campus come up to me and tell me, 'Oh, there's a new article about you', I mean I just don't get too big-headed about those things. I just want to maintain my composure and become a better all-around basketball player and person."
Q: What's the biggest thing you've taken away from Jere Quinn's lessons here as a coach?
A:
"To be a skill player. He says it all the time, 'I'm going to drill you to death. I'm going to make you a skill player, an athletic player. You're going to be able to play the three, four, five.' So he wants me to learn how to handle the ball, how to shoot the ball, be able to take my defender from the wing, be able to square up off my shooting in the face. He wants me to be an all-around player, basically, instead of just a big man."
Q: And off the court, as closely involved as he is with the kids, how is he as a teacher?
A:
"Oh...(laughs) he is the funniest guy in the world, man. I had him for algebra last year as a sophomore, and it was just nonstop laughing. Like, some of the stuff we do out here he'll bring back into the classroom and make comparisons, like with a math problem or something like that. He'll use me as an example, or we had a kid here last year that we'd use as an example too. It was just a fun experience. Algebra I was just one of my favorite classes I had last year. This year, I've got Algebra II which is one of my favorite classes. I'm really a big math guy."
Q: You say you're always smiling. Why is that?
A:
"Just a happy person, to tell you the truth (laughs). You'll never know when I'm upset, man, I'm just always smiling. That's how I am. Always have a smile on my face."
Q: Just loving life?
A:
"Yeah, it's not even that. I just like to smile. I'm a happy person, that's all I can tell you. I'm just always smiling (laughs)."
Q: So what would it take to tick you off?
A:
"(Pauses) Takes alot. Coach will tell you himself, it takes a lot to get me mad. I'm always smiling, but once I'm angry, then I start playing even harder. I mean, I always play hard, but once I'm angry it's just I have that extra mass that comes. But other than that, I'm always smiling when I play. I smile when I score, I thank the ref at the free-throw line -- 'Thanks Ref' -- every time I score I hand the ball to the ref. Or if someone misses a free throw on the opposite team, I hand the ball to the ref -- 'Here you go, Ref' -- I don't know, I'm just a real happy kid. That's all it is (laughs)."
Q: So have you ever gotten that angry on the court?
A:
"Oh yeah, I mean when we're losing, I mean that mentality, that killer instinct of mine, just kicks in. But then I just smile again, shut things down and start to play."
Q: Who do you try to emulate?
A:
"When I was growing up, I always wanted to be like Kevin Garnett. Always wanted to be like him, because he has it all -- he can handle the ball, he can shoot the ball, take his defender off the dribble, pull somebody up, beat them right, beat them left, square somebody up and shoot in their face, everything."

Q: Who is the unsung hero on this team?
A:
"I'd probably go with Roy Maybrey. You look at him, 'Oh, look at this kid, he's a 6-1 whiteboy, can't jump', and by the end of the game he has 31 points and like six assists. He gets all the scrappy buckets -- you know, backdoor cuts -- shoots the three, all of it. He's probably the main x-factor for our team."
Q: You're going to be here through next season, too, so what kind of goals are you setting for yourself this year and next?
A:
"Just becoming an all-around player, bettering myself as a person, and getting the grades to get into college. Well, keeping my grades up actually (laughs), I actually have real good grades. So just keep the grades that I have, and get ready to play college basketball."
December, 11, 2010
12/11/10
8:29
PM ET
By
Brendan Hall
| ESPNBoston.com
OAKDALE, Conn. -- Matt Quinn stepped off the bus on the St. Thomas More campus this afternoon, and the deep sighs of returning to the place he called home for so long were not of nerves, but rather excitement.
After all, this was the only place he called home for the first 18 years of his life before suiting up for Bucknell University. Under the guidance of his father, long-time STM head coach Jere Quinn, this is where he not only grew up, lived, played and later worked.
This was where, as a youngster, he followed around Ed Cota, and later tracked his every move at the University of North Carolina. Where he first tagged along with future college basketball stars like Charles Minlend, Steve Frazier, Ajou Deng, and later played alongside future Pitt point guard Carl Krauser before going on himself to captain the 2003-04 squad at Bucknell. And this was also, after spending some time with The Hoop Group and Peace Players International overseas, where he first coached as an assistant over his father.
"I lived in one house my entire childhood. I spent more time in this gym than any of these guys today, except my father obviously," he laughed. "This is where I played, this is where I fell in love with the game, this is where I latched on at practices and where, from an early age, the role models, the faculty around me, I think I knew that I had some solid interest in education."
Now, the younger Quinn is in his first year as head coach at Winchendon, taking over for the legendary Mike Byrnes, who won two NEPSAC Class A titles and graduated two future NBA alums in 14 years, before taking an assistant job at Robert Morris last August. Off to a 1-7 start and playing a short bench, his charges lost 77-64 to Jere's squad, in a game that saw superstar forward and top-ranked recruit
Andre Drummond
leave the game for the hospital after losing two teeth on the floor.
The transition to head coach has certainly been a fun one. Matt and Jere talk on the phone after almost every game, trading notes and viewpoints, and Byrnes -- whom he also considers a mentor -- is always a phone call away, too.
"It's certainly a different ball game," he said. "You know, in the past where -- and it's typical coaching lingo -- where you go from being an assistant making suggestions to a coach where you're making decisions. So the kids don't always like you as a head coach, they like the assistants, but the decision-making has been a process. My dad gave me alot of power as an assistant, so I learned alot here, but certainly game decisions, and how to handle kids to get them to maximize their potential."
While the elder Quinn talked with ESPNBoston correspondent Matt Stout in his office, prior to the game, Matt walked in looking for a tripod for his video camera, to which Jere cracked, "You don't really work here anymore, so you can't just really be arbitrarily meandering around."
But on a more serious note, "He understands the whole world of prep schools and he when he came back from the Middle East, he decided that he wasn't really enamored with the college (coaching) concept," Jere said. "The unique thing about prep school is you affect kids in many, many different ways, not just the world of basketball. You help them grow up, you help them become better students. That seems to be what Matt has his fingers around.
"So he was offered this opportunity and he always made good decisions. And I think this is a good one for him. I expect him to do a great job."
One of his duties the next few years will be maximizing the potential of
Dennis Green
, a promising sophomore guard from Raleigh, N.C. who so far has shown a knack for quality pinpoint passes and patience in the halfcourt in setting up plays. Consistency on defense, and with his shot, will need improvement over the next few years; but so far, Matt has liked the early returns.
"[He's] Got a chance to be very good," Matt said of Green, who scored five points off the bench in the loss. "The prep school environment is just a great world for him. He's a kid who needs to learn how to work hard academically and athletically, but he's a great kid. Not a kid who's had any problems around campus, he's a very nice kid, and he's starting to buy into all the things he needs to do to be successful."
A BYRD LANDS IN EASTERN CONNECTICUT
Jarell Byrd
remembers his first day of fall practice at St. Thomas More clearly. And then again, considering what an eye-opener it was from his days last season on the much-hyped Lynn English Bulldogs -- a level of conditioning he says he's "never before" experienced before in his life -- how could he not?
"It was a wake-up call -- like a 'wow' going off in my head," Byrd said. "I couldn't believe it."
It is here, though, where he is a bench player on a Chancellors squad loaded with potential in players like Drummond and
Adam Jones
. Byrd says he is currently receiving interest from Southern Conference schools such as Wofford, as well as some America East schools.
Does he miss those big crowds for Northeastern Conference games?
"I do miss it. I mean, the Lynn English crowd was always big," he said. "But, I like it better here, because it's a smaller crowd but there are more coaches who come to the games."
Byrd said he still talks to his former point guard Ryan Woumn daily. You might say, with Byrd in Eastern Connecticut and Woumn on the mend at East Tennessee State with a broken foot, that the two share a common bond beyond their days as teammates -- after all, the difference between Lynn and two such rural settings is like night and day. Byrd says he'll try to go visit over Christmas break, should their schedules work out.