Boston High School:

Jerelle Washington
July, 20, 2012
7/20/12
3:20
PM ET
By
Brendan Hall
| ESPNBoston.com
A year ago, the Boston Amateur Basketball Club (BABC) rolled into the 10th grade AAU Nationals in Orlando, Fla., as arguably one of the nation's most talented squads, led by the country's No. 1 player Nerlens Noel, rolling over some of the country's elite team with ease.
This week, the BABC came to Orlando in defense of their title with a team just as long on fun, albeit in an entirely different manner. With a roster of just eight, none of whom currently ranked by ESPN, the club clawed their way through pool play to reach the Final Four, taking out some of the tournament's heaviest hitters in the process.
[+] Enlarge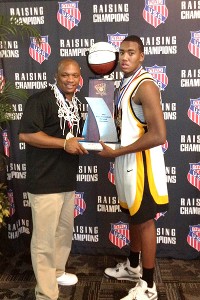 Courtesy of BABCBABC coach Eggie McRae (left) lauded the play of Bonzie Colson (right), calling him "a master" on the blocks.
In the semifinals, the BABC found themselves down eight in the fourth quarter to the Albany City Rocks (N.Y.), only to squeak out a 67-63 overtime win. In the finals, televised on ESPN3, the club carried momentum from Jonathan Joseph's game-tying shot in regulation to outlast Team Charlotte (N.C.), 61-55, for their third consecutive AAU 10th grade national championship, and the program's 17th national title overall.
"It was unreal," head coach Eggie McRae said. "These guys played unbelievable in this stretch run. We only had eight guys so we were kinda undermanned, but eveyrone played their roles to a T."
For 6-foot-6 forward Bonzie Colson, a New Bedford native and by all accounts the star of this run, that included manning the post. The semifinal was his masterstroke, coming up with 23 points and 21 rebounds, positioning himself deep in the post and working over his defender with an array of shakes, fall-aways, and step-through's.
In the finals, Colson again came through in the overtime, helping give the BABC the cushion it needed in the end.
"He's like a master down there, really honing in his skills on the block," McRae said of Colson, who will enter his junior year at St. Andrew's (R.I.) School this fall. "He's just got a great feel for the block area."
That's not all. To get to the Final Four, the BABC had to go through arguably the longest team in the field, the Orlando Venom. Against a frontcourt featuring a 6-foot-10 center and two 6-foot-8 forwards, Colson went on the offensive, utilizing pump-fakes and jumpers to keep them honest.
Colson's strategy in the finals was more of the same.
"Just be patient," he said. "As soon as I get the ball, relax a little bit, see if anybody's trying to double, do a drop-step to the basket, and if I have to tourn around, I had two great guards in Tyler Nelson or Jon joseph that I know can hit the shot."
Indeed the attention on Colson opened up the floor for players like Nelson, who hit two crucial three's down the stretch of the championship.
"Bonzie was a mismatch for both teams," Nelson said of the final two games. "In both of those overtimes, he took over."
For Colson, who was also on the BABC's ninth grade national championship team last year, this figures to be a trigger point in his recruiting. Seton Hall extended a scholarship offer to Colson following yesterday's win; Boston University and Rhode Island have also offered to this point.
And for Nelson, an ESPN Boston MIAA All-State selection this past season at Central Catholic, this is the culmination of a year-long learning experience. One of the state's premier shooters, the Haverhill resident joined the BABC last fall and feels he has improved on the defensive end.
McRae concurred.
"He's starting to buy in," McRae said. "Sometimes when you play high school ball you can get away with playing no defense. But that's what we get a lot of our points off of here -- defense, moving the feet, getting in the passing lanes. He played a lot for us, and to do that you've got to play good defense."
Also factoring into the championship run were Nick Cambio (Central Catholic), Curtis Cobb (Wilbraham & Monson), Bobby Ahearn (Marianapolis), Tyree Robinson (Notre Dame Prep) and Jerelle Washington (Providence Central).
March, 22, 2012
3/22/12
3:23
PM ET
By
Mike Scandura
| ESPNBoston.com
From 1968 through 1992, Central High dominated boys' basketball in Rhode Island.

Under coaching legends Jim Adams and Don Pastine, the Knights captured 11 of 24 state championships including seven in a row from 1968-75.
Players like Rickey Santos, Marvin Barnes, Mike Hazard and current Providence College head coach Ed Cooley became household names.
But when parochial schools like Hendricken, St. Raphael and La Salle began capitalizing on their ability to draw student-athletes from all over the state, the scales titled in their favor to the point where they annexed 16 of the last 17 titles prior to this season.
Fifth-seeded Central turned the clock back earlier this month when it beat intra-city rival/14th-seeded Hope, 66-59 behind the stellar play of Jerelle Washington.
Washington, a sophomore, tossed in 28 points – 16 in the second half which enabled the Knights to overcome an 11-point deficit and clinch their 12th state title – in the first time they've played the Blue Wave for the championship since 1971.
The Knights finished the season with a 19-5 overall record and broke Hope's eight-game winning streak in the process.
Central beat ninth-seeded Rogers, 54-46, in the semifinals as Daniel Mendez scored 16 points.
The Blue Wave (14-12) advanced to the finals for the first time since 2007 by defeating second-seeded La Salle, 69-65, in overtime.
Manny Kargbo scored five of his overall 24 points at the free throw line in OT to help clinch the victory.
THREE FOR THE COURT

La Salle Academy, Narragansett and Juanita Sanchez captured the Division 1, 2 and 3 girls' state basketball championships, respectively. But while winning titles is old news for the Rams, it made front-page headlines for the Mariners and Cavaliers.
Narragansett beat Classical, 51-40, for the Division II title – the school's first in 18 years.
Juanita Sanchez, meanwhile, claimed the Division III crown by defeating defending champion Middletown, 49-36 – the first in the eight-year history of the program.
La Salle, not surprisingly, walked off with its ninth Division I title since the 1998-99 season by outlasting Bay View, 53-49.
Narragansett's Mercedes Harris earned MVP honors after posting a double-double with 10 points and 16 rebounds.
The Cavaliers (23-3 overall) won more than eight games for the first time in program history.
D'Asia Allen paced Juanita Sanchez with 18 points, which helped Tyrone Dale win a state title in his first season as the team's head coach.
The "hook" in the La Salle-Bay View game was that each team finished 18-0 in its respective division (La Salle in I-South and Bay View in I-North).
Davida Dale paced La Salle with 13 points while Vandell Andrade led Bay View with 16.
RAMS CLIMB OVER MOUNT

Maybe Hendricken won't win a gazillion state hockey championships like Mount St. Charles has over the decades. But the Hawks will cherish their most recent title moreso than most.
Why? One reason being it snapped Mount's current run of consecutive State Championship Division crowns at four.
Secondly, the Hawks did something few teams have been able to do when they faced Mount in the third and deciding game of a best-of-three series – win that game, in this case, 5-2.
Invariably, when the Mounties drop Game 1, the running joke is they have their opponent just where they want them – in position to be swept over the final two games.
Junior Paul Filipone etched his name into Hendricken sports lore by not only scoring in overtime to give his team a 4-3 victory in Game 1 but he also scored two of the Hawks' first four goals in Game 3.
Filipone scored once in each of the first two periods while Justin Finan drove a dagger into the Mounties' collective hearts with a second-period goal which produced a 4-1 lead.
Mount forced a deciding game when Brian Larence made 32 saves to backstop a 3-2 victory.
ON OTHER ICE

Don't ask why the smallest state in the country has four state hockey tournaments.
Actually, the reason is there's such a gap between the various schools that it's a virtual necessity.
Moses Brown copped the Division I crown by sweeping Barrington 6-4 and 4-2.
The Quakers thus ended their hockey affiliation with the Interscholastic League in style because they'll be playing an independent schedule commencing next season.
Junior Nathan Farrington came up big in the third period of each game by twice scoring two goals. His short-handed goal in Game 2 gave the Quakers a 3-1 lead – a margin they didn't relinquish.
Coventry retained its Division II championship by sweeping Prout 2-0 and 6-1.
Junior Mike Presola was voted tourney MVP honors after scoring three goals and assisting on two.
During their two-year championship run, the Oakers have compiled a 33-3-0 regular-season record.
"Townie Pride" has taken a blow over the last year as East Providence has been beset with serious financial problems. But the hockey team put those woes on the back burner for a while by nipping Mount Hope, 2-1, in the Game 3 of their Division III championship series.
As a result, the Townies earned their first state hockey title in seven years.
Ryan Barry was named the tournament's MVP by scoring one goal and assisting on five others.
CHARIHO TRACKS DOWN NATIONAL RECORD

Another of the state's smaller schools made major waves on the national track scene at the New Balance Indoor Nationals in The Big Apple.
The quartet of Dan Kilcoyne, Bryce Kelley, Jake Kilcoyne and Mike Marsella captured the 4-x-1-mile relay in a national-record time of 17:20.20 – breaking the previous mark by 1.38 seconds.
The Chargers, who're coached by Bill Haberek, beat out such long-time powers as Shaker High (Latham, N.Y.) and Christian Brothers (Lincroft, N.J.).
Mike Scandura has been covering high school sports, college basketball, football and hockey plus minor league baseball in Rhode Island since the early 1970s. A native of Oswego, N.Y, he's a member of the Words Unlimited Hall of Fame which is the statewide organization of sportswriters, sportscasters and sports publicists.