Boston High School:

Jesse Lye
December, 27, 2013
12/27/13
11:22
PM ET
FALMOUTH, Mass. – Not one of the teams that participated in the Cape Cod Cup yesterday left the rink feeling all that satisfied.

Both Archbishop Williams and Chelmsford were deemed winners in overtime in their respective games. However, since the MIAA does not recognize overtime until postseason play, those clubs, along with their respective foes, Westford Academy and Falmouth, played to ties.

No. 5 Archbishop Williams and Westford Academy's game will go into the record books as a 4-4 draw, while Chelmsford and host Falmouth counts as a 1-1 deadlock.

Of the four tying squads, the Bishops were the ones that had the most to feel good about at the end of the day as they rallied from two goals down in the final minute of regulation to tie the score.

Even so, head coach Derackk Curtis was hardly jumping for joy following a game that saw Bishops' sniper Nick Menzel complete a hat trick with two goals in the final 48 seconds, both with the goalie pulled for an extra-attacker.

"I thought we should have been able to dominate the game a little bit more. Nothing against Westford Academy, but coming off the Springfield Cathedral game I thought we'd come in here and have a little more success, a little more confidence," Curtis said. "We finished the game strong, so there is a positive, because last year we don't win this game. Last year, we don't come back from this, because we didn't have the confidence, we didn't have the leadership, and the determination to finish it off."

Westford Academy (0-1-1) looked like it'd be finishing off a win as the game got down to crunch time. Riding a standout performance by sophomore goaltender Kyle Martin (31 saves), the Ghosts held a 4-2 lead through 44 minutes and needed to just survive the last 60 seconds to earn their first win of the year.

Archbishop Williams put that first win celebration on hold, though. The Bishops went on to win in overtime, on a goal by Mike Davis two minutes and three seconds into the extra session.

Menzel and the Bishops were the better team for much of the game, but Martin kept making big save after big save. With the extra attacker out in the last minute, the numbers game caught up to the netminder and the Ghosts. Menzel popped his second of the game with just 48 seconds to play, as he camped on the right pipe and waited for a pinpoint pass off the far side boards that found him unmarked.

Archies then controlled the ensuing faceoff, got Steve Jenner out of the goal again, and went back on the attack. In a matter of seconds the puck was on the ice in front of Martin being whacked at by a gaggle of sticks. It was the one held by Menzel that made solid contact, and slipped it through the maelstrom to knot the score and leave the Ghosts stunned and the Bishops on Cloud Nine.

In the meaningless overtime, Archies dominated the proceeding as it accounted for all six shots that found the net, the last of which Davis popped in to make it 5-4.

After a scoreless first period, the Ghosts got hot in the second and tickled the twine three times to take charge. They struck first just 34 seconds into the period when Ryan Hesseltine completed a cross by Jay Drapeau. At 3:27 Andrew Gounaris buried a rebound, after Jenner stoned Tim Curran, to make it a two-goal game.

The Bishops answered 17 seconds later as Sorenti got his first of three in the game on a break-in.

The back-and-forth third period continued with Westford going up 3-1 on a gal by Anthony Gulliver, who found himself in the right place at the right time. The Bishops attempted to clear the puck out of their own end, without looking up first and sent a pass right to Gulliver in the high slot, who skated a stride in and then snapped a wrister past Jenner to the glove side at 6:15.

Four minutes later the Bishops made it a one-goal game on the first varsity goal of Cullen Lyne's career. The sophomore, who had not played with the big club before the Cape Cod Cup, stepped into a regular shift when Eric Keefe went down with a shoulder injury early in the game. He popped a rebound up and over Martin, finishing off a break-in by Ryan Dunn.

In the third period it looked like Westford had the game in hand after taking a two-goal lead with 5:42 left in regulation. Hesseltine set up the Ghosts' final tally with a brilliant lead pass out of the defensive zone, splitting the middle and finding Cam MacDonald in stride for a 2-on-1 break with Drapeau, who buried a cross to make it 4-2.

That set the stage for the Bishops' late-game dramatics, whose plan was to get Jenner out of the cage with 100 seconds to play and try to wreak havoc. They did just that, and rallied to earn the draw, which felt like a win, and unofficially was one.

"They made a lot of good plays at the end, you have to give them a lot of credit," Westford head coach Bob Carpenter said. "They really hung in there and made a lot of great plays on both goals, I thought. They're good."

Chelmsford 1, Falmouth 1

In the nightcap, the goals did not flow as freely as in the opener. Chelmsford (1-2-2) and Falmouth (3-1-1) each netted a goal in the second period, just 71 seconds apart, and that was it, other than an overtime goal by Mike DeDonato, that was set up by Matt Calnan with 45 seconds left in the extra session.

Paul Moore, the Clippers' new head coach who replaced Massachusetts legend Buddy Ferreira this year, was upbeat about his young team's performance against an opponent he sees as high quality.

"I'm so proud of the way that they played," Moore said. "That's a huge point for us right there and the effort from top to bottom was unbelievable. Cody Bailey had the game of his career, he got the game puck. Isaiah Lineaweaver, he could have gotten the game puck, too. I'm just so proud of there effort, we hung in there."

While they weren't exactly lighting it up, the two teams did light one another up with plenty of solid hitting in the open ice and solid defense all-around on both sides. The goalies were good, too. Falmouth's Jake Beaton stopped 16 of 17 shots that he saw during regulation and his counterpart from Chelmsford, Tim Huggins, halted 17 of 18.

Beaton stopped two late first period shots, by Wes Phillips and Derek Adamson, which were definite scoring opportunities. Phillips' bid hit a skate on the way to the goal, but Beaton stayed with the deflection and covered it up. He then dove to the far post with just 20 seconds left in the period to deny a wraparound try by Adamson that would have crossed the line if not for the lunge.

Chelmsford head coach Mike McGrath said he felt like his team left Falmouth off the hook early in the game. "I'm disappointed. We had four two-on-ones in the first period, and we had an opportunity to put them away early and we let them hang around," McGrath said. "Right now we're just struggling to score. We've only got four goals in the last three games."

Huggins came up biggest late in the game, with Falmouth flying around in the final five minutes looking to bring the hometown crowd to its feet. He robbed Bailey on a break-in with six minutes to go in the game and then answered the bell on an Arlin Moore chance with 5:05 to play.

As for the goals that were scored, they both came late in the second frame. Chelmsford took a brief 1-0 lead at the 11:53 mark of the second when Jack Olson roofed a rebound over Beaton after the keeper had stopped a shot by Jesse Lye, but was left prone on the ice.

Shortly after they fell behind, the Clippers drew even as their leading scorer, Robbie Souza, found the back of the net for the fourth game in a row. The senior co-captain blocked a shot by the Lions and beat everyone else up the ice in a mad dash for the loose puck. Souza tipped it ahead to himself in the neutral zone and bore down on Huggins, beating the goalie from the high slot with a wrister to the glove side for his ninth tally of the young season.

All four teams will be back at tomorrow afternoon. Falmouth will face Westford Academy at 1 p.m., followed by Archies against Chelmsford at 3 p.m.
January, 12, 2013
1/12/13
11:41
PM ET
By
Mike Abelson
| ESPNBoston.com
LAWRENCE, Mass. -- Before the game began the Chelmsford High hockey team was announced as the Knights.

Their nickname is the Lions.

That bad omen turned into an 8-4 drubbing at the hands of host Central Catholic in a battle between the top two teams in the DCL/MVC Division 1 standings.

"We played well," Central head coach Mike Jankowski said. "We've had some good jump, and we've had some good shots and the bounces went our way tonight."

The Lions (6-2-1, 5-1-0) came out firing early and were able to disrupt Central (6-2-1, 4-0-0) with a physical forecheck. Chelmsford buzzed around Central goalie Colin Soucy, who stopped all seven shots he saw in the first, but were unable to finish.

Everything turned late in the period when the No. 9 Raiders put up three goals in 92 seconds. Juniors Kevin Regan and Lloyd Hayes got the run going and senior Mike Kelleher scored his first of three goals to cap the flurry.

"We knew we had to match their intensity," Kelleher said. "A few minutes there we turned it on and kept forechecking and it worked out for us."

The Raiders continued the attack in the second, putting up a pair in the first 97 seconds to extend the lead to five. A goal by Chelmsford's Jesse Lye put the Lions on the board, but it was already too little too late.

Central added three more before the period was up to go into the second intermission up 8-2. The Lions added two goals in the back half of the third period.

The Raiders had six different goal scorers and 10 players make their way onto the score sheet overall.

"There's no one guy, it's a nice team flow," Jankowski said. "That's what we're looking for in terms of leadership. Mike has stepped up. [Nick] Gorski has stepped up."

The eight goals was the most the Raiders have scored all season.

"This game we all showed we can score," junior Corey Webber said. "I think it was a statement game for sure."

HE DID WHAT?
Kelleher had a strong four-point performance, but it was his second goal that will be remembered. Time of the goal: five seconds into the second period.

Webber shot the puck in off the faceoff and Kelleher flashed in to clean up the rebound. No one in the Central locker room said they could remember a goal coming in a shorter amount of time.

"It was awesome," Kelleher said. "I told Corey [Webber] to get forward on the play because I know that the defenseman liked to take it back. He did and it worked out great. Fortunate to get the goal."

WEBBER STEPS UP
On a young team like Central, it is imperative that the upperclassmen step up. Yesterday, Webber did just that.

Not only did he set up Kelleher's quick strike, but he also set up another goal a minute later and netted one of his own.

"Whenever we're on the ice I always know where he is," Kelleher said. "Corey [Webber] and I work well together."

Jankowski stressed that there was no "one guy" his team was based around that it was players, such as Webber, who are the reason why the Raiders are ranked in the Top 10.

"There's no superstar, but we do have guys who have a lot of speed and a lot of strength," Jankowski said. "When we're playing well, we can compete with anybody."
March, 8, 2012
3/08/12
1:44
AM ET
By
Matt Noonan
| ESPNBoston.com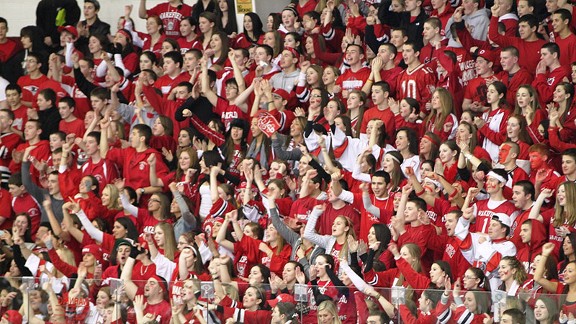 Ryan Kilian/Special to ESPNBoston.coWakefield's "Red Sea" were out in full effect to help the Warriors to a second-straight Division 1 North sectional final in a shootout win over Chelmsford on Wednesday.
CHELMSFORD, Mass. -- It was déjà vu all over again for the Wakefield Warriors, who escaped Wednesday's Div. 1 North semi-final clash by defeating Chelmsford, 2-1, in a shootout.
With the win, Wakefield once again earned themselves a spot in the sectional final, as the Warriors repeated their performance from a year ago. Wakefield also went to a shootout with Billerica in last year's semifinal.
"Down two periods all night, but we've been there before," Wakefield head coach Derek Edgerly said. "We've been down a couple games this year, [but] we just comeback fighting hard, and that's all it takes."
"It's called composure, positivity, keep your positive up all night and these kids just played excellent," Edgerly added. "What a great game."
Chelmsford notched the first goal early in the opening period when senior David DeDonato beat Wakefield senior goaltender Joe Cerulo (31 saves) before the Warriors answered in the third period with junior Daniel Cardillo, riffling the puck into the back of Lions' net, forcing overtime.
In the extra session, both teams chased the puck up and down the ice, but no resolution was found.
DeDonato eventually registered his team's first strike in the shootout.
Wakefield answered on their third attempt when senior Kevin Doherty beat Chelmsford's junior netminder Derek Noble, tying the shootout, 1-1. The Warriors then answered on their ensuing attempt when junior Alec Brown scored the clincher before Cerulo denied sophomore Jesse Lye.
"We go over shootouts every night in practice for 15 minutes because when it comes down to this end in a tournament, you've got to do your shootout," Edgerly said. "And one thing about these games, it's usually a blowout or it's an overtime win or shootout, there's nothing in between."
"We had a great year," Chelmsford head coach Mike McGrath said. "I would have to say if there was a word I'd use for these kids, it's adversity because we had kids out with mono, we had a lot of things where we were missing kids, and we battled through it, and peaked at the right time, and had a nice little run."
BURLINGTON 5, ACTON-BOXBOROUGH 1
After a sluggish two periods, the Red Devils offense exploded by tallying four goals in the final 15 minutes, which lifted Burlington past the Colonials, 5-1.
Senior Trevor Cimino registered his team's second goal 22 seconds into the final period before senior Brian Hood, junior Joe Berardi (1 G, 1 A) and sophomore Joe Scali (2 G) struck.
"[Dan McMahon] made a good play, dumping it into the zone and I just had a breakaway, put it home," Cimino said. "We got that first goal in the third period, [and] I think they kind of shut down because they didn't know what to do anymore."
"It took us two periods to figure it out," Burlington head coach Bob Conceison said. "They played Monday night, [and] I felt like we could wear them down in the third period, and I think that showed in the third period."
Burlington earned a one-goal advantage when Berardi connected with Scali late in the first period before Acton-Boxborough evened the score at 1-1 when senior T.J. Barrett wrapped around the cage and squeaked the puck past junior netminder Derek DeCastro for the score.
"I think he was disappointed in the goal that [he] let in," Conceison said of DeCastro. "It was kind of a funny late period goal that might have been in the nearside, but he made a big save on a break away at 3-1, it was a huge save for us. And Derek's that type of goalie, he comes up big in those situations when we needed and that was a big step, and we needed that, we really needed that."
A-B had chances to earn a lead, but solid defense and goaltending by Burlington helped them escape with a victory, and set up an exciting Division 1 North final against Wakefield, Monday at Tsongas.
"It will be fun," Conceison said. "I don't know [if our] crowd can outdo their crowd."