Boston High School:

Jim Artz
October, 3, 2014
Oct 3
1:09
AM ET


EASTON, Mass. – Inside of the two-minute warning, Oliver Ames was driving and had a goal-to-go, down by a score in the second quarter. The Tigers looked primed to tie Thursday night's Hockomock League Davenport division game against No. 22 Stoughton.

From there, everything snowballed in Stoughton's favor. The Black Knights scored two touchdowns within in the final 28 seconds of the half to propel them to a 40-19 win.

"It changes the game," Stoughton head coach Greg Burke said. "The game was pretty much over at that point."

An interception and a fumble recovery gave the Black Knights (4-0, 2-0 Davenport) two possession within the final two minutes of the half. They capitalized on both them.

Stoughton senior Brandon Swain-Price hauled in an interception with 1:37 remaining in the half. It appeared Swain-Price had a 95-yard touchdown return as well, but a block in the back set up the Black Knights at the OA 11-yard line.

It wouldn't matter, as Stoughton drove the length of the field in a minute and nine seconds, capped Joey Girolamo's 4-yard touchdown run.

The Black Knights had the ball back again with 10 seconds remaining, after the Tigers (1-3, 0-2) fumbled on the first snap of the ensuing drive.

That's when Swain-Price asserted his will again.

"Coach said, 'Just jump up for it and get it,'" he said.

Stoughton quarterback Jake Gibb (6 of 8, 192 yards, 3 TD, INT) then used Swain-Price's mismatch against single coverage to throw a 35-yard jump ball, which the 6-foot-3 senior cherry-picked in the back of the end zone.

In an instant, the Black Knights took a 34-13 lead to the locker room.

"We're still making way too many mistakes," OA head coach Jim Artz said. "We should be tied at the half going in, instead we're down 34-13. Just a little too many lapses, broken tackles."

Stoughton put the game all but out of reach with a score on the opening possession of the second half on an 8-yard touchdown run by Kirby Impoinvil.

The Black Knights had a near instant 6-0 lead as Ryan Sullivan ran back a punt return for a 37-yard touchdown. But OA responded and took a 7-6 lead on a 13-yard touchdown run by Jameson Dixon.

It was all Stoughton from then on, as Gibb and Swain-Price connected for touchdowns on two straight drives with passes of nine yards and 75 yards, respectively.

Go to the big man: Burke and his coaching staff looked to exploit the matchup against Swain-Price early and often Thursday night.

At 6-foot-3 and 185 pounds, Swain-Price plays in tight and split wide – playing tight end on Stoughton's double wing and goal-line formations, and moving to wide receiver on the Black Knights' flexbone and pro-style looks.

"You've got to [get him the ball], he's a tremendous athlete," Burke said. "He can do anything he wants to."

Swain-Price also was opportunistic on defense. The free safety had a prior interception wiped out by a pass interference call before he had what looked to be a 95-yard interception return for a score erased by a block-in-the-back call.

"We're brining each other up when we're down," he said of Stoughton's stout secondary. "If one person gets beat, we all help him out."

And, like Swain-Price's mates in the defensive secondary, he has a top-flight complement in the passing game with Gibb.

"Honestly, it was a great ball," Swain-Price said of his 35-yard score at the end of the half. "I couldn't ask for anything more. He's a great quarterback, the line blocking for him, it was all a team effort."

Road gets tougher: OA suffered its third straight loss following a win over Plymouth North in the season opener. Thursday's loss was compounded by the fact the Tigers might also have lost starting quarterback John McMillan for the season.

McMillan left the game in the first quarter with a lower body injury. He was replaced by sophomore Travis Campbell (8 of 12, 74 yards) performed admirably in his first varsity appearance.

"He's a sophomore thrown into the fire," Artz said. "For a sophomore coming in and that being his first varsity start against a very good football team, not only did he do a good job, he did a great job."

But the Tigers find themselves in some straits while looking to qualify for the Division 3 Southwest tournament. OA entered the weekend's action in the bottom half of the divisional table, looking up a couple of Hockomock teams, including North Attleborough and Milford, along with the Black Knights.

"We're not were we need to be," Artz said, "and we've got a week to figure out because we have to somehow sneak into the playoff picture because right now it's not good enough."
September, 5, 2014
Sep 5
11:23
PM ET
By
Ryan Lanigan
| ESPNBoston.com
NORTH EASTON, Mass. -- Oliver Ames' offense showed some bursts in the first three quarters of the game, but couldn't put it all together.

That changed completely in the final frame as the Tigers erupted for three touchdowns in the final nine minutes of play to beat No. 19 Plymouth North, 21-7.

While OA's offense worked out the kinks, their defense was able to shut down anything Plymouth North's offense threw at them. The Eagles, who were without star running back Christian Carr because of a knee injury, also looked to be trying to figure things out offensively.

"I think we're different than we were last year," Oliver Ames head coach Jim Artz said of his defense. "I don't think we have some of the size we had but I think our team speed is very good. I think we can fly to the ball and we don't overflow sometimes, and I think they hurt us with that with some very nice cut back runs."

After a scoreless first half, the first breakthrough came through less than a minute into the second half. On Oliver Ames' second play of the half, a muffed handoff resulted in a fumble that was recovered by Plymouth North's Justin Cabral at the OA 23-yard line. Plymouth North's Myles Uva (12 carries, 59 yards) took the first play 17 yards on a run to the right and then took the next carry six yards and into the end zone to put the Eagles up 7-0.

OA and Plymouth North each traded punts before the Tigers took over at their own 25-yard line. Faced with third and six at the Eagles' 22-yard line, OA quarterback John McMillan hit junior receiver Franklin Holgate on a short pass but Holgate chugged his way through the defense and dove over the 15-yard line for a gain of eight and a first down. On the next play, senior Michael Ferrara rushed it straight up the middle for a 14-yard touchdown to tie the game, 7-7.

Plymouth North was forced into a three in out on the next possession, mainly because of a shoestring tackle from Oliver Ames linebacker Joey Tepper. On third and seven from their own 29-yard line, Plymouth North quarterback Cullin Cosgrove dropped very deep, drawing in the defensive line, before dumping it off to Uva on a screen pass. It looked like Uva had plenty of space but Tepper quickly closed down and tripped him up before the first down marker.

"He's good," Artz said of Tepper. "He's very, very good. I thought the play defensively for us in the game was that screen he sniffs out. He tracked the kid down, tripped the kid up and makes an unbelievable play. Then I think he ran a 4.3 off the field."

That play forced Plymouth North to punt and eight plays later, Holgate was at it again. McMillan hit Holgate for another quick pass and this time Holgate broke through the first tackle and then sprinted up the sideline for a 43-yard touchdown. Steven Scurti's extra point was good to make it 14-7 Oliver Ames with 2:43 left.

As the Eagles tried to conduct a game-tying drive, the Tigers brought the pressure. Cosgrove was flushed from the pocket and OA seniors Dan Sullivan and Patrick McNeely closed in and forced a fumble. Sophomore Shawn Cardoza recovered the fumble at the Eagles' 40-yard line and OA took over with 1:24 let.

After one rushing play went for two yards and Plymouth North called timeout, the Tigers went play action and McMillan found a wide open Sam Kelly along the left sidelines for a 38-yard touchdown, giving OA a 21-7 lead.

"They found some seams and made some plays," Plymouth North head coach Kevin Cobban said. "They made two more plays than we did. There was a big penalty early on when we could have gone up 7-0, that could have changed things a little bit. For the first game of the year, I thought it was a pretty good football game. We know what we have to work on and we'll get better. We have nothing to hang our heads about, they're a good team and we're a good team."

McMillan, who started his first varsity game, looked a lot more comfortable in the second half for the Tigers. He went 4-8 for 32 yards in the first half but went 10-11 for 125 yards and two touchdowns in the second half.

"I think it's a comfort level," Artz said of throwing more later in the game. "With a new quarterback, I kind of have to get that feel. They're very good up front, it's not like they gave us a ton of time either. That was a very strong, very good physical football team. We had to pick our moments and not get too greedy and make a costly mistake. Defensively if we make them drive the whole field, we're very tough."

As for Carr, Cobban said that he's getting an MRI this week.
November, 12, 2013
11/12/13
3:01
PM ET
After advancing to the Division 2 Southwest final with a win over Hockomock League rival North Attleborough, Oliver Ames head coach Jim Artz was named New England Patriots Coach of the Week today.
Here's more from the team's release:
[+] Enlarge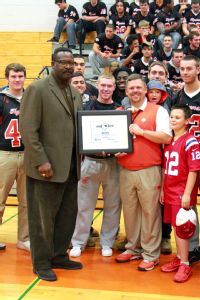 Courtesy of the New England Patriots Oliver Ames head coach Jim Artz.
Oliver Ames High School's Jim Artz has been named this week's New England Patriots High School Coach of the Week in recognition of his team's 27-13 playoff victory over North Attleborough on Friday, Nov. 8, at Muscato Stadium in Easton. Taking a 7-7 tie into halftime, the Tigers outscored North Attleborough 20-6 in the second half to earn their first victory over the Rocketeers since 1994 and advance to the Division 3 Southwest finals. The New England Patriots Charitable Foundation will donate $1,000 to Oliver Ames High School's football program in Artz's name in recognition of his Coach of the Week selection.

Patriots and Pro Football Hall of Fame linebacker Andre Tippett, the team's executive director of community affairs, visited Coach Artz's team on Tuesday, Nov. 12, at Oliver Ames High School. The visit and check presentation will be featured on the Patriots weekly television magazine show, "Patriots All Access," which airs at 7 p.m. on Friday, Nov. 15, on WBZ-TV in Boston and will be available immediately after on Patriots.com.

This is the 18th year in which the Patriots join the National Football League in conducting the High School Coach of the Week program, which recognizes outstanding high school coaches and promotes youth football throughout New England. Tippett oversees the program as part of the New England Patriots Charitable Foundation's commitment to youth football initiatives.

"Congratulations to Coach Jim Artz and his team," Tippett said. "Oliver Ames kept its historic undefeated season alive by scoring 20 points in the second half to defeat North Attleborough for the first time since 1994. This was a great win for the Tigers."

At the conclusion of the season, one high school coach will be named the New England Patriots High School Coach of the Year and will receive an additional $2,000 contribution toward the school's football program.
November, 9, 2013
11/09/13
12:38
AM ET
By
Josh Perry
| ESPNBoston.com
NORTH EASTON, Mass. – The Oliver Ames football program is having an historic season. The Tigers already completed their first undefeated regular season since 1964, and, on Friday night at Muscato Stadium, OA added its first victory over North Attleborough since 1994.

Oliver Ames outscored the Rocketeers 20-6 after halftime and behind a punishing defensive line claimed a 27-13 victory that sends the Tigers to the Division 3 Southwest final.

OA head coach Jim Artz knew that his team was in uncharted waters at this stage of the season and was taking on a team that had dominated the overall series record. He expected his team to battle nerves early on and said that if the team was close after a quarter, then the Tigers would be alright.

He noted, "With their team speed and the way that they attack, we knew that the first quarter was really going to be tough. If we felt comfortable with where we were at and okay at the end of the first quarter then we'd be fine."

He added, "We just had to wear them down a little bit because I think that we're bigger and stronger and I think that we showed that."

The Tigers (9-0) dominated the North offensive line from the first series, although on the second possession Rocketeers quarterback James Kummer somehow stood in the pocket and took a huge hit to complete a 32-yard pass to Dan Moore. North (5-4) took advantage of the big play and finished the drive with Jack Blasť running it in from five yards out to make it 7-0.

The Oliver Ames offense has been explosive this season and it was a big play by running back Matt Berksza (17 carries, 135 yards) that got the Tigers going at the end of the second quarter. His 45-yard run as the first quarter ended put OA at the North 11. Two plays later he finished the drive with a one-yard dive to tie the score.

Oliver Ames had the chance to take the lead before the break, but Nick Sanborn's 43-yard field goal attempt, into the wind, came up short.

In the second half, the Oliver Ames offense started to click into gear behind senior quarterback Nick Cidado. Facing third and 11 at midfield on the opening possession, Cidado picked out senior wide receiver Reid Starr down the center of the field for a 50-yard, go-ahead touchdown. The North defender tried to jump in front for the interception but could not get there in time.

North head coach Don Johnson remarked, "We had good coverage, but he just misplayed the ball and it turned into a big play; caught us on the man-to-man blitz."

Artz praised his senior quarterback for his ability to run the offense with both his arm and his legs.

"I've been touting him all season long. We used him a little more leg-wise tonight because they were doing a lot of slanting and trying to take away zone with Matt [Berksza] and we said if you're going to slant that way then we'll run back this way."

North tried to get back on its next possession, but after reaching the OA one-yard-line, Kummer fumbled on a play that looked like his knee may have been down. The Tigers could not take advantage.

The Rocketeers forced a Berksza fumble and took over on the Tigers 22. Five plays later, Mike Lambert took a sweep to the right for six yards and a touchdown. A penalty forced the extra point back five yards and Connor Flynn missed wide left to keep OA on top, 14-13.

The Tigers responded immediately. OA went 69 yards in eight plays to extend the lead back to eight points with 9:57 remaining in the game. Cidado and Berksza rushed for 68 of the yards on the drive and junior Joey Tepper took it the final yard into the end zone.

On its next possession, the Tigers appeared to be trying to run down the clock. Instead, on second and eight, Artz took a chance and called for a play-action pass. Cidado threw a 31-yard strike to sophomore Sam Kelly (four receptions, 88 yards) to make it 27-13.

When asked about the play, Artz explained, "As long as they kept two high safeties, then we were going to run but we saw them creeping down and creeping down and they still had timeouts to burn. We could either play it safe or be aggressive and I thought it was the appropriate time to be a little bit aggressive and go for it."

He added, "Sam Kelly is an outstanding young receiver and Cid put it right where it needed to be. It gave us a lot more breathing room and a whole different comfort level."

Johnson was disappointed that his team was surprised by the call. He reflected, "It shouldn't have [surprised us]; we know that is something that they like to do. It was just a poor play on defense."

Down by two scores, North was forced to start looking downfield in the passing game, but Kummer was constantly under pressure from the OA defensive line. Chris Duggan, Josh Briggs, and Pat McNeeley each had shots on Kummer in the fourth quarter, as well as linebacker Tepper. It was a problem for which North had no answer.

Johnson admitted, "We didn't do a good job protecting him to give him a chance. They've got some good, fast, strong players up front that overpowered us tonight."

The win sets up an all-Hockomock League D3 Southwest final with Oliver Ames hosting rival Stoughton in a rematch of the Tigers' 35-7 win from earlier this season.
November, 30, 2011
11/30/11
12:53
AM ET
By
Bruce Lerch
| ESPNBoston.com
FRANKLIN, Mass. -- Brandon Gagliardi's job all game long was to keep tabs on dangerous Pembroke running back Jon Hooper, so when he saw the Titans senior flare out from the backfield deep in Oliver Ames territory, Gagliardi simply followed his instincts.

The junior stepped in front of the Luke Nagle pass intended for Hooper and went 88 yards the other way for a game-sealing touchdown as his Tigers took a 20-12 decision away from Pembroke in the Div. 3 semifinals at Pisini Field.

Oliver Ames (7-4), making its first postseason appearance in school history, will take on Concord-Carlisle in the Div. 3 Super Bowl this Saturday (9 a.m.) at Gillette Stadium.

"They had me spying their running back and I carried him out to the flat and saw the ball was coming toward me," Gagliardi said. "I jumped it and once I got past him there was no one there to catch me. The eyes light up and you just try keep running."

"It feels fantastic," he continued. "We've been working for so long. A lot of these kids have been working since the eighth grade and we always set this as a goal and to finally achieve it is just fantastic."

It was an earlier big play that had Oliver Ames in that position in the first place. The Titans (10-1) had just taken a 12-6 lead following a 48-yard touchdown run by Hooper (105 yards on 14 carries) with 34 seconds left in the third quarter.

Enter Carlton Williamson. The speedy junior took the ensuing kickoff 88 yards to paydirt, and Ryan McGrath's extra point gave the Tigers their first lead of the game at 13-12.

"I told the kids if you ever need an example to say that's every facet of the game working for you, that was it," exclaimed OA coach Jim Artz afterward. "We have a great drive to start the second half, made some adjustments that we needed to go and we go up and made the game 6-6. Then, we feel good and we give up a quick score and no sooner do we do that then Carlton [Williamson] ... I don't know teams kick him the ball but they do ... he takes another one to the house. Now we've got to play with the lead. Then the defense seals the game for us with a pick-6."

Lost in the shuffle of the Tigers victory was the tough, hard-nosed running of 5-10, 185-pound Sam Langston. Langston went toe to toe with the Titans impressive line and came with 83 tough yards and a touchdown on 21 carries.

Pembroke's Tom Castanha scored the game's first touchdown, powering his way in from the 2 to cap a nice drive that featured a pair of big completions by Nagle (189 yards). The Titans carried that slim 6-0 advantage into halftime, but Oliver Ames came out of the locker room looking like a different team.

The Tigers forced a Pembroke punt right off the bat, then 90 yards on an 18-play drive that was aided by 29 yards of Pembroke penalties. Langston got the call from the Titans two-yard line and seemingly pushed the entire pile into the end zone for the tying score.

"I have to thank my big fullbacks Dean [Soucie] and Brian [Rezendes]. They got the big push in there and I just had to get my arms in and that was it," Langston said of the touchdown. "They were a good defense, I have to give threm thast. It was tough and we had a few adjustments we had to make in the beginning but in the end we figured out what we needed to do."

For Artz, it was all about keeping his team poised despite being unfamiliar with the postseason stage.

"We've got a young staff and kids who haven't played in a game this big before," he said. "Ninety-nine percent of the time I'm the raving lunatic on the sideline and tonight I was the only voice of reason and calm and everyone else was losing their heads. I said 'Guys, its a 6-0 game, we played pretty badly and its 6-0. If we come out and do the things we're capable of, we'll win this game. So lets calm down, coaches included, and we'll be fine.' We could have panicked but we didn't."

PEMBROKE 20, OLIVER AMES 12
Oliver Ames (7-4) 0 0 13 7 - 20
Pembroke (10-1) 0 6 6 0 - 12

PE - Tom Castanha 2 run (kick failed)
OA - Sam Langston 2 run (kick blocked)
PE - Jon Hooper 48 run (pass failed)
OA - Carlton Williamson 82 kick return (Ryan McGrath kick)
OA - Brandon Gagliardi 88 interception return (McGrath kick)
November, 24, 2011
11/24/11
4:22
PM ET
By
Doug Kyed
| ESPNBoston.com


SHARON, Mass. -- Coming into Thanksgiving morning, Oliver Ames football controlled their own destiny.

After a dominating 34-8 victory over rival Sharon, it appears that destiny was on their side.

With the win, the Tigers clinched the Hockomock League Davenport division championship and will make their first playoff appearance since 1964, the year they won their last state championship.

"This game just meant everything for us, we haven't been to the championship, we haven't even been to the playoffs since 1964 so this is really big for this program and for the next couple years to build the program from," senior captain cornerback Brian Crosby said.

The Tigers came out swinging in the opening seconds of the game. Junior cornerback/wide receiver Ryan McMillan intercepted Sharon senior captain Caleb Piltch-Loeb on just the second offensive snap of the game.

On OA's ensuing offensive play, senior quarterback Jared Schneider hit McMillan on a go route for a 43-yard touchdown. The play was literally written out in the mud.

"To be honest, we didn't practice that specific play all week," OA head coach Jim Artz said. "But when we saw them doing what they were doing [in warm-ups], I said we have something right here at the first play and literally kind of drew it in the mud over there with the linemen."

"[Coach Artz] came up to me and said, 'I want you to pump on the bubble and then we're gonna throw the go,'" Schneider said. "I threw it and he made a great catch and ran it in for a touchdown."



The Tigers brought a balanced offensive attack all game rushing for 166 yards while Schneider completed 10 of 18 passes for 189 yards and a touchdown.

"We actually came in trying to run the ball down their throats," said senior captain Jake McDougall. "We came out and Jared was having a great game so we just kept letting him throw the ball."

The Oliver Ames defense forced a three and out on the Eagles' next offensive drive and didn't stop their barrage of offense. Senior running back Sam Langston took his first hand off of the game for 46 yards and scored on an eight yard run just two plays later.

After each team exchanged turnovers, Langston took another handoff in for a 17-yard touchdown. A converted two point conversion to senior captain Alex Tepper made the score 24-0 at the half. Langston finished with 118 yards on 12 carries and one reception for 12 yards.

The Tigers defensive game plan was simple, to stop junior running back Sean Asnes, who has over 1000 yards rushing on the season.

"He's a very talented back and we had to preach very physical play to the whistle defense," said Artz.

OA limited Asnes to 38 yards on 10 carries. The Eagles were limited to 162 total yards on offense and only allowed one passing completion. The Tigers have struggled against the run all year, but were able to limit big plays and stuff the run with gang tackling, only allowed five plays over 10 yards.

"Defensively we just came in, we were going to pressure them and make them make plays and we were able to stop them when we needed to," McDougall said.

The Eagles have come a long way from last season's 1-9 finish. The Eagles finish the season 4-6 and could have clinched a playoff berth with a win over OA and a Stoughton loss.

OA forced their third turnover of the game on an interception from Crosby, returned for 40 yards. Senior running back Carlton Williamson ran in a 17-yard touchdown to go ahead 34-0.

Sharon broke the shutout early in the fourth quarter when Jake Rotman took a pitch six yards in for a touchdown. Perhaps the strangest play of the game came on the Eagles' extra point attempt. The ball was snapped over the holder's head, recovered by junior kicker Eric Lesser at the 30, and thrown for a successful 2-point conversion.

Senior Robert Kaszanek lead the Eagles in rushing with nine carries for 53 yards. Piltch-Loeb finished with eight carries for 40 yards and one completion for 10 yards.

The win for Oliver Ames pushes them into the first round of the state tournament; the Tigers will play Pembroke on short rest Tuesday night.

"We've got to find some quick way to get our legs back and nurse the bumps and bruises," Artz said. "Hopefully we'll keep that fine line of keeping our edge, but also getting our rest."

"I think our coach said we're gonna have practice in the pool to get our legs back, have a little fun with it.," Schneider added. "We gotta watch a lot of film, get back, get our bodies back ready to go."

NOTES:
--This win marks the first conference title for Oliver Ames since 1968.

--Schneider was named the team's Thanksgiving game MVP, while Tepper won best lineman and Langston was named best back. Jordan Owen was named MVP for Sharon, while Piltch-Loeb was named best back and senior David Zhang was named best lineman.


November, 12, 2011
11/12/11
12:31
AM ET
By
Corey J. Allen
| ESPNBoston.com


STOUGHTON, Mass. –- Jared Schneider ran for two and passed for one touchdown to lead Oliver Ames over Hockomock Davenport rival Stoughton 24-14 last night.

Down 7-3 at the half, Schneider attributes the second half play to coach Jim Artz's halftime speech.

"Coach told us that he loved us," Schneider said. "He didn't want to give up on us and Thanksgiving, he didn't want that to be our last game with this group."

OA (5-4, 2-1) came out in the second half and scored in just over three minutes to take the first lead of the game, a 30-yard scamper over the left tackle by Schneider. He had a running back to option to on his left, but the field opened up and he went in.

After an illegal motion penalty and two plays that netted two negative yards, Stoughton's Alex Fernandes threw a pass that was intercepted by Ryan St. Clair and brought to the Stoughton 14. Four plays later, Schenider scored again from two yards out.

At 17-7, the Black Knights (5-5, 2-1) were two scores down and needing to produce points on the next drive to keep some momentum.

Starting from their own 40, Stoughton looked as if they might get a first down, after two rushing plays set up third and 2 from their 48, but an Alex Tepper sack on Fernandes set up fourth and 5. A bad snap to Alex Calixte forced him to fall on the ball at the Stoughton 25, which Oliver Ames ate up. The Tiger then took just over three minutes to find the end zone with Tepper taking a 4-yard grab from Schneider at 9:14 in the fourth quarter.

Stoughton was able to come back on the following drive and score with 8:07 left to make the game 24-14. They recovered a fumble on their own 25 and scored on a 25-yard touchdown pass. However, the play was negated due to illegal motion before the snap (two players motioned simultaneously). OA gobbled the next three minutes running the ball and keeping passes in bounds, and even though Stoughton made it down to the Oliver Ames 34 with just under two minutes left, senior captain Brian Crosby got an interception that allowed the Tigers to take a knee, as Stoughton had used their last time out during Oliver Ames's previous drive.

TEPPER TOWN


Alex Tepper is 6-2, 245, the size of most linemen, so when he goes out for a pass, with his speed and size, it doesn't make for a good matchup with linebackers, who usually weigh in between 175-215 pounds.

"All the hard work in the offseason, putting on size, lifting, running, it pays off," Tepper said. "I am a hard person to tackle over the middle."

McGRATH'S HIGHWAY
OA kicker Ryan McGrath missed one field goal (42) but made the second (37) on the following possession. Going in with points on the board was key for Oliver Ames, for when the scored in the second half, they already had the lead. The first one was not his fault, according to Artz.

"We accounted for the wind a little but too much," Artz said.

Artz told McGrath to kick it and let the wind shift the ball through the uprights. McGrath did as he was told but the wind did not carry the ball the way Artz and staff had expected.

"He was like, 'Coach, I put it where you wanted it."

DEVIANT ACCOUNTS


Although Schenider shared Artz's emotional halftime speech, telling the team that he loved them and wanted to see the team play past Thanksgiving, the coach did not want to recount any of his speech after the game.

"Nothing" was what Artz would divulge of the pep talk that turned his team on in the second half, he said with a smile.

OLIVER AMES 24, STOUGHTON 14
O (5-4) 0 - 3 - 14 - 7 --– 24
S (5-5) 7 - 0 - 0 - 7 –-- 14

First quarter
S – Marcus Middleton 53 pass from Alex Fernandes (Fernandes kick)

Second quarter
O– Ryan McGrath 37 field goal

Third quarter
O – Jared Schneider 30 run (McGrath kick)
O – Schneider 2 run (McGrath kick)

Fourth quarter
O – Alex Tepper 4 pass from Schneider (McGrath kick)
S – Aaron Calixte 11 pass from Fernandes (Fernandes kick
October, 22, 2011
10/22/11
2:34
AM ET


MANSFIELD, Mass. -- For a time in the first half of Friday night's game against Oliver Ames, Mansfield was threatened by a pesky opponent from the Hockomock League's small division.

However, this time around — unlike the No. 11 Hornets' early season loss to Stoughton — Mansfield got it together in the second half to turn a potential nail-biter into a laugher with a 34-14 win. A combination of four turnovers and a thumping Hornets rushing attack fell the Tigers.

"They were a couple of turnovers away from this being a barn-burner down the stretch," Mansfield head coach Mike Redding said.

The teams went into the half tied, 14-14, but the Hornets (6-1) built on the momentum from Dylan Finnerty's 42-yard fumble return for a touchdown off a Zach Schafer strip-sack in the third quarter. It was the start of 20 unanswered second-half points posted by Mansfield with running back Greg Donahue (12 carries, 102 yards) and quarterback George Busharis each tallying rushing touchdowns.

Finnerty put Mansfield on the board five minutes into the first with a 15-yard touchdown run.

It was the beginning of yet another typical rushing performance for the Hornets, who have averaged over 250 yards per game on the ground this season.

"They're the best line in the state," Finnerty said of Mansfield's offensive line. "They're work hard, they practice hard, they lift hard all summer. They work with Coach [Tim] Selmon watching film and studying up on the D-line every week. They come out every week playing well."

OA (4-2) tied the score on Jared Schneider's 11-yard touchdown pass to Duane Johnson and later took a 14-7 lead on Mike McMillan's 32-yard touchdown reception.

After a Tiger fumble, Mansfield knotted the score, 14-14, on Donahue's 58-yard touchdown reception on screen pass.

The second half was an entirely different beast.

"We played so well early," OA head coach Jim Artz said, "and we did all those things right.

"Then," Artz snapped his fingers, "it's gone. It's very disappointing."

TALL PRAISE
Schafer has a knack for big plays and always seems to be around the ball. Following the game, Redding praised Schafer as being part of the "glue" to the Hornets defense along with fellow linebacker Nick Leonard.

"[Schafer] led us in tackles last year and he's leading us in tackles this year," Redding said. "He's smart, very physical. He plays hard and he's always around the ball. We try to get him in the position to make those plays. He's an intense kid and he gets the defense going. We need that in the defensive huddle to rally the troops.

NO MORE MORAL VICTORIES
Artz was asked if his team gained anything from playing the Hornets close for a half and the Tigers' coach flatly commented that he feels there are no moral victories to be had Friday night.

"Where this program is, we don't see it like that," Artz said. "There are only wins and losses."

That statement, by its nature, is indicative of the standard Artz holds his players to and Friday's performance was certainly lacking in many areas.

Still, the biggest challenge OA has yet to face will be an essential winner-take-all matchup for the Hockomock Davenport crown with Stoughton. Redding, for one, can vouch for the strength of the Hockomock's small school powers.

"They're much improved," Redding said of OA. "No matter what, there's going to be a strong second team representing the league. That's going to be a great game."

Oliver Ames (4-2) 7 7 0 0 -- 14
Mansfield (6-1) 7 7 13 7 -- 34

1st quarter
Mansfield - Dylan Finnerty 15-yard run (Mike Hershman kick)
OA - Duane Johnson 11-yard pass from Jared Schneider (Ryan McGrath kick)

2nd quarter
OA - Mike McMillan 32-yard pass from Schneider (McGrath kick)
Mansfield - Greg Donahue 58-yard pass from George Busharis (Hershman kick)

3rd quarter
Mansfield - Finnerty 42-yard fumble return (Hershman kick)
Mansfield - Donahue 1-yard run (kick failed)

4th quarter
Mansfield - Busharis 1-yard run (Hershman kick)
October, 15, 2011
10/15/11
12:59
AM ET


EASTON, Mass. -- Field position can win an awful lot of football games and Oliver Ames exhibited that in its 17-9 victory over Hockomock Davenport rival Foxborough Friday night at Muscato Stadium.

After the Tigers' opening drive stalled on Foxborough's 6-yard line on a fourth-and-goal try, the Warriors promptly returned the ball, fumbling on their first play from scrimmage. OA (4-1) needed just four yards to take an early 7-0 lead.

The Tigers again set up shop inside the red zone on their next possession, after forcing the Warriors (3-3) three-and-out. Dean Soucie's block and recovery of a Foxborough punt had the Tigers at 14-yard line. Although OA couldn't make it a two-touchdown lead, Ryan McGrath's field goal provided an instant 10-0 lead.

"Last week [against King Philip], we didn't represent ourselves properly," Tigers head coach Jim Artz said, "and I think, this week, we came out with a little bit more vinegar and a little more nastiness to play the way we're capable of playing."

After a Foxborough field goal, OA extended its lead on quarterback Jared Schneider's second rushing touchdown of the game just before the half. That drive, too, started with the benefit of excellent field position near midfield.

"We came out first drive and didn't get in, but our defense played great the whole game," Schneider said. "We knew once we got down there, we've got to score every time."

With the luxury of field position, OA was also able to carry the tempo of the contest. The Tigers pounded the Warriors banged-up line (with two starters lost to injury this week) in the running game with senior running back Sam Langston's 22 carries for 168 yards.

"Sam [Langston] is amazing," Schneider said. "I think he's the best running back in the league, I don't care what anybody says. He's run the ball so well all season and he's carried us down the field."

CLAWING BACK
Foxborough had chances to come back in the second half, thanks to a couple of interceptions by senior corner Tony Gutierrez, one of which set up the Warriors' lone touchdown in the fourth.

Warriors quarterback Nick Sestito also exhibited a good touch on the ball, breaking off several big plays while exploiting OA's Cover-2 defense. Sestito found receivers open on the seam several times, with a couple of those balls directed toward physical 6-foot-4 split end Noah Cronin. The Warriors also have a nice complement to Cronin with shifty receiver Greg Stamatov (the Villanova-bound lacrosse goaltender) working underneath.

"He's our Wes Welker," Foxborough head coach Jack Martinelli said of Stamatov. "He's just able to get open."

However, the opportunities the Warriors had to gash the Tigers up the middle eventually ebbed away.

"We were being too aggressive with our pressure up front, too," Artz said. "We changed up our looks and that helped."

BOUNCING BACK
Artz made several mentions to the team's dissatisfaction with their effort in a 28-13 loss to King Philip last week. It should have been a statement game for the Tigers (Stoughton over Mansfield, anybody?), but OA got behind the 8-ball early and wasn't able to get into their game plan.

"We felt we weren't able to utilize our ground game last week because of the way the game developed because we fell behind so quickly," Artz said.

The Tigers were able to assert their will on the patchwork Warriors line behind hulking 6-foot-9, 300-pound right tackle Keith Sullivan.

In addition, OA found different ways to integrate Langston into the offense, throwing in a healthy dose of direct snaps to back and some Wildcat formations.

"[Langston] has been a workhorse all week," Artz said. "He's unbelievable. He doesn't go down on the first hit. You stop him for a second and he's still going to be churning, pop off and be four yards down the field."

EXTRA POINTS
It's neither here nor there, but Tigers place kicker Ryan McGrath can flat out boom the ball. His 34-yard field goal in the first quarter would've been good from 50, a testament to one observer's estimate that McGrath was hitting from 55 yards in the pregame warm-ups in inclement weather. McGrath also showed off his leg powering a touchback through the end zone in the second quarter.

In so many words: Wow.

Foxborough (3-3) 0 3 0 6 -- 9
Oliver Ames (4-1) 10 7 0 0 -- 17

1st quarter
OA – Jared Schneider 2-yard run (Ryan McGrath kick)
OA – McGrath 34-yard field goal

2nd quarter
F – Jake Soccorso 29-yard field goal
OA – Schneider 2-yard run (McGrath kick)

4th quarter
F – Kiivone Howard 1-yard run (Kick failed)