Boston High School:

Jim Conway
February, 21, 2012
2/21/12
12:28
AM ET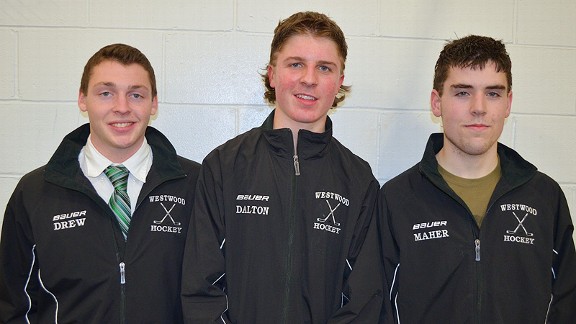 Scott Barboza/ESPNBoston.comWestwood senior captains Jake Drew, Brendan Dalton and Shane Maher are the stewards to the state's longest continuous playoff streak, which the Wolverines have run to 30 years this season.
CANTON, Mass. – The playoffs must seem a birthright to all Westwood hockey players through the years.
The Wolverines, yet again, have qualified for the MIAA tournament this season. That means any player who has slipped a spoked "W" sweater over their head during the last 30 years has played a postseason game. Westwood's 30-year playoff streak is the longest such streak in Massachusetts hockey. During that span, the Wolverines have racked up 19 Tri-Valley League championships and four state championships (1985, '91, '92 and 2002).
Even though the postseason has come as sure as the turning of the calendar, it hasn't all been easy for the Wolverines.
This year's model graduated 17 players from the team of one year ago, including ESPN Boston All-State "Best of the Rest" selection goaltender Chris Treon.
"There were some question marks coming into this season, definitely," Westwood head coach Mike Welby said Monday, after the Wolverines' 2-2 tie with Holliston at the Canton Metropolis.
But the streak alone has become a motivating factor for its inheritors.
"The streak can be a big cloud over our heads sometimes," Wolverines senior captain and defenseman Shane Maher said. "My brother played and every game he texts me asking me how we did. Our focus this year was just getting there, getting the points we needed to qualify.
"Now, that weight's off our shoulders, so we can concentrate on going on to the playoffs."
Like any other high school hockey program, Westwood has no means of grabbing players from beyond its realm. It's part of what makes the Wolverines' accomplishment that much more astounding. Oftentimes, the town's brightest hockey stars end up at private or prep schools, or they go the junior route.
What has fueled the Wolverines, year after year, is a sense of pride shared by its players: Pride in team, pride in living up to lofty expectations, pride in those that have come before them.
"It's a big tradition to live up to," said senior captain Brendan Dalton, who leads the Wolverines with 22 goals and 29 points in 17 games. "This year, with 30 years on the line, it was a big motivating factor."
In many instances, Westwood's players can trace their connection to the program through their families, as their coach does.
Mike Welby was the third of four brothers to don Westwood sweaters.
The Wolverines tradition runs though the current locker room as well.
Several of Westwood's players, Jim Conway Jr., Chris Ruggiero Jr. and Jack Swartz, are sons of former Wolverines.
"The ones with fathers I don't know, my brothers probably played with them," Welby said.
It makes for a tight-knit community, one that centers around the rink. It also means there's a net of support when times get tough.
Last week, Chris Ruggiero Jr.'s father died suddenly. He was 40. One of the most decorated players in Westwood history, Chris Sr. was an all-star with the Wolverines before going on to play at UMass-Boston.
He was buried in Westwood on Monday.
Tuesday marked Chris Jr.'s return to the ice. Following the game, he walked from Westwood's locker room into the Metropolis lobby. He walked through the double doors with hockey bag weighing heavily on his shoulder. Chris Jr. was met by a welcome party of family and friends. Gathered in a semicircle, they were clapping for him, most of them Wolverine veterans.
June, 15, 2011
6/15/11
7:43
PM ET
By
Tom Layman
| ESPNBoston.com



LYNN, Mass. -- The swan song for Bill Pettingell continues.

His Division 3 North champion Newburyport knocked out Apponequet with a 4-1, win in the Div. 3 state semifinals on Wednesday night at Fraser Field.

Pettingell has seen a lot of lefty pitchers come through his program in his 40 years as head coach of the Clippers, but there might not be any better than the way Ryan O'Connor has pitched this season. With his 13 strikeouts in a three-hit, complete-game victory, O'Connor set a single season school record for Newburyport (22-5) with 122 K's this season.

"He set a single season for a Newburyport player, so I guess we haven't had someone in that category then," Pettingell said with a chuckle when he was asked of O'Connor's place among Clippers left-handed starters.

Newburyport will look to send off Pettingell with his first state title on Saturday in Lynn, when the Clippers face Pioneer for the state title.

O'Connor was strong in the opening innings with a mixture of his two potent breaking balls. The lefty throws a slider and curveball, and through the first two innings he fanned five out of six Lakers (16-5) with a mixture of both.

The Clippers starter did strike out the side in the top of the third, but his three walks and a RBI single from Nick Cogliano tied the game at 1, after the Clippers' Dave Cusack scored on a wild pitch in the home half of the first.

O'Connor got into a bases loaded jam in that third inning after the tying single, but he got Dan Depippo looking to get out of the jam.

"I threw a lot of balls in the beginning of the at-bats too, so I put more pressure on myself," said O'Connor.

Brett Fontaine helped relieve some of that pressure in another bases loaded jam in the top of the fifth. Fontaine collected a hard-hit ground ball by Depippo on a hop and he fired over to first to strand three.

"I wasn't too good today at some points, but I got it over when I needed to and the guys behind me picked me up," said O'Connor.

O'Connor hit a one-out single in the bottom of the fifth to chase Lakers' starter Josh Fickert (4.1 IP, two earned runs, four walks, three strikeouts). Matt Mottola legged out an infield single to set up first and second with one down against the Lakers' reliever.

Jim Conway hit a grounder to the hole in short and the shortstop's throw could not be handled by the first baseman, allowing O'Connor to come home for the go-ahead run. Drew Carter hit an opposite field single over the outstretched arm of the first baseman to plate Mottola, but Conway was thrown out at home trying to score.

"We scrounge for runs," said Pettingell. "We find a way to move runners along. We do a lot of hit and runs that people don't notice, and then we get a few dinkers in there. We got some nice clutch hits."

The Clippers got one more in their last ups when Ryan Clark scored on a wild pitch.