Boston High School:

Jim Kelliher
September, 13, 2014
Sep 13
12:10
AM ET
By
Nate Weitzer
| ESPNBoston.com
BROCKTON, Mass. – Last November, Cardinal Spellman's postseason came to a close at the hands of regional rival Abington. The Green Wave stopped the Cardinals with two dramatic goal-line stands in the second half of their Division 5 playoff game, and salted away a 13-8 victory with an 8-minute, clock-killing drive.

So Friday night's season opener created an uncomfortable sense of Déjà vu for the home team.

Toward the end of a sloppy first half replete with fumbles, three-and-outs, and dropped passes, Cardinal Spellman managed to drive deep into Abington territory with a versatile rushing attack out of the Wildcat formation. All eyes were on senior running back Matt Anastasi (12 carries for 47 yards in the first half), leaving quarterback Cameron Sass free to sprint towards the edge on a well-executed bootleg, but Abington's James Landers met him at the pylon with a crunching hit to force a fourth-and-goal. Senior captain Luca Cerasani stopped Anastasi in the backfield on the next play, galvanizing the Green Wave as they headed into the locker room.

Sporting dyed green hair to begin his 41st year as Abington's head coach, Jim Kelliher talked about the importance of that sequence.

"It was big, without a doubt," Kelliher said after the game. "It's tough to be in that situation, where they only have a couple yards to make, but we always talk about being resilient, trusting your teammates, and that time, it worked."

The Green Wave seemed to build on the momentum of that pivotal stop, as they opened the second half with a 13-play, 63-yard drive that chewed up seven minutes of clock before Sam Malafronte rumbled into the end zone on a fourth-and-goal from the Spellman 1-yard line.

Junior running back Shawn Donovan rushed for 31 yards on five carries off right tackle, as Abington attacked the left side of Spellman's defense on nearly every play during that drive.

"We wanted to get guys like Donovan and [RB] Donnell Leon around the corner," Kelliher explained. "I think [after the half], we shored up a couple of things that gave us a bit of an edge, and it definitely opened up some other plays for us."

Malafronte, who injured his ACL on the opening kickoff last season, was huge on both sides of the ball. He followed up his rushing touchdown with a shoestring tackle of Anastasi that stalled Spellman's ensuing drive. After the Cardinals punted, the Green Wave took advantage of a tired Spellman defense by completing another 63-yard drive that was fittingly capped by Donovan's 3-yard touchdown on a toss to the right.

Old Adversaries: With nearly 80 years of coaching experience between them, Kelliher and Cardinal Spellman head coach Ron St. George have a certain mutual respect.

"I've known Ronny for a long time," said Kelliher. "We've been going against each other for a long time, and his team's are always really physical and tough to play against."

St. George coached for East Bridgewater and BC High before taking over at Spellman five years ago, and joined Kelliher as a Massachusetts High School Football Hall of Fame inductee in 2010.

Throughout his 35 years of coaching, St. George said he's never had a season ravaged by as many injuries as this one. "This is an unusual year for us. We came in with four or five starters out, and then we lost another one [to transfer]. We'll get kids back, and we'll be better, but right now, we're young, and I think we gave [Abington] all they could handle."

The Cardinals had 14 players that didn't dress for their season opener, and lost another key lineman when senior Ramyrage Alexis exited the game with a knee injury in the third quarter.

Still, Spellman's defense performed very well with junior linebacker Ralph Grillone anchoring the middle of the field, and offensive stars such as Anastasi and Sass contributing on both sides of the ball.

Leader Returns Strong: Abington captain Sam Malafronte suffered a non-contact injury on the first play of the 2013 season, and missed the rest of the year after undergoing ACL surgery. Kelliher said he joked with the senior linebacker about how they would celebrate his second play of the game, because it meant that he surpassed last season's total.

Along with fellow linebacker Luca Cerasani, and defensive back Josh Riordan, Malafronte was a crucial part of an Abington defense that shut out the opposition in their season opener for the first time since 2009.

"He is without a doubt one of the best leaders that we've ever had," Kelliher effused. "You just don't know how much Sam Malafronte does for this team. He's constantly working, and you can tell he really wants to play this year."

Abington 13, Cardinal Spellman 0
ABT 0 0 7 6 --- 13
CDS 0 0 0 0 --- 0

Third Quarter
A – Sam Malafronte 1 run (PAT good) 3:04

Fourth Quarter
A – Shawn Donovan 3 run (PAT failed) 5:45
October, 20, 2013
10/20/13
1:06
AM ET
By
Brendan Hall
| ESPNBoston.com
ABINGTON, Mass. – Any rumors of demise on the gridiron at Abington High this fall have been greatly exaggerated.

No, the Green Wave weren't exactly written off after seeing two of their star players go down with season-ending injuries in their Week 1 loss to Duxbury –- they hung in until the final drive that night, of course -– but there were certainly questions abound as to how they'd progress moving forward.

Six weeks later, the Green Wave have won five straight and secured a share of the South Shore League title, after spoiling border rival Rockland's Homecoming with a 23-7 win at Rockland Veterans Memorial Stadium.

"I credit my coaching staff and I credit my kids," Abington coach Jim Kelliher said. "We don't have one of the very best backs in Eastern Massachusetts, with [Matt] Kilmain, and we lost our second-best guy on the first play of the season. We gotta roll up our sleeves, and just dig in, and we've got to work and make sure we come ready to play together on a Friday or Saturday.

"That's what our coaching staff has really done a good job of. We've lost two big guys, and they were two very good gosh darn players."

The Green Wave (5-1) used nearly a half-dozen ball-carriers to eke out yardage, as well as some deep throws from quarterback Brian Dwyer (7-of-9, 101 yards; 5 carries, 22 yards) to get out to an early lead. They took a 14-0 lead early in the second quarter when Al Freeman (21 caries, 77 yards, 2 TD) pulled around the left on a sweep and scampered in from 15 yards out. That score completed a quick four-play, 65-yard drive that featured some shifty open-field maneuvering from sophomore Shawn Donovan (12 carries, 115 yards).

Rockland responded immediately, with Justin Nguyen returning the ensuing kickoff 74 yards to the house, but the Green Wave came right back to make it a two-possession game once again. Following an onside kick recovery at midfield, Abington marched 53 yards in nine plays, capping it with Freeman's second touchdown, a two-yard plunge through the right side.

But the story of this game was the turnovers. Abington finished with a plus-four differential on the afternoon, twice recovering fumbles in its own red zone to thwart scoring opportunities for the Bulldogs (4-2).

The second recovery, snatched at the one-foot line by Josh Riordan, may have been the backbreaker. Off the turnover, the Green Wave ground out a 12-play, 85-yard drive that ate more than eight minutes off the clock. Donovan completed the drive with a 32-yard field goal, and by the time the Bulldogs had the ball again, they were facing a three-possession deficit with 3:56 to go.

Aidan Cawley sealed it in the end for Abington, thwarting Rockland's final two drives with interceptions deep downfield.

"They certainly are gonna feel good about that," Kelliher said. "I tell the kids defensively, if you can live for another defensive play, then something can happen. Even though they were driving -- they drove on us a couple of times -- I always say if you make them work for every single inch, something may happen. Maybe we're going to get that linebacker to tip the ball, or get an interception, maybe we're going to make a hit that causes a fumble, but stay with it, keep coming after them. They did, and we got those."

ABINGTON 23, ROCKLAND 7

AB 7 13 0 3 --- 23
RO 0 7 0 0 --- 7


First Quarter
A – Steve Manning 7 run (Shawn Donovan kick) 1:51

Second Quarter
A – Al Freeman 15 run (Donovan kick) 8:19
R – Justin Nguyen 74 kickoff return (Joe Reardon kick) 8:06
A – Freeman 2 run (kick failed) 3:23

Fourth Quarter
A – Donovan 32 field goal 3:58

December, 1, 2012
12/01/12
9:18
PM ET
By
John Botelho
| ESPNBoston.com
MILTON, Mass. -- In his more than 40 years of coaching at Abington High, it would be reasonable to think Jim Kelliher has seen it all on the football.

In winning the EMass. Div. 4 Super Bowl, 14-8, over St. Mary's of Lynn on Saturday, Kelliher was witness to two things he'd never before seen: An undefeated Green Wave season and a playoff performance like that of Matt Kilmain.

Even Kelliher's Super Bowl teams in 2002 couldn't boast an unbeaten season from beginning to end.

"We did something no team in school history has ever done – we went 13-0," said captain Jack Malafronte. "At Abington, with the history of football we have, to be able say we did something no one has ever done is a good feeling."

Kilmain helped guarantee the Green Wave would finish undefeated with a pair of all-time performances in the playoffs this week.

After rushing for 272 yards on 12 carries and scoring three times in the opening round win over Millis/Hopedale on Tuesday night, Kilmain delivered a 15-carry, 166 yard performance that included what proved to be the game-winning touchdown against St. Mary's.

"He's really done a yeoman's job for us," said coach Jim Kelliher, who coached his third Super Bowl champion this year. "He truly, truly has – especially in the second half of the season. People didn't know too much about him.

As coaches, we knew what kind of potential he had and he just worked at it. With the help of his teammates, he started to show his skills, and he has some really great running back skills."

Even his teammates and fellow Super Bowl champions were impressed by his showing this week.

"It didn't surprise me," said senior captain Jack Malafronte, who shares running back duties with Kilmain and has scored in six straight games. "I knew he was capable of that all season. We've talked about it all year – it's only a matter of time before someone breaks one or does something special. He was special this playoffs."

Added QB Brandon Cawley: ""He was the whole offense for us this playoffs," said senior . "He just took over during the playoffs. He's going to have a great year next and I can't wait to watch him."

Before he was able to take over in the Super Bowl, St. Mary's received the game's opening kick. John Gaeta set up a short field with a 52-yard run, which Jordan Collier followed with a 1-yard dive into the end zone. A two-point conversion made it 8-0.
Abington's defense didn't allow another point.

"We haven't really ever been all year a team who is going to get a whole bunch of one, two three and outs," said Kelliher.
"People have driven on us but we always professed the fact that if we give them the ball in tough position, that they'll have to go a long way and not make any mistakes to get back in our endzone.

We just try to make sure we do everything we can to make sure they don't get in the end zone, and wherever we get it back, we don't care."

After Collier gave the Spartans a lead, Malafronte made sure it was brief and punched in a score on the next drive. He finished off a lengthy drive with a 14-yard score in which he shook off a pair of tacklers and dragged a third into the end zone.

After forcing a turnover on downs, Abington extended their lead in the second quarter when Kilmain took a sweep left around the edge. His lead blockers made sure the gain would go for at least a first a down, but Kilmain breaking a pair of tackles made he'd go 80-yards all the way for a score. A failed two-point conversion left the score at 14-8.

From there the team's traded defensive blows, finishing the half with that same score.

On their first drive of the second half, St. Mary's threatened to score again, putting together an impressive 17-play drive that spanned more than seven minutes but stalled out at the Abington 29 when junior Steve Manning sacked quarterback Jake Cassidy.

After forcing a punt, the Spartans start marching toward the end zone again, moving the ball all the way down to Abington's 15.
Joe Brady ended their chance to score with an interception in the end zone with 4:22 remaining in the contest.

Babila Fonkem, Kilmain and Malafronte – who combined for 303 rushing yard in the win – all picked up rushing first downs on the final drive, allowing Abington to take knees and win their third Super Bowl title since 2002.

MORE GOOD NEWS
It was rumored prior to the season that this year would be the last for Kelliher, a head coach of 39 years whose been on the Green Wave staff for more than 40.

He put that notion to bed following the win yesterday.

"I still enjoy myself, and the other coaches and the players," Kelliher said. "Maybe, hopefully, the players would say the same thing about me. I still enjoy the game and I still think I can add a little something to it.

I do think about it possibly being my last year – at my age you have to. I have to think about, I'm not going to lie about that but I still enjoy coaching football."

Even the graduating players are happy Kelliher decided to return.

"He is Abington football," said Malafronte. "For him to be back, means everything to this program. I knew once we started going on a roll that he would be back. He can't get away from it. Coming off a 13-0 season, how can you get away from that?"
November, 28, 2012
11/28/12
12:23
AM ET
By
Bruce Lerch
| ESPNBoston.com
BRIDGEWATER, Mass. -- With three gifted running backs, it's not always easy to predict which Abington runner will take his turn in the big-game spotlight.

Tuesday evening, it was junior Matt Kilmain who stepped to the forefront, piling up an incredible 274 yards and three touchdowns on just 12 carries to lead the Green Wave in a 29-12 triumph over Millis/Hopedale in a Div. 4 semifinal matchup at Bridgewater-Raynham High School.

Abington (12-0) will face St. Mary's in the Div. 4 Super Bowl Saturday at Curry College (time TBA).

"It was really the blocking. Every time I scored, the hole was huge," said Kilmain when asked what enabled him to have such success. "I would just hit the hole, make one move and I was gone. I got the one touchdown and they just keep feeding me."

Fellow backs Babila Fonkem (38 yards) and Jack Malafronte (32 yards, TD) have also taken turns in the lead role but Kilmain showed early signs that he was going to be difficult for the Mohawks to handle. Despite a somewhat slippery turf, Kilmain took Abington's second play from scrimmage 72 yards down the left sideline for a score.

Millis/Hopedale (8-4) got it right back on an 11-yard TD run by Chris Ahl (100 yards, two scores) and took the lead on Ahl's second touchdown, also from 11 yards. The Mohawks missed both extra points, as well as a 20-yard field goal try at the buzzer, but still took a 12-7 into the break.

Whatever was discussed in the Green Wave locker room during the half seemed to have an effect as Kilmain took the first play from scrimmage through left tackle and sprinted 65 yards to paydirt, putting his team back in front, 15-12.

Two possessions later, Kilmain broke another big run, this time sprinting 42 yards straight through the middle. Malafronte would add the final score on a 12-yard burst in the fourth quarter.

"Matt Kilmain has come into his own in the latter part of the season," praised Abington coach Jim Kelliher. "He's just feeling more comfortable being a running back, more comfortable with the plays, a lot more...just going out there and doing what he can do best and letting everything flow. And when he can do that he's as good as anybody."

DIGGING IN ON DEFENSE
Led by 6-foot-2, 300-pound two-way lineman Jon Baker, who was his typically dominating self, the Mohawks boast a rather imposing group of linemen on both sides of the ball. Instead of cowering and giving way to such beef, the Green Wave defense instead dug in their heels and relied on quickness and technique to find holes in the Millis offensive line to get pressure in the backfield.

The trio of Jason Halpin, Steve Manning and nose tackle Jon Aprile more than held their own and put together more than a few big plays. Manning and Aprile each had sacks while all three consistently swarmed to the ball and made several tackles for no gain or losses.

"We just shut down the middle," Halpin said. "That's all we needed to do. We sent it outside, we got the linebackers going. Just an all around team thing. They were huge, they were a big line, You just gotta find their weakness and attack it.

Halpin added, "We really keyed in on the two main players, [quarterback Sean Heffernan] and [Ahl]. [Ian Strom] was one of the big guys too. We keyed in on them, made sure we knew all of their formations and everything. We prepared a lot."

Kelliher knew his smaller squad was in for a battle but he was able to walk away more than pleased with the effort his defense put forth,

"I thought my kids did exactly what we asked them to do," Kelliher said. "Just hang in there, be tough, keep on coming at them and things will turn. Yeah, we're going to get driven back a few times because they're pretty good, they're pretty big. But at the same time, we have good football players. Stay with what you do best and everything's going to be alright."

ABINGTON 29, MILLIS/HOPEDALE 12
MILLIS/HOPEDALE (8-4) 6 6 0 0 - 12
ABINGTON (12-0) 7 0 14 8 - 29

AB - Matt Kilmain 72 run (Shawn Donovan kick)
MH - Chris Ahl 11 run (kick failed)
MH - Ahl 11 run (kick blocked)
AB - Kilmain 65 run (Babila Fonkem rush)
AB - Kilmain 42 run (pass failed)
AB - Jack Malfronte 12 run (Tim Ferguson pass from Brandon Cawley)
November, 9, 2012
11/09/12
11:42
PM ET
By
John Botelho
| ESPNBoston.com
EAST BRIDGEWATER, Mass. -- Jack Malafronte might only stand 5-foot-5 and 170 pounds, but he played like the biggest man on the field Friday night for the Abington football team in their South Shore League title clinching win over East Bridgewater.

The fire hydrant of a running back led the charge for the Green Wave, carrying the ball 12 times for a whopping 174 yards in the 22-16 win.

The Vikings managed to curtail the production of offensive lightning rods Babila Fonkem and Matt Kilmain, but Malafronte found the end zone three times for the unbeaten Green Wave (10-0, 7-0 SSL).

"It always starts with the offensive line, they open up the holes," said Malafronte. "I just hit em fast and hit em hard.

"I think we have the most talented group of backs around. You really can't game-plan for three running backs and quarterback who can throw, so teams have to pick their poison. You might shut down one or shutdown two, but someone is going to find those holes."

And Hall-of-Fame coach Jim Kelliher couldn't have been happier it was Malafronte, who is widely recognized as one of the best motivators he's had – this year or any.

"Jack [Malafronte] is without a doubt one of the best captain-leaders we've ever had here," Kelliher said. "I've been here for 42 years, so I've seen a lot of guys go through. He's without a doubt the best. He epitomizes being a captain leader. He certainly showed it tonight."

He didn't get his first carry until two minutes into the second quarter, but he made the most of it as he sprinted 61 yards and moved the Green Wave into East Bridgewater territory for the first time.

After a pass interference call on fourth down kept the drive alive, Malafronte finished it off with a 10-yard dive into the end zone with 5:25 remaining in the half. A halfback pass from Fonkem to Joe Buckley made it 8-0.

East Bridgewater suffered its third turnover-on-downs on the next drive, and Abington held the ball for the final two minutes of the first half. Malafronte extended the lead on third play from scrimmage after the break, racing 53 yards for a score. A Fonkem run on the two-point conversion made it 16-0.

Just when it seemed Abington might run away with this one, the Vikings (6-4, 4-2 SSL) put together an impressive nine-play drive that spanned nearly five minutes. Andrew Benson, who finished with 67 yards rushing and another 51 yards passing, scored from three yards out before adding a two-point conversion rush to make it 16-8.

EB forced a quick three-and-out, and took over at their own 24 following a punt.

This time it took 10 plays, but Benson once again plunged in from three yards out. He added another impressive two-point conversion score on a broken play, tying the game with 7:53 remaining.

The tie was short-lived, however, as Abington manufactured a 10-play drive of their own and Malafronte finished it from two yards out with 3:37 left. His rush attempt failed and the Green Wave led 22-16.

East Bridgewater marched down the field again, and an athletic 17-yard scramble by Benson set up a 1st-and-10 at the 11-yard line. Back-to-back false starts moved the Vikings back 10 yards though.

With pressure baring down on him, Benson threw a pass toward that end zone that Abington's Mike Walsh came down with, ending the drive and comeback bid.

The fourth time EB failed to net points after reaching the end zone doomed them as it came with just 1:05 left on the clock.

"We just made too many mistakes and had too many breakdowns," East Bridgewater head coach Shawn Tarpey said. "We've been talking about execution the last few weeks. Overall we played pretty well, but we didn't get it done when we needed a big play."

Fittingly, Malafronte cruised past the first down marker allowing the Green Wave to take a knee and clinch their first SSL crown since 2008.

While Malafronte led the way offensively, his younger brother, Sam, made sure it was family affair on both sides of the ball. He led the Green Wave with six tackles, who also five each from Fonkem and Steve Manning, as well as four from Joe Brady and Jon Aprile in the win.

LYNCH'S FIGHTING CHANCE
Doctors and coaches weren't sure senior captain Kevin Lynch would be able to suit up again for the Vikings after breaking his arm in their Week 4 loss to Mashpee.

Still, Lynch – a linebacker and running back – planned to be back, and his return to the field during the Abington loss was the brightest spot of the day for East Bridgewater.

"I mentioned it to the team that he was gutsy when he got hurt," Tarpey said. "He backed that up again tonight. He's just such a special kid. Six weeks off, and for him to just jump in their like that, I couldn't be prouder of a kid. What a performance by him."

The performance included rushing for 130 yards on 20 carries and leading the Vikings on defense while registering a team-high seven tackles.

"He's just such a good kid," Tarpey said. "He works so hard across the board – he's ranked fourth in his class, and was always in the weight room, I'm just so proud of what he did out there tonight."
November, 9, 2012
11/09/12
1:42
AM ET
NO. 5 WALPOLE (9-0) AT NO. 21 NATICK (8-1)
The Skinny: The most anticipated regular-season matchup is finally upon us. A swelling crowd is expected to turn out for this one, as the Bay State Conference's Herget division title is on the line. Natick is looking to bounce back after coming up on the wrong side of one of the year's biggest upsets (a 40-34 loss to Wellesley), but Troy Flutie, Brian Dunlap and co. will have to do it against one of the state's stingiest defenses. Walpole hasn't allowed a point since Sept. 28, and hasn't allowed a touchdown since Week 3.

Scott Barboza: I'm shudder to think that we might not have any questions to answer during our Sunday night chat this week now that we're finally about to give our picks on this game. Walpole, 27-21.

Brendan Hall: I'm sure the primary topic of discussion in this Sunday night's Top 25 chat will be "What's your prediction for Natick-Walpole in 2013?" Walpole, 20-17.

NO. 17 NAUSET (9-0) AT PLYMOUTH SOUTH (6-3)
The Skinny: Raise your hand if you thought this would be the de facto Atlantic Coast League championship back in August. South's Dylan Oxsen leads the state in rushing touchdowns (28), doing so behind a uniquely modified pistol attack that gets the hard-charging junior downhill in a hurry. Written off a month ago, the Panthers are suddenly in prime position for their first postseason berth here, but they'll have to find a way to neutralize all the chicanery that comes with Nauset's single wing attack, led by running back Jimmy Sullivan.

Barboza: It's time we start considering Oxsen as a serious candidate for our Offensive Player of the Year Award. Plymouth South, 13-7.

Hall: If you know me, you know I'm a fiend for the ground-and-pound. For that reason, can't go wrong with either team, but I'm sticking with my preseason pick. Nauset, 28-21.

NO. 23 ABINGTON (9-0) AT EAST BRIDGEWATER (6-3)
The Skinny: Abington can clinch the South Shore League title with a win over the Vikings, and are the favorites here behind a dynamic offense led by Babila Fonkem, Pat Dwyer and Brandon Cawley. Defensively, the Green Wave are allowing just under seven points a game the last three weeks, but they figure to have their hands full trying to slow down quarterback Andrew Benson in the option game.

Barboza: I'm going to mention Brandon Cawley's name again just because the other night on Twitter he's said I only mention the running backs. JK guys, JK. Abington, 32-24.

Hall: If this is truly Abington coach Jim Kelliher's last season, then you can't find a more fitting farewell. Abington, 31-20.

SHARON (7-2) AT FOXBOROUGH (7-2)
The Skinny: Is the clock about to strike midnight on Sharon? The Eagles remain unbeaten in the Hockomock's Davenport division, but still have two big league games on the slate. The first one is Friday night, where they will attempt to contain tailback Kiivone Howard, who leads the Hockomock in rushing yardage (1,405).

Barboza: Foxborough quarterback Mike Slaby could be the difference-maker. Foxborough, 23-17.

Hall: What would a Hockomock League berth be without a little bit of mathematics? Foxborough, 21-7.

MARBLEHEAD (8-1) AT BEVERLY (9-0)
The Skinny: The Magicians claimed the CAL/NEC Tier 2 title last season with a senior-laden team. However, Marblehead's in the mix again, even after a surprise loss to Salem a few weeks back. Meanwhile, the Panthers can clinch the league crown with a win on Saturday. The vaunted Panthers offense (averaging 38 points per game) and its rushing attack is closing in on 3,000 combined rushing yards on the season, led by a backfield of Brendan Flaherty and Kenny Pierce. The Magicians have relied on 1,000-yard passer Ian Maag (13 touchdowns) for a bulk of their offense.

Barboza: It's been a nice bounce back run for Marblehead in an attempt at a repeat title, but, after all, this is the #yearofthepanther. Beverly, 28-14.

Hall: We love Jim Rudloff's mind games as much as the next guy, but the Magicians are simply overmatched here against one of the state's best rushing attacks. Beverly, 35-21.

BISHOP FEEHAN (6-2) AT SOMERSET-BERKLEY (9-0)
The Skinny: As in each of the last three seasons, the Eastern Athletic Conference title will be determined in a matchup between the Shamrocks and Blue Raiders. Feehan came away with a decisive victory last year, but Somerset-Berkley is looking to lay claim to its second crown in the last three years. The Blue Raiders are led by a dynamic back field of Garrett Carlos and Mike Garrant, but they'll encounter a physical Feehan front seven anchored by linemen Chris Barthe, Seamus Cuddy and Mitch Matrin.

Barboza: Nick Freitas escapes with EAC title No. 2. Somerset-Berkley, 27-20.

Hall: In terms of EAC supremacy, Feehan had the 2000's. And now, Somerset has the 2010's. Somerset-Berkley, 24-17.

FRANKLIN (7-2) AT MANSFIELD (6-3)
The Skinny: The Panthers get back into Hockomock Kelley-Rex play after a startling loss to Taunton two weeks ago. If Franklin is to hold out hope of hanging around in the division race, they'll need a win at Mansfield on Saturday. The Hornets are in a similar situation having dropped a close decision to North Attleborough two weeks ago. Look for the Hornets, led by Robbie Rapoza, to pound the ball on the ground and play some ball control in trying to keep the Panthers' spread attack on the sideline. Franklin junior quarterback Nick Zucco has been a revelation this year, but the Panthers can also run the ball behind Kyle Finamore. The Mansfield defense has been bolstered by junior linebacker Alex Ruddy, who currently leads the team in tackles.

Barboza: As predicted a couple weeks back, the Kelley-Rex picture is only obfuscated more. Expect another wild finish. And, of course, another prediction my friends in Mansfield will relish. Franklin, 38-36.

Hall: If the Hornets can establish the run game early, they can do just enough to hold off a furious Franklin rally. Mansfield, 27-24.

KING PHILIP (8-1) AT NORTH ATTLEBOROUGH (6-3)
The Skinny: Another pair of Kelley-Rex teams with one division loss meet in this rivalry game. The Red Rocketeers have cobbled together a three-game winning streak, following a three-game losing streak in the middle of the season. The better news yet for North in recent weeks its improving health, seeing several key contributors return to the field in recent weeks. Meanwhile, King Philip has rolled through Attleboro and Oliver Ames by a combined 75-21 margin since its loss to Mansfield.

Barboza: I find myself simply rooting for another chaotic finish to the Kelley-Rex division race, but I'm sticking with my preseason pick. KP, 24-21.

Hall: This is a new team with Sean Peters and Alex Jette both healthy. I'm looking at a return to early September form down the stretch for the Big Red. North, 30-23.
October, 21, 2012
10/21/12
12:42
AM ET
By
Corey J. Allen
| ESPNBoston.com


ABINGTON, Mass. –- In a matchup that was heralded to be a clash of the South Shore titans, the Green Wave crashed the Falcons' chance to make it a joust early on, finishing with a final score of 34-7, the sole Mashpee score coming with less than two minutes to go in the match.

"I thought tonight's defensive pressure was the best we had all year," said Abington coach Jim Kelliher.

"I thought our defense picked up our intensity three-fold...The bad thing about that is that we'll expect that for the next game and the next three games after that," added Kelliher.

After winning the coin toss and getting a break on a short kick and penalty on Abington (7-0, 4-0 South Shore), Mashpee (4-3, 3-1) started from the Abington 42, but on the second play from scrimmage, a bad exchange led to a fumble which was covered by Abington's Pat Dwyer at the Abington 44. Taking nearly four minutes to march 56 yards, Abington passed once, a 30-yard hookup from Brandon Cawley to Joe Buckley. The final play of the drive was a 2-yard bullying from Babila Fonkem with 5:26 left in the first quarter.

"I know that they're (linemen) fighting hard so I just try to fight hard every time I get the ball," said Fonkem. "They get me the initial yard so I just try to get what I can every time."

Abington's David Manzo recovered the kickoff after a fumble by Mashpee on its own 33. A flea flicker to Tim Ferguson became Ferguson's first career touchdown for the Green Wave, with just 18 seconds ticked off the clock since first score.

The Falcons got good field position on the ensuing kickoff, but turned the ball over with 1:28 left in the quarter, producing only 2 plays with positive yardage on the drive. Abington slow-danced for the next seven minutes, driving 77 yards with only two passes -– the second a five-yard touchdown pass pulled in by Buckley over a Falcon defensive back.

"Nothing better than getting a pass from this kid," Ferguson relayed motioning with his body towards Cawley. "You just got to go up and get it."

Mashpee's next possession lasted nearly three minutes and ended with a punt that was deflected by Manzo, going only 29 yards. Abington put on a two-minute drill, ending with Ferguson's second TD of the game, a catch in the middle of the field and a foot race to the left pylon. He won, and made the game 26-0, where the score stood until Buckley made the final Abington score of the evening -- a 12-yard pass from Cawley with 5:25 left in the third.

Mashpee looked like they were making a march on the goal line late in the third, but a Ferguson interception at the two thwarted that effort, although Cody Bingham-Hendricks finally scatted 24 yards in the waning minutes to avoid the haunting of a scoreless game that he and his compatriots were favored to win based on previously defeated team's schedules.

More Than a Game: With her sizeable winning from tonight's 50/50 raffle, Suzanne Djusberg decided to divvy up her winnings between the Green Wave Booster Club and Abington assistant coach Matt Chirokas.

Chirokas, who suffers from leukemia, was released from the hospital just hours before kickoff; yet, he donned his surgical mask behind the end zone to watch his players, where he also participated under Kelliher's tutelage. After the game was over, the Green Wave waded over to Chirokas and chanted around him.

"For this being the first game he actually attends [this year], I think it's very fitting that we take control in first place of the league by ourselves," said fullback and senior captain Jack Malafronte.

For the field to be in the condition that it was in today (playable), numerous folks from Abington came down to the Frolio Middle School field to ensure player safety.

"Over the past couple of days, people from the community came down to set the tarps up [on the field] and this morning they took them off. It's just people like that make this football program great," added Cawley.

ABINGTON 34, MASHPEE 7

MHS 0 0 0 7 --- 7
AHS 14 12 8 0 --- 34

First Quarter
A – Babila Fonkem 2 run (Joe Buckley pass from Tom Dwyer)
A – Tim Ferguson 33 pass from Brandon Cawley (Rush failed)

Second Quarter
A – Joe Buckley 5 pass from Cawley (Pass failed)
A – Ferguson 29 pass from Cawley (Rush failed)

Third Quarter
A – Buckley 12 pass from Cawley (Cawley rush)

Fourth Quarter
M – Cody Bingham-Hendricks 24 run (Chris Costa kick)

November, 5, 2011
11/05/11
12:54
AM ET
By
Matt Noonan
| ESPNBoston.com
ABINGTON, Mass. -– With roughly one minute remaining in the fourth quarter and the Abington Green Wave 39 yards away from a game-winning touchdown, East Bridgewater senior Connor McDermott made a game-saving tackle on 4th-and-9. It helped the Vikings preserve their undefeated record for yet another week and keep pace with Mashpee in the South Shore League with a dramatic 25-22 victory.

"That tackle was the biggest tackle I've ever made," McDermott said. "Anytime you get the stopping tackle, it's pretty big, but I pretty much just give it to Coach [Shawn] Tarpey because he's been coaching us all this time, and he was just saying, 'stay where you are,' so I just stayed where I was and made the tackle."

Tarpey added, "A game like this, you're excited, and sometimes everybody wants to make the play, [but] they realize they've just got to do their job, and we'll be OK. Obviously, there's not much else we could say, just kind of do your thing. [Abington] still [had] to put it in the end zone or kick a field goal, and we stopped them at the end."

Both teams shook off their pre-game jitters during the opening minutes of the first quarter with back-to-back interceptions before Abington's junior place kicker Joe Buckley kicked a 26-yard field goal, which gave the Green Wave their first lead of the game.

East Bridgewater responded on the ensuing possession, as senior quarterback Timothy O'Brien, (10 carries, 128 yards, and 3 TDs), rushed for his first of three scores, before Abington answered with a 34-yard run by sophomore half back Matt Kilmain.

Entering the second half, East Bridgewater added three more touchdowns on the ground, thanks to O'Brien and senior halfback Casey DeAndre, (22 carries, 159 yards, and TD) before Abington staged an epic comeback that featured two rushing touchdowns by junior half back Babila Fonkem, and an onside kick, which didn't result in any points.

"I thought my kids played a hell of a game, they gave every effort that they could give, [and] I didn't think they backed down from anything and this is the kind of game that should happen and it did," Abington head coach Jim Kelliher said.

"[This win was] incredible. Obviously, it just keeps us right on the path that we need to be on with next week's matchup, and I'm certainly going to enjoy this one tonight, but it's good," Tarpey said. "Last year, we beat these guys, and then we went out and lost to Mashpee, so we're going to enjoy this [victory]."

VIKINGS RUN AGROUND
Against the Green Wave, the Vikings running game demolished their opponents front seven, as O'Brien and DeAndre combined for 287-yards on the ground, and four touchdowns.

"[It's] not very easy," Kelliher said. "That's the best combination of two guys that I've seen. They did such a nice job in the backfield, riding, faking, they do an excellent job."

Tarpey credited his running attack against Abington by saying, "That's been that way all year. Teams have either taken away Casey or Timmy, and the other ones had a good game, depending on who they were trying to take away, so we busted out, we didn't execute, we had the turnovers in the first half, but we're glad to pull it out in the end."

BACK AND FORTH
Both teams combined for 32-points in the third and fourth quarters, as Abington and East Bridgewater flexed their offensive muscles on the ground game, but it was the Vikings, who managed to score an additional six points in the third quarter, which proved to be the difference.

"We came back each and every time they came back and at the end they were just three-points better than us," Kelliher said. "We're working, if anything to get ourselves in position to maybe get a field goal kick there, we didn't get it, but that's what we work on, that's what we do each and every week, that's what we [do] on the practice field all time."

EAST BRIDGEWATER 25, ABINGTON 22
East Bridgewater (9-0, 5-0) - 0 6 6 13 -- 25
Abington (6-3, 4-2) - 3 6 0 13 -- 22

1st quarter
A - Joe Buckley 26-yard Field Goal

2nd quarter
EB – Timothy O'Brien, 14-yard run, (pass failed)
A – Matt Kilmain, 34-yard run (pass failed)

3rd Quarter
EB – Casey DeAndre, 15-yard run (run failed)

4th quarter
A – Babila Fonkem, 17-yard run (Buckley kick)
EB – O'Brien, 15-yard run (kick failed)
EB – O'Brien, 27-yard run (Kevin Lynch kick)
A – Fonkem, five-yard run (pass failed)
October, 22, 2011
10/22/11
2:22
AM ET
By
Brian Fabry
| ESPNBoston.com


ROCKLAND, Mass. -– It was Abington's chance to turn the nuts, bolts, and screws on Rockland on their home turf.

The Green Wave avenged last year's nationally recognized loss to the Bulldogs with a come-from-behind 14-10 road victory at Memorial Field as Abington quarterback Brandon Cawley scored on a one-yard, quarterback sneak with only 38 seconds left in regulation for the game-winning touchdown.

With the win, Abington stays in the hunt for the South Shore League title. But with last week's loss to Mashpee, the Green Wave will need some help to make the postseason as the season winds down.

Abington played a first half to forget with three turnovers in six possessions with a botched kickoff return, a fumble at the line of scrimmage, and an interception from Cawley as Rockland (2-5; 0-4 South Shore) held a slim 10-0 lead at the break. The Green Wave managed 46 total yards on only 17 plays from scrimmage.

"It wasn't like a six shooter but a bazooka that we were shooting at our foot and digging so many mistakes," said Abington head coach Jim Kelliher. "It was the worse half blatantly I've seen from our football team since playing Hanover in the first game of the season but I said 'we were only ten points behind so let's just do our thing and we will be ok'".

Cawley, the Green Wave's junior signal caller, was stifled in the first half with a paltry 1-of-4 passing, including the pick, for only 11 yards but came up huge in the second half, especially big on the game-winning drive.

"It wasn't so much the adjustments that we made (at halftime), we just talked and said 'forget about the first half and relax'," said Kelliher, who is in his 38th year at the helm and now sits at 211 wins dating back to 1974. "We knew we were going to get the ball in the second half and let's see what we can do and play our brand of football and minimize mistakes."

Abington (5-2; 3-1) fell just short in the second half's opening drive after Cawley threw an incompletion to force a turnover on downs at the Bulldogs 17-yard line.

But after a Bulldogs' three-and-out, Abington took advantage of some great field position and scored quickly on a six-play drive highlighted by sophomore Matt Kilmain's running which produced 25 yards on only three carries. On second-and–six from the 16-yard line, Cawley slipped a sure-fire sack and rolled right to find Joe Buckley in the back of the end zone for the Green Wave's first touchdown. The Cawley-Buckley combination capped off the drive with a two-point conversion in a carbon copy, rollout right to the back of the end zone to cut the deficit to two, 10-8.

Rockland's offense, which was moving the ball with ease through the air with quarterback Ricky Witt in the first half, was stymied for the final two quarters of play. Witt had 99 yards on 7-of-14 first-half passing, but could not jump start the offense in the second stanza and the Bulldogs were forced to punt again.

After forcing Rockland to punt on fourth-and-18 from their own 37-yard line, the 12-play, game-winning scoring drive started with 6:51 left on the clock in the fourth quarter. On second-and-eight from the 49-yard line, Babila Fonkem, who racked up 68 yards on 16 carries, ran off right tackle for a seven-yard gain which merited the chains to roll on the field but the Green Wave fell short.

On third-and-inches, Fonkem was stuffed for no gain by the Bulldogs defensive front, which played well in the trenches throughout the entire game. On fourth-and-inches and the game clock running under four minutes to play, Kelliher was certainly nervous.

"Everybody says 'to win football games, you have to be able to run the ball' and that's the truth," said Kelliher. "I was nervous there, but at least we had given ourselves a chance and that's all we can want in the fourth quarter – keep yourself in the ballgame and give yourself a chance."

Cawley called his own number and dove the length of a half of the pigskin to secure the first down and barely continue the drive.

"It was getting close and coach just said, 'Put your head down and get as much yards as you can and it worked," said Cawley.

Cawley's number was called again on third-and-goal from the one and the junior quarterback delivered again with a dive up the middle for the game's final score and a sigh of relief from the Abington faithful.

"I've been involved in this game for 50 years with Rockland, coaching, playing; my dad was one of the better players too. I love (the rivalry)," said Kelliher.

He added, "I don't care who we have next week (Hull), we have four games left and they will all be tough. When it comes time to worry, don't you worry, I'll worry."

"Nuts and bolts, we got screwed": Almost a year-to-the-date last season with the first place in the South Shore League on the line, Abington scored a defensive touchdown on what appeared to be a backwards lateral pass from Rockland quarterback D.J. Austin only to have it ruled an incomplete pass. The nullified touchdown would have padded the Green Wave's lead but Rockland went on to win the game, 21-12, with two more touchdowns after taking the defensive score off the board.

Local cable access announcers went ballistic and were featured on national sports websites throughout the country for their hilarious take on the action.

The home loss for Abington was their first since 2004, but Kelliher knows everyone looks back on the game –- and the play-by-play call -- for fun and laughs, despite the implications at the time.

"I like to call it 'The Game' now, we have fun with it no doubt," said Kelliher. "I hear 'nuts and bolts' all the time, we laugh about it, it was controversial at the time -- but you joke about it and back when I'm 75 or 80 years old I'll laugh about it then too."

ABINGTON 14, ROCKLAND 10
ABI (5-2; 3-1) 0 - 0 - 8 - 6 - - 14
ROC (2-5; 0-4) 0 - 10 - 0 - 0 - - 10

Second Quarter
R - Ricky Witt 37 field goal
R - Tyler Eaton 8 run (Witt kick)

Third Quarter
A - Joe Buckley 16 pass from Brandon Cawley (Buckley pass from Cawley)

Fourth Quarter
A - Cawley 1 run (pass failed)
September, 29, 2010
9/29/10
3:48
PM ET
On Friday, Jim Kelliher recorded his 200th career victory with Abington High football.

The celebration continued Wednesday as the Green Wave's longtime sideline boss was named the New England Patriots High School Coach of the Week.

Kelliher, who is in his 37th season of coaching, was joined by senior captains Connor Fraser and Ryan Southerland were guests at Gillette Stadium and were joined by Pro Football Hall-of-Famer Andre Tippett and WBZ-TV's Steve Burton for a taping of "Patriots All Access".

Abington took a 20-12 win over Bishop Feehan in a non-league game to secure No. 200 for Kelliher, who will have $1,000 donated in his name to the Green Wave football program.
September, 24, 2010
9/24/10
11:19
PM ET
By
Adam Kurkjian
| ESPNBoston.com
ABINGTON, Mass. -- If there's any coach in the state that is familiar with the peaks and valleys of a given program, let alone a single game, it's Abington's Jim Kelliher.

"I had the 0-for-10s, and I have also come around and had some 10-0s," said Kelliher, who became the 40th coach in state history Friday night to earn his 200th victory in his 37th year as head coach of the Green Wave. "But, at the same time, the most important thing is the kids themselves, how much they played each and every game."

Abington's 20-12 win over Bishop Feehan was emblematic of the up-and-down nature of the business, and Kelliher showed humility and gratitude after his team pulled out the victory.

"It's exciting, I'm thrilled," Kelliher said. "My coaching staff has been great. We've now been together for a long time. We know each other well. The kids respect them a lot. … They've certainly helped my cause getting to the 200 wins the last eight or nine years, because they've been a little bit better than the years beforehand."

Indeed, since 2001, the Green Wave has won at least a share of seven South Shore League titles and two Super Bowls. Over the last five seasons, Abington is 52-8 and has not dropped a home game since 2004 (a 30-23 defeat to Cohasset).

That last streak looked to be in jeopardy late against Feehan, however. The Green Wave jumped out to a 14-0 halftime lead on touchdown runs by seniors Dylan Pietrasik (79 yards rushing, 2 TDs) and John Lane (143 yards rushing, TD), only to see it nearly disappear in the fourth quarter as two Andrew Murphy-to-William Firth (119 yards receiving) touchdown connections cut the deficit to 14-12.

But Abington answered with a 14-play, 67-yard drive that chewed up almost eight minutes off the clock and ended with a Pietrasik 19-yard score on a draw play on third and 15. Feehan's last drive stalled at the Abington 47-yard line, and Abington captains Ryan Southerland and Connor Fraser doused Kelliher with the Gatorade bucket moments later.

"He's been in it a long time, 37 years," Lane said of Kelliher. "He's a great coach. We got it in for him, 200 wins. It's awesome."

"I love being here. It's my hometown," Kelliher said. "I played on this field. I grew up in this area. I stayed here. I taught here."

And after 37 years, Kelliher has endured both the 0-10s and 10-0s to achieve a rare milestone there.
September, 17, 2010
9/17/10
1:06
AM ET
ABINGTON, Mass. – By the time the fourth quarter rolled around, Dylan Pietrasik and John Lane were perched on Abington's sideline, onlookers to the final minutes of the Green Wave's 38-12 win over Archbishop Williams.
By the late stages, a gaggle of Abington's sophomores were getting time at running back, alternating carries. They too were successful moving the pile, getting first downs and bleeding time off the clock.
It didn't matter who was getting the carries, the Green Wave was moving the ball.
[+] Enlarge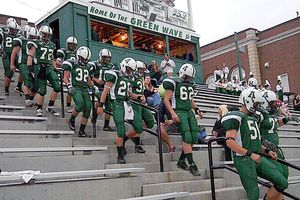 Scott BarbozaAbington High players descend through the stands to Memorial Field before Thursday night's 38-12 win over Archbishop Williams.
That's the way it's been through two games (2-0) and that's the way Abington head coach Jim Kelliher hopes it remains.
"Yeah, pretty good, right?" Kelliher shot back with a grin when asked about Pietrasik and Lane as a twosome.
"You put each of them on either side of the center and you have two pretty good backs. They both have better-than-average speed. Even from the time of the scrimmages we've had, they've just continued to get better and better. It forces our opponents to take notice of both of them."
Combined, Pietrasik and Lane racked up 161 yards on the ground at a pace of greater than eight yards per carry. They also found the end zone three times.
Pietrasik, a senior who runs much bigger than his 5-foot-10, 175-pound frame, knows good things happen in football when yards on the ground add up.
"As a running back, I don't want to see the ball in the air at all," said Pietrasik, who had 11 carries for 68 yards and two touchdowns in Thursday's game at Memorial Field. "Just put it my hands, or put it in John Lane's hands. We want to run the ball. Any game you can run and dictate the game, you know you're doing well.
"That's how you win the game."
Paul Noble — Abington's short-yardage runner — opened scoring with a three-yard touchdown run to cap off the first drive of the game. The Green Wave rolled 77 yards downfield on the eight-play drive, setting the tone for what was to come.
Pietrasik earned his first touchdown of the game on a 40-yard run minutes later, shedding several would-be tacklers on his path to the end zone.
"I have to give props to our line," Pietrasik said. "They do a great job every game. They went all out with their blocks and I even got a block from my wide receiver down the field, my fullback — everybody did their job."
Pietrasik followed with a three-yard touchdown run in the second quarter before Zach Littman caught a 30-yard touchdown pass from Brandan Cawley.
Littman, who started the game at quarterback and alternated snaps with Cawley, hit Andrew Dion with a five-yard touchdown pass just before the half for a 32-0 lead.
However, the Bishops (1-1) wasted no time getting on the board in the second half, when running back Alex Furtado returned the opening kickoff 78 yards for a touchdown.
Furtado showed good bursts of speed throughout, with 13 carries for 63 yards.
Archbishop Williams struck again on the ensuing drive, after recovering an on-side kick attempt. Tom Fitzpatrick found Craig Kelly streaking to the end zone on a 34-yard score.
Then, the Green Wave began to pound the ball on the ground again, including Lane's 38-yard, third-quarter touchdown which gave Abington its final margin of victory.
"John and I have been playing together since seventh grade," Pietrasik said. "He's amazingly fast. He's pretty strong. We just try to help each other out. When he's getting the ball, I'm all out blocking for him. When I'm getting the ball, he's all out blocking for me."