Boston High School:

Jim Sullivan
April, 9, 2013
4/09/13
1:16
AM ET
By
Brendan Hall
| ESPNBoston.com
MALDEN, Mass. -- As far as league openers go, you can't get much better than Ryan Tufts' night.
Beneath the lights Monday night at Maplewood Park, the Virginia Tech-bound third baseman shone his brightest for Boston College High when it mattered most, in the Eagles' Catholic Conference opener against host Malden Catholic. Facing fireballing MC sophomore reliever Austin Batchelor with one out in the top of the seventh, tied 1-1, Tufts sat fastball and didn't have to wait long to get his pitch.
[+] Enlarge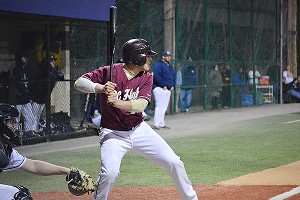 Brendan Hall/ESPNVirginia Tech-bound third baseman Ryan Tufts' sacrifice fly to deep center scored the winning run in the seventh inning for BC High.
Tufts blasted one deep to center, a ball that was eventually dropped but scored Dan Dougherty from third to make it 2-1. The Eagles then sealed it in the final frame with a double play, to improve to 3-0 and 1-0 in the conference.
"He's clutch, he can hit anybody," Eagles coach Norm Walsh said. "In fact, that ball might have been a little up and out of the strike zone, but he's got such talent that he just did the job for us. That was one fantastic baseball game."
Said Tufts of seeing the drop, "I was pumped. Any time you can get an extra baserunner there, it's really big, especially when we're trying push across a few runs."
BC High took the initial 1-0 lead in the top of the second with some smart baserunning from Ryan Tropeano. After reaching first on a fielder's choice and stealing second, the sophomore scampered home after the second baseman dropped the ball trying to tag out Sean Webster trying to steal second.
MC fired back in the bottom of the fifth with a dramatic shot from pinch hitter Paul Garozzo. Facing a full count with two outs and a runner at third -- Cam Lanzilli, who led the inning off with a triple -- Garozzo sliced one just inside the foul line down first base for an RBI triple and tie ball game.
McDonald grins and bears it:
Clearly, there are divided schools of thought amongst MIAA coaches as to how to handle pitchers in the first month of the season, when temperatures are still cold and arms are still getting broken in after a winter with limited live throwing.
Some like to keep starters regimented around 60 to 70 pitches, approaching the subject like a faberge egg; then there are those like Walsh, who let senior righthander Tommy McDonald throw into triple-digits, watched as McDonald took a ball off his left knee trying to bare-hand a comebacker in the final frame, and said, "You can't get mad at him though, because he's just so competitive."
"He wanted to make that play," Walsh said. "I think [second baseman] Jake [Marotta] would have had it, but he's such a competitor. You can't fault him for that."
Said McDonald, "I had the adrenaline running, it didn't even faze me. I'm just glad I stopped the ball from going into centerfield."
McDonald, a UMass commit, threw close to 115 pitches in a complete-game effort, striking out seven and walking none while scattering five hits and allowing the one earned run.
"At this point, he's thrown a bunch of bullpens in the preseason," Walsh said when asked about pitch count. "He's not going to start again for eight or nine days. He was throwing strikes, he was pounding the zone. I talked to [catcher] Luke [Catarius], Luke said he was really throwing the ball well still, so at this point no. He was probably up around 115 or so, and that's reasonable for him. He's our horse."
It's easy to see why the reigns are a little looser on McDonald. The 6-foot-2, 225-pounder demonstrates good command of his fastball, locating it around the zone, and doesn't labor on the mound. He generates much of his power from his legs, and is the kind of type-A personality you want as a starting pitcher -- asked how he'd characterize himself, he laughed, "I'm kind of a jerk out there...I don't want to give anything up."
Asked how he felt after racking up a high pitch count this early, McDonald said he felt fine.
"I was going into this thinking four or five innings, and leaving the rest for the bullpen," he said. "But my adrenaline was going and I felt in mid-season form. I just feel really good right now."
Seamless transition:
Forgive the Eagles if they've been spoiled the previous three seasons with Bobby Melley behind the plate. The UConn freshman catcher was one of the state's most feared hitters a season ago, hitting .370/.557/.685 totals with 13 RBI and drawing 22 walks to earn a spot on ESPN Boston's All-State Team.
But it looks like the equally-bulky Catarius, bound for Princeton University as a linebacker at a burly 6-foot and 230 pounds, will keep everyone comfortable despite his limited varsity experience. Catarius batted .267 a year ago in just 17 plate appearances.
Confidence around Catarius is apparent immediately.
"We didn't lose anything, he [Catarius] picked up right where Melley was coming back from," McDonald said. "Good presence behind the plate, good presence in the dugout, good presence with everything...He knows where I like to throw [and] where, inside, outside. He knows when to go out there, when I'm having a tough time."
Said Walsh, "[Luke] is a really tough, competitive kid. He's the heart and soul. He's got that fire to him."
Velozo battles:
In five complete innings of work, senior lefty Joe Velozo worked his way out of jam after jam on the mound for MC. In the third, he retired the first two batters (K, 6-4) then loaded the bases up, then put out his own flames with some high heat to Tom Russo, getting him swinging up and out of the zone.
The next inning, he evaded trouble again thanks to a 3-2 double play from first baseman Steve Passatempo to Batchelor. Passatempo dove to his left for an unassisted out at first, then fired home to Batchelor, who made a terrific block at the plate for a tag on Tropeano. In his last go-around, the fifth, he struck out the first two batters then allowed batters to reach second and third before ringing up Russo again to end the scoring chance.
Velozo finished with six strikeouts and scattered six hits while walking three. Nick George relieved him in the sixth, followed by Batchelor in the seventh.
"Very little fazes him," MC head coach Pat Driscoll said of Velozo. "I think he likes being in the big pressure situations. He wants to be that guy in that situation, making the pitches and getting his team back in there to hit."
March, 13, 2013
3/13/13
2:19
AM ET
By
Josh Perry
| ESPNBoston.com
BOURNE, Mass. – The storylines from Tuesday's sectional final at the Gallo Ice Arena will sound very familiar to anyone that has followed Division 2 hockey for the past few years.

For the third straight season, the Franklin Panthers took home the sectional title and, for the fourth straight season, Oliver Ames' season ended against Franklin. The Panthers scored the game's first three goals and held Oliver Ames to just 17 shots to claim a 3-1 victory and return trip to the TD Garden.

The Panthers started quickly with a goal inside the opening 30 seconds of the first period.

Aiden Isberg flipped the puck in front of the net to fellow senior Cam Curley and Franklin's leading scorer in the postseason threw the puck on net. Somehow, through traffic, the puck slipped past Oliver Ames star goaltender Jimmy Tierney and stunned the huge OA crowd stationed behind the net.

Curley remarked, while sporting a freshly broken tooth, that getting in front on the scoreboard was a priority for the Panthers. He also commented that he did not even know that the puck had gotten through.

"I got as much on it as I could and I knew that if I put it on net, good things would happen. I had no idea that it went in until Dennis Pisani started yelling," he noted.

Curley added, "Me and my linemates talked about getting that first one. We got to the net, we put it on net and it went in. And it made it easier for us to play."

Franklin head coach Chris Spillane also spoke about the importance of getting an early goal past Tierney, who has been one of the stars of the sectional to that point. He credited a change in style for the Panthers' strong defensive performance.

"We changed up our forecheck and trapped them,"Spillane said. "They struggled to get the puck out of the zone. I think that was a huge part of our success, not letting the big kids stretch their legs through neutral ice."

Franklin doubled its advantage with just less than three minutes to go in the first period. Eight seconds into the game's first power play, Tierney robbed Franklin with a great kick save only to have the rebound go directly to senior forward Pat Slason, who buried his shot over the sprawling goalie.

The Panthers made it 3-0 midway through the second period on a well-worked goal from the third line. Nick Downie and Alec Borkowski combined at the blue line before defenseman Kyle Powers drove at the net. Powers sent the puck through the crease where Borkowski was on hand to tap home his second goal in as many games.

"That's the way we have been the last couple of years; three or four lines," said Spillane. "You never know when your number is going to get called and you better be ready when we call it."

Oliver Ames scored a consolation goal in the game's final minute. Kyle Hayes scored an unassisted goal with a rocket of a shot over the shoulder of Franklin goalie Devon Maloof. Maloof was not tested frequently, but was solid in net for the Panthers.

Oliver Ames head coach Jim Sullivan was proud of his team despite the loss and was proud of the Tigers' deep run in the tournament.

"We still had the potential to come back," said Sullivan. "The only way I look at it is someone had to win, someone had to lose. You know, we went all the way and gave it all that we had, can't be down."

He added a positive not about the OA program, "We're moving one step at a time - maybe next year."

Franklin will now look to a rematch of last year's D2 final against Wilmington at the TD Garden. Both coach and senior captain are hoping that the third time is the charm.

"We've been there three years in a row and been bridesmaids two years in a row," Spillane reflected. "I just told these kids that I will not be the Marv Levy of high school hockey."

Curley related, "This is great right here, but I want that big one. Three years in a row I've been there and haven't won one. Especially with them taking it from us last year, we want it bad."

This has not been the perfect season and Franklin has not been the dominant team of years past, but regardless of how they got there, in their final season before a move to D1, once again the Panthers are the last team standing in D2 South.
March, 7, 2013
3/07/13
2:12
AM ET
By
Josh Perry
| ESPNBoston.com
BOURNE, Mass. -- The last time Canton lost in regulation was back on Jan. 2. That game was a 1-0 shutout against Oliver Ames and sophomore goalie Jimmy Tierney.

History repeated itself on Wednesday night in Bourne.

In the Division 2 South semifinal against the Tigers at Gallo Ice Arena, Canton once again ran into a dominant goaltender and failed to find the back of the net. Despite 37 shots on goal, the top seeded Bulldogs were shutout 2-0, sending Oliver Ames (17-4-2) into the sectional final.

"If I was younger, I would stand on my head too and show you what he did," said Oliver Ames head coach Jim Sullivan of his star netminder. "He kept us in that game as usual. What a kid!"

Canton head coach Brian Shuman could only shrug and praise Tierney for once again proving to be too tough to beat.

"He's probably not only one of the best goalies in D2, but in the state," remarked Shuman. "We had our chances but we just couldn't bury them. He's one of those guys that haunts other teams with how well he plays."

The Oliver Ames defense limited the opportunities for Canton's top scorers, Brian Brooks and Pat Ward, through physical play and by keeping the Bulldogs (16-4-2) out of the middle of the attacking zone. Andrew Mancini and Andrew Romans continually cleared Canton players from in front of the crease to give Tierney a chance to see the puck.

Tierney credited his defenders for the shutout and noted that he was ready for a barrage of shots from the Hockomock League champions.

"It's definitely better because you start feeling the shots earlier," Tierney said. "The defense kept all the shots outside so it was good. I don't think they had any shots in the slot."

OA's goalie may have stolen the show, but it was Romans that gave the Tigers the win. The defenseman pinched in on a power play and flicked an unstoppable wrist shot into the top corner from the edge of the faceoff circle. Tyler Provost picked up the assist.

The goal came with 7:55 left in the second period. The remaining 23 minutes of the game were increasingly desperate for Canton, as the Bulldogs threw everything at the OA net. Unfortunately for Canton, there was no way past Tierney.

Justin Davidner wrapped up the win for the Tigers with an empty net goal with 48 seconds left on the clock.

Sullivan was thrilled that his team was heading to the finals and even happier to do it by going through a league rival, which he believes is proof of the strength of the Hockomock. He was already looking forward to the next game against the winner of Franklin and Mansfield.

"It's nice to get this far," Sullivan said. "We haven't been this far, I think since the 80's. It's just one more step, one more goal, and one more game."
June, 9, 2012
6/09/12
12:00
AM ET
By
Brendan Hall
| ESPNBoston.com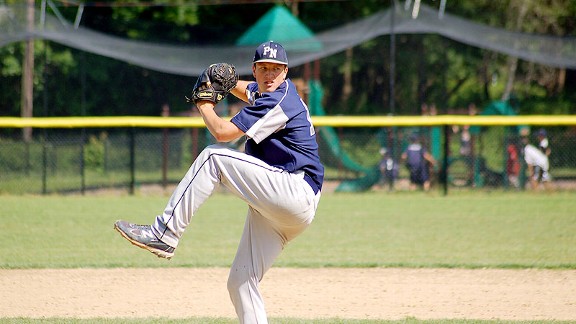 Brendan Hall/ESPNBoston.comUMass-bound righty Alex Rozak earned the 23rd win of his career at Plymouth North on Friday afternoon, and the defending state champs clinched their fifth straight D2 South Final appearance.
PLYMOUTH, Mass. -- Alex Rozak watched as the game's second batter, Dave McKinnon, took his fastball deep over the fences at Siever Field, to give visiting Oliver Ames a quick 2-0 lead over his Plymouth North squad.
Some pitchers might sweat after an early sequence like that. Rozak merely sighs.
Of course, it helps when the bats behind you plate a dozen runs two stanzas later. The UMass-bound senior righty and ace of the Blue Eagles' staff locked up the 23rd win of his high school career with the aid of a 12-run second inning, as they cruised to an easy 12-3 win over the Tigers (14-9) to make this their fifth consecutive trip to the Division 2 South Finals.
Rozak, the winning pitcher in last year's Division 2 state championship (North's second title in four years), is once again getting hot at the right time and taking command of the Eagles' (16-7) staff. This afternoon, he struck out six while allowing four hits and walking two; all three runs allowed were earned.
"Give him the ball and he battles," Eagles head coach Dwayne Follette said. "I thought he might of lost a little composure there when [Sullivan] took him deep, but he fought right back. They're very good 1 through 6, and we said keep the leadoff hitter off. I think he got rattled after he walked that kid [leadoff hitter Jim Sullivan] on 3-2 [first inning], but after that he settled down and dominated.
Follette added, "He got his splitter going today, I don't know if you guys noticed that. He looked great getting them to strike out on balls in the dirt. And really, that's the best he's thrown that pitch all year. When you're tired, you've got to go to something else, right? You're not going to blow everyone away with your fastball, especially at this level."
Rozak was noticeably confident in the pitch today, and it showed.
"Early in the game, the fastball wasn't really established -- I don't know why, maybe I wasn't warmed up enough," Rozak said. "So we started working the curveball in, and that wasn't working as best as it could, so we tried the splitter, and that was just on. So you kinda build off that and work backwards, instead of establishing the fastball first."
Bats Come Alive:
For as long as Follette has been in charge, the Eagles have always hit the ball well. But this year's squad is a far cry from last year's row of mashers, led by ESPN Boston All-State catcher and Frankin Pierce freshman Matt Walsh (who is also suiting up for the Cape Cod League's Wareham Gatemen this summer).
As mentioned above, the Eagles plated all of their runs in a 16-at bat second inning, led by two-run singles each from Vinny Tavernelli, David Murphy and John Myette (3 RBI). But just like in their D2 South quarterfinal win over Dennis-Yarmouth, the runs were manufactured.
"We're fast and athletic," Follette said. "We've had six home runs all year, [whereas] most of our guys had six home runs on their own last year. We're totally different, but the kids are playing...I don't know what to say. I knew we could do it, but I'm thrilled to be here, to be honest with you."
Home field advantage:
These two teams were supposed to play yesterday at Brockton's Campanelli Stadium. But when a rainstorm flooded the infield dirt making the field unplayable, and with the Brockton Rox set to play there tomorrow night, MIAA South Tournament Director Don Fredericks flipped a coin to decide on the host venue.
And you had to have the feeling once the coin landed in North's favor, sending this game to Siever, that this was going to be a tough one for the Tigers. It's not uncommon to see a packed bowl of stands circling behind the backstop from the first to third baselines, nor a packed row of parked cars on both sides stretching from one end of Liberty Street to the other, and all the other roads running parallel. Heck, today there were cars nestled near the Cazeault Roofing parking lot more a half mile away.
And the fans, some bare-chested with face paint, always seem to bring it. The crowd played a factor in last year's run to the state title; and with a well-traveling crowd heading to neutral sites from herein, it could once again be momentous.
"Coach didn't tell us anything yesterday other than 'See you here tomorrow', and we were fired up," Rozak said. "We thought our last home game [a first-round win over Stoughton] was the last game I'd ever play at Siever, so to be able to play here again was huge."
April, 20, 2012
4/20/12
11:34
AM ET
In this week's edition of "Roundtable", ESPN Boston High Schools Editors Scott Barboza and Brendan Hall are joined by correspondent Bruce Lerch and Brockton Enterprise staff writer John Botelho as we discuss the best hitting lineups, the best faceoff specialist in lacrosse, and whether Milford is now the team to beat in softball.

1. AFTER BEATING KING PHILIP, IS MILFORD THE FAVORITE IN DIVISION 1 FOR SOFTBALL?

ESPN Boston High Schools Editor Scott Barboza: In a word, yes. Shannon Smith is simply pitching out of her mind right now, but it's not as though we haven't seen this before from the University of Kentucky commit. Two years ago, Smith was named Massachusetts Gatorade Player of the Year after recording a 0.36 ERA. This year, she's been dominant, including a 20-strikeout performance against Shrewsbury and 17 K's against KP. Not to mention, the Scarlet Hawks haven't even been playing with their opening day lineup, after All-State catcher Taylor Archer suffered a leg injury in the first week of the season. Freshman Taylor LeBrun has done a terrific job behind the plate in the interim, but MIlford will only be that much more potent with their top battery in place. I'm certainly not ruling out KP, as anything short of a rematch between the two teams in the state final would be unexpected.

Bruce Lerch, correspondent: While there are several teams with good enough pitching to shut down the Scarlet Hawks bats, how many are strong enough offensively to hit against Milford ace Shannon Smith? The only team that really comes to mind is...King Philip. The Kentucky-bound Smith two-hit the Warriors and struck out 17 Monday afternoon, so you have to think they are the lead horse in the race right now. KP has hit Smith before, however, as a 10-1 result in the state championship game two years ago proves. Of course, Smith was but a freshman then, and having faced King Philip several times since then her knowledge of that dangerous lineup has grown considerably.

Oh yeah...KP also has Meghan Rico. I've heard she's a pretty good pitcher too...something about a reigning player of the year? If both aces are on their game, then the state championship softball game may have to be scheduled for more than one day

John Botelho, Brockton Enterprise: Even with Milford knocking off K-P, it's still hard to call anyone but the Warriors - the two-time defending state champ - the favorite to win it all. This means Milford might have closed the gap, but until someone proves Meghan Rico is possible to beat in the playoffs, the Warriors remain the class of softball in this state. Keep in mind how difficult it is to beat a good team twice, and chances are Milford will have to do just that if they're to bring home the state crown.

2. SEVEN OF THE EIGHT TEAMS PARTICIPATING IN THE COACHES CHALLENGE CUP THIS WEEK ARE RANKED IN OUR TOP 25. WHICH OF THOSE TEAMS HAS THE BEST CHANCE OF WINNING A STATE TITLE IN THEIR RESPECTIVE DIVISION?

Scott Barboza: We might have seen a Division 2 Eastern Mass final matchup preview on Thursday when Concord-Carlisle and Hingham squared off in a Coaches Challenge Cup semifinal. The Patriots beat the Harbormen, 9-4, with Jackson Finigan, Tim Badgley and Kevin Delehey scoring two goals each. If both teams take care of business hereon out, we should expect to see both of them at Harvard Stadium. Of course, none of this makes mention of Dover-Sherborn. The Raiders fell just short of an upset over Lincoln-Sudbury before falling, 12-11, but they've proven their among the elite in Division 3.

Bruce Lerch: That team would Dover-Sherborn. Lincoln-Sudbury will enter the Division 1 tournament as one of the teams best suited to make a run at Duxbury, but betting against the Dragons has been mostly a losing proposition for the past decade. The six Div. 2 teams that participated in the tournament are perennially among the last teams standing in June, so while a state champion could come from this group, picking who it will be requires a crystal ball.

Dover-Sherborn has the talent to compete with the best teams in the state, something the Raiders proved three years running now at the Coaches Challenge Cup, and is likely going to snag one of the top four seeds in the Div. 3 tourney and will be included in the group of favorites that should also include Weston and Norwell.

3. IN BASEBALL, WHAT'S THE BEST HITTING YOU'VE SEEN SO FAR?

ESPN Boston High Schools Editor Brendan Hall: I have seen both BC High and Lowell multiple times, and I don't think you can go wrong either way.

BC High can mash 1 through 9, but at the top is where they're especially dangerous. UConn signee Bob Melley is the Eagles' most powerful bat out of the No. 3 spot, but he's surrounded by plenty of college-ready talent in seniors Chuckie Connors, Justin Silvestro, Brian Hocking, and juniors Ryan Tufts and Dan Dougherty. I will put the Eagles' top six hitters against any team's top six in the state...

...Unless that top six is Lowell. The Red Raiders are only going to get stronger as the season goes on, but they're showing some real nice stuff through the first three weeks of the season. Rory O'Connor, Derek Reed and Andrew Marasa form what is regarded as the state's best outfield, but they can manufacture runs from the plate, too. Matt Tulley is headed to Virginia Tech for his low-90's fastball, but he's got a heavy swing from the cleanup spot too. My favorite hitter to watch in this lineup is senior Chad Gens, who can square up and plant it deep as good as anyone. After Lexington's Chris Shaw, he might be one of the better power hitters in Eastern Mass. I expect him to be near the top in extra base hits this year.

Also of note, take a look at Dighton-Rehoboth, which comes in this week at No. 18 this week. With a top of the order led by Bryan Rocha, Adam Benvie, Evan Mondor and Mike St. John, the Falcons are averaging 11 runs per game, including shellackings over Somerset (22-0) and Case (17-6). When it comes to manufacturing runs, you can't forget Walpole, between leadoff shortstop Johnny Adams, catcher Dan King, and brothers Cam and Craig Hanley.

John Botelho: Despite getting shutout by Marshfield for their first loss of the season on Thursday, the East Bridgewater Vikings offense is certainly among the best in southeastern Mass, and could be the class of the D3 South Sectional later this season. Even with the setback against the Rams, E-B is still averaging just over 10 runs per game.

In the Hockomock League both Oliver Ames has emerged as a team with an electric pitching staff, but the offense is plenty capable of flexing muscle too. With sweet swinging David MacKinnon - whose emerging as one of the best hitters in the Hock - hitting third and powerful Matt Harding hitting fourth, the Tigers have one of the best 3-4 combos going. Matt Mancini, Ryan O'Shea, Mike McMillan and Jim Sullivan help bolster a lineup that features plenty of hitting ability.

4. AN UNDERRATED ASPECT OF LACROSSE IS THE "FOGO" (FACE OFF, GET OFF) POSITION. WHO IS THE BEST FACEOFF SPECIALIST IN THE MIAA?

Scott Barboza: I think there's no doubt that Clay Richard of Medfield is the best true FOGO in the state, but as we saw during Wednesday's matchup against No. 1 Duxbury, Dragons midfielder Henry Narlee might be the best faceoff man in the state. Sqauring off against Richard and the Warriors, Narlee won an amazing 21 of 28 draws.

Bruce Lerch: The two best were on display Wednesday night in Duxbury as Medfield's Clay Richard went to work against the Dragons Henry Narlee. Richard more than held his own against Narlee in their individual battle, but in addition to the Duxbury junior's elite skill, he also has the advantage of having James Burke and Reilly Naton flying off the wings to grab every loose ball in sight. Not only is Narlee at winning the draws to himself, but is deadly accurate when shooting the ball into space for his two LSM's to chase it down.

5. LOOK AT THE NEXT TWO WEEKS OF SPRING. CALL AN UPSET. AND FEEL FREE TO GO BIG.

Scott Barboza: Don't really know if this would count as such, but I'm calling Duxbury's take down of Garden City (N.Y.) this weekend. Looks like the Dragons' regained their top form in the last week. In softball, I have a feeling about Hudson taking down Shrewsbury this weekend.

Brendan Hall: Boston Latin has a two-game swing at the beginning of next month that could have big implications in the Dual County League: May 4 at Lincoln-Sudbury, and May 7 at Acton-Boxborough. The Wolfpack seem to be everyone's favorite little underdog in the league (no pun intended), but I wouldn't be surprised to see them take one of two here. L-S has some talent, but has been searching for that staff ace; meanwhile A-B has had a knack for the dramatic so far, twice winning one-run games, the latest a 1-0 decision over Waltham on Wednesday. Can Latin pull 1 of 2 here? It might depend on who's pitching.

Elsewhere, I've got May 10's matchup between No. 14 Burncoat and No. 3 St. John's of Shrewsbury circled on the calendar. The Patriots just lost their first game to Danvers the other day, while St. John's sits at 7-0 with a nice win over St. John's Prep. This is building into one of the best regular-season matchups in Central Mass., but I'm going to go with Burncoat in the upset.

John Botelho: On April 26, when No. 16 Barnstable comes to town, Bridgewater-Raynham will take a big step toward winning the Old Colony League by knocking them off in a pitcher's duel. The Trojans have to deal with league foe Dartmouth just two days before, and if the rotation stays the path it's on lefty Pat Chalmers will be throwing that game. That means fellow southpaw Shane Holmes, who has been piling up strikeouts and shutting offenses down, will take the mound against the Red Raiders. The lefty is one of the toughest in the area and B-R could come away with this one without needing much in the way of run support.