Boston High School:

Jimmy Vesey
June, 28, 2014
Jun 28
6:06
PM ET
Nolan Vesey didn't know what to expect from draft weekend. He'd tuned in Saturday to the second day of the NHL Draft to see if his friends from the area had been selected.
Then, he got a Twitter follower from someone who described himself as a fan of the Toronto Maple Leafs.
"I couldn't refresh my computer fast enough," said Vesey, a product of Austin Preparatory School who spent last year with the South Shore Kings.
When his computer eventually caught up, he learned that he'd been taken by the Maple Leafs with the 158th overall selection.
Vesey, whose older brother Jimmy was drafted by Nashville during the third round in 2012, will skate at the University of Maine next season. But the North Reading resident was not among the NHL Central Scouting's ranked skaters for the 2014 draft class, although he'd scored 26 goals with 40 assists in 48 games in the USPHL last year.
"I came into this year, just trying to get ready for Maine," Vesey told ESPN Boston Saturday. "I had a really good year there. I talked to a couple teams throughout the year but honestly I didn't have my hopes up too high."
Vesey had talked to scouts from the Edmonton Oilers, Florida Panthers, New York Islanders, in addition to the Maple Leafs, earlier in the year, but hadn't heard anything in the weeks leading up to draft weekend.
"My brother [Jimmy] told me, if it happens it's great, if not, I'm still going to college and it can still work out," Vesey said of the prospects of being selected.
Vesey, who is the son of former Boston Bruin Jimmy Vesey, scored 21 goals and added 13 assists for Austin Prep during his senior year in 2012-13 and considered playing in the USHL before moving on to the Kings this year. Now, he's waiting for the call to join the Maple Leafs' development camp, which he believe will be next weekend.
"Like every hockey player, I wanted to get bigger, faster, stronger," Vesey said of his goals entering last season. "I think I accomplished those things, but it's just the start. This is just the next step and you're just trying to build on that."
Dream come true to be drafted by the @MapleLeafs .Thank you to everyone for the support along the way. #GoLeafs

— Nolan Vesey (@NVesey8) June 28, 2014
July, 24, 2013
7/24/13
6:36
PM ET
Catching up on a few notes from the (melted) local ponds of late:
RANKINGS SCHMANKINGS
The NHL Draft always brings surprises, and Dexter School's Tim Harrison was no exception.
Now, it shouldn't come be a complete head-scratcher that the 6-foot-3 winger who's committed to Colgate was selected by the Calgary Flames in the sixth round in last month's draft. However, in the buildup, Harrison was ignored by NHL Central Scouting and its compilation of the top prospects in North America. The Duxbury native did not appear on the service's "Watch List," midterm or final rankings reports.
Despite the lack of love from the league's draft gurus, Harrison attracted attention from the scouting staffs of the Flames and Chicago Blackhawks during the spring and scored high marks with Calgary's brass during the pre-draft process. So much so that the Flames took Harrison with the 157th overall pick.
"It's a tough draw," Dexter head coach Dan Donato told ESPN Boston. "Teams aren't going to show their cards throughout the process, but you can get hints every now and then."
Harrison is a bit of a character (he's described himself as such), and is known around Dexter hockey as the straight-shooting, loquacious sort. If you need further proof, check out this segment with Flames TV from the team's development camp earlier this month (WATCH
HERE
).
His gift for gab, along with the willingness to use his frame in playing the physical game, helped Harrison leave an impression on Calgary's staff. After having an one-on-one with Harrison, one Flames scout remarked to Donato that Harrison was perhaps the best interview he'd had with a prospect in decades.
But Harrison's also made his presence felt on ice. During development camp, as highlighted during the aforementioned clip from Calgary, Harrison also dazzled the fans with a couple of nifty moves on penalty shot drills. He also mixed it up with fellow campers on ice, showing he has a mean streak.
Just don't be fooled by it.
"He's a pretty mello kid, actually," Donato said. "Colgate's getting a great kid. Don't know what his role will be there, but what I know is that both they and the Flamers are getting a really good kid."
And a hoot.
EASTERN PIPELINE?
Notre Dame joins Hockey East this year, but the Irish already made a splash in the northeast recently with the commitment of Noble and Greenough center Cal Burke.
Burke, a Boxborough native, led the Bulldogs in scoring (34 points) last season. A 1997 birthdate, the 5-foot-10, 160-pounder also was selected by Cedar Rapids in May's USHL Draft. Burke's date of arrival in South Bend is intended for 2015-16.
"He's a gifted player and he's a great match for their program," Nobles head coach Brian Day said. "Cal truly plays an all-around game. He's a smart player and he incorporates his teammates well into the play."
While the Irish catch a top recruit, Burke's commitment could come with two-fold implications. For Notre Dame, entering a new conference otherwise situated exclusively in New England, perhaps Jeff Jackson's staff will increasingly dip into the regional talent pool. With its present roster consisting primarily of players from the Midwest and out to the Pacific Ocean, can we expect Notre Dame to come east for more than road trips?
"There would definitely be advantages," Day said to the notion. "If kids are in the Northeast, their families don't have to always go out to Indiana to see their games, given that they'll be playing here now. Plus, it's a national brand, everybody's heard of Notre Dame."
HERE AND THERE
There were a couple of other Hockey East commitments coming from local skaters during the last week or so.
First, Austin Prep's Nolan Vesey will become the third member of his immediate family to play college hockey, verballing to Maine. A four-year standout for the Cougars, Nolan joins father Jim (Merrimack) and older brother Jimmy (Harvard).
Nolan Vesey is a modern-day rarity though, having playing four years of MIAA hockey before earning a college hockey scholarship. Jim Clark of the
Boston Herald
spoke to Vesey last week
about the subject last week, and the forward was candid about the struggles in staying close to home.
"I'd be the first one to tell you, my first few years at Austin I was looking at prep schools," Vesey told Clark.
Joining Vesey among the most recent local Hockey East commits, Phillips Exeter defenseman Spenser Young announced he'd committed to Providence College earlier this week via Twitter. The rising sophomore and Brentwood, N.H. native chose the Friars from a host of interested H.E. schools.
August, 8, 2012
8/08/12
5:04
PM ET
The dog days of summer are upon us, but local rinks are still hopping through August with plenty of great tournaments going on in and around the Boston area.
So we thought we'd take the opportunity to catch up with some of the happenings of local skaters during the offseason, along with a smattering of other notes collected in our notebook during the last month or so.
CLEARING THE CREASE
Bailey MacBurnie
burst onto the MIAA hockey scene last season, helping lead St. Mary's of Lynn to a second seed in the Super 8 tournament. All the while, the Beverly native backstopped the Spartans with a measly 1.66 GAA, placing him among the state leaders.
During the summer, MacBurnie has skated with the New England Thrashers. He and his Thrasher teammates had a solid showing in the recent Chowder Cup College Open championship, finishing fourth in a field of 56 teams while facing teams that largely were comprised of older players.
We caught up with the sophomore netminder to talk about his offseason, how practicing yoga has helped his game and his upcoming season at Brewster Academy:
Q: What kinds of things do you do in the offseason away from the rink to keep you sharp for the upcoming season?
A: "I've started doing yoga, it's my first year doing it. I go to classes at Merrimack College. And then I do on-ice work with Brian Daccord, who's my goalie coach."
Q: How do think yoga might help your game?
A: "I've found that it's already made me more flexible. It definitely helps out and gets you in shape."
Q: What other elements of your game have you wanted to work on this offseason?
A: "Puck handling, definitely. I want to be more confident playing the puck and quicker with making decisions with the puck. And skating, you can always be a better skater."
Q: Your team had a great showing at the Chowder Cup recently. How did that team come together?
A : "I played with a lot of guys I knew, like [Central Catholic's]
Mike Kelleher
,
Lloyd Hayes
,
Zack Cote
,
Jake Donahue
and [former St. Mary's teammate]
Jarrod Fitzpatrick
. We had a good tournament. First, we played the Nordiques, beat them 3-1, then we played Mass Attack and beat them, 7-2, and then Team One, 4-2. We played some Canadian teams in the playoffs. We did well though, especially because we were playing a lot of teams that had older players. We thought we should've went further, but we were playing against teams that he players that were mostly 92s and 93s [birth dates] and we were mostly 95s."
HERE AND THERE
On the rise: A bumper crop of New England prospects were scooped up earlier this summer during the NHL Draft and the region's best have continued to crop up during the summertime months. Four players with New England roots were chosen for the U.S. Hockey National Junior Evaluation Camp. Three of those players had their names called in the most recent draft, including goaltender Jon Gillies (South Portland, Maine),defenseman Matt Grzelcyk (Charlestown) and forward Jimmy Vesey (North Reading). Former St. John's Prep star and 2011 ESPN Boston Mr. Hockey Colin Blackwell (North Reading) also made the final cut for tournament play. Former Phillips Exeter standout and recent Tampa Bay Lightning draft choice Brian Hart was among those participating in camp practices at Lake Placid last week.
One to watch: Junior Robby Devaney helped Reading on a late-season Super 8 push last season, while leading the Rockets in scoring during the regular season. While catching Devaney play in both the Bay State Games and the Chowder Cup this summer, he looks like an early candidate for most improved player honorifics – if there were such an award. In the small sample size, he showed good speed, but also exhibited attention to detail, playing solid neutral zone defense in the summertime – something that's usually missing from offseason tournaments. Of course, we all know how well those Rockets are coached defensively.
Comings and goings: One of the more telling aspects of summertime tournaments is often found just looking at team rosters. Players are often listed with their corresponding schools next to their name, and that can often signify changes in locales. One of the more prominent changes listed was that of former Billerica standout Ross Olsson. The Northeastern commit played at Williston Northampton last year, but will move to the USHL, joining the Lincoln Stars, the team that drafted him in May's entry draft.
June, 23, 2012
6/23/12
12:24
PM ET
Day 2 of the NHL Draft took place Saturday morning, and while there weren't any locals taken in Friday's first round, a host of New Englanders had their named called in the subsequent rounds.

Here's a rap sheet of those with New England roots who've been taken:

2ND ROUND
53. Tampa Bay Lightning - Brian Hart, Phillips Exeter, RW
56. St. Louis Blues - Sam Kurker, St. John's Prep, RW
59. New York Rangers - Cristoval "Boo" Nieves, Kent School, C

3RD ROUND
66. Nashville Predators - Jimmy Vesey, South Shore Kings (Belmont Hill), LW
75. Calgary Flames - Jon Gillies, Indiana Ice (USHL, South Portland, Maine), G
79. Chicago Blackhawks - Chris Calnan, Noble and Greenough, RW
85. Boston Bruins - Matt Grzelcyk, U.S. NTDP (Charlestown, Mass.), D

4TH ROUND
98. Minnesota Wild - Adam Gilmour, Noble and Greenough, C
106. Ottawa Senators - Tim Boyle, Noble and Greenough, D

5TH ROUND
125. New York Islanders - Doyle Somerby, Kimball Union (St. Mary's of Lynn), D
136. Ottawa Senators - Robbie Baillargeon, Indiana Ice (USHL, Enfield, Conn. via Cushing Academy), C
138. San Jose Sharks - Danny O'Regan, St. Sebastian's, C

7TH ROUND
189. Carolina Hurricanes - Brendan Collier, Malden Catholic, LW
June, 22, 2012
6/22/12
2:26
AM ET
The NHL Draft commences tonight in Pittsburgh and there is a host of New England-based high school, prep school and junior league players who hope hear their name called in the next two days.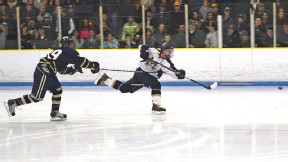 Scott BarbozaMalden Catholic forward and ESPN Boston Mr. Hockey award winner Brendan Collier could be a sleeper in this weekend's NHL draft.
More than 20 local players were represented on the
NHL Central Scouting's final draft rankings
, released in April. So we took the task to the Northeast regional scouts of an Eastern and a Western Conference team to give their evaluations of some of New England's best and brightest.
The region is moving into somewhat of a renaissance. Folks might like to wax about the good ole days, but there's plenty of talent to be found around the local ponds right now. That fact was not lost on Bruins general manager Peter Chiarelli, who earlier this week during his annual pre-draft media availability, spoke about this year's bumper crop.
"It is fairly deep," Chiarelli said. "It's the deepest that I've seen since I've been here and that's a good sign. It's a good sign that the registration numbers – usually, it means they're going up – and obviously the quality of players for the NHL is increasing, too."
So here's a look at some of the local skaters to watch out for and their scouting evaluation.
(Players appear by NHL Central Scouting ranking among North American skaters.)
27. Cristoval "Boo" Nieves, Kent School, C
Scout's take: "He's an incredible skater, a tall, rangy kid. He's more of a playmaker than a goal-scorer and finisher, but that's what his role is, a playmaking-center man. His skating ability is as good or as close to as good as you'll find in this draft."
36. Sam Kurker, St. John's Prep, RW
Scout's take: "He's got great size, a big strong kid. He's a great straight-line skater up and down the wing. [He's got a] big, hard shot and she shows a willingness to play in the hard areas in front of the net, in the corners on the wall."
54. Brian Hart, Phillips Exeter, RW
Scout's take: "He's got a huge shot. He's real strong on the wall. He's a very strong skater, in flight, he can really move.
Scout's take on his soccer prowess as New Hampshire's reigning Gatorade Player of the Year: "You know that overall athletes usually make the best players in whatever sport they decide on."
69. Chris Calnan, Noble & Greenough, RW
Scout's take: "Got better and better as the year went on. He started to play physical and use the body, which I think is everybody was waiting to see. He's got a bomb of a shot. And he's got a commitment to BC now, that was nice to see."
Chiarelli's take: "I mean there are some good kids in the prep leagues and the Calnan kid's a good player – a big strong kid – very physically mature, power-forward type."
76. Danny O'Regan, St. Sebastian's, C
Scout's take: "He's a smaller, undersized forward, but plays with a ton of hockey sense. He's very strong on his skates and plays with a little bit of jam. His intelligence and hockey sense really stick out."
77. Jimmy Vesey, South Shore Kings/ Belmont Hill, LW
Scout's take: "The best player in the area. I don't care where it's at, 100 points is a 100 points [scored with the Kings last season]. He grew a few inches and he's just coming into his own. Harvard stole him. BC and BU were sleepwalking on him. He slid through draft last year, but I thought someone would take a shot. Someone's going to be happy with him this year."
Chiarelli's take: "You've got in the EJ [Eastern Junior Hockey League], you've got the Vesey kid's a good player. He's second time through the draft, but very skilled, had a breakout year there, can really make some really good plays with the puck, whether it's shooting or passing."
79. Devin Tringale, Lawrence Academy, LW
Scout's take: "Talk about a vastly underrated player. I think he's going to go later than he should, but someone's going to get a steal in this draft. He's going to be a big asset at Harvard when he gets there."
88. Frank Vatrano, USA U-18 (East Longmeadow, Mass.), C
Scout's take: "If you were to put him in the Catholic Conference or prep school hockey, he's a 50-goal scorer. He's got an NHL shot right now, he's got such a quick release. He's very hard to knock off the puck. He's become a very good hockey player [with Team USA]."
99. Doyle Somerby, Kimball Union, D
Scout's take: "He's got great size, as a forward turned D-man, so he's a pretty good puck mover. He's more of a stay-at-home defenseman, but a big, rangy kid. Good smooth stride for a kid his size and good speed in flight."
101. Adam Gilmour, Noble & Greenough, RW
Scout's take: "He's got high skill, sets guys up. He's going to get stronger. He's a tall lanky kid. He'll go to BC and that's his type of game, playing a type of run-and-gun game, he'll do fine there."
143. Brendan Collier, Malden Catholic, LW
Scout's take: "We hear this about him, he's just a pure hockey player. Goal line to goal line, he works so hard, got a good compete level. I think he's going to be a great college player. He's got some potential because he just works so hard."
Chiarelli's take: "A couple of interesting one's, the Collier kid, [he is] kind of under the radar a little bit, but a real gritty kid."
177. Matthew Grzelcyk, USA U-18 (Charlestown, Mass.), D
Scout's take: "I love him. His hockey IQ is up there with kids who are taken in the top 15 in the draft. If had to pick one kid to make the right play getting out of the zone, it's him. He thinks the game. He finds the seams. He's a hockey player. I think he'll be running the PP at BU last year. He's that David Warsofsky, Matt Hunwick type of player."
Chiarelli's take: "You've got some kids that kind of went to the U.S. Development Program but are from the area. The Grzelcyk kid's a very good, mobile defenseman. He's later on down but he's got a good head on his shoulders."
April, 9, 2012
4/09/12
10:11
PM ET
The NHL Central Scouting service released its final rankings of North American skaters and goaltenders ahead of the NHL Draft on Monday.
Here's the list of skaters with local ties who made the cut:
(The full list can be found
here
)
27 Cristoval "Boo" Nieves, Kent School, 6' 2.75" 184, C
36 Sam Kurker, St. John's Prep, 6' 1.5" 198, RW
54 Brian Hart, Phillips Exeter, 6' 2.0" 216, RW
69 Chris Calnan, Noble & Greenough, 6' 1.75" 188, RW
76 Danny O'Regan, St. Sebastian's, 5' 8.75" 162, C
77 Jimmy Vesey, South Shore Kings (North Reading, Mass.), EJHL, 6' 1.0" 200, LW
79 Devin Tringale, Lawrence Academy, 5'11.5" 186, LW
88 Frank Vatrano, USA U-18 (E. Longmeadow, Mass.) 5' 10.0" 218 ,C
99 Doyle Somerby, Kimball Union, 6' 4.5" 232, D
101 Adam Gilmour, Noble & Greenough, 6' 2.25" 193, RW
103 Alexander Gonye, Deerfield Academy, 6'0.5" 166, LW
108 Matthew Beattie, Phillips Exeter, 6' 3.0" 173, LW
127 Nicholas Bligh, South Shore Kings (Milton, Mass.), EJHL, 5' 11.5" 175, C
132 John Stevens, Salisbury, 6' 1.25" 175, C
134 Cam Darcy, USA U-18 (South Boston), 6' 189, C/RW
143 Brendan Collier, Malden Catholic, 5' 9.0" 168, LW
145 Kevin Duane, Brunswick, 6' 4.0" 219, RW
166 Alex Rauter, Choate-Rosemary Hall, 6' 0.0" 174, LW
177 Matthew Grzelcyk, USA U-18 (Charlestown, Mass.), 5' 9.0" 171, D
208 Tim Boyle, Noble & Greenough, 6' 1.75" 185, D
210 Zachary Pryzbek, Salisbury, 6' 2.75" 199, LW
Goaltenders:
31 Joseph Young, Boston Advantage AAA (Hanover, Mass.), 6' 1.5" 162
33 Dawson Sprigings, The Gunnery, 5' 11.25" 206
April, 12, 2011
4/12/11
1:42
PM ET
A year ago, local hockey fans intently waited to see whether Taylor Hall or Tyler Seguin would finish the season atop the NHL Central Scouting's final rankings with the B's holding the second pick. While there might not be quite the level of attention on this year's
final rankings
, there are plenty of locals in the high school and prep school levels represented in this year's season-ending report.
Choate-Rosemary forward Philippe Hudon, of Quebec, remained the the top-rated local among North American skaters despite falling from the 31st rank on the midterm report. Milton Academy blue liner Rob O'Gara was the first Massachusetts-based skater on the list at No. 107, down from No. 95 on the midterm.
A new-comer to the final report was ESPN Boston's inaugural Mr. Hockey Award winner Colin Blackwell of St. John's Prep. The Eagles center is ranked 173rd after a strong Super Eight tournament showing while leading all scorers.
Mike Vecchione, captain of the Super Eight champion Malden Catholic Lancers, also climbed back onto the final rankings, after being left off the midterm, at No. 209.
Another name to watch out for is Loomis-Chaffee goaltender Stephen Michalek who's ranked fifth overall among North American goaltenders.
Northeastern defenseman Jamieson Oleksiak led the list of names with local college ties at No. 13.
Also, keep an eye on Connor Murphy of the U.S. U-18 National team. The 6-foot-3 blue liner was born in Boston and is the son of former Bruins defenseman Gord Murphy. Despite being left off the midterm rankings, Murphy has catapulted up the boards and is ranked 25th among North American skaters and eighth among defensemen.
Here's a look at the local high and prep schoolers represented on the list by ranking:
Skaters
74 Philippe Hudon, Right Wing/Center. Choate-Rosemary
75 Colin Sullivan, Defenseman, Avon Old Farms
107 Rob O'Gara, Defenseman, Milton Academy
109 Stephen Miller, Left Wing, Noble and Greenough
112 Craig Wyszomirski, Defenseman, The Gunnery
127 Kevin Morris, Left Wing, Salisbury
144 Michael McKee, Defenseman, Kent School
145 Joseph Manno, Center, South Kent School
150 Jimmy Vesey, Left Wing, Belmont Hill
171 Nicholas Bligh, Center, Dexter School
173 Colin Blackwell, Center, St. John's Prep
189 Matthew Harlow, Left Wing, Noble and Greenough
191 Joe Prescott, Right Wing, St. Sebastian's
203 Jack Barre, Right Wing, Salisbury
209 Mike Vecchione, Right Wing, Malden Catholic
Goaltenders
5 Stephen Michalek, Goalie, Loomis-Chaffee
February, 11, 2011
2/11/11
2:43
PM ET
BELMONT, Mass. -- Belmont Hill boys' hockey head coach Ken Martin isn't in the business of numbers. He derives more pleasure from seeing his players succeed than in reveling in any of his 700 (and counting) career wins.

"My philosophy has always been trying to help each kid reach his full potential," Martin said. "The most exciting thing for me, as a coach, is to see a role player score a big goal in a big game, or seeing kids contribute in the little things that help a team win."

He knows the pitfalls of numbers and looking forward to certain benchmarks, evidenced by the recent run up to No. 700. Martin was stuck on 696 wins for a couple weeks as the Hillies endured a five-game stretch last month when they salvaged just one win. However, the 39-year head coach of Belmont Hill was finally able to celebrate his 700th victory with a 7-1 win at Phillips Andover on Saturday, becoming the first hockey coach in Massachusetts history to do so.

When pressed to recollect his favorite of the multitudes of wins over the years, Martin responded with a photo album's worth of memories. There was the memorable comeback against St. Sebastian's in a truly special outdoor game at Fenway Park last year before the NHL Winter Classic. He also recalled Belmont Hill's triple-overtime thriller against Phillips Exeter a few years back.

"I also remember the losses, too," added Martin, a 1965 graduate of the school.

However, for the all of the hubbub surrounding his impending milestone, there was another claim of notoriety to which Martin was unaware. With win No. 696, Martin became the Bay State's all-time winningest hockey coach, surpassing the career mark of retired Arlington High head coach Ed Burns. Martin was made aware of the event through legendary Matignon head coach Marty Pierce.

Perhaps more than his 700th, Martin acknowledged the significance of passing Burns in respect for the Spy Ponders bench boss who has also calls a friend.

"I've gotten to know Coach Burns over the years and we've done some hockey camps together," Martin said. "Being in his company is pretty special in the world of Massachusetts hockey. That's a real honor."

Martin, who took over at Belmont Hill in 1972, has built the program with a keen eye for detail. Every movement is scrutinized in practice and that ethos has helped 17 of his players have their names called in the NHL Draft straight out of high school. That list includes Martin's son, Ken IV, who was selected by the Buffalo Sabres in 1990. He could have another player join those ranks before long in junior winger Jimmy Vesey, a Harvard commit and son of the Charlestown hockey hero of the same name, who's ranked 84th among North American skaters in NHL Central Scouting's midterm rankings.

"He's very meticulous in his preparation for practices and games," senior captain Michael McNamara said. "He always says that perfect practice makes perfect and he always knows how to say the right things before a game to get us going."

The Holy Cross commit and teammates know Martin's thoroughness has been a driving force behind his rise to the state hockey pantheon. And No. 700 was no different.

"Even during the Andover game, we were up big, but he kept us going till the very end," senior captain Brandon McNally said. "He gets us motivated and keeps us focused on a daily basis and he always keeps us positive."

Martin has since raked up win No. 702 and Belmont Hill stands at 15-6-2 among the top teams in the ISL's Keller Division.

Already at the top of the hill, the only remaining question is what Martin's final number will be.

"Well, I can say that I'll at least be coaching until the end of the season," Martin said, letting out a chuckle. "After the season, like any season, I'll reevaluate where I'm at and discuss it with my wife. But even if I stopped coaching at the varsity level, I'd still like to coach little kids and stay involved in the game.

"I've been doing this for 39 years, so it would be strange to be without it."
January, 11, 2011
1/11/11
1:26
PM ET
Mid-term rankings were released by the NHL Central Scouting Service and there are a handful of locals who are turning heads.

Noble and Greenough leads the local talent crop with three players appearing on the list. Forward Steven Miller checks in at No. 85 overall among North American skaters with fellow winger Matt Harlow at No. 101. Defenseman Michael Reardon is ranked 180th overall.

The highest ranked player with New England ties is power forward Philippe Hudon of Choate-Rosemary Hall. The Quebec native and Cornell commit is ranked 31st in North America. Former Wild Boar and U.S. NTDP U-18 teamer Michael Paliotta, of Westport, Conn., checks in at No. 32.

The highest ranked Massachusetts player is Belmont Hill left winger Jimmy Vesey (No. 80).

Junior Bruins forward and Harvard commit Mike Seward, who helped Winchester to a Super 8 appearance last year, is ranked 210th.

Milton Academy defenseman Rob O'Gara (95) and Dexter center Nicholas Bligh (123) made the list as well as Newburyport native Chris Eiserman, the Valley Junior Warriors goaltender who is ranked 34th among netminders.