Boston High School:

Joe Berardi
March, 18, 2013
3/18/13
2:08
AM ET
By
Roger Brown
| ESPNBoston.com


BOSTON – The biggest difference between Burlington High School and Marshfield in Sunday's Division I state championship game? A second-period stretch of hockey that lasted three minutes and 19 seconds.

Burlington scored three goals in that span, which turned a tie game into a three-goal advantage. It was too much for Marshfield to overcome, as the Red Devils went on to post a 4-2 victory and win the Division I title for the second consecutive season.

"That was definitely the difference," Marshfield coach Dan Connolly said. "We got away from the way we wanted to play. We were too aggressive on the forecheck. We made a couple bad pinches that led to odd-man rushes and they capitalized. Give credit to them. They forced us into that."

Senior forward Sean Murphy gave Burlington a 2-1 lead at 6:11 of the second, and then made it a 3-1 contest at 8:44. Senior J.P. Scola added a goal a 9:40 of the second that put the Red Devils up 4-1. Murphy's second goal came during a Burlington power play – one of two power-play goals the Red Devils scored in the game.

"I thought we were lucky to be 1-1 because I thought we were back on our heels and playing a little passive in the first period," Burlington coach Bob Conceison said. "We changed our tactics a little bit. We played a little bit more aggressively and started taking the body more. Then once we got that goal to make it 2-1, the other two seemed to come fast. That was the key to the game."

Burlington's Joe Berardi opened the scoring with a power-play goal in the first period and also collected two assists in the victory, which came in Burlington's fourth appearance in the Division I state final. The Red Devils completed their season with a 14-6-5 record.

Burlington, which had to replace seven seniors from last year's team, received a 27-save performance from senior goaltender Derek DeCastro.

"He's a great goaltender," Connolly said. "He didn't give us a lot of net to shoot at. He knows how to win big games. He proved that last year."

Marshfield hadn't allowed a power-play goal in the postseason until the championship game.

Senior forward Michael Carbone and junior defenseman Matt Burchill collected the Marshfield goals. Carbone's goal made it a 1-1 game in the first period, and Burchill made it 4-2 with 42 seconds left in the second.

The momentum created by Burchill's goal didn't seem to carry over to the final period, however.

"We played a gutsy third period," Conceison said. "We got in the passing lanes, blocked some shots. We did the little things you have to do to win a game like this."

Marshfield goaltender Connor Lemieux stopped 13 shots.

The Rams, who won the Division I title in 2011, finished with a 20-7-0 record. Severn players on this year's Marshfield team also skated for the Rams in 2011.

"It was a good hockey game," Connolly said. "They played a little bit smarter system-wise. Someone has to lose in a championship game, and tonight it was us. It's sad for the seniors."


March, 16, 2013
3/16/13
9:55
PM ET
GIRLS' DIVISION 2
No. 1 Duxbury (21-1-2) vs. No. 2 Falmouth (19-1-2), 11 a.m., TD Garden

Players to watch: Duxbury – F Hannah Murphy, F Marissa Fichter, F Jane Dudley, F Meredith Wright, F Julia Nolan, D Ally Hammel, D Payton Donato, G Rachel Myette; Falmouth – F Alexa Scribner, F Rachel Moore, F Madison Haberl, F Kelly Ferreira, D Hannah Ghelfi, D Alexx Good, G Madison Scavotto.

Breakdown: It is perhaps the most predictable of all of Sunday's matchups and the most anticipated. The Dragons and Clippers renew a burgeoning rivalry, intensified by last year's duel at the Garden and invigorated by the fact that either team's lone loss of the season was handed to them by the other. Duxbury has been playing lockdown defense throughout the playoffs and haven't allowed a goal in more than six games, including the regular season. The Clippers' young corps will look to get over the hump, building on a bittersweet experience on the Bruins' home ice sheet one year ago.

X-factor: Scavotto. As dominant as Duxbury's defense has been in front of and including Myette, the Clippers are capable of the same. And their sophomore netminder is a big reason why. She could steal one.

Pick: Duxbury, 1-0.

GIRLS' DIVISION 1
No. 4 St. Mary's of Lynn (18-3-4) vs. No. 7 Arlington Catholic (17-4-2), 9 a.m., TD Garden

Players to watch: St. Mary's – F Alison Butler, F Kaleigh Finigan, F Gabby Crugnale, F Madison Molea, D Tatiana Doucette, D Amanda Donahoe, G Lauren Skinnion; AC – F Adrieanna Rossini, F Jess Piracini, F Duggan Delano, F Hayle Rudin, D Melissa Richard, G Megan Messuri.

Breakdown: The Catholic Central rivals meet for the second straight year on championship Sunday and, like their Div. 2 counterparts, also split their season series at a game apiece. Behind the benches, both the Spatans' Frank Pagliuca and the Cougars' Maggie Taverna have done work worthy of Coach of the Year honors. St. Mary's has the feel of a team of destiny, neither a short bench nor nagging injuries all season long have kept the Spartans from returning to the biggest stage, all while dispatching No. 1 Woburn in the process.

X-factor: Rossini. You'd be hard pressed to find a young player in recent memory who has scored more clutch playoff goals than the AC sophomore.

Pick: St. Mary's, 3-2.

BOYS' DIVISION 3
Swampscott (19-5-0) vs. Westfield (18-3-2), 3:30 p.m., TD Garden

Players to watch: Swampscott – F Corey Carmody, F Noah Maercklein, F Nunzio Morretti, D Chris Carman, D Trevor Massey; Westfield – F Sean Spohr, F Mike Santinello, F Anthony Cagliostro, F Adam Collier, F Neil Parrow, D Nate Barnes.

Breakdown: The Big Blue took down defending D3 finalist and South sectional champion Medway (thanks to an OT goal from Maercklein) to advance to the program's first title game appearance. Westfield returns to the Garden ice after a one-year hiatus after taking a scorched-earth policy to Western Mass. competition, while averaging more than 5.5 goals per game.

X-factor: Swampscott freshman goaltender Tristan Bradley. The first-year backstop has been a key element to the Big Blue's success, maintaining a 91.5 save percentage through the season.

Pick: Swampscott, 5-4.

BOYS' DIVISION 2
Wilmington (20-3-2) vs. Franklin (17-7-2), 1:30 p.m., TD Garden

Players to watch: Wilmington – F Cam Owens, F Brendan McDonough, F Jake Rogers, F Dylan DiNatale, D Brian Pickett, D Cam Collins, G Drew Foley; Franklin – F Cam Curley, F Dennis Pisani, F Aidan Isberg, F Troy Donahue, D Kyle Powers, D Kyle Filbert, G Devon Maloof.

Breakdown: The third of six rematches on the day, after the Wildcats claimed a 3-2 victory over Franklin a year ago on championship Sunday, propelled by a hat trick from Owens. The Panthers will be looking to avoid their third straight fruitless trip to the Garden, having dropped title tilts with Wilmington and Tewksbury. The Wildcats, who had Super 8 aspirations until late in the season, are eying their second straight title.

X-factor: McDonough. He's been the break-out performer of the tournament and provides a great complement to Owens on Wilmington's top line.

Pick: Wilmington, 3-2.

BOYS' DIVISION 1
Burlington (13-6-5) vs. Marshfield (20-6-0), 8:15 p.m., TD Garden

Players to watch: Burlington – F C.J. Grinnell, F Joe Berardi, F Joey Scali, D Adam Crowley, D Sean Costa, G Derek DeCastro; Marshfield – F Mike Carbone, F Pat Burchill, F Joe Admirand, F Pat Shea, D Matt Burchill, D Trevor Salmon.

Breakdown: While this isn't another rematch, these teams are no strangers to this stage, with the Red Devils and Rams representing as the last two Div. 1 state champions. Both teams were near .500 squads through the first month of the season, and closed their regular-season slates with momentum they've carried over into the playoffs. Both these teams can skate with the best of them, but they also pay attention to the little things in the defensive zone as well.

X-factor: Crowley. I'd expect a defensive struggle in this one and so I'm going with the Red Devils' blue-liner who always makes his presence felt.

Pick: Burlington, 3-1.

BOYS' DIVISION 1A – SUPER 8
No. 4 Austin Prep (16-1-6) vs. No. 7 Malden Catholic (15-6-3), 6 p.m., TD Garden

Players to watch: AP – F Nolan Vesey, F Bobby Carpenter, F Frankie Candelino, F George Sennott, F Eric MacAdams, D Andrew Cross, D J.J. Layton, G Elijah Harris; MC – F Ara Nazarian, F Mike Iovanna, F Tyler Sifferlen, F Pat Wrenn, F Austin Goldstein, D Casey Fitzgerald, D Nick Rolli, G Connor Maloney.

Breakdown: AP, while short on years, is not short on talent. I think we all knew coming into this season that they were capable of reaching this stage, but it might have been a question of when. The Cougars earned their way to Sunday after dispatching town rival Reading and then No. 1 seed St. John's Prep in Wednesday's semifinal. It seems like years ago since there was a time when the Lancers were in jeopardy of missing the tournament all together, but they've played the best hockey in the state during the last month.

X-factor: Nazarian. It's his tournament, the rest of us are just living in it.

Pick: Malden Catholic, 4-2.
March, 12, 2013
3/12/13
4:41
AM ET
By
Roger Brown
| ESPNBoston.com


LOWELL, Mass. -- It took a lot of extra effort for the Burlington High School hockey team to defeat Winchester, 2-1, in Monday night's Division I North championship game.

The teams were tied at the end of regulation, and remained tied after a 12-minute overtime. Burlington didn't prevail until it won the shootout, 3-1.

The Burlington fans began to celebrate after Joey Scali, Burlington's fourth shooter, beat sophomore goaltender James Offner (36 saves) to give the Red Devils a two-goal edge in the shootout. Burlington goalie Derek DeCastro made 27 saves before stopping three of the four shots he faced in the shootout.

Burlington coach Bob Conceison said his team wasn't lacking confidence entering the shootout.

"I think that confidence comes from having Derek back there," Conceison said. "That definitely gave us a lot of confidence in the shootout.

"Derek is just a rock back there. In the shootout I knew he was going to stop most of them because he's so good at that. He's so poised."

DeCastro, a senior, has surrendered one goal in the last eight periods. Nolan Redler was the only player who beat DeCastro in the shootout.

Joe Berardi and Adam Crowley also scored shootout goals for fifth-seeded Burlington, which improved its record to 13-6-5. Second-seeded Winchester finished with a 16-6-3 record.

"It was a very good high school hockey game," Winchester coach Matt Spang said. "I don't think either team has anything left."

Spang spent most of his postgame meeting with the media praising Offner's performance.

"He was the best player on the ice," Spang said. "I can't say enough about what that kid did tonight. That was just absolutely phenomenal goaltending. He's going to be a special, special hockey player.

"I have 22 heartbroken kids and they left it all on the ice."

Burlington will play either Marshfield (19-6-0) or Hingham (16-7-2) for the Division I state championship March 17 at TD Garden. Fifth-seeded Marshfield and second-seeded Hingham will meet Tuesday night to determine the Division I South champion.

It was the second meeting between the teams this season. Burlington beat Winchester, 3-0, during the regular season.

Berardi and Redler scored during regulation, when Burlington had a 27-21 edge in shots on goal. Both goals came in the third period.

It was the second Division I North title in as many years for Burlington, which beat Milton to win last year's Division I championship.

It was scoreless until Berardi scored on a backhanded shot from low in the left faceoff circle at 2:43 of the third period. Redler made it a 1-1 contest when he beat DeCastro with a wrist shot from high in the slot at 6:38.

"It's nice to get back to the Garden," Conceison said. "It's so hard to get there, but to get there again … I can't even describe what it's like. And a lot of people didn't think these kids could do it, but they have a lot of heart and they showed a lot of heart tonight."


February, 5, 2013
2/05/13
2:43
AM ET


READING, Mass. -- No. 5 Reading nearly skated Middlesex League rival Burlington out of the barn after one period of hockey Monday night. The Rockets opened up a shooting gallery in the Red Devils' zone and, had it not been for the efforts of Burlington goaltender Derek DeCastro, things easily could have gotten out of hand fast.

Even though Reading went on to outshoot the Red Devils by a combined 35-17 margin, the action was a lot closer.

In the words of Rockets head coach Mark Doherty, "It was a Reading, Burlington hockey game."

Reading prevailed, escaping with a 3-2 win over the No. 24 Red Devils, thanks to a two-goal game from junior forward Jake Barbera. But it wasn't as easy as it looked and, as the Burlington power play opportunities racked up, it came down to a diligent group of penalty killers who made the difference for the Rockets (13-1-4, 9-0-3).

Although Reading seemed to be waltzing away with two points, holding a 3-1 lead late in the second period, the Red Devils (6-4-5, 5-3-5) got back into it with their potent power play.

Senior captain C.J. Grinnell made a tape-to-tape across the width of the ice surface to set up Joe Berardi's half-slap, one-timer for a goal on the man-advantage with 4:22 remaining in the third.

Burlington had two sterling opportunities to notch the equalizer in the third, with two additional power plays, but the Rockets were game. Reading limited the Red Devils' man-up unit to just one shot on goal in their final two power play chances, playing a stifling brand of defense in front of goaltender Evan Morelli.

"We have some good penalty killers," Doherty said. "You talk about [Mark] Dente, [Rob] Devaney, [Mike] Thomson, they all know what they have to do. They know that they just have to rise to the situation."

The Rockets claimed a 2-1 lead at the first break, after peppering DeCastro (32 saves) with a barrage of 15 shots on goal.

Reading drew first blood when Dente collected a nifty saucer pass from Alex Guarnotta and slipped behind the Burlington defense for a partial breakaway. Dente finished on the backhand for a 1-0 lead at 6:06.

Red Devils defenseman evened the score at 11:09 of the first, stepping up from the blue line, snatching a clearing attempt and firing off a wrister on an unassisted goal.

The Rockets went to the room with a one-goal lead after Barbera tallied his first of the game, putting back a rebound off a shot from Devaney. Barbera followed with his second of the game just 14 seconds into the second period.

Again, the rangy winger's net-front presence paid dividends.

"We know that we have guys who can get it to the net," Barbera said. "We have skill guys who can have a presence on the wall, they can definitely move the puck well. I know when they're coming down the boards, we're just getting it to the net … Robby [Devaney] and Mike [Thomson] were able to get it to the net."

Barbera deposited the rebound from a Thomson slapper to provide the Rockets with a two-goal cushion.

However, Burlington again cut the deficit with Berardi's power-play blast.

"They're a bigger, a stronger, an older team, I think you could see that all night," Burlington head coach Bob Conceison said. "But I liked the way our kids battled. I was real happy with our third period and we had some power plays in the third period that they killed and they made some good plays."


March, 16, 2012
3/16/12
7:24
PM ET
All eyes will be on the TD Garden Sunday as championships will be decided in six divisions of MIAA hockey title games.

We'll have you covered all day long, but until then, we provide to you a breakdown of each of the game and our prediction:

GIRLS' FINALS Division 2
No. 1 Duxbury (21-0-1) vs. No. 7 Falmouth (16-4-1), 11 a.m., TD Garden
The Breakdown: If the Dragons win this game, they make a strong argument that they were the strongest girls' hockey team in the state, regardless of division, with the potential for an undefeated season. As any strong hockey squad goes, the Dragons are built from goal out with sophomore goaltender Rachel Myette (0.91 GAA) looks for her second state title in as many seasons as starter. Duxbury's blue line corps is regarded as the deepest in the state, led by ESPN Boston Ms. Hockey contender Martha Findley (4-19-23). Of course, Duxbury has plenty of offensive firepower to go along with their strong defensive play with junior forwards Hannah Murphy (18-27-45) and Lily Connolly (18-20-38) as leading scorers. Falmouth has been one of the stories of the tournament, making a run behind first-year head coach Erin Blood. The Clippers have also received strong play from a young goaltender in freshman Maddie Scavotto (1.26 GAA). Falmouth is also deep and experienced on the blue line with senior captain Brenna Callahan and junior Alexx Good. The Clippers have received scoring punch from a pair of freshman forwards in Kelly Ferreira (13-9-22) and Madison Haberl (11-12-23).

The Pick: The defending Division 2 champion Dragons spent half the season as the No. 1 team in our poll. We're not about to go against them now. Duxbury, 4-1.

Division 1 No. 3 St. Mary's (Lynn) (21-3-1) vs. No. 4 Arlington Catholic (20-3-1), 9 a.m.
The Breakdown: If two regular season meetings between these Central Catholic powers weren't enough, we get a rubber match for all the marbles on Sunday. The Lady Spartans came away with two wins in the teams' regular season series, including a defining 5-2 decision by St. Mary's on Feb. 1 after they'd been upset by crosstown rival Winthrop/Lynn. Can't underscore the coaching in this game enough, as Frank Pagliuca has turned in perhaps his finest performance behind the bench and Maggie Taverna has vaulted the Cougars back onto the state's biggest stage in Year One. Taverna has been helped by one of the state's most dynamic scorers in senior Natalie Flynn (19-15-34). Adrieana Rossini (8-14-22) has also come up with some huge postseason goals. On the blue line, AC has one of the state's best in senior Rebecca Zappala. First-year transfers Kaleigh Finigan (30-goal season) and Brittani Lanzilli (25-28-53) have not disappointed while Alison Butler (team-leading 61 points) has taken a huge step forward. The Spartans blue line is airtight with preseason All-Stater Rachel Donahoe leading the group. Lauren Skinnion (7 SO) has been strong as a first-year starter in nets.

The Pick: Third time's a charm? Not so. Spartans are too strong. St. Mary's, 4-2.

BOYS' FINALS Division 3
Medway (19-6-1) vs. Hudson (21-1-1), 1:30 p.m.
The Breakdown: This marks the return of one of the state's great public hockey programs to its biggest stage in Hudson (seriously, look it up), with the Hawks making their first state finals appearance since 1978, when they took the Div. 1 title from Burlington. The Central sectional champions are strong up front with a trio of 30-point scorers in seniors Tyler Kirby, Tim Murphy and Blake Seymour. The Mustangs are paced by one of the state's top snipers in Jake O'Rourke (43-13-56). This matchup will also feature two of most dominant D3 goalies in the state with Hudson junior Shane Barry and Medway junior Mike Narducci facing off with sub-2.00 goals against averages.

The Pick: We're going with the storyline and perhaps the most consistent D3 team throughout the season. Hudson, 3-2.

Division 2 Wilmington (15-4-5) vs. No. 1 Franklin (19-2-3), 3:30 p.m.
The Breakdown: This might be the most intriguing matchup of the day. Both of these teams were among four Division 2 teams on the Mass. Hockey Coaches Association's initial Super 8 Watch list a month ago and haven't disappointed in the tournament. Franklin was here a year ago, when they had their hearts broken by Tewksbury in an overtime stunner. Many observers, including us, had last season pegged as the Panthers' opportunity to break a nearly three-decade long drought, but Chris Spillane has showed why he's one of the state's premier coaches. It also hasn't hurt that Franklin has received tremendous senior seasons from Adam Hall (17-25-42) and Nick Bertoni (25-15-40). Sophomore netminder Mike Donadio (1.64 GAA) has been a revelation. The Wildcats offense has taken off since Cam Owens' (14-19-33) return to the lineup, while senior captain Dalton Rolli (9-16-25) is an underrated two-way presence. Junior forward Jake Rogers (12-6-20) has come up with some timely goals in the postseason. Sophomore netminder Drew Foley (1.69 GAA) has played his best when it's counted most, carrying a three-plus game shutout streak into the Wildcats' North sectional final with Winthrop.

The Pick: The last time the Panthers hoisted the trophy Coach Spillane skated. Unfortunately for the hockey hotbed, this isn't the year either. Wilmington, 2-1 (OT).



Division 1 Burlington (17-2-6) vs. Milton (19-3-3), 8:15 p.m.
The Breakdown: The Red Devils pulled off a tough feat, bouncing back from a Super 8 play-in game loss (and a very competitive one at that) to pull themselves into the D1 championship. The Middlesex League champions have plenty of speed to burn, and senior assistant captain Trevor Cimino (17-22-39) is about as good a two-way forward as you'll find. Along with Joe Berardi (22-13-35), Brett Romkey (17-3-20) and C.J. Grinnell (6-14-20), Burlington can score in piles. We've also come away impressed by their defensive corps led by Steve Mattos, in addition to Cody Crocker, Adam Crowley and Brien Diffley. The Wildcats ran the Bay State League gauntlet in the South sectional tournament to get to the Garden. Paul Curran (26-33-59) is one of the best pure scorers in the state, and along with top-liners Brian Higgins (23-29-52) and Terrance Walsh (16-33-49), Milton provides matchup problems. Blue-liner John Murtagh is a rock, logging boatloads of ice time, and senior netminder Jay Hankard is peaking at the right time

The Pick: Red Devils are simply too potent, but they're the pick mostly because of the way they're playing defensively right now in front of Derek DeCastro. Burlington, 6-3.

Division 1A No. 5 BC High (13-6-5) vs. No. 1 Malden Catholic (19-1-4), 6 p.m.
The Breakdown: After beating another Catholic Conference rival, St. John's Prep, to advance to the final, Eagles head coach John Flaherty said he's had a special feeling about this group. That feeling might have developed after BC High skated to a 2-2 tie with MC on Jan. 25, a game in which the Eagles in some regards out-played the Lancers. This will be the fourth meeting between these teams, with MC taking two wins, including a 3-1 win in the Super 8's round robin last week. The crucible for BC High is which of their defensive units shows up: The out-of-sorts group that surrendered a 7-spot earlier this season to MC, or the cohesive group that bounced Prep and its top line? Of course, that all starts with junior goaltender Peter Cronin (2.00 GAA), who has turned in another solid tournament. Brian Furey leads a much improved blue-line group. The Eagles are also disciplined in their own zone, with Matt Sullivan (12-16-28) providing as much defensively as he does offensively. Everyone knows of the Lancers top line of Brendan Collier, Ryan Fitzgerald and Mike Iovanna, but freshman center Ara Nazarian has been the breakout star of the tournament, filling the scoresheet in every game and tallying five goals. It's not just offense with MC, however, as you'd be hard pressed to find a deeper, more dynamic top three than Casey Fitzgerald, Colin MacGillivray and Brendan White. If netminder Connor Maloney plays as he did against Central Catholic in the crossover round, that's game, set, and match.

The Pick: Doin' it for CS5. MC, 5-3.
March, 8, 2012
3/08/12
1:44
AM ET
By
Matt Noonan
| ESPNBoston.com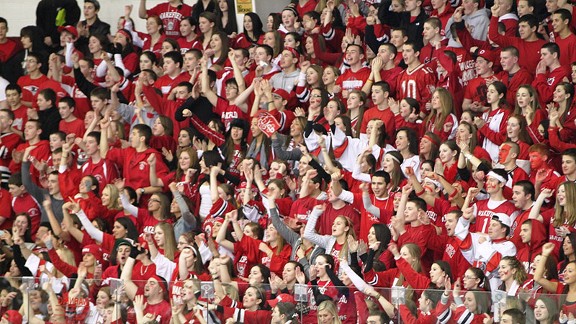 Ryan Kilian/Special to ESPNBoston.coWakefield's "Red Sea" were out in full effect to help the Warriors to a second-straight Division 1 North sectional final in a shootout win over Chelmsford on Wednesday.
CHELMSFORD, Mass. -- It was déjà vu all over again for the Wakefield Warriors, who escaped Wednesday's Div. 1 North semi-final clash by defeating Chelmsford, 2-1, in a shootout.
With the win, Wakefield once again earned themselves a spot in the sectional final, as the Warriors repeated their performance from a year ago. Wakefield also went to a shootout with Billerica in last year's semifinal.
"Down two periods all night, but we've been there before," Wakefield head coach Derek Edgerly said. "We've been down a couple games this year, [but] we just comeback fighting hard, and that's all it takes."
"It's called composure, positivity, keep your positive up all night and these kids just played excellent," Edgerly added. "What a great game."
Chelmsford notched the first goal early in the opening period when senior David DeDonato beat Wakefield senior goaltender Joe Cerulo (31 saves) before the Warriors answered in the third period with junior Daniel Cardillo, riffling the puck into the back of Lions' net, forcing overtime.
In the extra session, both teams chased the puck up and down the ice, but no resolution was found.
DeDonato eventually registered his team's first strike in the shootout.
Wakefield answered on their third attempt when senior Kevin Doherty beat Chelmsford's junior netminder Derek Noble, tying the shootout, 1-1. The Warriors then answered on their ensuing attempt when junior Alec Brown scored the clincher before Cerulo denied sophomore Jesse Lye.
"We go over shootouts every night in practice for 15 minutes because when it comes down to this end in a tournament, you've got to do your shootout," Edgerly said. "And one thing about these games, it's usually a blowout or it's an overtime win or shootout, there's nothing in between."
"We had a great year," Chelmsford head coach Mike McGrath said. "I would have to say if there was a word I'd use for these kids, it's adversity because we had kids out with mono, we had a lot of things where we were missing kids, and we battled through it, and peaked at the right time, and had a nice little run."
BURLINGTON 5, ACTON-BOXBOROUGH 1
After a sluggish two periods, the Red Devils offense exploded by tallying four goals in the final 15 minutes, which lifted Burlington past the Colonials, 5-1.
Senior Trevor Cimino registered his team's second goal 22 seconds into the final period before senior Brian Hood, junior Joe Berardi (1 G, 1 A) and sophomore Joe Scali (2 G) struck.
"[Dan McMahon] made a good play, dumping it into the zone and I just had a breakaway, put it home," Cimino said. "We got that first goal in the third period, [and] I think they kind of shut down because they didn't know what to do anymore."
"It took us two periods to figure it out," Burlington head coach Bob Conceison said. "They played Monday night, [and] I felt like we could wear them down in the third period, and I think that showed in the third period."
Burlington earned a one-goal advantage when Berardi connected with Scali late in the first period before Acton-Boxborough evened the score at 1-1 when senior T.J. Barrett wrapped around the cage and squeaked the puck past junior netminder Derek DeCastro for the score.
"I think he was disappointed in the goal that [he] let in," Conceison said of DeCastro. "It was kind of a funny late period goal that might have been in the nearside, but he made a big save on a break away at 3-1, it was a huge save for us. And Derek's that type of goalie, he comes up big in those situations when we needed and that was a big step, and we needed that, we really needed that."
A-B had chances to earn a lead, but solid defense and goaltending by Burlington helped them escape with a victory, and set up an exciting Division 1 North final against Wakefield, Monday at Tsongas.
"It will be fun," Conceison said. "I don't know [if our] crowd can outdo their crowd."
January, 21, 2012
1/21/12
9:16
PM ET
By
Bruce Lerch
| ESPNBoston.com


WILMINGTON, Mass. -- At the conclusion of Saturday's matinee showdown between Burlington and Wilmington, Red Devils junior forward Joe Berardi returned from the locker room to search the empty net for a puck.

Berardi came away empty in his postgame quest, but he certainly won't need a keepsake to remember his performance on the afternoon of the region's first major snowfall.

The junior either found himself in the right place at the right time, hustled himself into position, or even relied on a little luck to finish with four goals to lead No. 11 Burlington to a 5-2 victory over Wilmington at Ristuccia Arena.

Berardi's linemate Brian Hood dished out assists on all five goals while junior netminder Derek DeCastro sparkled at times during a 27-save performance. In the process, the Red Devils (7-1-2, 3-1-1) moved into a first-place tie with the Wildcats (5-3-3, 3-1-1) atop the Middlesex League's small schools division.

"Joe has been playing really, really well the whole time but he was really good tonight," praised Burlington coach Bob Conceison. "Wilmington is a good team, they are a good addition to our league and I thought they played really, really well. We got kind of lucky with some of our goals at the beginning of the game."

In the final minutes of a first period primarily dominated by Wilmington, it was a hustle play by Berardi that opened the scoring. Trevor Cimino fired a shot toward Wildcats goalie Drew Foley that Berardi got a piece of. Foley made the initial stop, but the rebound came right back to Berardi off the far post and he buried it with 2:27 left in the frame.

"I saw Trevor Cimino came down the boards and I saw it was like a three-on-two developing so I crashed the net because I was the second forward and when he shot it, I kind of got a stick on it and tipped it towards the goalie," Berardi described. "The goalie made the initial save but I kept fighting through the defensemen toward the net and the puck just happened to drop right down in front of me and I just put it in."

The Red Devils seemed to have a renewed energy for the start of the second and Berardi scored on what he called a "flukey goal" in a shorthanded situation. Burlington broke up the Wildcat power play and Berardi fired in on Foley from outside the blue line. Foley dropped in time but the puck managed to sneak past his right pad at 6:24.

Just over three minutes later, Berardi scored an almost identical goal, this time getting his shot from inside the blue line. Foley flashed his glove and got a piece of it, but the puck landed behind him and over the goal line to give Burlington a 3-0 lead.

"I just took two shots form the blue line thinking, this goalie's really good," said Berardi, who admitted he was hoping to create rebound chances for his teammates. "You never think they would just go in that way but..."

On the Red Devils next trip into the Wilmington zone, both Hood and Dan McMahon set up senior captain Brett Romkey for Burlington's fourth tally.

Wilmington actually regained momentum after that courtesy of a wicked slap shot from the right faceoff circle by sophomore Cody McGowan that can be best described by taking a mental picture of former Red Sox slugger Rob Deer almost screwing himself into the batter's box dirt while chasing a fastball down the heart of the plate and sending it screaming over the Green Monster.

Luke Foley got back a second goal for the Wildcats, pouncing on the rebound of another hard shot by McGowan that cut the deficit to 4-2 with 2:06 to go in the second.

"They don't give up which is the good thing about them," said Wilmington coach Steve Scanlon of his team. "They keep going right to the end. That was a big spark, getting those two back."

A stellar effort by DeCastro would be needed to douse that spark, and the junior came through when his team needed him in both the first and the third periods.

The Wildcats had multiple opportunities from point-blank range in the first, all of which DeCastro was able to stifle among his 10 saves.

In the third, the junior came up big again with 12 stops, stoning Wilmington's Brendan McDonough three times on prime scoring chances, and thwarting a one-timer bid by Trevor Foley among the highlights.

"He's very focused," Conceison said of DeCastro. "They got the two goals that shifted the momentum a little bit. We got a little bit of momentum on the lucky goals, it got us going, it motivated us. And they got some momentum after the second goal, they were back in the game but Derek has been very focused and very consistent all year. I thought he had a great game today."