Boston High School:

Joe Castellano
March, 5, 2014
Mar 5
10:29
PM ET
By
John McGuirk
| ESPNBoston.com
BILLERICA, Mass. -- Luke Foley was in the position he is most accustomed to.

The 6-foot-2 forward of the Wilmington Wildcats objective is to hover around the front of the crease in an attempt to screen out an opposing goaltender or, better still, is fortunate enough redirect a shot headed in his direction.

In overtime of Wednesday night's Division 1 North semifinal, the senior captain performed the latter and because of it, the Wilmington lives to play another day. Foley got enough of his stick off a shot by Jim Davey from the right wing circle to slip it in-between the pads of Arlington netminder Mike Schiller at 2:32 of overtime to give the Wildcats a thrilling come-from-behind 3-2 victory over the Spy Ponders at Chelmsford Forum.

"That is basically my offense," said Foley. "I looked to be in front of the net and that is where I get most of my goals. I'm lucky [Davey] got the puck through and I was able to get a tip on it and put it in."

The win, Wilmington's 13th straight in the postseason dating back to 2011-2012 season, advances them to Monday night's final against Reading — a 2-0 winner over St. Mary's of Lynn — beginning at 8 p.m. from Tsongas Arena.

"[Winning 13 in a row] is a lot about confidence," Foley said. "We need to continue to be confident in front of our goalie. He is such a huge part of our success. He stops plenty of shots. He doesn't panic and always knows what to do. That rubs off on everyone else."

After winning back-to-back Division 2 state crowns, the move up to Division 1 this season did not faze the third-seeded Wildcats (15-3-7) in the least. Playing in a predominantly Division 1 league (Middlesex) throughout the season has prepared them well for tight contests like this one.

"We've been in a lot of games this season where we've had to come back," Wilmington head coach Steve Scanlon said. "That always pays dividends because the kids know they are capable of coming back. We had some bad patches tonight but the kids kept working and played hard. In the overtime, I told the kids to keep shooting towards the net and good things will happen. There is nothing that can replace the experience of going deep in a tournament. I've got nine kids on this team who have been to the championship at TD Garden twice and it does pay for you later. Although sometimes you do get down, we know we are never out of it."

Trailing 2-0, Wilmington mounted its comeback late in the opening period. Junior winger Steven DeFuria got things started by ripping a shot from the left circle, which eluded Spy Ponders starting goalie Ryan Cote.

As is Arlington's custom throughout the season, head coach John Messuri platoons Cote and Schiller on a regular basis. Cote stopped 14-of-15 shots before giving way to Schiller midway through the second period.

After a wide-open opening frame in which 23 shots were totaled (13 by the Spy Ponders), things settled down abruptly during the middle 15 minutes. Even though Arlington managed to put up 11 shots in the period, none got by Foley. The senior was solid between the pipes making 34 saves.

"Drew is a big-game kid for us," said Scanlon. "He's the most even-keeled athlete I've ever coached."

Early in the third, Wilmington would notch the equalizer after junior Joe Castellano fired a hard shot that Schiller initially grabbed with his catching glove. But the senior couldn't keep it in the mitt as the puck trickled out and over the goal line at 2:31.

For the remainder of the frame, both teams had several quality attempts on net but neither could bag the go-ahead tally which led to a six minute extra period that lasted only a couple of minutes thanks to Luke Foley's heroics.

The second-seeded Spy Ponders (14-4-5) looked to be in good shape early in this one. Junior forward Jack Kelly, on the power play, guided the puck down the ice, cut between a pair of defenders before sending a shot over Drew Foley's right shoulder at 3:14 of the opening period.

Five minutes later, with Arlington playing short-handed, Kelly stuck it to the Wildcats once again. A turnover inside the Spy Ponders' defensive zone allowed an odd-man rush to ensue. With Seth Coiley working the puck down the left side, the senior waited till the last second before dishing a crossing feed over to Kelly who put it into the back of the net to put his team up by a pair. As it turned out, that would the only offense registered by Arlington for the remainder of the evening as Wilmington began taking away the passing lanes and allowing Drew Foley to do what he does best in goal.

"I thought we played good the whole game," said Messuri. "I don't think we took our foot off the gas pedal. They chipped away but I still thought we controlled most of the play. Our kids played great and their kids played great and somebody has to lose unfortunately. Goalies are the most-important part of a team and tonight their kid stood on his head. Our kids have nothing to be ashamed about. I'm very proud of all of them."
July, 18, 2012
7/18/12
1:30
PM ET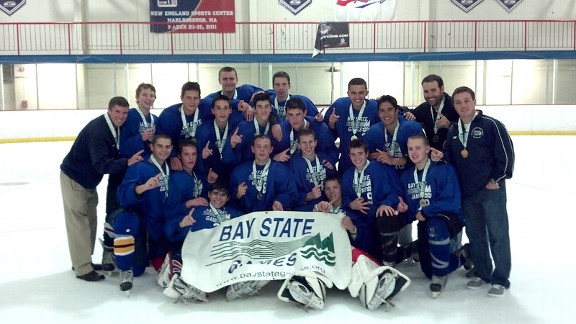 Courtesy Bob Conceison Jr.Team Northeast claimed the gold medal of the scholastic boys' hockey competition at the Bay State Games last weekend in Marlborough, Mass.
MARLBOROUGH, Mass. -- When Bob Conceison Jr. stepped into his team's locker room on Thursday morning at the New England Sports Complex, he saw a group of bleary-eyed hockey players. After 20 minutes of play, the Burlington High assistant coach saw his Bay State Games Northeast team come to life and, perhaps, come together.
His team went on to win the gold medal in the scholastic boys' hockey competition, outlasting a Metro team in a shootout after skating to a 4-4 tie in regulation. The accomplishment was familiar territory for eight of Conceison's players who earned MIAA state championship medals with their respective Burlington and Wilmington High School squads.
"They're obviously an experienced and a talented group," Conceison said after his team's 8-7 first-round win over the Southeast team on Thursday.
On a team rife with talent from a host of the Middlesex League's top hockey programs, the gold medal squad had a distinct Red Devil and Wildcat tinge. Burlington's Mike Bibbey, Derek DeCastro and Shane Morgan were joined by Wilmington's Anthony and Joe Castellano, Cam Collins, Cam Owens and Jake Rogers.
All were champions with their high school teams, Burlington in Division 1 and Wilmington in Division 2, respectively. All claimed gold in their Bay State Games' experience.
"It's a good time, good friends and good hockey," said Owens, who scored a hat trick, including the game-winning goal in the Wildcats' triumph over Franklin at the TD Garden in March. "This has been a great experience."
Owens played alongside Wildcats linemate Jake Rogers, forming a fearsome scoring duo for the Northeast team. One that DeCastro, who backstopped the Red Devils to their state title, was happy to watch operate in the opposing zone.
"Usually, I'm seeing those guys takes shots on me," the Burlington rising senior said. "At least this time, I don't have to worry about stopping their shots."
DeCastro split the Northeast's netminding duties with Reading standout Evan Morelli, creating depth in goal and presenting Conceison with a good problem to have.
"I think we had nine goaltenders come out for tryouts," said Conceison, who was in his third year of Bay State Games coaching experience, his first as a head coach. "It was a tough competition; it was tough making those cuts because it shows you how much talent there is in the area."
While in the midst of a summer heat wave, local rinks remain busy with a host of offseason tournaments filling up the schedule in the coming weeks.
Both DeCastro and Owens have taken part in other summertime tournaments during their high school careers, but chose to play in the Bay State Games for the first time this year. Both cited the ability to play with a group of their high school teammates as an enticing possibility.
"A lot of tournaments that you play in, you're playing with people from all over the place," Owens said. "Here, I get to play with all of my teammates, you're playing for your region and that's kind of cool.
"Even the guys from other teams, you know a lot of them from playing against them during the [high school] season. Now, you get to play with them and get to know them."