Boston High School:

Joe Cerulo
March, 23, 2012
3/23/12
4:01
PM ET
First Team:
F – Brendan Collier, Sr., Malden Catholic
The two-time ESPN Boston All-Stater closed out his senior season with a second straight Super 8 title and claimed our Mr. Hockey Award. The Charlestown native and Boston University commit scored 26 goals with assists for 65 points, a figure which led all Division 1 scorers. Collier, who also plays golf and lacrosse at MC, plans on playing a year of juniors next year before joining the Terriers.
F – Ryan Fitzgerald, Jr., Malden Catholic
The Lancers' top-line pivot makes his second All-State team appearance, his first on the First Team. The North Reading native and Boston College commit again eclipsed the 50-point plateau (31-21-52), despite missing the first couple weeks of the season with a shoulder injury, and helped the Lancers to their second straight Super 8 title.
F – Sam Kurker, Sr., St. John's Prep
When looking up the term power forward, the Eagles senior winger and captain fit the mold. The 6-foot-2, 210-pound forward finished with 32 goals and 28 assists for 60 points. The Boston University commit has also seen time with U.S. National Team Development Program and skated with the U-18 select team at the Ivan Hlinka Tournament during the summer.
D – Colin MacGillivray, Jr., Malden Catholic
The Lancers blue-liner is made in the mold of an old school rugged defenseman. The 6-foot-1, 185-pound Peabody native played on MC's top pairing through the season while posting three goals and 10 assists for 10 points for the repeat Super 8 champions.
D – Nikko Markham, Sr., St. Mary's (Lynn)
The Catholic Central Conference Most Valuable Player and Spartans captain finished a sound career by leading St. Mary's to a No. 2 seed in the Super 8. The Salem native was among the top point-scoring blue-liners in the state with six goals and 12 assists for 18 points.
G – Peter Cronin, Jr., BC High
For the second straight season, the Eagles went as their netminder went, and Cronin led BC High to its first Super 8 finals appearance since 2007. Playing in each of the Eagles' 25 games, the Norwell resident posted a 2.00 goals against average and a 91.7 save percentage.
2nd Team:
F – Kevin Emmerling, Sr., St. John's (Shrewsbury)
Perhaps the most skilled skater in the state, the Pioneers' center provided a dynamic offensive punch to their Super 8 run. The Whitinsville native finished third in Division 1 scoring with 26 goals and 30 assists for 56 points. Emmerling is exploring his options for next year and hopes to play college hockey.
F – Conal Lynch, Sr., Boston Latin
Lynch also showed that Charlestown is again a hotbed of hockey, carrying the Wolfpack to a DCL/MVC Div. 2 championship. Lynch finished second in Division 2 in scoring with 35 goals and 18 assists for 53 points. The Wolfpack captain is weighing his options in pursuing prep or junior hockey next year.
F – Matt Sullivan, Sr., BC High
The senior captain was a true two-way center with a high hockey IQ. The Duxbury resident anchored the Eagles' top line, scoring 12 goals and 16 assists for 28 points and lifting BC High to its first Super 8 final appearance since 2007. He is pursuing prep and junior hockey opportunities for next season.
D – Casey Fitzgerald, Fr., Malden Catholic
The younger brother of Ryan, Casey catapulted himself onto the scene in his first year, filling the role of a puck-moving defenseman previously held by former All-Stater Conor Evangelista. The North Reading resident and Boston College commit tallied two goals and 15 assists for 17 points in his first year.
D – Peter Sikalis, Sr., Acton-Boxborough
The Colonials' captain was the impetus behind their run to the D1 North semifinals. Sikalis had eight goals and 11 assists for 19 points while eating up boatloads of ice time for head coach Bob Lavin. The imposing 6-foot-3 defenseman is exploring his hockey options for next year.
G – David Letarte, Sr., St. John's Prep
The captain has been the Eagles' backbone during the last three seasons, leading Prep back to the Super 8 once again. Letarte had a 2.08 goals against average and a 91.3 save percentage in 18 games played. He is currently mulling over college and junior hockey offers for next year.
"Best of the Rest"
Nick Bertoni, F, Franklin
Tom Besinger, F, BC High
Tommy Bishop, F, Chelmsford
Matt Brazel, F, Hingham
Trevor Cimino, F, Burlington
Frank Crinella, F, Springfield Cathedral
Paul Curran, F, Milton
Vin D'Amato, F, St. John's (Shrewsbury)
Jarrod Fitzpatrick, F, St. Mary's (Lynn)
James Gordon, F, Hingham
Danny Holland, F, Woburn
Mike Iovanna, F, Malden Catholic
Connor Irving, F, Beverly
Mike Kelleher, F, Central Catholic
Chris Leblanc, F, Winthrop
Bobby Mullins, St. Mary's (Lynn)
Ara Nazarian, F, Malden Catholic
Andrew Newis, F, Natick
Jack O'Hear, F, Catholic Memorial
Cam O'Neill, F, St. Mary's (Lynn)
Jake O'Rourke, F, Medway
Cam Owens, F, Wilmington
Brian Pinho, F, St. John's Prep
Dalton Rolli, F, Wilmington
Joe Strangie, F, Danvers
D.J. Walsh, F, Needham
Bryan Carter, D, Hudson
Connor Fenton, D, Braintree
Brian Furey, D, BC High
Pat Houghton, D, Westford Academy
Steve Mattos, D, Burlington
Nick Pandalena, D, St. John's Prep
Jake Secatore, D, Woburn
Brendan White, D, Malden Catholic
Joe Cerulo, G, Wakefield
Jordan Davis, G, Norwood
Mike Donadio, G, Franklin
Bailey MacBurnie, G, St. Mary's (Lynn)
Connor Murray, G, Needham
Connor Roddy, G, Medfield
Shane Starrett, G, Catholic Memorial
Steven Waites, G, Winthrop
Kyle Williams, G, Central Catholic
Coach of the Year
Chris Spillane, Franklin
Losing 15 seniors off of 2011's Division 2 state finalist team posed no problem to Spillane in guiding his team back to the Garden again. The 13-year Panthers bench boss is regarded as one of the finest in the state, but no season might have been more impressive for Spillane than getting this team back to the finals.
Finalists:
Karl Infanger, Natick
Mark Lee, St. Mary's (Lynn)
John McLean, Malden Catholic
March, 13, 2012
3/13/12
2:00
AM ET


LOWELL, Mass. -- The quandary for Burlington entering Monday's Division 1 North sectional title game was how to yet again beat Wakefield senior goaltender Joe Cerulo.

So Red Devils head coach Bob Conceison took a novel approach to the problem. To simulate the lack of holes into against the Warriors' big netminder, Conceison had two goaltenders in net during practice in each of the last three days.

"Cerulo's a big boy and a great goalie," Burlington senior forward Trevor Cimino said. "We got him moving side-to-side, which is exactly what we wanted to do."

The Red Devils' unconventional target practice, along with their blazing team speed and some power-play production, helped them to a 4-2 victory over Wakefield. It was Burlington's first victory of the season over their Middlesex League rivals after the teams skated to a pair of ties in the regular season.

"We knew we could outskate them," said Cimino, who finished with a goal and two assists. "The two first two matchup we played were in smaller rinks, but this is a huge ice surface, a college ice surface, so we knew we could use our speed to go around them."

Burlington (17-2-6) dominated play from the get-go, outshooting the Warriors, 14-2.

The Red Devils also took a 1-0 lead to the room at the first intermission after sophomore Joe Scali popped in his first goal of the season. Joe Moran and Dan Metzdorf picked up helpers as Burlington got production out of its third line.

"We're a three- line team and all three lines contributed tonight," Conceison added.

Cimino, who had a strong game in all three zones, then had a hand in each of the Red Devils' next three goals.

First, the assistant captain set up linemate Brett Romkey for his 18th of the season. Cimino then lent an assist to C.J. Grinnell's wrist shot snipe, which came from inside the left wing circle and found a sliver of daylight above Cerulo's shoulder and underneath the crossbar at 12:38 of the season.

Cimino finished his three-point night by getting a stick on Grinnell's point blast on the power play. It was Burlington's second goal on the man-advantage of the evening while going 2-for-5 overall.

FROM YOUR OWN END OUT
Wakefield (12-7-6) showed some late life, however, nixing Derek DeCastro's shutout bid in the third. Eddie Matthews stuck on the power play at 9:37 of the third before Kevin Doherty picked up his second point of the game with a goal at 13:11.

But Burlington had simply controlled too much of the play, in addition to strong effort from the Red Devils' defensemen in front of DeCastro.

"I thought our defense played really well," Conceison said. "[Steve] Mattos and [Adam] Crowley and [Cody] Crocker, they were all really, really solid."

END OF THE ROAD
Warriors head coach Derek Edgerly was effusive in praise of his squad.

While admitting that he thought last season might have been the Warriors' prime chance at a state championship (losing to Marshfield, which came from behind in last year's title game), Edgerly's third trip to a section final game in six years as Wakefield's boss was an accomplishment in itself.

And it was in no small part due to the efforts of a couple of his senior leaders.

"Joe [Cerulo] is one of the best kids I've ever had and Kevin Doherty is one of the nicest kids and one of the best forwards I've ever seen."

RE-FOCUSING
It's often easy for Super 8 play-in game losers to fall victim to early-round upsets, but credit the Red Devils for collecting themselves and making a run to the Garden regardless.

Cimino gave credit to his teammates in their renewed conviction.

"Who wouldn't want to be in the Super 8, you know?" Cimino said of the experience. "But, after that, we took a pact with each other that we'll go all the way now. We said we're the best team in this tournament and we're going to the Garden. And now we did it."

And now the Red Devils have the biggest game of their season ahead with a matchup with South sectional champion Milton at the TD Garden on Sunday.
March, 8, 2012
3/08/12
1:44
AM ET
By
Matt Noonan
| ESPNBoston.com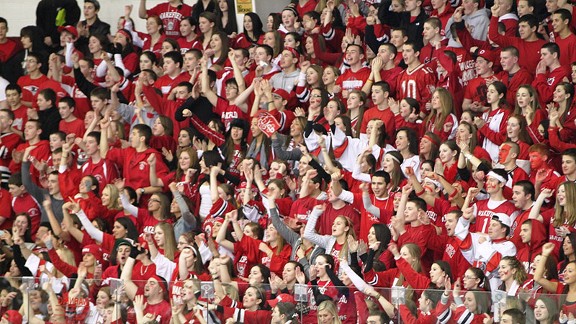 Ryan Kilian/Special to ESPNBoston.coWakefield's "Red Sea" were out in full effect to help the Warriors to a second-straight Division 1 North sectional final in a shootout win over Chelmsford on Wednesday.
CHELMSFORD, Mass. -- It was déjà vu all over again for the Wakefield Warriors, who escaped Wednesday's Div. 1 North semi-final clash by defeating Chelmsford, 2-1, in a shootout.
With the win, Wakefield once again earned themselves a spot in the sectional final, as the Warriors repeated their performance from a year ago. Wakefield also went to a shootout with Billerica in last year's semifinal.
"Down two periods all night, but we've been there before," Wakefield head coach Derek Edgerly said. "We've been down a couple games this year, [but] we just comeback fighting hard, and that's all it takes."
"It's called composure, positivity, keep your positive up all night and these kids just played excellent," Edgerly added. "What a great game."
Chelmsford notched the first goal early in the opening period when senior David DeDonato beat Wakefield senior goaltender Joe Cerulo (31 saves) before the Warriors answered in the third period with junior Daniel Cardillo, riffling the puck into the back of Lions' net, forcing overtime.
In the extra session, both teams chased the puck up and down the ice, but no resolution was found.
DeDonato eventually registered his team's first strike in the shootout.
Wakefield answered on their third attempt when senior Kevin Doherty beat Chelmsford's junior netminder Derek Noble, tying the shootout, 1-1. The Warriors then answered on their ensuing attempt when junior Alec Brown scored the clincher before Cerulo denied sophomore Jesse Lye.
"We go over shootouts every night in practice for 15 minutes because when it comes down to this end in a tournament, you've got to do your shootout," Edgerly said. "And one thing about these games, it's usually a blowout or it's an overtime win or shootout, there's nothing in between."
"We had a great year," Chelmsford head coach Mike McGrath said. "I would have to say if there was a word I'd use for these kids, it's adversity because we had kids out with mono, we had a lot of things where we were missing kids, and we battled through it, and peaked at the right time, and had a nice little run."
BURLINGTON 5, ACTON-BOXBOROUGH 1
After a sluggish two periods, the Red Devils offense exploded by tallying four goals in the final 15 minutes, which lifted Burlington past the Colonials, 5-1.
Senior Trevor Cimino registered his team's second goal 22 seconds into the final period before senior Brian Hood, junior Joe Berardi (1 G, 1 A) and sophomore Joe Scali (2 G) struck.
"[Dan McMahon] made a good play, dumping it into the zone and I just had a breakaway, put it home," Cimino said. "We got that first goal in the third period, [and] I think they kind of shut down because they didn't know what to do anymore."
"It took us two periods to figure it out," Burlington head coach Bob Conceison said. "They played Monday night, [and] I felt like we could wear them down in the third period, and I think that showed in the third period."
Burlington earned a one-goal advantage when Berardi connected with Scali late in the first period before Acton-Boxborough evened the score at 1-1 when senior T.J. Barrett wrapped around the cage and squeaked the puck past junior netminder Derek DeCastro for the score.
"I think he was disappointed in the goal that [he] let in," Conceison said of DeCastro. "It was kind of a funny late period goal that might have been in the nearside, but he made a big save on a break away at 3-1, it was a huge save for us. And Derek's that type of goalie, he comes up big in those situations when we needed and that was a big step, and we needed that, we really needed that."
A-B had chances to earn a lead, but solid defense and goaltending by Burlington helped them escape with a victory, and set up an exciting Division 1 North final against Wakefield, Monday at Tsongas.
"It will be fun," Conceison said. "I don't know [if our] crowd can outdo their crowd."
March, 24, 2011
3/24/11
4:59
PM ET
First Team

F - Colin Blackwell, St. John's Prep
The senior center and captain led the Eagles with 45 points (24 G, 21A) while earning MVP honors from the Catholic Conference. Playing on Prep's top lines, in addition to power play and penalty kill units, the Harvard commit was a +42 this season for the Super Eight finalists.

F - Brendan Collier, Malden Catholic
Collier was perhaps the most versatile player in the state. The junior BU commit scored the game-winning goal in the Lancers' Super Eight championship, but the winger was also a mainstay of MC's penalty kill units, playing defense. The Charlestown native tallied 63 points (24 G, 39 A) during the regular season while guiding the Lancers to their first D1A title.

F - Mike Vecchione, Malden Catholic
The Lancers captain and UNH signee led their potent offense with 70 points (26G, 44A) during the regular season. The senior winger also broke the Catholic Conference's all-time single-season scoring record during MC's run in the Super Eight. The Saugus native is looking at playing in either the British Columbia Hockey League or the United State Hockey League next year.

D - Connor Evangelista, Malden Catholic
The junior blue liner was perhaps the most underrated element to the Lancers' Super Eight title run. Whether it was through an outlet pass springing the rush or on the penalty kill, the Wakefield native did it all. Evangelista was among the state's top-scoring defensemen and contributed 25 assists during the regular season for the D1A champion Lancers.

D - Marc Hetnik, Catholic Memorial
The Knights senior was like having a fourth forward out there, who also readily handled the opposing team's top players night after night. The Chestnut Hill native is considering BU, Holy Cross and Merrimack among his college choices and is likely to play in the British Columbia Hockey League next year.

G - Kyle Williams, Central Catholic
The junior netminder spearheaded the Raiders' run to the Super Eight. With Williams carrying a bulk of the load, Central Catholic surrendered just 43 goals this season while posting a goal differential of +45. He was also a driving force behind the Raiders' Super Eight run and turned in a strong performance in a near upset bid against Malden Catholic.
"Line Change" Second Team

F - Tim Driscoll, Hingham
After scoring the winning goal in the Harbormen's Super Eight championship in 2010, the Holy Cross commit captained Hingham to a D1A return in 2011. The senior winger led the Harbormen with 34 points (12 G, 22A) during the regular season and is exploring opportunities to play a prep postgraduate year of hockey before enrolling at Holy Cross.

F - Ryan Fitzgerald, Malden Catholic
The talented sophomore was the fulcrum the Lancers' prolific top line, centering Collier and Vecchione. The BC recruit was MC's second leading scorer during the regular season, netting 66 points (24 G, 42 A) for the Super Eight champions.

F - Tyler Piacentini, Weymouth
The senior captain was the sparkplug to the Wildcats' Super Eight run. While he was often the smallest player on the ice, Piacentini was typically the most visible, letting his play to the talking. With a 61-point regular season (31 G, 30 A), he finished fourth in the state in scoring to MC's dynamic first line.
D - Chris Joyce, Needham
The senior blue liner was the Rockets' third leading scorer and a stalwart on defense who seldom left the ice. Joyce tallied 24 points in the regular season (7 G, 17 A) while leading Needham to yet another Super Eight appearance.

D - Alex Pompeo, Hingham
The senior was among the state's leading point-getters among blue liners and finished second on the Harbormen in scoring to Driscoll. Pompeo was an integral part of the Harbormen's Super Eight title run in 2010 and their repeat appearance in 2011.

G - Donald Hesse, St. Mary's (Lynn)
The Spartans netminder was among the state's leaders in all goaltending statistical categories, including a measly goals against average of 1.90 during the regular season. Hesse spurred St. Mary's to its first Super Eight appearance this season. The Salem native is considering playing hockey at several postgraduate prep schools next season.
Best of the Rest
F Garrett Allen, Dartmouth
F Mike Cashman, BC High
F Liam Centrella, Andover
F Tom Coleman, Needham
F Ryan Connors, Marshfield
F Liam Coughlin, Catholic Memorial
F Joe Czarnota, Reading
F Ryan Dempsey, Marblehead
F Ryan Doherty, Tewksbury
F Terence Durkin, BC High
F Kevin Emmerling, St. John's (Shrewsbury)
F Tommy Evangelista, Central Catholic
F Riley Flanagan, Weymouth
F Dan Graham, Arlington Catholic
F Anthony Hardy, Bridgewater-Raynham
F Mitch Hamor, Beverly
F Alex Holland, Woburn
F Jack Jenkins, Billerica
F Sam Kurker, St. John's Prep
F Chris Leblanc, Winthrop
F Nick Leonard, Central Catholic
F Conal Lynch, Boston Latin
F Chris Maguire, Waltham
F Jim McGrath, Medfield
F Dan O'Hear, Catholic Memorial
F Ross Olsson, Billerica
F Cam Owens, Wilmington
F Drew Oxley, Saugus
F Kurt Roderigues, Saugus
F Nick Roberto, Malden Catholic
F Jason Salvaggio, Xaverian
F Joe Scarfo, Winthrop
F Casey Shea, Woburn
F Devin Smith, St. John's (Shrewsbury)
F Andrew Taylor, Oliver Ames
F Zach Wells, Barnstable
F Andrew White, BC High
F Garrett White, Malden Catholic
D Steven Bellew, Hingham
D Steven Bristol, Weymouth
D Sean Kavanagh, Springfield Cathedral
D Cam Kennedy, St. Mary's (Lynn)
D Jake Kulevich, Marblehead
D Ryley MacEachern, Austin Prep
D Eric Muise, Peabody
D Alex Taddeo, Franklin
G Joe Cerulo, Wakefield
G James Cox, Braintree
G Peter Cronin, BC High
G Zac Rondeau, Springfield Cathedral
G Kyle Jacobs, Pembroke
G Chris Treon, Westwood
All Rookie Team (Top 5 to Watch for Next Year)
Shane Eiserman, F, St. John's Prep
Tyler Sifferlen, F, Malden Catholic
Tom Besinger, F, BC High
Sean Cleary, G, Barnstable
Nolan Redler, F, Winchester
Coach of the Year
John Flaherty, BC High
It took just one season for Flaherty, who took over for legend Joe McCabe, to get the Eagles back to the Super Eight after missing the playoffs in the previous two seasons. The BC High graduate guided the Eagles to a 15-6-3 record that included an appearance in the Super Eight crossover round. Flaherty also works at the school as its Director of the Fund.
March, 20, 2011
3/20/11
11:06
PM ET
By
Dan Hickling
| ESPNBoston.com


BOSTON -- To get his teammates pumped up for Sunday's Division I state championship game against Wakefield, Marshfield captain Chris Perry wrote the beginnings of a what would have been an impressive inspirational novel.

One he never got to finish, due to a the serious leg injury he suffered midway through the contest.

No matter. The Rams finished the epic for him, winning in masterful, come from behind fashion, 3-2, before a raucous crowd at TD Garden.

Sophomore Mike Carbone netted the game-winner with 1:31 left in the third period, two minutes after his linemate Connor McLean had tied the score 2-2.

Carbone's goal, a wicked wrister from the right dot, secured the Rams their second ever state crown, and first since 2006.

Carbone said Perry, who suffered a severed femoral artery in his right leg after a collision with Wakefield's John Sartell, was very much on his mind as he scored what proved to be the biggest goal in his life.

"He's my best friend," said Carbone. "That means a lot. But us winning the state championship has sunk in as much as it will tomorrow. Or a year from now."
Senior forward Ryan Connors echoed the thought.

"He was my center man," Connors said. "Since he couldn't be here, we wanted to get the win for him. He wrote a good speech to get us all going in the locker room. He wasn't there to give us another one after the game."

The Rams held a noticeable edge in play during the scoreless opening period.

Wakefield goalie Joe Cerulo passed the stiffest test of the stanza, when, at 10:31, he reacted to Joe Amirand's 10 foot deflection of Jon Fraser's point shot.

Cerulo, however, had no chance at all on Connors' fluky goal, which opened the scoring just 24 seconds into the second period. Connors was attempting to pass the puck out of the left corner to his younger brother Jimmy. Instead instead, he hit a perfect bank shot off of the leg of Warriors' defender John Sartell, leaving Cerulo (25 saves) with no time to react.

"I got pretty lucky," said Connors. "We were just doing everything we could to get the puck to the net. It just went our way."

The mood in the Garden was darkened, when, at 3:38, Perry, the club's top line winger, went down.

Perry was chasing the puck near the red line when he and Sartell collided, throwing Perry into the boards. Perry was inadvertantly gashed by Sartell's skate. After being tended to for about five minutes, was wheeled off, and taken to Massachusetts General Hospital for surgery.

"It looks like he's going to be okay," said a relieved Dan Connolly, Marshfield's coach, who relied heavily on Perry in all situations. "Up until that play he was our best player. He was unbelievable. He's the catalyst on our team. When our kids saw that, it was like, 'oh, no, what's going to happen now."



The loss of Perry knocked the Rams off stride, but not for good.

"He's a big player for us," said senior defenseman Pat Cull. "We knew he wanted it just as bad as we did. We knew we had to do it for him."

The Warriors knotted the score, 1-1, via Adam Giancola's power play goal, at 11:04.

Giancola cut to the right post, and when Rams goalie Kyle Moran (17 stops) kicked out Brett Buckley's attempt from the left side, Giancola pounced on the rebound and buried it. Giancola tallied again, 31 seconds into the third period, to give Wakefield its only lead, 2-1, after Alec Brown hit him with a nifty cross crease pass.
But with 3:35 left in the third, McLean rerouted Ty Martina's centering feed, to make it 2-2.

Then, with momentum, and inspiration, clearly in the Rams' corner, McLean hit Carbone in full stride with a pass up the right wing.

Carbone took it from there, motoring to within 25 feet before zipping home the winning goal.

"It was a really good shot," said Cerulo. "I have to give him credit. If I'd been out a few more inches, I would have had that."

Said Moran, his opposite number, "We knew that ewe had the heart, we'd be able to take it all the way. And we did."


March, 13, 2011
3/13/11
1:10
AM ET


BILLERICA, Mass. -- Wakefield boys' hockey head coach Derek Edgerly couldn't quite put his finger on it, but he knew he had something special with this year's team. Granted, having just five seniors and 12 sophomores on a varsity team doesn't often inspire visions of postseason glory, but he knew they had it.

"I knew these kids had it from day one," Edgerly said. "I don't know what it was about them."

The Warriors proved their coach to be right, toppling top-seeded St. Mary's of Lynn, 4-3, completing a surprising run to the Division 1 North championship Saturday night at Chelmsford Forum.

And it was one of its younger members that put Wakefield (14-6-4) over the top. Second-year forward Kyle Leone, who had two goals in the entirety of the regular season, had a career game with a hat trick, including the game-winning tally in the third period.

However, it was not done without another stellar performance between the pipes from junior Joe Cerulo. St. Mary's outshot Wakefield, 38-20, for the game, but the Warriors netminder repeatedly frustrated the Spartans' snipers with highlight reel stop after the next.

"I thought all our guys played well tonight," St. Mary's head coach Mark Lee said. "They were tenacious and, most of the game, they dominated.

"The story of the game was their goaltender, but I think we did everything we need to do to be successful to win today. They got it done when they had to and when we had to put the puck in the net, they didn't let us."

Wakefield was out of the gate first, scoring 3:12 in with Brett Buckley tipping in Kevin Doherty's point shot in front. The Warriors were on the board again just 35 seconds later with Leone tallying his first of the night, putting back a rebound off of a John Sartell shot.

The Spartans (14-5-3) regained a degree of momentum, carrying play for the final half of the period and outshooting the Warriors, 12-9. St. Mary's cut the lead to one on Christopher Surrette's first of the game with 6:08 remaining in the first.

Surrette tied the game two minutes into the second, squeezing one through Cerulo's arm, for his second goal of the game.

Wakefield came back to answer with 3:33 remaining in the period, with Leone netting his second of the game, again coming off a rebound. Alec Brown and Andrew Finocchio had the assists.

Once again, St. Mary's responded when Julian Yourawski snuck one in from the behind the net on a wraparound with 1:24 to play in the second.

However, the night belonged to Leone and he put Wakefield on top for good 38 seconds into the third, with Spartans netminder Donald Hesse experiencing déjà vu all over again, on a rebound put back.

"I just saw it, hit it and it was in the net," Leone said of the game-winner.

While the Warriors shocked the hockey world, they also may have surprised themselves.

"Coming into this season I knew we were a very young team, but I never thought we'd make it this far," Cerulo said. "But I'm very proud of my team because it was a good overall team effort."