Boston High School:

Joe DeMartino
June, 4, 2013
6/04/13
11:16
PM ET
By
Mike Scandura
| ESPNBoston.com
WALPOLE, Mass. -– As far as Walpole coach Bill Tompkins is concerned the longer the game and the tougher the opposition the better.

Tompkins' philosophy was underscored Tuesday when the top-seeded Rebels twice rallied for an 8-4 victory over No. 8 seed Barnstable in an MIAA Division 1 South quarterfinal game.

"You know I'm an advocate of nine innings," Tompkins said after the Rebels (19-3) came from behind for the second consecutive tournament game. "We play nine innings in the Bay State League and I think that's a huge factor for us –- a real huge factor for us.

"We're also a Division 2 club. We play Division 1 clubs all the time, nine innings. That's why I like to pop up and play (D-I teams). We can compete against these teams."

Besides the fact his team "competed," Tompkins paid the Red Raiders (13-7) a great deal of respect.

"That's the best team we've played this year," he said. "I was really impressed with that team. They ran, they were good hitters and they played good defense. That pitcher (Dan Holzman) was real tough. We knew he had thrown before and he was tough.

"We felt that if we could keep it close and work him into the late innings he might get tired or slow down a little bit. We also noticed he had more trouble throwing strikes from the stretch than he did from the windup. Our kids are battlers and they're nine-innings tested. We know it's a long ballgame and we can come back. We did it before and we did it today."

Red Raiders strike first: Barnstable nipped Walpole starter Tom Farrow for a first-inning run on consecutive singles by Dan Walsh, Dylan Morris and Terrence Muchia.

The Red Raiders scored twice in the fourth –- the highlight being Cody Pasic's booming triple.

But Barnstable got one run back in the fourth on Boston College-bound John Adams triple and Cam Hanley's groundout.

The Rebels tied it in the fifth on Ian Fair's double, Mike Rando's single and Bobby Ivatts single. But Barnstable took what proved to be its last lead in the seventh on Chris Fowler's double, a wild pitch and Walsh's single off reliever and eventual winner Nick Cordopatri.

Walpole exploded for five runs in the seventh on four hits, one walk, one error and a hit batter.

Ian Fair, who reached on a single, scored the tying run on a wild pitch.

Then Hanley delivered the key hit, a two-run single that produced a 6-4 lead.

"(Hanley) had the key hit but our lineup up and down produced today," Tompkins said. "Rando had three hits. Bobby Ivatts, who's been in a little bit of a slump, got a big hit. Obviously, Adams is a hitter. Fair got three hits near the bottom of the order.

"I thought Tommy Farrow kept us in the ballgame (he worked 6 1/3 innings and allowed four runs on nine hits replete with zero walks and five strikeouts). He's a battler. He mixes his speed. He's not overpowering."

Confidence not lacking: Barnstable coach Joe DeMartino expressed the opinion that from pitch one to pitch last, his team never was out of contention.

"We held our confidence the whole game," DeMartino said. "There were a couple plays that allowed them to score a few runs in one inning. But you couldn't feel it on our bench.

"We were confident. We had every thought in the world that we were going to win this ballgame. Unfortunately, it didn't turn out that way but you must give the guys credit for having that type of attitude."
May, 1, 2013
5/01/13
12:00
AM ET
By
Bob McGovern
| ESPNBoston.com
BRIDGEWATER, Mass. -- Voters flocked to the old Bridgewater-Raynham High School building to fill out their ballots. Meanwhile, across the street, B-R's Jack Connolly was campaigning to be the best sophomore pitcher on the South Shore.

Connolly pitched eight shutout innings against Old Colony League rival Barnstable High School (5-2) en route to an 8-0 victory. The young righty, who threw 119 pitches against the Red Raiders, had a battle plan heading into the game: Set things things up with the off-speed stuff, and then let the fastball fly.

"I try to keep them off-balance with the curveball, and with the fastball I just reared back and threw it as hard as I could," he said. "There was probably a good two- to three-mile-per-hour difference between my regular fastball and when I reared back. I felt really good."

Bridgewater-Raynham (7-2) manager John Kearney knew his ace would rebound after a forgetful outing against Marshfield on April 25, when Connolly only lasted two innings in a 10-3 loss.

"He was in the game today, he really was. He was really pumped up and in the game," he said. "I had a great feeling about Jack today. I just knew that, after that last start against Marshfield, he wanted to come out and just try to dominate the game."

The Trojan offense quickly got to Barnstable's Riley Ashe, who was coming off a no-hit performance against Falmouth on April 11. B-R put up four runs in three innings against Ashe, capped off by a Tyler Carey RBI double to deep center in the third.

Ashe had some control problems, walking three batters, while hitting two others with pitches that got away.

"He looked a little nervous, and I think our kids were really good about waiting him out and making him throw a lot of pitches," Kearney said.

Barnstable's Dan Holzman came in for long relief duty in the fourth inning and gave up four runs on five hits and four walks in four innings of work.

A Family Affair: While Connolly was pitching his best game of the season, it was his cousin, catcher Joe Freiday, calling the game from behind the plate. Freiday, a junior, said he considers Connolly the team's "virtual ace" at this point in the season.

"I've been catching for him my whole life, and we basically have it down to an art," he said. "His off-speed was really keeping them off big time, and he would just come back with that fastball. I've never seen him throw harder. He pitched a great game."

Connolly added that he feels a little more comfortable when he and Freiday are on the diamond together.

"Me and Joey have been playing together all of our lives, and we just have a lot of chemistry going on," he said. "He knows exactly what pitch I want, and I never have to shake him off. Whatever you see me shake off he tells me to shake off."

Connolly also has an older brother, Mike, who is currently playing college baseball for the University of Maine as a utility player. Mike Connolly was a team captain at B-R and played both shortstop and pitcher.

Their father, Mike Connolly Sr., was drafted by the Cleveland Indians in 1982 out of East Bridgewater High as a right-handed pitcher.

"There's some good bloodlines there," Kearney said, with a laugh.

Transformation Complete: Connolly spent most of his freshman year in the bullpen, and Kearney has used the beginning portion of this season to transition him into a starting role. Aside from the setback against Marshfield, Kearney is pleased with Connolly's development.

"Last year as a freshman he pitched in a lot of big games like this, but many of them in relief coming in with people on. He was so good. I needed him. Our staff wasn't really quite as deep last year," he said. "He is loose now. He's ready to get in there and start for us the rest of the way. I knew he would be primed for this one."

On the Rebound: While the loss to Bridgewater-Raynham was a setback for Barnstable, manager Joe DeMartino said he expects his team to bounce back for their next game against Nauset on Wednesday.

"I think more often than not, coming off a tough loss like this, guys show up mentally prepared. But I'm going to wait and see what they look like tomorrow before I confirm that suspicion," he said.

The Trojans were the first team to shut-out Barnstable this season, but DeMartino felt his squad was swinging the bat well. The Red Raiders had seven hits and drew five walks but were never able to string enough together to get into an offensive rhythm.

"For the most part, I think our approach at the plate was not bad. We swung the bats and a few times took pitches we shouldn't have," DeMartino said. "When a guy is on like that, and he's throwing his good stuff, it's hard to compete with."
April, 12, 2013
4/12/13
1:18
PM ET
By
Brendan Hall
| ESPNBoston.com
When it comes to pitching efficiency, you can't get much better than this.
Barnstable junior righthander Riley Ashe tossed a no-hitter in a 6-1 win over Falmouth yesterday in just his second varsity start, striking out three and needing just 63 pitches -- count that, 63 -- to accomplish the feat. On top of that, Ashe threw just 18 balls total, with no walks.
[+] Enlarge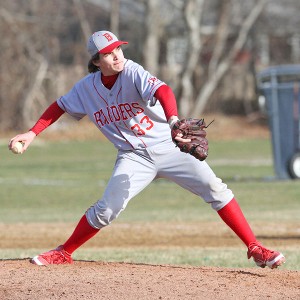 Eric Adler for ESPNBoston.com Riley Ashe struck out three in his no-hitter.
"He was just throwing strikes, the pitch selection was incredible," Red Raiders head coach Joe DeMartino said. "Our catcher Jack Harrington called a fantastic game. He went to a full count on the second hitter of the first inning, and never went beyond two balls [in a count] the rest of the way -- and he only threw two balls to three more guys."
That stands in stark contrast to past pitching performances. A year ago at this time, the Raiders sparked a bit of controversy across the state and beyond when staff ace Willie Nastasi, now a freshman at UConn, threw 155 pitches in a 16-strikeout, three-hit win over Taunton.
One thing is clear: DeMartino lets his pitchers pitch, because they come in all shapes and sizes. Whereas Nastasi was an overpowering fireballer at 6-foot-5, with leg power built for the long haul, Ashe relies more on precision with his wiry 6-foot, 170-pound frame. In his first start of the season, a win over rival Dennis-Yarmouth, Ashe needed only 80 pitches to go the distance, striking out two.
Averaging nine pitches per inning yesterday against Falmouth, and using just two pitches -- his fastball, and a slurve -- Ashe threw consistently to contact, with 11 outs coming on fly balls. He also benefited from a staunch defense -- three of those 11 fly-outs were diving catches in the outfield, including the game-ending dive from leftfielder Ryan Litchman. UMass-bound centerfielder Dylan Morris also recorded seven putouts in the winning effort.
So what's Ashe's secret? It may lie in an unorthodox motion that hides his pitches late, dropping his throwing arm then coming up and over with what looks a high arm slot.
"He throws 83-84, he's not gonna really blow you away but it's sneaky quick because he hides it well," DeMartino said. "Guys were out in front, popping it up or hitting weak grounders."
June, 10, 2012
6/10/12
11:58
PM ET
By
Brendan Hall
| ESPNBoston.com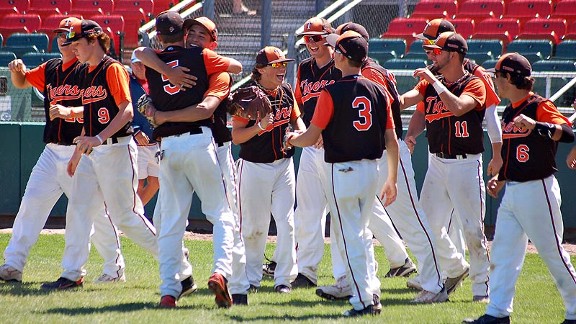 Brendan Hall/ESPNBoston.comTaunton made a philosophical change following a beating from Barnstable at the end of the regular season. The Tigers turned around and beat the Red Raiders to advance to the D1 South Final.
BROCKTON, Mass. – The first time Old Colony League rivals Taunton and Barnstable squared off, in late April, Barnstable hurler Willie Nastasi struck out a career-high 16 batters, and later ignited some controversy nationally with his 155-pitch count.
The second time the two battled, on the last weekend of the season and with the outright OCL title on the line, Barnstable wasted the Tigers, 14-2.
Meeting No. 3, in the semifinals of the Division 1 South tournament this afternoon at Campanelli Stadium was...well, to call it a charm wouldn't be just cliché. It'd be unfitting.
The UConn-bound Nastasi was brilliant again on the hill for the Red Raiders, fanning eight and scattering just two hits in 7.1 innings of work. But the Tigers deployed some of the same small-ball principles that won them two games in this tournament already, and got stellar defense behind starter Danny Pedro, to squeeze out a 3-0 win and advance to tomorrow's South final.
Eighth-seeded Taunton (18-5) will face No. 15 seed Xaverian (15-8) in tomorrow's final at Braintree High, at 4 p.m. Barnstable ended its season 16-5.
"This, it can't any better for the team," Taunton head coach Jeff Sylvia said. "We played with confidence. They know us, we know them. I think they woke us up the last time we played them [the 14-2 loss], and we've changed that philosophy since that game a little bit. The pitching was great, defense was great, and we got timely hitting today, which was huge."
Part of that philosophical change has been a more aggressive approach in the batter's box and the basepath. In the Tigers' first-round win over Braintree, for instance, Zach Grady took two bags on a bunt, beating the tag at third base with a head-first slide; he was brought home the next at bat with a Joe Walsh blast to center, making it 2-0 and shifting momentum in their favor.
This afternoon, Walsh was pivotal again. The Old Colony League Co-MVP took a Nastasi pitch off his back on the first pitch, to lead off the bottom of the fourth inning. On the very next pitch, Matt Maclean hit a shot to deep center, and Walsh sprinted all the way from first to home.
"I was pissed I didn't get to hit, that's the first time I've gotten hit all season," Walsh laughed. "But we had faith in our four-hitter [Maclean], and I knew he was going to come through."
Walsh gave the Tigers insurance in the eighth. First, Travis Ritchie slapped a slow roller into the infield grass, but beat out the potential 3-1 putout at first to score Grady. Two at bats later, Walsh planted a first-pitch slider into right field to score Ritchie, before getting thrown out at second on a 9-6, trying to take an extra base, for the second out of the inning but a 3-0 lead.
"I had struck out on it at home [last month, on that pitch]," Walsh said. "I knew I had that pitch. I knew whatever he was throwing me on that first pitch, I was ready to hit."
Said Sylvia, "Joey Walsh has been doing that for us all year. He's been an RBI machine. He's big. He was the right guy on at the right time."
Pedro Productive:
Sylvia said he was looking for six innings out of Pedro today. The junior righty ended up giving them seven, scattering five hits while walking one and fanning two.
Pedro's best inning might have been the second, when the Raiders loaded the bases up on a walk to Derek Estes. After Estes walked, Pedro jammed Dennis Beynor with a 1-1 fastball that trickled to shortstop Chris Roumbakis, who easily made the inning-ending 6-4 play.
Walsh said Pedro's fastball was moving today "better than I've ever seen it before."
"Danny Pedro pitched outstanding today," Sylvia said. "He kept the ball down, pitched ahead of hitters. We wanted six, he gave us seven, and then Matt Nunes came in and did the job...Getting out of that [second inning] gave us a lot of confidence."
Rumblin' Roumbakis:
When Roumbakis fumbled an Everett Walsh grounder to his left in the top of the fourth, allowing the No. 6 hitter to reach safely, it was his first error in three playoff games. And that might have been the only time in these playoffs he didn't field the ball cleanly; the senior shortstop, known for his fancy back-handed snags, has been phenomenal throughout the postseason.
"I think he got eaten up a bit with the top spin on the left hand, but we'll take it," Sylvia laughed. "He makes every other play."
Sylvia continued, "He's been my starting shortstop since his sophomore year, and he's done really well. Again, our strength is defense. We put it together today, and hopefully we can keep it going."
Nastasi goes out on top:
In two starts this year against Taunton, Nastasi has struck out 24 batters and allowed five hits in 15 innings. Mixing in his off-speed with his high-80's fastball cleanly, it was an effort that he won't soon hang his head.
"He did exactly what we needed him to do," Barnstable head coach Joe DeMartino said. "Our pitchers, especially Willie and Keegan [Dellacona], they go out and they give us a chance to win. We just didn't get it done today."
Dellacona came in to relieve Nastasi in the eighth, and DeMartino said afterwards, "I knew he could handle 30 or 40 pitches, and come back tomorrow if we made it."
June, 7, 2012
6/07/12
12:51
AM ET
By
Brendan Hall
| ESPNBoston.com
HYANNIS, Mass. -- Keegan Dellacona had been itching for another crack at it since his last playoff appearance with Barnstable, some two seasons ago when the then-sophomore got tossed around by Catholic Memorial for a quick exit in a 19-0 loss.

But part of Dellacona's pre-game routine involves blasting heavy metal on his headphones, so naturally he might have been a little too fired up. Especially after fanning 14 batters in a complete-game win that gave himself goosebumps.

"The anxious factor really gets to you sometimes," he said, stumbling over his words. "When you get anxious is when you start making mistakes and, you've got to take it one pitch at a time. You've got to be...not really think that much, but try and keep them off-speed, I mean, off-balance at the same time."

Then he cracked a smile -- "I mean, I'm still hyped up, I've still got the adrenaline in my body, so I'm stuttering here."

The 6-foot-3 senior turned in one of his best performances of the season in going the full nine, allowing just three hits in addition to the 14 K's, as the Red Raiders advanced to Friday's Division 1 South semifinals with a 5-0 win over Framingham.

And try as he might, he couldn't stay calm.

"I try not to get hyped up [before starts], I try to keep to myself," Dellacona said. "But I was really excited for today. Sophomore year, Catholic Memorial shelled me -- I was horrible -- so I was really anxious for today, to get back out here in the playoffs and do good."

Meanwhile, the bats of the Red Raiders (16-4) gave Dellacona plenty of run support against a Flyers (12-8) squad still beaming from a shocking upset of state championship contender BC High yesterday afternoon. Mark Brodd and Sam Holway each stole a base to start off the bottom of the second, and Dennis Beynor blasted a two-out single to the left-centerfield gap to send them both home and make it 2-0.

The Raiders plated two more runs in their next trip up, with Everett Walsh hitting a sacrifice fly to right, followed by a Brodd RBI single. Walsh popped another sac-fly to right in the fifth for the 5-0 advantage.

Dellacona retired the final 17 batters he face in succession to pick up the win, and he did it with an efficient combination of a hanging curve and two-seam fastball with some late life.

"His two-seamer had some run on it today, so he was eating the outside corners," Barnstable head coach Joe DeMartino said. "Just throwing it, and having to come back over the plate. Those guys looked like they'd never seen a two-seamer like that before, he could put it where he wanted it today."

Dellacona's outing is the second straight complete-game outing for the Raiders in as many playoff games. UConn-bound righthander Willie Nastasi, who struck out seven and allowed five hits against Catholic Memorial on Saturday, will get the nod Friday night at Quincy's Adams Field, against the winner of tomorrow's quarterfinal between Franklin and Taunton.

Heist in Hyannis: The Raiders stole second a whopping eight times to manufacture the runs -- including five times over the second and third innings alone, and two each from Morris, Brodd, and Tyler Adams. DeMartino said after getting a look in the first inning, when Dylan Morris dove into second cleanly, he put on the green light.

"We try to at least get a look early," DeMartino said. "We happened to get one in the first inning, and it was apparent we could take bags, so we kept on going."

Like Framingham, the Raiders also belong to a league that plays nine innings with wooden bats. How much did those games -- where small-ball tactics are often deployed in lieu of the lighter amount of hits -- condition them for these playoff-type games?

"I think ever since I got in here, we wanted to do those little things correctly," DeMartino said. "Once you get a guy on, if there's no outs get him over and try to get him in. We practice that a lot. It helps, and it's apparent that we do practice that, because we got it done [today]."

Flying High: The Flyers came up goose-egg this afternoon, but after yesterday's turn of events, can you blame them? Led by a lights-out performance from ace Johnnie Lacy on the mound, Framingham delivered the upset uppercut of the MIAA tournament -- and, possibly, the year -- with a 3-2 win over Catholic Conference juggernaut BC High, a team many had pegged as a favorite for the Division 1 state championship.

"That's a win these kids are always going to remember, let's face it," head coach Dan Avery conceded. "Lacy was phenomenal yesterday, pretty much dominated, just really gave intensity. We looked tired, but you know, you get a win like that, you expound a lot of energy.

"I'm afraid of saying something like that and taking away from them [Barnstable], because they're a good-looking team. I didn't see any weaknesses -- if you saw them, I don't know where they were."
June, 3, 2012
6/03/12
8:48
PM ET
By
Eric Adler
| ESPNBoston.com
HYANNIS, Mass. -– The Barnstable baseball team knows that it only needs to put up a couple of runs at most when Willie Nastasi is on the mound. But with their lives on the line in the first round of the MIAA Division 1 South tournament, they made sure to give their senior ace plenty of support.
[+] Enlarge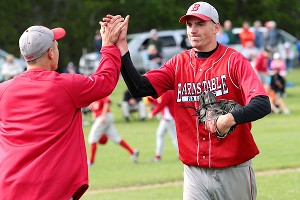 Eric Adler for ESPNBoston.comBarnstable ace Willie Nastasi had another solid outing, going the distance while striking out seven and scattering five hits against Catholic Memorial.
The Red Raiders scored six unanswered runs –- including four in the fifth –- to back a solid, complete-game effort by Nastasi, who struck out seven and yielded just five hits and a walk to lead Barnstable to a 6-1 victory over Catholic Memorial this afternoon.
No. 4 seed Barnstable improves to 15-4 and will take on the winner of BC High and Framingham in the quarterfinals on the Cape Tuesday. No. 13 seed Catholic Memorial bows out with a 12-9 record.
"The team has a lot of confidence in Willie, so much so that if we just get two runs, we feel like we're more than likely going to win the game," Barnstable coach Joe DeMartino said. "We know Willie is going to give us a great game, so it's all up to our bats after that."
The Red Raiders' offense has been spotty at times this season, and worse, they were facing a formidable foe in Catholic Memorial starter Patrick Hurley, who tossed a seven-inning no-hitter in his previous start against Brockton (May 21). But that didn't deter them from winning their third straight opening-round playoff game.
Everett Walsh and Sam Holway had two hits each for Barnstable, which hammered out 10 hits altogether and eight off Hurley, who fanned five and walked four over five-and-two-third innings.
"Patrick wasn't at his best today, but our defense didn't help him at all," Catholic Memorial coach Hal Carey said. "We knew we were playing a very good team with a very good pitcher and that we'd have to play close to perfect to win, but we made too many errors. We hit the ball OK, but they made every play. Their defense was much better than ours."
Nastasi, who struck out 16 batters in his now infamous 155-pitch effort against Taunton earlier in the year, was coming off a rare loss in his previous outing vs. Dennis-Yarmouth (May 24). But in a do-or-die setting, he wasn't about to let his team down.
"I definitely felt a little more pressure in this game because it's the state tournament," said Nasasti. "I was anxious all day and had a lot of adrenaline going between innings, but I felt like I needed to get the job done and I did."
The Knights did their best to rattle Nastasi from the start.
Kevin Murphy smacked the first pitch of the game to deep right for a triple and came home two batters later on Sean Heelen's sacrifice fly. But that's all the visitors could come up with against the UConn commit.
Nastasi retired 11 of the next 13 batters, and in between, picked off a runner at first.
"Early on, I couldn't throw my cutter for a strike and I couldn't get my change-up where it needed to be, but working in the bullpen between innings helped," said Nastasi. "Playing catch allowed me get more comfortable with the grip."
Barnstable knotted the game in the third when Tyler Adams reached on a fielder's choice, moved over two bases on Dylan Morris' hit to left and an error on the same play, then dashed home on a wild pitch.
In the fifth, the Red Raiders opened the floodgates. Dennis Beynor and Luke Besse drew walks before Adams executed a perfect bunt single down the third base line. Morris was hit by the very next pitch to plate the go-ahead run.
Walsh grounded into a 4-6-3 double play, but was able to bring home Besse. Mark Brodd followed with a run-scoring double to right, and Walsh capped the attack with an RBI single in the same direction to give the Red Raiders a commanding 5-1 lead.
Barnstable added its final run in the sixth thanks to back-to-back errors by the Knights –- one in the infield and one in the outfield -– allowing Besse to score.
The production proved more than enough for Nastasi, who got out of a two-on, one-out jam in the eighth, and induced a pair of ground balls plus a pop-up in the final frame to secure the win.
"Anybody is going to have a tough day against Willie when he's on, and he was on today," said DeMartino.
Nastasi's fielder's were also at the top of their game. Adams (at second base) and Derek Estes (at shortstop) finished with four assists, and Brodd (the third baseman) helped record the final two outs of the eighth.
As satisfying as the win was against CM, which blasted Barnstable 19-0 in the tournament two years ago, the Red Raiders put it past them shortly after the final put out.
"The last two years we've won the first game in the states then got bounced, so we know we've got some work to do, but we've got pitching," said DeMartino, who will hand the ball to strong-armed senior Keegan Dellacona on Tuesday. "And pitching is the best way you can win in the tournament."
May, 31, 2012
5/31/12
1:28
PM ET
By
Brendan Hall
| ESPNBoston.com
After Jesuit (New Orleans) pitcher Emerson Gibbs and Archbishop Rummer (Metairie, La.) pitcher Mitch Sewald combined for 347 pitches in a recent high school game, ESPNHS' Matthew Muench discusses pitch counts with world-renowned orthopedic surgeon Dr. James Andrews, in an article posted today in
ESPNHS' baseball section
.
In the article, which you can find by
CLICKING HERE
, Muench also talks to Barnstable senior righthander Willie Nastasi, a UConn signee who ignited some local controversy last month when he threw 155 pitches in a 16-strikeout, nine-inning performance over Taunton. His effort
also sparked a roundtable discussion on ESPNBoston.com
.
Nastasi reaffirmed that he doesn't regret the high pitch count, but probably wouldn't do it again:
Two weeks later, another young pitcher was piling up the pitch count in Massachusetts. Barnstable (Mass.) senior ace Willie Nastasi threw 155 pitches in a nine-inning, complete-game victory over Taunton (Mass.).

Nastasi, who struck out 16 in the game, said he doesn't regret the high pitch count but does agree that 155 is a little too steep for his comfort.

"Looking back, yes it probably was too many pitches and I won't do it again," said Nastasi, who is signed to play for UConn next season. "But I also look back at that game and remember that I stayed strong throughout the whole game. I really felt great and had no fatigue."
Raiders head coach Joe DeMartino also discusses with Muench his decision to leave Nastasi in for the win -- which turned out to be a crucial one, as the Raiders pounded Taunton in their rematch to finish the Old Colony League schedule one game up, and therefore winning the league outright.
All three pitchers felt no pain beyond the usual soreness. And they all continued to pitch this season.

"I felt fine the whole time before and after," Nastasi said. "But I will say, if I was tired and if I felt like my arm was getting tired I think I am smart enough to know to take myself out. That just wasn't the case that game."

His coach, Joe DeMartino, agreed.

"He didn't look like he was pressing, and in my mind he was looking really strong as the game went on," he said. "I was confident in my decision. And I still am."

DeMartino said he always kept Nastasi's health a concern during the game and repeatedly asked his young pitcher if he was OK to continue.

"It's a tough call," he said. "Any coach who has been in my position knows the feeling. But I know what Willie is capable of and I know he works hard and has great mechanics. The key in all this is a coach should know what their pitcher can and cannot do. I can tell when a pitcher is getting tired. I would have had no problem pulling him if I felt he wasn't good to go."
May, 26, 2012
5/26/12
9:48
PM ET
By
Mike Scandura
| ESPNBoston.com
TAUNTON, Mass. -– If all of Barnstable coach Joe DeMartino's predictions prove to be as accurate as the one he made Saturday morning, perhaps he should consider playing the state lottery.

"At batting practice this morning before we drove up here, everybody was stroking the ball," DeMartino said after Barnstable belted Taunton, 14-2, in an Old Colony League game. "I had a feeling that we were going to come out of our shoes, so to speak, and kind of let the bats loose and that's exactly what happened.

"We had a great batting practice. There wasn't any joking around. Everybody was serious. They had a great BP and I said to my assistant coach right after batting practice 'I think these guys are going to really swing the bats today.' "

Swing the bats, indeed.

Barnstable (14-4, 5-1), who clinched the league title, sprayed 15 hits around Taunton's field and broke the Tigers' 11-game winning streak.

Leading the way were designated hitter Sam Holloway and third baseman Mark Brodd.

Holloway was 4-for-4 (which included one double and a two-run homer) with two runs scored and four RBI.

Brodd was 4-for-6, including a double, with three runs.

Luke Besse chipped in with a single, double and an RBI while Dylan Morris added a two-run single.

"Sam's been our DH and has had a little bit of a down year," DeMartino said. "But he looked good at batting practice this morning."

Key Hits: The Red Raiders led 6-1 entering the fifth when Holloway smacked his two-run homer.

Then, after Taunton (14-4, 2-2) failed to score in its half of the fifth, Barnstable erupted for a quartet of runs in the seventh which was highlighted by Morris's two-run single.

As impressive as the Red Raiders were at the plate, the same was true of their pitchers –- especially Keegan Dellacona.

Dellacona relieved eventual winner Pete Liimatainen (who served up solo home run to Joey Walsh in the third plus two singles to the Taunton catcher) in the sixth with one run in and a Tiger on third and two outs.

He retired Matt MacLean on a fielder's choice and went on the earn the save by tossing 3 1/3 innings of one-hit scoreless relief replete with zero walks and two strikeouts.

"Keegan's been a starter for us and he's pitched great all year," DeMartino said. "He threw 99 pitches on Wednesday so I knew he had a little more left in the tank. That's what I was looking for him to do, come in and shut it down and kind of win the game for us.

"He's a kid that can throw a lot of pitches a lot of the time so I knew exactly what I could get from him and I was confident with him."

Who Needs Rest? The fact Dellacona worked on only two days' rest made his performance even more impressive.

"I took a no-hitter into the ninth inning against Dartmouth, one of our league rivals, and ended up blowing it (i.e. the no-hitter because Barnstable prevailed, 3-1)," Dellacona said. "Everybody knows that I kind of have a rubber arm. I have since Little League. I was playing catch with my dad (Jim Dellacona) since I could play catch.

"I got used to taking care of my arm and it's been very good to me. I'm grateful for that and, hopefully, I don't run into any problems."

Celebration Time: In retrospect, the Red Raiders had few problems capturing a rare Old Colony League championship.

"This is my fourth year coaching and this is our first championship since then," DeMartino said. "I don't think we've won it in six or seven years.

"This was a big one for me personally but it was a really big one for our team. We've had a couple of good years but got bounced from the tournament in the second game a couple of times. So, it was a good job. These guys played well and they deserved it."
May, 14, 2012
5/14/12
11:09
PM ET
By
Eric Adler
| ESPNBoston.com
HYANNIS, Mass. -– There were no words of wisdom, motivational message, or encouragement of any kind that Barnstable baseball coach Joe DeMartino offered pinch-hitter Tim Biliouris with the game on the line. He simply inserted his back-up first baseman, certain that the senior slugger would work his magic.
[+] Enlarge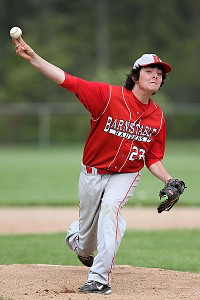 Eric Adler for ESPNBoston.comSenior righthander George Bent went the distance for Barnstable, scattering five hits and striking out nine.
With his coach's confidence behind him, Biliouris came through in the clutch, hitting a two-run single back up the box in the bottom of the seventh as the Red Raiders rallied for a 4-3 non-league win over New Bedford under cloudy skies on the Cape Monday.
DeMartino had eight other subs he could have called on to get the job done, but the decision to send Biliouris to the dish was an easy one.
"Tim has had a bunch of big pinch-hits for us the past couple of years, so I trust him in any situation to go up there and put a good swing on the ball, and he did," said DeMartino. "He's done it before so I knew he could do it again."
Biliouris' heroic hit made a winner out of classmate George Bent. The fast-working righty scattered five hits, two walks and struck out nine batters. He was also superb down the stretch, retiring the final nine batters he faced, six by way of the K.
"We've gotten walked-off twice this year [against Falmouth and Bridgewater-Raynham] and it felt awful, so it's nice to be on this side of it for a change," said Bent. "It's pretty awesome."
Righty Mike Rapoza absorbed the tough-luck loss for New Bedford. Up until the fateful final frame he carried the Whalers, allowing just six hits while also collecting two himself, including a towering two-run home run in the first inning.
"They got that bomb in the first, but we said we weren't going to let that sink us," said Biliouris. "We just kept chipping away and chipping away, and we got it done."
Barnstable (10-3) wasn't nearly as challenged in its previous meeting with New Bedford, cruising to an 8-0 win on April 5. But the Whalers (10-4) have improved ten-fold since then and came into Monday's match-up having won six of their last seven games.
New Bedford seemed intent on getting revenge and continuing its red-hot streak right from the start. Speedster Jon Finnerty connected to deep left and pulled in for a sliding triple, followed by Rapoza's 370-foot blast to left-center that gave the Whalers a 2-0 first-inning lead.
The Red Raiders cut the deficit in half when Luke Besse (2-for-3) singled in the home half of the first, moved over two bases on a botched pick-off and scored on a wild pitch. The Whalers got the run back in the third when Rapoza doubled to left and scored on Ricky Moraes' single to the same field.
Barnstable closed the gap to 3-2 in the fifth thanks to Dennis Beynor's sacrifice fly that plated Everett Walsh, giving the hosts a little hope.
In the seventh, Walsh ignited the Red Raiders' rally, drawing a one-out walk. Sam Holway then smacked a double to left, setting the stage for Biliouris.
After working the count to 2-1, Biliouris connected on a hanging curveball that skipped over second base, just past the diving glove of shortstop Chandler Debrosse for the game-winner, the first of his career.
"I've been called on to pinch hit for two years now, so I know you've got stay focused, keep it simple and try to rip it up the middle just like I did," said Biliouris. "We were on him [Rapoza] all day, it was only a matter of time until we got to him."
Barnstable wouldn't have been in a position to come back if not for Bent, who settled down after a shaky start. He struck out the side in the fifth before working a 1-2-3 inning in the sixth and seventh.
"When Rapoza hit the home run I just said 'whatever, I can't change it,' so I've got do what I can to help my team win," said Bent. "As a a pitcher, you've got to have a short memory."
Taking the advice of his coach to "stop throwing fastball over the plate," Bent used his curveball on "85 percent" of his pitches over the final few innings. "I was able to hit the outside corner with it and it that was huge," said Bent.
DeMartino was particularly proud of his playoff-bound club responded with its back against the wall.
"At the beginning of the season we really struggled to keep our focus throughout every inning," he said, "but we're coming into our own as a team now and are learning how to finish games."
April, 26, 2012
4/26/12
11:34
PM ET
By
Tom Layman
| ESPNBoston.com
BRIDGEWATER, Mass. — In John Kearney's mind, Bridgewater-Raynham was playing with house money.

The Trojans had battled back from a four-run deficit to tie things up in the bottom of the ninth, and that was before Mike Bruemmel came to the plate with two outs in the inning.

With Jack Connolly on second base, Bruemel stung a liner into left field in front of strong-armed Dylan Morris. As Connolly was rounding third base, Morris bobbled the ball and wasn't able to catch the speedy freshmen to finish off a 5-4 comeback home victory for the Trojans over Barnstable.

Having extra-innings already in his back pocket made the decision to send Connolly, with or without the bobble, an easy one for the Trojans.

"It's tied already, so you take the chance," Kearney said of the last play of the game. "All of their outfielders have excellent arms. The leftfielder has a very good arm and that little bobble is all it took. We had a little bit of speed on second with Connolly. But being tied, we take that chance. If he gets thrown out on a great throw we go extra innings. Down a run, I don't know if we go. I don't know. We might not if we are down one."

The Trojans are now 4-5 overall and grabbed a huge win in the Old Colony League to push their record to 2-0. The Red Raiders drop to 7-2 and 1-1 in a conference that has been neck-and-neck between these two teams for the past couple of seasons.

Bruemmel's Game-Winner: Kearney has noticed his junior centerfielder scuffling at the plate after a nice start to the season, and this game might have been a microcosm of Bruemmel's season.

Bruemmel was 0-for-4 in his first four plate appearances, while going 0-for-2 with a runner in scoring position, but jumped on the first pitch he saw from reliever Dan Holeman to get the game-winner.

"First few games of the year that's what he was doing for us. Then he had a couple of games when he was trying to find himself," said Kearney. "The past couple of games he's been right back. This is his third year with us. I brought him up as a freshman. That's the kind of kid he is, a clutch kid. A really clutch kid."

Bruemmel didn't feel like waiting around in his last at-bat.

"It was a straight fastball, chest high," Bruemmel said after his first career walkoff. "I just went for it and took it to left."

Bullpen Shows Rust: The Barnstable starters have been so good for the Red Raiders this season that Joe DeMartino's bullpen has been used minimally.

It looked like his bullpen would have to wait another day with the way Keegan Dellacona was dealing. Dellacona held the Trojans scoreless through 8-1/3 innings, but after two singles by the bottom and 133 pitches, DeMartino gave him the hook.

Dellacona scattered seven hits and gave up two earned runs with six strikeouts and two walks in 8.1 innings of work.

"I had told myself that if (Dellacona) gets into trouble in the ninth then I was going to pull him," said DeMartino. "The bullpen needs work, and they haven't been able to get into games."

The Trojans made the bullpen pay as they put five of the next six guys on to secure the comeback victory.



April, 25, 2012
4/25/12
12:13
AM ET
By
Eric Adler
| ESPNBoston.com
HYANNIS, Mass. -– In the very first at-bat of his first career varsity start for Barnstable High, Willie Nastasi did something that most high school baseball players can only dream about.
He stepped to the plate, dug in, took a big swing and sent a two-run shot over the right field fence at Attleboro High, propelling the Red Raiders to a 10-3 victory over the Bombardiers.
It was a surprising smash from the freshman catcher, who had been called up from the JV just a few days earlier. And it was an impressive one, which not only caught the attention of his coaches, his teammates and the opposing players, but a Chicago White Sox scout who happened to be at the park that day.
Three years later, Nastasi is still raising eyebrows, only now he does it with a ball in his hands instead of a bat.
The star senior righty, who signed with UConn last November, has been the ace of the Barnstable staff since converting from catcher to pitcher his junior year. Last spring, he was named co-pitcher of the year in the Old Colony League, and this season he's off to a strong 3-0 start with 28 strikeouts in 21 innings.
[+] Enlarge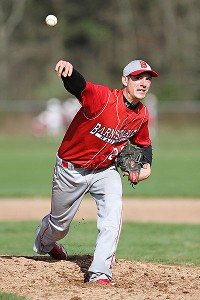 Eric Adler for ESPNBoston.comBarnstable righty and UConn commit Willie Nastasi is off to a strong start, fanning 16 batters in Tuesday's win over Taunton.
"Willie looked great behind the plate his freshman and sophomore years, but with his strength and his 6-foot-3 frame, he was destined to be a pitcher," said Barnstable coach Joe DeMartino. "After he put that one out against Attleboro, the White Sox scout came up to me and wanted to know all about him. I knew back then that Willie was going to eventually become a pitcher, but it goes to show just how much of a natural athlete he is."
He's also a cutthroat competitor.
By his own admission, Nastasi lives off his four-seam, two-seam and cut fastball, but he's also got a tricky circle change-up and sharp 12-6 curveball to boot. With a wide range of weaponry, he sees himself as the dealer and the house, and has the percentages on his side. All he has to do is use the cruel odds of the game to torment hitters.
"Every team I face I want to dominate," said Nastasi. "When I'm on the mound, I always have a good confident feeling. I know what I'm doing out there and I trust that my team has my back. I have the mindset that I'm the best on the field and I'm going to do whatever I can to win."
A pair of teams in the Atlantic Coast League can certainly attest to Nastasi's ironclad confidence.
In his season debut a few weeks ago, he took a no-hitter into the sixth inning against Falmouth and finished with four strikeouts in Barnstable's 8-4 win over the Clippers. He followed that with an 8 K, four-hit effort as the Red Raiders downed Dennis-Yarmouth, 5-3.
Nastasi's ability to throw good pitches, mix them up and hit his spots have been the keys to his success. But many times, he has batters beat long before the ball leaves his hand thanks to a deliberate delivery that's predicated on rhythm and tempo.
He begins his throwing motion holding the ball with both hands at his waist, then raises both arms high over his head (and a little behind it), kicks up his right leg, reaches back and fires away. It's almost as though he's pitching on a metronome.
"It's a little bit of funky, old-school motion yet he hides the ball real well," said DeMartino. "When the ball comes out of his hand, it sneaks up on you. He's throwing in the mid-80's, but the way he hides it, it looks like it's coming at you ever harder than that."
What's more, Nasasti's experience as a backstop has given him a distinct advantage on the bump. Said DeMartino, "He can read hitters, and he has a good feel of what pitches hitters are expecting and when to throw them. He's got a little more knowledge of the game than the average pitcher."
Nastasi's immense skill set was on display Tuesday when he struck out a career-high 16 batters in a complete-game, nine-inning victory to lead Barnstable (6-1) to a 3-1 victory over Taunton in the OCL opener for both teams.
Simply put, Nastasi was nasty.
He tied the Tigers in knots, allowing just three hits, three walks and one unearned run while throwing a career-high 155 pitches. It was even more amazing considering it had been 15 days since he pitched in a live game.
"This was one of Willie's more gutsy performances," said DeMartino. "He got behind in a lot of counts, but he battled back, and when he need a strike on a 3-2 count, he got it. We didn't have a hit after the fourth inning, so this was all Willie today. He obviously threw a lot of pitches, and had the game gone into extras we would have taken him out, but he put the team on his back and carried us."
Nastasi set the tone from the start, striking out the side in order in the first. He fanned four in the second inning after a batter reached on a passed ball, and he struck out the side in the fourth and the ninth.
"After that long layoff, I wondered how I was going to do, but as soon as I started throwing, my arm felt really good and loose, and I kind of knew it was going to be a good day," said Nastasi. "Nine innings is a lot to throw, but I knew I had it in me to finish the game. My arm felt great so I knew I could keep going."
His endurance aside, Nastasi also proved how well he fields his position. After Taunton capitalized on two Barnstable errors to plate a run in the fifth, the Tigers threatened for more with two runners on, but Nastasi knocked down a hard shot hit back to him and fired to first for the third out. In the seventh, he teamed up with first baseman D.J. Crook to record a rare 3-1 double play.
Barnstable got all the runs they would need in the third thanks to an RBI single by Dylan Morris, who stole second and scored on Mark Brodd's triple to deep center. The Red Raiders padded their lead in the eighth when Taunton botched a pick-off play.
Barnstable's 3-1 lead came in jeopardy in the ninth after Deitrich Wahl drew a two-out walk and Zach Grady reached on an error to bring the go-ahead run to the plate. But Nastasi showed tremendous poise and punched out Travis Ritchie to secure the win.
"My dad has been my main pitching coach all my life and he instilled in me that when you get on the mound, nothing else matters," said Nastasi. "I try to focus, relax, be nice and smooth with my mechanics and throw strikes. That's how you get people out."
Nastasi will bring that same approach with him when he suits up for UConn next year. He said his goals are to lead the Huskies to the College World Series, and they came awfully close last year, making it to the Super Regionals before falling to defending and eventual champion South Carolina.
Nastasi's other dream is to play in the Cape League. When he was in middle school, he was a bat boy for the Cotuit Kettleers, and his freshman and sophomore years, he was the team's bullpen catcher. His family has also hosted players for the past 13 years.
"Playing in the Cape League would be the Holy Grail, because Cape League baseball is as good as it gets," he said.
But for now, the main focus is leading the Red Raiders to the promised land.
"At the end of last year, all of the incoming seniors and myself talked about how we knew we were going to have a good team this year and how we're aiming for a state championship and nothing less," he said. "Every team talks about that, but we feel this is our best shot. We feel like we can do it."