Boston High School:

Joe DeNucci
September, 22, 2012
9/22/12
12:15
AM ET
By
Tom Layman
| ESPNBoston.com
BROCKTON, Mass. -- Raise your hand if you had Brockton with two wins, and two hard-nosed, convincing victories, against two of the preseason favorites in the Catholic Conference.
Didn't see too many hands raised outside of Rocky Marciano Stadium.
[+] Enlarge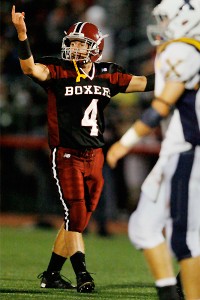 Jon Mahoney for ESPNBoston.comAustin Roberts withstood some tough hits from Xaverian's defense too lead the Boxers to their second victory over a top-5 team in three weeks.
But that's exactly where the Boxers find themselves after the first three weeks of the season. Brockton battered Xaverian last night in a 22-14 victory on the kickoff to the unveiling of the Rocky Marciano statue that will keep a watchful eye on the football team as they look to continue this turnaround season.
The Boxers shut out BC High and put on a balanced display against the scuffling Hawks to run its record to 2-1 on the season. Brockton was 0-4 against Catholic Conference competition last season.
"This month of September is tough, and it doesn't get easier with (St. John's Prep) next week," said Boxers coach Peter Colombo. "We've got two wins against the Catholic Conference and it's the best conference year-in-and-year-out in Eastern Mass. It's a good way to start."
BIG PLAYS FOR BOXERS
Colombo knows that his team is going to face opposing defenses that stack the box against the Boxers option-based offense. A run here to the outside, a dive up the middle and a couple toss sweeps will keep those defenses honest, but nothing allows the option to work best than a couple of big plays from the passing game.
That's exactly what Colombo got in the second half.
Austin Roberts connected with Micah Morel twice in the second half, one from 38 yards out and one from 17 yards, to stay comfortably ahead of the Hawks. The scores came off of the same play, but the only wrinkle was that Morel lined up on the backside for the second score.
"We knew eventually the safeties were going to come down and bite (on the run)," said Morel. "It's a play we've been working on for a long time, so it was good to finally pop it open."
"We need that out of Micah too," Colombo added. "We are expecting him to give us some offense this year. We've had people open in other games and we haven't capitalized. They are up there, eight or nine in the box trying to stop the run and we've got to take the pressure off by throwing the ball and completing passes. Finally tonight we got a couple of big ones."
XAVERIAN STRUGGLING
It hasn't been a great two weeks for the Hawks offense. They were held to 29 yards of total offense in the first half and only had 31 yards rushing, something that they went away from in the second half, for the game. It took two and a half quarters for Xaverian to pick up a first down.
Austin DeCarr threw two touchdown passes, but finished 12-of-32 for 97 yards, with 26 of those throws coming in the final two quarters.
The breaks just aren't falling the Hawks way in a two-week span that saw them go 0-2 and fall to 1-2 on the year. The Boxers fumbled the ball four times in the first half, but Xaverian was only able to recover one with seconds remaining in the second quarter.
"We didn't recover the football and that's the way the ball bounces sometimes," said Hawks head coach Charlie Stevenson. "They had some sustained drives in the first half and we had really miserable field position all half. We really had our hands tied because of the position we were in. That hurt."
BROCKTON 22, XAVERIAN 14
Xaverian (1-2) 0 – 0 – 7 – 7 – 14
Brockton (2-1) 0 – 8 – 7 – 7- 22
Second Quarter
B — Austin Roberts 3 run (Justin Ahanon rush)
Third Quarter
B — Micah Morel 38 pass from Roberts (Levion Merian kick)
X — DJ Pagliuca 27 pass from Austin DeCarr (Kyle Darrow kick)
Fourth Quarter
B — Morel 17 pass from Roberts (Ahanon kick)
X — Joe Denucci Jr. 10 pass from DeCarr (Darrow kick)
August, 31, 2012
8/31/12
11:43
AM ET
By
Adam Kurkjian
| ESPNBoston.com
Hunter Taute spent his middle school years in Dublin, Ohio, a city that sits just northwest of Columbus, where football is king.

On your typical Friday night at the high school he would have attended, he and the rest of his teammates for the Coffman Shamrocks would be playing in front of an average crowd of 17,500 people in the Buckeye State's highest classification.

It is a program that has produced notable recent alums such as Brady Quinn, who starred at Notre Dame and is now a backup quarterback for the Kansas City Chiefs, and offensive lineman Mike Adams, who played at Ohio State and is now with the Pittsburgh Steelers.

So when Taute's family moved to Franklin before Hunter began high school, he wanted to go somewhere that shared a similar passion for the sport.

"From a young age, football was a way of life (in Ohio). They take it all serious. It's a lot more important. Everyone cares more out there and everyone goes to the games."

After cruising around the Xaverian page on the Maxpreps.com website, Taute knew where he wanted to go.

And while there won't be a crowd approaching 20,000 people at the Hawk Bowl anytime soon, Taute is happy to be a Hawk, and his coach Charlie Stevenson may be even happier.

"Well, he's 6-2, 245 and ran a 4.75 (40-yard dash) at the BC camp," Stevenson said. "There's not much more that needs to be said. He's got good skills, he's very versatile; he can run and catch and play defense. His versatility is very good."

After playing with the freshmen in 2009, Taute was poised for a bigger role with the varsity as a sophomore before an injury sidelined him for most of the season. By the end of it, however, he was able to see the field at fullback.

Last season, he was the starting middle linebacker while retaining some of the same duties on offense. His fondest memory of 2011 came in a 27-9 win over St. John's of Shrewsbury, where he played a stellar game on defense and combined with Maurice Hurst for 266 rushing yards in a downpour.

"That was one of the best games of my life so far," said Taute, who holds an offer from Bryant and is also receiving interest from UConn, UMass, Boston College, UNH and Maine. "Me and Mo pretty much dominated that game. His 75-yard touchdown run sort of put (Xaverian) in the bigger picture and after that it set the tone for our running game."

But for as well as the Hawks ran the ball at times last year, they had just as much trouble stopping it against the best teams on the schedule. The most glaring example came in a 42-21 loss at Everett when Vondell Langston, now at UMass, put up 208 yards on just 15 carries. St. John's Prep's Jonathan Thomas also had 202 yards in Xaverian's 28-21 win on Thanksgiving.

For a team that returns a Michigan commit in Hurst at defensive tackle, Taute right behind him and nearly everyone else from last season's front seven, a repeat performance would be a major disappointment.

"Last year it was pretty embarrassing the yards we gave up against the run," said Taute, who now lives in Wrentham. "We work on tackling and making the other team have to pass more. With Mo, the pass rush is going to be great. The run defense should also be good but right now we're stressing the inside run and draw."

They'll need to be at their best with the schedule in front of them. But after watching Catholic Conference rival BC High win the Division 1 Super Bowl last year, Taute would be glad to trade those big crowds back in Dublin for a little hardware on Clapboardtree Street.

"This year we want to get back on the horse," he said, "get to the championship and take home the trophy."

XAVERIAN AT A GLANCE
2011: 6-5 (2-2 Catholic Conference)
Coach: Charlie Stevenson (20th season, 158-52-1)
Key Returnees: Maurice Hurst, Sr. DT/FB, 6-3, 285 lbs.; Hunter Taute, Sr. MLB/FB, 6-2, 245 lbs.; Austin DeCarr, Sr. QB, 6-3, 195 lbs.; Ray Gobbi, Sr. OL/DT, 6-1, 285 lbs.; DJ Pagliuca, Sr. WR/DB, 5-10, 185 lbs.; Joe DeNucci, So. WR/DB, 6-0, 180 lbs.; Shayne Kaminski, Jr. OLB/RB, 5-10, 193 lbs.; Eddie Hanlon, Sr. OLB, 6-0, 185 lbs.; Mike Brennan, Sr. RB/DB, 6-0, 185 lbs.; DJ Sperzel, Jr. WR/DB, 6-3, 185 lbs.; AJ King, Jr. WR/DB, 5-10, 180 lbs.; Jordan Bayuk, Sr. DT, 6-2, 250 lbs.; Ryan MacLean, Sr. DE, 6-0, 190 lbs.; Elijah Jolly, Sr. DE, 6-3, 195 lbs.
Strengths: Skill positions, experience on defense, defensive line.
Weaknesses: Inexperience on offensive line, schedule.
Outlook: Over Stevenson's tenure, Xaverian has proven its worth as one of those programs that will take on anyone at anytime. So it comes as a bit of a surprise that the veteran coach, when asked how this schedule stacks up with his previous ones, said, "This is the toughest, I think." But even with this layup-free slate that includes a trip to highly touted St. Joseph Regional of New Jersey, the Hawks have the potential to reach the postseason for the first time since 2009, where they defeated Everett in the Division 1 Super Bowl. Offensively, look for a faster tempo with DeCarr spreading the ball around to a deep corps of receivers. The running game should be strong once again with Hurst, Taute and Brennan expected to shoulder the load. Defensively, the Michigan-bound Hurst leads a strong front seven, while many of the same faces at receiver will fill the slots in the secondary. The one major concern Stevenson has expressed over the offseason is whether his inexperienced offensive line, which returns just one starter in Gobbi, can grow up fast enough to withstand the pressure opponents are sure to bring at DeCarr.