Boston High School:

Joe Freiday
July, 23, 2013
7/23/13
8:30
PM ET
By
Brendan Hall
| ESPNBoston.com
Bridgewater-Raynham Class of 2014 catcher Joe Freiday verbally committed to Virginia Tech tonight, becoming the second Trojan in as many months to commit to an Atlantic Coast Conference baseball program.
Verbally committed to play baseball at Virginia tech! #Hokieball

— JoeyBats24 (@Joe_Freiday) July 23, 2013
The 6-foot-3, 210-pound Freiday was one of the state's leaders in runs plated, batting .425, with a .573 on-base percentage, 31 RBI and five home runs as the Trojans captured the MIAA Division 1 State Championship for the first time in school history. He also drew 21 walks and struck out just 10 times. Behind the plate, Freiday demonstrates above-average arm strength, recording a pop time as fast as 1.82 seconds.
At the time of his commitment, Freiday was also considering Coastal Carolina and Virginia, as well as a full ride from the University of Maine. He is the second B-R player in as many months to commit to an ACC program, joining his cousin, 2015 righthander Jack Connolly,
who committed to Notre Dame in late June
.
Freiday is the second Bay Stater from the Class of 2014 to pledge to the Hokies, joining Boston Latin lefthander Pat Naughton, who committed last fall. When Freiday arrives in Blacksburg in the fall of 2014, he'll join BC High's Ryan Tufts (a fellow Bridgewater resident), Lowell's Matt Tulley, and Noble & Greenough's Phil Sciretta among the Massachusetts natives on the roster. B-R product Eddie Campbell, a lefty for Tech the last three seasons, was drafted in the 15th round by the Seattle Mariners last month.
"Its unreal, it's better than winning a state championship," Freiday said tonight from Richmond, Va., where he is playing in a tournament with his summer club, Team Nokona.
Really? Better than winning a state title?
"I dunno," he laughed. "But it feels great. I don't know how to put my feelings into words right now."
Freiday visited Blacksburg yesterday, and says he was immediately enamored with the campus.
"Obviously what attracted me there [initially] is they have an elite baseball team -- they're absolutely unreal at baseball, number one," Freiday said. "And then, once I got there, the campus was absolutely beautiful. I couldn't believe what I was seeing. It's everything I wanted in a school -- athletically, the campus, and great academics -- there's so much to offer."
Since the Hokies first began evaluating Freiday, they've had a change in head coaches, with Peter Hughes leaving for the University of Oklahoma and Tech internally promoting pitching coach Patrick Mason. Mason, a Franklin native and former Northeastern University standout, watched Freiday in the Trojans' MIAA Division 1 South Final against BC High (of which Hughes is a graduate). He watched Freiday again a week later at Area Code Games tryouts on the campus of Bentley University.
"He's a real nice guy," Freiday said of Mason. "I know Hughes showed interest at first, and I know he texted [B-R coach John] Kearney. He [Mason] impressed me. He knew his stuff about baseball. He was also a catcher at Northeastern back in the day, so he probably saw me from a different perspective."
June, 28, 2013
6/28/13
12:01
PM ET
STARTING ROTATION

RHP – Tommy McDonald, Sr., BC High
The ace and the workhorse of BC's rotation, which saw the Eagles make their first D1 South Final appearance since 2009, McDonald often went late into games to pick up a win. He was 7-0 on the season, with a 1.90 ERA, five complete games and just 10 walks. The Quincy resident will continue his career next year at UMass.

LHP – Ben Bowden, Sr., Lynn English
The state's Gatorade Player of the Year, Bowden is a repeat selection, having also made the starting rotation of the All-State Team in 2012. On the season he was 4-2 with 84 strikeouts in 52 innings, with just 10 walks for an ERA of 0.67. He also recorded a .459 on-base percentage at the plate, with 13 RBI. Bowden will play at Vanderbilt next year.

LHP – Scott Tully, Sr., Reading
Another repeat All-State selection, Tully dominated the Middlesex League en route to winning the Liberty division's MVP. For the season he went 7-1 with 96 strikeouts and an ERA of 0.54. For his career, he has 29 wins and over 400 strikeouts. Tully is headed to Notre Dame next year.

RHP – Evan Flanagan, Sr., Hingham
The Patriot League's Co-MVP saved his best stuff for the playoffs, as the Harbormen won their first Division 2 state title in school history. On the season he was 6-2 with 79 strikeouts in 56 innings, with five complete games, a 1.75 ERA and a WHIP of 0.93. Flanagan will continue his career next year at the University of Rhode Island.

LHP – Mike Gaughan, Sr., Walpole
One of the state's most elusive lefties, Gaughan helped lead the Rebels to the No. 1 overall seed in D1 South. He was 10-2 on the season with 117 strikeouts and a 1.88 ERA, and held opponents to a .180 batting average. Gaughan is headed to Division 2 Rollins College (Fla.) next year.

STARTING NINE

C – Joe Freiday, Jr., Bridgewater-Raynham
One of the state's leaders in runs plated, Freiday finished the year batting .425, with a .573 on-base percentage, 31 RBI and five home runs. He also drew 21 walks and struck out just 10 times. Freiday is fielding interest from an assortment of Division 1 programs.

INF – Nick Bragole, Sr., St. John's Prep
Part of one of the state's most prolific hitting lineups, Bragole put up .403/.532/.758 totals with 21 RBI and six home runs, along with 10 stolen bases, as the Eagles captured the No. 1 seed in D1 North, won 22 straight games and made an appearance in the D1 North final. Bragole is headed to Division 2 St. Anselm College (N.H.) in the fall.

INF – Kenny Michael, Sr., Norwood
Michael catalyzed the Mustangs late in the season when they snatched the Bay State Conference's Herget Division title in the last week of the regular season. He was named the Herget MVP as he hit .429 with 27 RBI and a home run. Michael will continue his career at Division 2 Southern New Hampshire University.

INF – Alex Toomey, Sr., Beverly
Toomey beat out a number of high-profile players to take the MVP in the Northeastern Conference's Large division, and deservedly so. For the season he his .431 with eight doubles, 31 RBI and five home runs, only striking out five times. On the mound, he went 6-2 with a 1.33 ERA and 61 strikeouts in 42.1 innings. Toomey is headed to Salem State University next year.

INF – Brandon Bingel, Sr., St. John's Prep
This year's recipient of the prestigious ESPN Boston Mr. Baseball Award, Bingel was a force in all three phases of the game to take Catholic Conference MVP for the second straight year. He batted .302 with 20 RBI and two home runs, and went 9-0 on the mound with 76 strikeouts in 58.2 innings, walking just 10 batters, for a 0.97 ERA. Bingel will continue his career at Bryant University.

OF – David MacKinnon, Sr., Oliver Ames
MacKinnon took Hockomock League MVP honors after hitting .500 with 16 RBI. One of the best pure athletes of the bunch, MacKinnon is also an All-American soccer player, and will play both sports at the University of Hartford.

OF – Ian Strom, Sr., Hopedale
Strom was a monster on both the mound and at the plate as the Blue Raiders reached the Division 3 State Final. He hit .514 on the year with 21 RBI and 15 stolen bases, and didn't strike out all season. On the mound, he was 9-2 with 107 strikeouts in 67.2 innings, for a 1.45 ERA. Strom will continue his career next season at UMass-Lowell.

OF – Mike Bruemmel, Sr., Bridgewater-Raynham
The Co-MVP of the Old Colony League saved his best stroke for last, carrying a no-hitter into the eighth inning to lead the Trojans to their first Division 1 state title in school history. On the season he batted .341 with a .505 on-base percentage, with 21 RBI and 11 stolen bases. On the mound, he was 6-1 with 69 strikeouts in 41.1 innings, with a 1.82 ERA. Bruemmel is headed to Wheaton College next year.

DH – Malcolm Nachmanoff, Sr., Boston Latin
The Dual County League's MVP of the Large division, Nachmanoff carried a heavy bat, hitting .507 with 26 RBI and five home runs. He also recorded a 1.45 ERA in 53 innings pitched. Nachmanoff is headed to Loomis Chafee (Conn.) next year for a post-graduate season.


BEST OF THE REST

OF – Dan Avery, Sr., Blackstone Valley Tech
Avery excelled both ways for the Beavers, recording .492/.579/.689 totals at the plate with three triples, 26 RBI, 28 runs scored and 18 stolen bases. On the mound, he was 7-2 with a 1.02 ERA and 81 strikeouts in 62 innings, with just eight walks. He will play both football and baseball at Massachusetts Maritime Academy next year.

3B – Ryan Baldwin, Sr., Fairhaven
One of the state's leaders in home runs, Baldwin hit eight and batted in 34 runs, to finish the season with a .500 average and take South Coast Conference MVP honors. Baldwin will continue his career next year at Barry University (Fla.).

2B – Tommy Buonopane, Sr., St. John's Prep
Another key cog to the Eagles' impressive hitting order, Buonopane registered .354/.457/.585 totals with 21 RBI and three home runs, as the Eagles won the Catholic Conference outright. Buonopane is headed to the University of Rhode Island next year.
.354/.457/.585, 21 RBI, 3 HR

2B – Dan Connors, Sr., Danvers
A three-time Northeastern Conference All-Star, Connors captured the Small division's MVP award after hitting .390, as the Falcons were the top seed in Division 2 North and reached the district final. Connors, a career .365 hitter, will enroll at UMass-Amherst in the fall.

LHP – Mac Curran, Sr., Coyle-Cassidy
A repeat selection, Curran was once again a force on the mound, going 5-2 with a 0.98 ERA as the Warriors captured the Eastern Athletic Conference outright. He also batted .402 with a home run. Curran is headed to Niagara University next season to continue his career.

C – Kyle Devin, Sr., Lynn Classical
One of the state's best arms behind the plate, Devin threw out eight of 12 steal attempts and also had 11 pickoffs. He also hit .410 with 16 RBI, five doubles, two triples, a home run and six stolen bases for the Rams. Devin is headed to Stony Brook next season to continue his baseball career.

SS – Isan Diaz, Jr., Springfield Central
One of the top defensive talents outside of Eastern Mass., Diaz showed off quite a bit with his bat as well, plating 19 runs and registering three home runs as the Golden Eagles once again reached the Division 1 West tournament.

RHP – Drew Foster, Sr., Nashoba
One of the steadiest starters in Central Mass., with a 4-1 record and 0.97 ERA, Foster led the Chieftains through a loaded Division 1 Central field to capture their first district title in program history. Foster is headed to Ohio University next year, where he intends to play club hockey.

RHP – Dustin Hunt, Sr., St. John's Prep
Arguably the state's top closer, Hunt embraced the role as the Eagles reeled off 22 straight wins before falling in the D1 North Final. On the season he struck out 31 batters in 27.1 innings, with a 1.54 ERA and a 1.10 WHIP. Hunt, an Andover resident, is headed to Northeastern University next season.

RHP – Thomas Jankins, Sr., Quaboag
Jankins was dangerous on the mound and in the batter's box this season for the Cougars. He hit .473 with 19 RBI and two home runs, and was 5-3 with a 0.53 ERA and 100 strikeouts in 52.1 innings. Jankins will continue his career next season at Quinnipiac University.

OF – Tom Landry, Sr., BC High
Landry registered .348/.378/.493 totals at the plate and added 16 RBI and two home runs for the Eagles, who reached their first D1 South Final since 2009. He also struck out just 11 times and drew four walks. Landry will play for Wheaton College next year.

SS – Steven Lee, Sr., Braintree
Lee manned the middle of the Wamps' order for the last three years, and put up impressive numbers in his senior season. He batted .376 with 26 RBI, one home run, 27 runs scored and 10 stolen bases as Braintree captured its fourth straight Bay State Carey title. He also committed just five errors in the field. Lee is headed to Stonehill College next year.

RHP – David Longstreeth, Soph., Smith Academy
Longstreeth is already over the 300 career strikeout mark, with 21 wins, in his still-blossoming career for Smith. On the season, he went 11-2 with 132 strikeouts in 80.1 innings, as the Falcons reached the Division 3 West Final.

RHP – Mike Lundin, Sr., Silver Lake
Lundin helped lead the Lakers to a Patriot League Fisher division title with his proficiency on the mound, going 7-2 with 86 strikeouts in 65.1 innings with a 0.67 ERA. Lundin will continue his career at Massasoit Community College next season.

OF – Tyler Lyne, Sr., Agawam
Lyne was a catalyst for the Brownies, who won the Valley League and reached the Division 1 West Final. For the season, he registered 16 RBI and two home runs. Lyne will continue his career at Merrimack College next year.

RHP – Donny May, Sr., Coyle-Cassidy
The other overpowering ace for the Warriors' staff, May went unbeaten as they captured the Eastern Athletic Conference outright. He was 11-0 on the year, with a 0.44 ERA and 89 strikeouts, along with a .438 batting average at the plate. May is headed to Fordham University next year.

SS – David Murphy, Sr., Plymouth North
The Atlantic Coast League's MVP helped the Blue Eagles to another league title, hitting .429 with 29 RBI and three home runs. He only struck out twice all year. Murphy will take his talents to Massasoit Community College next year.

SS – Noah Parker, Sr., St. Mary (Westfield)
One of the more underappreciated talents across the state, Parker was the catalyst for the Saints, who reached the Division 3 West quarterfinals. Parker registered 28 hits, 20 RBI and two home runs on the season. He will head to Seton Hall University next season as a preferred walk-on.

OF – Anthony Perriello, Sr., Norwood
A powerful hitter manning the middle of the Mustangs' order, Perriello led the Bay State Conference in batting average (.507) and added 15 RBI and a home run.

RHP – Alex Person, Sr., Xaverian
The Foxborough resident manned the top of the rotation, as the Hawks tried to defend their D1 state title. On the season he struck out 52 batters in 51 innings, going 5-1 with a 2.06 ERA. Person will continue his career at Southern New Hampshire University next year.

C – Matt Phelan, Sr., Northbridge
Phelan was a force at the plate for the Rams, who reached their fourth straight Division 2 Central Final. On the season he hit .484 with 28 RBI and four home runs, and on the mound was 4-1 with a 1.91 ERA. Phelan is headed to St. Anslem in the fall, where he will play football.

RHP – Brendan Ryan, Sr., Newton North
Ryan earned MVP honors in the Bay State Conference's Carey division, after going 7-1 with a 1.64 ERA and six complete games. Ryan also batted .347 with 17 RBI. He will enroll at the University of South Carolina in the fall.

RHP – Endy Sanchez, Jr., Holyoke
Another member of the 100-K club, Sanchez had one of the best strikeout-to-ratios in Western Mass., fanning exactly 100 batters in 62 innings pitched for the Purple Knights.

RHP – Kevin Superko, Sr., Wellesley
Following in the footsteps of his brother Tim, Superko carried on the name holding down the front of the Raiders' rotation. On the season he recorded 67 strikeouts in 49 innings, with a 1.02 WHIP and holding batters to a .184 average. He will do a post-graduate season at Philips Andover next year.

RHP – Ryley Warnock, Sr., North Reading
Warnock was dynamic both on the mound and on the basepath for the Hornets, who captured the top overall seed in D3 North. On the mound he was 10-1 with a 0.44 ERA and 72 strikeouts, and at the plate he was .360 with 17 stolen bases. Warnock will continue his career next year at the University of Rhode Island.

LHP – Cody Younger, Sr., Middleborough
Younger came on in the second half of the season and led the Sachems through a gauntlet en route to the Division 3 state title, their first since 1997. On the mound, he was 4-2 with 53 strikeouts and a 1.90 ERA, and delivered wins over the top two seeds in D3 South. At the plate, he had .415/.482/.507 totals with 27 RBI. Younger will do a post-graduate season at Bridgton Academy (Maine) next year.

RHP – Zach Zona, Sr., St. Peter-Marian
Zona led the top of the Guardians' rotation as they came on late in the regular season to make the Division 1 Central tournament. On the season he was 5-2 with 64 strikeouts in 46.2 innings, with a 1.05 ERA and two no-hitters. Zona will continue his career next season at UMass-Lowell.
June, 16, 2013
6/16/13
12:47
AM ET
By
Chris Bradley
| ESPNBoston.com
LOWELL, Mass. –- It has been quite a tournament for Bridgewater-Raynham ace Mike Bruemmel. The senior southpaw, fresh off a Sunday start where he helped lead the Trojans to a win over B.C. High, put on his best pitching performance of the year.
[+] Enlarge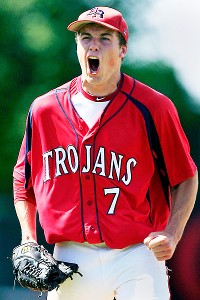 Jon Mahoney for ESPNBoston.comMike Bruemmel carried a no-hitter into the eighth inning as Bridgewater-Raynham captured its first state title in school history.
Bruemmel pitched a complete game two-hitter on Saturday afternoon, striking out 12 Nashoba batters to help bring Bridgewater-Raynham its' first baseball state title in school history. Dominant from start to finish, B-R (20-3) knocked off the Central Mass. champ Nashoba (21-4), 4-0.
The lefthander, who is headed to Division 3 power Wheaton College in the fall, was at the top of his game after being forced to shut it down in the middle of the year for what B-R coach John Kearney called a minor arm injury.
When he returned from injury and back into the Trojans' starting rotation, "He came right back and picked up right where he left off," Kearney said.
Bruemmel had a no hitter going into the eighth inning before Nashoba senior captain Jack Sarnoski broke it up with a base hit to center field.
Kearney praised his pitcher for his command after the game.
"He mixes up his pitches. He's got three or four different pitches, he throws them all with real good control and command," Kearney said. "He just mixes it up and he's got a little bit of velocity, so you're got to be aware of that as a hitter—he can throw it by ya. He was just on the whole game, the whole game!"
Joe Freiday, who went 2-for-4 and, per usual, was Bruemmel's battery partner behind the plate, had one simple way to answer when asked what Bruemmel had going on the mound.
"Everything. He wasn't missing spots. His curve ball was on, his change up was on, everything was down and out, and that's what we need...Mikey was on today when we needed him most," Freiday said.
Bruemmel helped get the Trojans' offense started in the third inning, too, getting a base hit to drive in Corey Dinunno (2-for-4) to plate the game's first run.
Tyler Carey, on a hit ball to shortstop that resulted in an error, brought Brian McSherry in to score in the fourth inning to extend the lead. Two batters later, sophomore Andrew Noviello drove Carey in on a double to left center. The aggressive plate approach against Nashoba ace Drew Foster, who coming into the game boasted a 0.97 ERA, was all part of B-R's plan.
"Our offense, again, putting the pressure on them the whole game," Kearney said. "I know only putting four runs up may not seem like it, but we had pressure on them offensively...I thought the offense really stepped up against quality pitching. All three ingredients, great pitching, real good defense, and I thought the hitting was outstanding today."
They'll be back:
With 11 players returning to next year's team, including Freiday, Carey, Dinunno, Noviello, and Eastern Mass. final hero Jack Connolly, the Trojans will have quite the core coming back for next year—most of whom have gained some serious big-game experience over the course of B-R's title run where they won games over Attleboro, Braintree, Walpole, B.C. High, Billerica, and Nashoba.
For the time being though, Freiday -- who said after the game he has a scholarship offer from Maine, and will be visiting Virginia, Virginia Tech, and Coastal Carolina over the summer -- says they're going to enjoy the moment, stressing the amount of excitement that has built up at Bridgewater-Raynham as the community rallied around the baseball team.
"They're gonna love it, we had a huge crowd the last few games. They all wanna come, they all wanna see the team, and it hasn't been like that for the last couple years. We picked it back up and we brought B-R baseball back…we're forming a dynasty, I can feel it."
June, 13, 2013
6/13/13
1:30
AM ET
By
Brendan Hall
| ESPNBoston.com
LYNN, Mass. -– Bridgewater-Raynham's two sophomores, Jack Connolly and Andrew Noviello, were the ones who got it done on the mound to help the Trojans advance to the state championship game. Some in attendance may have been surprised, but coach John Kearney is used to it by now.
Connolly picked up the win on the mound for B-R, while Noviello picked up the save by pitching a scoreless final two innings to give the Trojans (19-3) the 5-2 victory over Billerica (18-7) in the Eastern Mass. Division 1 championship game
[+] Enlarge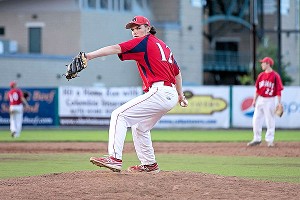 Tim Hart for ESPNBoston.com Sophomore Jack Connolly picked up the win for Bridgewater-Raynham, which is making its first ever Division 1 State Final appearance on Saturday.
"[Connolly] had been scuffling, that's how he pitched during the regular season,: Kearney said. "He gave us more than we expected. Our pitching has been pretty good all year, it really has been a real solid plus for us all year. We were hoping to get as much as we could out of Jack, and I knew if we could get it to Novi, cause he was rested, that he'd pitch just like he did tonight."
B-R got some timely hits from Tyler Glavin and Brian McSherry, Glavin drove in Tyler Carey to draw first blood in the first inning. Glavin also had an RBI on a single on a base hit in the fifth.
Kearney praised Glavin after he made the move from outfield to shortstop earlier in the year look seemingly effortless.
"Tyler moved in from where he was in the outfield all year," Kearney said. "He made all the plays at short, and the made them with some pretty fast guys at the plate. He's been getting a couple hits almost every game. Glavin had an outstanding game."
Following two straight walks after Glavin's single, McSherry ripped line drive to left field that scored Joe Freiday and David Miller.
"That bases-loaded gapper was huge huge," Kearney exclaimed, discussing McSherry's hit. "The first two swings he didn't look so good...he fouled off the third one, just barely, and then he just hit a shot. That and Sullivan's big play at second with men on were two huge plays."
B-R, while making three errors of their own, was able to capitalize on five errors by Billerica, including three in the first inning. In addition, Billerica was forced to pull starting pitcher Max Frawley early in the game. The senior walked off the field in excruciating pain, holding his right shoulder.
Billerica managed to add their second run on an error in the seventh inning, but Noviello slammed the door shut from there. Despite having a team with very little playoff experience before this year, B-R will advance to the state championship game on Saturday against Central Mass. champion Nashoba. This is the first time the Trojans have made it to the state final since moving up to Division 1.
Kearney said the calmness and confidence on the bench was due to his seniors, who combine vocal leadership with leadership by example.
"The senior leadership on this team is outstanding...those kids have been great," he said. "In the ballgame all the time, keeping the kids up, the senior leadership has been a big key for our resurgence here. They've kept the team focused from preseason. It's tremendous...this is a great feeling—that's a good Billerica team, that's a real good Billerica team."
June, 10, 2013
6/10/13
1:29
AM ET
By
Stephen Sellner
| ESPNBoston.com


BROCKTON, Mass. -— As Bridgewater-Raynham trotted onto the field for the top of ninth inning clinging to its 4-3 lead over Boston College High in Sunday's Division 1 South final, it seemed like the already heart-pounding affair couldn't inflict any more chaos on the players, coaches and fans in attendance.

But, sure enough, it did.

The Eagles put runners on first and second with one down in the ninth with No. 3 hitter Ryan Tufts stepping to the dish. And after Tufts worked the count full against Trojans closer Cody Medairos, BC High decided to send both runners on the pitch as Tufts blasted a shot towards the right-centerfield gap, causing both runners to try and motor on home to take the lead.

Fortunately for B-R, centerfielder Tyler Carey was there to save the game and the season.

Carey hauled in the fly ball on the run, then turned and fired to second to double-up the Eagles baserunner frantically trying to retrace back to the bag, providing the final moment of jubilation in a game full of them, as B.R. stormed onto the field with its 4-3 victory finally safe in its possession.

The Trojans will play D1 North champion Billerica Tuesday at 7 p.m. in the D1 Eastern Mass. Final at LeLacheur Park in Lowell.

Carey said he saw the runners take off when the ball came off Tufts' bat, so he knew he would have a chance to double the runners up if he could get to the ball. But even he knew that wasn't a sure thing.

"I made catches like that before so I knew it was possible, but I don't know," Carey said when asked if he thought he'd get to the ball. "I just tracked it down."

B-R coach John Kearney said Carey's grab was "one of the best catches you'll ever see."

"Everybody in the park probably thought that was going to be trouble. No question," Kearney said. "But I looked up and I saw Carey got a great jump and I'm thinking, 'He's got a shot.' I've seen him do that all year. He has tremendous speed and he's made those kind of catches all year."

"If that falls in, we're gonna get two or three (runs) there," B.C. High coach Norm Walsh said. "That puts a whole different spin on things."

If the catch weren't enough, it was Carey who gave the Trojans the lead in the bottom of the eighth. With David Miller on second, Carey worked the count full against Eagles pitcher Dan Cobban and ultimately lined a single through the infield and into left field, bringing Miller roaring around to score the go-ahead run.

Carey, who said he has been playing baseball since he was five-years-old, had trouble putting the game into words.

"I'm dreaming right now," he said. "This isn't real. This is crazy."

B.C. High tied it up at three in the top of the eighth. After B.R. starter Mike Bruemmel walked Tommy Landry with one down, Kearney went to Medairos in the bullpen. But Medairos walked Andrew Jaehnig and then gave up an RBI single to Billy Mitchell to knot the score.

The Eagles nearly took the lead two batters later. With Landry on third and Jaehnig on second and two down, Tom Russo grounded a ball to second. But the ball ate up Connor Sullivan and ricocheted to his left, prompting the second baseman to slide to the dirt, spin and throw out the sliding Russo by half a step.

Bruemmel was tremendous on the mound, logging 7-1/3 innings, allowing three runs (two earned) on five hits and four walks while fanning eight.

B-R jumped out to a 3-0 lead in the first after a sacrifice fly by Joe Freiday, followed by an RBI triple by Miller and a passed ball to bring him in.

The score stayed that way until the sixth when Mitchell ripped an RBI double off Bruemmel to finally get the Eagles on the board. One batter later, Mitchell came around to score after a throwing error by the Trojans, cutting the deficit to 3-2.


June, 4, 2013
6/04/13
11:30
PM ET
By
Bob McGovern
| ESPNBoston.com
BRAINTREE, Mass. -- They went down in order. They went down looking. When the reality of the season's end became apparent, they went down swinging.

Eighteen Braintree batters struck out against a deep, but less-than-experienced Bridgewater-Raynham pitching staff. The Trojans rode the impressive pitching display, coupled with late-inning offense, to a 12-0 win over the Wamps in the Division 1 South quarterfinals at Braintree High.

"I've said all along that our pitching staff is the strength of our team even though our lineup has been solid," B-R head coach John Kearney said. "Our pitching staff has been our greatest strength this season. We have four or five guys that can come in and get the job done."

While B-R's pitching kept Braintree at bay, an explosive eight-run ninth inning put the game well out of reach. After Andrew Noviello, Tyler Glavin, Mike Bruemmel and Joe Freiday knocked in five runs for the Trojans, B-R's Brian McSherry hit a no-doubter home run to right-center field to put the score at 12-0.

It was McSherry's first home run of the year.

"It was a great game. I know the final score isn't indicative of that, but they made some great plays throughout that game," Kearney said. "Our guys had a big inning, but it was a great game."

Noviello, B-R's sophomore righty, started the game and struck out 11 Braintree batters over six innings. He used an accurate fastball to make up for his curve, which wasn't consistently hitting the strike zone until the third inning. During his six innings of work, Noviello threw 118 pitches.

"That's pretty much as hard as I've thrown. The curveball slipped a little bit, but when I got it in there, I got it in there," he said.

Noviello's only scare came during the bottom of the fourth inning after he gave up a single to Steven Lee, and proceeded to walk Gino LaRossa and Patrick Horrocks with one out. The sophomore reared back and struck out both Adam Chin and Nick Susi to get out of the inning.

B-R rode the momentum into the top of the fifth inning and scored three runs on four hits and a walk to put the score at 4-0.

"Getting out of that bases-loaded jam was huge. That was probably the biggest spot in the game at that point," Kearney said. "He's only a sophomore, but he's been pitching in big games all year for us."

Between innings, Braintree head coach Bill O'Connell told his guys to be patient and wait for a hittable fastball. As soon as they changed their approach, Noviello's looping curve started to fall into the strike zone.

It was the first time the Wamps have been shut out this season.

"I've been coaching for 19 years and that's about as good a pitching staff as I've seen on a team. We've had a pretty good team this year...We haven't been shut out all year," O'Connell said. "The scouting report (on Noviello) was: 'He throws hard, but his off-speed could get wild at times.' That's not what happened –- not tonight."

Noviello was spelled in the seventh inning by Mike Bruemmel, a lefty with good movement on his fastball. The senior picked up where Noviello left off and struck out six of the seven batters he faced.

Braintree used four underclassmen pitchers during the game, and started Scott Creedon, a 14-year-old righty. Creedon pitched the first two innings before getting pulled for sophomore Bobby McNiff. The youngster let up one run on three hits during his two innings of work.

"I didn't want to leave him out there too long," O'Connell said. "He looked pretty comfortable, but he's still a freshman."

After McNiff was touched up a bit in the fourth inning, the Wamps brought in junior Matt Bickford, who slowed the bleeding until the ninth inning when he allowed two earned runs. Scott Strachan came in for relief, but B-R's bats, which had been uncharacteristically quiet, erupted.

"That's a tough task for those guys, but we'll be a good team in the future," O'Connell said. "We started a freshman, two sophomores and a junior, so it wasn't easy out there."

Cody Medairos finished the game for B-R, and caused two pop-ups and struck out Jack Zanca to end the game.

Kearney believes his staff is set up for nine-inning baseball. The Trojans played five nine-inning games this season, which helped him set up a game plan for the playoffs.

"That does help the mentality. Nine is a long game. I like playing nine because it lets teams play it out a little more truly, I think. A lot can happen in a short time in a seven-inning game," he said.

Braintree graduates eight seniors, including captains Alex Alexander and Steven Lee.

"I just feel for our seniors. This is the last time they get to go up there under the lights as a Wamp," O'Connell said. "All eight seniors just gave us everything they had. I told the guys, 'There's only going to be one happy team at the end of the day.' Today was their day."
May, 1, 2013
5/01/13
12:00
AM ET
By
Bob McGovern
| ESPNBoston.com
BRIDGEWATER, Mass. -- Voters flocked to the old Bridgewater-Raynham High School building to fill out their ballots. Meanwhile, across the street, B-R's Jack Connolly was campaigning to be the best sophomore pitcher on the South Shore.

Connolly pitched eight shutout innings against Old Colony League rival Barnstable High School (5-2) en route to an 8-0 victory. The young righty, who threw 119 pitches against the Red Raiders, had a battle plan heading into the game: Set things things up with the off-speed stuff, and then let the fastball fly.

"I try to keep them off-balance with the curveball, and with the fastball I just reared back and threw it as hard as I could," he said. "There was probably a good two- to three-mile-per-hour difference between my regular fastball and when I reared back. I felt really good."

Bridgewater-Raynham (7-2) manager John Kearney knew his ace would rebound after a forgetful outing against Marshfield on April 25, when Connolly only lasted two innings in a 10-3 loss.

"He was in the game today, he really was. He was really pumped up and in the game," he said. "I had a great feeling about Jack today. I just knew that, after that last start against Marshfield, he wanted to come out and just try to dominate the game."

The Trojan offense quickly got to Barnstable's Riley Ashe, who was coming off a no-hit performance against Falmouth on April 11. B-R put up four runs in three innings against Ashe, capped off by a Tyler Carey RBI double to deep center in the third.

Ashe had some control problems, walking three batters, while hitting two others with pitches that got away.

"He looked a little nervous, and I think our kids were really good about waiting him out and making him throw a lot of pitches," Kearney said.

Barnstable's Dan Holzman came in for long relief duty in the fourth inning and gave up four runs on five hits and four walks in four innings of work.

A Family Affair: While Connolly was pitching his best game of the season, it was his cousin, catcher Joe Freiday, calling the game from behind the plate. Freiday, a junior, said he considers Connolly the team's "virtual ace" at this point in the season.

"I've been catching for him my whole life, and we basically have it down to an art," he said. "His off-speed was really keeping them off big time, and he would just come back with that fastball. I've never seen him throw harder. He pitched a great game."

Connolly added that he feels a little more comfortable when he and Freiday are on the diamond together.

"Me and Joey have been playing together all of our lives, and we just have a lot of chemistry going on," he said. "He knows exactly what pitch I want, and I never have to shake him off. Whatever you see me shake off he tells me to shake off."

Connolly also has an older brother, Mike, who is currently playing college baseball for the University of Maine as a utility player. Mike Connolly was a team captain at B-R and played both shortstop and pitcher.

Their father, Mike Connolly Sr., was drafted by the Cleveland Indians in 1982 out of East Bridgewater High as a right-handed pitcher.

"There's some good bloodlines there," Kearney said, with a laugh.

Transformation Complete: Connolly spent most of his freshman year in the bullpen, and Kearney has used the beginning portion of this season to transition him into a starting role. Aside from the setback against Marshfield, Kearney is pleased with Connolly's development.

"Last year as a freshman he pitched in a lot of big games like this, but many of them in relief coming in with people on. He was so good. I needed him. Our staff wasn't really quite as deep last year," he said. "He is loose now. He's ready to get in there and start for us the rest of the way. I knew he would be primed for this one."

On the Rebound: While the loss to Bridgewater-Raynham was a setback for Barnstable, manager Joe DeMartino said he expects his team to bounce back for their next game against Nauset on Wednesday.

"I think more often than not, coming off a tough loss like this, guys show up mentally prepared. But I'm going to wait and see what they look like tomorrow before I confirm that suspicion," he said.

The Trojans were the first team to shut-out Barnstable this season, but DeMartino felt his squad was swinging the bat well. The Red Raiders had seven hits and drew five walks but were never able to string enough together to get into an offensive rhythm.

"For the most part, I think our approach at the plate was not bad. We swung the bats and a few times took pitches we shouldn't have," DeMartino said. "When a guy is on like that, and he's throwing his good stuff, it's hard to compete with."