Boston High School:

Joe Lento
May, 14, 2013
5/14/13
2:31
AM ET
By
Bob McGovern
| ESPNBoston.com
MEDFORD, Mass. -- John Lavoie wasn't easily distracted.

Against Everett, the Medford High ace had no problem shrugging off gusting winds, a few long innings and the din of the Commuter Rail, which occasionally chugged by a few hundred feet from Playstead Park. In fact, Lavoie only showed emotion as he was mobbed by teammates after striking out Everett's Mike Rossi to clinch a 6-4 comeback win for the Mustangs.

"Lavoie is a tough customer. He's up on the mound, and nothing bothers him. He's always in the game," said Everett head coach Joe Lento. "He throws a great curveball -– he just throws it for a strike whenever he needs to. It's his safety net. It's his out pitch."

Lavoie scattered four runs over seven innings and struck out seven Crimson Tide batters. He picked up some much-needed run support in the bottom of the sixth inning when sophomore Dom Ramasci hit a bases-clearing triple off of Everett ace Zarief Pajazetovic to put Medford up 6-3.

Ramasci, who pinch-hit for leadoff man Nick Rocco, has been fighting for playing time during the past few games. His game-winning hit was likely good for his campaign.

"Believe it or not, he's been in and out of the lineup so much the past couple of games due to a couple of inconsistencies and struggling at the plate, as you expect from a sophomore," Medford head coach Mike Nestor said. "Today he went out there, did his job, and the ball went the other way."

Everett made one final push during its final at bats. Mac Singleton started off the top of the seventh with a deep triple to center field. Pajazetovic then cranked an RBI double to left and was relieved by pinch-runner Omar Graciano. After walking Jamel Vilmont, Lavoie picked up three straight outs on 12 pitches.

Lento said giving up five runs in the sixth inning may have taken the wind out of his team's sails.

"That team stepped up when they needed to and made plays when they needed to. They stepped up, and they won the game," he said. "I don't want to stand here and take anything away from them, but I kind of think we gave up a little bit during and after that sixth inning."

Pajazetovic, who shut out Medford during the teams' last meeting on April 26, appeared in control during his first five innings of work. The hard-throwing righty used a combination of fastballs, curveballs and changeups to keep the Mustangs off-balanced.

He retired the first six batters he faced and struck out six Mustangs before getting touched up in the bottom of the sixth.

"It was a typical Everett/Medford, hard-fought baseball game. There were two great pitchers on the mound, and they battled to the end," Nestor said. "We just lasted a little bit longer than they did."

Hidden Ace: Nestor believes that Lavoie is one of the more underrated pitchers in the area. The righty doesn't have the most powerful fastball, but he uses a combination of pitches –- and pinpoint accuracy –- to whittle away at batters.

"He's been unrecognized the whole year. He's been our leader. He's our No. 1. Every time he gets on the mound, he just deals," Nestor said. "He not only knows how to pitch, but he knows what he's throwing, and he knows what he's throwing the next pitch – he can set a kid up. He's just a really smart kid."

Lavoie said was "missing some spots early" and was "wasting some fastballs." He eventually settled in and began relying on his looping curve to set aside Everett batters.

Nestor said he wanted to let Lavoie finish the game, especially since he was battling against rival Pajazetovic, who's known as "Z" in the Greater Boston League.

"Him and Z have been battling for so many years together. If it was too blown out, or his pitch count was getting up there, we would have re-evaluated. He earned it, and it was his game to win because he battled," Nestor said.

Proving Grounds: Everett, which made its first appearance in ESPN Boston's Top 25 this week, has a tough schedule ahead. The Crimson Tide has eight games in 10 days -– all on the road -- and takes on No. 1 St. John's Prep on May 15.

Lento sees it as a defining stretch for his team.

"We're at a point in the season right now where we can go one of two ways," he said. "We've got eight games in 10 days, 20 bus rides, no home field and no last ups no matter where we go. We're either going to tuck tail and go home or we're going to step up and win some baseball games."

Porrazzo to WPI: Jake Porrazzo, Medford's senior catcher and captain, will play baseball for Worcester Polytechnic Institute next year, according to Nestor.

"He's been on a tear for us. He leads the league in RBI, and he has two game-winning home runs. He's good, he's solid," he said.
October, 28, 2011
10/28/11
10:54
PM ET
By
Bruce Lerch
| ESPNBoston.com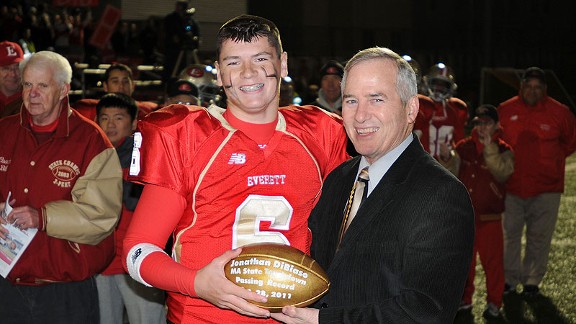 Jim Valente Everett quarterback Jonathan DiBiaso was presented a ceremonial game ball by school superintendent Frederick F. Foresteire commemorating breaking Massachusetts' all-time touchdown pass record (85) during Friday night's game in Everett.
EVERETT, Mass. -- In front of his family, friends, and a special group of kids holding placards in the stands to commemorate the moment, Everett High quarterback Jonathan DiBiaso did something he never dreamed of when he was a mere toddler hanging around the Crimson Tide football program.
DiBiaso entered last night's Greater Boston League affair with Medford needing four touchdown passes to break the Massachusetts record of 85, held by former Brockton star Tommy Colombo. He collected all four in the first quarter, with the record-setting score coming on a 55-yard touchdown pass to a streaking Jaylen McRae down the right sideline.
DiBiaso completed 9-of-12 passes for 209 yards and threw six touchdown passes in all to five different receivers as top-ranked Everett (8-0) bested the Mustangs, 41-14, Friday night at Everett Stadium.
"Definitely it was an emotional moment," DiBiaso said following the game. "Definitely playing for Everett, playing here in front of all my friends and family and the community, it was a special moment. We played well, we got the win, and its been a great night."
Both his father and Everett head coach John DiBiaso and quarterbacks coach Joe Lento noted that they sensed some nervousness in the senior in the lead-up to the game.
The 6-1, 195 southpaw appeared to have shaken off any apprehension he was feeling when the game started, however, as he fired his first scoring strike, 36-yarder to Vondell Langston, on Everett's first play on offense.
He added a 9-yard touchdown pass to Kenny Calaj on the Tide's third play from scrimmage, then tied Colombo's record with an 8-yarder to Jakarrie Washington.
On the record breaker, McRae simply flew past his man and DiBiaso lobbed a perfect pass down the right sideline and celebrated with his teammates after McRase crossed the goal line.
"That play we just try to have the inside guy run a post and Jaylen McRae ran a fade," DiBiaso described. "They were playing man-two, two safeties over the top, and the safety went with Jalen Felix. (McRae) beat his guy, made a great catch and scored a touchdown."
The game was halted for several minutes as Everett Superintendent of Schools Frederick Foresteire presented DiBiaso with a gold-painted football to commemorate hi accomplishment. The two posed for pictures with members of the DiBiaso family, including his parents, John and Maureen.
When play resumed, DiBiaso hit both Calaj and Felix for 29-yrd TD passes and the Tide starters headed for the bench after building a 41-0 lead with 5:45 remaining in the first half.
"It was one of those moments where you make eye contact and a tear comes to your eye," said Everett coach John DiBiaso when asked for his reaction to his son's moment. "I knew before the game he was really nervous in the warmups and all day he was on edge. But then when he came down and the national anthem, I looked over at him. We both pray during the national anthem and he was really watery eyed. You could tell it was a special night."
"It went about 55 yards in the air and hit him in stride," the elder DiBiaso continued. "I said to him that's a nice one we can put on video for your record breaker. Again, its a special record. The Colombos', they are synonymous with high school football in Massachusetts, the dad and the son, and to break that is very special."
Added Lento, "He put in all the work. Its all a credit to him. Its all a credit to him studying the game film and getting himself better every day as a football player. He deserves this. In the middle of the game its not my thing to go up and celebrate but after the game we shared a little moment where we talked about all the hard work that he's had and about how going forward we've got our eyes on bigger, better things than this."
EVERETT 41, MEDFORD 14
MED (1-6) 0 0 0 14 --- 14
EVR (8-0) 27 14 0 0 --- 41
First Quarter
E - Vondell Langston 36 pass from Jonathan DiBiaso (Gilly DeSouza kick)
E - Kenny Calaj 9 pass from DiBiaso (DeSouza kick)
E - Jakarrie Washington 8 pass from DiBiaso (DeSouza kick)
E - Jaylen McRae 55 pass from DiBiaso (kick failed)
Second Quarter
E - Calaj 29 pass from DiBiaso (DeSouza kick)
E - Jalen Felix 29 pass from DiBiaso (DeSouza kick)
Fourth Quarter
M - Jeff Fargo 2 run (rush failed)
M - #40 23 run, (#36 rush)