Boston High School:

Joe McCarthy
April, 28, 2012
4/28/12
4:58
PM ET
By
Marc Thaler
| ESPNBoston.com
In a six-day span, the three teams perched atop the statewide rankings for NHIAA boys' lacrosse – all of them perennial powers in the Granite State – suffered setbacks.

No. 1 Bishop Guertin High of Nashua, No. 2 Pinkerton Academy of Derry, and No. 3 Exeter High actually combined to lose five contests between April 16 and 22.
Bishop Guertin lost just once. But it was the biggest stunner. BG wasn't expected to lose an in-state matchup this spring. The two-time defending Division I champion is extremely talented and very, very deep.
But BG isn't invincible. Hanover High – No. 1 as a result of its 14-9 upset win April 20 – proved it.
"They beat us in two state finals (2007, 2009). Other than Hanover, nobody has beaten us, in New Hampshire, in the playoffs since 2007," BG coach Chris Cameron said. "There was no reason for us to take them lightly because they're a quality program."
Cameron's club was without UMass recruit Bob Fahey. BG's shut-down close defender sat out the second half of Guertin's previous game, a 14-8 win at highly ranked Needham (Mass.) High, with an ankle injury.
Guertin's coach, however, didn't use Fahey's absence as an excuse. BG still boasted four other close defenders recruited to play college lacrosse.
The Marauders led at the end of every period. Attackman Alex Krass (two goals, three assists) and midfielder Christian Wolter (four goals, assist) played with purpose. Christian Johansen and Ryan Brigham (11 of 25 faceoff wins) added three goals apiece.
Goaltender James Washington settled down nicely after BG scored the game's first goal in the opening 30 seconds. The senior made 15 saves.
"They were pretty happy. But (their post-game reaction) wasn't like they won the state championship," said Hanover coach Jeff Reed, whose club from the state's Upper Valley was blasted by BG, 15-3, in the April 10 season-opener at Nashua's Stellos Stadium. "They reacted like it was a big win, but not 'the win.' They know there's a bigger goal at the end."
No. 2 Pinkerton twice lost to teams known as the Lancers.
The Astros started their three-game week with an 11-9 league loss April 16 at arch-rival Londonderry High. The tough stretch closed with a 14-9 home loss April 21 versus Longmeadow (Mass.) High.
Maintaining focus was an uncharacteristic problem for Pinkerton in both losses.
Furthermore, offensive production almost exclusively came from the attack. Josh Gallant tallied three goals and three assists at Londonderry; Dom Corsetto went for three goals and an assist against Longmeadow.
"Maybe a little of it is conditioning. We could not get our faceoffs in the second half and we could not pick up ground balls," Pinkerton coach Brian O'Reilly said after the Astros lost to Longmeadow, which erased a 4-1 first-period deficit. "It's the same thing as the Londonderry game."
Exeter's defeats, in a sense, were understandable. The Blue Hawks, in a four-day span, lost competitive contests to the teams ranked ahead of them: BG (9-6 on April 16) and Pinkerton (8-6 on April 19).
Goaltender Jake Pleadwell (18 saves) stood tall against an early Pinkerton onslaught. Close defenders Jamie Vogt, Joe Moser and Zach Adler also enabled the Seacoast squad to pull within striking distance.
"The fact that we went down to BG, 3-0, and they never quit, and then we were down, 5-1, against Pinkerton and made it a game, it shows their resilience," Holly said. "That's the one thing you can take out of it."
Here's one lesson, stressed by BG's coach, that is applicable to every power program:
"There are too many good teams out there," Cameron said. "We can't just show up and expect to win."
April, 6, 2012
4/06/12
4:28
PM ET
By
Shawn Myrick
| ESPNBoston.com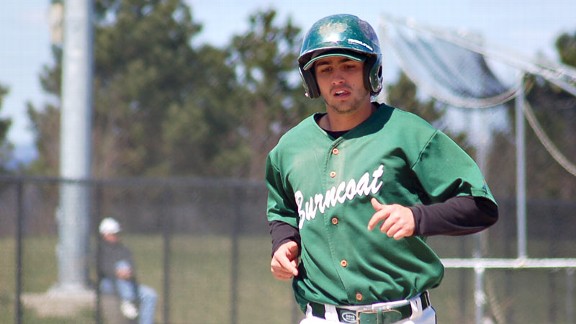 Brendan Hall/ESPNBoston.com Rhode Island commit Regan Aghdam (three hits, two runs) was part of a 15-hit parade for Burncoat in a Friday morning win over Worcester Tech.
WORCESTER, Mass. -- One inning meant all the difference for a seasoned Burncoat boys' baseball team on Friday afternoon.
After battling with Worcester Tech for five innings, the senior-laden Patriots (4-0) burst out for eight runs in the sixth to help put away their crosstown host, 13-4.
"Their pitcher did an awesome job of (pitching) different speeds," said Burncoat coach Brian Sargent. "We went through the order (that inning). We made them make plays or not make plays."
Returning 11 seniors from a team that had reached the Division I central semi-finals last year, the Patriot upperclassmen stormed through the sixth inning with ten knocks. Planting a pair of long drives a few yards out of reach for their opponents and capitalizing on six total errors, Burncoat began the run with nine straight hits.
A frozen rope left-field single by Ryan O'Connor started the scoring for the Patriots, while a dropped pop fly hit from Regan Aghdam and a low slicing drive by Sean McGrail put the Inter-High League sluggers up 10-0.
"Seeing first pitch strikes," said Sargent. "They were kind of waiting for the curveball and different stuff. Just get up in the box and swing."
Worcester Tech (0-3) responded in their next at bat by putting the first seven batters on base, but were unable to topple such a large deficit. Short outfield singles by senior Jake Dacri, junior Brenden Matthews, and sophomore Brandon Hanlon loaded the bases early for the Eagles.
A thrown away pitch and a left outfield dribbler by junior Anthony Rovezzi helped clear the plates for a 10-3 deficit. A double RBI by senior John Lakaitis in two at bats proved the Inter-High clubs final run.
"Not catching a few fly ball, a couple mental mistakes here and there, and us not getting the key hits when we needed them," said first-year Worcester Tech coach Patrick McKeon. "I told them to 'Stay aggressive and go up to get your swings. We just could not get the runs across in the last inning."
O'Connor (RBI, one run), Aghdam (two runs), and senior Joe McCarthy (RBI) all had three hits for Burncoat. Fellow upperclassmen Charles Barbon, who lead the Patriots with a .532 average last year, was perfect at the plate with four singles and two runs.
"We were trying to go the other way so we did not get in front of the ball," said Aghdam. "Let the ball travel."
A botched throwout at first, an on-the-wall triple by senior Quinn Moynihan and a powerful single by Aghbam added three runs of insurance in the Patriots' final at bat.
Burncoat had edged ahead 2-0 earlier off a low-driving double from senior Ryan O'Connor in the fourth to bring home Aghdam and a ground-out to first with two runners on by senior Quinn Moynihand in the fifth.
"I got three straight curves and a fastball," said Aghdam. "I was trying to not do too much and let the ball travel. We had to wake up sometime."
Senior starting pitcher Sean McGrail went six innings with five strikeouts for the win for Burncoat, while giving up four runs, sevens walks and 11 hits. Eagles senior Andrew Montiverdi battled six innings for five strikeouts, while dropping 15 hits, 12 runs, and three walks.
"Mentally (McGrail) knows he has to get outs," said Sargent. "He walked a lot today, but he knew just to hold off and give our offense a chance."
December, 29, 2011
12/29/11
11:44
PM ET
By
Bruce Lerch
| ESPNBoston.com
CHELSEA, Mass. -- With just over five minutes remaining in last night's Class A Division title game of the BABC Holiday Classic, St. John's Prep star Steve Haladyna was forced to the bench for a moment when one of the referees noticed a tiny red stain on his No. 21 jersey.

Sean Lovett quickly hopped off the bench, pulled his own No. 24 jersey over his head and tossed it to his teammate, who had to wait through several possessions before a whistle allowed him to re-enter.

No matter what number Haladyna wore on his back, the Tufts-bound senior did plenty of damage, lighting up Bishop Guertin for 30 points and 13 rebounds as the third-ranked Eagles blew past the Cardinals for an 80-63 victory Thursday night at Chelsea High School.

"We thought we could get by them in the lanes and drive and make plays in the paint," Haladyna said. "We wanted to spread it out, run our motion offense, get in the lanes and make plays."

Four of those boards came off the offensive glass during the first half, and the Prep (5-0) grabbed 10 offensive rebounds in all.

"He's a very good offensive rebounder, probably one of the best around," said SJP coach Sean Connolly in praise of Haladyna. "He keeps a lot of shots alive and gives us second and third chances. Its just huge having a kid like that, who's been around for four years and knows what to expect in big games."

The Prep's Mike Carbone and Bishop Guertin's Joe McCarthy threatened to turn the first 16 minutes into a 3-point shooting contest. McCarthy scored 24 of his 30 points in the first half and hit six threes in the game to keep things close early on.

But it was Carbone's hot shooting that allowed the Eagles to open things up in the second quarter. After a McCarthy three put the Cardinals (4-1) within three points (23-20), Carbone drilled a pair of trifectas during a 17-7 spurt from which Guertin was never able to recover.

"Carbone's been shooting really well the last week or so and he got some open looks," Connolly said. "The game was up and down, it wasn't really great defensively either way but we shot very well today. There's something about this gym. We've shot very well the last couple of days."

Added Haladyna, "Mike was getting his threes because we were doing a good job of getting into the lane, kicking to him, and he was knocking those shots down. Mike's been great for us all season."

The Cardinals managed to get the deficit back to 10 after back to back threes by McCarthy and Cooper Paul closed out the third and a bucket by Jeff Lunn (19 points) opened the fourth, but the Prep immediately squashed any hopes of a comeback thanks to a high-intensity full court press that forced four straight turnovers during a 10-2 run.

That one 3-pointer by McCarthy was only field goal of the second half, as the Eagles adjusted to him defensively.

"In the first half, we didn't do a good job of switching out on screens on him and we gave him too much room," Connolly explained. "He's too good of a shooter. In the second half we tried to face guard him a little more and not help off of him. Try and make him make plays going by us instead of on open threes."