Boston High School:

Joe Palazini
April, 18, 2012
4/18/12
6:03
PM ET
By
Matt Noonan
| ESPNBoston.com
FRANKLIN, Mass. -- Entering the bottom half of the ninth inning with the game tied, 7-7, Franklin's Cam Flateau calmly squared up and took the third pitch from Oliver Ames reliever David MacKinnon square off his right shoulder.

"The first pitch was right at my head, and I was a little afraid of that one," Flateau said. "But I just knew that he wasn't going to get a strike to me because I was on his plate, so I did the best I could, and got hit."

Franklin head coach Dave Niro swapped Flateau for Brad Padula, who managed to reach second base one batter later following a suicide squeeze by Joe Palazini.

Padula then finished his trip around the base path when Marc Mele, the third batter of the inning, connected on Mackinnon's third pitch. That drove home the game-winning run for Franklin (3-1), completing a thrilling 8-7 comeback over the Tigers.

"The first pitch was kind of close, a little low, and I thought it might have been a strike," Mele said. "The second one, I tried to see it better, and the third one I just cocked back, and got ready.".

Said Niro, "We never quit. Baseball's a great game, and that's why we play it like this."

OA (4-1) earned a 2-0 lead to start the game in the top half of the first inning when Matt Harding cleared the bases with an RBI triple, which sent Mike McMillan and Mackinnon to the dish.

Franklin's starting pitcher Bobby Chaiton recovered by retiring five of the next six batters he faced, before the Panthers' offense recorded three runs on five hits in the bottom half of the second inning.

"Bobby did a great job for us. He's been struggling a little bit at the beginning of the year, but he did a great job [after he settled down]," said Niro.

Hits from Chaiton, Palazini and Reed Turgeon provided the Panthers with a 3-2 lead. But OA erased that in the top of the sixth, first with a single from Brad Fleming then an RBI triple from Harding.

The Tigers added to their lead one inning later when Jim Sullivan, McMillan and Mackinnon touched all four bases to give OA a 7-3 advantage entering the bottom half of the seventh inning.

Bryan Abbott began Franklin's final frame when he connected on a 2-2 pitch from OA's starter, David Holmes, which jump-started a Panthers four-run rally that sent the game to extra innings.

"I missed a pitch earlier during my at bat that I thought I should have hammered in the gap, so I found myself down, 2-2 and I just got a pitch in the zone that I got around on it, and hit it to right field, a nice little single," said Abbott.

Entering the top of the eighth, Mele retired three consecutive OA batters, before Franklin loaded the bases with no outs in the bottom half of the inning. The Panther bats attempted to bring home the winning run on third, but Mackinnon managed force Tyler Buck and Chaiton to ground out, and then Turgeon to pop out to center field.

"I was trying to stay calm and throw strikes," Mele said of his final two innings on the bump. "I didn't want to let the first batter on because I never leave stranding good."

Mele repeated his eighth inning performance in the ninth by retiring three more OA batters before he recorded the game-winning RBI that earned Franklin their third victory of the season.

"Marc [Mele] just did a heck of a job for a sophomore," exclaimed Niro. "You can't ask for anything better [because] he held them scoreless, and got the winning it."

"It was a really good high school game that was played out on the field, and we just couldn't put them away," OA head coach Leo Duggan said. "I thought we did a nice job in the eighth when they had the bases loaded and nobody out. We didn't come up with any hits in the ninth, and they [managed] to get it through, so give them credit."
March, 8, 2012
3/08/12
1:09
AM ET
By
Jay King
| ESPNBoston.com
BOSTON -- The play was ironically labeled "victory," and Franklin ran it almost perfectly against Madison Park on the final possession of the MIAA boys' South sectional basketball Tuesday night at UMass-Boston's Clark Athletic Center.
Unfortunately for the Panthers, everything worked except the shot, allowing Madison Park to escape with a thrilling 63-60 win.
The final play was one the Panthers practiced many times during the course of the season, never actually knowing whether they would need to use it.
Brendan Skidmore, a senior who had already drilled three long bombs, ran his Madison Park defender off a screen at one end of the floor while the clock stood stuck at 1.3 seconds. Russ Haddad cradled the ball at the other, ready to throw an inbounds pass the entire length of the court once Skidmore scampered free.
Franklin trailed 63-60, had trailed almost the entire game, had come storming back like an angry girlfriend looking for the final word in a heated argument, and Skidmore's desperation turnaround was the Panthers' final chance at overtime.
The sharp-shooter gained a sliver of separation, caught Haddad's pass, turned toward the basket from 30 feet away and let loose a prayer.
"I didn't even get a glimpse of the hoop. I just caught it and threw it up there," he said.
"I thought it was in. I thought we were going to have to go for another five minutes," Madison Park center Dakim Murray explained.
"Heart pumping, stroke city, and I'm looking, and I said, 'No, you've got to be kidding me," Madison Park coach Dennis Wilson added.
But the last ditch attempt fell inches short, bounding off the front rim. And so Madison Park narrowly advanced to the South sectional finals.
The game never seemed destined for such a critical moment. But that was before Franklin clawed its way back from a 21-point deficit. Before the Panthers discovered a way to keep Madison Park's bruising big men, Dakim Murray and David Stewart, from dominating the paint. Before Skidmore hit a clutch three with 2.0 seconds left to bring Franklin within 62-60, and before Stewart was fouled on the ensuing inbounds pass and hit one of two free throws, setting the stage for the dramatic finish.
[+] Enlarge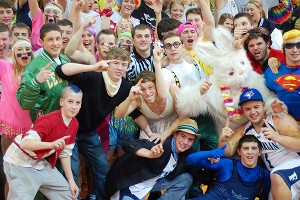 Brendan Hall/ESPN.comFranklin's 'Rattle City' student section was in peak form, but Madison Park was able to quiet the masses by staving off a late rally.
"When we were up 20, I thought we were just going to cruise through. But nothing's easy in states, as you can see," said Murray, who finished with 23 points and 11 rebounds.
After ending the first quarter with a 14-11 lead, Madison Park owned the second quarter and took a 35-19 lead into intermission.
The 6-foot-4 Murray and his partner in interior domination, the 6-foot-3 Stewart (25 points, 10 rebounds), were critical to Madison Park's fast start. The bruisers combined for 48 points and 21 rebounds, setting a physical tone from the tip off.
Franklin played mostly 2-3 zone defense in the first half, expecting that the strategy would force Madison Park into shooting outside jumpers. The Panthers were attempting to hide their clear size disadvantage, but it wouldn't be that easy. The Cardinals exhibited poise while moving the ball inside to their work horses, foregoing outside jumpers in favor of higher-percentage looks.
"We practiced a lot against 2-3 defense and zone because we knew they weren't too big and they'd have to go zone," Murray said. "If they were going to man us, me and my twin tower, D-Stew, would have just killed them –- killed them –- inside. But somehow, God willing, we still killed them."
"I probably stayed in [the zone defense] too long," said Franklin coach Dean O'Connor. "We're a man team. In the second half we started cranking up the pressure and getting them away from the basket more. Zone, I figured they'd get more outside shots, but we're undersized in there and we just couldn't box their guys out.
"That was the story of the game, the offensive rebounds and the putbacks. Dakim killed us in there, and Stewart. We're undersized. We're playing a power forward that's 6-foot-1, 165 pounds against those guys, so..."
The effects were slow to kick in when Franklin switched out of the zone defense following halftime. Madison Park continued to feed their two pillars down low, building a 44-23 with four minutes left in the third quarter.
But Franklin's hard man-to-man pressure began to take its toll. The Panthers slowly chipped away, then seized momentum fully while closing the third quarter with a 7-0 run.
Jason McKie ended the quarter by drawing two consecutive charging violations.
"Jason had like four or five charges the whole game," said Sam Bohmiller, who paced Franklin with 19 points and five assists. "He's been doing that all year. That's what he does. He's huge for us. Taking charges is a huge momentum swing."
By the time three minutes passed off the clock in the fourth quarter, Franklin had already used its fierce full-court press and suddenly-falling jump shots to pull within 50-48.
Madison Park answered with four straight points to make it 54-48, but after digging out of its own grave, Franklin wasn't prepared to die again. The Panthers quickly clawed back to within two at 56-54, and had a chance to tie or take the lead with two minutes left. But a lefty scoop shot by Joe Palazini (15 points) missed its mark and Madison Park maintained its slim margin.
With all the quit of a 92-year old working the same construction job for 70 years, Franklin continued to knock relentlessly on the door of a glorious comeback. Skidmore drilled a triple from the corner with 46.9 seconds left to bring the Panthers within one, 58-57, the closest the score had been since the first quarter.
But again, Madison Park's offensive rebounding emerged as a factor. The Cardinals rebounded their own misses on two consecutive sets of free throws, ultimately being fouled three different times on the same possession while pushing the lead to 61-57.
Franklin missed a three on the ensuing possession, Matthews hit one out of two free throws, and the comeback finally seemed to have lost all its air.
But Skidmore drilled a triple from the corner with 2.0 seconds left, making the score 62-60, Stewart split a pair of charity shots (63-60), and O'Connor used the ensuing timeout to call the team's "victory" play.
Everything worked except the shot.
"They're disappointed, but I think even inside that once the hurt goes away -– by the time we get on that bus -– they're going to be proud of the way they fought. How can't you be?" said O'Connor.
Brockton up next:
With the win, Madison Park advances to meet Brockton in the South Division 1 finals on Saturday at UMass Boston.
"Brockton's real tough -– real tough. But it's go hard or go home. I'm a senior. I have to make it to the Garden," said Murray, referring to the TD Garden, annual site of the state's Eastern Mass. Finals.
A season to be proud of:
During his 13 years coaching basketball at Franklin, O'Connor never had a team quite like this year's.
"I couldn't be prouder of this team. We lost our first three games, then we won 19 out of our last 20, with a team that had three guys that played at all last year," said O'Connor. "Nobody thought we were going to be anything this year. These seniors came together and they played with a lot of heart, chemistry. We've got some skill too, but that was the key. This is the best –- the team that gets it the most of any team I've ever coached."
O'Connor's star point guard, Bohmiller, still felt the pain of defeat afterward, but admitted that his team surpassed expectations.
"Coming into the season, no one thought we'd make the South semifinals. So we just proved those people wrong. It was a hell of a season, and I'm going to miss it," he said.
February, 20, 2012
2/20/12
1:57
PM ET
Franklin head coach Dean O'Connor passes along this year's boys basketball All-Stars for the Hockomock League.
Any all-star lists can be sent to either Brendan Hall (bhall@espnboston.com) or Scott Barboza (sbarboza@espnboston.com)
MVP - Jake Layman, Sr., King Philip
J.J. Jolaoso, Sr., Attleboro
Joe McCabe, Sr., Canton
Sam Bohmiller, Jr., Franklin
Joe Palazini, Sr., Franklin
John Mullane, Sr., King Philip
Brian Hershman, Sr., Mansfield
Michael Hershman, Soph., Mansfield
Nick Bruha, Sr., Oliver Ames
Andrew Reardon, Jr., Oliver Ames
Brian Mukasa, Soph., Sharon
Aaron Calixte, Jr., Stoughton
Marcus Middleton, Jr., Stoughton
February, 18, 2012
2/18/12
12:41
AM ET
By
Brendan Hall
| ESPNBoston.com



FRANKLIN, Mass. -- "I don't know whoever said that third time thing," Franklin head coach Dean O'Connor laughed to reporters, moments after putting the finishing touches on this surprise season.

The first two times the Panthers squared off with Stoughton this season were forgettable ones. In their most recent meeting, last Feb. 2, the Black Knights came rocketing out of the gates, and quickly left Franklin in the dust en route to a 20-point win.

So tonight's result, a 69-56 win at Franklin High's Field House that captured the Hockomock League Cup, had to feel good. After coming into the season as a dark horse with question marks, the Kelly-Rex Division champs are thoroughly a thoroughbred.

"It's been crazy," junior point guard Sam Bohmiller (12 points) said of these last few weeks. "But I mean, it's a huge confidence boost. Winning the Hockomock against archrival Mansfield, we knocked off KP [King Philip] here, and now knocking off Stoughton, that's huge."

The matchups between the Panthers (14-4) and Stoughton have been intriguing each time for their contrast of style, with O'Connor countering John Gallivan's uptempo style with a surgical flex scheme from the other end of the basketball spectrum. And this time Franklin was the lead dog; they never trailed in this one, and turned in some of its most inspired defense of late to start the first half.

Franklin opened the second quarter with a 13-2 run to head into the break holding a 27-17 lead, essentially grinding Stoughton's affinity for an uptempo pace to a halt. A stout zone defense forced the Black Knights (15-3) into settling for low-percentage shots, and it reflected on the stat sheet -- the Black Knights shot just 6 for 25 in the first half, including 1 for 10 from three-point range.

As expected, the Knights made a run in the third quarter, hitting their first four 3-pointers, including two from Marcus Middleton (18 points). But it didn't make much of a dent in the Panthers' cushion of a lead; they returned the favor with three-balls from Matt Pellegri (17 points) and Joe Palazini (10).

Just how much did the Panthers slow the game down? Exhibit A might have been the final scoring sequence of the third quarter from Bohmiller, who called for a spread play, spacing players far apart from each other around the halfcourt to initiate dribble penetration. With 15 seconds left and just a few ticks on the shot clock, Palazini launched up a three that hit front iron, but senior forward Matt Pilis (14 rebounds) hauled in the long board and sent it back out to Bohmiller with another 15 seconds to work with.

From there, Bohmiller dribbled around the left wing before pulling up near the elbow, shaking his defender with a shot fake, and sinking a feathery 12-footer at the buzzer to make it 48-37.

"I trust him," O'Connor said of Bohmiller. "He'll make a good decision. He doesn't take very many bad shots, and he's such under control. You feel confident with it in his hands. He knows what we want, and he's going to do the right thing, so you can kind of let him go a little bit."

Marking Calixte: It's hardly the first time Stoughton's superstar junior point guard Aaron Calixte has seen a box-and-one defense this year, and hardly the last. Heck, tonight wasn't even the first time he'd seen it from the Panthers.

On most nights, Gallivan has countered the box-and-one defense by sending Calixte to the blocks and having him play with his back to the basket, often drawing repeated touch fouls from guards who aren't accustomed to post-up defense. Tonight, however, the Panthers stuck Pellegri on Calixte and had him dogging him around the court, with Perdikis periodically coming in to give him a break.

Calixte is in perpetual motion at times, and a difficult player to mark. But Pellegri was able to stay on the star point guard's hip most of the night, and while he ended up with respectable stats -- 12 points, on 4-of-9 from the field -- he was not a factor for some of the most integral stretches of the game.

"Pellegri, I mean, he does it to everybody," O'Connor said. "He's a great defender. He's a glue guy on our team. He makes it all happen, he's a great leader, he defends, and he scored the ball well tonight, too."

Pellegri said Calixte, who currently holds scholarship offers from Towson and Quinnipiac, is "much better than people think."

"He dishes the ball, and gets all his teammates involved," Pellegri said. "Second time we played them, they beat us pretty good, and he was dishing, so we wanted them to force the other guys to beat us.

"We just wanted to be physical with him, and not let him get into his groove. Because once he gets into his groove, the whole team starts going. And we don't want to let them get going."



February, 2, 2012
2/02/12
11:41
PM ET
By
Brendan Hall
| ESPNBoston.com



STOUGHTON, Mass. -- Marcus Middleton is considered Stoughton's best on-ball defender, if not one of the best such south of Boston, and perhaps that still holds up when he's only able to give it 80 percent.

That was head coach John Gallivan's diagnosis when the two crossed paths in the school hallway at 10 this morning, the junior off-guard unable to practice the previous two days with flu-like symptoms, and still feeling a bit groggy.

"I talked to him, he said 'How ya doing?', he was sucking down a Powerade," Gallivan recalled. "And then he said 'I'm fine, I'm ready to go'."

One hundred percent, 80 percent, no matter, Middleton turned in another vintage performance for the Black Knights in their win tonight over the red-hot Franklin Panthers, snapping the Panthers' 10-game win streak with a dominant 81-60 win before a packed house at Stoughton High's gymnasium.

Chasing Franklin's leading scorers Sam Bohmiller and Joe Palazini, and having to constantly plow through perimeter screens to get it done, Middleton did his job in keeping coach Dean O'Connor's patented flex offense from getting going. On the offensive end, he led all scorers on the night with 26 points, 19 of them coming in the first half as the Knights (13-1) jumped out to nearly a 20-point lead at the break.

"He's a physical specimen," Gallivan said. "I keep asking him, 'Are you tired?', 'Are you OK?', and he says, 'Yeah coach, leave me alone, I'm fine'. And that's a kid who had a stomach virus for two days this week, so imagine what he's like when he's completely healthy."

Heading into tonight, the Panthers (10-4) were the Hockomock's hottest team, winners of 10 straight, and scoring upsets over No. 11 Mansfield and No. 9 King Philip in the last week and half to punctuate their good fortunes. But with an explosive second-quarter run, the Knights doused those flames in a snap.

Up 22-15 to start the stanza, Stoughton opened up the quarter with a 13-2 run, keyed by three-pointers from Middleton and junior point guard Aaron Calixte (19 points, nine rebounds, eight assists). O'Connor tried fanning the flames with various presses, but that ended up playing into the Knights' hot hand.

After Calixte's first trey of the period, O'Connor called timeout, and the Panthers returned to the floor in a 1-1-2-1 full court press. Calixte funneled the ball down to the right corner, where Joe Bunce-Grenon nailed a baseline three. Out of the next timeout, the Panthers showed a 1-3-1 three-quarter press, and again the Knights broke it with deep perimeter shooting, this time Middleton knocking down his second trey of the quarter.

Calixte capped the run with a walk-up three with under a minute to go, giving the Knights a perfect 5-for-5 quarter from three-point range. Stoughton outscored Franklin 24-13 in the quarter to take a 46-28 halftime lead.

O'Connor admitted going from Tuesday's battle with King Philip -- which generates offense off of penetration from 6-foot-8 stretch forward Jake Layman -- to game-planning for the uptempo Stoughton attack in less than 48 hours had its challenges.

"King Philip, we wanted to spread them out, and wanted to dribble-drive," O'Connor said. "These guys, they got more quickness than we do, whereas we had the quickness advantage against KP. So, I think we expended a lot the other night, both physically and emotionally, but Stoughton's a hell of a team. They played like we did the other night, and we didn't match that level tonight."

Jason McKie led the Panthers with 12 points, while Bohmiller chipped in with 11.

Middle Man: After this two-game swing, it's pretty clear who the X-factor is on this Stoughton team. Tuesday night, with Middleton battling aforementioned illnesses, the Knights struggled to overcome a 4-10 Foxborough squad, winning 62-55.

Tonight, with a somewhat healthier Middleton, the Panthers were held to just over 30 percent from the field in the first half, and the Knights held a 46-25 advantage on the boards.

"It's a great energy for Marcus to come in and [take on] the best player on the court," Calixte said. "We know he's our best defender, and he always does a great job. He doesn't let us down."

Interest for Calixte picking up: Besides the obvious proximity of Boston College, the Atlantic Coast Conference has had a history with the Hockomock League, going back to the late 1990's with North Attleborough's Mike Babul (Georgia Tech) all the way up through this year with King Philip senior Jake Layman, who signed with Maryland last November and is currently ranked the No. 61 overall senior in the country.

Another potential ACC-to-Hockomock connection appears to at least be in its infancy. Gallivan confirmed with ESPNBoston.com tonight that coaches from the University of Maryland have reached out to him recently, inquiring about Calixte. The electric junior point guard already has mid-major Division 1 interest, with Towson University extending a scholarship offer.

It'll be interesting to see if any legs develop here, or if it is merely due diligence. Layman, one of the Terrapins' prized recruits, has raved both publicly and privately about Calixte's skills, and there is a local tie with Leominster native and St. Bernard's High alum Scott Spinelli on Maryland's staff. Spinelli was among the first to recruit Layman while at Texas A&M, and when he came over to the Terps alongside then-Aggies head coach Mark Turgeon as Gary Williams' replacement, the Terps jumped to the top of Layman's list of suitors.