Boston High School:

Joe Scali
January, 27, 2014
Jan 27
11:56
PM ET
By
Bryan Brothers
| ESPNBoston.com
BURLINGTON, Mass. — Nearly six weeks ago, the Burlington Red Devils walked out of Burbank Arena in Reading with their heads down after being on the wrong end of a 6-1 thumping at the hands of Reading.

Since then, the Devils have gone on an 11-game unbeaten streak (8-0-3) including a methodical 2-0 shutout of the Rockets on Monday night at the Ice Palace behind a second straight shutout by senior goaltender Mike Guleserian.

"It was an important win for our kids because they handled us very easily back in December," Burlington coach Bob Conceison said. "I think it was important to have a good performance tonight and I thought we played a real good all-around game and I thought Mike (Guleserian) was tremendous."

Senior captain Joey Scali scored the game's first goal late in the first period when he buried the rebound of a Josh Boulos point shot past Reading goalie, Ian Lapham.

Scali, who went without a goal in the first seven games of the season, would also set up the Devil's second goal.

He cruised into the offensive zone down the right wing board and sent a cross ice pass to Robby McLean who ripped a slap shot inside the left post from a tough angle below the left face-off circle to give Burlington a cushion with 8:22 left in the game.

"I thought this was a big win for us," said Scali. "I have really meshed with my line mates over the last few games. We got to keep it going. We have a big stretch of games coming up."

After mustering just three first period shots, the Rockets turned up the pressure in the second and third periods but could not solve Guleserian (20 saves) who continues to provide the Devils a solid backstop.

Rockets sputtering: The Rockets are on a streak of their own but headed in the wrong direction, as the loss put the always respected Rockets at 0-5-2 over their last seven games and 6-7-2 overall.

Make no mistake about it, the Rockets play one of the toughest schedules in the state for a public school team but their recent lack of punch has coach Mark Doherty looking for answers.

"We are getting chances but are just not finishing," said Doherty. "Their goalie was strong tonight and they are always tough in their barn. I thought we had a good amount of chances but we just need to keep working at it."

The Rockets have seven games to turn things around and will be a real tough out should they land in the Division I North tournament.

Line of defense: While Guleserian continues his strong season, the Red Devils four defensemen have provided little breathing room for opponents.

Having two shutdown pairs of defensemen is a luxury for coach Bob Conceison.

Senior captain Adam Crowley is paired with sophomore Shane O'Halloran while junior Mike Bibbey and sophomore Josh Boulos provide a second shut down pairing. They were all part of last year's Division I state champions and their experience has stabilized the Devils defensive zone.

The numbers bear out the impressive results as Burlington is allowing just 1.6 goals per game and have allowed opponents to score three or more goals just twice this season.

"They have been so good in front of me," said Guleserian. "They make my job a whole lot easier back there and I am lucky to have those guys playing in front of me."
March, 13, 2012
3/13/12
2:00
AM ET


LOWELL, Mass. -- The quandary for Burlington entering Monday's Division 1 North sectional title game was how to yet again beat Wakefield senior goaltender Joe Cerulo.

So Red Devils head coach Bob Conceison took a novel approach to the problem. To simulate the lack of holes into against the Warriors' big netminder, Conceison had two goaltenders in net during practice in each of the last three days.

"Cerulo's a big boy and a great goalie," Burlington senior forward Trevor Cimino said. "We got him moving side-to-side, which is exactly what we wanted to do."

The Red Devils' unconventional target practice, along with their blazing team speed and some power-play production, helped them to a 4-2 victory over Wakefield. It was Burlington's first victory of the season over their Middlesex League rivals after the teams skated to a pair of ties in the regular season.

"We knew we could outskate them," said Cimino, who finished with a goal and two assists. "The two first two matchup we played were in smaller rinks, but this is a huge ice surface, a college ice surface, so we knew we could use our speed to go around them."

Burlington (17-2-6) dominated play from the get-go, outshooting the Warriors, 14-2.

The Red Devils also took a 1-0 lead to the room at the first intermission after sophomore Joe Scali popped in his first goal of the season. Joe Moran and Dan Metzdorf picked up helpers as Burlington got production out of its third line.

"We're a three- line team and all three lines contributed tonight," Conceison added.

Cimino, who had a strong game in all three zones, then had a hand in each of the Red Devils' next three goals.

First, the assistant captain set up linemate Brett Romkey for his 18th of the season. Cimino then lent an assist to C.J. Grinnell's wrist shot snipe, which came from inside the left wing circle and found a sliver of daylight above Cerulo's shoulder and underneath the crossbar at 12:38 of the season.

Cimino finished his three-point night by getting a stick on Grinnell's point blast on the power play. It was Burlington's second goal on the man-advantage of the evening while going 2-for-5 overall.

FROM YOUR OWN END OUT
Wakefield (12-7-6) showed some late life, however, nixing Derek DeCastro's shutout bid in the third. Eddie Matthews stuck on the power play at 9:37 of the third before Kevin Doherty picked up his second point of the game with a goal at 13:11.

But Burlington had simply controlled too much of the play, in addition to strong effort from the Red Devils' defensemen in front of DeCastro.

"I thought our defense played really well," Conceison said. "[Steve] Mattos and [Adam] Crowley and [Cody] Crocker, they were all really, really solid."

END OF THE ROAD
Warriors head coach Derek Edgerly was effusive in praise of his squad.

While admitting that he thought last season might have been the Warriors' prime chance at a state championship (losing to Marshfield, which came from behind in last year's title game), Edgerly's third trip to a section final game in six years as Wakefield's boss was an accomplishment in itself.

And it was in no small part due to the efforts of a couple of his senior leaders.

"Joe [Cerulo] is one of the best kids I've ever had and Kevin Doherty is one of the nicest kids and one of the best forwards I've ever seen."

RE-FOCUSING
It's often easy for Super 8 play-in game losers to fall victim to early-round upsets, but credit the Red Devils for collecting themselves and making a run to the Garden regardless.

Cimino gave credit to his teammates in their renewed conviction.

"Who wouldn't want to be in the Super 8, you know?" Cimino said of the experience. "But, after that, we took a pact with each other that we'll go all the way now. We said we're the best team in this tournament and we're going to the Garden. And now we did it."

And now the Red Devils have the biggest game of their season ahead with a matchup with South sectional champion Milton at the TD Garden on Sunday.
March, 8, 2012
3/08/12
1:44
AM ET
By
Matt Noonan
| ESPNBoston.com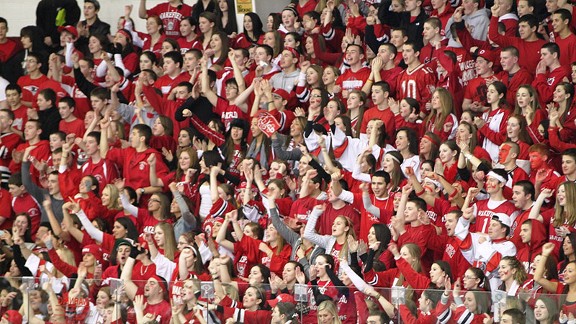 Ryan Kilian/Special to ESPNBoston.coWakefield's "Red Sea" were out in full effect to help the Warriors to a second-straight Division 1 North sectional final in a shootout win over Chelmsford on Wednesday.
CHELMSFORD, Mass. -- It was déjà vu all over again for the Wakefield Warriors, who escaped Wednesday's Div. 1 North semi-final clash by defeating Chelmsford, 2-1, in a shootout.
With the win, Wakefield once again earned themselves a spot in the sectional final, as the Warriors repeated their performance from a year ago. Wakefield also went to a shootout with Billerica in last year's semifinal.
"Down two periods all night, but we've been there before," Wakefield head coach Derek Edgerly said. "We've been down a couple games this year, [but] we just comeback fighting hard, and that's all it takes."
"It's called composure, positivity, keep your positive up all night and these kids just played excellent," Edgerly added. "What a great game."
Chelmsford notched the first goal early in the opening period when senior David DeDonato beat Wakefield senior goaltender Joe Cerulo (31 saves) before the Warriors answered in the third period with junior Daniel Cardillo, riffling the puck into the back of Lions' net, forcing overtime.
In the extra session, both teams chased the puck up and down the ice, but no resolution was found.
DeDonato eventually registered his team's first strike in the shootout.
Wakefield answered on their third attempt when senior Kevin Doherty beat Chelmsford's junior netminder Derek Noble, tying the shootout, 1-1. The Warriors then answered on their ensuing attempt when junior Alec Brown scored the clincher before Cerulo denied sophomore Jesse Lye.
"We go over shootouts every night in practice for 15 minutes because when it comes down to this end in a tournament, you've got to do your shootout," Edgerly said. "And one thing about these games, it's usually a blowout or it's an overtime win or shootout, there's nothing in between."
"We had a great year," Chelmsford head coach Mike McGrath said. "I would have to say if there was a word I'd use for these kids, it's adversity because we had kids out with mono, we had a lot of things where we were missing kids, and we battled through it, and peaked at the right time, and had a nice little run."
BURLINGTON 5, ACTON-BOXBOROUGH 1
After a sluggish two periods, the Red Devils offense exploded by tallying four goals in the final 15 minutes, which lifted Burlington past the Colonials, 5-1.
Senior Trevor Cimino registered his team's second goal 22 seconds into the final period before senior Brian Hood, junior Joe Berardi (1 G, 1 A) and sophomore Joe Scali (2 G) struck.
"[Dan McMahon] made a good play, dumping it into the zone and I just had a breakaway, put it home," Cimino said. "We got that first goal in the third period, [and] I think they kind of shut down because they didn't know what to do anymore."
"It took us two periods to figure it out," Burlington head coach Bob Conceison said. "They played Monday night, [and] I felt like we could wear them down in the third period, and I think that showed in the third period."
Burlington earned a one-goal advantage when Berardi connected with Scali late in the first period before Acton-Boxborough evened the score at 1-1 when senior T.J. Barrett wrapped around the cage and squeaked the puck past junior netminder Derek DeCastro for the score.
"I think he was disappointed in the goal that [he] let in," Conceison said of DeCastro. "It was kind of a funny late period goal that might have been in the nearside, but he made a big save on a break away at 3-1, it was a huge save for us. And Derek's that type of goalie, he comes up big in those situations when we needed and that was a big step, and we needed that, we really needed that."
A-B had chances to earn a lead, but solid defense and goaltending by Burlington helped them escape with a victory, and set up an exciting Division 1 North final against Wakefield, Monday at Tsongas.
"It will be fun," Conceison said. "I don't know [if our] crowd can outdo their crowd."