Boston High School:

Joe Tyo
September, 15, 2012
9/15/12
12:54
AM ET
By
Brendan Hall
| ESPNBoston.com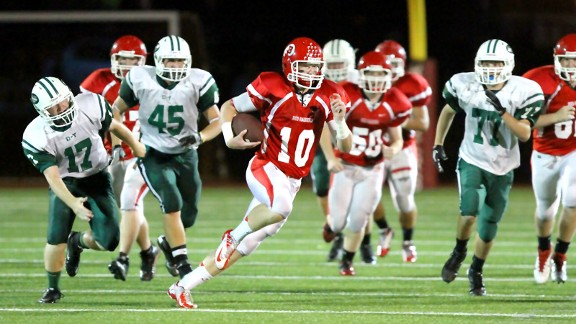 Eric Adler for ESPNBoston.comNick Peabody accounted for 415 yards of offense and four touchdowns as Barnstable hung 55 points on its opponent for the second straight week.
HYANNIS, Mass. -- Heading into tonight's installment, the previous three contests between border rivals Dennis-Yarmouth and Barnstable had been decided by a total of five points, with D-Y taking the last two in some memorable finishes.
Tonight's installment of what has become Cape Cod's fiercest non-Thanksgiving football rivalry, before a capacity crowd of several thousand at Barnstable High, was memorable for completely different reasons.
The 2012 version of this rivalry will be remembered for the clinic that Barnstable quarterback Nick Peabody put on, throwing for 350 yards and four touchdowns, with 65 more yards on the ground, in a 55-14 thrashing of the Dolphins that improves the No. 4 Red Raiders to 2-0. Middle linebacker Andrew Ellis, the leader of the Raiders' aggressive defensive front, offered up beams of relief as he looked up at the scoreboard.
"We finally did what we were supposed to do, man," he beamed. "We come out here every year like we should beat the snot out of these guys, but something happens, they get rolling, we can't stop them. But this year we finally did what we needed to do."
Said senior center Tom Grimmer, "It feels pretty good. The past two years, I've walked off the field with tears in my face. It just feels good tonight to finally get this before I get out of high school, out from under my skin. The monkey's off our backs now, finally."
Peabody has watched this game from the bench the previous three seasons as backup to record-setter D.J. Crook, but tonight he looked like he's been a four-year starter, hucking balls over the deep middle seemingly on a line and hitting his receivers intuitively in stride. The 6-foot-4, 225-pound senior finished the night 15-of-18 passing to go with the 350 yards.
[+] Enlarge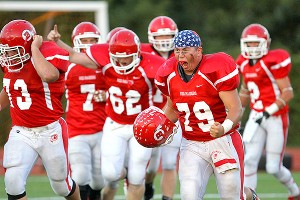 Eric Adler for ESPNBoston.comBarnstable's offensive line, led by Tom Grimmer (79), paved the way to 500-plus yards of offense.
"We punted once, [but] want to put it in every time we get the ball," said Peabody, who has totaled 10 touchdowns (eight passing) in the first eight quarters of the Raiders' 2012 season. "There was a lot of good, we still have some stuff to work on for sure, and we'll be working this week."
A number of factors have led the Red Raiders' dominant start to 2012 -- they've outscored the opposition 110-20 through the first eight quarters of the season -- but the most visible one, at least tonight, was the connection with senior wideout Dylan Morris. The 6-foot-2 speedster hauled in five passes for 207 yards and the first two of Peabody's four scoring strikes.
As D-Y (0-1) attempted to stack the box, Peabody went to Morris in space for some favorable results. Their first scoring strike happened after Derek Estes came up with a goal-line pick to give the Raiders the ball at their own two. On the first play of the ensuing drive, Peabody found Morris on a skinny post well behind the safety, for a 98-yard touchdown that made it 14-0 with 1:04 to go in the first quarter.
The Dolphins went three-and-out on the ensuing drive, and Peabody went back to his familiar target again on the first play of the Raiders' next drive. This time, it was a fly route down the left sideline, where Morris easily hauled in the pass against single-coverage then hip-shook a high arm tackle to march 51 yards to paydirt and a 21-0 advantage.
"He's a field general," Barnstable head coach Chris Whidden said. "He makes sure we're in the right position and right place, and he'll let the offensive coordinator know 'Hey, I'm seeing this', and we trust him enough to put him in a position...and he's got so much trust in all his other weapons.
"With Hayden [Murphy] at running back, and Dylan and Tedaro [France] and James [Burke], there's a bunch of guys you've got to worry about and defend, and if you defend one, somebody else is open. And Nick's got that confidence in all his teammates."
Peabody threw two more TDs, one to James Burke on another skinnny post before the end of the first half, then a 20-yard fade to Manny Perry at the back pylon to begin the fourth quarter.
"They came out and they were kind of stacking the box, bringing some pressure, and they didn't have a high safety over the top," Peabody said. "So we kind of thought if we could isolate Dylan on the outside he could beat the corner. And he did that a couple times for the big play."
In the zone:
Coming into this matchup, some mused that the key matchup might have come in the trenches, where Barnstable center Tom Grimmer was likely to square up with D-Y defensive tackle Joe Tyo. But considering the offensive numbers they put up tonight (513 yards from scrimmage), and the way they consistently moved the ball downfield, this was more the function of a unit rather than one singular act.
Though the centerpiece is nice. At 6-foot and 255 pounds, Grimmer displays a unique combination of leg power and low center of gravity to maintain leverage against bigger opponents, such as Tyo tonight. A three-year starter under center, Grimmer has had a reputation as a ferocious competitor in the weight room.
As for the line itself, the way the Raiders set up the run in Whidden's run-and-shoot scheme requires surgical zone blocking. It's a philosophy that has been ingrained in their heads since freshman year, after becoming accustomed to man-to-man concepts in the town's youth program.
"It's tough to get used to right away," Grimmer said. "But we've been doing it a while, and all we do is that zone blocking scheme. We've gotten used to it. It adds to our unity a little bit, becuase there isn't any chance to shine individually. A zone blocking scheme is designed to work together. When it works right, and everybody's getting off their blocks, it feels good."
Peabody had high praises for his line after the game.
"It's a great group, you really couldn't ask for any better of a group," he said. "They work hard. Those guys lift a ton of weight, they work really hard in the offseason, so it's not the [biggest] line but they're low to the ground and very strong. They have great technique. I have all the time in the world back there, they open up big holes. They're great."
Defense drops the boom:
The secondary was exemplary tonight, led by Estes, and Whidden deferred to the expertise of one of his secondary coaches -- none other than former Oakland Raider and Falmouth High great Willie Ford -- for that aspect (can't hurt, right?).
When you ask the No. 1 team in the state, Everett, what they think of Barnstable, they will tell you the Raiders were one of the hardest-hitting teams they faced all season, if not the toughest. More than Kevin Hardy's ball-hawking skills at free safety, this hard-hitting mentality is explicated in the front seven behind guys like Ellis and Bryan Hardy.
The Raiders switched off between three- and four-lineman fronts, with Ryan Litchman strafing in and out of the box as a "Rover". When Ellis read a run, he sniffed it out quick, and he hit the hole with authority. If you watched his play in last year's overtime epic against Bridgewater-Raynham, you know this is a familiar routine with the 5-foot-10, 230-pounder.
But give credit to the interior, where seniors D.J. Goncalves, Jason Freih and John Eldridge used their long reaches to get leverage on their opponents and free up gaps for the linebackers to shoot.
"We expect that out of Jason Freih," Whidden said. "He's a returning all-league kid, and we know what we're going to get out of them."
Said Ellis, "The D-line was just taking out the holes. They just get in there and do what needs to be done, and they make our job easy."
NO. 4 BARNSTABLE 55, DENNIS-YARMOUTH 14

BA 14 20 7 14 --- 55
DY 0 6 8 0 --- 14
First Quarter
B - Hayden Murphy 5 run (Terrence Mudie kick) 7:41
B - Dylan Morris 98 pass from Nick Peabody (Mudie kick) 1:07
Second Quarter
B - Morris 51 pass from Peabody (Mudie kick) 9:56
D - Spencer McCaffrey 80 pass from Jacob Pawlina (rush failed) 5:10
B - James Burke 45 pass from Peabody (kick failed) 3:47
B - Murphy 17 run (Mudie kick) 1:43
Third Quarter
D - Cory DeSimone 3 run (Pawlina run) 5:39
B - Tedaro France 7 run (Mudie kick) 4:27
Fourth Quarter
B - Manny Perry 20 pass from Peabody (Mudie kick) 10:12
B - Kristian Lucashensky 2 run (Mudie kick) 2:35
September, 14, 2012
9/14/12
2:41
AM ET
NO. 19 AUBURN (1-0) AT HOLLISTON (0-1)
The Skinny: Retribution is on Holliston's mind after last year's tough 14-13 loss in Auburn, and they'll face an uphill battle in trying to return the favor on their own turf. The Panthers fell to a talented Stoughton squad last week, while Auburn looked sharp in an easy victory over Shrewsbury. Holliston's Max Athy is a playmaker on defense, but the Panthers will have their hands full against an Auburn offensive line that averages nearly 280 pounds across and has been playing together for the last two seasons.

Co-editor Scott Barboza: The Panthers have some nice athletes on defense, the Rockets line simply takes over. Auburn, 28-14.

Co-editor Brendan Hall: Rockets will win again, and this time there will be no dispute about it. Auburn, 21-6.

DENNIS-YARMOUTH (0-0) AT NO. 4 BARNSTABLE (1-0)
The Skinny: The last three results of this early-season rivalry have been decided by a total of five points, with D-Y holding a two-game win streak in the series, making this the fiercest non-Thanksgiving rivalry on Cape Cod. Barnstable figures to have the advantage offensively, with Nick Peabody leading a potent and speedy attack that is coming off a 55-3 blowout of Durfee, but the Dolphins have always devised a great defensive game plan to slow things down. The key matchup might be in the trenches, where Barnstable center Tom Grimmer is expected to square off with D-Y tackle Joe Tyo.

Barboza: I think the rivalry factor keeps this game closer than it might look otherwise. Barnstable, 25-21.

Hall: On paper, the Red Raiders have an advantage in many facets of this game. But they don't call it a "Backyard Brawl" for the seafood chowder. I'm hoping to get out of Hyannis in one piece after this one.

Barnstable, 21-20. NO. 6 LONGMEADOW (1-0) AT NO. 18 ST. JOHN'S OF SHREWSBURY (1-0)
The Skinny: St. John's may have answered any offensive questions with its 47-point outburst over Holy Name last week, but may have raised defensive ones by allowing 40 points and over 460 yards rushing. The road doesn't get any easier this week, with some calling this Longmeadow's best shot at getting an elusive win over the Pioneers. As usual, they'll do it behind a surgical Wing-T scheme, with an all-senior line led by Rob McClure and Lou Calabrese. Pioneers quarterback Andrew Smiley looked impressive in his varsity debut, and he'll be hoping for another big day from Shadrach Abrokwah to open up the middle of the field again.

Barboza: I think Longmeadow is able to play ball control and keep St. John's offense off the field. And it doesn't matter where Frankie Elder is lined up, he makes it happen. Longmeadow, 20-13.

Hall: Much like Holy Name last week, this is the year Longmeadow has to beat St. John's. But if this turns into a track meet again, I don't like the Lancers' chances. St. John's, 30-20.

NO. 1 EVERETT (1-0) AT NO. 15 SPRINGFIELD CENTRAL (1-0)
The Skinny: A season ago, Central rolled into Everett Memorial Stadium and was swiftly handed a 42-13 loss. The Golden Eagles have grown up a lot since that fateful night in Everett, reeling off 10 straight wins en route to the 2011 D1 West Super Bowl, and return many key components, including quarterback Cody Williams and defensive tackle Shawn Lockett. Everett remains unsettled, with running back Kenny Calaj's status up in the air and the quarterback situation a mystery. Last week, the Tide resorted to Gilly De Souza under center, even though he'd never played the position before, but he got the job done in a 29-7 win over Leominster. The biggest question might be whether the Eagles' secondary can contain Everett's talented perimeter players, specifically Jakarrie Washington and Jalen Felix.

Barboza: Similar to Everett's matchup with Leominster last week, Central is a strong team in its own right, but just not enough to dethrone King Crimson. Everett, 34-21.

Hall: Central might have its own "Honey Badger" (the good kind, of course), but the Tide have "Felix The Cat". Everett, 35-14.

No. 21 NEEDHAM (1-0) at No. 20 MANSFIELD (1-0)
The Skinny: Both teams rolled in the season openers last week, but this one could go down to the final seconds. The Rockets had a tremendous performance last week from Mike Panepinto (8 carries, 181 yards) running behind a line anchored by tackle Mitch Hildreth. Meanwhile, Mansfield claimed a 49-15 romp over Westfield. Alex Ruddy led the Hornets on defense, racking up 10 tackles (8 solo) in last week's win and will be a key to slowing down the Rockets' rushing attack.

Barboza: The scoreboard at Mansfield might malfunction trying to keep up with the scoring in this one. Needham, 35-34.

Hall: We could honestly see 800 yards of offense in this one. Mansfield, 38-34.

No. 9 BROCKTON (1-0) at No. 22 READING (1-0)
The Skinny: The question is what the Boxers will do with the momentum they gained while shutting out BC High last week. Will they ride the wave and roll over the Rockets? Or does this game have let down written all over it? The matchup to watch will be watching Rocket-armed Reading quarterback Drew Belcher operating against the Brockton secondary led by Micah Morel. Boxers QB Auggie Roberts had a huge week against BC High, running to the tune of 139 yards and two touchdowns, so the Rockets will need to slow down the triple-option threat if they're to defend their home turf.

Barboza: Made this pick in the preseason when we projected out Brockton's record through the first month of the season. Boxers are moving to 2-0. Brockton, 25-21.

Hall: Since Reading head coach John Fiore is a big pro wrestling fan (just like Scott and I), my gut tells me the Rockets will deliver a Stone Cold Stunner under the bright lights. Reading, 21-20.

NO. 17 NORTH ATTLEBOROUGH (1-0) at NO. 13 BC HIGH (0-1)
The Skinny: BC High will assuredly enter this one ticked off as a bull after failing to get on the board against Brockton in Week 1. But what the Eagles will look like on offense is a whole other deal. Brendan Craven joined BC High's growing MASH unit against Brockton and should be out a month. On the other hand, North enters with a modicum of momentum after dispatching Rhode Island's No. 1 squad, La Salle Academy. Alex Jette went off for 346 all-purpose yards while scoring three touchdowns as our Player of the Week for Week 1.

Barboza: I think the X-factor is the Red Rocketeers' offensive line, which is athletics as ever, but also one of the biggest lines Don Johnson's ever seen in his tenure. North, 14-13.

Hall: I'm getting antsy here. If BC High can't pull this one out, I'm 0-2 with the Eagles and I might have to default on my mortgage. I'm still in debt to Galvo for my anti-Brockton picks. BC High, 13-6.

CENTRAL CATHOLIC (1-0) at NO. 3 ST. JOHN'S PREP (1-0)
The Skinny: The question of this matchup might be how many passes are attempted. These teams love them some ground game and, why not? With running backs like Central's Santino Brancato and Prep's Alex Moore and Jonathan Thomas, there's not a lot of incentive for airing out the ball. This one is going to be settled with three yards and a cloud of dust.

Barboza: Even though these teams could end up in a ball-control kind of game, I think there will be a couple of big running plays to be had for either side. Prep, 31-20.

Hall: As they have done in recent years, the Raiders will find a way to make this game interesting. But if they don't, then you know Prep is for real. Prep, 24-10.
September, 5, 2012
9/05/12
3:48
PM ET
This season, we're trotting a new feature for football season that we started back in the spring. Each Wednesday, we'll pool the minds of our ESPN Boston staff and contributors to debate several hot button topics across the state in our Roundtable.

Without further ado, let's kick off the new season with these takes:

1. BC HIGH RECEIVED SOME BAD NEWS LAST WEEK WHEN RETURNING ESPN BOSTON ALL-STATE LINEBACKER LUKE CATARIUS SUFFERED A HAIRLINE FRACTURE ON HIS ANKLE. HOW WILL THE EAGLES COPE?

Brendan Hall, ESPN Boston High Schools Editor: Over the last decade, BC High has proven to be a program with enough sufficient depth to compensate when star players miss a significant time with injury. However, it's different when you lose the quarterback of your defense, especially when it's a player as special a talent as the Eagles' Luke Catarius.

In the scrimmage against Mansfield, after Catarius went out with the ankle injury, the Hornets went to the underneath game and exploited the flats for big gains. There was also one big miscommunication in the secondary that allowed Kevin Maki to wheel right through the middle of the deep field for a 45-yard completion. Not that this won't be shored up before Friday's big tilt with Brockton, but it is worth pointing out.

The good news, obviously, is that the Eagles' Catholic Conference season doesn't start until late October – but with Xaverian and St. John's Prep looking sharp, it will be obvious if this team isn't in proper shape. With that in mind, I expect Brandon Owens' role at outside linebacker to have an even bigger significance than before. The pressure will also be on the front four, led by Jaleel Johnson, to buy the back seven time.

Scott Barboza, ESPN Boston High Schools editor: In terms of talent, I think the Eagles can get along. My greatest concern for BC High's defense without Catarius relates to communication. The linebacker has been the leader of the defensive huddle, with messages from the sideline passed along to the inside linebacker. On field, Catarius was the quarterback of the defense as well, not only knowing his own responsibilities, but that of his teammates. That comes from knowledge of the system and cannot be replicated; it only comes through game-condition experience. The Eagles have a bevy of returning starters on the defensive line and secondary to shoulder the load but this one hurts. Will they rely on Brandon Owens to not only be the feature back, but take on more Catarius' two-way role? We saw what happened last year when Preston Cooper went down at running back and how Deontae Ramey-Doe filled those shoes. So perhaps this will be more of the same for a deep Eagles' squad. But a player of Catarius' ilk cannot simply be replaced.

Adam Kurkjian, ESPN Boston correspondent: Without question, losing one of the top two-way players in the state will have a negative impact on BC High. The Eagles will not be able to replace his production easily and there may be an extra loss or two that comes down their way early on because of it. That said, if he is back by the time Catholic Conference play rolls around, BC High will still be one of the favorites to make it back to the playoffs. But still his loss cannot be understated.

Bruce Lerch, ESPN Boston correspondent: Believe it or not, I think the Eagles will be fine defensively. Obviously, Catarius is a one-of-a-kind talent with the ability to singlehandedly change opposing offensive gameplans. BC High will simply lean more on the unit as a whole rather than an individual to bail them out, as Catarius often did with his read and react style of play. Linebackers Danny Collins and Brandon Owens are leaders, defensive linemen like Billy Breen and Jaleel Johnson will take up blockers and make a few plays on their own, and the secondary will have to be more active in supporting.

Oddly enough, I think it's on offense where the Eagles may miss Catarius the most. A bruising fullback, Catarius helped pave the way for Preston Cooper and Deontay Ramey-Doe to pile up yardage last season. New backs Owens and Skyler Evans, along with a mostly inexperienced line, would have benefitted greatly from having Catarius leading the charge.

John Botelho, Editor-in-Chief, South Shore Sports Journal: I'm not even sure this Luke Catarius injury will have any real impact on BC. And I don't mean that as a slight to Catarius - in fact, I think he's the best linebacker in the state. My point of view though is this is a non-issue for the Eagles for two reasons.

First of all, replacing Catarius obviously wouldn't be easy, but aren't teams in the Catholic Conference best suited to replace someone they lose to an injury? Those teams are so loaded and so deep that it seems they have significant depth at every position. Or at least it seemed that way when Preston Cooper - who was arguably the best running back in the state in the first half of last year - went down with a broken ankle. All BC did was go on to win the Super Bowl as Deontae Ramey-Doe stepped in and the Eagles never missed a beat.

Secondly, and most important, is that BC doesn't open up league play until October 26 when they host Malden Catholic. I think even without Catarius, it'd be considered an upset if the Eagles lost that match-up. If it really comes to it, they don't need Catarius back until November 4th, week eight of the season, when they travel to Xaverian. It's reasonable to think that a hairline fracture would be healed up and they'd have him back by then.

2. WHICH REGION OF THE STATE HAS THE BEST UP-AND-COMING TALENT?

Hall: The emergence of Springfield-area talent over the last few years is one of the best stories developing this fall. But in terms of pure talent, for me it's got to be the Cape & Islands region.

Every year, there seems to be a Cape player that seemingly washes ashore to earn a Division 1 scholarship. Two years ago, it was Randall Jette from Martha's Vineyard going to UMass. Last year, Nauset's Brendan Battles-Santos surprising everyone at UConn's prospect camp to earn a scholarship practically on the spot. This past summer, UMass dug back into the region to pluck 6-foot-7 tight end Terrel Correia out of Nantucket, with intentions of making him an offensive tackle.

We'll obviously be watching Correia closely this fall, but he isn't even the best player from the region. Barnstable quarterback Nick Peabody is among the state's best, with Ivy League interest. Mashpee has three athletes with Division 1 potential in tackle Nate Chrzanowski, running back Jared Taylor (he of the 300-yard epic last year at Gillette Stadium) and his new backfield mate Malik Lee, a Cape Cod Tech transfer with plenty of upside at 6-foot-2 and 235 pounds.

Also keep an eye on Dennis-Yarmouth's Joe Tyo, who still has to fill out but is projectable with a long 6-foot-5 frame and some active footwork. Falmouth sophomore Craig Green will be an intriguing prospect to monitor, after running a 10.6-second 100-meter dash last spring at the New England Track and Field Championships. And as good as Darien Fernandez was on the basketball court for Wareham last winter, some believe he's an even better running back.

Barboza: I'm looking no further than our statewide preseason Top 25 poll to find two Springfield squads (Central at No. 14 and Putnum at No. 23) and another (Springfield Commerce) knocking on the door. Central is retooled for another run at Longmeadow in Div. 1 West with some key returnees from last year's squad that made it to Gillette Stadium. Quarterback Cody Williams could be a breakout performer this year and Shawn Lockett is a legitimate force to deal with on the lines. Melquawn Pinkney might be gone, but the cupboard's not bare for Putnam with Wayne Lowery, shouldering more of the running load while playing lock-down corner. Sha'ki Holines (UConn) and Hassan Graham (not to be confused with the Patriots receiver of yesteryear) grade out at their positions against anybody across the state.

Kurkjian: This is a tough question because the season has not started yet, so it is hard to assess which region has the top players. As it stands now, though, the North Shore looks to have an overflow of top players if you consider Everett part of that region. Also, don't forget BC High's Brandon Owens hails from Salem.

Botelho: Last fall made it hard to argue with any region being more up-and-coming than the Cape. Four of the nine Eastern Mass. Super Bowl champs were from the Cape and Islands (Dennis-Yarmouth Div. 2A, Bourne Div. 3A, Mashpee Div. 4 and Nantucket Div. 5). Not only did those teams each win Super Bowls last season, but the Cape teams outscored opponents 120-29 in those games. Only Bourne had a competitive game, beating defending Super Bowl champ Hamilton-Wenham, 16-14.

3. WHICH RUNNING BACK WILL HAVE THE BIGGEST BREAKOUT?

Hall: There's a lot of directions you can go with this one. The addition of Malik Lee, and his soft hands, to Mashpee's already-dangerous backfield has to feel like a high school offensive coordinator's dream. Out west, Springfield folks are excited about two potential breakout candidates in Putnam's Wayne Lowery and Central's Aaron Owens. St. John's of Shrewsbury's Shadrach Abrokwah is bound for a breakout in John Andreoli's new Oregon-style "blur" offense.

However, I'm going with BC High's Brandon Owens. That he is already committed to a Division 1 FCS school (Bryant) despite only seeing part-time duty one way last season speaks to his upside. As a runner, there is no wangle to his makeup – he's a north-south, one-cut guy with a powerful frame that accelerates quickly to hit the hole at full speed.

Losing fullback Luke Catarius for the first six weeks of the season means the Eagles may have to get more creative with their offensive sets. But after seeing him take the corner on toss plays out of "Ace" formations, in the Mansfield scrimmage, I think he's up for any task the coaching staff throws at him.

Barboza: I think we're all hedging that Malik Lee of Mashpee will have a monster season in his first year with the Falcons, but I'm going to buck the trend here and go with another runner inside the South Shore League. Abington's Babila Fonkem tallied seven touchdowns (five of those came in one game against backyard rival Archbishop Williams) and ran for over 1,000 yards last season. I think the 5-foot-10, 180-pounder has the potential to more than double last year's tally as a feature back during Jim Kelleher's swan song as head coach.

Kurkjian: From the looks of it, Brandon Owens has had a spectacular preseason and he will be the feature back in what expects to be another punishing ground attack for BC High. It appears as if the Eagles have just reloaded there.

Lerch: Everett's Kenny Calaj is already something of a household name, having been an impact weapon in Everett's offense the past two seasons. The majority of that. however, came as a pass catcher. With a pair of untested quarterbacks still battling to replace record-setting Jonathan DiBiaso, not to mention a mammoth group of offensive linemen, it would only make sense for the Tide to return to the ground game and Calaj should benefit as the main ball-carrier. I'm not sure what the record for all-purpose yardage in Massachusetts history, but Calaj is in a position to do some historic things as a senior.

Botelho: Arcel Armstead is primed to have an elite year at running back for Bridgewater-Raynham this season. It's no secret that Dan Buron-coached teams run the ball as well as anyone, and with both Nick Schlatz and Brandon Morin gone, Armstead will be the featured back for the Trojans. His athleticism alone would be enough for him to have a big year in that system, but B-R returns their entire offensive line from a season ago, led by 6-foot-4, 260-pound Joey MacInnis, meaning the sky is the limit for Armstead.

Don't sleep on guys like Jon Hurvitz at Duxbury, who is the best athlete returning to the Dragons who will need to remake their identity a bit without Matt O'Keefe under center. Hurvitz runs hard and has a chance to be the first running back Duxbury has built their offense around in recent memory.

Also, the South Shore League seems littered with potential breakout candidates. Jared Taylor is probably the best well-known running back who was a back-up last season. He flashed his electric running ability in the Super Bowl to the tune of more than 300 yards. But he won't be the only guy terrorizing defense in the league.

Babila Fonkem returns to Abington for a senior year with added size from his 1,000-yard campaign a year ago. Brian Kilmain, a junior for the Green Wave, could give them the most dangerous two-headed backfield in the league.

Andrew Benson, who looks like he'll officially be a quarterback, is ready to break out at East Bridgewater. He could end up running for more yards than ESPN All-Stater Casey DeAndrade a year ago, for more than one reason. Last year, DeAndrade split carries with Tim O'Brien. While Benson will share the backfield duties with Kevin Lynch, he'll see a higher percentage of touches than DeAndrade last year. Also, E-B's offense was so explosive last year that DeAndrade (and O'Brien) had their numbers cut down because the Vikings had big enough leads that the starters weren't on the field a lot in the fourth quarter. Only when they played Abington and Mashpee did starters stay in the entire game. This year's team will rank among the best in the SSL, but I don't think they'll put teams away so quickly this time around.

4. TAKE A LOOK AT THE FIRST MONTH OF BROCKTON'S SCHEDULE, AND PREDICT A RECORD.

Hall: This is going to upset some of our readers in the City of Champions, but there's a realistic possibility of the Boxers coming out of the gate 0-4. Of those first four opponents – BC High, Reading, St. John's Prep, Xaverian – nobody's gotten worse from 2011, while I feel Brockton is still sitting in second gear after last year's disappointing end.

That said, it sounds like Bryant-bound running back/defensive back Micah Morel will be ready for Friday's opener against BC High after injuring his shoulder in the preseason, so that's a positive sign. As for record, I think the Boxers will steal a game, either against Prep or Reading, to start off 1-3.

Barboza: Well, let's go the tape … And hold me to this. I'm going:

Week 1, vs. BC High – Loss

Week 2, at Reading – Win

Week 3, vs. Xaverian – Loss

Week 4, vs. St. John's Prep – Loss

That would make the Boxers 1-3 rolling into October. Then I think they rebound with three straight wins and finish out the season at 6-5 and represent the Big Three in the Division 1 playoffs as a very dangerous team after enduring a trying first month.

Kurkjian: With so many question marks surrounding this offense, it is hard to project exactly how the Boxers will fare. That said, this is a brutal start to the season. The feeling here is that Brockton manages to steal one and get off to a 1-3 start.

Lerch: It's a very real possibility that Brockton goes 0-4, and I think best case scenario is that they salvage a 2-2 mark. Any better than that and I wonder if the Catholic Conference would have an issue with adding a "league game" between Brockton and Everett to play for its championship.

Botelho: Brockton has the best program in state history. Literally. Their 751 all-time wins ranks first in the state by a wide margin (no one else even has 600 wins). They've also captured 11 Super Bowl titles in 40 years. That said, the last few years haven't been what Boxer fans are used to. They missed the playoffs two years in a row, and last season slumped to a disappointing 5-6.

All those struggles did was ignite something in the Boxers, who look primed to return to the postseason this season. I'm going to say Brockton gets through that portion of the schedule (one Peter Colombo said might rank as the toughest in New England) with a winning record. I'm a believer in Brockton this year, and they'll knock off at least one Catholic Conference opponent, as well as take care of business with Reading and Fitchburg. My guess is the Boxers end up 3-2 in this stretch (including a loss to BC High week one, which they'll avenge in the Super Bowl in December).

5. WHAT GAME WILL BE THE MOST THRILLING OF WEEK 1?

Hall: On a state-wide level, Everett's trip to Leominster is certainly garnering the most interest, and deservedly so. The atmosphere there is going to be electric, with projections of anywhere up to 7-8,000 for expected attendance at Doyle Field. But, at the risk of being the wet blanket here, find me a pundit that doesn't expect Everett to win.

Putnam-Central will be an intriguing battle out west, but I'm going with an underrated Saturday afternoon showdown in Shrewsbury, where St. John's will host Holy Name in their customary season-opener. For all of Holy Name's success under Mike Pucko, the Naps have never beaten St. John's under John Andreoli. Last year's contest, a 22-21 St. John's thriller, was just epic on all fronts. And if there's any year for Holy Name to get that elusive win over the Pioneers, it's this one.

Barboza: This might not be the most high profile game on the docket, but I'm looking at the good ole fashioned brawl in the backyard between Dighton-Rehoboth and Somerset. The Falcons, coached by Somerset alum Dave Driscoll, are looking to rebound a bit in the South Coast Conference this season behind physical tackle Chuddy Nwachukwu and the Raiders could bounce back from a rebuilding year last year to finish atop the Eastern Athletic Conference this year. This has always been an underrated rivalry game in Southeastern Mass. and it's a great way to kick off the season for both squads.

Kurkjian: When in doubt, go with the No. 1 team opening up on the road against a program and community brimming with optimism over a Super Bowl win. No matter what happens, the atmosphere for Friday night's Everett at Leominster game will be electric.

Lerch: With apologies to several other high profile (BC High/Brockton) and not-so-high-profile (East Boston/Blue Hills will be a barnburner) matchups certainly deserving attention, the game at the top of my marquee is Duxbury at Bridgewater-Raynham (Saturday, 4 p.m.). Two programs very similar in the foundations programmed by a pair of tremendous head coaches, and both with an eye on getting a jump start on the "reload" process should be ready to go toe-to-toe for 44 minutes (or more).

Botelho: My favorite week one match-up is always Bridgewater-Raynham and Duxbury (especially this year, where these two teams grabbed the top two spots in our pre-season poll over at SportsJournal.co). Both perennial Super Bowl contenders, if either team doesn't bring their 'A' game from the get-go, they start the season with a loss. Dave Maimaron and Dan Buron always have their kids supremely prepared, so this one has a playoff atmosphere in September.
July, 14, 2012
7/14/12
10:00
AM ET
Bay State Games communications coordinator Craig Kaufman sends along results from today's plethora of action:

BASEBALL
Southeast 1, West 1
West clinched the Silver Medal by playing to a 1-1 tie with Southeast, who were hoping to put themselves in place for the silver, but ended up settling for Bronze.

Derek Bauer (Millis) drove in Steven Gilbert (Franklin) in the first inning as Southeast took a 1-0 lead and held it all the way to the bottom of the seventh inning, when West, down to their last out, tied the game when Tim Donahue (Westfield) came across the plate and forced extras.

Northeast 4, Central 3
Having already clinched the Gold Medal, Northeast took the field and held off a late Central charge to finish with a record of 4-0-1.

Northeast scored three runs in the third inning, thanks t otwo walks and two singles, the second of which a two-run hit by Nicholas Comei (Bradford). Colton Fontaine (Newburyport) scored in the third and then again in the fourth as Northeast took a 4-1 lead.

Central scored twice in the sixth inning through a two-run single by Jake Ryan (Whitinsville) to pull within a run, but Ryan McAuliffe (N. Reading) stranded two runners in the seventh to shut the door and collect the save.

Coastal 8, Metro 3
Coastal busted the game open in the fifth inning with three straight doubles, the last of which, by Kevin Huscher (Middleboro) drove in two runs. Mike Bruemmel added a two-run single in the sixth inning , while Cody Younger (Middleboro), who went 2-2 in the game, had a two-run single in the third.

Metro tied the game at 3 in the top of the fifth after falling behind. William Mitchell (Quincy) and Alex Joyce (Newton) singled and walked, respectively and Austin Johnson (Arlington) delivered a single to left field.

Final 2012 Bay State Games Baseball Standings:
1. Northeast (4-0-1)
2. West (3-1-1)
3. Southeast (2-2-1)
4. Coastal (2-3) – won the head to head vs. Central, 2-0
5. Central (2-3)
6. Metro (0-4-1)

BOYS' SOCCER
Northeast 3, Southeast 0
Chris Donnolly (Woburn) opened the scoring in the 17th minute on a header from a corner and Conor Leahy (Beverly) doubled Northeast's advantage with a shot from the left side in the 23rd minute. Paul Magazzu (Reading) capped the scoring in the 38th minute, taking a pass from Nick Atwood (Andover) and scoring from the right.

Metro 4, Central 2
Central got on the board first through Lukas Ritzer (Sutton) in the fifth minute, but Metro scored three times without answer, including a direct kick goal from Hilcias Palencia (Chelsea) and the first of two goals on the day from Jadison Medina (Chelsea). Central pulled a goal back in the 60th minute when Tyler Martin (Charlton) converted a penalty kick, but Miranda's second of the day three minutes later finished the game.

Coastal 1, West 0
The lone goal of the game came in the 56th minute, when Coastal's Noah Martins (Dartmouth) curled a bending chip shot in from 12 feet out.

Central 5, Southeast 0
Tyler Martin (Charlton) scored the first two goals of the game, including coring a penalty I nthe 32nd minute and Central shutout Southeast. Ritzer added a goal and assist, Jordan Elster (Sutton) scored and Justin Asam (Milford) had a goal and two assists in the victory.

Northeast 3, Coastal 1
Coastal got on the board first when Timothy Amaral (New Bedford) scored in the 14th minute, but three second half goals, including tallies from Nick Atwood (Andover) and Sean Berube (Wilmington) delivered the comeback victory for Northeast.

West 3, Metro 1
West led 3-0 at halftime after goals by Nicholas Martinelli (E. Longmeadow), Jeff Danek (Ludlow) and Matthew Kolb (W. Springfield), before Metro's Hilcias Palencia (Chelsea) pulled one goal back in the 51st minute.

GIRLS' SOCCER
Central 1, Metro 0
Central's Cierra Dubinsky (Sutton) scored the lone goal in the 35th minute to deliver the slim victory to Central.

Southeast/Coastal 2, West 1
Three goals in the final four minutes of play decided this game, as Southeast/Coastal's Stephanie Striglio (Hull) scored in the 66th and 69th minutes. West pulled back a goal in the final minute, but ran out of time to get a point out of the game.

Northeast 2, Central 0
Megan Cullen (Amesbury) got both the goals for Northeast, scoring in the 44th and 55th minutes. Sophie Draper (Andover) picked up the first assist, with Rebecca Mercuro (Saugus) assisting on the second goal.

Metro 2, Southeast/Coastal 1
Southeast/Coastal's Kelly Couite (W. Bridgewater) scored in the 10th minute on a feed from MacKenzie Gillis (Abington), but two goals from Alexandra Curtain (Winchester) in the first half delivered the final score in favor of Metro.

Northeast 2, West 1
Northeast bookended a West goal with tallies by Carolyn Cook (S. Hamilton) and Megan Cullen (Amesbury), with Rebecca Mercuro (Saugus) picking up both assists. West's goal came from Jordan Bates (Chicopee), with the assist coming from Natalie Caney (Belchertown).

FIELD HOCKEY
Metro/Northeast 3, Central 0
Coastal 3, West 2
Southeast 4, Coastal 0

Boy's 9-10 Basketball
Metro 71 Northeast 66
The Metro squad prevailed over the Northeast squad. The Metro team was led by Keith Burns from Belmont who had 21 points and Christian Lejuene from Waltham who contributed 15 points. The Northeast squad was led by Cody Broges from Dartmouth who had 16 points and Kareem Murrell from Dorchester who had 14.

West 60 Central 45
The West region was led by Jake Ross from Florence who had 18 points and Keith Natale scored 13 points.

Coastal 59 Metro 46
The Metro region was led by Adam Kleckner who contributed 9 points in a losing effort.

Northeast 67 Central 27
The Northeast squad was led by Kareem Murrell who had 18 points and Anthony Gilardi had 13. The Central squad was led by number 11 with 17 points.

BOYS' LACROSSE
Southeast 9, Metro 6
Steve Righini (Weymouth) scored three times for Southeast and Alex Pacitti (Foxborough) added two goals. Kyle Deluca (Weymouth) scored a goal and added an assist as Southeast scored three times in the fourth quarter to break a 6-6 tie. Goalie Keison Cunningham (Weymouth) made 11 stops for Southeast and also helped his own cause with a goal. For Metro, Jack Trottier (Tyngsborough) scored four gaols and Ben Foley (Tyngsborough) pitched in a goal and an assist, while Scott Powell (Swampscott) made 23 stops in a losing effort.

Coastal 11, Northeast 5
Will Mare led the way with five goals for Coastal, who also got three goals and an assist from Ethan McCullough. Mike McCarthy and Sean McNamara combined to make 7 stops in goal.

Northeast was led by Evan Connolly (Peabody) who scored twice and also got single goals from Derek Lawton (Bishop Guertin), John Curcuru (Gloucester) and Ian Kennedy (Gloucester).

Joshua Nelson (Medford) was strong in goal, making 19 saves.

Southeast 10, Central 5
Righini scored six goals and tallied an assist, while Jack Vail (Franklin) scored twice and Jake Sargeant (Franklin) notched two assists. Cunningham and Daniel Sprague (Weymouth) combined to make 9 stops in net.

Central got a goal and an assist from Michael Castellani (Nipmuc Reg.) and two assists from Nicholas Polutchko (Algonquin Reg.) and matched Southeast 2-2 in goals in the second and third periods. Matthew McIntire (Milford) made 13 saves.

Coastal 13, Metro 7
Will Moore (5 goals and 2 assists) and Joe Tyo (4 goals and 1 assist) paced the Coastal squad, with Ethan McCullough pitching in three goals and an assist. Jack Trottier (Tyngsborough) paced the Metro club with four goals, while Scott Powell (Swampscott) made four stops in net.
May, 29, 2012
5/29/12
12:14
PM ET
By
Brendan Hall
| ESPNBoston.com
In between baseball and girls lacrosse games, I had the chance to check out a few football combines this past month. Emptying out the notepad, here are some leftover nuggets:
Massachusetts High School Football Coaches Association Combine
Gillette Stadium
Foxborough, Mass.
May 6
Earlier this month,
we checked in with several of the state's top prospects who were at the combine
, including Xaverian's Maurice Hurst Jr., Mills/Hopedale's Jon Baker, and Dighton-Rehoboth's Chuddy Nwachukwu. Today, with new information, I'm bringing to light some new information about some players with hidden potential.
Athletic Standard CEO Thomas Newman passed along some information regarding the tests his company ran during the combine, pasted below. I've added each player's school in parentheses:
The following Athletes all tested in the 95th percentile in the nation for vertical jump (Horsepower and the first indicator of genetic potential):

Sean Antonuccio (Masconomet)
Junior Oyaronbi (St. Clement)
Frank Ansah (Worcester South)
Terrance Gibson (Taunton)
Berny Platel (Fitchburg)
Shaun Callahan (Norwood)
Nick Patten (Medford)
Sean Eldridge (Bristol-Plymouth)
Isaiah Douglas (Bishop Feehan)
Dominque Leite (Brockton)
Alex Jette (North Attleborough)
Babila Fonkem (Abington)
Elias Camacho (Canton)
Jamal Williams (Taunton)
Justin Mount (Westford)
Shadrach Abrokwah (St. John's of Shrewsbury)
Quron Wright (Holy Name)
Kevin Makie (Mansfield)
Kaylan Philbert-Richardson (Archbishop Williams)
Thomas Johnson (Pembroke)
Daniel Kegbeh (Holy Name)


Lateral Speed (huge component for separation or locking down on defense)

Jhalen Bien-Aime (Boston Latin)
4.218 - Laser pro agility
4.01 - Stop Watch Conversion time


Additionally, it should be noted this kid was so raw any speed coach will bring this down to a sub 4.0 pro or a 3.8 stopwatch time. Great kid by the way, real gentleman

Watch List (these kids have one standout feature):

Andrew Benson (East Bridgewater)
6-foot-1, 175 lbs.
Vertical - 27.75
Pro Agility - 4.421

It doesn't appear that he will grow much more but depending on his football skills this would be a solid pick.

Ricardo Calixte (Brockton)
5-foot-10-3/4, 198 lbs.
6-foot-4 wingspan nearly (this kid will grow over the summer)

Vertical - 28 inches - Normalized Index 406
Pro-Agility - 4.43 - Normalized Index 330

I would keep a close eye on him because if he gets any taller or heavier he will easily tip into the strong D1 prospect.
Calixte's story is an interesting one. He has the athletic frame and raw tools to be an impact on defense (he also ran a 4.75 second 40-yard dash), but has played sparingly to this point -- allegedly, he didn't suit up for Friday night games last season due to religious obligations. The only points to his name in last year's box scores is a two-point conversion run. Micah Morel is probably the Brockton prospect with the highest ceiling right now, but keep an eye on Calixte.
Impact Performance Football Combine
Massachusetts Maritime Academy
Buzzards Bay, Mass.
May 26
Impact Performance Training owner Ross Jatkola put on his first combine on the turf at Mass. Maritime's Clean Harbors Stadium, attended primarily by athletes from the Cape Cod area.
Pound for pound, Dennis-Yarmouth was arguably the toughest team in the state last fall. The Dolphins' run to the Division 2A Super Bowl title this year, blowing out many of their opponents despite being routinely undersized (sometimes comically so), and everyone playing both ways, is testament to this. A lot of credit goes to Paul Funk and the remarkable building job he's done over the last decade to a program that won just six games in the 1990's. But credit also has to go to Jatkola, a D-Y grad and former University of Albany tight end who also works as the Dolphins' strength coach.
Cape Cod football is on the rise in Massachusetts -- a record five Cape teams made playoffs last year, with four of them winning Super Bowls -- and this was a good chance to see some of the rising stars in action. About three dozen competed, with Barnstable's Bryan Hardy winning the pro agility and Bourne's Josh Curry winning the 40-yard dash.
For the complete results
CLICK HERE
.
A few observations:
Peabody pleases
If I'm picking four quarterbacks for our preseason All-State team, Barnstable's Nick Peabody is probably on the list -- I would have said this in January. He has ideal quarterback size (6-foot-3, 225 pounds) puts a lot of zip on the ball, and has big-game experience (leading the Red Raiders to their first playoff appearance in 10 years). I know we have to take these things for what they're worth, but the way he threw the ball around in 7-on-7 drills reaffirmed my disposition. Saturday morning, he was putting the ball in tight spots all over the field, hitting teammates on 15-yard out patterns seemingly on a dime.
Linemen to watch
Two Class of 2013 linemen to keep an eye on are Barnstable's Tom Grimmer and D-Y's Joe Tyo. Grimmer is built low to the ground, going about 5-foot-11 and 250 pounds, but has good balance and posture. He won the bench press event, doing 26 repetitions at 185 pounds.
Tyo could be a late-bloomer. He's a raw prospect at 6-foot-4 and 250 pounds, didn't start on the interior defensive line until Week 3 of the 2011 season, and needs to build more upper-body strength. His frame has yet to fill out. But he also ran a 4.9 second 40-yard dash, and demonstrated terrific footwork in pass-blocking drills.
Next In Line?
It's too early to predict the next Matt Montalto, D-Y's 2011 ESPN Boston All-Stater at quarterback who will be suiting up for Bentley University this fall. But when the time comes, his cousin, Michael Dunn, could fit the bill. The freshman won the vertical jump at 9 feet 3 inches, and I'm told he'll be used in an "athlete" slasher role going forward for the Dolphins.