Boston High School:

Joe Velozo
April, 27, 2013
4/27/13
5:56
PM ET
By
John McGuirk
| ESPNBoston.com
WORCESTER, Mass. -- With the minimal amount of run-scoring opportunities each team had, both Malden Catholic and St. Peter-Marian needed to play beyond the Saturday's seventh-inning affair to claim a victor.
It finally came in the bottom of the ninth. With two out and Jon Roy standing on first base, Guardian right handed batter Desi Garcia ripped a Joe Velozo fastball deep into the gap between right and center field. With Roy, who was running on contact, chugging around the bases, the senior was sent all the way home by head coach Ed Riley once Riley noticed Lancers' center fielder Dan Marini slip on the grass after retrieving the ball of the fence.
[+] Enlarge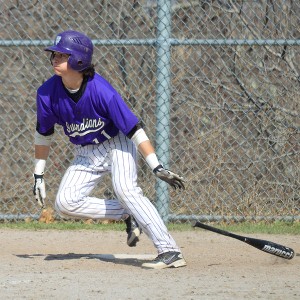 Brendan Hall/ESPNSenior Desi Garcia scored Jon Roy from first in the bottom of the ninth to make it four straight wins for St. Peter-Marian.
As Roy crossed the plate, the senior was mobbed by jubilant teammates in celebration of SPM's hard-earned 2-1 triumph.
Velozo and Guardians starter Zach Zona refused to give an inch against one another in this duel between two of the state's top hurlers. Both were outstanding in attacking zones and shutting down the opposition's offense. Velozo, a Merrimack College commit, allowed six hits and struck out 10. Zona, who is UMass-bound, worked eight innings, surrendering five hits and also recorded 10 Ks.
"This was an absolute team win," said Riley, his team now 5-5 after starting the season 1-5. "The pitching on both sides was phenomenal. Zach came out and pounded the strike zone. That's a very good baseball team on the other side and, to date, the best team we have played against this year.
"They're a very good fastball hitting team so our game plan was to pitch a little backwards to them where we go off-speed early and fastballs later in the count. For Desi, he really deserved that. He's been with me since his freshman year and this is the first year he has had an opportunity to get into the lineup regularly. I couldn't be more happier for him to come up with a hit like that."
In the top of the ninth, MC (6-4) threatened to grab the lead after loading the bases with one out. After issuing a single and walk to begin the frame, Zona was removed for Steve Albert. Following a sacrifice bunt and a walk, Albert, a junior, got out of the jam after striking out Nick Turco and Jeremy Roberts.
In the bottom of the inning, Velozo opened by walking Roy. After retiring the next two Guardian batters, Garcia, on an 0-1 pitch, lined his run-producing shot as the Lancer outfield was playing straight up against him.
"I had been seeing the ball good all day but just hadn't hit the ball square," said Garcia, a senior. "(Velozo) had really good movement on his ball so I tried to stay back. I was able to hit a nice seed the other way into the outfield and Johnny Roy got in to win the ball game. As a team we feel really good right now. We have momentum and we are a team. We've all been working very hard and now we're starting to get wins. Hopefully more will come."
Zona and Velozo were locked in from the outset, keeping the game scoreless through the first five innings. SPM had an opportunity to go up in the first inning after loading the bases. But Velozo, a lefty, got out of the fracas unscathed.
"Velozo pitched a great game," said Lancers coach Pat Driscoll, whose club defeated SPM 3-1 back on April 13th. "That's how he has been all year for us. He throws strikes, attacks the zone and gives us a chance to win every time he's out there. It was two great pitchers going at it today. They capitalized in the end and we didn't.
"When you have two good starters on the mound for both teams like today it's going to be a difference of who gets a timely hit with two outs and who executes. Today they got that hit and we didn't."
In the top of the second, MC's Steve Passatempo doubled to lead off the frame and took third following Cam Lanzilli's sacrifice bunt. But the junior got no further as Zona rung up Dan DiMare and Paul Garozzo to get out of the inning.
The Guardians would break up the scoreless deadlock in their half of the sixth. Velozo quickly retired the first two batters he faced before Brandon O'Connor belted a triple to left. Roy followed with a ground single up the middle for a 1-0 lead.
Just three outs away from a complete game victory, Zona began things by striking out Passatempo. With Lanzilli next up, the junior drove Zona's first offering deep over the left field fence to knot the game at 1-1. Following the home run, MC put two more runners on base with only one out. But Zona bore down by getting the next two hitters and avoid further damage.
"To hold a team like that to one run over nine innings, that's no mistake," Riley said. "It says you have some pretty good pitching. Both Zach and Steve Albert did a great job today."
April, 9, 2013
4/09/13
1:16
AM ET
By
Brendan Hall
| ESPNBoston.com
MALDEN, Mass. -- As far as league openers go, you can't get much better than Ryan Tufts' night.
Beneath the lights Monday night at Maplewood Park, the Virginia Tech-bound third baseman shone his brightest for Boston College High when it mattered most, in the Eagles' Catholic Conference opener against host Malden Catholic. Facing fireballing MC sophomore reliever Austin Batchelor with one out in the top of the seventh, tied 1-1, Tufts sat fastball and didn't have to wait long to get his pitch.
[+] Enlarge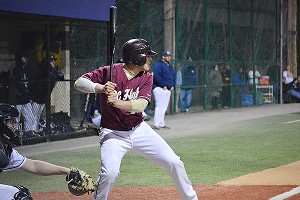 Brendan Hall/ESPNVirginia Tech-bound third baseman Ryan Tufts' sacrifice fly to deep center scored the winning run in the seventh inning for BC High.
Tufts blasted one deep to center, a ball that was eventually dropped but scored Dan Dougherty from third to make it 2-1. The Eagles then sealed it in the final frame with a double play, to improve to 3-0 and 1-0 in the conference.
"He's clutch, he can hit anybody," Eagles coach Norm Walsh said. "In fact, that ball might have been a little up and out of the strike zone, but he's got such talent that he just did the job for us. That was one fantastic baseball game."
Said Tufts of seeing the drop, "I was pumped. Any time you can get an extra baserunner there, it's really big, especially when we're trying push across a few runs."
BC High took the initial 1-0 lead in the top of the second with some smart baserunning from Ryan Tropeano. After reaching first on a fielder's choice and stealing second, the sophomore scampered home after the second baseman dropped the ball trying to tag out Sean Webster trying to steal second.
MC fired back in the bottom of the fifth with a dramatic shot from pinch hitter Paul Garozzo. Facing a full count with two outs and a runner at third -- Cam Lanzilli, who led the inning off with a triple -- Garozzo sliced one just inside the foul line down first base for an RBI triple and tie ball game.
McDonald grins and bears it:
Clearly, there are divided schools of thought amongst MIAA coaches as to how to handle pitchers in the first month of the season, when temperatures are still cold and arms are still getting broken in after a winter with limited live throwing.
Some like to keep starters regimented around 60 to 70 pitches, approaching the subject like a faberge egg; then there are those like Walsh, who let senior righthander Tommy McDonald throw into triple-digits, watched as McDonald took a ball off his left knee trying to bare-hand a comebacker in the final frame, and said, "You can't get mad at him though, because he's just so competitive."
"He wanted to make that play," Walsh said. "I think [second baseman] Jake [Marotta] would have had it, but he's such a competitor. You can't fault him for that."
Said McDonald, "I had the adrenaline running, it didn't even faze me. I'm just glad I stopped the ball from going into centerfield."
McDonald, a UMass commit, threw close to 115 pitches in a complete-game effort, striking out seven and walking none while scattering five hits and allowing the one earned run.
"At this point, he's thrown a bunch of bullpens in the preseason," Walsh said when asked about pitch count. "He's not going to start again for eight or nine days. He was throwing strikes, he was pounding the zone. I talked to [catcher] Luke [Catarius], Luke said he was really throwing the ball well still, so at this point no. He was probably up around 115 or so, and that's reasonable for him. He's our horse."
It's easy to see why the reigns are a little looser on McDonald. The 6-foot-2, 225-pounder demonstrates good command of his fastball, locating it around the zone, and doesn't labor on the mound. He generates much of his power from his legs, and is the kind of type-A personality you want as a starting pitcher -- asked how he'd characterize himself, he laughed, "I'm kind of a jerk out there...I don't want to give anything up."
Asked how he felt after racking up a high pitch count this early, McDonald said he felt fine.
"I was going into this thinking four or five innings, and leaving the rest for the bullpen," he said. "But my adrenaline was going and I felt in mid-season form. I just feel really good right now."
Seamless transition:
Forgive the Eagles if they've been spoiled the previous three seasons with Bobby Melley behind the plate. The UConn freshman catcher was one of the state's most feared hitters a season ago, hitting .370/.557/.685 totals with 13 RBI and drawing 22 walks to earn a spot on ESPN Boston's All-State Team.
But it looks like the equally-bulky Catarius, bound for Princeton University as a linebacker at a burly 6-foot and 230 pounds, will keep everyone comfortable despite his limited varsity experience. Catarius batted .267 a year ago in just 17 plate appearances.
Confidence around Catarius is apparent immediately.
"We didn't lose anything, he [Catarius] picked up right where Melley was coming back from," McDonald said. "Good presence behind the plate, good presence in the dugout, good presence with everything...He knows where I like to throw [and] where, inside, outside. He knows when to go out there, when I'm having a tough time."
Said Walsh, "[Luke] is a really tough, competitive kid. He's the heart and soul. He's got that fire to him."
Velozo battles:
In five complete innings of work, senior lefty Joe Velozo worked his way out of jam after jam on the mound for MC. In the third, he retired the first two batters (K, 6-4) then loaded the bases up, then put out his own flames with some high heat to Tom Russo, getting him swinging up and out of the zone.
The next inning, he evaded trouble again thanks to a 3-2 double play from first baseman Steve Passatempo to Batchelor. Passatempo dove to his left for an unassisted out at first, then fired home to Batchelor, who made a terrific block at the plate for a tag on Tropeano. In his last go-around, the fifth, he struck out the first two batters then allowed batters to reach second and third before ringing up Russo again to end the scoring chance.
Velozo finished with six strikeouts and scattered six hits while walking three. Nick George relieved him in the sixth, followed by Batchelor in the seventh.
"Very little fazes him," MC head coach Pat Driscoll said of Velozo. "I think he likes being in the big pressure situations. He wants to be that guy in that situation, making the pitches and getting his team back in there to hit."
April, 13, 2012
4/13/12
11:41
AM ET
We're back with another installment of "Roundtable", our weekly takes on the hot topics of the spring season. This week, we discuss who is the best boys' lacrosse goalie in the state; which lefthanded pitchers will make the most noise; the state's best slap hitter; and who had the best individual performance of the season's first two weeks.

Joining us this week are correspondent Bruce Lerch, New England Prep Stars founder and editor Ryan Kilian, MassLive.com producer Ben Larsen, and Brockton Enterprise staff writer John Botelho. Without further ado:

1. BETTER GOALIE –- WELLESLEY'S CONNOR DARCEY OR FOXBOROUGH'S GREG STAMATOV?

ESPN Boston High Schools Editor Scott Barboza: That's a tough one. In many regards, they're similar players in that they're both not afraid to step up into the play when its warranted. They're not going to just clear and retreat when the opportunity presents itself. Stamatov had one clearing pass to the midfield during the third quarter against Barnstable that was a thing of beauty. And, of course, we all know that Darcey is capable of scoring when he carries the ball past midfield. This all makes no mention of their ability to stop the ball either. Either way you dice it, they're among the very best in a deep field of MIAA goaltenders along with Duxbury's Henry Buonagurio, Concord-Carlisle's Doug Gouchoe and Billerica's D.J. Smith.

Ryan Kilian, New England Prep Stars: Connor Darcey is the best goalie I have seen in New England Public High School lacrosse over the past two years. Darcey is the real deal. He possesses confidence, quickness, and exceptional hand-eye coordination.

The goalie position in Massachusetts in the Class of 2012 is as strong as it has been in many years. Doug Gouchoe of Concord-Carlisle (Air Force), Greg Stamatov of Foxborogh (Villanova), Jared Fong of Weston (Gettysburg), and Miles McCarthy of Catholic Memorial (Williams) are all exceptional athletes with bright futures at the next level and all have a unique set of skills that they bring to the table.

Darcey is also a born leader and that is an essential trait that all great goalies, like the above mentioned, share.

Bruce Lerch, correspondent: Both players have excelled for their respective teams and made a big splash over the summer participating in the Warrior 40 at Harvard Stadium. Both have also drawn the attention of Division colleges, as Darcey is committed to play for Penn State while Stamatov will take his talents to Villanova. Darcey was a key factor in Wellesey's 16-0 regular season a year ago, while Stamatov helped propel Foxborough to its best season ever by reaching the Division 2 semifinals. Darcey was rated eighth in ESPN High School's national goalie rankings back in February, but even if you have the second pick in this draft, you won't come away disappointed as Stamatov was not too far behind at No. 14.

2. WHAT HAS BEEN THE BEST INDIVIDUAL PERFORMANCE SO FAR?

ESPN Boston High Schools Editor Brendan Hall: I think any time you throw a perfect game at any level, you should be highly commended as such. So here's my kudos to Lynn English's Ben Bowden, who had a clean sheet for the Bulldogs in their 5-0 win over Marblehead. Bowden struck out 14 in the full seven innings, and got some assistance from the infield behind him late to seal the deal. He is an imposing player to watch at 6-foot-4 and 200 pounds, equipped with a high-80's fastball, so it's hardly the last time we'll hear from him.

That said, I'm always impressed when a pitcher goes into the triple-digits in pitch count this early in the season – and even moreso when it's as efficient as Milford's Jarrod Casey was on April 3. In the Scarlet Hawks' season-opening 3-1 win over Westborough, the reigning Mid-Wach A MVP and returning ESPNBoston All-Stater threw 125 pitches and struck out 15 batters; he also belted an inside-the-park, two-run homer to give them all the insurance they needed.

John Botelho, Brockton Enterprise: The Bridgewater-Raynham softball team has shown plenty of early fireworks this season. Senior Audrey Dolloff twirled a four-hitter and struck on eight on opening, all while going 4-for-4 with a pair of homers and four RBI for the Trojans. Freshman Emily Kurkul has homered in all three games so far. Most recently, Dolloff tossed a no-hitter against Durfee, and her performance might not have even been the best one on the field that day for B-R. Sophomore Madison Shaw went 4-for-4 with two homers, a double and seven RBI as the Trojans cruised.

Ryan Kilian: The best individual performance that I have seen on the lacrosse field so far was Westford Academy attack Jay Drapeau scoring six goals and dishing out one assist in a 12-11 opening day win over Billerica. The sophomore scored the game winner in the fourth quarter and was exceptional dodging from X all afternoon. Drapeau also did this against a very formidable defense led by Tommy McLaughlin (UMass) and one of the state's best goalies in DJ Smith (UMass).

Ben Larsen, MassLive.com: It would be hard to top this one. Noah Parker, a terrific talent hidden at St. Mary's of Westfield was perfect in a six-inning game against Pioneer Valley Christian. He threw only 57 pitches, striking out 14. At the plate, he narrowly missed hitting for the cycle, going 3-for-3 with a home run and three RBI.

Bruce Lerch: On the lacrosse fields, several players have produced nine-goal games in the early going. Kobie Sullivan had seven, nine and eight goals in Fairhaven's first three games. On the girls side, Wayland's Amy Cunningham, Amy also struck for nine against Bedford. But my top effort goes to Masconomet's Jake Gillespie, who potted nine in the Chieftans' second game of the year against a BC High defense that includes a pair of Division 1 recruits.

3. A LEFTHANDED STARTER CAN BE INVALUABLE AT THE HIGH SCHOOL LEVEL. WHICH LEFTIES WILL YOU BE WATCHING THE MOST?

Brendan Hall: The Class of 2012 is littered with Division 1-bound lefties, between Oliver Ames' Ryan O'Shea (Central Michigan), East Longmeadow's Steve Moyers (Rhode Island), Pentucket's Alex Ministeri (Coastal Carolina), Auburn's Connor Fuller (Fordham), Xaverian's Tim Duggan (Fairfield) and Acton-Boxborough's Ryan McDonald (Bryant). One we might be adding to that list in a year's time is Wellesley senior Tim Superko.

Superko is already off to a great start in 2012, with wins in his first two starts in dominant fashion -- 23 strikeouts in 12 innings, an ERA of 0.75, a strikeout-to-walk ratio of nearly four, and a strike percentage of 67. I'm obviously working with a stat system pretty sophisticated for the high school level, but I can assure you Superko could care less. He's a competitor, unafraid to challenge hitters in the middle of the order, but also very coachable. Raiders coach Rob Kane raves about Superko's curveball, and he sets it up well with his heat. From the plate, he's not that bad either; so far he's hitting .500/.562/.786 with five RBI, two triples, seven runs and three stolen bases.

Superko is heading to Philips Andover for a post-graduate year next season. I expect him to have a Division 1 scholarship offer in his lap by this summer's end.

I'd also keep an eye on the aforementioned Ben Bowden from Lynn English. He's got an ideal power pitcher's frame, and if the reports about him topping out at 89 miles per hour in his perfect game are true, then he has a chance to rise quickly on the radar. But to be a reliable starter at this level, you need a quality changeup, and Bowden's is pretty nice.

Boston Latin sophomore Pat Naughton is certainly another one to look out for over the next two years. He fanned 17 Wayland batters in an outing last year as a freshman, and is already off to a good start this year with 14 K's in the Wolfpack's season-opening win over Latin Academy. Also keep an eye on Reading junior Scott Tully, who committed to Notre Dame last February, as well as Malden Catholic junior Joe Velozo.

John Botelho: One of the best lefties in the state hasn't even thrown a pitch yet. Oliver Ames' Ryan O'Shea, a 6-foot-3 southpaw already signed on to play at Central Michigan next year, will take to the mound for the first time next week. Hall of Fame coach Leo Duggan aired on the side of caution as O'Shea was battling shoulder soreness. He has a chance to come back and be the best pitcher on an O-A team that has still gone 3-0 without him in the lineup.

Brockton's Joe Sever has a live arm and features impressive off-speed stuff. The ace of the Boxers' staff this year, he has a chance to catch a lot of eyes with the schedules Bill Maloney's squad plays.

Bridgewater-Raynham features a pair of hard-throwing lefties who should cause problems for hitters throughout the regular season. Senior captains Pat Chalmers and Shane Holmes have more varsity experience than many of the guys they'll square off against this year - Chalmers was pitching on varsity at B-R as a sophomore and Holmes spent his freshman and sophomore years on the varsity squad at East Bridgewater before transferring to B-R as a junior. Chalmers took a no decision in his first start, but struck out nine in 5 2/3 innings. Holmes picked up the first win for the Trojans, a complete-game two-hit 12-strikeout performance against Milton.

Ben Larsen: Undoubtedly, Steve Moyers is the guy to follow. He has been unbelievable in his first three years as the ace of the East Longmeadow rotation and he's hoping to reach the 30-win plateau for his career, which is no small feat in the short Massachusetts season. That said, Michael Walkowicz of Amherst has been the Cy Young in the early going. In two starts, he has a 17-strikeout, one-hitter and 12 Ks in a loss to Northampton.

Bruce Lerch: I find myself greatly intrigued by the seemingly rubber of Franklin southpaw Tyler Buck. As a junior, Buck tossed multiple gems during the Panthers run to the Div. 1 state championship game, including a 166-pitch effort to upset BC High in last year's D1 South semifinals. After starring for Franklin's Legion team over the summer, I'm interested to see how far the Panthers ace can take them once again.

4. WHAT WILL BE THE MOST COMPETITIVE LEAGUE IN GIRLS' LACROSSE THIS YEAR?

Brendan Hall: I'm going with the Dual County League. Four members of the 10-team league currently sit in our MIAA Top 25 poll, including No. 1 Lincoln-Sudbury. And we're not even including Acton-Boxborough, which began the season as our preseason No. 10 before dropping to 0-5. Talk about a misnomer -- the Colonials' five losses are to No. 1 L-S, No. 5 Needham, No. 6 Notre Dame (Hingham), No. 17 King Philip, and No. 23 Walpole. Also throw in unranked Wayland, which has one of the state's best goalies in Quinnipiac-bound senior Rachel Massicotte.

Let's now throw in the DCL's other three currently-ranked teams -- Concord-Carlisle, Weston and Westford -- and we're talking six teams that can be troublesome. I expect L-S to rise above it all, but the rest of the way down may or may not be a crap shoot.

Bruce Lerch: While most league's across the state in girls lacrosse are fairly top-heavy, I would say that top to bottom, the Middlesex League's large division may have the largest number of competitive teams as all five made the playoffs in 2011. Winchester is annually among the state's top programs and is among the favorites to challenge for the Div. 2 crown once again. Reading went 15-5 before running into state finalist Lincoln-Sudbury. Lexington is a perennial tourney team who, aside from last season, routinely rolls up 15-plus wins a year. Belmont also won 15 games in 2011, and Woburn qualified for the postseason as well. As of the time I am writing this, the five teams hold a combined record of 8-0-1 through the first two weeks of the season.

Ben Larsen: The Valley Wheel in Western Mass. is off to a strong start with no team worse than 2-0, including Agawam on top with four wins already. Perennial power Longmeadow and last year's upstart Minnechaug are bound to contend with powerful Agawam in this loaded league but don't count out East Longmeadow and South Hadley from at least making some noise.

5. YOU CAN NEVER HAVE ENOUGH SLAP HITTERS. WHO ARE THE ONES TO PAY ATTENTION TO?

Scott Barboza: I'm looking no further than Mansfield's Bri Chiusano. The Coastal Carolina signee is the most dynamic lead-off hitter in the state and, as she showed earlier this week against King Philip, she also has some pop in the bat while taking a full swing. You have to take pause and applaud anybody who can launch a home run off of Meghan Rico after all.

Bruce Lerch: Bri Chiusano of Mansfield, who showed Tuesday that she can do a bit more than slap by cranking a three-run homer off of King Philip ace and reigning Miss Softball Meghan Rico. A four-year player for the Hornets manning centerfield and batting at the top of the lineup, Chiusano makes life miserable for opposing pitchers with her quick hands and tremendous speed and has an uncanny ability to survey how the defense is playing her and place the ball accordingly. The senior was named to ESPN Boston's preseason All-State team and will play for Coastal Carolina next year.

Ben Larsen: Typically a speedy singles hitter who uses his speed to get on and wreak havoc on the basepaths, Westfield's Billy Smith got into the power game Monday, blasting a three-run homer in the Bombers' rout of Belchertown. Smith, who also served as the Westfield football team's quarterback this past season, has started out slow but is undoubtedly a player to watch moving forward.

6. WHAT'S BEEN THE MOST SURPRISING UPSET OF THE FIRST TWO WEEKS OF THE SEASON?

Brendan Hall: My brethren on the Cape will call me Captain Hindsight with this one, but maybe Dennis-Yarmouth baseball is better than we've given them credit for after knocking off Plymouth North 8-2 on Wednesday. I think it was universally agreed that North, routinely one of the best hitting teams in Division 2, would be the favorite again in the South region even after losing key bats like Matt Walsh. But maybe D-Y should get more notice, with talented players like Matt Montalto, Matt Peterson and Miles Tuohy-Bedford. The Dolphins (2-1) got off to a hot start last season, including coach Paul Funk's 100th win, before coming back to Earth. Can they keep the hot start going this year?

Scott Barboza: If I told you I'd called Reading boys' lacrosse's overtime win over Westford Academy, I'd be lying. The Grey Ghosts entered this season with a lot of attention, particularly with the addition of Alex Eaton, in an already loaded Dual County League and the No. 6 ranking in our preseason Top 25 poll. Meanwhile, Reading was tough to read coming in because the Rockets lost some key cogs from last year's squad. What the Rockets did is prove that they should again challenge for the Middlesex League title.

Bruce Lerch: In boys lacrosse, certainly the most eye-opening result of the early season came when Melrose upset Lexington, 11-6. This is just the fourth year of the Red Raiders program, and in their first three years Melrose went a combined 9-44. Meanwhile, Lexington is an annual state championship and Middlesex League contender and reached the postseason in each of the three years since Melrose started its team. It was certainly a program defining victory for the Red Raiders.
April, 5, 2012
4/05/12
10:47
PM ET
By
Tom Layman
| ESPNBoston.com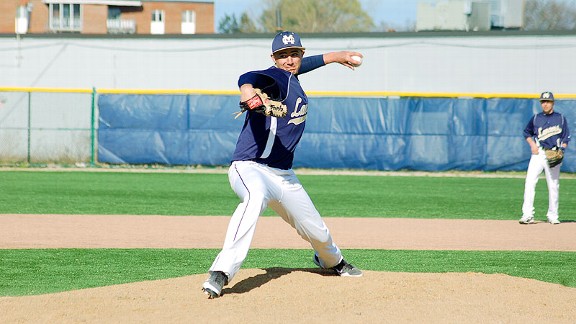 Brendan Hall/ESPNBoston.comJunior lefty Joe Velozo (8 K's) looked promising despite picking up the loss for Malden Catholic.
MALDEN, Mass. — Mike O'Keefe knows that nothing is going to come easy for his Chelmsford baseball team this season, and he got a real good sense of his team's resolve in the very first outing of the year.
The Lions watched a 2-run lead dissipate with one swing of the bat in the seventh inning, but rallied back with three runs in the top of the eighth without recording a hit to snare a 6-3 extra-inning affair over host Malden Catholic (0-1) yesterday.
"I was really proud of our guys," said O'Keefe. "We didn't put our head down and we sort of clawed back right away. That's the type of team that we are going to have to be. Those are the types of games that we are going to be in all the time. We aren't the type of team that is going to pound people and score 10 or 15 runs."
Jake Kelley was maneuvering his way through the Lancers lineup through 6.2 innings, but hit a bit of a thud on the way to the complete game victory. Lucas Lott worked a two-out, pinch-hit walk and the next batter, Steven Passatempo, made everyone's afternoon a little longer with an opposite field home run to right to tie things at 3.
The Lions wasted little time to help pick up their starting pitcher.
David DeDonato worked a leadoff walk and Mike DeDonato had an interesting time trying to get the former into scoring position. Mike DeDonato fouled off his first two bunt attempts and fought off a couple pitches before the Lancers' catcher had a tough time handling a high pitch from Paul Campbell. David DeDonato moved to second base and Mike DeDonato finally worked a walk after a nine-pitch at-bat.
Matt Rabbito got the intentional pass to set up the force at any base, and Tom Murphy put the go-ahead run back on the board with a sacrifice fly to right.
"I saw fastball right down the middle and saw the infield in, so I had to get a sac-fly to get the runner home," said Murphy, who went 1-for-3 with two RBI. "That was the most effective way to do it."
Mason Trubey stung a grounder to shortstop, but the throw to first was high and mishandled by the first basemen to allow two more runs to come home for a 3-run lead and silence the Lancers bench after the tying home run seemed to energize the home dugout.
"When you grab momentum like that you have to finish it off," said Malden Catholic head coach Steve Frecker.
Joe St. Hilaire closed things out with a 1-2-3 inning for the victory. Kelley was charged with three earned runs on five hits with four strikeouts and three walks in seven innings of work.
Lancers' Lefty Sharp Early:
For three-plus innings it looked like the Lions wouldn't be able to touch Joe Velozo.
The Lancers lengthy junior lefty was hitting both corners with his fastball and challenging right-handed hitters inside to burn through the first 10 hitters of the game. He struck out six in the process — including back-to-back on six pitches to start things.
The second look for the Lions' heart of the lineup was a little bit different. The Lions stung three straight hits in the top of the fourth to grab a run, and Mike Rosa tacked on another run with a sac-fly to right for a 2-1 lead.
"We were just looking to stay back on his ball," said Murphy. "He's a good pitcher."
"He was dominating," added O'Keefe. "The first time around we tried to muscle up a little bit and swing harder instead of staying within ourselves and try to shoot the ball the other way."
Velozo was tagged for three runs on four hits in 6.1 innings with eight strikeouts.