Boston High School:

Joe Walsh
May, 11, 2013
5/11/13
6:44
PM ET
By
Brendan Hall
| ESPNBoston.com
ORLEANS, Mass. -- If there was ambiguity before, the facts are now crystal clear: the Nauset Warriors have officially entered uncharted waters in the Atlantic Coast League.
The Warriors (15-2, 9-2) came into their doubleheader with juggernaut Plymouth North this afternoon at Eldredge Park having never beaten the Blue Eagles under coach Lou Elia. Not only did they end up sweeping North, 3-2 and 4-2, to put themselves in a tie for first place with the Eagles (11-4, 8-2) -- they have also put themselves in position to make history. If they win their final league game on Monday, against Falmouth, they will clinch themselves at least a share of the ACL title for the first time in school history.
"This program's come quite a long way. We're all happy about it," Elia said.
[+] Enlarge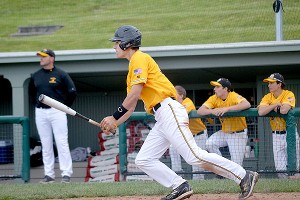 Brendan Hall/ESPNBoston.com Left fielder Colin Ridley had 3 RBIs out of the ninth spot to lead Nauset to a two-game sweep of Plymouth North.
North now has to win out in its final two games to stay in the hunt and keep a share of the ACL title, starting Wednesday against archrival Plymouth South followed by a May 21 battle with Marshfield.
"It was just their day," North head coach Dwayne Follette said. "Now, we're going to have to see what kind of character we've got."
Down 2-0 early in the first game, Nauset plated three runs in the bottom of the third to take the lead. Colin Ridley plated the first of his three RBI of the afternoon out of the nine hole to bring across the first run, then senior Nick Taber smacked a single for the go-ahead run.
That was the Warriors' final hit of the first game, only reaching base twice more on an error and a fielder's choice. But the defense behind starting righthander Ray Rowell was solid, stranding six runners to support the lefty's nine-strikeout, eight-hit effort.
North head coach Dwayne Follette, was left wondering what could have been after watching his team load up the bases in the top of the seventh with one out. Facing a 1-2 count, cleanup hitter Jake Prifti was hit on the knee and initially appeared to have been awarded first base, which would have brought home Brendan Beane for the tying run. The ruling instead was a called third strike, after it was determined Prifti had brought the barrel of his bat across the zone enough to merit a swing.
Follette was furious at the call, marching all the way into the infield grass to loudly voice his protest for several minutes.
"You can quote this, that is one of the worst calls I've ever seen," Follette said. "You got a hit batter in the knee, and the umpires just botched it. Listen, they [Nauset] deserved to win, I'm not taking anything away from them. [But that was a] horrible call in the first game."
There was no controversy in the second game, however, as Taber went the full seven on the hill and allowed just two hits.
North once again was once again active early at the plate, scoring two runs in the first inning on a two-run single to center from Prifti to tie the game at 2-2. But the Eagles managed just one hit the rest of the way, a base hit by Ryan Moskos in the bottom of the fifth.
The Warriors went ahead in the top of the fifth on a bloop single from Ridley, dropping in shallow right to score Will Shackleford. Ridley gave them the insurance in the top of the seventh with a base hit that scored Rowell from second.
"Colin's coming up big with us," Elia said. "He might be at the bottom of the order, but he's getting his pitches, he's being patient, and is able to come through."
High marks for aces:
Both Elia and Follette came away pleased with the performances of their starters.
The hard-throwing lefty Rowell pounded the zone with a bevy of fastballs in the first game, and after some trouble in the first two innings he settled nicely, getting himself out of jams with runners in scoring position in three of the final four innings.
Taber has tweaked his game since last spring, developing a cutter over the offseason to go along with a changeup and a sharp curveball. In dancing the ball around the plate, Taber kept his pitches low in the zone to stay ahead of the North hitters.
"They were locating, just locating," Elia said. "Nick has been with me for four years, he's one of only guys that's been in the varsity program for four years. He's got really good control, and he's got a couple of different pitches, and he's able to locate. So, he makes the most out of his pitches. He doesn't walk many people at all. He's got command of his pitches, and that's what's important."
Follette was pleased with the performance from junior righthander Kenny Drew, who struck out seven and scattered four hits on 72 pitches, to go along with the three earned runs. With staff ace Brian Christian unable to go today, Follette tapped freshman reliever Kyle Mann for his first varsity start in game two. The youngster demonstrates poise and high velocity in spite of his age, but did run into some trouble, allowing eight hits.
"I thought Kenny Drew, in the first game, pitched an incredible game," Follette said. "He didn't deserve that fate...We're pitching good enough to win, we're just not hitting enough. It's unfortunate. He pounded the zone."
Turning up the aggression:
Over the last two seasons, the Eagles have been held in high regard for their ambitious approach to the basepath, compensating for a deficit in hitting with a blend of high-risk baserunning and fielding tactics playfully dubbed "Dwayne Ball" by their Plymouth brethren for its uniqueness.
In the second inning of game one, they executed a vintage "Dwayne Ball" staple. Executing a double steal, freshman Joe Walsh was caught in a rundown on the basepaths just long enough for Derek Salvucci to come screaming home for the initial 1-0 lead.
In the first inning of game two, the Eagles stole four bags, including two from Cory Boudreau, to help manufacture two runs.
North's leadoff hitter, Ryan Moskos stole two bags on the day to bring his season total to 26, which is eight more than the entire Nauset team attained a season ago. So far this year, however, the Warriors have recorded 60 steals, including two today.
What prompted the more dramatic approach in 2013?
"We've been running hard. We look for our opportunities, and I've got a pretty quick team one through nine," Elia said. "I've got a very young team, only two seniors, and the kids I've got coming up are pretty fast. We practice it, we practice running bases every day. We practice reading the pitches, knowing when to go, picking and choosing our battles. They've become very good at that, knowing when to be aggressive."
In developing that aggression, seeing has been believing. Muscle memory is the M.O. in Nauset practices, repeatedly practicing drills that have them envisioning those first-to-third, second-to-third, passed-ball scenarios.
"We do a lot of visualization," Elia said. "We've done a lot of mental preparation for games right now. They're goal-oriented. They don't go by expectations, they go by goals, and I think that's helped them out quite a bit this year."
June, 22, 2012
6/22/12
2:09
PM ET
STARTING ROTATION
RHP – Matt Tulley, Sr., Lowell
The Virginia Tech signee lived up to every ounce of his preseason hype, taking ESPN Boston's 2012 Mr. Baseball Award earlier this week as the state's top player. He earned his third consecutive Merrimack Valley Conference Player of the Year honor, going 7-1 with 90 strikeouts in 59 innings and one save, for a 1.46 earned run average. Opponents batted just .159 against Tulley on the season. At the plate, Tulley batted .306 for the Raiders, leading the team in RBI (20) and ranking second in runs scored (19). For his career, Tulley went 20-2 with a 1.57 ERA and 200 strikeouts in 140 innings.
RHP – Pat Ruotolo, Jr., Peabody
The 5-foot-10 craftsman caught national attention this year after throwing three no-hitters in a span of four starts, and finished the season as the state's runner-up in strikeouts (130). In 76 innings of work, he went 8-1 with two saves, 31 hits allowed and 12 walks, for an ERA of 0.83, to earn Northeastern Conference MVP honors. He has 232 strikeouts since the start of his sophomore season, and over 300 for his career. Ruotolo is considering interest from a handful of Division 1 schools.
RHP – Alex Rozak, Sr., Plymouth North
The UMass-bound Rozak catapulted himself into discussion as one of the state's best pitchers with his postseason play, winning three games as the Blue Eagles made their fourth Division 2 state final appearance in five seasons. He also carried a no-hitter into the final out in the Division 2 Eastern Mass final. For the season, Rozak was 8-3 with 61 strikeouts and 13 walks, with a 1.02 ERA. He won 24 games in his career at North, including a 9-1 campaign in the Eagles' 2011 state championship season.
LHP – Steve Moyers, Sr., East Longmeadow
One of a handful of returning All-Staters, the University of Rhode Island signee is making his second appearance in the "Starting Rotation" after compiling a 7-2 record with 106 strikeouts. Over his last two seasons, he has gone 15-3 with 194 strikeouts, and he leaves East Longmeadow as one of the school's winningest, compiling a 30-3 career record.
LHP – Ben Bowden, Jr., Lynn English
The 6-foot-4, 220-pound southpaw got off to a hot start, throwing a perfect game on April 7, and didn't cool off. On the mound he had six wins, with 82 strikeouts in 51.2 innings for a 2.19 ERA. At the plate, he played a key role in the Bulldogs' stunning upset of Peabody in the Division 1 North tournament; on the season, he batted .394 with 21 RBI, two home runs and nine extra-base hits, and also drew 17 walks.
STARTING NINE
CF – Casey DeAndrade, Sr., East Bridgewater
The speedster joins exclusive company as one of several players to make All-State in two sports, having made the football squad last fall. This spring, he put up .455/.506/.682 totals at the plate, with 25 RBI, two home runs, 19 runs and 15 stolen bases. On the mound, he went 5-2 with 67 K's in 50.2 innings, holding opponents to a .106 average as the Vikings captured their first Division 3 South title since 1993. DeAndrade is headed to the University of New Hampshire in the fall for football.
2B – Chris Hoyt, Sr., Xaverian
Nobody elevated their stock in the playoffs more than the Stonehill College-bound Hoyt, who pounded out eight RBI in the MIAA tournament – including four in the Division 1 state final. Batting out of the leadoff spot this spring, Hoyt batted .411/.477/.526 totals, with 19 RBI, two home runs, stole 19 bases and only struck out three times in 107 plate appearances. He also posted a ridiculous OPS of 1.003.
C – Bobby Melley, Sr., BC High
A returning All-Stater, the 6-foot-3, 200-pound Centerville resident was one of the state's most dangerous power hitters, compiling .370/.557/.685 totals with 13 RBI, three home runs and drawing 22 walks. Behind the plate, only two runners attempted to steal on him, both of which were caught out. Melley will continue his career next year at UConn.
1B – Chris Shaw, Sr., Lexington
A returning All-Stater, Shaw was one of three Bay Staters taken in this year's MLB Draft, going to the New York Mets in the 26th round. This spring, he batted .480 with seven home runs and 27 RBI, and also went 5-0 on the mound with 95 strikeouts in 45 innings. Shaw will be honoring his commitment to Boston College rather than signing.
3B – Frank Crinella, Sr., Springfield Cathedral
In addition to flawless defense, Crinella was a tough out at the plate, hitting .456 on 26 hits, with 27 RBI and four home runs to go along with it as the Panthers went 18-2 before a surprise upset in the Division 1 West quarterfinals. Crinella will continue his career next year at Merrimack College.
SS – Matt O'Neil, Sr., East Longmeadow
Coupled with Moyers, the returning All-Stater formed an imposing 1-2 punch on the mound for the Spartans, who suffered a surprise upset in the Division 1 West semifinals. O'Neil batted four home runs to go along with 21 RBI; on the mound, he was 4-3 with 70 strikeouts in 41.1 innings. O'Neil will continue his career next year UConn.
1B – John Jennings, Sr., Newton South
The Dual County League's Large Division MVP was a force at the plate for the Lions, batting .415 with five home runs and 31 RBI. On the mound, he was 4-1 with 31 K's in 27.2 innings, for a 1.27 ERA. He will continue his career next year at UMass.
SS – Regan Aghdam, Sr., Burncoat
One of the state's premier leadoff hitters, Aghdam was solid at the plate, leading the Inter-High league in batting average (.463). On the mound, he went 6-0 with 43 strikeouts in 49 innings pitched. Aghdam will continue his career next year t the University of Rhode Island.
SS – Brandon Bingel, Jr., St. John's Prep
The Catholic Conference's co-MVP was a driving force for the Eagles, hitting .418 with 25 RBI and five home runs. On the mound, he was 5-1 with a 1.20 ERA in 40.2 innings pitched. Bingel is currently committed to Bryant University.
BULLPEN
LHP – Scott Tully, Jr., Reading
Tully had a breakout junior season, going 8-2 with four saves with a 0.99 ERA and 122 strikeouts in 63.1 innings, tied for third-most K's in the state. Tully also allowed just 27 hits this spring. He is currently committed to Notre Dame.
RHP – Pat Delano, Sr., Braintree
Nearly two years after Tommy John surgery, the 6-foot-7 fireballer found his way back to the top, going in the 35th round to the Boston Red Sox in the MLB Draft, and earning MVP honors in the Bay State Conference's Carey Division. He posted a 1.21 ERA with four wins and 50 strikeouts in 57 innings, and added four home runs at the plate. He was also named a Region 1 All-American by the American Baseball Coaches Association. Delano is currently committed to Vanderbilt, but has until the August 15 deadline to decide whether he'll sign or not.
RHP – Charlie Butler, Sr., Nashoba
A returning All-Stater, Butler was once again dominant on the mound for the Chieftains, striking out 90 in 54 innings for a 0.91 ERA and 6-2 record. At the plate, he batted .365 with 14 RBI and two home runs. Butler will continue his career next year at the University of Maine.
RHP – Mike Walkowicz, Sr., Amherst
Another one of the state's strikeout kings, Walkowicz went 5-4 on the mound as he rang up 112 batters in 65 innings of work for an average of nearly two K's per inning. He will continue his career next year at Endicott College.
LHP – Tyler Buck, Sr., Franklin
One of the state's most elusive lefties, Buck went 7-1 on the mound with 80 strikeouts and a 1.42 ERA for the Panthers, who were the No. 1 overall seed in Division 1 South. He also went .378 at the plate with 18 RBI and two home runs. Buck will play next year at St. Anselm College.
LHP – Mac Curran, Jr., Coyle-Cassidy
The hard-throwing 6-foot-4, 240-pound Lakeville resident was an intimidator for the Warriors, going 6-1 with a 0.52 ERA and 63 strikeouts in 49 innings. He also batted .351 at the plate, and is 14-3 so far as a starter for Coyle. Curran is currently fielding a slew of Division 1 interest.
RHP – Brandon Shileikis, Jr., Dighton-Rehoboth
The workhorse logged 68 innings and struck out 74 while walking just 12, going 9-1 with three saves, an ERA of 1.75 and a WHIP of 0.96. At the plate, Shileikis had .427/.456/.524 totals with 28 RBI and 27 runs. Shileikis is currently fielding various Division 1 interest.
RHP – Keegan Dellacona, Sr., Barnstable
The 6-foot-3 Dellacona formed a dynamic 1-2 punch on the mound along with UConn-bound Willie Nastasi, as the Red Raiders won the Old Colony League outright. For the season, Dellacona struck out 67 in 49.1 innings, for a 4-0 record and 0.89 ERA. He also threw 70 percent of his pitches for strikes, registered a 0.67 WHIP, and held opponents to just a .136 batting average. Dellacona is undecided on college plans.
LHP – Ryan McDonald, Sr., Acton-Boxborough
Another of the state's most deceiving lefties, McDonald went 5-2 with 71 strikeouts in 46 innings, for a 1.98 ERA. He also led the Dual County League in batting average (.468) and plated 16 runs, including two homers. McDonald had previously signed with Bryant University, but is currently uncommitted.
RHP – Lee Albertson, Sr., Westfield
Albertson was the ace of a Bombers staff that won its third Division 1 West title in five years this spring. He went 6-2 on the mount with two saves, and struck out 58 batters in 54 innings. Albertson will be heading to Holyoke Community College next season.
UTILITY
3B – Joelfi Arias, Sr., Springfield Central
The Eagles scored one of the biggest upsets of the MIAA tournament by knocking off Springfield Cathedral, and Arias played a big role. He had five home runs on the season to go with 24 RBI, and on the mount he had 65 strikeouts in 62 innings, logging a 5-2 record. Arias is headed to Juco power Indian Hills Community College, in Ottumwa, Iowa.
OF – Adam Benvie, Sr., Dighton-Rehoboth
One of several mashers on a lineup that batted nearly .400 as a team, Benvie posted .386/.538/.771 totals with 37 RBI and five home runs, scoring 27 runs and drawing 22 walks. Benvie will continue his career next year at UMass.
C – Joe Walsh, Sr., Taunton
The Old Colony League MVP led the Tigers on a surprise run to the Division 1 South final, where they lost to eventual state champ Xaverian. He batted .447 with 31 RBI, 23 runs scored and three home runs, for an on-base percentage of .562. He leaves Taunton a career .379 hitter with a .486 on-base percentage and 50 RBI. Walsh will play next year at Eckard College in St. Petersburg, Fla.
SS – Evan Mondor, Sr., Dighton-Rehoboth
One of several big bats that led the Falcons to the No. 1 seed in Division 2 South, Mondor posted .478/.617/.791 totals with 10 doubles, three home runs, and 20 RBI. Mondor also scored 35 runs and only struck out three times all year. He will continue his career next year at Bentley University.
SS – Brendan Skidmore, Sr., Franklin
Skidmore took home Hockomock MVP honors this season after batting .467 with five home runs and 21 RBI for the Panthers, who won the league outright as well as the No. 1 seed in Division 1 South. Skidmore will do a post-graduate year at Bridgton Academy next season.
OF – Jarrod Casey, Sr., Milford
A returning All-Stater and the reigning Mid-Wach A MVP, Casey put in another dominant season for the Scarlet Hawks, batting .490 with 22 RBI. On the mound, he was 6-2 with 73 strikeouts in 47 innings, for a 0.91 ERA. Over the last two years, Casey has gone 14-3 on the mound.
SS – Sean O'Neill, Sr., Norwood
The senior played a significant impact on the Mustangs' run to the Division 1 South quarterfinals, taking MVP of the Bay State Conference's Herget Division in the process after batting .416 with 16 RBI and a home run in the wood-bat league. O'Neill will play next year at Merrimack College.
SS – Dan Cellucci, Sr., Lincoln-Sudbury
Another returning All-Stater, Cellucci was consistent once again for the Warriors, batting .435 with 18 RBI and two home runs as the Warriors came up short in the Division 1 state title defense. Cellucci will continue his career next year at Bryant University.
1B – Adam Mayhew, Sr., Westfield
His numbers probably don't reflect his importance to the team (12 RBI; 3-0, 15 IP), but his defensive presence was without question as the Bombers won their third Division 1 West title in five years. Mayhew will continue his career next year at Westfield State University.
Photos of Adam Mayhew, Mike Walkowicz, Lee Albertson, Matt O'Neil and Joelfi Arias are courtesy of the Springfield Republican. Photos of Pat Ruotolo, Ben Bowden and Mac Curran are courtesy of the Area Code Games.
June, 10, 2012
6/10/12
11:58
PM ET
By
Brendan Hall
| ESPNBoston.com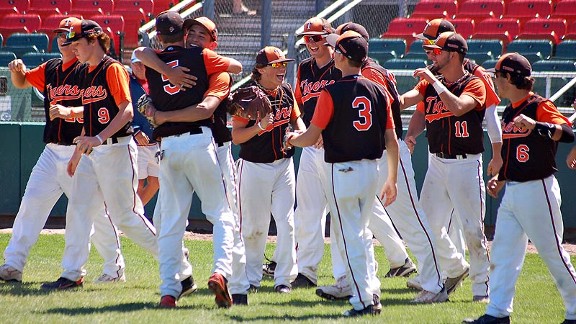 Brendan Hall/ESPNBoston.comTaunton made a philosophical change following a beating from Barnstable at the end of the regular season. The Tigers turned around and beat the Red Raiders to advance to the D1 South Final.
BROCKTON, Mass. – The first time Old Colony League rivals Taunton and Barnstable squared off, in late April, Barnstable hurler Willie Nastasi struck out a career-high 16 batters, and later ignited some controversy nationally with his 155-pitch count.
The second time the two battled, on the last weekend of the season and with the outright OCL title on the line, Barnstable wasted the Tigers, 14-2.
Meeting No. 3, in the semifinals of the Division 1 South tournament this afternoon at Campanelli Stadium was...well, to call it a charm wouldn't be just cliché. It'd be unfitting.
The UConn-bound Nastasi was brilliant again on the hill for the Red Raiders, fanning eight and scattering just two hits in 7.1 innings of work. But the Tigers deployed some of the same small-ball principles that won them two games in this tournament already, and got stellar defense behind starter Danny Pedro, to squeeze out a 3-0 win and advance to tomorrow's South final.
Eighth-seeded Taunton (18-5) will face No. 15 seed Xaverian (15-8) in tomorrow's final at Braintree High, at 4 p.m. Barnstable ended its season 16-5.
"This, it can't any better for the team," Taunton head coach Jeff Sylvia said. "We played with confidence. They know us, we know them. I think they woke us up the last time we played them [the 14-2 loss], and we've changed that philosophy since that game a little bit. The pitching was great, defense was great, and we got timely hitting today, which was huge."
Part of that philosophical change has been a more aggressive approach in the batter's box and the basepath. In the Tigers' first-round win over Braintree, for instance, Zach Grady took two bags on a bunt, beating the tag at third base with a head-first slide; he was brought home the next at bat with a Joe Walsh blast to center, making it 2-0 and shifting momentum in their favor.
This afternoon, Walsh was pivotal again. The Old Colony League Co-MVP took a Nastasi pitch off his back on the first pitch, to lead off the bottom of the fourth inning. On the very next pitch, Matt Maclean hit a shot to deep center, and Walsh sprinted all the way from first to home.
"I was pissed I didn't get to hit, that's the first time I've gotten hit all season," Walsh laughed. "But we had faith in our four-hitter [Maclean], and I knew he was going to come through."
Walsh gave the Tigers insurance in the eighth. First, Travis Ritchie slapped a slow roller into the infield grass, but beat out the potential 3-1 putout at first to score Grady. Two at bats later, Walsh planted a first-pitch slider into right field to score Ritchie, before getting thrown out at second on a 9-6, trying to take an extra base, for the second out of the inning but a 3-0 lead.
"I had struck out on it at home [last month, on that pitch]," Walsh said. "I knew I had that pitch. I knew whatever he was throwing me on that first pitch, I was ready to hit."
Said Sylvia, "Joey Walsh has been doing that for us all year. He's been an RBI machine. He's big. He was the right guy on at the right time."
Pedro Productive:
Sylvia said he was looking for six innings out of Pedro today. The junior righty ended up giving them seven, scattering five hits while walking one and fanning two.
Pedro's best inning might have been the second, when the Raiders loaded the bases up on a walk to Derek Estes. After Estes walked, Pedro jammed Dennis Beynor with a 1-1 fastball that trickled to shortstop Chris Roumbakis, who easily made the inning-ending 6-4 play.
Walsh said Pedro's fastball was moving today "better than I've ever seen it before."
"Danny Pedro pitched outstanding today," Sylvia said. "He kept the ball down, pitched ahead of hitters. We wanted six, he gave us seven, and then Matt Nunes came in and did the job...Getting out of that [second inning] gave us a lot of confidence."
Rumblin' Roumbakis:
When Roumbakis fumbled an Everett Walsh grounder to his left in the top of the fourth, allowing the No. 6 hitter to reach safely, it was his first error in three playoff games. And that might have been the only time in these playoffs he didn't field the ball cleanly; the senior shortstop, known for his fancy back-handed snags, has been phenomenal throughout the postseason.
"I think he got eaten up a bit with the top spin on the left hand, but we'll take it," Sylvia laughed. "He makes every other play."
Sylvia continued, "He's been my starting shortstop since his sophomore year, and he's done really well. Again, our strength is defense. We put it together today, and hopefully we can keep it going."
Nastasi goes out on top:
In two starts this year against Taunton, Nastasi has struck out 24 batters and allowed five hits in 15 innings. Mixing in his off-speed with his high-80's fastball cleanly, it was an effort that he won't soon hang his head.
"He did exactly what we needed him to do," Barnstable head coach Joe DeMartino said. "Our pitchers, especially Willie and Keegan [Dellacona], they go out and they give us a chance to win. We just didn't get it done today."
Dellacona came in to relieve Nastasi in the eighth, and DeMartino said afterwards, "I knew he could handle 30 or 40 pitches, and come back tomorrow if we made it."
June, 1, 2012
6/01/12
11:28
PM ET
By
Brendan Hall
| ESPNBoston.com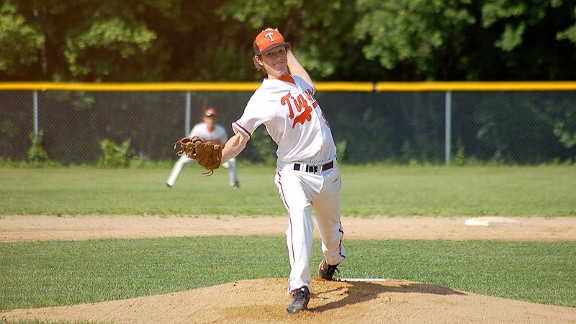 Brendan Hall/ESPNBoston.comTaunton lefty Connor Johnson pitched a shutout, but was quick to credit his defense, calling it "unbelievable, best defense in the state."
TAUNTON, Mass. -– It's a maneuver the Taunton Tigers have run all year long. And whenever senior second baseman Zach Grady gets on the basepaths, he gets the green light.
In the third inning of a scoreless game with Braintree and its Vanderbilt-bound flamethrower Pat Delano on the hill, Grady ran it without flaw. With no outs and Grady on first off of a single, leadoff hitter Travis Ritchie laid down a bunt that plopped into the infield, and just barely beat the throw to first. All the while, Grady –- considered the team's fastest baserunner -– was booking it to third, and as he slid in safely head-first to third, Ritchie took another bag.
In the next at bat, catcher Joe Walsh ripped a 3-1 fastball back up the middle, clearing the bases for a 2-0 lead. And while Braintree's 6-foot-7 ace was good for most of the afternoon, that sequence of events shifted momentum in favor of the Tigers (16-5), who went on to win 4-0 over the Wamps (12-7) in an MIAA Division 1 South first-round matchup at Taunton High.
"We've been running it all year," Grady said. "If I get on, Travis lays down a bunt, I just keep running and put my head down going to third. I see coach waving, and I just keep running."
The Tigers tacked on two more runs in the bottom of the seventh with some more small-ball tactics. First, outfielder Matt Nunes dunked a ball into right field, and quickly stole two bags to put himself 90 feet from the plate. All the while, third baseman Brad Alconada battled back from an 0-2 deficit to work a full count on Delano, and on the eighth pitch he slapped one at the Wamps' first baseman, who bobbled it off his chest and nearly fumbled it before making the unassisted play at first. The play scored Nunes, however, for a 3-0 advantage.
Grady cracked a first-pitch single off Delano in the next at bat, after which Braintree skipper Bill O'Connell went to the mound for a meeting. After the next batter, Ritchie, singled again, Delano was done for the day.
The new pitcher, Mike Crowley, didn't get off to a great start. His first pitch was a wild one, allowing Grady to score from third for the 4-0 advantage.
Delano, in his last start in a quality but injury-riddled career with the Wamps, finished with seven hits allowed, five strikeouts, no walks and two earned runs on 98 pitches.
Defense shines
: All afternoon long, the Tigers came up with web gem after web gem playing behind junior lefty Connor Johnson.
There was Nunes' diving catch on the run in right in the first inning. There was Walsh gunning out a Braintree runner trying to take second. There was Ritchie's rob of Delano's potential two-run shot, on the warning track in centerfield. There were the countless backhanded snags by senior Chris Roumbakis at shortstop.
The most important snag came in the top of the ninth, however. With no outs, the bases loaded, and the tying run at the plate, Matt Bickford lined one right to Grady, who promptly caught it and tapped second base for the unassisted double play. Steven Lee grounded out on the next at bat to end the game.
"That's been our strength all year, and we preach to pitchers: throw strikes, let your defense handle it," Taunton head coach Jeff Sylvia said. "We're gonna get hit, teams are going to get hits off of us, but most of the time we're gonna hopefully make a good defensive play, get out of an inning, make the routine play. That's what we preach."
Asked about the defense, Johnson was quick to compliment the players behind him -– "Unbelievable, best defense in the state," he declared.
Said Braintree head coach Bill O'Connell of the Taunton defense, "We did a lot of work on them, and everyone we spoke with explained about their defense as just outstanding. They made two huge diving catches that might have been extra base hits if they fell. They didn't, and that's how you win. You win with pitching and defense."
Johnson holds his own
: This afternoon's duel on the mound was between hurlers from almost the polar opposite ends of the spectrum. On one end was Delano, a big overpowering hurler who has his high-80's velocity back almost two years after undergoing Tommy John surgery from the world-renowned Dr. James Andrews.
At the other end was Johnson, a lefty who gave up almost 10 inches to Delano whose specialty is deceptive off-speed stuff. The players behind Johnson raved about his ability to battle, and certainly his stuff was on today. In eight innings, Johnson gave up five hits, walked one and fanned three, alternately jamming and reaching his batters with a sharp, snapping curve.
"It's come a long way, even this season," Johnson said of his curve.
Switching things up in BP
: Blame this season's Old Colony League champs for igniting a fire under the Tigers this past week.
Barnstable torched Taunton for 14 runs last weekend to win the league championship outright, and that spurred Tigers coach Jeff Sylvia to try a different approach to batting practice. With the spectre of Delano getting the nod for Braintree, Sylvia decided not to throw off the mound in batting practice the last few days, instead firing at batters from 20 to 25 feet away.
"I was trying to get it on the kids, just so they get their foot down and their hands through," Sylvia explained. "With guys who throw hard, you don't have to generate power with your swing. It's just more speed, the pitcher generates the power. And it worked, I thought we had good swings today."
Laying the wood
: The Old Colony League elected to make the move this season to join several other power conferences as leagues that play nine-inning, wood bat-only games. That experience has clearly conditioned the Tigers for a game like today – with wood-bat hits at a premium at the high school level, you tend to try and make the most out of your time on the basepath, if not at least play smarter.
"Absolutely, it's a different game with the wood bats," Sylvia said. "But we still kept the same mentality. We tried to squeeze, move guys over, sacrifice guys, and the bunt-and-run, that was all incorporated with the wood bat, so we tried to continue that."