Boston High School:

Joey White
December, 1, 2012
12/01/12
7:54
PM ET
By
Marc Thaler
| ESPNBoston.com


FOXBOROUGH, Mass. -- For a brief moment late in regulation, Everett's quest to win a third straight Super Bowl was in serious jeopardy.

"Honestly, this one's been more stressful than any of the previous 10," Everett head coach John DiBiaso said Saturday after his No. 2 Crimson Tide clinched the Eastern Mass. Division 1A title at frigid Gillette Stadium, 20-19, against No. 1 Barnstable. "I am emotionally, physically, mentally drained."

Factors that caused DiBiaso to admit exhaustion included five turnovers committed by Everett (11-1), a fortuitous missed fourth-quarter extra point that kept Barnstable from forcing a 20-all, and Kenny Calaj's near fumble while the three-peat champs were killing the clock.

"I knew I was down because I felt my elbow hit the ground," said Calaj, who intercepted standout quarterback Nick Peabody on Barnstable's previous, and final, offensive possession. "That's when it popped out."

In real time, it appeared Calaj fumbled with 79 seconds to play. Kevin Hardy pounced on the football. Barnstable (11-1) prepared to take over roughly 30 yards from paydirt – and perfection.

But the officials – without the benefit of replay – quickly convened and ruled Calaj down by contact. The stadium scoreboard showed the replay, and it confirmed Calaj's interpretation of the play.

"It was tough to be on the end of it that we were," Barnstable head coach Chris Whidden said of the call that saved the Tide from a sixth turnover.

Barnstable – which vaulted to No. 1 with its 13-7 double overtime upset of Everett on Sept. 28 – wasn't without its chances, however. The Red Raiders capitalized on just one of the turnovers they forced. Peabody fired a 9-yard first-quarter touchdown to Tedaro France (3 receptions, 93 yards, 3 TD) that pulled the Red Raiders within 7-6.

After France caught Peabody's perfect back-shoulder throw, the Tide caught their first break. A bad point-after snap led to a failed run.

Jakarrie Washington (9 carries, 121 yards, 2 TD) reclaimed momentum for Everett early in the second. Showing excellent vision, he saw a gap along the right edge, cut back before the hole closed, and raced 53 yards down the sideline.

Washington's 6-yard run inside the right pylon pushed Everett's lead to two touchdowns late in the third.

Barnstable's feverish comeback started with 15 seconds left in the frame – and just 44 seconds after Gilly De Souza split the uprights for a 20-6 lead.

Peabody hit France on a sideline route, and the receiver did the rest. He stayed upright after tangling feet with his press-coverage defender, made the catch, then beat De Souza to the goal line on the strength of a sensational maneuver at the 35.

Everett's fourth-quarter false start on fourth-and-1 led to a punt. Peabody (8-for-28, 205 yards, 3 TD, 2 INT) orchestrated a three-play drive that led to points. The QB eluded multiple defenders, buying time for France to slip past the secondary and make a wide-open 30-yard TD grab with 7:26 to go.

Dereck Pacheco's PAT attempt had the height. But it was off-target.

"It's never one kid's fault. It's never the offense, defense or special teams. You win games like this as a team, you lose games like this as a team. Our kids are as strong as they've ever been."

The Tide? They're just a little bit stronger.

"We earned it. We worked hard all season long, worked hard for the past three years," Washington said. "We just proved that we're the best."

EVERETT'S 'D' EARNS AN 'A'
Josh Palmer and Calaj each intercepted Barnstable's gunslinger signal-caller, and both picks were critical in the outcome.

Palmer's INT turned into a 30-yard TD return on the game's seventh play from scrimmage. Calaj ended Barnstable's last-ditch effort.

Those plays were set up by teammates who pressured Peabody without being touched once the ball was snapped.

C.J. Parvelus set up the pick-six with a well-timed blitz. Everett's linebacker rushed untouched over center and forced a quick release by Peabody. The soft, 5-yard toss was intended for France, but Palmer jumped the rout.

Defensive end Jeff Soulouque exploded off the right edge in the final minutes. Peabody felt the pressure and rolled out of the pocket.

"I saw him (off the snap) and said, 'I have to get him. I have to at least make him feel uncomfortable because he is a great quarterback,'" Soulouque said. "I ran him down, he felt uncomfortable and threw it for an interception."

MOVING THE CHAINS
Overshadowed by the five turnovers was Everett's ability to extend drives. Fueled by Washington's 121-yard performance, the Tide converted third downs at a 40-percent clip (4 of 10).

By contrast, Barnstable was 1-for-12 on third down (8 percent).

"I thought we moved the ball on offense well. We ran the ball real well," said DiBiaso, who called the numbers of Jalen Felix (12 carries, 40 yards), quarterback Raheem Wingard (11-10), Joey White (7-25) and Calaj (10-31). "We just made some stupid, stupid mistakes."



No. 2 Everett 20, No. 1 Barnstable 19
Everett (11-1) 7-6-7-0 – 20
Barnstable (11-1) 6-0-7-6 – 19

First quarter
E – Josh Palmer 30 INT return (Gilly DeSouza kick), 7:32
B – Tedaro France 9 pass from Nick Peabody (run failed), 2:42

Second quarter
E – Jakarrie Washington 53 run (kick failed), 9:31

Third quarter
E – Washington 6 run (DeSouza kick), 1:09
B – France 76 pass from Peabody (Dereck Pacheco), :15

Fourth quarter
B – France 30 pass from Peabody (kick failed), 7:26
November, 28, 2012
11/28/12
12:51
AM ET
By
Chris Bradley
| ESPNBoston.com
Lynn, Mass. -- Second-ranked Everett was too tough, too fast, and too strong for Masconomet at Manning Field on Tuesday, as the Crimson Tide knocked off the Chieftains in what was a blowout from start to finish in a 42-14 romp.

The first touchdown, a 22-yard touchdown reception by senior Jakarrie Washington, appeared to be a pretty clear sign of foreshadowing of how the game was going to go; especially with the fact that it came just 45 seconds into the game.

Everett scored three more touchdowns in that first quarter, and added another in the second quarter, to build the lead to an overwhelming 35-0 halftime lead. Everett took out the majority of their starters for the third quarter, and an 11-yard Joey White touchdown was the icing on the cake.

The Chieftains countered with a couple of touchdowns late in the fourth quarter on passes from quarterback Chris Schleer to Dylan Mann, and Cory Tines, respectively.

There was no rust for Everett, who had five touchdowns scored by five different players in the first half, as head coach John DiBiaso made clear with his squad sprinting out of the gates early on.

"We had a couple real good days of practice, but we were chomping at the bit to play somebody."

There was a bit of scouting of Masco on the part of Everett, and combining those scouting reports with the overwhelming amount of talent on the Everett side of the ball, the Tide punched a ticket to the division 1A Super Bowl on Saturday.

"We knew they were disciplined…we knew they would try to use hard counts to get us offside, and try to milk the clock," DiBiaso said, "So part of our defense was to not let them establish a ground game and force them to throw the ball a little."

Tide Continue 1A Dominance

Everett dominated Masco from start to finish on Tuesday night, as they did against Lynn English last season after being moved down to Division 1A. DiBiaso was brief and careful with his words, but given the blowout, Everett's alignment was a topic that couldn't be ignored.

"I don't want to say something I shouldn't say, but this wasn't our decision to go down[to Division 1A], we fought it tooth and nail…we did not want to go down to division 1A, we wanted to be division 1 as we have been for 120 years. This was not our decision, but we try to make the best of the case," DiBiaso said.

The Crimson Tide, who beat Lynn English 46-0 to make last year's Division 1A Super Bowl (which they eventually won over Lincoln-Sudbury) have shown to be an overwhelmingly physical presence over 1A opponents in the last two seasons.

"It looked tonight like a big difference on the field was the quickness factor. We've got a pretty fast defense," DiBiaso said, "I don't know if they've faced a defense that's really that quick. I think that hurt them in the first half."

Everett will take on No. 1 Barnstable, who defeated Everett on the road earlier this season. The Division 1A Super Bowl will take place on Saturday at 1:30 p.m., at Gillette Stadium.
September, 29, 2012
9/29/12
2:11
AM ET
By
Bruce Lerch
| ESPNBoston.com


EVERETT, Mass. -- Mother Nature can be a fickle woman at times, and her temper tantrum last night brought enough rain and miserable weather conditions to completely alter a football team's gameplan.

Fortunately for Barnstable, they already had the tools in place to make the necessary adjustments. Namely, the Raiders had a defense capable of shouldering the load until its potent offense could strike for a big play.

Quarterback Nick Peabody found wideout Dylan Morris twice for touchdown passes and the defense stopped top-ranked Everett twice at the one-yard line to take a 13-7 victory over the Crimson Tide in double overtime at Everett Memorial Stadium Friday night.

Changing the field position game led to Everett's (3-1) first score as Jakarrie Washington came up with a big interception on Barnstable's (4-0) second drive. That helped pin the Raiders deep in their own territory and two possessions later, the Crimson Tide took advantage of the short field for s 32-yard march that ended on a two-yard touchdown run by Jalen Felix.

The defenses played to a stalemate from there until the start of the fourth quarter when Peabody hit Morris with a pretty throw that found the senior wide open for a 37-yard score.

"We were able to tag Dylan on a post corner," explained Peabody. "(Everett) have tremendous athletes so it really would have been tough for Dylan to just burn right by the guy. We tagged him on the post corner, he was able to get his guys hips turned and I had great protection up front and was able to put it out there and he made a great catch."

Added Morris, "The offensive line gave Nick plenty of time to throw the ball and Nick gave me a great throw. I just had to run under it, catch it and I got into the end zone."

Everett had a chance to win it in regulation, moving from its own 39 down to the Raiders one with under seven minutes remaining, but Barnstable's defense forced a fumble that was recovered by Terrence Mudie.

Neither team threatened the rest of the way and the game went into overtime, where the Raiders defense came up with another critical stop as Derek Estes came up to stop Everett fullback Joey White at the goal line on fourth down.

"The defense was just tremendous," praised Peabody. "It was a really great effort. We knew that they had it in them. The offense in the first half, we really weren't getting the job done or moving the ball but it was a great confidence boost to know that we could still be in the game, even as poorly as we were playing in the first half. That was huge."

The Raiders had their own chance to win it on their OT possession, but a 23-yard field goal attempt sailed wide of the uprights. Undeterred, Barnstable came right back and Peabody hit Morris again, this time for an eight-yard score, on the third play of the second OT.

The Raiders missed on a conversion pass attempt, but the defense had one more stop in them. Lineman Jake Palmer cam up with a tackle for a two-yard loss on second down, then safety Kevin Hardy intercepted a Gilly DeSouza pass in the end zone to close out the win.

"Every series we stopped them our defense was gaining more and more confidence," said Barnstable coach Chris Whidden. "They believed all along that we could beat them. We knew we could play with them and it was just a matter of time. We knew our offense was going to get something, it was just a matter of time. The first three games our offense was doing everything they could, they were putting up all the points even though we didn't make a mistake on the defensive end. We proved that it's a total team here."

NOT QUITE WHAT ANYONE EXPECTED
For a team used to scoring in bunches -- Barnstable averaged 40 points per game in its first three victories -- a trip to Everett would undoubtedly bring that average down a bit.

Weather conditions aside, the Raiders were going to go with whatever the Tide's defense gave them, so they tried to come out throwing. And they struggled, as Peabody missed on his first 11 throws and Barnstable finished the first half with just 20 yards of offense.

Rather than keep beating their heads against the proverbial brick wall, the Raiders adjusted and started using tailback Hayden Murphy as a workhorse. After being held to minus-4 yards on six first-half carries, the offensive line started winning the battle in the trenches and giving the junior room to run as Murphy collected 53 yards on his first six carries of the second half.

"(The rain) negates their speed a bit on the outside but it also negates our passing game and we've always said that we're going to take what you give us and we're going to beat you with that," explained Whidden. "They started with a 4-3 look with seven in the box so we tried throwing it at first but it was just difficult with the conditions. so we adjusted to what we could do."

Those adjustments eventually helped open things up for Peabody to throw for 96 yards and two scores over the final 22 minutes.

"I think the biggest thing was getting our running game going. Our linemen were able to block tremendously up front. Once we got the run going, I think they got a little over zealous up front and that opened it up for a couple passes."

UNLUCKY 29
The Raiders snapped Everett's 28-game win streak by frustrating the Tide in spots where they usually excel. Namely, punching the ball in from the one-yard line, something Barnstable stopped Everett from doing twice.

If Everett is going to have a chance at redemption, it will have to come in the Div. 1A Super Bowl, providing both teams manage to win their respective league titles and a semifinal playoff game.

After the game, Everett coach John DiBiaso was asked to reflect back on his squad's three-year run of perfection, but the veteran coach knows this year's team is going to have to carve its own identity before the season is over.

"It was a lot of hard work. It takes a lot to get 28 in a row and that's what I told them all year," DiBiaso said. "I preached to them, 'A lot of kids put in a lot of blood sweat and tears into those 28 games and you have something to uphold.' But this is a team in itself. They have to make their own memories and history and get their own accomplishments."

"They can't rest on what Manny Asprilla or Vondell Langston did," he continued. "They have to make their own accomplishments. We have to gather the troops, circle the wagons, we have to come out against Cambridge, which is a league game, and then Xaverian and BC High. It doesn't get any easier. Win our league and get to the playoffs. Thats our goal."

BARNSTABLE (4-0) 0 0 0 7 6 - 13
EVERETT (3-1) 7 0 0 0 0 - 7

EV - Jalen Felix 2 run (Gilly DeSouza kick)
BA - Dylan Morris 37 pass from Nick Peabody (Terrence Mudie kick)
BA - Morris 8 pass from Peabody (pass failed)
September, 15, 2012
9/15/12
12:27
AM ET
By
Jordan Higgs
| ESPNBoston.com
SPRINGFIELD, Mass. -- It was a long, somber huddle for the Central Golden Eagles after falling to state No. 1 Everett, 33-14, at Springfield's Berte Field on Friday night.

Yet, it started with promise for the Eagles.

They overcame a sloppy start to pull even at 7-7 with 3:21 left in the second quarter, when Aaron Owens followed a 55-yard pass from Cody Williams to Ju'wan Williams with a 22-yard touchdown run that included a couple of stiff-arms to ward off Everett defenders.

With three minutes to go in the half, it seemed for a moment as though Central, looking to earn respect for Western Mass. and avenge last year's 42-13 defeat, had some magic dust on hand to work toward an upset.

But Everett was swift to respond. The Crimson Tide marched down the field and Jalen Felix scored his second touchdown of the night, giving Everett a 14-7 halftime lead it would never relinquish. Felix would finish 211 total yards and two touchdowns.

After playing a conservative first half the Crimson Tide opened it up beginning in the third quarter. New quarterback Gilly DeSouza took center stage, capping off a big drive with a 15-yard touchdown pass to Jakarrie Washington to open third quarter.

A Central turnover followed on the ensuing drive, giving DeSouza another opportunity. He hit Joey White in stride between two defenders to put his team up 26-7 with 5:43 still left in the third.

The Everett lead wasn't done growing. Eight minutes later, DeSouza found Brendan La Rosa in the back of the endzone and giving his team a 33-7 lead.

Central would go on the score once more in the closing moments, but by the time Cody Williams found Ju'wan Williams for the Eagles' second touchdown, the game was long out of reach.

De Souza Stars Again: Crimson Tide head coach John DiBiaso was quick after the game to offer his praises for DeSouza.

"It was all audibles at the line of scrimmage from the quarterback," DiBiaso said. "I thought Gilly [De Souza] did a great job making the right call."

It was indeed De Souza's decision making that shone brightest as he spread the ball around and did an excellent job adjusting to different looks by the defense. He only completed six passes but he racked up 167 yards with four touchdowns.

Central Regroups: After coming into the game hoping to avenge last years 42-13 loss to Everett, the Golden Eagles will have to wait a year to get another shot at the Crimson Tide juggernaut.

Cody Williams, who kept his cool under constant pressure during the game going 20-31 for 227 with a touchdown and an interception, was emotional afterwards.

"We just got to come back and dominate harder," Williams said. "I just don't think we executed as good as we could. We practiced really hard this week and I thought we put up a good fight against them coming into the second half but we let them slip. We wish to get these guys back [next year]."

"When the going gets tough we need leaders to be leaders, keep their composure." Central head coach Valdamar Brower said. "When kids look at our defensive leaders or offensive leaders and sees them freaking out like things are going bad, they can't, They have to look to them, look for guidance and say 'we can hang in there' you know, keep fighting. Hopefully we can learn from that, grow from that."

Rolling with the Punches: Flexibility was key in the second half for the Crimson Tide, as Everett took what the Eagles gave them during an explosive second half.

"They played very tough, it was a pretty much even first half," DiBiaso said. "Fortunately we had some scores in the second half, kinda opened it up. When they brought a lot of people in the box we passed and when they dropped people back into coverage we ran."

"We made a lot of mistakes for the second week in a row penalties and mental errors that we just can't afford to make, hopefully we'll iron those out."

There's always room for improvement, but the Tide looked every bit as good as predicted before the season, and will look to keep on rolling next week against St. Johns Prep.
August, 26, 2012
8/26/12
1:30
AM ET
By
Andy Smith
| ESPNBoston.com
EVERETT, Mass. -- It's a true sign that it's almost football season when teams get out of the monotony of double-session practices and start getting to hit players from other teams.

Such was the case Saturday night at Everett Memorial Stadium, where the Crimson Tide started its quest towards another Super Bowl against Lynn English.

Were there ups and downs for both teams? Sure. However, Everett showed why it is ranked No. 1 in the preseason Top 25 poll, behind dominant line play on both sides of the ball and disruptive linebacker pressure that made it difficult for the Lynn English offense to get in a groove.

When the offensive line, anchored by Notre Dame commit John Montelus, wasn't creating holes for Joey White and Lukas Denis, it was buying time for junior quarterback Pat Long to hit Jakarrie Washington on long passes, which he did three times in the scrimmage.

"I thought we did well," said Everett coach John DiBiaso. "We didn't have Kenny (Calaj) because we were resting him. For the first scrimmage, I thought both our quarterbacks (Denis and Long) did pretty good. We know the offensive line is going to be good, and we need to tighten up our defense, but overall I was happy."

English coach Peter Holey echoed Dibiaso's sentiments, knowing his team will see Everett again when they scrimmage on Tuesday.

"We're going to take a look at the film," he said. "But I was happy with our athleticism. Obviously they are an outstanding team, that's why we love scrimmaging them: it only makes us better. My overall impression is that we're going to be pretty good, but we do have some work to do, and I expect to be a better team on Tuesday night."

Other observations from the scrimmage:

QB Battle, Pt. 1: Everett is still looking for a quarterback to replace the record-setting Jonathan Dibiaso. Both Pat Long and Lukas Denis got equal reps at the position Saturday. It was hard to tell if one of them separated himself from the other because Denis was as effective on the ground as Long was through the air.

Long threw two long touchdown passes to Washington down the left sideline, one from 35 yards out. Washington got his defender to bite on a double move, allowing him to get ahead a few strides to make the catch on the run.

Later, Long hit Washington on a corner route in the end zone after he was left uncovered.

The elder DiBiaso is in no rush to make a decision on who will start.

"I'd like to see them all," he said. "We have three scrimmages, and we're going to give them both opportunities in the three scrimmages. Every day in practice, I evaluate them. I'm not averse to using them both over the course of the game either, if they're both doing well. I thought both of them played well tonight, but both of them also made some mistakes. But they didn't protect the ball, and they didn't turn it over, so that's important."

QB Battle, Pt. 2: English has a quarterback competition of its own, trying to find a replacement for Jermaine Kelly, who last year helped the team make the state playoffs, where it was ousted by Everett.

Throughout the scrimmage Saturday, Holey was giving three players equal opportunity to show themselves and make themselves the frontrunner for the job.

D.J. Mullen, a transfer from Augustine High School in Florida, made a few nice throws that would be tough for any quarterback to make. During his team's third possession of the night, he took the shotgun snap and was under heavy pressure from the Everett rush. He ran left towards the sideline, and when all his momentum was taking him away from the play, floated a pass to a receiver in bounds for a big gain.

Two plays later, he stayed in the pocket long enough to see a receiver streaking down the left sideline, and hit him in stride.

This series caused Holey to leave Mullen in longer to see what he could do, but after the game, he was not ready to commit to any one player.

"We have three quarterbacks that we believe can start for us," he said. "All three have been told that they'll be given an equal opportunity to start. I feel comfortable with all three, but we'll go with one quarterback. What separates them, to me, is the ability to run the ball. That is a critical part of our offense. I feel all three players can start for us, which is a good problem to have. We'll settle on one quarterback by the time we scrimmage St. John's Prep on Friday."

Hogs live up to hype: Everett's line play came as advertised. The offensive line, arguably one of the biggest in the state, handled the English defense most of the night. The tackles' strength and agility made it difficult for the defensive line to get around and for it to collapse the pocket.

"They played great," said DiBiaso. "If they play like that all year, we're going to get a lot of yards."

On the other side of the ball, Everett seemed to be getting pressure whenever it decided to bring an extra rusher off the edge. The English offensive line could block the four lineman, but it was that extra body that went unaccounted for that made life difficult for the quarterbacks.

"They played hard, but we were missing Kenny, who is probably our best linebacker," DiBiaso said. "We really didn't play Jalen Felix and Jakarrie (Washington) on defense. We wanted to see other kids. Hopefully we can get our full defense ready for Leominster."

Growing pains: English had trouble defending Everett's screen passes and swing passes to the running backs in the flat. Often, the defensive backs and linebackers would follow receivers up the field, allowing the backs to get out in the open field for big gains. That is one problem Holey believes can be corrected before the real games start in early September.

"I expect that to be better," he said. "We pattern read, and obviously there were mistakes. The kids weren't reading their patterns correctly, and the corner wasn't dropping off and covering the flat, and that's something that we'll see on film over the next couple of days. I was very disappointed."
December, 4, 2011
12/04/11
1:25
AM ET
By
Corey J. Allen
| ESPNBoston.com
WALTHAM, Mass. -- Early in the fourth quarter, Everett's Jakarrie Washington took a sweep right down the sidelines and made a hesitation move that caused a Lincoln-Sudbury defender to fall, despite being between Washington and the end zone. The momentum that the Warriors had gained with their only offensive touchdown of the game less than two minutes earlier had been quickly put to rest, as the No. 1 Tide won easily, 36-13.
[+] Enlarge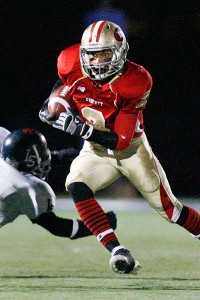 Jon Mahoney for ESPNBoston.com Jakarrie Washington's 63-yard touchdown run in the fourth quarter sealed a second straight Super Bowl title for Everett.
"On third down, we knew they were going to drop," said Everett coach John DiBiaso. "They were really dropping off on us, so when Jakarrie took that jet sweep I saw he got the corner. Once he got the corner, I knew he at least had the first down. When I saw his shoulders squared and he was going upfield I said he's got a shot to go all the way and he did."
That score made the game 27-13, and the extra point rush by Joey White made the score 29-13. On the ensuing Lincoln-Sudbury drive, junior Angel Duarte and senior Vondell Langston sacked quarterback Matt Cahill on first down and after two complete passes punted the ball away.
Despite a block in the back penalty on the return that negated the run back but also took away punitive yards, the Crimson Tide walked straight down the field, led off by Kenny Calaj with a 37-yard run. By the time Vondell Langston broke the plane with 3:30 left, it became nearly impossible for Lincoln-Sudbury to come back now down 36-13, but Washington's interception one minute later put the final touch on the game for the Crimson Tide.
"We've been practicing for them all week," said Washington of Everett's defensive training. "Going through the plays, learning play recognition, so we adapted to what they were doing and we did what we had to do."
Heat of the Battle:
DiBiaso and the Crimson Tide are used to winning games by large margins, and even though tonight the 23-point victory is sizeable, that was not solidified until late in the fourth quarter. The victory, although not at Gillette, felt good to coach DiBiaso because of the effort needed for his players to pull of the win.
"To win a tough game is always more gratifying than to win a blow out," said DiBiaso. "So if this game were say 42-0, we wouldn't appreciate it as much as we appreciate it now. This was a battle, we had to battle for it, we had to fight for it, we had to claw, scratch, bite for it, and when we get it, it means that much more. That's why I'm very emotional and I feel so good. It was a war out there tonight and our kids responded like champions."
[+] Enlarge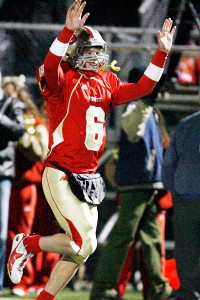 Jon Mahoney for ESPNBoston.comEverett's Jonathan DiBiaso was emotional in reflecting on what has been statistically the best career by a Massachusetts quarterback.
Run Game:
Before the game, Everett quarterback Jonathan DiBiaso was not feeling well and went to the bathroom to throw up before the game. Although he started the match, he was sliding early on during his runs, avoiding serious contact with the L-S defenders. As the game progressed, he began to take on hits and get the extra yardage that he usually does. Between not feeling 100% and the deep coverage that Lincoln-Sudbury was playing, the Crimson Tide scored all of their touchdowns on the ground today, something unusal for the high-powered offense.
First Quarter
E – Jonathan DiBiaso 1 run (Gilly DeSouza kick)
Second Quarter
E – Vondell Langston 2 run (DeSouza kick)
L – Connor Young 62 yard interception return (kick blocked)
E – Jalen Felix 1 run (DeSouza kick)
Third Quarter
L – Jack Harris 14 pass from Matt Cahill (Will Twyman kick)
Fourth Quarter
E – Jakarrie Washington 63 run (Joey White rush)
E – Jonathan DiBiaso 4 run (DeSouza kick)
September, 10, 2011
9/10/11
1:54
AM ET
By
Brendan Hall
| ESPNBoston.com



EVERETT, Mass. -- Only in Everett can you beat a regional rival 47-12 and come away from the post-game handshake moping towards the edge of the field.

Yet that is the attitude for the Crimson Tide tonight, after avoiding a Leominster scare early to put this one away by the end of the third quarter. Jonathan DiBiaso finished the night 16 of 30 passing for 256 yards, four touchdowns and one ill-advised interception into double-coverage at the goal line; but like several other key cogs on the Crimson Tide, he fell victim to cramps at some point in this game, just one of several focal points for improvement.

"That's on us. Kenny Calaj's legs were cramping up. Jakarrie [Washington], his thighs were cramping up," he said. "And me, my lower body was cramping up every single drive. So to say winning 47-12 tonight, breaking in all these new wide receivers, we take good out of it, but we have a lot of work to do."

Just 27 seconds after Vondell Langston (68 total yards, 2 TD) took a shovel pass from a yard out for the game's initial score with 7:25 left in the opening quarter, the Blue Devils (0-1) punched right back, with junior quarterback Garrett DelleChiaie setting up a play fake and finding Kyle Sanders wide open in single-coverage down the right sideline, connecting with the speedy senior for a 77-yard fade. DelleChiaie found Kevin O'Connor in the back right corner one play later on a rollout, cutting the lead to 7-6.

It took all of two plays for the Tide (1-0) to respond, with DiBiaso finding Jaylen McRae deep over the middle for a 64-yard touchdown pass, and 13-6 lead with 6:26 still to go in the first.

But the Tide are far from satisfied, and still looked rusty in some areas of their game -- yes, rusty. For one, they committed three turnovers tonight (one pick, two fumbles); for another, the no-huddle tempo negated the conditioning of not just the Devils, but Everett's own players as well.

"There's a lot of things we have to improve upon," the elder John DiBiaso, Everett's head coach said. "The fact that we got outta here with a win, scored 47 points and we didn't play good, I'm still...I gotta look on the bright side, the glass is half-full rather than half-empty.

"I think we'll improve on a lot of things. We'll get the cramp situation worked on. But a lot of that was caused by our tempo, so that's a good sign. We were pushing that tempo, fast breaking the whole night, and we kinda wore them down to a point where...you know, you saw the second half."

Some other observations from tonight:

Breaking Them In: Following up the electric tandem of Matt Costello and Manny Asprilla is going to be a tall task for just about any program in the state, and by my count the new wide receivers being broken in tonight had about half a dozen drops. (Again, only in Everett do you leave points off the board in a game like tonight). Certainly the speed is there, which is why Jonathan had no problems tossing up deep balls to Washington and McRae -- two guys expected to fill Costello's deep-route role -- even though a few sure-fire touchdown passes slipped out of the fingertips.

Aside from the touchdown strike to McRae, Jonathan did his most damage on short routes over the middle and to the flats, with Langston and Kenny Calaj (82 total yards, TD) the primary beneficiaries. Both are well-built and tough players to take down in the open field, and they proved as much tonight, plowing through a handful of arm tackles.

"Before you go short, you've gotta go deep," John DiBiaso said. "They're coming up on you, you've gotta prove you can go by them. I thought we got by them, we finished a few of them, we had some near-misses. That's just timing. I'm not disappointed with the receivers, I'm not disappointed with the offense. I think the potential's still there. We just gotta get a little more experience for the kids that haven't played before."

Packing Punch: The Tide's offensive line is a bit on the green side, and suffered some breakdowns up the middle, but that might come to be expected when you have just one senior in the trenches in Nick Stanfield. But one of the positives I took away tonight was the footwork of left tackle John Montelus. At 6-foot-4 and a somewhat lean 290 pounds, the junior has yet to turn 16 and already holds four scholarship offers from BCS schools. He showed why tonight, demonstrating the balanced posture requisite of a left tackle to get that maximum punch on the first step.

"They did a good job protecting him," John DiBiaso said. "And like I said, last year when Jonathan would spin around, Matty or Manny would make these catches...these guys aren't there yet. They're gonna be good though."

Said Leominster head coach Dave Palazzi, "He's a great left tackle, and we did what we could."

Silver (and Blue) Lining: So here's the good news for Leominster. Next week they've got to deal with Hudson and Bryant-bound super back Karl Sery, an ESPNBoston Preseason All-State athlete. But tonight's run, chasing down Langston and Calaj, should have them more acclimated for stopping one of the most versatile threats outside the I-495 loop. While Hudson isn't going to air it out 40 times a game, the Hawks are tough in between the tackles and can give you fits with their read option out of a variety of formations.

"Yeah, I mean, hey, we were chasing them [Everett]," Palazzi said. "We're chasing receivers all night, quarterbacks, rushing the quarterback, so this is the era we're in -- throwing the ball, running and chasing the guys. We were ready for it, they didn't do anything we didn't think they were going to do, but when it comes to matchups and DiBiaso being a senior -- he made some nice plays, with some speedy wideouts -- I mean, you can't shut down a team like that totally.

"But we did shut them down a couple times, and force some turnovers which I was happy with. But unless you're driving on offense the whole game, it's hard to stop those guys on offense."

EVERETT 47, LEOMINSTER 12

LHS --- 6 6 0 0 - 12
EHS --- 13 15 13 6 - 47

First Quarter
E - Vondell Langston 1 pass from Jonathan DiBiaso (Gilly De Souza kick) 7:25
L - Kevin O'Connor 6 pass from Garrett DelleChiaie (rush failed) 6:58
E - Jaylen McRae 64 pass from DiBiaso (kick failed) 6:26

Second Quarter
E - Ralph Jonathas 17 pass from DiBiaso (Kenny Calaj run) 7:11
L - Josh Caouette 10 pass from DelleChiaie (rush failed) 3:08
E - McRae 7 pass from DiBiaso (De Souza kick) :43.9

Third Quarter
E - Langston 6 run (De Souza kick) 6:47
E - Calaj 1 run (kick failed) :52.6

Fourth Quarter
E - Joey White 6 run (rush failed) 5:58
August, 27, 2011
8/27/11
11:58
PM ET
By
Brian Fabry
| ESPNBoston.com
EVERETT, Mass. -- The calm before the storm could mean the obvious reference to Hurricane Irene's pending arrival along the Northeast shores, but in Everett, the first scrimmage of the season marks the day before every Division 1A team in the state will be gunning for the perennial No. 1 squad in the state.

The Crimson Tide kicked off the season with their annual scrimmage against Lynn English and, while each team looked rusty at times, it was the ESPN Boston preseason top-ranked program that was sharp on offense.

Dressed in their practice reds, pre-season All-State quarterback selection Jonathan DiBiaso looked ready to play tomorrow, but it was Joey White, filling in for injured tailback Vondell Langston with the first-team offense, that opened some eyes. White was great up the middle and on a quick sweep in the first series and took his third carry through the Bulldogs defense breaking three blocks downfield to score on Everett's first series

"Joey ran the ball hard, he's a tough runner, we had a couple of guys nicked up, but (White) did a real good job for us out there," DiBiaso said.

The offense moved the ball into the end zone on each of their first four possessions as the vaunted passing attack didn't seem to miss a beat from last season's Super Bowl victory but DiBiaso knows championships are won on the other side of the ball as well.

"It's the first scrimmage so there were a lot of mistakes (on defense)," said DiBiaso. "We saw some good things and saw some things we definitely have to improve upon. Overall our condition has to get better but we have a couple of weeks to fix that and be ready for the first game so I'm a little disappointed but hopefully we fix them by next week and we are ready for Leominster."

The major bright spot for Lynn English looked to be their offensive line, led by senior captain Mike Dwyer right in the middle as the center. Dwyer, who also plays as middle linebacker in head coach P.J. Holey's defense, along with the front line were able to move the ball in the spread offense easily early on in the scrimmage.

In fact, quarterback Jimmy Kelly was efficient moving the ball in the spread offense out of the shotgun against the Crimson Tide defense before running into the usual mishaps – dropped balls and missed assignments. But Holey was happy with how his team played being only the third time the Bulldogs have strapped on the pads.

"The things we were looking for [yesterday] were did we play physical, did we play aggressive, and were we athletic. We certainly found that out today," said Holey, when asked if his expectations were met in against the No. 1 team in the state. "Everett has the best quarterback that I've seen in quite some time so we have a lot of work to do and we can build off this, but we need to run the ball 60-70 percent of the time on offense as that is our strength and we have to run the ball effectively."

Kelley did run into some coverage problems downfield the remainder of the day and running through the second line of Everett's defense proved fruitless as the day wore on and the temperatures and humidity rose.

"It's all a matter of working hard the next couple of weeks and taking nothing for granted because we have a great big bulls-eye on our backs," said DiBiaso.

Looks like Everett is picking up where they left off last season -- being the eye of the Division 1 football landscape in Massachusetts.

Notes:
Kenny Calaj also did not play in the scrimmage and while Coach DiBiaso pointed to conditioning, he seemed a little worried about Calaj and Langston not being able to participate this close to the start of the season.