Boston High School:

John Bishop
February, 18, 2012
2/18/12
9:46
AM ET
By
Marc Thaler
| ESPNBoston.com
First-time head football coach Adam Gagne would not describe the man he succeeds at Division I Salem High as a Granite State grid legend.

"In my mind, and many other minds, he's not just a New Hampshire coaching legend," Gagne said of Jack Gati, who retired Dec. 5 after lengthy stints at Manchester's Trinity High (1978-85), Concord High (1986-93) and Salem (1994-2011). "I put him in the New England coaching legends. The states are tied together. They're so close."
Great answer from the former offensive coordinator for Westford (Mass.) Academy. The 31-year-old takes over for a coach with the third-best win total in state history.
Gati's 37 years calling the shots led to a 221-138 career record, eight championship appearances and four state titles. He won 121 games in his 18 years guiding Salem. Two of those wins, in 1995 and 2009, clinched crowns for the Blue Devils.
Expectations, thanks largely to Gati, are high at 44 Geremonty Drive.
"I put pressure on myself to succeed," said Gagne, who will continue teaching in Westford Academy's business department. "I wasn't going after any old coaching job. I did my research. It was absolutely the type of program I was seeking for my first job as a head coach."
Now, the task is to make his mark on the program. Salem's offensive system seems like the logical place to start.
Gagne, a former three-sport athlete at Haverhill (Mass.) High, spent the past three seasons as an assistant head coach and offensive coordinator for the Dual County League's Grey Ghosts.
Prior to joining Rich McKenna's coaching staff at Westford Academy, Gagne spent six seasons as an assistant at Merrimack College. The resident of Haverhill, a neighboring town of Salem, was a three-year starting wide receiver at Bentley University.
Gagne's arrival means this much: fans longing for Salem to attack through the air with greater frequency should get their wish.
"'Spread offense' is such a generic term. It's a form of the spread," Gagne said of his system. "I don't know if I have a specific name for it. It's probably going to be called the 'Blue Devil system.'"
Whatever its name, Gagne's system is far different from the one Gati preferred.
Almost exclusively relying on the ground game was always a staple of Gati-led teams.
"He's the godfather of the off-tackle. Jack hangs his hat on the running game," former Concord head coach Bob Camirand, Gati's successor with the Crimson Tide, said when his friend of 40 years retired.
Increased focus on the the passing game certainly separates Gagne from Gati. But, the new coach insists his predecessor, who still teaches at the high school, has a place with the team.
"I see him as a big stakeholder in the program," Gagne said. "In no way do I want to completely separate myself from that dynamic."
Retaining two of Gati's former assistants, Dan Kelleher and Robert Pike, proves Gagne's point.
"All of us," Gagne said, "are going to have our hands dirty in the program."
October, 30, 2010
10/30/10
12:34
AM ET
By
Neil Carroll
| ESPNBoston.com
NATICK, Mass. -- Natick freshman quarterback Troy Flutie had 288 all-purpose yards for the Red and Blue, but his performance was not enough to knock off the visiting Walpole Rebels at home Friday night.
No. 24 Walpole (8-0) did not have a standout performer in the 29-20 victory. It instead used a variety of methods in order to take down Natick (4-4) -- including a return of a blocked point after touchdown attempt that gave the Rebels momentum late in the game -- and clinch a Division II playoff spot.
[+] Enlarge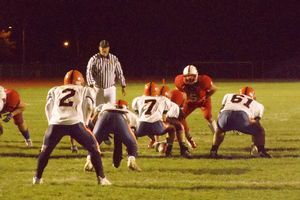 Courtesy Neil CarrollWalpole's Troy Salvatore (7) and Kenny Woods (2) helped the Rebels clinch a Division II playoff berth with a 29-20 win over Bay State rival Natick.
"It was a total team effort," Walpole head coach Barry Greener said. "We don't have that one guy -- it's really just a bunch of guys that just keep fighting and that's what happened here tonight."
Greener stressed the importance of all phases of the game, but in particular his special teams unit.
As the third quarter ended, Natick was awarded a first and goal situation with the ball on the 2-yard line and trailing 20-16. The Walpole defense stuffed the run on three consecutive plays forcing the Red and Blue to go for it on fourth down.
Flutie stood in the pocket to deliver a 5-yard touchdown pass to receiver John Bishop to tie the game at 20. But on the ensuing point after try, Walpole junior Dan King burst through the right side of the offensive line to block the kick, and Chris Norberg took the loose ball 65 yards to the end zone.
Norberg's scoop and score that Greener called "the turning point in the game" put the Rebels up, 22-20, and left Natick reeling after losing the momentum they had gained from the previous score.
Then Walpole put on a clock-management clinic, killing seven minutes in the fourth quarter on an 11-play drive, that spanned 62 yards and culminated in a 9-yard Troy Salvatore touchdown run. Salvatore was second in rushing for Walpole with 54 yards on 10 carries and two touchdowns. The senior was 9 of 13 for 129 passing yards with a touchdown pass to sophomore Mike Rando.
"It was crazy," Salvatore said of the win. "We were hard on the offensive line all week and they came out tonight and did a hell of a job blocking -- we were able to run the ball a lot -- and the defense stepped up."
Running back Kenny Woods ran the ball 15 times for 115 yards for Walpole and was second in rushing only to Natick's Flutie.
Natick's offense struggled in the first quarter, but came back strong in the second. Flutie finished the game with 14 carries for 129 yards and a rushing touchdown, but also completed 10 of 23 passes for 159 yards and a touchdown.
Although he threw an interception late in the fourth quarter, in his second career start, Flutie looked calm behind center while being indoctrinated into the Natick-Walpole rivalry and the Bay State Herget.
"We told the kids coming in that this was going to be a tough game, Walpole [versus] Natick is always a war," said Greener. "[Natick] is not a four-and-three team, they are a much better team than that."
"We always battle, that is the thing about our kids" Natick head coach Mark Mortarelli. "Down fourteen-to-nothing, nobody was panicking. We got a couple of touchdowns quickly, and going into halftime we knew we had a chance."
The win puts the Rebels in the driver seat of the conference and now has them eyeing a perfect record, but also keeping a lookout for No. 22 Weymouth in a heated Thanksgiving day clash.
"Now, we have to set a new goal," said Greener. "Our goal now is to win the whole Bay State title."
W 7 7 7 8 -- 29
N 0 14 0 6 -- 20

First quarter
W- Rando 36 catch from Salvatore (Tim Crowley kick)
Second quarter
W - Rando 9 run (Crowley kick)
N - Flutie 36 run (Sam Lenson kick)
N - Glenn Duffy 2 run (Lenson kick)

Third quarter
W - Salvatore 1 run (Kick failed)
Fourth quarter
N - Bishop 5 catch from Flutie (W - Norberg 65 fumble recovery return)
W - Salvatore 9 run (Crowley kick)