Boston High School:

John Festa
May, 19, 2013
5/19/13
2:20
AM ET
By
John McGuirk
| ESPNBoston.com
WORCESTER, Mass. -- Up until this past week, there was no guarantee that Phillips Academy-Andover would be grab a spot in Central New England Prep School Baseball League (CNEPSBL)/Thomas Blackburn Championship Tournament. Having won the title a year ago, the Big Blue struggled this season and needed to beat Tabor Academy on Wednesday to qualify. On the strength of pitcher Rory Ziomek, Phillips Academy cruised to a 5-0 triumph to earn the bid.
With the pressure off, the Big Blue walked into Assumption College's Rocheleau Field on Saturday with a "nothing to lose" attitude. That mindset certainly paid off as the fourth-seeded Big Blue defeated top seed Deerfield Academy, 10-7, in the semifinal round before knocking off No. 2 seed Worcester Academy, 12-8, in the afternoon in the title tilt.
"This is our second championship in a row but this is a much-different team than last year," fifth-year Phillips Andover head coach Kevin Graber said. "Last year's team was very dominant. This year we had to scratch and scrap and faced a lot of adversity along the way.
"Our pitching carried us into this tournament and our depth manifested itself and we were able to get our offense to catch up in the end. My philosophy has always been for us to be playing our best baseball at the end of the season, especially in a end-of-the-year tournament. We did that this year."
On the strength of 10 hits and a multitude of wildness by the Hilltoppers' pitching corps, the Big Blue (10-6) led late, 12-4. In hindsight, they were fortunate to construct such a cushion because Worcester (19-11), which blanked Phillips Exeter in its semifinal matchup, decided to make things a bit more interesting late.
Phillips Andover jumped out to a 2-0 lead in the second inning after Hilltopper starter Nick Johnson served up four consecutive walks. A double-play later in the frame led to the Big Blue's second run.
[+] Enlarge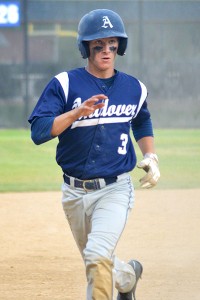 Brendan Hall/ESPNFreshman John Simourian went 5 for 7 in the championship game with 4 RBI to lift Philips Andover to its second straight CNEPSBL title
In the bottom of the inning, Worcester Academy cut the deficit to one after junior John Marculitis (3-for-4) tripled and later came home on Jessey Valdez's fly out. In the fourth, the Hilltoppers took a 3-2 lead thanks to Marculitis' two-run double. But the tide of momentum would quickly change over to the Big Blue side in the fifth. Johnson opened the frame by allowing a single and plunking the next two Phillips Andover batters to load the bases.
For the game, three Hilltopper combined to hit eight Big Blue batters. Hilltoppers head coach Dana Forsberg made the decision to pull Johnson in favor of Nick Economos. But the lanky right-hander walked John Festa to force in a run and knot the game 3-3. A passed ball ensued to plate Phillips Andover's fourth run. Harry Roche then lined a single to right for another run and push the lead to 5-2.
The Big Blue weren't done. Later in the inning they loaded the bases before Forsberg summond Greg Hemmer to the mound. But Hemmer was immediately greeted by a John Simourian a two-run single pushing Phillips Andover's advantage to 7-3. Simourian, a freshman transfer from Belmont Hill, finished 5-for-7 at the plate on the day and also drove in four runs.
"I'm just glad we came out with the win," said the Big Blue catcher. "As it showed today, everybody is a fighter on this team. There isn't one guy who wouldn't lay everything he has down for the sake of the team. I think that's what led to another championship for us."
After Worcester Academy got a run back in the fifth, the Big Blue responded with four more uns in the sixth highlighted by Joey Verhaegh's two-run double. In the seventh, back-to-back doubles from Chris Hohlstein and Connor Farrell increased the Big Blue's lead to eight runs.
To the Hilltoppers credit, they didn't go down without a fight in their final at-bats. Three errors sandwiched around a Marculitis RBI single pulled them to within four runs. But Phillips Andover and future Tufts University pitcher Tim Superko (CG, 6 hits, 7 Ks) worked through the circus-like atmosphere of the inning to nail down the victory, giving the Big Blue their 10th CNEPSBL crown since 1988.
"This is probably the most-talented team that I have ever had here," said Forsberg, who last won a title in 2011. "The kids played hard. When you are down big like that it is easy to fold but that never happened. These kids never stopped believing. We preach to our pitchers that you have to throw strikes.
"If you don't throw strikes and put people on those runs are going to cross and that bit us today. This was a special team and the toughest team that I've ever coached. They love the game of baseball. We've got some good kids coming back and some nice ones coming in so we'll be ready for next year."
Semifinals: Stefaniak shines, Dennehy says goodbye
In the day's first game, the Hilltoppers jumped on Phillips Exeter pitcher Hunter Carey for three first inning runs and made it stand due to the mound majesty of Mark Stefaniak. The lefty dominated the Big Red, striking out 15 in the process.
"I just went out tried to throw strikes and get ahead of the hitters," said Stefaniak, who also will pitch for Tufts University next year. "When you get ahead of hitters you have a much-better chance to put them away. That is what I focused on today and tried to stay ahead of their hitters."
After his rough opening frame, Carey settled down and kept Worcester Academy off the board the rest of the way. But it was the first inning that haunted the future Trinity College hurler. The Hilltoppers took a 1-0 lead on consecutive doubles by Anthony Barry and Brad Petitpas. Hemmer followed by blistering a moon shot over the center field fence for a two-run homer. That would prove to be enough run support for Stefaniak who handcuffed the Big Red (11-7) early and often.
"That team came out swinging and were ready to hit from the beginning," said 42-year Phillips Exeter coach Bill Dennehy, who is calling it quits at season's end. "I thought Hunter hung in there after that first inning but their pitcher was just too tough on us today.
"This is my last year and it's been tough to think about. You surprise yourself when you see how fast it goes even after 42 years. I couldn't have had a better job. I've been blessed here. What I'm going to miss most is being around the kids on a day-to-day basis. That was always the biggest thing for me. We've always had great kids here."
In the day's other semifinal, Phillips Andover jumped out to a 6-1 lead and held off a couple of late Big Green (10-3) surges to come away triumphant. The Big Blue put this one away with a five-run third. A two-run double from Farrell and RBIs by David McCullough and Matt Hosman pushed Phillips Andover out to a 6-1 lead. Deerfield Academy shot back in the fifth, scoring four times. Cullen Geary keyed the inning with a two-run single.
In the Big Blue's half of the sixth, they put this game out of reach after scoring three more times on a SAC fly, a fielder's choice and a Simourian double to lead 9-4. Phillips Andover led 10-5 going into the final inning. The Big Green scored a pair in the bottom of the frame on RBIs by Coltan Dana and Conor Quinn failed to draw any closer.
December, 27, 2011
12/27/11
11:10
PM ET


SAUGUS, Mass. -- As far as holiday tournaments go, it's somewhat unusual to find such an important league matchup as Tuesday's Catholic Central Conference battle between No. 13 St. Mary's of Lynn and No. 16 Austin Prep at the Kasabuski Tourney on Tuesday.

The Spartans and Cougars brought a playoff-life atmosphere to a game that remained scoreless through two periods, but was filled with physical play.

Both teams scored on their first shots of the third, but St. Mary's scoring opportunities kept piling up, adding up to a 3-1 victory.

"We've developed a little rivalry over the years and we knew it was going to be a battle until the end," Spartans head coach Mark Lee said.

Scott Corcoran had AP (2-1-0, 2-1-0) to a 1-0 lead seconds into the third with the aide of a perfect cross-ice feed from captain Ryan Quinn.

St. Mary's (5-1-0, 2-0-0) responded with some strong net front presence as Cam O'Neill tipped home his fourth goal of the season.

The score remained tied -- due in no small part to a sensational effort by Cougars freshman goaltender Elijah Harris -- until the final minutes of the game when the Spartans took advantage of the sixth power play surrendered by the Cougars.

"Whenever you take six penalties," AP head coach Louis Finocchiaro said, "with two big ones in the third period … To have two penalty kills in the last six, seven minutes of the game, that hurt us big time."



Spartans senior captain Bobby Mullins netted a power-play marker with 1:52 remaining, leaving the Cougars little time for a counter attack.

Sophomore transfer Jarrod Fitzpatrick iced the victory with an empty-net goal in the final minute with his team-leading fifth goal of the season.

"That's a real goal for us, we want to repeat as league champions," Lee said. "To do that, you have to start with Austin Prep. It's always a battle."

MC ROLLS, FITZGERALD RETURNS
No. 1 Malden Catholic's 8-1 win over Bishop Fenwick saw the Lancers taking things in stride, as usual.

One particular bright spot for MC (3-1-0) though was the return of top line center Ryan Fitzgerald.

The junior assistant captain missed the first four games of the season after nursing a separated shoulder, but made his season debut centering the Lancers' top line along with Brendan Collier (4 goals on Tuesday) and Mike Iovanna.

Fitzgerald got back into the flow of the game with a goal of his own in the second period, although a bit rusty.

"I was pretty winded out there," Fitzgerald said. "The shoulder is fine. It's a just a matter of getting back into game shape. That'll just take a few games."

Getting back into the game will be made easier by his linemates as the Lancers eye a run at a repeat Super 8 title.

"Obviously, I've had the chemistry with Brendan from playing together, but with Mikey I [Iovanna] comig onto the line, I've played with him my whole life, so it's not new. We've had history. It's pretty easy to mesh with those guys. They make it pretty easy."

LYNNFIELD CAPTURES D2 BATTLE
The Cape Ann League and the Northeastern Conference are typically two of the strongest divisions in the state from top to bottom and this year promises to be no different.

So, with two teams looking to make noise in this year's Div. 2 North tournament meeting on Tuesday between Lynnfield and Danvers, Pioneers head coach Vin Mirasolo reflected on a quality win after taking a 5-3 decision over the Falcons (2-2-0)

"The way we look at it, there could be any of about 15 teams in Division 2 that could be the team," Mirasolo said. "I think we're that mix that could, at any day, get it done.

"I like our mix [in the locker room]. It's a good group that's working hard and we continue to improve."

Lynnfield (3-1-0) had its skating legs under them, led by top scorers Dylan Costa, John Festa and Greg Meininger.

But it was the depth the Pioneers exhibited on Tuesday that was most encouraging.

"We got production out of all three lines and then our sophomore goalie [Joe Bassi] made all the saves he had to make. It was a pretty good effort, overall. We're still not where we need to be, but we're getting there."

ONE HOST HOLDS OFF ANOTHER
No. 10 Wakefield used a late charge to beat Saugus, 3-1, in the the day's early game between two teams which call Kasabuski home.

The Warriors (3-1-0) took an early 1-0 lead in the first period with Kevin Doherty cashing in on a broken play. Kurt Roderigues tallied the lone Sachems (1-2-1) goal to tie the game before the period was out.

That's the way it would remain until there was 1:25 remaining in regulation, when Ryan Andrews tallied the game-winner.

Kyle Leone scored an empty-netter to cap it.