Boston High School:

John Florence
November, 3, 2013
11/03/13
12:59
AM ET
By
Chris Bradley
| ESPNBoston.com
DANVERS, Mass. -– Keagan Latta was just trying to get rowdy.

The Lowell (6-2) senior defensive back led a spirited and intimidating defensive charge against St. John's Prep (4-4) on Saturday afternoon, reeling in three interceptions -- one of which was a pick-six -- recovering a fumble and bringing it back for a touchdown, and catching a scoring pass from his own quarterback, Brian Dolan.

The result: a 41-0 victory over a traditional power and a statement to the rest of the MIAA.

"We got here early, [St. John's Prep] were nowhere to be found. We just wanted to get rowdy and show their fans we were ready to play," Latta said, face caked with eye black. "Hopefully everybody knows Lowell's not somebody that you mess with anymore. We're making our mark on the state football tournament."

From the opening kick the Lowell sideline was loud, jumping up and down and excitedly yelling every time a big play was made on defense, which came early and often. Offensively, Latta caught the first touchdown of the game, a 26-yard pass from Dolan (9-14, 173 yards, TD), assisted by a bone-crushing block from fellow receiver Mike Holder to allow Latta the space to get in the end zone.

"[Offensive coordinator Brian] Christopher drew up some nice stuff on offense, the offensive line blocked and gave Dolan some time," Lowell coach John Florence said. "I think early in the year we were struggling with that, but we were able to get kids open and he hit them in stride."

Moments later, the Lowell sideline reached its most animated point of the day. On fourth down from the Prep 35, Eagles' quarterback Mike Geaslen rolled out and was stopped far short of the first down. The Red Raiders defense and players on the sideline erupted. Ngaiiva Mason (90 yards rushing, 3 TD) scored a touchdown three plays later.

Prep started with the ball on their own 29 on the next drive, and it looked like the passing game might be able to get going when Geaslen found Owen Rockett on second down, but Rockett fumbled the catch one step after he pulled it in; Latta recovered the fumble and brought it back for a touchdown.

One could hear a pin drop on the Prep sideline after falling into what felt like an insurmountable 20-0 lead in the second quarter, a theme that went unchanged the rest of the game.

By blitzing often and jumbling up the middle of the field, Lowell forced Prep to throw the football all afternoon. Latta picked off Geaslen twice before the end of the first half, and the Prep quarterback was sacked seven times overall in the game. Prep mustered just 52 yards of offense in the first half.

"We definitely got some lucky breaks early with our defense causing turnovers and scoring, anytime you can do that in a football game it definitely increases your chances of winning. We got that going, we got some momentum, we just kept rolling with it," Florence said. "We shut [the running game] down, and forced them to try to throw the ball on us. The kids stepped up."

Latta picked Geaslen off one last time about halfway through the third quarter, and wouldn't you know it, it was Mason who scored a 34-yard touchdown on the very next play to put an exclamation point on the victory.

"That was really just him making a lot of reads," Florence said of Latta. "It's really hard to describe, it was quite a performance. The kid made quite a day for himself. He really made a difference in the game."

EVERETT AWAITS: Next week's semifinal matchup with Everett isn't just another game for Lowell, a fact that Florence and his team don't just acknowledge, but embrace. The Crimson Tide are in a league of their own in terms of tradition and championships, while this year's Lowell team may very well go down as the best team the school has seen in the last half-century -- further adding to the emotion of next Friday's game for the Red Raiders.

"We went harder this week than we did any other week of the year, and I hope we do that again next week," Latta said. "We know Everett's one of the best teams in the state every year. Hopefully we put it together again."

The Crimson Tide beat Malden with ease last night, by a score of 39-6. Preparation won't change in the slightest, though. Florence will try to prepare his team and staff the same way they would any other game.

"We're going to sit down and watch a lot of film tomorrow," Florence said, "We know they're a come right at you, smash-mouth type of football team, so we've gotta be ready and prepared for that."
October, 26, 2013
10/26/13
1:00
AM ET
By
Chris Bradley
| ESPNBoston.com
LOWELL, Mass. -– Following up one of his best performances of the season, Brian Dolan couldn't contain his excitement following Lowell's 28-7 victory over Andover (3-4) Friday night.

"We just made history!" Dolan exclaimed while running to partake in the celebration with his teammates.

This Red Raiders (6-1) team, the first playoff squad to come from Lowell, was elevated in the offseason when Dolan decided to transfer from Lawrence Academy. Though it took the dual threat signal-caller some time to fit into Lowell's offense, and get to know his teammates, he's playing his best football of the season at the right time.

Dolan finished 13-19 for 104 yards and three touchdowns, giving the Red Raiders a quick lead in the first half that they were able to keep throughout the game.

"It's reps, experience, him feeling comfortable with things, understanding what a defense is doing. Just progression and reps, he's done a good job [this year]," Lowell coach John Florence said.

Two-way star Shyheim Cullen (73 yards rushing, one sack, one fumble forced) and Ngaiiva Mason (58 yards rushing, TD) also helped led the charge, as Mason's consistent running in the first half and Cullen's ability to make plays all over the field ultimately made a big contribution to the playoff clinching victory.

"We did great, we did awesome," Cullen said. "We almost had the shutout, but that doesn't mean anything. We worked all week on [defense], our defense is probably the best in the league...We work hard on it every day. Coach just tells us never give up, never quit, 100% effort all the time."

Florence agreed, praising Cullen for his on-field leadership on both sides of the ball.

"He's a great kid, a great teammate -- he prepares hard during the week," Florence said. "He's very intense, he practices hit technique, his reads, he watches film, and him and Ngaiiva running the ball they kind of have a little one-two punch right there. They're good friends, good teammates—they don't care who gets the ball. They're always kind of rooting for each other."

Dolan got the Lowell offense started quickly, leading an 11-play, 62-yard attack on the Red Raiders' first drive in the first quarter. He found Keagan Latta (2 TD) from 14 yards out to give Lowell the first lead of the game in the opening minutes. Dolan threw a 17-yard strike to Jack Galvin late in the second quarter to extend the lead to 14-0 at halftime.

"It was definitely one of our most complete games of the year," Florence said. "We've gotten better slowly but surely, progressively better with that -- we were sloppy at that last year. Last week we played about three and a half quarters of football, we didn't finish the way we wanted to. We did a better job this week."

Dolan found Latta once again in the third quarter to make it 21-0, then Mason ran it in from just over the goal line late in the fourth quarter to render the lead insurmountable. Oliver Eberth scored Andover's only touchdown of the game with 10 seconds left in regulation, breaking through for an 86-yard run.

"We're just gonna enjoy this for a couple minutes, and then we'll put it behind us and we'll find out tonight or tomorrow morning," Florence said. "We talk about it every week…we can't worry about what happened in the past, we're gonna focus on who we have next."

Cullen said he was ecstatic to make school history, especially going into the playoffs in grand fashion following one of their best team efforts of the season.

"It means a lot to us," Cullen said. "It means something to take our program to the next level, hopefully we take it further than the playoffs and go to the super bowl. It's the first time we've ever been to the playoffs ever, and to be on the first team that goes to the playoffs—it's incredible, it's surreal."

September, 21, 2013
9/21/13
2:07
AM ET
By
Brendan Hall
| ESPNBoston.com
LOWELL, Mass. -- Since the beginning of the preseason, much has been made about Lowell's funky, frenetic offense, a blur-paced spread scheme sprinkled with enough smattering of screens, draws, crossing routes and zone reads to keep a defense on its heels in no-man's land trying to envelop it all.
It was enough of a concern for Leominster head coach Dave Palazzi that earlier this week, he said he called his players and coaching staff "on the carpet", challenging their toughness and mental discipline. As it turns out, the best defense tonight against the Red Raiders' Oregon-like scheme was to keep them off the field.
[+] Enlarge
Ryan Kilian for ESPNBoston.comQB Neil O'Connor (222 offensive yards, 4 TDs) and the Leominster offense dominated time of possession in their 33-20 win over Lowell.
The Blue Devils (2-0) dominated time of possession in this highly-anticipated regional battle between two state title contenders, rolling out to a 26-6 lead in the third quarter en route to a breezy 33-20 defeat of Lowell (2-1) where the aggressor was never in question.
"We just said, to a man I asked them to step up and be the man at your own position, and respond to their first punch," Palazzi said. "I thought they did that."
The Red Raiders drew first blood, marching 64 yards in nine plays, punching it in from five yards out on an inside zone from Ngaiiva Mason (15 carries, 86 yards) for a 6-0 score less than three minutes into the contest.
Leominster responded with an offensive look trademark of Blue Devils teams past, but not used yet in 2013 -- preseason, or last week's home-opener. Palazzi rolled out a "double wing" formation -- a red zone staple for Blue Devil squads prior to the coach's arrival in 2011 -- on the next series, and took Lowell's 3-5 defensive front by surprise. They marched 77 yards in 14 plays and six minutes, twice converting fourth and one in their own end, punching it in on a 17-yard strike from quarterback Neil O'Connor (156 passing yards, 3 TD; 16 carries, 66 yards, TD) to fullback Matt Banchs (4 catches, 69 yards) for his first of two touchdown catches.
Lowell's next two drives were three-and-out's that lasted a combined 2:09, and Leominster responded each time with scores. First, they capped a 63-yard, 12-play, six-minute drive with a 36-yard strike from O'Connor to Mayson Williams, running a fade route down the left sideline. The next trip down, the Blue Devils went 66 yards in 17 plays, eating up all but 13 seconds of the final 6:08 of the first half. James Gurley (26 carries, 91 yards) punched it in from a yard out on fourth and goal for the 18-6 halftime margin.
Leominster received to start the second half, and opened with another monster drive, this one going 80 yards in 15 plays and seven minutes, capped with a nifty 10-yard option keeper by O'Connor, followed by a rollout pass to Jarell Addo on the two-point conversion for the 26-6 score.
In the fourth quarter, Leominster sandwiched another O'Connor-Banchs touchdown pass, this one for 19 yards, in between two pretty scoring strikes from Brian Dolan to Jack Galvin.
Owning the clock:
Between Leominster's six-minute drive to end the first half, a 15-minute halftime break, and the Devils' seven-minute opening drive of the second, it felt like Lowell's offense was off the field for an hour of real time.
Leominster dominated time of possession in the first half, holding on to the ball for 17:33 of the first half to Lowell's paltry 4:27 on four offensive drives. A big part of that was Lowell's combination of uber-fast no-huddle tempo and failure to convert on third downs. In the first half, the Red Raiders averaged 20 seconds, sometimes less, between plays; after their game-opening scoring drive, they failed to convert another third down the rest of the game, finishing 2-of-7 on the night.
Part of Leominster's practice week involves what players call "Intensity Tuesdays", a grueling mixture of sprints and suicides coordinated by assistant coach Charlie Raff. Against this high-powered scheme, O'Connor felt he and his teammates were conditioned well enough to hang around with them.
"He [Raff] definitely pushes us," O'Connor said. "We know why we're doing it, and it's for these reasons. They're not doing it because they hate us, they're doing it to help us. We understand that, and it pays off."
As a result, Leominster out-gained the Raiders 207-68 in first half yardage, running 43 plays to just 14 by Lowell. For the game, they outgained Lowell 386-211 from scrimmage. Superstar receiver Galvin, an ESPN Boston Preseason All-State selection, finished with two catches for 90 yards and two scores; but he was held without catch until the final 8:41 of the game.
Such is the mortal flaw with many of these uptempo, copious "Blur" schemes. When everything is clicking, these offenses look exotic. But, as tonight explicated, they sure can unravel in a hurry.
Asked if he contemplated slowing the pace down at all, Lowell head coach John Florence said simply, "It's not really our style. We want to go put the defense under duress and go from there."
Fourth and guts:
Everett coach John DiBiaso's decision last week to go for it on fourth and two from his own 23 last Friday in a loss to Xaverian,
and it has been a topic of discussion this week
. DiBiaso's gamble, while not his first rodeo, ended up backfiring. Palazzi's gamble with it tonight, meanwhile, showed how big gambles can pay off.
The Blue Devils were a perfect 3-for-3 on fourth downs tonight, all of them coming within their own end. Twice on their first drive of the night they converted on fourth and one, first from their own 32, then from their own 43. Later in the first half, the Blue Devils converted a fourth down from their own 29.
Asked about how much he weighed the risk of such decisions, Palazzi said there was "no doubt in my mind" he was going to go for it on those fourth downs.
"What I saw the first half, the first drive out of Lowell, I thought this could get out of hand quickly," Palazzi said. "I just thought that was the play of the game, it was intuition. It was an out of control call, I agree, but I just felt it in my gut that we needed to get a first down there.
"The tables could have turned there. We punt there, and they go down and score, we're down 14 now. It's a different ball game, we're [probably] spread out, trying to throw the ball around and that's really not what we're trying to do."
Often, such a maneuver is meant to test the skin of his players -- experienced or inexperienced, proven or unproven -- and see what kind of backbone they possess. No question, that factor weighed into the decision making.
"We knew we were coming up here to an Eastern Mass. team, a Division 1 team, we've played big games before but we had to match their intensity," Palazzi said. "That was part of the call, we just had to see if we were tough enough because as you see they're a great team, great players, they were real physical on film."
Double Wing catches Raiders off-guard:
The "Double Wing" package was often a staple of Leominster squads under legendary former coach John Dubzinski, particularly in the red zone, and it had been a novelty package seen in spurts the first two seasons under Palazzi. But neither in the preseason, nor last week's home-opener against St. John's of Shrewsbury, did we see any shred of the formation.
Suffice it to say when the Blue Devils opened up in the package early in the first quarter, and stayed in it for the most part throughout the half, it took Lowell by surprise. The Red Raiders deploy a 3-5-3 defensive front, a scheme known for its ability to disguise its blitzes, and one that better suits its speedy personnel. The linemen's one-inch splits in the double wing strip a defense of virtually all of its blitz packages, and Florence admitted this typically isn't a look they've had great success against.
"We see a little bit of it, with Tewksbury, it's obviously something we haven't played well [against] the last three years, and tonight was another example of that," he said. "With our style of defense, and the linemen we have, that's a weakness for us to be in. We have to come ready [for that].
"It was obviously very difficult [defending it]. They chewed the clock the second quarter, and I think we knew it was coming on the sidelines, we just didn't hit our gaps correctly and just let them push the pile. We were playing with our pad level too high."
Palazzi didn't want to get into a track meet with the Raiders, and felt this was their best method at keeping the game at a comfortable tempo. In basketball terms, Leominster matched Lowell's full-court press with a Princeton offense.
"[They run a] 3-5 with some very good athletes in there," Palazzi said. "We just thought with this league, and the way they run football, and a lot of the teams they play are throwing the ball like it's backyard football, we just decided we're going to go a little power football and see where we'd start. It kept on working, so we kept running it, and the kids were fired up about it. But Lowell made a lot of adjustments, they've got a great staff, they did a great job adjusting to it at the end."
Banchs moves the chains:
Gurley took on a Yeoman's load, and paid for it after the game ("I'm feeling sore, but it's a great win for the team," he chuckled), but an underrated part of Leominster's success on offense tonight came from the fullback Banchs. In addition to blocking for Gurley, Banchs was a vital part of the passing game.
All four of Banchs catches, including the two TD strikes, came in the flats. Out of the I-formation, Banchs would shoot up through the middle of the line and release to the flat, where a Lowell defender often failed to pick him up. O'Connor, rolling to his left or right, would hit him perfectly in stride for an easy first down and possibly more.
LEOMINSTER 33, LOWELL 20

LEO 6 12 8 7 --- 33
LOW 6 0 0 14 --- 20
First Quarter
Low - Ngaiiva Mason 5 run (kick failed) 8:38
Leo - Matt Banchs 22 pass from Neil O'Connor (kick blocked) 2:31
Second Quarter
Leo - Mayson Williams 36 pass from O'Connor (pass failed) 7:10
Leo - James Gurley 1 run (rush failed) :08
Third Quarter
Leo - O'Connor 10 run (Tim DeCarolis pass from O'Connor) 3:59
Fourth Quarter
Low - Jack Galvin 73 pass from Brian Dolan (Evan McHugh kick) 8:41
Leo - Banchs 19 pass from O'Connor (Christian Lewis kick) 5:52
Low - Galvin 17 pass from Dolan (McHugh kick) 5:02
September, 7, 2013
9/07/13
12:40
AM ET
By
Chris Bradley
| ESPNBoston.com
WESTFORD, Mass. –- With overwhelming speed and a knack for getting to the ball, Lowell's defense was all over the field on Friday night. As a result, the Red Raiders (1-0) pitched a shutout on opening night, picking up the road victory over Westford Academy, 21-0.

The Lowell offense got a quick start in the first quarter, putting up two touchdowns in the opening minutes.

The Red Raiders went right to running back Ngaiiva Mason on their first drive; he had 39 yards in the series, 28 of which on a second down run to put Lowell on the seven yard line. Moments later, senior quarterback Brian Dolan (10-of-15, 105 yards, 2 total TD) kept it himself and put his team on the scoreboard first.

A few minutes later, following a Westford (0-1) fumble forced by defensive end Malik Settles, Lowell came up with great field position on the Grey Ghosts' 31 yard line. On third down, Dolan hooked up with highly-touted receiver Jack Galvin (5 catches, 68 yards) for a 29-yard touchdown, bringing the lead to 14-0.

"Those guys work well together," Lowell coach John Florence said about the friendship between Galvin and Dolan. "They've grown up together, they've played since junior high together and they've been friends, so they already had that kind of bond."

Westford had an opportunity to put points on the board at the end of the first half, but a dropped would-be touchdown in the endzone resulted in a turnover on downs.

The Grey Ghosts ended the first half with just 35 total yards. The defensive theme stood true early in the second half as well, as Lowell was able to pick up two stops in the red zone to keep the shutout alive.

Following a long punt return by Mason that brought Lowell to Westford's 13 yard line, the Red Raiders scored on a run via Mason two plays later to extend the lead to 21-0. However, Westford wasn't quite done yet.

Grey Ghosts quarterback Luke Moran helped manufacture a 68-yard drive thanks in part to two receptions for 41 yards from Will Puduski, and a 28-yard reception from tight end Matt Cardeiro. Two plays later though, Lowell defensive back Musa Mansary picked a Moran pass off in the endzone to, at least at the time, take the win out of Westford's sails.

"Coach called man coverage. He thought I was nice, so I just covered the kid up pretty well," Mansary said after the game.

The excitement on the Red Raiders' sideline was anticlimactic, however, as Mason fumbled the ball on the very next play—putting Lowell's defense back on the field and giving Westford position at the Red Raiders' six yard line.

"Offensive line and run blocking…we need to clean it up," Florence said regarding the fumble.

The Grey Ghosts' would get the ball all the down the one yard line, but couldn't finish off the opportunity, as running back Ben Rodman simply couldn't get through Lowell's linebackers. It was a sense of relief from Mansary and the rest of the defense, and he had high praise for his teammates:

"Give a lot of credit to the linebackers: Shyheim [Cullen], Nicolau Coury, and John Healy. Those guys are the best," he said.

The defensive emphasis was a long time coming for Florence's team, as the coach has worked hard at improving his defense over the past couple of years.

"We've been stressing ball security at practice, but obviously it's something we need to work on a little bit more," Florence said. "It was great to see the defense make those stops, defensive backs made some plays there, the linebackers, the d-line, it was really a team effort on defense there."

He continued, "It's something we've been building for three years. We've been stressing tackling, we do a tackling circuit almost every day in practice. With these guys who have been playing for a few years, they're kind of feeling more comfortable with things."

Mansary, a senior who has learned a lot from Florence over the past couple of years, said the coach and his staff constantly put an emphasis on getting eleven men to the ball and playing fast on defense. He was quick to give credit to his coaches for the team's success on Friday night:

"Give the credit to all the coaches: Coach Florence, Coach Casey, Coach Harris. It's all them, it's not us. They prepare us every week to play like we're champions, every week."
August, 29, 2013
8/29/13
6:09
PM ET
LOWELL, Mass. – It's in Jack Galvin's blood, but he doesn't let on.
When asked about his family's athletic exploits, he shyly mentions that his dad once played in the NFL. The Lowell senior wide receiver and outside linebacker, like his father, Blake, before him, has already carved out a niche in Red Raiders' history. It's difficult to live in the shadow of a program great, who went on to star at Boston College and, later, was drafted.
[+] Enlarge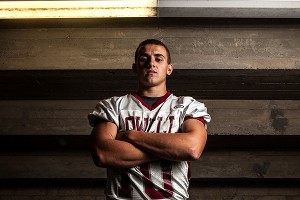 Michael Thorpe for ESPNBostonLowell wide receiver Jack Galvin has 1,862 receiving yards and 20 touchdown catches since the start of his sophomore season.
But the Galvin clan seems to have it all in perspective.
"My dad has always wanted me to do my own thing, whatever that is," Jack said before a recent practice at Cawley Stadium. "There's no pressure. If I want help, I can ask him, but otherwise, he just wants me to do what makes me happy."
With that guidance, the younger Galvin is well on his way to cementing his own legacy at Lowell. Having tallied at least 60 receptions and 800 receiving yards in the last two seasons, including a career high 72 catches for 916 yards in 2012. He also caught 10 touchdown passes in both his sophomore and junior years.
That production has garnered Galvin interest from Division 1 FBS and FCS schools. Galvin's keen to watch his college options play out, but says the Ivy League would be an ideal destination.
Yet, for a third straight season, Galvin and the Red Raiders' receivers will have a new quarterback distributing the ball: enter Lawrence Academy senior transfer Brian Dolan.
Whether it was R.J. Noel (now starting at Sacred Heart) or Cam Latta in the previous years, Galvin and the Red Raiders offense has operated at a prodigious clip, averaging more than 30 points per game for the greater part of the last two seasons.
To ensure the trend continues, Galvin has spent just about every day of the summer months huddled up with his fellow receivers running the spread on Cawley's turf.
"I think every time I passed by here, they were out on the field," Red Raiders head coach John Florence said.
Whether it was 7-on-7 passing leagues or work on their own, Galvin says football is the currency to a tight senior group's friendship.
"Yeah, that's pretty much what we do," Galvin chuckled. "We really love football, and we like hanging out together, so that's what we do."
LOWELL AT A GLANCE
Coach:
John Florence (Third season, 15-7 overall)
Last Season:
9-2
Key Returnees:
Jack Galvin, Sr. WR/LB; Alex Quintero, Sr. OL/DE; Ndeiiva Mason, Sr. RB; Keagan Latta, Sr. WR/DB; Shyheim Cullen, Jr. LB; Nicolau Coury, Jr. LB; Tom Smith, Sr. WR; Michael Holder, Sr. WR/DB; Musa Mansaray, Sr. LB; Angel Brito, Jr. OL/DL.
Strengths:
Skill positions, athleticism.
Weaknesses:
Lack of experience at quarterback.
Outlook:
While the Red Raiders' high-flying aerial attack gets its fair shake of attention, let's not overlook half back Ndeiiva Mason. Operating in an offense that is inclined to the passing game, Mason still rushed for more than 800 yards. Florence feels the stat doesn't tell the whole truth. "He's a pretty good back, and if he worked in some other offenses, I think he'd put up some really big numbers," Florence said.
On defense, the Red Raiders are big, physical and fast. With Alex Quintero rushing off the edge and juniors Shyheim Cullen and Nicolau Coury filling the holes at linebacker, Lowell might finally have the defensive corps it needs to make a postseason run in a loaded Division 1 North.
August, 8, 2013
8/08/13
1:35
PM ET
By
Brendan Hall
| ESPNBoston.com
This is the third installment in our "Summer Snapshot" series, checking in with some of Massachusetts' top teams leading into the MIAA football preseason. To see all of our Summer Snapshots, CLICK HERE.
One could argue Lowell was one of the better teams sitting at home after Thanksgiving with no playoff berth last fall, winning six of its final seven games with a potent offense that really hit its groove from October on. This fall, the Red Raiders should be one of the more fascinating, high-powered offenses to watch -- up there with Natick, St. John's (Shrewsbury) and the like -- returning a deep receiving corps led by All-State candidate Jack Galvin.
In the newly-aligned MIAA State Championship format, some are projecting Lowell as a dark horse in the elite Division 1. Can they continue last season's momentum for an historic 2013? We checked in with the Raiders yesterday afternoon at Cawley Stadium, as part of a photo shoot for our annual preseason gallery, which will be available later this month on ESPNBoston.com.
LOWELL AT A GLANCE
Coach:
John Florence (Third season, 15-7 overall)
Last Season:
9-2
Final ESPN Boston Rank:
NR ("Last 10 out")
Returning Starters:
12 (five offense, seven defense)
Key Losses:
QB Cam Latta, WR/DB Alex Kasirye, WR Anthony Consolo, OL Callen Vail, OL Andres Bolivar, DB Ricky Rosado
Key Returnees:
Sr. WR/LB Jack Galvin, Sr. OL/DE Alex Quintero, Sr. RB Ndeiiva Mason, Sr. WR/DB Keagan Latta, Jr. LB Shyheim Cullen, Jr. LB Nicolau Coury, Sr. WR Tom Smith, Sr. WR/DB Michael Holder, Sr. LB Musa Mansaray, Jr. OL/DL Angel Brito
Overview:
Behind a high-powered offense returning some of the state's finest skill players, many are pegging the Red Raiders as a favorite in the Merrimack Valley Conference, and potentially a dark horse in the newly-aligned Division 1 North. After a 21-0 shutout loss to Tewksbury in Week 4 last season, Lowell won six of its final seven games -- including an upset of MVC champ Andover -- and lit up the scoreboard along the way, averaging 387 yards of offense and nearly 39 points per game. The biggest hole to fill will be at quarterback, but Lawrence Academy transfer Brian Dolan appears capable of taking the reigns. The Raiders ran one of the more unique offenses in 2012, utilizing pistol sets with layered routes and packaging screens on the backside of zone read plays. That gave way to a breakout season for Galvin (72 catches, 916 yards, 10 TD), who should lead one of the region's deepest receiving corps along with Latta, Bryant, Smith, Cullen, and scatback Mason. Defensively, there is athleticism abound. The 5-foot-11, 205-pound Quintero (15 sacks) is a difficult matchup with his speed rush moves and low center of gravity, while Coury and Cullen are bound for breakout campaigns at linebacker after combining for 122 tackles (16 for loss) and 8.5 sacks in 2012. Overall, this is a team that can score points in a hurry, and could play spoiler in a D1 North where St. John's Prep and Everett are the presumed favorites.
Here @ Cawley Stadium with @Thorpe_Says for photo shoot w/ Lowell Red Raiders. Full gallery later this month pic.twitter.com/umUqo6bVys

— Brendan Hall (@BHallESPN) August 7, 2013
August 7, 2013
Lowell QB @Brian_Dolan12 shows us his "Uncle Rico" pose pic.twitter.com/rW4BIT29iq

— Brendan Hall (@BHallESPN) August 7, 2013
November, 3, 2012
11/03/12
12:43
AM ET
By
Andy Smith
| ESPNBoston.com
ANDOVER, Mass. -- If you can believe it, things just got crazier in the Merrimack Valley Conference.

Coming off an eight-point loss to Central Catholic the week before that essentially knocked it out of contention for the MVC Large title, Lowell came from behind with a minute left to beat previously-unbeaten No. 13 Andover, 42-35. And with it, the fight for the division's playoff berth just got more interesting.

"Whatever the kids have gone through all year, they've had a real good attitude," said Lowell coach John Florence. "It's a great group of kids, and we talk about whether it was a win, we put it behind us, if it was a loss, put it behind us and move on to the next week."

Andover (8-1, 1-1) led 28-26 to star the final quarter, when the game became very MVC-ish, in that the offenses completely took over. Minutes after taking over at its own 40-yard line, Lowell quarterback Cam Latta hit Jack Galvin on a short swing pass that he took up the left sideline to give Lowell (7-2, 2-1) its first lead of the game.

Andover would come back and answer on its next possession. After a defensive pass interference penalty put the ball in Lowell territory, Andover quarterback CJ Scarpa (16-of-27, 282 yards, 3 TDs, 1 rushing TD) hit Will Heikkinen (7 catches, 138 yards, 1 TD) on a 35-yard go route down the sideline to put the ball on the six. Seconds later, Scarpa connected with Cam Farnham (6 catches, 99 yards, 2 TDs) for a touchdown.

The away team wasn't phased, however. With 3:33 left and down by a point, Lowell methodically moved the ball down the field, utilizing its running game and timeouts along the way.

"We were pretty confident, we knew we were running the ball well all second half, so we just kept running it down their throats," said Latta. "The offensive line stepped up big. They were moving guys off the ball, and we just kept going."

Finally, with 1:04 left, Latta hit his favorite target, Galvin (15 catches, 159 yards, 4 TDs) on a 10-yard rub route in the back of the endzone for the go-ahead score.

"That's what we do every day on Thursdays, we go through that two-minute drill," said Galvin. "We just work on it. It was the offensive line, it was everybody. Cam did a heck of a job. He didn't quit. That's what we've been saying all week: no quit. That's what we did tonight."

Andover got another crack at things with under a minute to go, and it seemed like they could possibly at least extend the game. Scarpa hit Farnham for 18 on the first play of the drive, and a roughing the passer penalty tacked on 15 more yards on the end of the play. This put the ball at the Lowell 35 with about 45 seconds to go. However, a sack brought the offense back 10 yards, then a personal foul brought things back 15 more, erasing all the positive yardage just gained.

Scarpa was sacked on 4th and very long, ending the game and Andover's any hopes of keeping its undefeated streak alive.

Skipped a beat: The normally efficient Andover offense had some bumps in the road Friday. In the first quarter, with the team driving deep in Lowell territory, running back Jack Sylvester fumbled, and Lowell scooped it up.

Coming off a Will Heikkinen interception with less than a minute left in the first half, it appeared Andover called for a reverse of some kind, but Lowell sniffed it out quickly. When the ball was handed off to Sylvester, a Lowell defensive lineman met him in the backfield. Facing the possibility of lost yardage if tackled, Sylvester tried to make the pitch to a wide receiver anyway. The exchange was bobbled and eventually secured by a defender.

In the third quarter, Sylvester fumbled the ball away again. On Andover's next offensive possession, with the ball deep in its own territory, the center sent a high snap over CJ Scarpa's head. With players from both sides converging trying to get the ball, it was eventually recovered in the endzone by Lowell's Ngiiva Mason for the defensive touchdown.

Scarpa fumbled another snap in the fourth quarter, capping off a tough night for a usually sure-handed offense.

Ground and pound: One of Lowell's biggest halftime adjustments was its reliance on its run game. Latta was 11 for 19 for 106 yards, 2 TDs and 2 INTs in the first half, and the team was down 22-13. So in an attempt to not put the entire game on the quarterback, and to neutralize the Andover offense by taking the ball out of its hands, Lowell turned to the run game.

After lining up in the traditional Pistol formation with a quarterback in the shotgun and a running back lined up behind him, Lowell started the second half with another running back lining up next to the quarterback to act as a lead blocker for back that was behind the quarterback.

On its first offensive possession, the offense went 49 yards in 13 plays, all runs, for a touchdown. The lead back was working the same way a fullback would in a traditional I-formation.

"We're fortunate enough to have five senior offensive linemen," said Florence. "We just said, 'Hey, we gotta ride you guys,' and kinda keep the ball out of Andover's hands. That was big too. So getting some drives, killing some clock, but also putting the ball in the endzone and the end of the drives."

Ngiiva Mason, who had two carries for 0 total yards in the first half, had 16 carries for 80 yards and a touchdown in the second.

Latta helped himself immensely with his feet, finishing the game with 28 carries for 160 yards to go along with his 179 yards and 4 passing touchdowns. He finished with 339 total yards of offense in the game.

LOWELL 42, NO. 13 ANDOVER 35

LOW --- 7 6 13 16 --- 42
AND --- 8 14 6 7 --- 35

1st quarter
A - Cam Farnham 48 pass from CJ Scarpa (Cam Davey pass from Scarpa)
L - Jack Galvin 44 pass from Cam Latta (Zach Noel kick)

2nd quarter
A - Jack Sylvester 49 run (Will Heikkinen pass from Scarpa)
L - Galvin 36 pass from Latta (kick failed)
A - Scarpa 1-yard run (rush failed)

3rd quarter
A - Heikkinen 34 pass from Scarpa (pass failed)
L - Ngiiva Mason 5 run (Noel kick)
L - Quintero Alex 0 fumble recovery (pass failed)

4th quarter
L - Galvin 20 pass from Latta (Galvin pass from Latta)
A - Farnham 6 pass from Scarpa (Oliver Ebert kick)
L - Galvin 10 pass from Latta (Latta run)
October, 7, 2011
10/07/11
11:58
PM ET
By
Andy Smith
| ESPNBoston.com
LOWELL, Mass. -- The Dracut football team found itself down by two touchdowns going into the fourth quarter Friday. It was faced with an arduous task of a 3rd-and-goal from the Lowell 19-yard line.

Dracut quarterback Jimmy Ryan dropped back to pass and surveyed the field. Seeing only a few defenders in the middle of the field, Ryan decided to run for it, figuring it was two-down territory anyway, so picking up even half that yardage would put his team in better position on fourth down.

He ran past one defender and then another, all the way down to the 1. Fourth-and-goal from the 1 was more than manageable. Ryan got up in pain after the play, holding his arm. He had to come out for the next play, preventing Dracut from having its starting quarterback on the field for the biggest play of the game.

Dracut went to a Wildcat-style formation where wide receiver Zach Bassett lined up as quarterback. Someone on the offensive line was called for a false start on the 4th-and-1 play, backing the Middies up five yards.

Now needing a touchdown from six yards away, Dante Torres took over at quarterback for Dracut. He rolled to his right on the fourth down play, but threw an incomplete pass, giving the ball back to Lowell.

The Red Raiders held on for a 35-20 victory.

GETTING IT DONE ON BOTH SIDES
Lowell (4-1) came into the game Friday known as a team that could put up a lot of points on teams, but it was its defense that made big plays in this game. On Dracut's first offensive possession of the game, it was using the running game to attack the defense. It got out to midfield, but running back Leo Lakmany fumbled the ball going down to the ground, which was recovered by Lowell.

In the second quarter, with Dracut (2-3) punting deep in its own territory, Lowell made the decision to go after the punt with a heavy rush and try to block it. R.J. Noel was able to burst through the protection and block it. Cam Latta picked the ball up at the 8-yard line and ran it in for the touchdown.

Later in the quarter, with about a minute to go, Dracut was facing a 3rd-and-22 at midfield. Ryan dropped back and tried to throw, but was intercepted by Nyakeh Koroma. He ran it back all the way to the Dracut 13-yard line. Noel hit Gilberto Brown for a touchdown on the very next play, giving Lowell a 21-8 lead going into halftime.

The defense recovered a Ryan fumble in the last quarter when he dropped back to pass on 4th down. A few plays later, Noel ran a quarterback keeper up the middle 47 yards for a touchdown, making it 35-14.

BOUNCING BACK
The defense was able to get consistent pressure on Ryan throughout the night. It has been a key point of emphasis after giving up 44 points to Nashua South in the team's only loss of the season.

"We said after the Nashua game that we wanted to make a name for the defense," said linebacker Ryan Garrigan. "We came out and just played as hard as we could from the moment the ball was snapped."

"Normally it's just the offense doing their job but hey, we have to do our job. We did a great job today. We had three turnovers, which are huge. They ended up making the game go in our favor."

DOUBLE TROUBLE
This was a game of two teams notorious for their spread offenses and their dual-threat quarterbacks. Noel had 18 carries for 127 yards and a touchdown, while Ryan had 25 carries for 93 yards. Through the air, Noel was 8-of-12 for 96 yards and two touchdowns, while Ryan was 11-of-23 for 142 yards, a touchdown, and an interception.

Garrigan felt that playing against a spread offense like Dracut's so often in practice gave the defense an upper hand when playing a quarterback like Ryan.

"They run the same stuff that we do, they just give it a different name for it," he said. "When we practice it's like the same thing that the offense is going to run against us, so it was nice and easy for us. It was just a matter of who was going to execute better, and we executed better tonight."

Lowell coach John Florence said that facing the speed of a spread offense in practice helped his team immensely for Friday.

"Our ability to go no-huddle matches theirs, it's not something different we have to prepare for, " he said. "It's not just spreading out the field, but it's the speed at which they go."

THE ROAD AHEAD
With the loss, Dracut falls to 2-3 with a difficult three-game stretch ahead of it. In consecutive weeks, they play a scrappy Tewksbury team, Chelmsford, and Andover. It will not be easy for a team hoping to be a prominent player in the Merrimack Valley Conference.

Lowell will take its 4-1 record into games against Central Catholic, Tewksbury, and Billerica.

LOWELL 7 14 7 7 -- 35
DRACUT 0 8 6 6 -- 20

1st quarter
L - Jack Galvin 2-yard pass from RJ Noel (Connor McHugh kick good)

2nd quarter
D - Dante Torres 4-yard pass from Jimmy Ryan (2-pt conversion good- Ryan pass to Jeff Breen)
L - Cam Latta 8-yard punt block return (McHugh kick good)
L - Gilberto Brown 13-yard pass from Noel (McHugh kick good)

3rd quarter
D - Zach Bassett 2-yard run (Jack MacShane kick failed- hit upright)
L - Brown 10-yard pass from Galvin (McHugh kick good)

4th quarter
L - Noel 47-yard run (McHugh kick good)
D - Bassett 2-yard run (kick failed)