Boston High School:

John Furlong
June, 22, 2012
6/22/12
2:21
AM ET
Starting Rotation – First Team
Kiara Amos, Sr., Malden
The Providence College signee led the Golden Tornadoes to their first-ever state finals appearance after claiming the Eastern Mass. title. Amos went 15-1 for Malden, notching 195 strikeouts in 105 innings thrown all while boasting a 0.47 ERA. The right-hander set another first for Malden's program as its first-ever Div. 1 college scholarship player.
Meghan Rico, Sr., King Philip
Rico concluded her high school career as one of the most decorated players in the state, a winner of two state championships and last year's ESPN Boston Miss Softball. The George Washington signee went 17-3 for the Warriors this season, striking out 274 in 142 innings thrown while surrendering just 10 earned runs all season.
Sarah Ropiak, Sr., Acton-Boxborough
Headed to Brown University next year, Ropiak was a three-time Dual County League All-Star and earned MVP honors in the large division this season. The right-hander posted an ERA of 0.69 while leading the Colonials to a Division 1 North final appearance.
Kendal Roy, Soph., Grafton
The second-year sensation lifted the Indians to their first-ever state championship with a win over Abington in the Div. 2 final. Roy went 18-1 with an ERA of 0.72 in 126 innings thrown with 176 strikeouts while allowing just 11 walks.
Shannon Smith, Jr., Milford
The University of Kentucky commit was near unhittable this season while leading the Scarlet Hawks to an undefeated season and the Division 1 state title. This year's ESPN Boston Miss Softball Award recipient was also named Massachusetts Gatorade Player of the Year for the second time (2010, '12) in her career.
Starting Nine – First team
Katie Caruso, Sr. SS, Newton North
Caruso won the Bay State Conference's triple crown, leading the league in batting average (.662), home runs (10) and RBI (47) while also clubbing a conference-best 51 hits. The Bay State MVP was also a standout on the Tigers' hockey team. The four-year starter will continue her playing career next year at Southern New Hampshire University.
Lexi Gifford, Sr. SS, Natick
While Caruso may have been named Bay State Conference MVP, Gifford has been the league's most valuable lead-off hitter during the last four years. The UConn signee hit at a .615 clip while driving in 33 runs for the Red & Blue this season. Gifford was also a true three-sport athlete at Natick, as a four-year letter-winner in soccer, basketball and softball.
Bri Chiusano, Sr. CF, Mansfield
One of the most feared lead-off hitters in the state and a superb slap hitter, the Hockomock League All-Star showed off her power as well with four home runs this season. The Coastal Carolina signee finished second in the Hock in hitting with a .521 batting average.
Olivia Godin, Sr. C, King Philip
The UMass-Amherst signee was a four-year starter for the Warriors, helping guide the program to back-to-back state titles in 2010-11. The backstop hit .299 this season with three home runs and 18 RBI.
Alexis DeBrosse, Jr. SS, New Bedford
Already a three-time New Bedford
Standard-Times
Player of the Year award winner, the three-time Big Three All-Star hit .521 for the Whalers this season. The three-sport athlete also hit five home runs with 26 RBI and a slugging percentage of 1.099.
Julie LeClair, Sr. 3B, Coyle-Cassidy
Comprising one half of the state's best left side of the infield, along with shortstop Patty Borges, the St. Anselm signee led the Warriors to the EAC crown with a league-best .527 average. The three-sport athlete also clubbed a league-leading five home runs along with 32 RBI.
Bella Picard, Jr. SS, Blackstone Valley Tech
The nation's leading hitter resided in Upton this year with the Beavers' shortstop hitting an astounding .877 (57-for 65). The converted soccer player also tied for the state lead in home runs with 10 while driving in 43 runs.
Madi Shaw, Soph. SS, Bridgewater-Raynham
The second-year shortstop powered the Trojans to their first-ever Division 1 South sectional crown. Shaw hit .471 with eight home runs and 34 RBI for the Old Colony League champions.
Reilly Weiners, Jr. C, Agawam
Weiners helped lead the Brownies to the Division 1 West sectional title this season. The backstop led all Div. 1 players in Western Mass. with 35 RBI while knocking out 38 hits on the season, including three home runs.
Bullpen – second team
Megan Colleran, Soph., North Attleborough
Megan Cook, Soph., Bellingham
Mackenzie Coopinger, Sr., Lynn Classical
Audrey Dolloff, Sr., Bridgewater-Raynham
Courtney Girouard, Soph., Fairhaven
Trish Hansen, Sr., Mansfield
Shelby Higgins, Sr., Lowell
Kelly Norton, Sr., Abington
Shannon Orton, Sr., Case
Lauren Ramirez, Jr., Dracut
Jurnee Ware, Sr., Hudson
Bench – second team
Patty Borges, Sr. SS, Coyle-Cassidy
Tori Constantin, Jr. 2B, King Philip
Caroline Fairbanks, Jr. 3B, Milford
Courtney Hoban, Sr. OF, Boston Latin
Emily Hoffman, Sr. C, Malden
Nicole Lundstrom, Jr. C, Dighton-Rehoboth
Michaela Mazure, Fr. INF, Burlington
Kelsey Perron-Sovik, Sr. CF, Fairhaven
Christina Raso, Sr. SS, Burlington
Dakota Smith-Porter, Jr. P/SS, Turners Falls
COACH OF THE YEAR
John Furlong, Malden
June, 17, 2012
6/17/12
2:05
AM ET
By
Bruce Lerch
| ESPNBoston.com


WORCESTER, Mass. -- With ace hurlers Shannon Smith and Kiara Amos looking they were ready to pitch deep into the night, the quest became about looking up and down the bench and trying to figure out who would finally produce the big hit at the right moment.

Milford's Taylor LeBrun dug in for her turn in the bottom of the ninth with two outs and a runner at second and the freshman delivered, lining a single up the middle that scored Caroline Fairbanks with the game's lone run as the Scarlet Hawks capped off a perfect season by capturing the school's first Div. 1 state championship with a 1-0 victory over Malden.

"All year we've been extra motivated, the whole year we wanted to leave a mark," Smith said. "We wanted to be the first softball state champions in Milford High School history, we wanted to win the league, we wanted to win the Central title, we wanted to win all these things to finish our run in the Mid-Wach A League before we move onto a new league next year. We just wanted to really make an impact this year and we definitely did."

University of Kentucky commit Smith was dominant through nine innings, allowing just one hit and a hit batter while fanning 22. Amos, who will play for Providence College, scattered seven hits while striking out 10 and pitching her way out of trouble several times.

Fairbanks led off the Scarlet Hawks (25-0) half of the ninth with a single, then advanced to second with two outs behind her. Up stepped LeBrun, who promptly ripped a single straight through the middle of the infield and into center. Fairbanks hustled all the way around and slid across the plate just ahead of a good throw from center for the winning run.

"My hat's off to that team, they're a great team but tonight we found a way to scrap and get one," exclaimed Milford coach Brian Macchi. "And that's what we needed to win this game was to get one. Taylor LeBrun getting it done, only a freshman but playing beyond her years, getting a big hit there. She got the big hit earlier in the year when we played King Philip too so this girl has come up with some big hits for us this year and hopefully its bigger and better things to come from her as she gets older."

PITCHERS' DUEL
Milford had runners in scoring position in three different innings, but none posed a bigger threat to Amos than the fourth. Three straight singles by Samantha Bonvino, Smith and Fairbanks loaded the bases with no outs. A failed squeeze attempt led to Bonvino being cut down at home, then Amos bore down and struck out the final two hitters to escape the jam.

"That was a big out. We had a couple of balls mishandled and they ended up loading the bases," Malden coach John Furlong admitted. "I wasn't sure if he was going to try a squeeze with bases loaded because of the force but once they did, we had the play and everyone rotated like they were supposed to. Then Kiara again stepped up and punched out two big hitters like she had to, just like she did the last couple of nights when she had to. I expect that out of her. You get nervous but not too nervous because she's in such total control of the game. She's phenomenal. There will never be anybody like her come through our city, probably even our league, probably ever again."

Meanwhile, Smith was proving to be untouchable. The junior was named the Gatorade Player of the Year two weeks ago and she showed why on the biggest stage. Smith struck out the first three hitters she faced and set down the side on strikes five of her nine innings. She also fanned ten straight from the fifth inning through the eighth and set down the final 16 batters she faced.

Amos managed the lone hit for the Golden Tornadoes (24-2), reaching with a second-inning single. She took second on a sacrifice bunt by Jessalynne Brown but Smith blew away the next two hitters to strand her. Amos reached again with two outs in the fourth when she was hit by a Smith fastball, but the junior left her there once again with another big strikeout.

"It was tough. They had some good swings and they have some good sticks," Smith praised. "They adjusted, they tried to hit my curveball by pushing their hands out so I adjusted too. So it was just a game of back and forth adjustments, battling the whole time. They battled, I battled, so that's pretty much what it was."

Added Macchi about Smith, "She wanted this. She's wanted this from the last out last year when we lost in the state semifinal game. She's wanted this from when we lost in the state final game two years ago. She puts the work in and she deserves this and she definitely is prepared for any situation she's in. She definitely did an unbelievable job for us tonight and she's a huge reason why we were able to win this game tonight."

A GREAT RIDE FOR THE TORNADOES
Just getting to this point had been a wild and crazy adventure for Malden. Saturday marked the team's third straight extra innings affair and the Tornadoes can take solace in the fact that they put together the greatest season in school history.

Along the way, the city noticed and jumped on board with support at a level that made Furlong harken back to his younger days.

"People in Malden were asking today what it was going to be like," Furlong said. "I said it's going to be a 1-0 or 2-1 game because both pitchers are so dominant. Shannon made some unbelievable pitches when she needed to and Kiara did the same when she needed to. We had some situations where they had runners in scoring position and she made some big pitches. We just didn't get the bat on the ball tonight. She didn't make any mistakes where she threw the ball down the middle or anything. Everything was on the outside or inside. That's why she's going to Kentucky and that's why Kiara is going to Providence. If you didn't come tonight, you missed a good game."

"It's been a wild trip," he added. "The city of Malden has been outrageous with banners...it's made me so proud because I grew up in Malden and it's like when I was a kid. Everyone was out beeping horns and posters and stuff like that. It was good for the girls and great for the city."


June, 13, 2012
6/13/12
1:05
AM ET
By
John Botelho
| ESPNBoston.com
LOWELL, Mass. -- The role of hero is one Melissa Light doesn't seem to mind playing for the Malden High softball team.

After providing a walk-off single on Monday that gave the Golden Tornadoes their first ever Div. 1 North Sectional championship, Light delivered a game-winning hit again on Tuesday in Malden's EMass. Final game against South Sectional champ Bridgewater-Raynham.

"She had struggled the last couple games, but last night and tonight she really came through," said Golden Tornadoes coach John Furlong. "Last thing I said to her last night was 'make sure you touch first base when you hit this ball,' so I said it to her again tonight. We started laughing, but she ended up hitting the ball hard and we got the run."

Light's infield single, which bounced off pitcher Audrey Dolloff, knocked in Emily Moran in the bottom of the ninth at Martin Field in Lowell, propelling the Golden Tornadoes to a comeback win over the Trojans, 5-4, and sending them on to Saturday's state title game.

"In the last game, I knocked in the winning run so this was just as exciting as that one," Light said. "Before that though, I've never done anything like this. It's something I'm always going to remember and keep with me. It's not just me, though, it's everybody. Without everyone doing all the little things there's no way we win this game."

The first team in school history to play for a state title, they'll play Central Sectional champ Milford -- who cruised past Agawam, 13-0, in the other semifinal game -- at Worcester State at 7 p.m.

The walk-off single capped off a 3-for-3 day for the Golden Tornadoes nine hitter. Trailing 4-0, she got their offense rolling in the bottom of the sixth, leading off with a triple deep to right center field.

Emily Hoffman drew a one-out walk and Hannah Caberone (2-for-4) singled to left, scoring Light.

Malden starting pitcher Kiarra Amos struck out, and B-R looked like they might get out of it when Dolloff went to 0-2 with two outs on Jessalyne Brown. Brown, however, bounced a ball up the middle that Rachel McCall was able to knock down, but wasn't able to record an out.

Emily Furlong, the seventh hitter of the inning, smashed a double deep toward left centerfield, and all three runners came around to score, tying the game at four.

Early on, it looked as though the Trojans would be the ones squaring off against Milford on Saturday as their 4-0 lead through five innings looked like it would be more than enough for Dolloff.

Before the sixth inning rally, Dolloff had surrendered just three hits and only Erika Hanson had reached scoring position.

The Trojans, who finish at 21-4, scored twice before Dolloff even stepped into the pitcher's circle.

McCall drew a one-out walk and Chelsea Correia followed with a single to left. Dolloff grounded out to second but the other two advanced into scoring position.

Alyssa McKinnon delivered a two-RBI single up the middle.

McKinnon set the Trojans up to score their third run when she led off the top of fourth with a wall-ball triple to centerfield. Sophie Perez brought her home one pitch later with a sacrifice fly to left.

In the fifth, Madi Shaw (2-for-4) started the inning with a lead-off double for B-R and was followed by a McCall single.

Correia lifted a fly ball into left field that scored Shaw, giving the Trojans their 4-0 lead.

Amos settled in after that, allowing just two hits the rest of the way.

"The first inning, I obviously panicked because I gave up two quick runs and I thought it might be a rough game for me," Amos said. "I've learned to pick myself up and just keep doing what I have to do. Even when they scored the two more runs, I knew I just had to keep going."

OLD HABITS DIE HARD
The extra-inning affair marked the fourth straight for Bridgewater-Raynham in the tourney.

They found themselves on the other side of one-run games in their South Sectional quarterfinals win over Mansfield, semifinals win over North Attleborough and their finals win over defending state champ King Philip.

Unfortunately for them, it was only a matter of time before a close call didn't end in their favor.

"When I first saw it, I said 'here we go again,'" said Trojans coach Mike Carrozza. "It was kind of comical in a way but we've played and had to come back in all of those games. Sooner or later it's tough on the girls."

Tuesday proved to be the day it got tough on his girls, who weren't able to get Dolloff in after she reached third base in the top of the eighth.

AS GOOD AS ANYONE
Without production from the back half of their batting order, the Golden Tornadoes may have never mounted their come-from-behind effort against the Trojans.

"My one through four [hitters], I'll take with any other team but my five through nine is better than anybody out there," Furlong said. "If you look at the production tonight, you see our RBI came from our five through nine."

The Nos. 5-9 hitters combined to knock in four of the five runs in the win. They also scored two of them, while accounting for nine of Malden's 12 hits.

"It just carries through the rest of the lineup. The kids at the top see it and they starting hitting, too."
June, 12, 2012
6/12/12
12:25
AM ET
By
Ryan Kilian
| ESPNBoston.com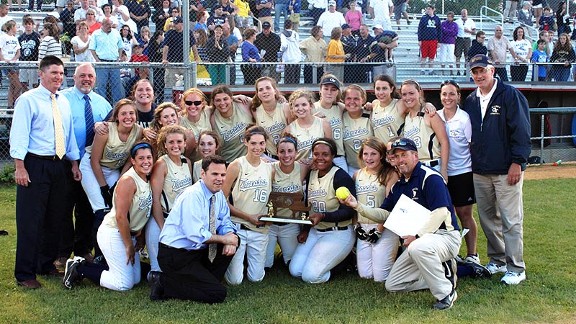 Scott Barboza/ESPNBoston.comMalden will play for the Division 1 EMass title on Tuesday after claiming the North sectional crown Monday with a 3-2 extra-inning win over Acton-Boxborough.
LOWELL, Mass. –- With two future Division 1 college pitchers on the mound in the Eastern Massachusetts Division 1 North final you would expect a low scoring pitcher's duel to play out.
That was precisely the case when No. 1 Malden (23-1) and their senior ace Kiara Amos (Providence College) took the mound against No. 10 Acton-Boxborough (17-7) and their senior ace Sarah Ropiak (Brown University).
Both teams struggled defensively and both pitchers shined on the big stage as the Golden Tornados pulled out a 3-2 extra-inning victory in the bottom of the eighth to advance to Tuesday's Eastern Mass. D1 championship game at Martin Field.
"It was a game of strong pitchers," Malden head coach John Furlong said. "What we have in Kiara they have in Sarah Ropiak."
Amos tossed a complete game, striking out an impressive 13 batters in her eight innings on the mound. She also got herself out of a couple of jams with big strikeouts in the second, third and fifth innings.
"When she gets runners on base she really bares down," Furlong said. "That is why she is going to Providence. She is that good."
Ropiak would match her throughout the night as the Brown-bound star would strikeout 13 Golden Tornados of her own.
"Sarah is so crafty," Furlong said. "Never does she throw a ball down the middle of the plate. Everything is on the corner, outside or a change-up. She is a good player and also scares the heck out of me whenever she gets up at the plate."
Malden plated their first two runs in the bottom of the second inning as junior Melissa Light delivered the big hit to right field in the inning to lead the charge.
A-B would bounce back with two runs of their own in the top of the third inning as junior Michelle Surdan struck the biggest blow in the inning with her own shot to right field.
After the third inning it would be all about the lights out pitching of both ace hurlers.
Ropiak got out of multiple jams herself in the game with big strikeouts. She also provided an offense lift for the Colonials with two singles and one RBI in the game.
Amos would save her best work for the last three innings in the game as she struck out seven batters and looked to be getting stronger as the game advanced.
"In the seventh and eighth inning I did my best," Amos said. I knew what I had to get done, not let runners get on base and not let them score."
Amos struck out the final two Colonial batters in the eighth inning after Ropiak led off with a single to center field.
Light would strike the final blow for Malden in the bottom of the eighth inning with a shot to right field that was mishandled, scoring junior Emily Moran who had singled with one out in the inning.
Program Builder:
Malden High School softball is in unchartered waters as they enter the Eastern Mass. championship game against Bridgewater-Raynham on Tuesday night. First pitch is scheduled for 7 p.m.
"We have never made it this far before and I have never been more proud of my teammates," Amos said.
A-B defeated Central Catholic 4-0 at Martin field in 2011 behind Ropiak's shut-out gem before bowing out to eventual State Champion King Philip in the Eastern Mass. finals.
"A-B is a great program," said Furlong. "They have been here before. This is a great stepping stone for our program. It has taken a long time for us to get here. It was not the flashiest of games but it is what it is. A win is a win and I will take it."
April, 22, 2011
4/22/11
5:57
PM ET
By
Tom Layman
| ESPNBoston.com
MALDEN, Mass. -- When the Malden High softball team suits up at Callahan Park, there are many sounds they have to compete with. There's the passing Orange Line and Commuter Rail, the cars buzzing along the street and the fans reacting to each and every call.

But the grunt that Kiara Amos makes after every pitch might be the loudest sound in the park, and for opposing hitters it might be the one sound they don't want to hear on a consistent basis.

"I learned that the louder I grunt, the harder I throw the ball," said Amos, who picked up the method at Planet Fastpitch in Uxbridge, Mass. "It's basically why I do it."

That grunt got louder and louder and was on full display in Malden's 4-0 win over Billerica (1-6) on Friday morning at Callahan Park. Amos struck out 13 batters and only allowed three hits in a complete game victory.

"This was a really tough team, so I knew I had to come hard," said Amos, who tossed a one-hitter earlier in the season. "They've seen me before, so I just had to work hard and throw as hard as I can."

The Indians got the first baserunner on against Amos due to a pop fly in the infield that got over the first baseman's head, but after that, the junior hurler didn't allow a runner to reach base until the fourth inning.

On two separate occasions she struck out five hitters in a row, and catcher Emily Hoffman was calling for pitches on the outside part of the plate to take advantage of the over anxious Indians' hitters.

"She was hitting her spots," said Hoffman. "Her curve was working great. Her rise was working great. She was moving the ball in and out, and they were definitely chasing the outside pitch."

The Hoffman-Amos combination has been one that has been going on since the girls were playing in the lower level town softball leagues, so Hoffman is probably the best judge of how her teammate has improved on the mound.

"We've working together since we were nine years old," said Hoffman. "We are able to communicate so well right now. She's definitely able to mix her pitches a lot better and she's much more confident in her offspeed pitches."

Golden Tornadoes head coach John Furlong has come to expect these types of performances from an ace that has been averaging double-digit strikeouts this season.

"She doesn't get flustered with situations on the mound," said Furlong. "She has very good control and her and Emily have been working together long enough where they can set up hitters."