Boston High School:

John Isaf
June, 11, 2014
Jun 11
12:28
AM ET
By
Joe Parello
| ESPNBoston.com
WORCESTER, Mass. -- Medfield made it look easy Tuesday night, dominating all phases of the game and rolling to a 14-1 victory over Shrewsbury in a Division 2 state semifinal.

The Warriors (22-2) dominated the face-off X, winning 16 of 18 face-offs thanks to the play of All-American Brian Brissell, and buried the Colonials (20-5) with a series of cuts and pinpoint passes that allowed senior Tyler Hagan to score four goals and classmate Jack Isaf to add a hat trick.

"When you move the defense on every dodge, it makes it hard for them to think about who's got slide help, and when they go for that slide somebody behind them cuts and gets open," Medfield coach John Isaf said. "It really depends on what we see from the sideline and how aggressive they're being on defense. How hard they're sliding and things like that. Then we'll go with whatever works."

Medfield asserted itself right from the start, scoring four goals in the game's opening six minutes, including two by Isaf before two minutes had rolled off the clock. The Warriors would then take a 6-0 lead into the second quarter. Senior Matthew Treiber scored a pair early in the second, and Hagan went on an individual three-goal run to push the score to 11-0 at intermission.

"It was just off-ball cuts for me," Hagan said of his productive night. "They seemed to kind of take their mind off the off-ball cuts and seemed to fall asleep a little bit, so a couple of those goals I just kind of snuck by."

Senior captain Matthew Crowell scored his second goal less than a minute into the third quarter, but Shrewsbury's All-American goalie Chris Gorman made four saves the rest of the period to momentarily stop the bleeding. But Isaf completed his hat trick less than two minutes into the fourth, pushing the game into "running clock" mode, and Thomas Sears scored his second of the game just two minutes later.

By the time Derick Tinsley got Shrewsbury on the board with five minutes to play in the fourth, Medfield had already scored 14 times.

After the game, Shrewsbury coach Nate Skermont was pleased with his team's effort, but said the Colonials simply ran into one of the state's elite teams.

"When they (Medfield) have the ball, there are three or four things that they can do to beat you that teams in Central Mass can't do," Skermont said. "I was pleased with our effort. We knew what we wanted to do, and we did it, but we just ran into a team that was that much better (Tuesday)."

For the Colonials, it was a bitter end to what had been a season of firsts. Shrewsbury captured its first district championship in program history Saturday with a win over Westfield, and scored one of the biggest wins in program history the previous Tuesday against rival St. John's in the district semifinas.

"I would not trade this team for any team anywhere," Skermont said of this year's Colonials. "That will never change. We will always be champions. Nobody can ever take that away from us. We're district champs, something nobody in our school has ever done, and we'll always be the first to do that, and I'll always cherish that and always have these kids' backs."

Medfield will now move on to the Division 2 state championship game at Boston University's Nickerson Field. The Warriors will face Hingham in a rematch of last season's Division 2 Eastern Mass final. Game time has yet to be set.
June, 6, 2014
Jun 6
11:42
PM ET
By
Josh Perry
| ESPNBoston.com
MEDFIELD, Mass. - Concord-Carlisle came into the Division 2 Central-East final riding the momentum of a 10-game win streak, but that was quickly turned on its head by a dominant performance from top seed Medfield, which rolled to a 12-4 victory before a home crowd on Friday night.

"We didn't not play well -- that team is just better than us and they forced us into the mistakes we made," said Concord-Carlisle coach Tom Dalicandro. "We just couldn't match the speed, the intensity, we couldn't win a face-off, and they're just better than us right now.

He added, "This game isn't going to define our season. I'm proud of my guys -- it was a great run, but we ran into the wrong team in the tournament."

Senior midfielder Matt Crowell and sophomore middie John MacLean each scored hat tricks for the Warriors (21-2), senior Brian Bissell won 18 of 20 faceoffs, and senior long-stick midfielder Blake Frasca controlled the Patriots top scorer Will Blumenberg.

It was, according to Medfield coach John Isaf, one of the Warriors most complete games of the season.

"I think these guys came out really focused today," he said. "They really wanted it; they were fired up. I think from the opening whistle, our guys just really wanted it."

The game plan was clear for the Warriors -- possess the ball and put pressure on the Patriots (14-7) right from the start. MacLean opened the scoring inside the opening two minutes with a low angle shot to the corner. Tyler Hagan smacked the bar and Matt Treiber returned from injury to double the lead with 1:25 left in the quarter.

"Having Matt back was huge; he was a huge part of our lineup early in the season," said MacLean. "We loved to see him get back and get that first goal."

He added, "I think on offense we really slowed it down and possessed it well and when we got the possessions we needed then we executed on it…I guess we just had the mindset that if we had an open dodge take it to the net."

Medfield broke the game wide open in the second with five goals. MacLean scored the first and fifth goal of the quarter to get his hat trick. In between, Nigel Reiff scored after collecting a rebound behind the net and finishing, Bissell got his lone goal directly after winning a face-off, and Crowell got his first of the game after a one-handed snag of a loose pass.

"That was probably our fewest turnovers of the season and we made it a point to emphasize let's not beat ourselves," said Isaf. "If we can win the turnover battle, then we've got a real good chance of winning. When we value the ball and realize that we don't have to take the shot on the very first dodge we're very hard to defend."

Austin Hoey got the only Patriots goal of the half as the Warriors were in control 7-1 at the break. The deficit grew in the second half, as Jack Isaf, Matt Cahill, a pair of goals from Crowell, and one from Hagan pushed Medfield's advantage to as high as 10 at 12-2.

A rare transition led to a goal for Concord-Carlisle's Tommy Standish, which made the score 10-2 at the time. Standish and Hoey would each get their second goals, but not until the final eight minutes of the game.

Aggressive Warriors defense dominates: One of the reasons for Medfield's domination on Friday night was the ability of its poles to control the Patriots top attackers, in particular the battle between Frasca and Blumenberg, who scored eight goals in Concord-Carlisle's playoff win over Sharon last week.

"The less he scores, the less they can start clicking, so we just wanted to keep him on edge," said Frasca. "Obviously, we did that pretty well."

Isaf noted, "Blake's covered the best middie one every team. He's covered D1 guys…he's just a great athlete, who stays on balance. You never see him overrun a dodge; he never falls for the rollback. When you can take a guy like Blumenberg and put our LSM on him and contain him…we feel like we can cover guys."

It was a match-up that the coaches had been emphasizing for days leading up to the final and Frasca acknowledged that he was fired up for the challenge.

He said, "I see him scoring eight goals in the first round and obviously you know that you're going to have a tough match-up, but I live for that you know. That's what you play lacrosse for."

Behind Frasca, the combination of defensive players such as William Murphy, Mike MacLean, and Jimmy Ganem, managed to slow down the Patriots offense by being aggressive.

Mike MacLean said, "We see kids who we can lock off; we can just try to strip them, pressure them, and try to make turnovers."

Frasca added, "It's important to get out there and play on their hands and with a chip on your shoulder, but only to a point. If you get out there and lunge a little bit then they're just going to backdoor you or go right past you."

Making sure history doesn't repeat itself: Concord-Carlisle came into Friday night's game not only with a winning streak on its side, but also a little bit of history. In 2009, the Patriots visited Medfield in a sectional final and upset what is widely regarded as one of the all-time best Warriors squads.

Medfield's coaches used that history to ensure that the current squad did not take the Patriots lightly and, judging by the play of the Warriors, it was a history lesson that they took to heart.

John MacLean said, "Coach kind of got us motivated by getting us together and telling us how they beat us in '09 here and we kind of wanted to get them back. So, we kind of had that fresh in our mind."

Isaf explained, "I don't know what Tom is going to throw at us. From five years ago, he's done it before, so I don't know what he's got up his sleeves."

He continued, "Based on past performance, we were hoping that [Bissell] could get us a lot of possessions and we noticed that they're not very deep on defense and we said that if we can run these guys…that's what we wanted to do."

"We try to take away the top options and do what we can and then see who is the better team."

Medfield advances to the state semifinal to take on the winner of Westfield and Shrewsbury, which will play the Central-West final on Saturday evening.
May, 21, 2014
May 21
1:15
AM ET
MEDFIELD, Mass. – For Jack Isaf and the 19 other seniors on the Medfield lacrosse team, there was but one acceptable outcome.

"You play with these guys for eight years and I think this is the largest senior class we've ever had," Isaf said after Tuesday night's Senior Night game against Tri-Valley League archrival Dover-Sherborn. "It's a really close bond and it was a really special night.

"We couldn't go out with a loss."

Down a goal to the Raiders inside the final minute of the fourth quarter, Isaf took it upon himself to make certain that would not happen in regular. Cutting around the cage and taking a feed from Nigel Reiff, Isaf tied the game, 6-6, with 12.9 seconds on the board.

Then, as the teams moved on to overtime, Isaf – who predictably is nicknamed "Ice" – completed a storybook ending to the Warriors seniors' final regular season home game, scoring the game-winner and, in the process, securing Medfield's first outright TVL championship since 2010.

Isaf's dramatics were only underscored by that fact this his proud papa was on the sidelines – Warriors head coach John Isaf.

The coach, who needed a few deep breaths to collect his emotions during postgame interviews, said that his son's late-game exploits only sweetened the experience. Yet, for a coach who began with this senior group as an instructor on their fourth grade town team, Tuesday night was about the extended family.

"It wouldn't have mattered who scored the goal," John Isaf said. "D-S is a great team and to win in that fashion, it didn't matter. A win like that is always great against a great team.

"These are guys that really like each other and enjoy playing for each other. They've been playing together a long time, so I think they trust one another – and that's what it comes down to."

Medfield (17-2, 12-0) struggled offensively early on through some sloppy possessions fell behind the Raiders, 5-2, at the half.

D-S (13-3, 10-2) pushed its lead to four goals almost three minutes into the second half on a Tyler Mann goal, but the Raiders would be shut out during the final 21:02 of the game, in part due to Warriors goaltender Robert Treiber who made five saves in the third quarter alone.

The Warriors then embarked on a streak of five straight goals to close out and win the game. Back-to-back goals from sophomore midfielder John MacLean, sandwiched around the third and fourth quarters, got Medfield back within a goal with less than four minutes to play.

Medfield had more possessions to notch the equalizer, but the Raiders defense remained strong behind Rogers Boylan and Chase Hyde in front of goaltender John Fontaine.

That is, until the Ice-man applied his touch.
May, 4, 2014
May 4
2:04
AM ET
By
Josh Perry
| ESPNBoston.com


MEDFIELD, Mass. - When Jack Isaf collected a pass, ducked past an onrushing Longmeadow defender and bounced his shot past Matt Draymore, it gave Medfield its first lead of the game. As it turned out, it was the only one that the Warriors would need.

In Saturday night's rematch of last season's Division 2 state championship game, Isaf's third goal of the game with little more than two minutes remaining provided Medfield with a 10-9 victory over visiting Longmeadow. It was also a little revenge for the Warriors for the 2013 final.

"You know that you're going to get punched and you have to punch back; you know that the team is going to go on a run and you need to make a run back," said Medfield coach John Isaf about his team's resiliency. "We just don't quit and that's what we're finding out about ourselves -- we're tough and we can punch back."

Longmeadow head coach Ryan Liebel, who saw the Lancers 37-game winning streak come to an end and suffered just his first loss as coach, called the loss a "good learning experience" for his squad. He also recognized that there was a little edge to Medfield with thoughts of last year's final still fresh in the memory.

He said, "They might have had a little bit more of a taste in their mouth from last year and they may have gotten the best of us. They wanted it. They were prepared and, as soon as we got here, we could see that in their eyes."

Liebel added, "We had chances but we didn't put them away and overall they played better; they played tougher."

It was the Lancers that jumped out to a 6-4 halftime lead. Senior attacker Myles Smith scored two goals and sophomore Max Stukalin added two of his game-high four goals in the opening two quarters.

Jack Isaf scored twice for the Warriors in the opening half but it would be several second half adjustments that would pay huge dividends for Medfield to create better attacking opportunities and outscore the Lancers 6-3 after the break.

"We did a little bit of an adjustment on the defensive midfield side to play further out on them and offensively we went to a different set," John Isaf said. "It forced their slides to be a little bit longer and just got much better looks in the second half."

He added, "We made an adjustment on defense, we made an adjustment on offense, and then we basically said that what it comes down to is they won the 50-50 balls in the first half and we need to win them in the second half."

Matt Crowell got Medfield back within a goal inside the opening 30 seconds of the second half. Longmeadow answered back with a goal by Cam Kelleher, but sophomore Nigel Reiff matched it for the Warriors.

With 2:46 left in the third quarter, Stukalin got his hat trick and made it 8-6, but Medfield once again answered back with Kevin McCordic firing a shot under the bar and then Tyler Hagan scoring from in close with just 1.9 on the clock to tie the game heading to the final quarter.

Stukalin would once again give the Lancers the lead just 45 seconds into the fourth but little more than a minute later, Crowell picked the top corner to tie it at 9-9. The score would remain deadlocked until 2:04 left when Isaf stepped up with his game-winner.

"That's one of our backside looks is we try to dodge on one side and get the ball on the back side," said Coach Isaf of the play that led to his son's goal. "He did a good job getting upfield and increasing his angle and putting the ball where the goalie couldn't save it."

Longmeadow had its chances to try and break the game open, but Liebel highlighted face-offs as a factor in Medfield's ability to hang around. In a battle of two of the best face-off middies in the state, Brian Bissell out-dueled Drew Kelleher, 13-10.

"The face-off 'X' was huge. They controlled the ball; they controlled the tempo," said Liebel, who also noted the play of Medfield goalie Robert Treiber, who made 15 saves in the win.

When asked what it meant to come back and take the lead right at the end, Trieber responded, "It's just what my coach has been preaching all year. He said we've got to step up; next guy in and if something's not going right just flush it and we'll get back into it. We did a great job of not worrying about coming back and just playing our game like it's 0-0."

John Isaf added, "All tonight did was show that we can play and we're not the team that you saw a week ago (in a loss to Catholic Memorial). But, like I said at the end -- we didn't win anything and we still need to get better."

"We can't be satisfied with tonight, we need to get better for the last two weeks of the season."


April, 1, 2014
Apr 1
11:18
AM ET
Medfield lacrosse sophomore midfielder John MacLean has committed to Boston University, the program announced via its Twitter account this weekend.

After earning a starting job midway through the season last year, MacLean finished sixth among Warriors scorers with 29 goals and 16 assists for the reigning Division 2 Eastern Mass champions.

"John is a smooth, athletic player with high lacrosse IQ and dynamic stick skills," Medfield head coach John Isaf said. "He's a play-maker for us. And, as a sophomore, he should only get better.

"We're very happy for John and his family with his commitment to Boston University. Coach [Ryan] Polley is in the process of building a good program there, you can see the foundation is in place. Combine that with BU being a top academic school and I believe it's a great fit for John and will serve him well. We're all very proud of him."
August, 2, 2013
8/02/13
5:32
PM ET
Medfield lacrosse rising senior long-stick midfielder Blake Frasca has committed to Renssalaer Polytechnic Institute, as announced via the Warriors' official Twitter account.

Frasca, a captain elect for the 2014 season, was a key component to Medfield's Division 2 Eaastern Mass. championship, leading the Warriors with 87 ground balls on the season.

"RPI is getting a great young man who really flew under the radar," Medfield head coach John Isaf said. "Blake is an excellent student and one of those great athletes who are just a joy to coach.

"He's a high-motor guy -- a smart, tough, instinctive defender and groundball hawk. He locked down some of the best middies in the stateon our late season run to the State title game. He was a key reason we won the EMass championship at Harvard for the third time in four years."
June, 15, 2013
6/15/13
3:26
AM ET


WORCESTER, Mass. – It was a perfect finish in more ways than one.

Tied 6-6 heading into the fourth quarter of Friday's Division 2 state championship boys' lacrosse game, West sectional champion Longmeadow had to hunker down against Eastern Mass. champion Medfield. The Lancers, who'd beaten the Warriors by 15 goals during the teams' regular season meeting, knew they were going to see a different Medfield team and had gotten exactly what they expected – a tight game.

That's when Keegan Dudeck made a lasting impression.

Already netting a hat trick in the first half alone, the Lancers senior midfielder started the fourth quarter with back-to-back goals, setting in motion a string of three straight Longmeadow goals in its 10-7 victory over Medfield at Foley Stadium.

The Lancers finish the season with a perfect 25-0 record while delivering their first state title since the 2008 season.

"Whey that they weren't going to make it a 16-1 game again," Dudeck said, recalling the Lancers' drubbing of the Warriors in May. "Before the game, we told the team not to be too overconfident and make sure that weren't not too cocky because this team was going to come out and they wanted it as bad as we wanted it."

Truer to the capabilities of both sides, the teams spent the better part of three quarters exchanging the lead or tied. It wasn't until Dudeck's fifth goal of the game, scored at 8:38 of the fourth, that either team established a lead of more than one goal. Soon after Drew Kelleher provided the Lancers with a three-goal lead and they wouldn't look back.

"If teams go on a three- or four-goal run on us, we're usually able to punch back, but we weren't able to, Warriors head coach John Isaf said. "We thought we were right where we wanted to be entering the fourth quarter. We've always pulled out games in the fourth quarter this year. That was the plan, it just didn't happen."

Putting a painful loss in the back mirror, Medfield (22-4) jumped out to a lead 1:43 into play with senior captain Andrew Melvin (1 G, 1 A) hitting the cutting Tyler Hagan. And while the Warriors put forward a much-improved offensive showing the second time around, including two-goal games from Matt Crowell and Thomas Sears, the Lancers' finishing touch proved too much.

Despite being held without a goal in the third quarter, the Lancers rode the momentum gained by Dudeck's early fourth-quarter strikes.

It was simply a performance fitting of one of the state's top talents this year.

"He's been fighting through an injury for the last two, three weeks," Lancers head coach Ryan Liebel said. "He's fought through it. He tries to get open, he's our hardest worker and one of the best players on our team. When it came down to it, he was able to get that ball and put it in the net."

"Dudeck was phenomenal off-ball. He was moving, he was cutting, he was shifty."

In short, he did a little bit of everything that meant a whole lot.

RETURN TO THE BIG STAGE
The Western Mass. powerhouse turned in its first championship in five year under the direction of a first-year head coach. Liebel, a Longmeadow alumnus who previously coached at Belchertown, is no stranger to the program.

But perhaps things came together quicker than anyone could have anticipated. With only four seniors on the roster this year, the Lancers had to rely on consistent contributions from its underclassmen.

"They stepped up huge for us today," said senior Kevin Barry, who led the Lancers in goals during the regular season, "especially our midfielders, they're young. Our attacks are freshmen and juniors and they played amazing."

While Friday marks the crowning achievement for Barry, Dudeck and their fellow graduates Eric Barsalou and Noah Gurzenski, don't write off the Lancers bid at a repeat performance in 2014.

A LESSER VICTORY
While Medfield ultimately struck out on the title bid, the Eastern champions went down swinging.

After Friday night's game, Isaf recalled the somber ride from Longmeadow back home on May 12, his team trying to come to terms with what had just unfolded.

"I think everybody had to reflect and decide what we were going to about it," he said.

The resolve was clear. Following the 15-goal loss to Longmeadow, Medfield finished the regular season with four straight wins, including one against Division 1 power St. John's Prep. Entering Friday's action and including the postseason, the Warriors had built a nine-game winning streak, falling just one quarter shy of their ultimate goal.

That's a point that wasn't lost on their coach.

"From that point forward, we played our best lacrosse of the season," Isaf said. "And tonight, we wanted to show them that wasn't us back in May. I'm really proud of this team how they rallied and rebounded from that."


June, 13, 2013
6/13/13
2:41
AM ET
By
Ryan Kilian
| ESPNBoston.com


ALLSTON, Mass. – No. 1 seed Hingham and No. 3 Medfield would go toe-to-toe on Wednesday afternoon in a classic Eastern Massachusetts Division 2 boys' lacrosse final. With both teams being so evenly matched, it would be only fitting that the game would end in overtime,

With 2:10 on the clock in overtime, Medfield attack Andrew Melvin would win it, as the senior beat his man to the cage from behind the net to give Medfield an 11-10 overtime victory. The win sends Medfield (22-3) back to the Division 2 state championship for the third time in four years.

"When it comes down to overtime at Harvard, you need to put the ball in the stick of your senior leader and the quarterback of our offense," Medfield defenseman Ben Cox said after the game. "That is Andrew, and he stepped up big for us today."

Medfield led early and took a 7-4 advantage to the half as they controlled the possessions and did a great job of executing their scoring opportunities.

Cox (1 assist) and goalie Robert Treiber (8 saves) both did their job on the day as the tandem helped contain a dangerous Hingham offense for most of the half.

Trailing by three goals Hingham would come out of the half and score the next three on goals from David Freitas (3 G, 1A), Matt Giarrusso and Boyce Bleak to tie the game at 7-7.

Treiber made the save of the day as the goalie stopped a late opportunity that would have given Hingham the lead heading into the fourth quarter.

"Robert [Treiber] stood on his head," Cox said. "I think they hit him once in the face, and were buzzing shots at him."

Despite going back and forth in the final quarter it would be Medfield who would take the control of the game in the final minutes of play as freshman John Maclean (2G) and junior Matt Cahill would score big goals to give Medfield a 10-8 lead late in the final quarter.

Medfield's offensive balance was highlighted by the play of a trio of freshmen, including Mclean, Matthew Treiber and Nigel Reiff.

"Great composure, good maturity, and we brought them along the entire season," Medfield head coach John Isaf said of his freshmen. "We have been giving them increasing levels of responsibility and building their confidence. John (Mclean), Nigel (Reiff), and Matt (Treiber) are all guys that have really helped us."

Despite trailing by two goals late in the game Hingham's Patrick Burke and Jacob Brodie would net the ninth and tenth goals of the game for Hingham as they tied the game, 10-10, with just 24.7 seconds remaining in the game on Brodie's goal.

Hingham's (21-4) spirited comeback would last midway into the first overtime period as Melvin would find the back of the net to help send Medfield back to the state championship game on Friday night (7 p.m.) at Foley Field in Worcester.

"I was here my freshman and sophomore year and I was sitting on the bench and not getting much time," Melvin said. "I feel like now, as seniors, we have earned it. We are excited and pumped to get back out to Worcester."

Defenseman Jack Ullrich (1G) and goalie Tommy Bannan (9 saves) played well for Hingham in defeat.

"Hingham is a very talented team," Isaf said. "They are well coached. They were very patient in the second half and got some good looks."

Medfield's Matthew Crowell (1G) and faceoff man Brian Bissell also shined for the winners.

Medfield's win sets up a date with Western Mass. champion Longmeadow, who defeated St. John's of Shrewsbury, 15-6, in Wednesday night's Western vs. Central battle.

"One more game," Isaf told his team after the game. "You guys got one more goal, and one more ground ball today."

Medfield will need to continue to take advantage of the loose balls , team depth and clutch playmaking as they look to avenge a 16-1 mid-season drubbing at the hands of Longmeadow.

"We go seven middies deep," Isaf said. "The whole D-middie group; we go five attack deep and it helps us stay fresh come the fourth quarter and in overtime which helps us make a play like that."


May, 21, 2013
5/21/13
2:57
AM ET
DOVER, Mass. – As spring turns to summer and as the MIAA lacrosse tournament nears, it's also around this time of year that Tri-Valley League rivals Dover-Sherborn and Medfield wrap up their season series – usually, with a conference title on the line.

Monday night's tilt between the old adversaries was no different, with the Raiders looking to win the TVL outright, having beaten Medfield in the teams' first meeting. Looking to earn a share of the league crown, the Warriors took the task to heart, taking a two-goal halftime lead. D-S pulled even in the second half, however, and the game looked destined for overtime.

But Medfield's John MacLean tallied his lone goal of the game with 56 seconds remaining in regulation, and along with goaltender Robert Treiber's 11 saves, the No. 9 Warriors earned a 6-5 win and a share of the TVL championship.

"It shows we can be tough in the fourth quarter," Medfield head coach John Isaf said. "They came back to tie it, so we had to make a play to win it. We were smart, patient in the fourth quarter and good things happened."

The Warriors (16-3) received multi-point games from Matt Crowell (goal, three assists) and Andrew Melvin (G, A) to shoulder the offense, but it was the defenses that were on display.

Despite suffering the loss, Raiders goaltender and ESPN Boston preseason All-State selection Ryan Goodall made 19 saves and was active in the clearing game, even earning an assist on Rogers Boylan's goal to start the second half.

Treiber was equally up to the task. The junior netminder's final save of the evening was his most important, stopping Brandon Jaeger last-ditch attempt to tie the game with about 12 seconds remaining.

"I wanted to make sure he wasn't going to come near-post, so I locked that off and got ready to explode off-post," Treiber said. "He put it out and there and I was able to catch up to it."

His performance came as somewhat of a surprise to his coach, considering Treiber has been battling a groin injury and was held out of practice this week, as a result.

"I was sitting there wondering how he's going to react when he hasn't seen a shot in four days, going into tonight," Isaf said. "But he's a tough kid, he's a gamer. He made some key saves for us tonight."

FOCAL POINTS
Both Goodall and Treiber racked up the saves, but it was their clearing game, which paid real dividends for their teams.

Goodall got on the scoresheet with his third quarter assist, drawing the Raiders (13-4) within a goal. But Treiber's feet were also an asset. On several occasions, particularly in the first half, the junior took off and created transition opportunities as D-S sought to cut off his midfield options.

"I like the run-and-gun," Treiber said. "In transition, they're always tough, and we allowed a few of them, but that's part of the game. That's what we're trying to do, that's what they're trying to do."

Although Isaf and his staff made a concerted effort to limit Goodall's ability to connect on home-run passes, the talented senior still found his spots.

"Our game plan was to keep Goody [Goodall] from open-field clearing," he said. "We didn't do a very good job of that. He can throw a 50-yard pass on a dime, we know that, we've played against him for two years and we know he's dangerous."

MOVING ON
Aside from the opportunity to sweep the season series from their rivals, the Raiders missed out on a chance to claim the TVL title.

And while the result was ultimately different (following the Raiders' 6-3 win on April 26), there were similarities between the two matchups.

"They were pretty similar games, in that they were both defensive battles," said D-S head coach Brian McLaughlin, who secured career win No. 200 last week. "We were shaky, at best, on offense, with a lot of turnovers. They were probably caused by good defenses on each end, and that's a main thing."

With just one non-league game remaining on their regular-season schedule (against Franklin on Wednesday), McLaughlin's team turns its attention to the lessons learned in Monday's shortcomings and defending their Division 3 state championship.

"It's a good measuring stick going into the playoffs," McLaughlin said of playing the Warriors. "Obviously, we need to score some more goals. But, if we can hold Medfield to six, hopefully, we can some Division 3 teams to six as well."
May, 3, 2013
5/03/13
11:53
AM ET
By
Bruce Lerch
| ESPNBoston.com
MEDFIELD, Mass. -- While his teammates searched for the necessary adjustments on defense and any sort of continuity on offense, Duxbury goalie Nick Marrocco produced a second consecutive game-winning performance in the cage.

The junior Georgetown commit sparkled in the first half, making seven of his 11 saves to help lead top-ranked Duxbury to a 5-4 victory over No. 7 Medfield Thursday night at Medfield High School.

Marrocco made several saves that fell into the ridiculous category while giving the Dragons (9-4) every possible opportunity climb out of a 3-2, first-half deficit.

"Nick stood on his head," praised Duxbury coach Chris Sweet. "If not for Nick, that would have been a loss for us. He kept us in it in the first half until our guys kind of woke up."

Medfield (10-2) jumped out first as Matt Crowell snapped in an unassisted tally on the game's first possession. Brendan Burke pulled the Dragons even at the 7:01 mark, but the Warriors won the ensuing faceoff and retook the lead on a goal from Matt Ruzzo.

Wes Quinzani tied it up again with an athletic play that saw him split through a pair of defenders, then crash through two more as he got off his shot. Medfield would another in the second quarter as Jack Isaf converted a feed from Matt Cahill for a 3-2 lead they would carry into the half.

The third quarter belonged to Duxbury, who used smart, lengthy possessions to keep the ball away from the Warriors while generating quality scoring opportunities for itself. Bobby O'Brien made it a 3-3 game with a shot through traffic that may have gone off a defenseman, then C.J. LoConte gave the Dragons their first lead on a sidewinder, and Matt Sharpe capped the 3-0 run off a feed from LoConte with nine seconds left in the frame.

"In the first half we were trying to get as many possessions and we could but ended up playing a lot of defense so it was kind of just knocking it down," Marrocco said. "We communicated a lot, that was huge, my defense helps me out with that. Trying to figure out the slides in the first half it was a little tough but we got it going in the second half and let the offense do the job."

And on the slide package, Marrocco said, "They were dodging from the top and basically feeding the middle as we slid, before the two was coming so we just adjusted to that and got the two really early so we had that backup guy."

Medfield was kept scoreless until Andrew Melvin got one through with just one second left to play in the game.

"Unfortunately it was a tale of two different halves," lamented Medfield coach John Isaf. "Part of it is, we've got to make smart decisions. We've got to get the ball out quicker. When we have a ground ball or a save, we've got get the ball out quicker. We're not breaking out fast enough, we're not getting in our lanes and we've got to get the ball out faster. Part of that is when we let somebody set up a ride, its tougher to clear."

WALSH RETURN PROVIDES A BOOST

Over past couple of weeks, as many as seven Dragons have been sidelined with various injuries but the team finally had some good news with the return of Fairfield-bound defender Jay Walsh to the lineup. Walsh has missed the last two weeks with a hyperextended elbow.

"We needed Jay back," Sweet said. "The poor kid was exhausted by the end there but he's a trooper. He's still got a bad wing but he played great. We really needed him because they've got two or three guys in the midfield that can bring it and Jay was a big help there."

The senior captain stepped right back into his spot alongside Marshall McCarthy and John Hurvitz and the unit was able to make the necessary adjustments to help the defense react to what Medfield was doing.

"We knew their big guys, they have a lot of great shooters so we were trying to stay with them and then we realized once went, we had to recover," Walsh said of the adjustments on defense. "That's where they were beating us, on that backside guy. Once we got that figured out and had a middie slough in, we've been having that problem all year, just the middies sloughing back, and I think we're starting to figure that out now and it showed in the second quarter and second half."

Still on the Dragons injured list are: Trevor and Shayne O'Brien, Jack and Shane Sullivan, Tanner Williams and Brendan Fitzgerald. The majority of those players are offensive guys, and getting them healthy will go a long way toward curing a three-game stretch over which the team has managed just three, eight and five goals respectively.

"We scored just enough. We've been a little stale on offense. We have a couple of middies out that are going to help us when they get healthy and I think were going to get them back soon. The good news is that the guys who have stepped in for them have played pretty well. We'll work on it."

COMPLETE GAME SEARCH CONTINUES

Medfield had ample opportunity to put an end to the buzz already generating for next Thursday's showdown between Duxbury and Lincoln-Sudbury, and if not for Marrocco's effort, we could have been discussing a Warrior victory.

Instead, it was a tale of two halves for Medfield, who seemed to have things in hand over the first 24 minutes but could not maintain it through the end.

"We still haven't put a complete game together," Isaf said. "We played a lousy first half against Foothill and played a great second half. We played a pretty decent first half against Dover-Sherborn, didn't get it done in the second half. We played a good first half tonight, didn't get it done in the second half. We have to figure out how to get a complete game. Once we do, we'll be a tough out."

When asked what his team needed to do to get that elusive complete-game performance, Isaf said, "Keeping your intensity up, keeping your focus, not letting a momentum play change your confidence. Focus, intensity and when another team goes on a run and throws a punch, you've got to get up and punch back. We've done that most of the season. The only teams we haven't have been against two defending state champions."
May, 6, 2012
5/06/12
11:16
PM ET
By
Bruce Lerch
| ESPNBoston.com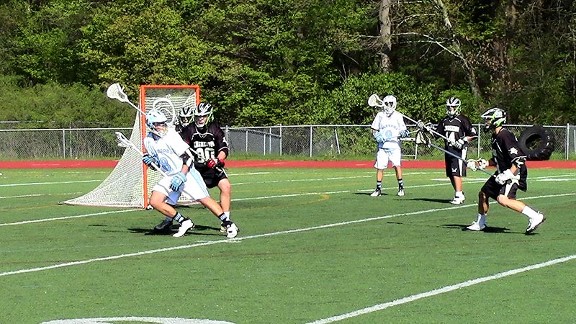 Bruce LerchPlaying without some key starters due to injury didn't stop No. 10 Medfield from taking a 12-7 win over No. 25 Longmeadow.
MEDFIELD, Mass. -- The noticeable glare emanating from the Medfield sideline during the second half of Sunday's nonleague matchup with Western Mass. power Longmeadow wasn't so much from the sun as it was from the smiles on the faces of Warriors coaches Mike Douglas and John Isaf.
Like many other teams, Medfield has suffered from the loss of several starters due to injury, most notably top scorers Conor Roddy (concussion) and Matt Crowell (knee). What the coaches, players and fans saw on a gorgeous Sunday afternoon should give them great optimism in regard to the remainder of the Warriors season.
Andrew Melvin led the offense with two goals and three assists, Chris Diana, Cal Given and Matt Ruzzo each scored twice and No. 10 Medfield used a 6-0 run in the second half to pull away from the No. 25 Lancers for a 12-7 victory at Medfield High School.
With Roddy and Crowell on the shelf for the time being, the Warriors (9-3) have been looking for some of their younger players to step up and help fill those voids. Sophomores Tyler Hagan, Jack Isaf and Matt Cahill each had scores and helped do exactly that.
"It was nice to see some of the younger guys step up," Douglas admitted. "It's a tough spot. You're playing for a good team and you've got sophomore stepping in that are used to being role players or secondary players and there's a learning curve there."
"If those guys can continue to build off this, when we get our big guns back, we're going to be much stronger team overall," he continued. "Hopefully, this will benefit us down the road."
The two teams traded goals back and forth in the first half with neither side able to get more than a one-goal lead. Dave Parsons potted a critical goal with just one second left in the first quarter that pulled Medfield back to a 3-3 tie.
Late goals proved big for the Warriors, who scored in the final minute of each frame. Given got one with 52 seconds left in the first half to make it a 5-5 game, and the Warriors retired to the sideline determined to start finishing plays they felt they had left out there for the taking.
"We felt like in the first half we beat ourselves a lot. We left a lot of plays on the field that we should have finished off," Douglas said. "We felt like we were playing well, but we weren't finishing plays. Once we got a couple goals in a row we thought we could push the game out of reach."
Although the Lancers opened the third with a snipe by John Mentor (two goals, assist), Medfield finally put together spurt it was looking for. With Clay Richard turning in another dominant performance on faceoffs (14-for-19), the Warriors started cashing in on those possessions.
Given got Medfield back to even and a minute later, Chris Diana ripped a laser through for the go-ahead goal. That started a string of six straight tallies by the Warriors with Isaf, Ruzzo, Cahill and Diana again closing out the run.
Frankie Elder potted his second for Longmeadow to stop the bleeding, but Medfield was able to hold the Lancers off and added a final tally by Ruzzo to close things out.
"We've struggled a little bit against better teams this year and in the last couple of games we've had with Wellesley and Dover-Sherborn and it was good for some of these young guys to step up," Douglas said. "That's something we hope that these guys can build off of - being able to have some success in an important spot against a really good team."