Boston High School:

John Lane
October, 23, 2010
10/23/10
1:56
AM ET
By
Brendan Hall
| ESPNBoston.com



ABINGTON, Mass. -- By now, Rockland's Brian Harrington is accustomed to the routine on what was supposed to be a routine run up the middle, an inside power designed for him lead block for 220-pound running back Mike Driscoll and let him do what he does best -- plow through defenders. But when somebody's helmet popped the ball loose for Abington, the 6-foot-2 senior instinctively bent over and scooped it up, marching 83 yards to paydirt down the right sideline, unscathed by Abington jerseys.

"Somebody dove at my legs, and I don't know what I did," Harrington smiled sheepishly. "I must have jumped or something, he just missed me. I saw open field in front of me, so just take off was my first instinct. Luckily, no one caught me and I put six on the board."

And just like that, it was a whole new ball game. The Bulldogs were held to minus-12 yards of offense on six plays in the first half, and faced a 12-0 deficit late in the third quarter at the time of the fumblerooski. But Harrington's pseudo scoop-and-score breathed new life back into the Bulldogs, who exploded for 235 yards of offense in the second half and scored 21 unanswered points over the final 15 minutes to down neighboring rival Abington, 21-12, snap the Green Wave's 34-game home win streak, and move to 7-0 and sole possession of first place in the South Shore League.

"Oh man, it just changed the whole game," said Driscoll, who also blocked a field goal to end the first half and plunged in for the game's final score with 1:42 left. "Brian scooped it up from me, he took it down the sideline, and luckily they touched it and we got to go (downfield). Just a hell of a play by Brian."

The reversal of fortune couldn't have come at a better time. Rockland was held to minus-12 yards of offense on just six plays in the first half, and couldn't shake loose the outside pressure from Abington (6-1), especially defensive end Ryan Southerland and linebacker Christian Barrett. When Barrett slammed quarterback D.J. Austin to the ground on an incomplete third-down pass on the Bulldogs' opening drive, the senior signal-caller limped off to the sidelines favoring his right shoulder.

When Austin returned on the next drive -- some nine minutes after a Green Wave scoring drive, set up with a 12-yard quick slant from Zach Littman to Pat Zadrosny, and capped by a three-yard John Lane plunge -- he was promptly dropped again, this time on a corner blitz from James Cunningham. Abington, behind Littman's darting short passes and elusive dashes up the middle from Lane and Dylan Pietrasik, put up 156 yards of offense and controlled the ball for almost all of the first half.

The halftime talk, you might say, was rousing ("They got on our case," Driscoll said).

"I'll tell you where it was decided," Rockland head coach Ken Owen said. "We go into the half, we're only down 6-0. The way we played in the first half, they stumped us in everything we did on offense. To go in only down 6-0 at halftime gave us a little lift in terms of reorganizing ourselves and getting ourselves squared away for the second half."

From there, the Bulldogs looked like a more disciplined defense. Their four-man front gave Littman less time to throw, and clogged the middle of the field. Following Harrington's momentous return, which made it 12-7 Abington at the time, the Bulldogs came up with another big stand to give them the ball with less than five minutes to go.

Rockland avoided a big scare when an incomplete pass that appeared to be thrown backwards, and was picked up by Green Wave defender, was whistled dead. Several plays later, junior Ricky Witt came in and threw his lone pass attempt of the night, but arguably the biggest. Witt found Tim Fitzgerald wide open in perfect stride in the right seam, and delivered a perfect strike that the senior marched in for a 52-yard score.

Abington fumbled the ball away on the first play of its next possession, pounced on by Devyn Flipp, and Driscoll added the finishing touches a minute later with a short dive across the goal line with less than two minutes left.

ROCKLAND 21, ABINGTON 12

R 0 0 7 14 --- 21
A 0 6 6 0 --- 12

Second Quarter
A - John Lane 3 run (rush failed)

Third Quarter
A - Lane 3 run (rush failed)
R - Brian Harrington 83 fumble recovery (Ricky Witt kick)

Fourth Quarter
R - Tim Fitzgerald 52 pass from Witt (Jason Hall run)
R - Mike Driscoll 2 run (run failed)
September, 24, 2010
9/24/10
11:19
PM ET
By
Adam Kurkjian
| ESPNBoston.com
ABINGTON, Mass. -- If there's any coach in the state that is familiar with the peaks and valleys of a given program, let alone a single game, it's Abington's Jim Kelliher.

"I had the 0-for-10s, and I have also come around and had some 10-0s," said Kelliher, who became the 40th coach in state history Friday night to earn his 200th victory in his 37th year as head coach of the Green Wave. "But, at the same time, the most important thing is the kids themselves, how much they played each and every game."

Abington's 20-12 win over Bishop Feehan was emblematic of the up-and-down nature of the business, and Kelliher showed humility and gratitude after his team pulled out the victory.

"It's exciting, I'm thrilled," Kelliher said. "My coaching staff has been great. We've now been together for a long time. We know each other well. The kids respect them a lot. … They've certainly helped my cause getting to the 200 wins the last eight or nine years, because they've been a little bit better than the years beforehand."

Indeed, since 2001, the Green Wave has won at least a share of seven South Shore League titles and two Super Bowls. Over the last five seasons, Abington is 52-8 and has not dropped a home game since 2004 (a 30-23 defeat to Cohasset).

That last streak looked to be in jeopardy late against Feehan, however. The Green Wave jumped out to a 14-0 halftime lead on touchdown runs by seniors Dylan Pietrasik (79 yards rushing, 2 TDs) and John Lane (143 yards rushing, TD), only to see it nearly disappear in the fourth quarter as two Andrew Murphy-to-William Firth (119 yards receiving) touchdown connections cut the deficit to 14-12.

But Abington answered with a 14-play, 67-yard drive that chewed up almost eight minutes off the clock and ended with a Pietrasik 19-yard score on a draw play on third and 15. Feehan's last drive stalled at the Abington 47-yard line, and Abington captains Ryan Southerland and Connor Fraser doused Kelliher with the Gatorade bucket moments later.

"He's been in it a long time, 37 years," Lane said of Kelliher. "He's a great coach. We got it in for him, 200 wins. It's awesome."

"I love being here. It's my hometown," Kelliher said. "I played on this field. I grew up in this area. I stayed here. I taught here."

And after 37 years, Kelliher has endured both the 0-10s and 10-0s to achieve a rare milestone there.
September, 17, 2010
9/17/10
1:06
AM ET
ABINGTON, Mass. – By the time the fourth quarter rolled around, Dylan Pietrasik and John Lane were perched on Abington's sideline, onlookers to the final minutes of the Green Wave's 38-12 win over Archbishop Williams.
By the late stages, a gaggle of Abington's sophomores were getting time at running back, alternating carries. They too were successful moving the pile, getting first downs and bleeding time off the clock.
It didn't matter who was getting the carries, the Green Wave was moving the ball.
[+] Enlarge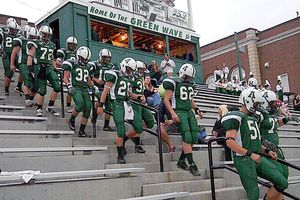 Scott BarbozaAbington High players descend through the stands to Memorial Field before Thursday night's 38-12 win over Archbishop Williams.
That's the way it's been through two games (2-0) and that's the way Abington head coach Jim Kelliher hopes it remains.
"Yeah, pretty good, right?" Kelliher shot back with a grin when asked about Pietrasik and Lane as a twosome.
"You put each of them on either side of the center and you have two pretty good backs. They both have better-than-average speed. Even from the time of the scrimmages we've had, they've just continued to get better and better. It forces our opponents to take notice of both of them."
Combined, Pietrasik and Lane racked up 161 yards on the ground at a pace of greater than eight yards per carry. They also found the end zone three times.
Pietrasik, a senior who runs much bigger than his 5-foot-10, 175-pound frame, knows good things happen in football when yards on the ground add up.
"As a running back, I don't want to see the ball in the air at all," said Pietrasik, who had 11 carries for 68 yards and two touchdowns in Thursday's game at Memorial Field. "Just put it my hands, or put it in John Lane's hands. We want to run the ball. Any game you can run and dictate the game, you know you're doing well.
"That's how you win the game."
Paul Noble — Abington's short-yardage runner — opened scoring with a three-yard touchdown run to cap off the first drive of the game. The Green Wave rolled 77 yards downfield on the eight-play drive, setting the tone for what was to come.
Pietrasik earned his first touchdown of the game on a 40-yard run minutes later, shedding several would-be tacklers on his path to the end zone.
"I have to give props to our line," Pietrasik said. "They do a great job every game. They went all out with their blocks and I even got a block from my wide receiver down the field, my fullback — everybody did their job."
Pietrasik followed with a three-yard touchdown run in the second quarter before Zach Littman caught a 30-yard touchdown pass from Brandan Cawley.
Littman, who started the game at quarterback and alternated snaps with Cawley, hit Andrew Dion with a five-yard touchdown pass just before the half for a 32-0 lead.
However, the Bishops (1-1) wasted no time getting on the board in the second half, when running back Alex Furtado returned the opening kickoff 78 yards for a touchdown.
Furtado showed good bursts of speed throughout, with 13 carries for 63 yards.
Archbishop Williams struck again on the ensuing drive, after recovering an on-side kick attempt. Tom Fitzpatrick found Craig Kelly streaking to the end zone on a 34-yard score.
Then, the Green Wave began to pound the ball on the ground again, including Lane's 38-yard, third-quarter touchdown which gave Abington its final margin of victory.
"John and I have been playing together since seventh grade," Pietrasik said. "He's amazingly fast. He's pretty strong. We just try to help each other out. When he's getting the ball, I'm all out blocking for him. When I'm getting the ball, he's all out blocking for me."