Boston High School:

John Magliozzi
August, 15, 2011
8/15/11
2:17
PM ET
By
Brendan Hall
| ESPNBoston.com
After getting selected in the 35th round last June by the Tampa Bay Rays, Milton native and recent Dexter School graduate John Magliozzi was asked by ESPNBoston.com whether he'd honor his commitment to the University of Florida and said,
"As of right now, we'll see what the Rays have to offer and go from there."
And as of today, it appears the stocky righthander is fully invested in the Gators program. Magliozzi said he "had a stern number" in the vicinity of "around $1 million".
"Their max wasn't up to it, and they most likely weren't going to give that up to me," said Magliozzi, who still has until midnight tonight to change his mind. "I said fine, I'm going to go to school. I've been down there taking summer classes."
Magliozzi is back up in Milton this week, but returns to Gainesville on Thursday. This summer, working with strength coach Paul Chandler, he's put on eight pounds of muscle, bringing his frame up to 5-foot-8 and 194 pounds. He routinely breaks the low-90's on his fastball, and while there were no radar guns out on his bullpen sessions he says he felt "the ball was coming out pretty good".
"It's awesome down there, I love it so much," Magliozzi said.
June, 8, 2011
6/08/11
8:02
PM ET
By
Brendan Hall
| ESPNBoston.com
John Magliozzi was chilling with friends on Marshfield Beach when he got a call from the Tampa Bay Rays.
Meanwhile, north of the I-95 loop, Pat Connaughton had just completed an NBA combine-like vertical leap test at Woburn's Athletic Evolution, with trainer Erik Kaloyanides, and was on the phone with Notre Dame basketball assistant Rod Balanis to see how his fellow incoming freshmen did. Then a number came up from a Padres scout.
West of the city in Sudbury, Adam Ravenelle had shut off the MLB Draft ticker on his computer and got ready for practice at Lincoln-Sudbury, only to hear his mother screaming joy two rooms over as the Yankees made him their pick.
And in Norwood, John Gorman was babysitting his sister when his father got a call from a Red Sox scout to watch John's name come across the screen.
For the local high school prospects projected to get selected in the Major League Baseball Draft, this third and final day was a pretty relaxing one. Magliozzi, a righthander out of Dexter School, went in the 35th round to the Rays, followed by St. John's Prep's Connaughton in the 38th, Ravenelle in the 44th, and Catholic Memorial's Gorman in the 50th.
From a pure talent perspective, the trio of Magliozzi, Connaughton and Ravenelle
were all projected as top 10 round potential
. None of the parties were surprised with where they landed, though they all had their own reasons.
Connaughton, a 6-foot-4 fireballer, signed a National Letter of Intent last November to play both basketball and baseball with Notre Dame. His strong commitment to Irish hoops coach Mike Brey made him a difficult sign in the eyes of many Major League scouts, and at the end of day he was just honored hear his name held in such high regard. At various points during the spring, he was ranked among the top 100 high schoolers by both
Baseball America
and ESPN's Keith Law.
"People had said I could anywhere between the second and fifth rounds, even top 10, so I was happy with the location of where I could have been drafted. I mean yeah, it's unfortunate that I didn't get drafted there, but I don't really care. I'm going to Notre Dame, I'm going to work hard, and we'll see what happens in three years."
Ravenelle had made his inclination to honor his Vanderbilt commitment with scouts, so he wasn't expecting big things in spite of his big-league potential.
"It's kinda what I expected to be, a late round pick if anything," he said. "Most scouts knew I wanted to go to Vanderbilt, but I would keep my options open for the draft. That's what made me slip as far as I did."
"I was really surprised, but going into it I knew that if I told people what I wanted for a number I might drop a little bit," Magliozzi said. "But things ended up working out."
Magliozzi said he is "not necessarily" ready to give the Gators his full attention, saying "As of right now, we'll see what the Rays have to offer and go from there."
Gorman, meanwhile, was all smiles, and struggled to put his emotions into words.
"It was the longest 20 minutes of my life [after the phone call]," Gorman laughed. "I was just in shock. My mom jumped up and grabbed me, hugged me. I really didn't show much emotion, because I didn't know what to think at the moment. It's still just settling in right now."
And with that, Gorman was off to practice with Norwood Legion Post 70 in just a few short hours. Just another day.
June, 7, 2011
6/07/11
3:30
PM ET
The third and final day of the Major League Baseball Draft has concluded. Here's a rundown of which locals went where:
First Round (Monday)
11. Houston Astros, George Springer, OF, Connecticut (Avon Old Farms), New Britain, Conn.
19. Boston Red Sox,
Matt Barnes
, RHP, Connecticut (Bethel H.S.), Bethel, Conn.
21. Toronto Blue Jays,
Tyler Beede
, RHP, Lawrence Academy, Auburn, Mass.
Second Round (Tuesday)
63. Arizona Diamondbacks, Anthony Meo, RHP, Coastal Carolina (Cranston West H.S.), Cranston, R.I.
64. Baltimore Orioles,
Jason Esposito
, 3B, Vanderbilt (Amity H.S.), Bethany, Conn.
85. Atlanta Braves,
Nick Ahmed
, SS, Connecticut (East Longmeadow H.S.), East Longmeadow, Mass.
Third Round (Tuesday)
118. New York Yankees,
Jordan Cote
, RHP, Winnisquam Regional, Sanbornton, N.H.
Fifth Round (Tuesday)
162. New York Mets,
Jack Leathersich
, LHP, UMass-Lowell (Beverly H.S.), Beverly, Mass.
169. Toronto Blue Jays,
Andrew Chin
, LHP, BB&N, Newton, Mass.
Sixth Round (Tuesday)
182. Pittsburgh Pirates,
Dan Gamache
, 3B, Auburn (Bishop Hendricken H.S.), Exeter, R.I.
Tenth Round (Tuesday)
302. Pittsburgh Pirates, Taylor Lewis, CF, Maine (Montville H.S.), Montville, Conn.
303. Seattle Mariners, Dan Paolini, 2B, Siena (Bunnell H.S.) Stratford, Conn.
317. Detroit Tigers, Curt Casali, C, Vanderbilt (New Canaan H.S.) New Canaan, Conn.
Twelfth Round (Tuesday)
363. Seattle Mariners, Mike Dowd, C, Franklin Pierce (Cardinal Spellman H.S.), East Bridgewater, Mass.
Thirteenth Round (Tuesday)
394. Arizona Diamondbacks, John Pedrotty, LHP, Holy Cross (Portsmouth H.S.), Portsmouth, R.I.
Fifteenth Round (Tuesday)
463. Florida Marlins, Jhimoar Veras, RF, Western Oklahoma State Coll. (Methuen H.S.), Methuen, Mass.
Seventeenth Round (Tuesday)
519. Chicago Cubs, John Andreoli Jr., RF, Connecticut (St. John's of Shrewsbury), Shrewsbury, Mass.
Eighteenth Round (Tuesday)
553. Florida Marlins, Greg Nappo, LHP, Connecticut (Daniel Hand H.S.), Madison, Conn.
563. San Diego Padres, Mike Gallic, LF, Marist (Tolland H.S.), Tolland, Conn.
Twentieth Round (Tuesday)
610. Houston Astros, Matt Duffy, 3B, Tennessee (St. Sebastian's), Milton, Mass.
630. Tampa Bay Rays, Garrett Smith, SS, Boston College (St. John's of Shrewsbury), Sterling, Mass.
23rd Round (Tuesday)
700. Houston Astros, Ruben Sosa, 2B, Oklahoma City University (Lawrence H.S.), Lawrence, Mass.
702. New York Mets, Jeff Diehl, C, Cranston West H.S., Cranston, R.I.
715. Cincinnati Reds,
Sal Romano
, RHP, Southington H.S., Southington, Conn.
24th Round (Tuesday)
747. San Francisco Giants, Keith Bilodeau, RHP, Maine (Bourne H.S.), Bourne, Mass.
25th Round (Tuesday)
763. Florida Marlins, Sean Donatello, RHP, UConn-Avery Point (East Lyme H.S.), Salem, Conn.
780. Tampa Bay Rays, Brooks Belter, RHP, Occidental (The Gunnery Prep), Lakeville, Conn.
28th Round (Tuesday)
862. Boston Red Sox, Brenden Shepherd, RHP, Stonehill (Masconomet Regional) Boxford, Mass.
867. San Francisco Giants, Tyler Mizenko, RHP, Winthrop (Hamden Hall H.S.), Wallingford, Conn.
31st Round (Wednesday)
958. Minnesota Twins, Garrett Jewell, RHP, Southern New Hampshire (Newfound Regional), Alexandria, N.H.
32nd Round (Wednesday)
975. Los Angeles Angels, John Leonard, RHP, Boston College (Hanover H.S.), Hanover, Mass.
35th Round (Wednesday)
1076. Atlanta Braves, Mike Hashem, LHP, Fisher College (North Andover H.S.), North Andover, Mass.
1080. Tampa Bay Rays,
John Magliozzi
, RHP, Dexter School, Milton, Mass.
38th Round (Wednesday)
1163. San Diego Padres,
Pat Connaughton
, RHP, St. John's Prep, Arlington, Mass.
1169. New York Yankees, Joe Maher, RHP, Bedford H.S., Bedford, N.H.
39th Round (Wednesday)
1192. Boston Red Sox, Corey Vogt, RHP, Keene State (Suffield H.S.), Suffield, Conn.
40th Round (Wednesday)
1206. Kansas City Royals, Ben Waldrip, 1B, Jacksonville State (Medford H.S.), Medford, Mass.
42nd Round (Wednesday)
1269. Chicago Cubs, Brad Zapenas, SS, Boston College (Nashua North H.S.), Nashua, N.H.
1290. Tampa Bay Rays, Mike Bourdon, C, U. Tampa (Northwest Catholic H.S.), Simsbury, Conn.
43rd Round (Wednesday)
1303. Florida Marlins, Drew Leenhouts, LHP, Northeastern (Franklin H.S.), Franklin, Mass.
1310. St. Louis Cardinals, Chris Costantino, RHP, Walters State CC (Bishop Hendricken H.S.), Lincoln, R.I.
44th Round (Wednesday)
1349. New York Yankees,
Adam Ravenelle
, RHP, Lincoln-Sudbury H.S., Sudbury, Mass.
45th Round (Wednesday)
1372. Boston Red Sox, Matt Gedman, 2B, UMass (Belmont Hill), Framingham, Mass.
1377. San Francisco Giants, Brian Maloney, LHP, Franklin Pierce (Brockton H.S.), Brockton, Mass.
46th Round (Wednesday)
1389. Chicago Cubs, Scott Weismann, RHP, Clemson (Acton-Boxborough H.S.), Boxborough, Mass.
48th Round (Wednesday)
1443. Seattle Mariners, Max Krakowiak, RHP, Fordham (Staples H.S.), Westport, Conn.
1448. Cleveland Indians, Blaine O'Brien, RHP, Keystone College (Scituate H.S.), Scituate, Mass.
50th Round (Wednesday)
1522. Boston Red Sox,
John Gorman
, RHP, Catholic Memorial, Norwood, Mass.
June, 5, 2011
6/05/11
2:48
PM ET
By
Brendan Hall
| ESPNBoston.com
Between the gifted arms of Lawrence Academy's Tyler Beede, St. John's Prep's Pat Connaughton, Lincoln-Sudbury's Adam Ravenelle and Dexter's John Magliozzi, we have an unusually high amount of high school players in the New England region who could see their names getting called in the Major League Baseball Draft, which starts with the first round Monday night.
At the beginning of the high school season,
I caught up with an American League scout who projected eight high schoolers that could see their names called
. But with BB&N's Andrew Chin on the shelf with Tommy John surgery, and the play of Dexter's Barrett O'Neill and BB&N's Devin Perry dipping a bit, the number of bona fide locks has decreased.
Still, the projections at the top haven't budged, and it starts with Beede, a 6-foot-4 righthander from Auburn who could become the first high schooler from Massachusetts taken in the first round since Peabody High's Jeff Allison in 2003.
"Obviously, the most notable is Beede," said Red Sox Director of Amateur Scouting Amiel Sawdaye, at the club's pre-draft press conference last Wednesday at Fenway Park. "Excellent pitcher, guy we've scouted for a long time, we've gotten the chance to see him over the summer, seen him this year. Even some of the other guys -- Connaughton, Magliozzi, Ravenelle -- all good athletes signed to good schools, good students, good kids.
"And that's exciting. To be able to go to the local games and see those guys pitch, it's exciting for us. You get home games. We normally don't get those until the Cape [League]."
Traditionally it's been pitchers getting selected out of the local high schools over the years, so it's no surprise that all of the names being thrown around are 90-mile per hour fireballers. And while this year's class has an abundance of players with prototypical pitcher's builds, they also come on the draft market perceivably fresher, what with the limited amount of time playing outdoors.
"We talk about cold weather kids. You know, sometimes they don't hit their stride until, a lot of times, the summer," Sawday said. "So, you blink and another team takes a player from the Midwest, Northeast, different region where it's a cold weather region, and the kid's throwing 94, 95, where in the spring he was throwing 92.
"It gives us an advantage to be able to go watch those kids progress, and I think the other thing is the proximity of being around these guys and being able to see them get better year after year, see how they take off. As a junior, they're taking off in the summer. As a senior, they're taking off in the summer. And yeah, I think you can look at it as an advantage."
Red Sox general manager Theo Epstein echoed similar comments, noting the desire of northeast kids playing in a smaller period of warm weather, as well as the easier projections.
"Guys around here, their best baseball is yet to come," Epstein said. "They don't get out on the field until April sometimes, with the snow on the ground, and you can project these guys going forward. I think makeup is good too. You have to go to baseball here. Compared to California, Texas, Florida, where it's there 365 days of the year, here you've got a short window to play, and you've got to relish the opportunity and make the most of it. It's easy to project off these kids in the northeast."
Added Sawdaye, "We were just watching video of a kid throwing in the snow, so that tells you what some of these kids go through."
I revisited with scouts again late last week, for their thoughts on the top prospects in the area. Below are the scouting reports and projections on seven New Englanders you will definitely see coming across the ticker.
Tyler Beede, RHP, Lawrence Academy
Hometown
: Auburn, Mass.
Height:
6-foot-4
Weight:
205 lbs
Bats:
Right
College:
Vanderbilt
Scout's Take:
"I'd say Tyler has basically done everything the scouts and pro evaluators have asked him to do, repeating his delivery, a breaking ball that's consistent with your average major league pitch. He's shown velocity they've been looking for. His last start, he was consistently hitting 93 to 95. All the intangibles are there. I think that's as good of a prospect we've had in a long time in New England."
Projection:
Late first round to Sandwich A. ("That's assuming signability doesn't get in the way," said the scout. "He's going to be a pricey pick, but I think there are teams willing to go that route.)
Pat Connaughton, RHP, St. John's Prep
Hometown:
Arlington, Mass.
Height:
6-foot-4
Weight:
190 lbs
Bats:
Right
College:
Notre Dame (baseball and basketball)
Scout's Take:
"He's been one of the most intriguing prospects of the spring. His velocity has been anywhere from 90 to 94 every outing, a real plus fastball at times with late life on it, which you certainly– can't teach. His arm is as loose as anyone's. The only question right now if he puts enough time into his delivery where the off-speed catches up to his fastball. The hardest part of signing him is going to be getting him away from his passion for playing basketball. It looks like he wants to compete for a pro team that will allow him to do that as well."
Projection:
First five rounds.
John Magliozzi, RHP, Dexter
Hometown:
Milton, Mass.
Height:
5-foot-10
Weight:
180 lbs
Bats:
Right
College:
Florida
Scout's Take:
"Johnny's been a little inconsistent with his velocity, and that's led people to press questions about whether that frame is going to be durable over the long haul. His velocity has taken a step back, it's been in the 87-90 range where people might have expected 92 to 94. Whether that's reasonable or not, that's what these guys are looking for. He's shown signs that he's going to compete for you, but they need to see that prominent velocity from a frame like that."
Projection:
First 10 rounds.
Adam Ravenelle, RHP Lincoln-Sudbury
Hometown:
Sudbury, Mass.
Height:
6-foot-4
Weight:
185 lbs
Bats:
Right
College:
Vanderbilt
Scout's Take:
"Ravenelle may have taken the biggest step forward of anyone this spring. Critics questioned his ability to repeat his delivery, but his fastball consistently comes over the plate with a good angle. People wonder when he would decide on an arm slot, but he's done a tremendous job on keeping to a low three-quarter slot and remaining on top of the ball. He's also shown he's able to throw that breaking ball for strikes consistently, which hasn't always been the case. The best part about him is he has matured from a mental standpoint. He attacks the game now as a pitcher and not just a thrower by working efficiently with his pitch counts to get outs early in the game without trying to strike everyone out."
Projection:
First 20 rounds. ("He's a potential top-five talent, but everyone's sold on the idea that he's going to end up at Vanderbilt," the scout said.)
Jordan Cote, RHP, Winnisquam Regional (N.H.)
Hometown:
Sanbornton, N.H.
Height:
6-foot-6
Weight:
215 lbs
Bats:
Right
College:
Coastal Carolina
Scout's Take:
"He's the one that's been climbing the most. I'd say Cote was one that was kind of a sleeper early in the season. People had to wait and see what you get out of him, being in a Northern climate, playing on 35-degree days more so than Mass kids. Early on, he struggled, was hitting 87-88, then over the last two or three weeks, as the weather warmed up he found his groove. He's really climbed into the upper echelon of high school prospects. You look at that frame, 6-6, 215, and there's a lot of projectability. You could see him filling out to 240, and see that fastball velocity increase because of the hand speed he demonstrates."
Projection:
First five rounds.
John Gorman, RHP/3B, Catholic Memorial
Hometown:
Norwood, Mass.
Height:
6-foot-2
Weight:
215 lbs
Bats:
Right
College:
Boston College
Scout's Take:
"He's still in the mix, guys mostly look at him as being a college guy. But, he will step in regardless and be one of the best players on the BC squad when he gets there…. He's an interesting one. He's one of the guys people talked about earlier in the year being a bulldog, and one of the best high school kids around. He's obviously lived up to that being named Gatorade Player of the Year in a year full of big names. He'll likely see time in college as a corner infielder and a pitcher. I think that over the next two or three years, he's going to have a lot of success at the college level. His fastball velocity can climb into the 91-92 range, and he can throw his off-speed consistently into the strike zone. I'd imagine his name being called on draft day, as he deserves it."
Projection:
First 20 rounds.
Sal Romano, RHP, Southington (Conn.)
Hometown:
Southington, Conn.
Height:
6-foot-4
Weight:
220 lbs
Bats:
Right
College:
Tennessee
Scout's Take:
"Sal''s another one of those big body high school kids we've been blessed with this year. His delivery has some work to do, but he's shown great velocity on his fastball, up to 93. The feel for the spin on his breaking ball is advanced for his age. His signability demands may push him down in the draft this year, but he's definitely one to follow."
Projection:
Top 10 rounds.
May, 17, 2011
5/17/11
7:39
PM ET
The praise for Lawrence Academy senior righthander Tyler Beede continues to build as we inch closer to next month's MLB Draft. Today, ESPN's Keith Law unveiled his
first mock draft
, and projects the 6-foot-4 Beede to go 30th to the Twins. He writes, "Beede is polished with command and control, but even has some projection left."
ESPN.com's most recent
scouting report on Beede
reads as follows:
Beede is the leading prep pitcher in a very strong class out of New England this year, showing average stuff with good projection and very good command for his age.

He will sit mostly 88-92 now but can flash a little better, mixing in a two-seamer at the low end of that range as needed. He's got a solid-average changeup and an improving curveball that he needs to finish more consistently; at 71-73 it's a bit slow and loopy but at 75 or better it's a better pitch start to finish. Beede repeats his delivery extremely well, with a strong stride toward the plate, although he doesn't tilt his shoulders and has a very slight arm wrap right before he turns his pitching hand over.

He's committed to Vanderbilt and is expected to be a tough sign, but he's expressed enough interest in pro ball that he should be a fairly high pick for someone looking to roll the dice on a potential No. 2 starter with lots of projection left.
Meanwhile, as part of its "50 in 50" series leading up to next month's MLB Draft, the scouting service Perfect Game checks in today with its analysis of Beede, projecting him as a "Late First Round/Sandwich". In his scouting report, David Rawnsley notes the unusual abundance of live arms in Massachusetts high schools this year, including 90-mile per hour fireballers such as St. John's Prep's Pat Connaughton, BB&N's Devin Perry, Springfield Cathedral's Robert DeCosmo, and Dexter's duo of John Magliozzi and Barrett O'Neill.
But for Beede, Rawnsley reserves the highest praise. He writes:
Beede is far from the stereotypical raw arm from the region, however. His father, Walter, was a 13th round pick of the Chicago Cubs in 1981 as a first baseman and played one year of minor league ball, so baseball definitely is part of the Beede bloodlines. Most importantly, Beede has been participating in national level events since early in his sophomore season, including the 2010 Aflac All American Game, and has a polished maturity on the mound that is equal to any Sun Belt pitcher. He has a low effort delivery with good lower half use and repeats his mechanics consistently. Beede's fastball doesn't touch 97-98 mph like many of top high school arms seem to be doing this year but he's a consistent 92-93 mph and will touch 94-95 occasionally. His upper 70's curveball is a potential plus second pitch and his change up shows signs of being a plus pitch at times as well, although he understandably hasn't used the pitch frequently. Beede's ability to mix his pitches and throw to spots is very advanced for a high school pitcher and will enable him to be immediately successful at the next level, whether that is at Vanderbilt or in professional ball. Even though he could sneak into the back of the first round on talent, Beede is well prepared to pass on pro ball for at least three years. He transferred before his senior year from his hometown Auburn High School to Lawrence Academy, a prestigious prep school, to better prepare himself academically for Vanderbilt and is a high level student.
The full scouting report from Rawnsley can be found
here
.
May, 2, 2011
5/02/11
11:40
PM ET
By
Tom Layman
| ESPNBoston.com


CAMBRIDGE, Mass. -- Dexter School head baseball coach Dan Donato didn't forget the two losses his team suffered last season at the hands of BB&N, apparently neither did the rest of his team.

Donato's club ran it's winning streak to eight games in 2011 after an 8-4 win over BB&N (8-4) on Monday night at Harvard University, which was the site of an exciting extra-innings affair won by the Knights last season.

"We came over here with a little sense of purpose to avenge some of those losses," said Donato.

Dexter used a four-run top of the fifth inning, and tacked on three more in the final two innings to give starter John Magliozzi and relief pitcher Ryan Sullivan breathing room to work. Magliozzi gave up two earned runs and struck out seven in six innings of work, while Sullivan survived the seventh despite watching two runs cross the plate.

The Knights' grabbed the early 2-0 lead after Rhett Wiseman took advantage of some second life in the bottom of the third. Wiseman got jammed, but Pat Curtis couldn't corral the short pop-up despite a valiant diving attempt.

Wiseman smacked the next pitched up the middle by the diving centerfielder to plate Mike Samko and Robert Krentzman.

Dexter started 0-for-4 with runners in scoring position, but finally broke through when freshman Mark Webber singled in Barrett O'Neill in the top of the fourth. Knights' starter Devin Perry was moving through the lineup with five strikeouts in the first four innings, but a blister he developed on the top of his thumb on his throwing hand opened the Dexter floodgates.

Dexter plated four in the top of the fifth, with Curtis coming through with the crushing two-run double to push the lead to 5-2. Magliozzi's sacrifice fly brought home Matt Cuneo in the top of the sixth off of reliever Matt Pugh, and Brendan Fitzgerald later scored on a throwing error as the right-fielder overthrew the cut-off man.

"It came down to some fundamentals and I thought our kids did a good job in those areas," Donato said. "We found a way to battle a good pitcher"

Keeping the runs coming against a very tough BB&N team was very important for Donato, because Magliozzi had to weasel his way out of a bases-loaded jam in the bottom of the sixth and the Knights did tack on two in the final frame.

"I knew we had to, because their bats are that good," Donato said. "In the late innings we were still running, we were still trying to manufacture runs, because I have a lot of respect for what they do and how they play the game."

Life Without Chin
There was a glaring void for BB&N on the mound as Andrew Chin is out for the remainder of the year. The talented lefy, who is expected to play next season at Boston College, will undergo Tommy John Surgery in the next few weeks, according to Knights' head coach Rick Foresteire.

Foresteire has had to do some shuffling, and seeing his new No. 1 starter Perry leave the game with a blister issue was probably the last thing that he wanted to see.

"He just cut it somehow on the top," he said. "It's not anything long-term. He hasn't had a chance to stretch out in the last week or so in terms of innings. I think he threw well. … I think it got a little irritating (for him)."

Perry, Pugh and Brandon Kerrigan will have to fill in for arguably the most consistent starting pitcher in the entire state. The shock of losing the ace of the staff, who helped BB&N go 20-0 last season, is still tough to shake off for Foresteire and the rest of the club.

"It's been tough," he said. "He's a great kid and that's why it's been so tough on all of us. Not only is he talented, but what he's meant to the program. You know he wants to be out there competing, and to not get to see him pitch is sad."
April, 12, 2011
4/12/11
6:38
PM ET
By
Brendan Hall
| ESPNBoston.com
With the high school baseball season always comes that one elite prospect, a kid who eats up the high school competition and is a sure thing to see his name come across the ticker on draft day.

Suffice it to say this season is quite the anomaly. Some major league scouts have mused that we haven't seen a crop of high school senior talent in Massachusetts this deep since the 1980's; one mused that as many as 12 high schoolers form this state could see their name get called in June's amateur draft.

With that in mind, I went over the prospects with an American League scout last week, before the MIAA season officially got underway. Some, like Lawrence Academy's Tyler Beede, Dexter's John Magliozzi and St. John's Prep two-sport superstar Pat Connaughton -- all guys ranked in the top 100 for high school prospects by Baseball America -- are obvious. But overall, he identified eight prospects that could definitely see their name get called two months from now.

Below are the eight, with scouts' comments.

Tyler Beede, RHP, Lawrence Academy
Height: 6-foot-4
Weight: 205 lbs.
Bats: Right
Hometown: Auburn, Mass.
College: Vanderbilt
2010 stats: 6-1, 87 K, 45.1 IP, 1.08 ERA; .429, 8 HR, 30 RBI, .880 SLG
Scout's Take: "For his age, Tyler Beede has the prototype pitcher's body. Six-four, 205, and an effortless, balanced delivery, with a loose arm. There's alot of talk about his fastball and velocity as being plus, but its his secondary stuff, the refined curveball he's been throwing and the feel for the changeup, that shows he's advanced. You look at how he utilizes and balances his body for a complete delivery, and you look at him as really a potential first-rounder, but top three rounds in particular."

John Magliozzi, RHP, Dexter
Height: 5-foot-10
Weight: 181 lbs.
Bats: Right
Hometown: Milton, Mass.
College: Florida
2010 stats: 7-0, 73 K, 6 BB, 42 IP, 3 SV, 0.95 ERA; .427, 36 RBI, 3 HR, 11 SB
Scout's Take: "Here's a kid that doesn't have a prototypical pitcher's build, but he's a classic go get 'em, gimme the ball and go right after the hitter. He's someone who's a competitor on the mound, who has shown a 92-95 mph fastball. He has a very good curve with a lot of depth, good feel to it. Combine that with a good changeup, and commitment to the hand speed, and you've got a solid three pitch mix. The only question long-term with the scouts is if he will have durability issues. But the kid's proven to be willing to work at it, and take care of his body."

Pat Connaughton, RHP, St. John's Prep
Height: 6-foot-4
Weight: 190 lbs.
Bats: Right
Hometown: Arlington, Mass.
College: Notre Dame
2010 Stats: 4-4, 52.3 IP, 51 K, 34 BB, 52.3 IP, 1 SV, 3.08 ERA
Scout's Take: "Here's another 6-3, 6-4 lean pitcher with a loose frame, pretty clean arm action. Nice loose, low three-quarter delivery, shows he gonna have the ability to throw the ball harder as he gets older. Once he decides on basketball or baseball, the sky's the limit for him. He shows the making of a curve and change that have come along in the last year or so. He's a three-pitch guy with unbelievable athleticism for a pitcher, something any kind of scout will enjoy. Those guys make a quick adjustment at the next level. He's a smart kid willing to work hard, and those kinds of intangibles can put a kid like that into a full-time job as a pitcher."

Adam Ravenelle, RHP, Lincoln-Sudbury
Height: 6-foot-4
Weight: 185 lbs.
Bats: Right
Hometown: Sudbury, Mass.
College: Vanderbilt
2010 stats: 5-0, 55 K, 22 BB, 48.2 IP, 1.67 ERA
Scout's Take: "We're kinda blessed with all of the arms this year in Massachusetts. It's uncommon to have this many tall, lean pitchers who run 90-plus on their fastball. As he continues to put weight on, I think you'll see him be able to repeat his delivery more consistently, and that's paramount for his success. He's got a curveball with solid depth and spin for his two-pitch, and as he continues to add that changeup as a third pitch, you're looking at a potential professional starter. As it stands, he could be a power reliever."

Barrett O'Neill, RHP/3B, Dexter
Height: 6-foot-1
Weight: 205 lbs.
Bats: Right
Hometown: Ashland, Mass.
College: Virginia
2010 stats: 6-1, 59 K, 9 BB, 40 IP, 2 SV, 1.30 ERA; .420, 34 RBI, 6 HR, 5 SB
Scout's Take: "He has that classic athletic background, as he played hockey growing up, so he fits the profile of some of these gritty northeast kids. He's obviously smart going to the University of Virginia. He has a hard fastball in the upper 80's, low 90's, and athletically he's pretty well developed. Obviously, he's shown commitment to his craft by taking the winter off from hockey, to straighten out his future on the mound."

John Gorman, RHP/3B, Catholic Memorial
Height: 6-foot-2
Weight: 215 lbs.
Bats: Right
Hometown: Norwood, Mass.
College: Boston College
2010 Stats: 8-0, 113 K, 18 BB, 65 IP, 1.18 ERA; .395, 26 RBI, 3 HR, 7 SB
Scout's Take: "Gorman's another classic northeast kid, just a bulldog on the mound who always wants to win. He's a good two-way guy, so he knows how to attack hitters. He has the feel for being a leader every day; last summer [at showcases with the New England Ruffnecks] he went right at top-100 hitters and took control of the game. He was born to be in the strike zone all day. He's not afraid to dust the best hitters in country. I wouldn't be surprised if he's at 90, 91 by the spring, with three pitches."

Devin Perry, RHP/IF, BB&N
Height: 6-foot-3
Weight: 195 lbs.
Bats: Right
Hometown: Newton, Mass.
College: Boston College
2010 Stats: 8-0, 85 K, 19 BB, 49 IP, 0.71 ERA; .351, 17 RBI, 3 HR
Scout's Take: "At 6-3 and about 195 pound, he might have the most electric arm of all of them, but he has to make sure to take care of his body, the way he throws slightly across himself in his delivery. If he gets his delivery squared away though, you could see him throwing a 95 mile per hour fastball as he continues to get stronger."

Andrew Chin, LHP, BB&N
Height: 6-foot-1
Weight: 180 lbs.
Bats: Left
Hometown: Newton, Mass.
College: Boston College
2010 Stats: 7-0, 94 K, 29 BB, 59 IP, 0.59 ERA
Scout's Take: "Chin might be the most complete pitcher at this point. Maybe he's not the same type of thrower or class as these other guys -- he tends to be in the upper 80's with his fastball, good in and out, good with the changeup -- but he understands the craft and is willing to work at it. He's a classic left-hander with good feel for how to set hitters up."
August, 16, 2010
8/16/10
6:57
AM ET
By
Brendan Hall
| ESPNBoston.com
[+] Enlarge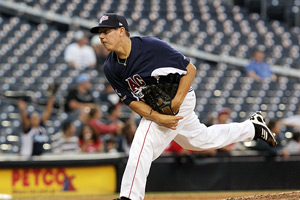 Sandy Huffaker/All-American Baseball Classic Dexter School righthander John Magliozzi, a Florida commit, retired the side easily with his 97-mph fastball at Sunday night's All-American Baseball Classic.
John Magliozzi, like a lot of the high school-aged kids gathered at Petco Park this weekend, looked in awe when he took his first steps onto the grass that claims home to the San Diego Padres.
And when he walked onto the mound in top of the eighth inning of last night's prestigious Aflac All-American Baseball Classic, a gathering of 38 of the nation's best high school baseball players, the only way he could describe the feeling was "pretty much speechless."
"I saw the lights, and I saw the buildings behind the stadium, it's an unbelievable view," said Magliozzi, a Milton resident and Florida commit who plays his high school ball at Dexter School. "I'd say there were about 4,000 people, but I had so much adrenaline going through me at that point that I didn't even see the people."
The hard-throwing righty threw 11 pitches (nine fastballs), got ahead in the count each time, and retired the side 1-2-3 to help the East team's cause in a 5-3 win over the West. Magliozzi topped out at 97 miles per hour -- "I still can't believe I did that," he laughed -- and retired the side on two grounders and a pop-out in foul territory.
Meanwhile, Auburn resident and Lawrence Academy righty Tyler Beede continued his dominant summer with another quick outing on the mound. He entered the game in the fourth and also retired the side 1-2-3, striking out one and getting the other two on grounders.
"The competition there was phenomenal," said Beede, who is committed to Vanderbilt. "I'm pretty happy about the summer I've had, but going against these guys, it definitely doesn't hurt (my confidence)."
July, 20, 2010
7/20/10
3:23
PM ET
By
Brendan Hall
| ESPNBoston.com
First came the news that Tyler Beede would be playing in next month's prestigious Aflac All-American Game at Petco Park. ("I was shocked," he said this past weekend.) This week in East Cobb, Ga., the good times continue to roll.

Beede, an Auburn, Mass., resident, was a key component to the Virginia Canes 16-and-under squad capturing its second straight World Woodbat Association national title Monday. The Canes, one of several teams loaded with Division 1 commits, plated 10 runs in both their semifinal win over the Houston Banditos (10-5) and championship final victory over the Carolina Cubs (10-4).

"It's tremendous," said Beede, who was also on last year's squad. (His birthdate, May 23, allowed him to just make the cut even though he's 17.) "Thankfully, we got back to the same place and ended up winning again. It's a special thing, not many guys can say they've won a national championship, let alone two."

Armed with a fastball that's topped out at 94 miles per hour and a sharp 12-to-6 curve, the Vanderbilt-bound right-hander was dominant over the 10 days he traveled with the team. In 13 innings, he struck out 22 batters while walking just two, and allowed two runs and six hits.

Massachusetts' other representative next month at Petco, Dexter School's John Magliozzi, is another continuing to do good on his hype this summer. Suiting up for the East Cobb (Ga.) Braves along with high school teammate Barrett O'Neill (an Ashland, Mass., resident who has committed to Virginia), he also participated in the national title game.

After some fine-tuning of his mechanics following the high school season, the Florida-bound Magliozzi has seen his velocity come along well, reportedly hitting as high as 96 on his fastball.

"I felt like I was on top of the world," Magliozzi said of his All-American selection.

As for Petco, it will be Magliozzi's fifth trip to a major-league ballpark, having stepped on the field for games at Fenway Park, Tropicana Field and the Metrodome. He'll be at Yankee Stadium on July 27 for a workout. The mystique, though, never gets old.

"It's just nuts, how amazing those places are," Magliozzi said. "The atmosphere must be crazy with that place full. There's going to be a lot of people there [in San Diego], and it's going be awesome to play there with all of the best players."

The other big showing in the WWBA tournament was the surprise run by the New England Ruffnecks' 17U squad, which advanced all the way to the final 16 last week before losing 2-1 to the Miami-based All-American Prospects, who hadn't given up a run all tournament.

All week long, the Ruffnecks got solid work from their starting rotation, including Catholic Memorial's John Gorman, Winnisquam (N.H.) Regional's Jordan Cote, Tewksbury's Matt Luppi, and Lincoln-Sudbury's Carl Anderson and Adam Ravenelle. David St. Lawrence of Pomfret (Conn.) performed well in the closer role, while A.J. Zarozny of St. John's (Shrewsbury) was solid out of the lead-off spot.

But the play everyone will be talking about is Lincoln-Sudbury's Ben Smith chasing down a foul ball, going airborne, crashing over a brick wall -- and holding on for the out.

"I didn't think he had shot at making it, then all of a sudden he's tailed over the fence," Walsh said. "It was pretty awesome to see, sacrificing his body for the team."

And if the way guys like Beede, Magliozzi and O'Neill have performed this summer isn't convincing enough, the Ruffnecks are hoping a showing like this raises the profile of baseball in the Northeast.

"Judging by what people were telling us after that, no Northeast team had ever advanced as far," head coach Greg Brookes said. "I think if we weren't on the map before, we're on the map now. Some of those Southern teams admitted to us, when they see a Northeast team on their schedule they think they're going to walk all over us. I think we changed the thinking of some of the Southern teams."

"Nobody's really going to sleep on the Northeast anymore," said Anderson. "It just kind of puts us out there, everyone knows we're competing now. They've still got to get ready for us. It's not just another team from the Northeast."