Boston High School:

John McGoldrick
May, 11, 2011
5/11/11
12:00
AM ET
COHASSET, Mass. -- When Thomas Flibotte gets going, he's nearly unstoppable.

The Cohasset boys' lacrosse All-American had another one of those nights, striking for five goals against No. 7 Hingham on Tuesday. And, after watching Flibotte notch a hat trick in the second quarter while falling behind the 12th-ranked Skippers by four goals, the Harbormen could have packed it in.

"But we didn't buckle," Hingham head coach John Todd said.

The Harbormen scored four straight goals to open the second half and slowed Flibotte down just enough to give themselves a chance.

Hingham held an 11-10 lead with less than a minute to play when Flibotte held the game on his stick. The Bucknell commit streaked in on the wing and let off a shot from 15 yards out, but Harbormen goaltender Derek McInnis made the save, preserving the victory.

"You couldn't ask for anything more," Todd said. "Maybe it's that we matched up well against them. But Thomas Flibotte is amazing. I think we had all we could handle in just trying to be with him, never mind controlling him."

Hingham (11-2) had its own offensive stars with junior captain Kevin Blair collecting a six-point game (3 goals, 3 assists). Karl Weller chipped in a three-point game with two goals while Noah Ellis also netted two goals, including the game-winner.

Kyle Livingstone, who missed significant time with an injury, marked his return to the Cohasset lineup with a two-goal game.

The Harbormen emerged from a two-goal halftime deficit to score the first four goals of the second half.

Blair figured prominently in the comeback. He set up David Freitas' goal to start the third quarter before tying the game with 37 seconds remaining in the period.

Blair netted his hat trick one minute into the fourth, providing Hingham with a 9-7 lead. John McGoldrick and Flibotte countered to tie the game 9-9, but Hingham captain Tim Driscoll broke the deadlock with 5:30 to play.

Ellis netted the game-winner with 2:47 remaining with an assist by Blair. Undaunted, Flibotte responded to draw the Skippers (10-4) with a goal with 1:32 to play.

However, Cohasset wasn't able to find the net again despite having three offensive possessions within the final minute. The best chance came on Flibotte's break with 25 seconds remaining with McInnis making a sensational save.

"That was a huge save," Todd said. "But then we were able to clear the ball. We made some stupid mistakes within a minute there. We stepped out of the box when we could've gotten a little more time off the clock.

"But, hey, it all worked out."
April, 27, 2011
4/27/11
12:16
AM ET
By
Brendan Hall
| ESPNBoston.com
DUXBURY, Mass. -- It was a special return for Cohasset's T.J. Bicknell, when the lights went up last night on Duxbury High's FieldTurf. So special, that Skippers head coach Tom Flanagan had made the senior goalie honorary captain for this one game with No. 1 Duxbury.
And while the ex-Dragon dazzled between the pipes all night, its was his ex-teammates who got the best of this night. The Skippers took a quick 2-0 lead in the game's opening minutes before Duxbury answered with eight unanswered goals to take this one going away, 8-2, to remain undefeated within the state.
[+] Enlarge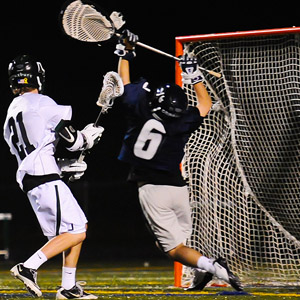 Jim Tarbox for ESPNBoston.comTBD
"We just had to hit the shots, we were getting them," said junior long-stick midfielder Reilly Naton, who had a goal and two assists. "I mean, he [Bicknell] played great. Gotta give T.J. credit, we've all grown up with him. But it just came down to shooting and scoring."
Indeed, Bicknell -- who transferred out of Duxbury after three years as the backup goaltender -- stole the show for periods of time in this one, stuffing attackers at the doorstep and showing off his quick reflexes against a barrage of mid-range shots. Head coach Tom Flanagan praised the goalie's poise, calling him "just an amazing player."
"He came over here to Cohasset, this was his shot, and he's done everything," Flanagan said. "It's such a great story for a senior. He's taken advantage of it, probably one of our most valuable players."
The Skippers (8-3) jutted out to a 2-0 lead with 5:06 left in the first quarter, with goals from Tom Flibotte and then John McGoldrick just 31 seconds apart. But when the Dragons (6-3) get rolling, it's a pretty thing to watch.
Kane Haffey put back a dish from Mitch Barrington, driving off a give-and-go, for the Dragons' first score two minutes after McGoldrick's tally. He found the back of the next again with four minutes left in the second quarter, taking a pitch from Will Siefert from behind the net, to knot it at 2.
The upshift then came with 30 seconds to go in the half, this time Siefert taking a Naton dish in transition down the left flank and beating Bicknell top corner, far side for the 3-2 halftime lead.
"In the second quarter, we kinda turned it up," Siefert said. "We started slow. That third goal got us the momentum shift, got us back in the game. [After that] we just went out there and started playing better lacrosse."
Said Duxbury head coach Chris Sweet, "I think at halftime, they figured out that Cohasset's a really good team, and we have to play really hard and physical, with energy and a lot of effort, to beat a team like that. That's what happened in the second half."
The Dragons rattled off five more goals in the final two quarters, including two more from Siefert, to close the game out.
April, 16, 2011
4/16/11
8:02
PM ET
By
Bruce Lerch
| ESPNBoston.com
COHASSET, Mass. -- The Chowda Cup tournament will always be held close in the heart of Marshfield head coach Rick Bagby.

Four years ago, when Bagby was the head coach at Scituate, he teamed with Scituate native Bill Gray to put the two-day lacrosse tourney together to celebrate the memories of five players from Scituate and Cohasset who tragically passed away well before their time.

Former Cohasset players Bourke Corcoran and Justin Langham were both lost to car accidents in their youth, as was Scituate's Tim Mahoney. Former BC High players from the area P.J. Trendowicz and Ryan Flannery are also commemorated and played for both Bagby and former Cohasset coach Stew Curran when both coached the Eagles.

Fittingly, one of the tournament's founders was able to raise the championship trophy for the third time as a coach. Will Contento stopped 14 shots and was named Most Valuable Player of the tournament, while Ty Martina, Connor Bagby, John Powers and Matt Entwistle each scored two goals as No. 14 Marshfield defeated No. 12 Cohasset, 9-4, in the Chowda Cup final at Cohasset's Alumni Field.

"They were such great kids," said Coach Bagby of the five players in whose honor the tournament is held. "We had a speech before the first games and I told all four teams to play with a lot of pride and a lot of passion. Respect the game, respect your opponents, the referees, the coaches. That's how those kids played the game. I would do anything to have them back here with us. I get choked up talking about it. I miss those guys so much."

Marshfield (5-0) set the tone on defense, and with two starters out had to rely on reserves Brennan Quackenbush and Luke Cavallaro to fill those minutes alongside Ryan Connors, Jake Norris and Colin Clark.

Long stick midfielder Josh White played brilliantly within the confines of the Rams' "Tiger Zone" defense, shadowing Cohasset star and returning All-American Thomas Flibotte while his teammates stepped up to help with double and triple teams. A lot of the extra attention paid to Flibotte was because the Skippers were without do-it-all midfielder Kyle Livingstone, who suffered a broken thumb a week ago against Barnstable.

Behind them was Contento, a first-year starter playing in his biggest game thus far. The senior proved more than up to the task, joining his defensive mates in holding the Skippers scoreless in the first half.

"It was incredible. It's my first experience as a goalie in the Chowda Cup and I can't explain how good a feeling this is," Contento said. "My defense was incredible today. We were missing a couple of starters but I wasn't even worried going into the game because I knew those guys could step in and do what they did and they played incredible."

John McGoldrick scored twice for Cohasset, with Flibotte and Alex Evans getting the others.

"It's bittersweet because I coached with these guys last year," added Cohasset coach Thomas Flanagan, who was a Rams assistant after three years as the head coach at Norwell. "They came in and played hard. We had a couple of good looks in the beginning and we didn't score, and when they had their looks, they did score. That was the big difference."

In the consolation game, Sharp Jones scored four goals and freshman Jake Reynolds made 11 saves as Scituate (4-1) topped Catholic Memorial, 10-3. John Brown and Harold Gerbis each added a pair for the Sailors.

All-Tournament Team: Will Contento (MVP), Ty Martina, Connor Bagby, Josh White and Ryan Foohey (Marshfield); Sam Leahy, T.J. Bicknell, Thomas Flibotte and John McGoldrick (Cohasset); Tucker Ciessau, Lucas Barisano and Jake Reynolds (Scituate); Chris Ryan and Miles McCarthy (Catholic Memorial).