Boston High School:

John Mildner
May, 28, 2011
5/28/11
5:58
PM ET
By
Brendan Hall
| ESPNBoston.com
FOXBOROUGH, Mass. -- For Billy Sittig, this morning's slate of baseball was a trip down memory lane.
The first-year Foxborough skipper watched as another loss pile up, as his Warriors lost 11-3 to Catholic Memorial at Payson Field. But today's matchup, dubbed the first annual "Hits For Hope" charity game on the MIAA's cutoff scheduling date, was about so much more. And at that, it was all good.
"The season went below our expectations, but we wanted to finish with something positive and have a great event," Sittig said. "It turned out we had a great weather and played a great team, and we did a great job fundraising, so this was a good thing."
[+] Enlarge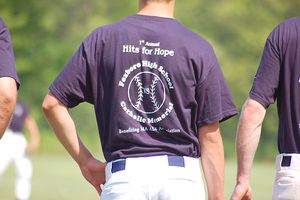 Brendan Hall Both teams warmed up for the Hits For Hope game in these commemorative T-shirts.
Sittig and his team came away from today's festivities having raised some $5,200 towards Curt Schilling's Curt's Pitch For ALS foundation, between donations, raffles, and pledges for a certain amount of money donated per hit in the game. He also found time to catch up with his old mates at CM; Sittig is a close friend of Knights coach Hal Carey, and coached the Knights' freshman basketball team for four years before taking his current job at Foxborough.
"I know a lot of these guys well," Sittig said. "Those three aces they've got, I know them very well, especially Matt Goreham. It was good and bad to see him have a good game against us... But no, it was a great experience, me and Hal are great friends, so it's a great experience to go through this fundraising with him."
Indeed, this was a monster game for the Northeastern-bound senior Goreham, who launched two 1-0 fastballs deep over centerfield for four RBI in his first two at bats, helping spot the Knights a 6-3 lead through three innings that stuck, and finishing the day 3 for 4 with three runs. Goreham also struck out four batters in the first three innings from the mound, before giving way to UMass commit John Mildner (4 IP, 7 K's, one hit allowed).
"I was just waiting for fastball, and was able to put a good swing on it," Goreham said, adding with a laugh, "Any other park that might have been out of here, but it's not bad running for a while."
As for Sittig, Goreham said, "I've known him since the eighth grade, he was always around with basketball and stuff. It's fun to see him, and I'm glad he's doing what he wants, you know, coaching."
[+] Enlarge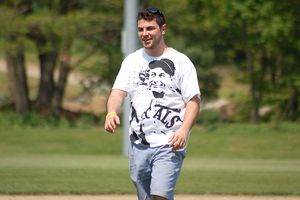 Courtesy Brendan HallMike Paladino threw out the ceremonial first pitch in the Hits For Hope game.
He added, laughing, "If you ask him, he was the best freshman coach in the state."
Foxborough centerfielder Steve Fitzmaurice was awarded the the game's Most Valuable Player in a post-game ceremony, and received an autographed Curt Schilling baseball from the 2007 Red Sox World Series championship season. He finished 2 for 3 with an RBI.
"Our guys responded well," Carey said. "I told the kids, 'I want to make a donation'. Most of the guys came through. Our players themselves came up with $200 combined, and he (Sittig) made a ton of money for the game, I'm sure.
"His guys gave a lot of money, too, and got a lot of donations. So it was great to be a part of it, and hopefully we can do it again next year."
TAKING CENTER STAGE
It's not Fenway, McCoy, or even Campanelli, but taking the hill in front of a few hundred spectators this morning still gave Mike Paladino a few jitters.
"I was so nervous," he laughed. "And I didn't even do that well, made the catcher work for it. Initially, Billy said I might be catching, but throwing out a first pitch is nerve-wracking no matter what."
Flanked by Boston Park League president Walt Bentson, who is suffering from ALS, the 2004 CM graduate and friend of Sittig threw out the ceremonial first pitch for the game. Paladino's father, Bill, was principal at Foxborough's Ahern Middle School from 1984 to 2000, before passing away from ALS in April of 2000.
"Honestly, it's been a great honor to me," said Mike Paldino. "Because my father had spent so much time in this community in Foxborough, and my history in Foxborough has been nothing but good to me and my family, since we went through the tough times with my father's sickness and all of that.
"You know, anything for this cause, I'm glad to go out there and give everything I got for it."
April, 9, 2011
4/09/11
8:41
PM ET
By
Tom Layman
| ESPNBoston.com



SUDBURY, Mass. — Catholic Memorial wasted little time showing off why it is ranked No. 1 in the polls with a big 10-5 road victory over No. 2 Lincoln-Sudbury (0-1) on Saturday afternoon.

The Knights (2-0) collected nine hits and looked to be in midseason form when it comes to seizing an opportunity, as they capitalized off of five errors in the field and four passed balls by the Warriors.

The big club in town might not be one for fast starts in 2011, but Knights' head coach Hal Carey wanted to see his team get off on the right foot.

"We were really ready for the game," said Carey. "We wanted to play really despite it being early in the year. It was kind of a motivational thing."

The Knights held a 2-1 advantage through the first four innings, but broke things open with a 4-run top of the fifth. CM sent eight men to the plate fueled by a two-out, two RBI single from John Mildner.

Steve Pike and Nick Barker both reached base to open the fifth, and with the heart of the Knights lineup ready to come up, it looked like the big inning was inevitable. But David McCullough got John Gorman swinging and got Matt Goreham to fly out to first.

On a 2-2 pitch, Mildner dropped a line drive right in front of the left fielder to grab a 4-1 lead. Mildner stole second, moved over on a passed ball and scored on a RBI double by Paul Fahey.

Fahey would make his way across home plate on two passed balls by Warrior pitching to stretch the lead to 6-1.

"We took advantage of a couple of their errors," said Carey. "We scored runs with timely hits and played well fundamentally."

The Knights kept the pressure on in the top of the seventh and took care of more Warriors' mistakes as the first five batters of the inning reached safely in another 4-run inning.

"We just didn't catch the ball," said Warriors head coach Kirk Fredericks. "Everyone took an opportunity to not catch the ball. They capitalized and made our pitchers throw more pitches than they should of. That was the difference between the two teams."

The Warriors had to go through five pitchers, while the Knights need just two, with Goreham doing most of the work. The big righthander was efficient in his six plus innings of work, striking out five and working his way out of trouble when he needed.

In the bottom of the third inning, Goreham allowed the leadoff man to reach, but got a 4-6-3 double play and a fly out to center to get out of that jam. He started an inning ending 1-6-3 twin killing after walking the first two batters of the fourth, and struck out the last two batters of the sixth inning after loading the bases.

"My off-speed stuff wasn't there," said Goreham. "I was sticking with a lot of fastballs and they were able to get on base. My defense really picked me up today. … It's just one of those things where your teammates pick you up when you are struggling."

Added Carey: "He's got such good poise out there that nothing really bothers him. He's even-keeled."

A bright spot for the Warriors was Adam Ravenelle, who crushed two homers, a solo shot and a three-run bomb, to dead center.
December, 10, 2010
12/10/10
11:29
AM ET
Catholic Memorial senior center fielder and pitcher Johnny Mildner has committed to UMass-Amherst.

The 6-foot, 175-pounder was an All-Catholic Conference selection last year while leading the Knights to the Division 1 South finals.