Boston High School:

John Todd
April, 25, 2014
4/25/14
1:35
AM ET
WINCHESTER, Mass. – The boys' lacrosse teams of Concord-Carlisle and Wellesley have customarily met, as if a rite of spring, in the Division 2 Eastern Mass. tournament each year. Those encounters are always close, evidenced by the Raiders' 4-3 win in the teams' first-round playoff matchup last spring.

But, with redistricting taking place this year, Wellesley moved up to Division 1 – meaning there will be no more such postseason classics. That didn't mean the teams wouldn't have a chance to renew their rivalry, however, as they met in Thursday's Coaches Challenge Cup Tournament semifinal.

The Raiders used two early goals from senior midfielder Matt Dziama to build a lead they wouldn't relinquish as they advanced to Saturday's championship with an 8-5 win.

"They're smart, they're tough, they make it hard on you," Wellesley head coach Rocky Batty said of the Patriots.

Dziama finished with three goals and an assist to lead all scorers, while fellow midfielder David Jennings also chipped in a pair of goals.

While the Raiders (8-2) never trailed, C-C (4-4) did come back to tie the score at the 7:56 mark of the second quarter on a goal by Will Blumenberg. But Dziama would put the Raiders back in the lead heading into the half, tallying his third goal with 17 remaining.

"John got off to a quick start and we need that because we didn't do anything after that," Batty said. "It was kind of walking through mud for a long time."

Steven Armanetti led the Patriots with a pair of goals, while goaltender Aidan Long made 13 saves.

Wellesley advances to face Dover-Sherborn in Saturday's championship game (4 p.m. at North Andover H.S.). And, while the Raiders look for another resume-builder, following last weekend's win over nationally-ranked Cold Spring Harbor of New York, Dziama saw Thursday's victory as another building block in settling into the offense.

"We're possessing the ball longer than we had been earlier in the season," Dziama said. "It's a great tournament to work on everything. Offensively, we could have done more today, but we possessed the ball and that helped us."

Semifinal: Dover-Sherborn 15, North Andover 4
After North Andover dealt Lincoln-Sudbury perhaps the biggest upset in state on the early season during its first-round matchup on Tuesday, the Scarlet Knights were hit with a chink in their armor against the Division 3 power.

The Raiders (6-2) turned in a dominant performance, amassing a 7-2 halftime lead with freshman Bailey Laidman ripping off three first-half goals.

"We're starting to move the ball better," D-S head coach Brian McLaughlin said. We're been working at it in practice and trying to get better at it. We started off the season just dodging and trying to shoot and score.

"We're being more patient, I'd like to see more patience, but we're getting better at that."

As a result, the Raiders turned in their highest offensive yield of the season, including four goals from senior attack Grant Gregory as part of a six-point game. It's an encouraging sign from the all-league player who played his third game back following a broken finger.

"He did a lot of lifting this summer, put on a lot of weight and now he's trying to catch his wind back because he hasn't been playing as much," McLaughlin said. "He's definitely a threat for us."

Chris Williams and Will Spangenberg also netted hat tricks for D-S, while John Enright led North Andover (7-4) with two goals.

The Scarlet Knights will play C-C in a consolation game on Saturday (2 p.m.).

Hingham 9, Andover 6
The Coaches Cup presents an early season litmus test to all of its participants and, after dropping its first matchup of the week to Wellesley (9-8), Hingham rebounded with a win that still left head coach John Todd looking for more from his squad.

"They're quality enough to pressure us and put us in bad situations," Todd said. "And then we made poor decisions. Some of it was on them, some of it was on us. We did enough to win and we took advantage of some chances, but we're still making early season mistakes."

The Harbormen (8-3) struggled on offense at times, but put forward a balanced attack with nine players hitting the score sheet, led by a pair of two-goal games from Caleb Brodie (2 G, 2A) and Matt Giarusso.

In the other half of the field, however, Hingham played the brand of defense Todd has become accustomed to. Goaltender Jack Santilli made 16 saves while All-American long-stick midfielder Jack Ullrich led all players with five ground balls.

"Our defense is extremely strong and our goaltender is phenomenal," Todd said. "So that kind of works into our strength – not that we're not worried about teams – but as long as we play the way we're capable of playing, we should be able to limit other teams."

Lincoln-Sudbury 17, Winchester 1
In an effort to move past Tuesday's upset to North Andover (9-8), L-S flexed its offensive muscle, owning play from the onset of its second-round matchup against host Winchester.

The Warriors (7-2) held the Sachems (6-3) scoreless until the 7:19 mark of the third quarter.

Meanwhile, the offense came in bowlfuls for L-S, which had eight different point scorers. Mike O'Connell and Greg Roder (6 points) had four goals apiece, while Eric Holden had three.

Nick Brindisi (2 G) and Harlan Smart each distributed three assists.
June, 10, 2013
6/10/13
3:43
AM ET
HINGHAM, Mass. – On the precipice of returning to Harvard Stadium for the Division 2 East championship game for the first time since 2010, Hingham lacrosse head coach John Todd and his team had one thing at mind – transition. In particular, in regard to the Harbormen's Sunday opponent, No. 5 seed Beverly, they simply couldn't afford to let the Panthers run amok.

Hingham effectively snuffed out Beverly's potent transition attack during the teams' sectional semifinal matchup. In fact, the Harbormen turned the game on its head, building an 8-1 lead in the third quarter. While the Panthers showed some late signs of life in the fourth, Hingham held on for an 8-4 win, clinching its ticket to Harvard.

"I think we were able to get up and down more than I thought we going to be able to," Todd said, "which was huge because they are an up-tempo team and we focused all on making sure we were taking that away from them. We were able to do that and then from that, a lot more up-and-down for us became available. It was not necessarily shocking but pleasantly surprising."

Hingham (21-3) will face No. 2 seed Medfield in Wednesday's sectional championship game. It is also a rematch of the Harbormen's last Harvard appearance, a game which the Warriors won in double overtime.

On Sunday, Hingham's defense started with goaltender Tom Bannan's 12 saves, but it extended to the midfield, where the Harbormen were tasked with slowing down the Panthers' fleet-footed attack, led by Ryan Shipp (2 G).

However, Hingham's midfielders and poles interrupted Beverly's pace of play in the first half, while working in transition in the opposite direction. David Freitas and Jacob Brodie carried the offensive unit with three goals each for the Harbormen, but their offensive production had much more to do with the work that was conducted in their own end.

"We've been better six-on-six recently, but they kind of took us out of our offense in the first half," Panthers head coach John Pynchon said. "They weren't going to allow us to do the things we wanted to do and they forced us into more situations going in one-on-one. And it took us out of the flow of our offense."

Bannan praised the work of the defense in front of him, namely defenseman Jack Ullrich, which all went according to plan.

"Transition defense did a great job compared to last game, we struggled a little bit," Bannan said. "This game, I don't even know if we gave up one in transition."
April, 18, 2012
4/18/12
12:34
AM ET
By
Shawn Myrick
| ESPNBoston.com


NORTH ANDOVER, Mass. -- In one of this year's top boys' lacrosse leagues, Concord-Carlisle and Lincoln-Sudbury are once more playing the role of the Dual County Leagues' perennial powerhouses.

An early season matchup between the defending conference champs may have started a potential let down, but a late push from the No. 2 Warriors in the Coaches Challenge Cup quarterfinals yesterday afternoon showed why both squads remain top in the state.

With C-C jumping ahead by five goals early, L-S (4-2) battled back but never led as they fell by a slim 8-7 margin at Joe Walsh Stadium in North Andover.

"They are the class of the league and we measure ourselves against them," C-C head coach Tom Dalicandro said. "We said 'value the ball, posses the ball, and take good shots'. I think we did a much better job today than we have done this year of valuing possession."



The No. 8 Patriots (4-0) burst out of the gate with the first three goals and a 6-1 lead to open.

Ducking defenders from the top corners of their offense, leading scorer Kevin Delehey netted all three of his goals off isolation plays in the first quarter. Slipping under a pair of Warriors, the C-C senior found himself five-yard in front of the netminder in the final seconds of the initial quarter to send the Patriots into the break up 5-1 with his final tally.

A wide-open open breakaway by long-pole Henry Bumpus left the senior walking into one-on-one with the keeper as he put the DCL (Small) defending champs up 6-1 at 11:04 in the second.

"We were able to generate some good offense out of our dodges," Delehey said. "I run through those dodges hundreds if not thousands of times. At this point so it is really just reaction."

After two turnaround tallies put the Warriors down 6-3 at half, L-S junior Jordan Dow nailed a pair of open-net man-up opportunities to help cut the deficit early in the third. L-S junior Dan Delaney rolled around his defender and hit a rip ten yards out to bring the score to 7-6 with 4:42 left in the quarter.

Delaney and Dow led the Warriors with two goals, while C-C senior Mike O'Brien also netted a pair.

"We called an invert and saw some matchups we really liked," L-S head coach Brian Vona said. "We eventually just tightened up defensively. They just out everything'd us."

Trading goals between the final quarters, L-S entered the last ten minutes down 8-7, but was unable to finish a pair of man-up chances along the post. A steal by C-C senior keeper Doug Gouchoe from behind the net sealed the victory in the final seconds.

HINGHAM ROLLS AGAIN


In other Coaches Cup quarterfinals action, No. 3 Hingham (5-0) never trailed as it was lead to a 9-5 victory over No. 14 Dover-Sherborn (7-1) with six goals from senior Kevin Blair.

"I was really finding the seams on offense," Blair said. "We are doing a lot of switches off ball, we are picking for each other and it really opens up the middle. We like to isolate and draw the men (out)."

The Raiders evened two score margin in the first, but gradually faded away as the Harbormen found open shots around the crease.

Three straight scores from Blair in the second helped Hingham run away with a 6-3 lead at 3:11. Scoring all three off motion aside the net, the senior caught a lob pass from fellow upperclassmen Reed McLeod (two goals) late in the quarter and side stepped around both the post and the goalie for his fourth tally on the afternoon.

"We have six guys on the field who are able to play well together," Hingham head coach John Todd said. "We made them practice at a high tempo. [Blair] sees the field very well and is very fast."

The Raiders managed to work the ball up top for a score from junior Matt Huemme to grab a 6-4 deficit in the final seconds of the half, but were out shot three goals to one in the final two quarters.

Hingham found Blair behind D-S's defense on a counter late in the third then buried a deep rip from senior Kevin Morris to put D-S away with a 8-4 lead at 7:24 in the fourth quarter.

"They pressured the ball real well and we did not have the ball a lot in the second half," D-S head coach Brian McLaughlin said. "It is hard to score when you can not get the ball back."

Originally trailing 3-1 in the first, senior Ben Newbert evened the score for the final time on the afternoon by finishing a ground-ball pickup next to the crease then side-arming a 10-yarder to put the score at 3-3 to end the first. Newbert lead the Raiders with two tallies.

RAIDERS PLUNDER
In the first game of the day, No. 6 Wellesley rolled past North Andover, 14-1.

Midfielder Oliver Saffery led the Raiders with four goals, in addition to a team-high seven ground balls. Ryan Cassidy collected two goals to go along with five ground balls.

Connor Darcey made eight saves in the cage to make it stand up.

"North Andover's a good team, and I'm just glad we came ready to play," Raiders head coach Rocky Batty said. "It's always nice to get a win in the Coaches' Challenge Cup, and we're already excited to play again at 2 p.m. on Thursday at Dover-Sherborn."

GOLDEN WARRIORS GIVE SACHEMS A RUN
In perhaps the day's most riveting game, No. 11 Winchester held off No. 20 Andover in a 10-9 decision.
April, 7, 2012
4/07/12
8:00
PM ET
By
Bruce Lerch
| ESPNBoston.com
HINGHAM, Mass. -- It has become something of a tradition over the years that when Needham and Hingham match up in an early season lacrosse game, it ends up becoming an instant classic.
[+] Enlarge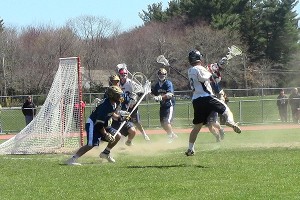 Bruce Lerch for ESPNBoston.comNo. 5 Hingham endured No. 4 Needham's late charge to come away with a 12-11 overtime win Saturday morning.
Since 2005, the Rockets and the Harbormen have met once a year with all but one of those contests was decided by three goals or less. Four of them were one-goal thrillers.
History repeated itself Saturday morning at Hingham High School, as Noah Ellis fired home the game-winner at 2:35 of overtime to lift the Harbormen to a 12-11 victory over Needham.
"I think it was a battle all the way," admitted a somewhat relieved Hingham coach John Todd afterward. "I think it was a one or two goal game, back and forth, both teams holding leads and we were just lucky enough to get a look at the cage in overtime. Good early season lacrosse."
Ellis finished with three goals and an assist for the Harbormen (3-0), David Freitas had five goals and a helper, and Kevin Blair had a game high seven points on four goals and three assists.
Mark Riley paced the Rockets (0-1) with four goals and two assists, Nico Panepinto added two goals with four assists and Robbie Pisano collected a hat trick.
The Rockets (0-1) tied the game when Panepinto set up Riley for a laser to the far post with just 23 seconds remaining in regulation. The Rockets then won the faceoff for overtime, but the Hingham (3-0) defense bottled up Riley as he tried to dodge through the lane.
With possession in hand following a timeout and another stoppage, Ellis worked himself into great position and let loose with what ended up as the game-winner.
"Kevin Morris set a good pick for me on the corner and my guy was kind of sagging in a little bit so I just split him to the middle," Ellis described. "Everyone was clearing out so I had a lane right to the net."
After a penalty-filled third quarter in which 10 flags were thrown (seven against the Harbormen), Freitas scored back to back goals, the second on a diving shot while getting hacked, to give Hingham an 11-10 lead with 3:09 to play. Panepinto rung one off the crossbar in a man-up a minute later, then Riley finally forced the extra frame with his tying goal.
"Our team has a lot of poise," Blair said. "It was pretty crazy and there was a lot of confusion with the referees and all the flags and stuff but we had a run, we kept it together."
In a year where expectations are high for both squads, the importance of the triumph was not minimized at all for the Harbormen.
"Its definitely big," Todd admitted. "We always battle these guys, every year it's a one or two goal game. That's why we play each other. We've got very high expectations for our kids and great respect for Needham. Having this game early in the season gives us a good benchmark of where we want to be and where we are."
May, 23, 2011
5/23/11
11:06
PM ET
By
Tom Layman
| ESPNBoston.com
MARSHFIELD, Mass. — It's a question posed to just about every coach in every sport when their team carries an unblemished record this far into a season: Do you lose a meaningless late-season game or go for broke and attempt the undefeated season?

After the Marshfield boys' lacrosse team ran its record to a perfect 18-0 with two games to play thanks to a 12-8 win over Hingham (15-3) on Monday at the Paul Deftus Fields, Rams head coach Rick Bagby was quick to give his answer on the matter.

"People always say would you rather lose one to get the taste in your mouth, no thanks," said Bagby. "I'll take it to the last game of the season to Harvard. … We want to try to win every game. I have no interest in losing a game, so we will see."

It's easy to see why these balanced Rams have maneuvered their way through the schedule without a scratch on the record. Tyler Martina and John Powers both picked up four-goal games against Hingham, and the goal was well protected by a 17-save performance from Will Contento.

The Rams were out and running the first quarter with transition goals from Martina and Powers. Contento actually sparked the second goal of the game as he ran from his crease all the way to the Hingham net, fired a shot on Derek McInnis (28 saves) and Powers was there to scoop in the rebound.

But the Harbormen were able to slow down the runnin' Rams and pick apart the defense to take a 5-4 lead going into the half. The Rams were also putting themselves in man-down situations because of over-aggressiveness, so Bagby had to reel in his bunch when the break came.

"We were playing emotionally, not with emotion," said Bagby. "I said we can't play this game emotionally. You got to play with emotion, but if you let the emotions take over then you are out of sync. They needed to channel their energy, settle down and play smart."

Play smart is exactly what they did. Connor Bagby's hustle in the Harbormen zone led to second possessions for the Rams and they were able to capitalize. Martina tied the game at 5 with 11:19 left to play in the third as he maneuvered his way through the middle to beat McInnis. Tyler Virtue scored his lone goal to give the Rams a lead for good with 10:13 to go and Powers scored two straight to pull away.

"They got on a run and they broke us," said Hingham head coach John Todd. "That's the spurt that they needed to kind of knock the wind out of us a little bit. We couldn't dig back."

The Harbormen did score the next two goals after the four-goal spurt, but the Rams got two goals from Martina in the fourth and tallies from Matt Entwistle and Mike Carbone to got on a 4-1 run to end the game.

"We just tried to get up quick and see where it took us," said Martina. "We tried to keep the pressure on them and work their defense."

Marshfield has tilts against Hanover and Plymouth North this week to try run the regular season to 20-0.

"Our main goal is a state championship against Duxbury," said Powers. "We want them so bad."
May, 11, 2011
5/11/11
12:00
AM ET
COHASSET, Mass. -- When Thomas Flibotte gets going, he's nearly unstoppable.

The Cohasset boys' lacrosse All-American had another one of those nights, striking for five goals against No. 7 Hingham on Tuesday. And, after watching Flibotte notch a hat trick in the second quarter while falling behind the 12th-ranked Skippers by four goals, the Harbormen could have packed it in.

"But we didn't buckle," Hingham head coach John Todd said.

The Harbormen scored four straight goals to open the second half and slowed Flibotte down just enough to give themselves a chance.

Hingham held an 11-10 lead with less than a minute to play when Flibotte held the game on his stick. The Bucknell commit streaked in on the wing and let off a shot from 15 yards out, but Harbormen goaltender Derek McInnis made the save, preserving the victory.

"You couldn't ask for anything more," Todd said. "Maybe it's that we matched up well against them. But Thomas Flibotte is amazing. I think we had all we could handle in just trying to be with him, never mind controlling him."

Hingham (11-2) had its own offensive stars with junior captain Kevin Blair collecting a six-point game (3 goals, 3 assists). Karl Weller chipped in a three-point game with two goals while Noah Ellis also netted two goals, including the game-winner.

Kyle Livingstone, who missed significant time with an injury, marked his return to the Cohasset lineup with a two-goal game.

The Harbormen emerged from a two-goal halftime deficit to score the first four goals of the second half.

Blair figured prominently in the comeback. He set up David Freitas' goal to start the third quarter before tying the game with 37 seconds remaining in the period.

Blair netted his hat trick one minute into the fourth, providing Hingham with a 9-7 lead. John McGoldrick and Flibotte countered to tie the game 9-9, but Hingham captain Tim Driscoll broke the deadlock with 5:30 to play.

Ellis netted the game-winner with 2:47 remaining with an assist by Blair. Undaunted, Flibotte responded to draw the Skippers (10-4) with a goal with 1:32 to play.

However, Cohasset wasn't able to find the net again despite having three offensive possessions within the final minute. The best chance came on Flibotte's break with 25 seconds remaining with McInnis making a sensational save.

"That was a huge save," Todd said. "But then we were able to clear the ball. We made some stupid mistakes within a minute there. We stepped out of the box when we could've gotten a little more time off the clock.

"But, hey, it all worked out."